D.C. couple's new book is spin-off of popular LGBT Instagram page
Project took on a life of its own since launching two-and-a-half years ago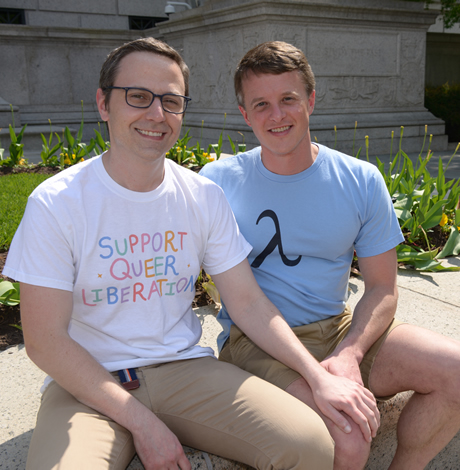 Matthew Riemer is shocked how many people think the Stonewall Riots were the beginning of the LGBT liberation movement.
"We are teaching kids from the get-go that their history started in 1969. It's ridiculous," Riemer says. "As queer people, we're this group who have been denied our history."
He and his partner Leighton Brown, both attorneys and Washington residents, run the popular @lgbt_history Instagram account and are now coming out with a book on the history of LGBT activism. "We Are Everywhere: Protest, Power and Pride in the History of Queer Liberation" (Ten Speed Press) will be released on Tuesday, May 7 and its two authors sat down with the Blade for an interview. They'll be at Solid State Books (600 H St., N.E.) on Wednesday, May 8. It's free and starts at 7 p.m.
The men created the account as a personal project after realizing they didn't know much about their own history themselves.
Riemer does the text-based research and Brown finds photos for the account.
"We were just on a personal quest to learn, and we had gotten a little bit obsessive about it," Brown says.
"A little bit obsessive" probably doesn't do justice to the account or the research the two men have conducted.
Brown and Riemer first posted on Jan. 17, 2016. Just over three years later, they have nearly 5,000 posts and about 380,000 followers.
Each post is an image of an event in LGBT history or simply a historical photograph of LGBT people. These photos are accompanied by anywhere from a few lines to multiple paragraphs of descriptive text.
Recent posts include a picture of the "How Gay is Gay" cover from TIME in 1979. Under it is a description of the article, which discussed the rise of gays and lesbians choosing to live openly.
Another features an image of trans activist Marsha P. Johnson in Hoboken, N.J., on Easter Sunday.
Both men say the account has seen gradual growth to where it is today.
"It's been just steady progress," Brown says, while also noting that Laverne Cox regrammed a couple of their photos in the early stages.
Riemer wants to emphasize that the account is more than just another social media page. It's become a well-research archive for LGBT history.
"We hope we are taken seriously and we believe we deserve to be taken seriously," Riemer says. "We don't write anything that can't be backed up with primary, or at least secondary, sources."
They cite those sources, too.
"We've been very serious about crediting and, when it's possible, tagging photographers, archivists and activists or whoever is in the picture," Riemer says.
Brown and Riemer love the platform Instagram provides them. But they also realize it comes with restrictions.
"The account is limiting not only in that it's 2,200 characters but also in that queer history is really all connected," Riemer says. "We weren't able to show that on the account. There's no hyperlinking. We don't know if people are reading the captions. And we don't know when people started following."
That's how the idea of a book emerged. "We Are Everywhere" comes out in a few days, just in time for the 50th anniversary of the Stonewall riots.
But its content stretches back long before Stonewall and details LGBT history up until the early 2000s in a near-chronological manner. Chapters include large glossy images, curated by Brown, and accompanying narrative, written by Riemer.
And it doesn't focus on the events one might expect to see.
"You don't read that much about gays in the military or gay marriage," Riemer says of the book. "We want to talk about queer history, our history, not our story of how we related to the straight people."
Reimer remembers that when he first came out as gay, he "tried to be the straight-gay." "A lot of us did that and still do, especially gay, cis white men," he says.
His research into LGBT history changed his mind on how he had to act and who he had to be.
"We don't fit into the broader society," Brown says. "And that's great," Riemer chimes in.
"The book isn't just about a few moments where we have had some clear advancement with respect to the larger society," Brown says. "It's about all the good and bad that got us to that advancement and the setbacks in between."
And it took hours of archival research to put the book together. Riemer left his job as an attorney to work on the book full time when he and Brown signed the deal with Ten Speed Press.
He started writing the text over a year ago and visited more than 10 archives across the country as well as a bunch more online to weave the book together.
"We just wanted to get it right, and it's been absolutely exhausting," Riemer says.
The book has already received praise from giants within the LGBT community.
Anderson Cooper, who also follows the @LGBT_History Instagram account, wrote: "Our history hasn't been taught in schools; it's been passed from person to person, whispered through the ages, often in the dark of night between lovers. But whisper no more. Here we are, in these pages — our pride and power, our blood and tears, our love and laughter. This is our fight, our history, and we must learn it."
Now that the book is finished and its release is around the corner, Riemer and Brown are focusing on promoting it. They have events at college campuses across the country and in June, they're slated to speak at the LGBT Center in New York.
"We Are Everywhere," the two men hope, brings to life the stories of the radicals of the LGBT liberation movement.
"What we've found is it's always been the craziest, the most outlandish, the loudest — the ones who the mainstreamers say, 'We're not all like that' — those were the ones who create the space for the rest of us," Riemer says.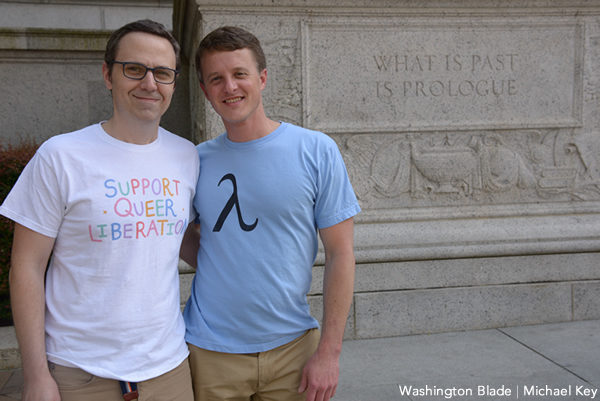 Sullivan's new book a cornucopia of wit, provocation
'Out on a Limb' offers queer cultural history with a point of view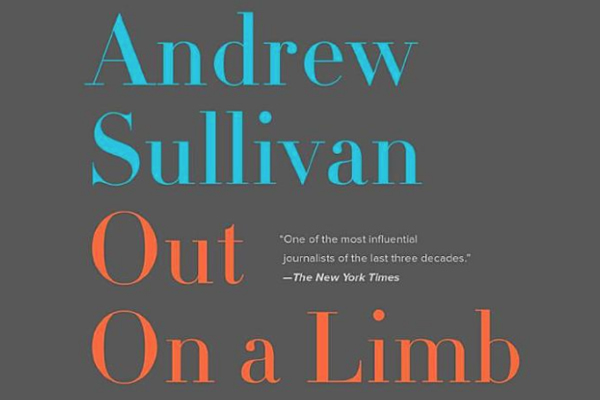 'Out on a Limb: Selected Writing, 1989-2021′
By Andrew Sullivan
c.2021, Avid Reader Press
$35/576 pages
Gay writer and political commentator Andrew Sullivan's first day in journalism began on a Sunday afternoon in 1984 in London at the Daily Telegraph.  The paper was housed on the "original Fleet Street," Sullivan writes, "the place Evelyn Waugh had made eternal in his satirical novel Scoop."
The editor that day, "a high Tory intellectual," was completely blind, chain-smoked and "wore a patch over one eye, like a pirate," Sullivan writes.
He was told to write an editorial on a topic he knew nothing about. Using, "all the skills my Oxford training in extemporaneous bullshitting had given me," Sullivan writes, he wrote the piece.
Sullivan, who was instrumental in bolstering support for mainstream equality and for dismantling "Don't Ask, Don't Tell" in the military, hasn't stopped writing since.
Sullivan's writing is as colorful as the Fleet Street editor with the eye patch.
I'm a blind lesbian. Reading "Out on a Limb" (on Audible and Kindle), there were times when I rolled my blind eyes.
At other moments, I marveled at Sullivan's bravery and compassion.
But, whether I disagreed with or applauded Sullivan, I couldn't stop reading him.
I'm betting this will be the case with you.
An Irish Catholic gay man, Sullivan is one of our most provocative and fascinating writers.
The essays in "Out on a Limb" cover everything from the death of Princess Diana to AIDS to "Brokeback Mountain" to Abraham Lincoln's sexuality.
Sullivan, a self-described small-c conservative who was one of the first to bring Barack Obama to the attention of the mainstream press, has angered many.
"I have been criticized for abandoning the right," he writes, "and for criticizing the left."
Sullivan's voted for, among others, Margaret Thatcher and Tony Blair in Britain, and Ronald Reagan, Obama and Joe Biden in America.
The causes he has supported over 40 years include: marriage equality, the legalization of recreational drugs, welfare reform and, as he writes, "a very expansive concept of free speech."
If you didn't disagree with Sullivan on anything, you wouldn't be human.
But, if you didn't agree with him on some things, you wouldn't have a heart or a brain.
The essays in "Out on a Limb," are a time capsule of Sullivan's career from his time with The New Republic (where he was the youngest editor in the magazine's history) to his current perch with "The Weekly Dish."
The collection shows how Sullivan's views have evolved over the years. Sullivan, who with "The Dish," was a blogging pioneer, is a refreshingly honest writer.
Some writers never want to cop to a mistake. This isn't true with Sullivan, who says he was wrong about supporting the Iraq war.
It's hard to remember how brave it was for Sullivan in 1989 to pen the essay "Here Comes the Groom: A Conservative Case for Gay Marriage" for The New Republic.
Then, when sodomy laws were on the books in many states, it was courageous to be out as Sullivan was.
Marriage equality wasn't on the horizon – let alone on a magazine cover.
Sullivan writes movingly about seeing the AIDS quilt in 1992 on the Mall in Washington, D.C.
The collection includes some controversial pieces such as "When Plagues End: Notes on the Twilight of an Epidemic."
It's true that for many AIDS is no longer a deadly plague.
But AIDS is still a death sentence for many who don't have health insurance or access to care.
Sullivan's essays on gender and campus life such as "The He Hormone" or "We All Live on Campus Now" made me want to throw the book across the room.
I wish Sullivan hadn't published a symposium on Charles Murray and Richard Herrnstein's book "The Bell Curve" in The New Republic. (The book says there is a connection between race and intelligence.)
But I was moved by the essay "Dear Ta-Nehisi," in which Sullivan explains why he felt compelled to air writing of, as he writes, "sometimes painful topics."
"Out on a Limb" is a cornucopia of wit, queer cultural history and provocation. Enjoy the feast.
'All In' a riveting biography of Billie Jean King
A fascinating story of a living, larger-than-life legend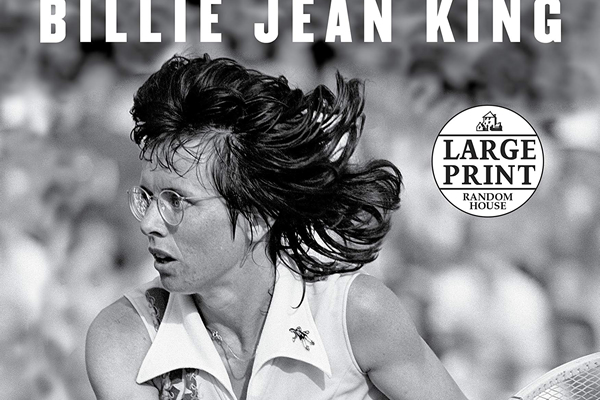 'All In: An Autobiography'
By Billie Jean King with Johnette Howard and Maryanne Vollers
c.2020, Alfred A. Knopf
$30/482 pages
I know nothing about tennis except that I love Hitchcock's thriller "Strangers on a Train," in which a charming, sociopathic murderer enlivens the game.
There are no murders in "All In," Billie Jean King's memoir, co-authored with journalists Johnette Howard and Maryanne Vollers. But King's candid autobiography is as exciting, as suspenseful, as a Hitchcock flick.
"All In" is a fab read not only for tennis aficionados and readers interested in LGBTQ history and women's history but for anyone who enjoys a fascinating story of a living, larger-than-life, but very human, down-to-earth legend.
Some athletes, even the most acclaimed ones, are mainly known to sports fans.
Their achievements are important, sometimes record-setting, in their sports. But these sports figures aren't cultural icons.
This isn't the case with King. Like Jackie Robinson and Muhammad Ali, King, who was born in 1943, is iconic.
You likely remember where you were in 1973 when, along with 90 million other riveted viewers, you watched King beat self-proclaimed male chauvinist Bobby Riggs in the "Battle of the Sexes."
If you weren't born then, you've surely heard how excited your mom or grandma were to see male chauvinism taken down. Then, when women often had difficulty obtaining a credit card, let alone fighting workplace discrimination, beating the pants off Riggs was no small matter.
King, a feminist and lesbian, is believed to be the first woman athlete activist.
In 2009, King received the Presidential Medal of Freedom for her work for LGBTQ and women's rights and equality.
Then there is King's stunning record in tennis. She was the top United States tennis player – winning 39 Grand Slams and 20 Wimbledon titles.
Often, the memoirs of famous people are bland, unrevealing. They are as exciting as Velveeta.
"All In" is a feast of flavors. Most memoirs, no matter how good, have some dull stretches.
This isn't so with "All In." From the get-go, it grabs you by the lapels.
The memoir is so revealing that, as you read it, you feel as if you're reliving King's life. King tells us about the people she loves.
Her family, like most people at the time, were homophobic when she was growing up. Yet King loved and respected her parents. They taught her, among many things, to "respect and never underestimate" her opponents, she writes.
Her brother Randy Moffitt, who was a pitcher in Major League Baseball has given her, King writes, "a lifetime of support."
King writes of her love for Ilana Kloss. The couple, who have been together for 40 years, were married in a private ceremony in 2018. David Dinkins, the former New York City Mayor officiated the wedding.
"To Ilana, my love, my partner, to the moon and back," King writes in the memoir's dedication.
It took decades for King to become open and unashamed about her sexuality.
She grew up in a working class family in Long Beach, Calif. Her father was a firefighter. It was a timwhen women were expected to get married (to men) and have children.
Middle-class and upper-class women, even if they'd been to college, weren't supposed to want to work.
The idea that you could be a gay tennis player wouldn't have been on the horizon when King began playing the game as a kid.
King married Larry King (not the broadcaster) in 1965. Though they divorced, they are still close friends.
Some of the most gut-wrenching moments of "All In" are where King writes of being outed in the 1980s by a former female lover who filed a palimony suit. Though the former lover didn't win in court, the outing nearly derailed King's career.
King writes movingly about how, after much therapy and self-reflection, she became comfortable about her sexuality.
She tells us how she dealt with an eating disorder and other health problems. Above all, King challenges us to work for social change. She dedicates the memoir "to everyone who continues to fight for equality, inclusion, and freedom."
Who wouldn't be "All In" with that?
A worthy sequel to 'Maurice' revisits classic love story
After going to war, couple reunite in intriguing 'Alec'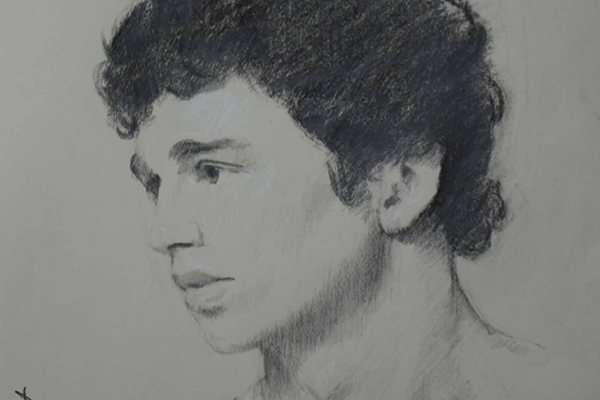 'Alec'
By William di Canzio
c.2021, Farrar, Straus & Giroux
$27/336 pages
A sequel that's nearly as good as the original! An intriguing queer love story! What more could you ask for as summer ends?
Today, on and off the page, queers fall in love, have sex, couple up, marry – embrace polyamory – as frequently and openly as politicos trade insults.
But, until recently, you rarely found LGBTQ+ characters in books. With few exceptions, when you encountered queer people in fiction, they were sick, dying, or in jail.
It's hard to overstate how revolutionary it was for queers when "Maurice" by the queer, British writer E.M. Forster was posthumously published in 1971.
For many of us, it was the first time we read a love story in which queer lovers ended up alive – unrepentant and unpunished.
Forster, who died at 91 in 1970, began writing "Maurice" in 1913 and finished it in 1914. Yet, he felt it couldn't be published during his lifetime.
Forster's novels (especially, "A Passage to India" and "Howards End") were critically acclaimed.
Forster lectured in England and the United States. Listeners heard him on the radio as he read his acclaimed 1939 essay "What I Believe."
In this essay, Forster spoke of his belief in personal relations, endorsed the humanistic values of "tolerance, good temper and sympathy" and decried authoritarianism.
His assertion in "What I Believe, that "if I had to choose between betraying my country and betraying my friend I hope I should have the guts to betray my country," has been a credo for many.
Yet, because being queer was illegal in the United Kingdom for most of his lifetime, Forster didn't want to publish "Maurice" while he was alive.
Homosexuality wasn't decriminalized in the United Kingdom until 1967.
Though he was out to some of his friends, Forster couldn't be openly gay because of the homophobia of his time.
"Maurice," which Forster dedicated "To a Happier Year," doesn't just have LGBTQ characters. Its two gay male lovers, Cambridge-educated, upper-class Maurice, and Alec, a gamekeeper, end up happily.
We may worry about what obstacles they'll run into while living in such a repressive time. But we know that they've gone off together.
"A happy ending was imperative," Forster writes in a 1960 "Terminal Note" on "Maurice," "I shouldn't have bothered to write otherwise."
"I was determined that in fiction anyway," he adds, "two men should fall in love and remain in it for the ever and ever that fiction allows, and in this sense Maurice and Alec still roam the greenwood."
Forster's legacy has had a reemergence in this century. "On Beauty," the 2005 novel by Zadie Smith is an homage to "Howards End."
Matthew Lopez's play "The Inheritance," which ran on Broadway, is, also, in part, an homage to "Howards End."
Many sequels, no matter how well-intended, aren't good. This is even more true when classic novels like "Maurice" are involved.
Yet, in "Alec," distinguished, gay playwright di Canzio has pulled off an engrossing, lively, moving feat of the imagination.
In "Maurice," we see things from Maurice's perspective. On a visit to his friend Clive, a country squire, he meets Alec, Clive's game keeper.
We know that Alec and Maurice, after both trying to blackmail each other, fall in love. But we learn little about Alec except that he loves Maurice.
In "Alec," we view things from Alec's eyes. Alec, in di Canzio's reimagining, is a three-dimensional character with feelings, ambitions and a back story.
Born in Dorset, England in 1893 to working class parents, Alec loves to read. He knows, because of his class, that he won't be able to go to college.
But he soaks up as much literature as he can at the library.
He enjoys reading about classic Greek myths and looking at pictures of art depicting the hunky, mythic heroes.
Early on, Alec knows that he likes boys and men. Though there's no way he can be openly gay, he's fine with his sexuality.
"It kept him out of trouble with girls," di Canzio writes.
Following his father in his line of work, doesn't appeal to Alec. His dad is a butcher. He doesn't want to become a servant to rich people if he'd have to be at their beck and call inside their house. Knowing that he has to do some type of work, Alec becomes a gamekeeper for Clive, a country squire.
He and Maurice meet when Maurice visits Clive. As in "Maurice," the lovers, after much angst and bungled blackmail attempts, go off together.
Up to this point, di Canzio is following the plot of "Maurice" – even quoting some of the dialogue from the novel.
In lesser hands, this might seem too plodding or too derivative. But di Canzio's retelling the story, though a bit slow, is fresh. You want to keep reading.
The lovers live together happily for a time. They can't be openly gay. Yet, they find people like themselves and LGBTQ-friendly folk in salons, clubs, and other underground queer spaces.
World War I shatters their happiness. Serving under horrific conditions in separate places, Alec and Maurice don't know if they'll survive or find each other after the war.
"How many of our stories have been expunged – from history, from memory?" a friend asks the couple.
You'll keep turning the page to discover how Alec and Maurice's story ends.