May 4, 2019 at 7:00 am EDT | by Thom Murphy
P!nk's new album 'Hurts 2B Human' features only momentary flashes of greatness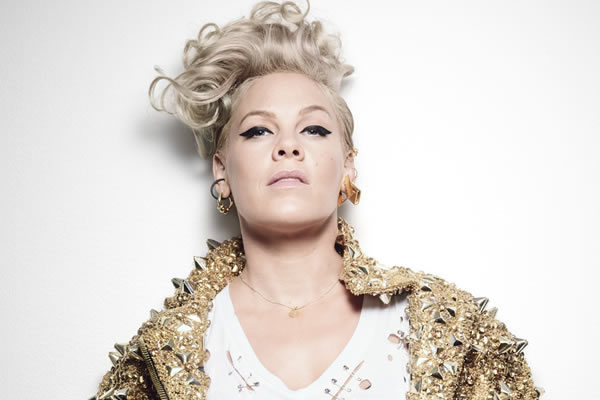 Punk, independent, rebellious — these are just a few of the adjectives that P!nk brings to mind. From "Just Like A Pill" to "U+Ur Hand" and "So What," her music has been synonymous with a defiant, feminist attitude that is refreshing in the predictable romantic intrigues of most pop songs. But with her 2017 album "Beautiful Trauma," P!nk's music has taken a softer turn. Her newly released "Hurts 2B Human" continues in this direction, making this her least rambunctious album so far.
Of course, it's normal for artist to go through major changes over the course of their careers, and P!nk has already had several distinct stylistic periods. The earliest album "Can't Take Me Home" (2000) has strong R&B influences, as does "Missundaztood" (2001), though it begins to turn toward pop/rock. By the release of "I'm Not Dead" (2003), especially on albums "I'm Not Dead" (2006) and "Funhouse" (2008), her music had taken a seeming definitive turn toward rock.
With the "Beautiful Trauma" in 2017, however, her music becomes decidedly more self-reflective, a change that was well received by fans — the album landed at the Billboard no. 1 spot. But charts are not, of course, correlated to quality, and P!nk seems to be losing much of what makes her music distinct.
The new album opens with "Hustle," an uptempo pop track that has some of the attitude of the older P!nk albums. Her vocals are still top-notch, but the music is without its usual edge. "(Hey Why) I Miss You Sometime" is a mediocre dance-pop track with banal lyrics, almost to the point of absurdity: "Big time Johnny Cash kind of love/McDonald's type of love/Can't find my clothes kind of love/We dominate this love." It's a mostly meaningless wash of pop culture references.
The lead single "Walk Me Home" is standard pop fare, but works well nonetheless. It's incredibly catchy and destined for significant radio play. And it's certainly one of the better tracks on the album. The same could be said for "Hurts 2B Human," another inoffensive pop cut.
"Can We Pretend," one of the more danceable tracks on the album, is unlikely to earn her any political points. It espouses a kind of escapism at the opposite pole from Barbra Streisand's music activism, and equally clunky: "Can we pretend that we both like the president?/Can we pretend that I really like your shoes? Hell yeah/Can we pretend? 'Cause honestly, reality, it bores me."
The unfortunate part about P!nk's new album is its commonality. Most of the songs could be sung be absolutely anyone. And this has never been the case with P!nk. A rendition of "U+Ur Hand" by any other artist is unimaginable. The album is not bad so much as disappointing in its mediocrity. One of the most distinct voices in pop music is starting to sound like every other.
"Courage," another of the inoffensive yet predictable tracks on the album, repeats a vocal hook quite similar to the one in Katy Perry's "Chained To The Rhythm," and indeed, it sounds like a pop song that is already two years old.
The album has a few happy exceptions, mostly in the way of semi-acoustic tracks. It makes one think a mostly acoustic album would have worked much better. "My Attic" is among the happy few. Her vocals are excellent throughout and musically, it's one of the more harmonically complex songs on the album.
The best song is without a doubt her duet with country singer Chris Stapleton. It's a surprisingly good country song, one that may well find its way to country radio. It's a bold choice and a testament to P!nk's versatility as an artist. And the song is beautiful, even if she goes a little carried away with the country accent. Likewise, the song "Circle Game," which talks about motherhood and her relationship with her daughter, is a touching, well-crafted track. But if the album takes a turn for the better around the last four songs, it's too little too late.
The path to mediocrity is well trodden. Nonetheless, it is a shame to see such a singular voice head in that direction.