Baltimore's state-of-the-art arena highlights spring arts scene
Lizzo, Janet, Bruce, Joan Jett and more to christen renovated space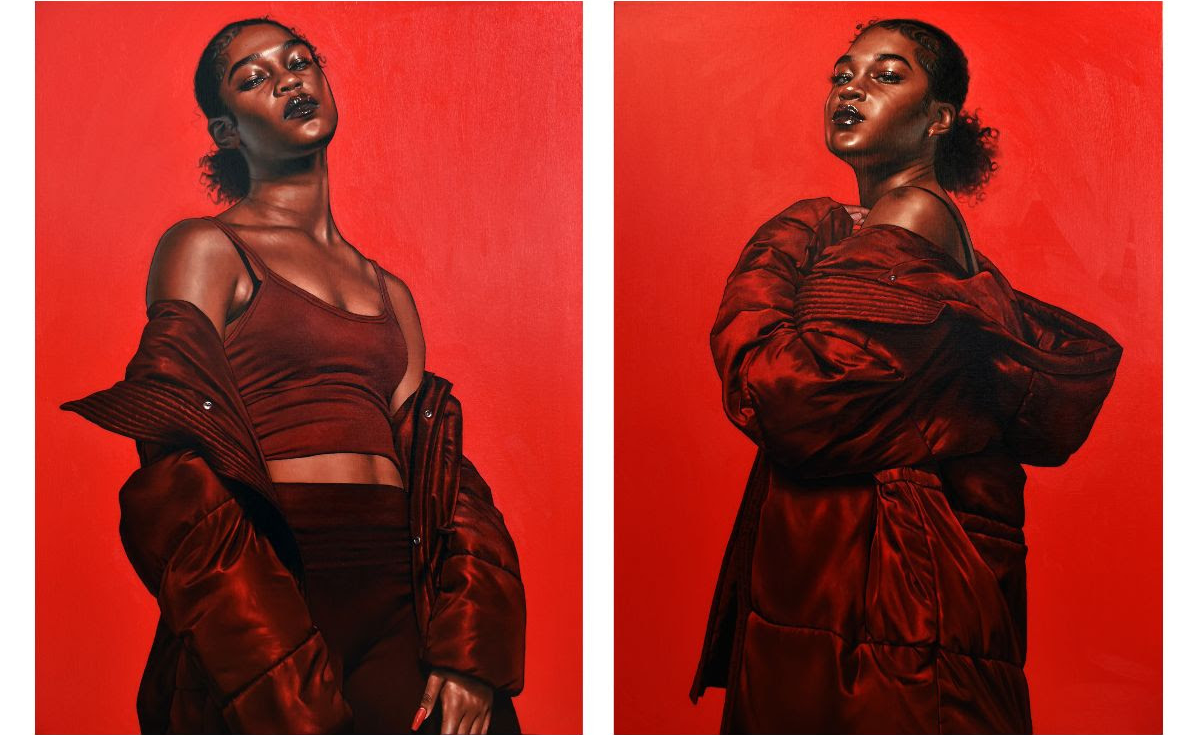 For years, Baltimore missed out on performances by big-name musicians, comedians and others because it didn't have a 14,000-seat arena capable of attracting them, but not anymore.
Starting in April, more than a dozen acts will be coming to town when the CFG Bank Arena at 201 West Baltimore St. — formerly known as the Royal Farms Arena — reopens following a $200-$250 million renovation designed to turn it into a state-of-the-art sports and entertainment venue.
The arena's reopening after more than a year of construction is one of the highlights of the spring arts season in Baltimore, along with new exhibits at the Baltimore Museum of Art; new shows at the Hippodrome and Lyric; a new book festival, a John Waters book signing and other events around town.
On April 7, Bruce Springsteen and The E Street Band will be the first performers to appear at the CFG Bank Arena, a concert that's being billed as opening night for the refurbished and rebranded hall.
The Boss will be followed by: Eagles Hotel California Tour, April 8; Straight Jokes No Chaser, April 14; Jeff Dunham Still Not Canceled, April 15; Adam Sandler, April 21; New Edition: Legacy Tour with Keith Sweat, Guy and Special Guest Tank, April 22; Monster Jam, April 28 to 30; AEW Dynamite, May 3; Lizzo, May 9; Janet Jackson: Together Again with Special Guest Ludacris, May 13; Anita Baker: The Songstress with the Legendary Babyface, May 14; blink-182 Tour 2023, May 26; Stars on Ice, June 2; Bryan Adams: So Happy It Hurts 2023 with Joan Jett and The Blackhearts, June 6, and Dude Perfect PandaMonium, June 25.
Performances scheduled for later in 2023: Chris Stapleton's All-American Road Show; Thomas Rhett, Lionel Richie and Earth, Wind & Fire, and Kiss – the End of the Road Tour. The CFG Bank Arena website is cfgbankarena.com.
Owned by the City of Baltimore, the arena opened in 1962 as the Baltimore Civic Center and later was renamed the 1st Mariner Arena (2003 to 2013) and the Royal Farms Arena (2014 to 2022). It was one of the first places The Beatles appeared during their augural trip to America in 1964, and Martin Luther King Jr. spoke there in 1966. The Baltimore Bullets and Baltimore Clippers played there for many years.
As the arena grew older, city officials contemplated constructing a replacement elsewhere but couldn't decide on a location. They eventually opted to keep the existing venue and bring in a new management team to upgrade it to be competitive with other East Coast arenas. The decision was part of a larger effort to revitalize the west side of downtown Baltimore, where a new building for the city's historic Lexington Market recently opened several blocks away.
The CFG Bank Arena team is led by the Oak View Group of Los Angeles, in association with Thirty Five Ventures, the investment company of NBA player Kevin Durant and his business partner, Rich Kleiman, and recording artist Pharrell Williams. The Oak View Group team funded the improvements in return for rights to manage and lease the facility, and it's offering seat leases as part of the ticketing options.
Renovation work began in early 2022 and included a revamped seating configuration; new concourses, restrooms, and concessions areas; updated mechanical systems and a redesigned exterior. The refurbished arena had a test run last month, when Baltimore hosted the Central Intercollegiate Athletic Association's Men's and Women's Basketball Tournaments, but there was still more work to finish. Starting in April, managers say, all the renovations will be complete and it will be ready for the entertainers.
Visual arts events
Baltimore Museum of Art, 10 Art Museum Drive (artbma.org): From April 5 to July 16, the BMA will present "The Culture: Hip Hop and Contemporary Art in the 21st Century." Coinciding with the 50th anniversary of the emergence of hip hop in the 1970s, the exhibit will examine the global phenomenon of hip hop and its impact on music, fashion, technology and the visual and performing arts.
More than 90 works of art and fashion, including many by LGBTQ artists, will show the many ways hip hop has influenced contemporary society. According to the BMA, queer artists with work in the exhibit include: Lauren Halsey; Rashaad Newsome; Mark Bradford; Julie Mehretu; Dapper Dan; Telfar Clemens; Tschabalala Self; Amani Lewis; John Edmonds; Nina Chanel Abney; Jonathan Lyndon Chase; Caitlin Cherry; Devan Shimoyama; Texas Isaiah; Shabez Jamal; Eric N. Mack and Rozeal. Non-cisgender artists include Isaiah, Chase, Lewis and Jamal.
The exhibit is co-organized by the BMA and the Saint Louis Art Museum. One of the curators is Asma Naeem, the BMA's new Dorothy Wagner Wallis Director. Other curators include Gamynne Guillotte, the BMA's chief education officer, and Hannah Klemm and Andrea Purnell, from the Saint Louis museum.
Also opening at the BMA this spring: "Histories Collide: Jackie Milad x Fred Wilson x Nekisha Durrett," April 26, 2023 to March 17, 2024: New works by Milad and Durrent in dialogue with Wilson's Artemis/Bast (1992); "Martha Jackson Jarvis: What the Trees Have Seen," May 7 to October 1, 2023, featuring mixed media works by Jarvis that imaginatively trace a free Black militiaman's journey from Virginia to South Carolina in the American Revolution; "Recasting Colonialism: Michelle Erickson Ceramics," May 7 to October 1, 2023; "The Matter of Bark Cloth," May 7 to October 1, 2023, and "Wild Forms: Fauve Woodcuts," May 14 to October 15, 2023.
American Visionary Art Museum, 800 Key Highway: The main exhibit is "ABUNDANCE: Too Much, Too Little, Just Right" (Championing good, honest work from the hand and the heart), curated by Gage Branda. Also: AVAM's Logan Visionary Conference 2023, March 19, 2 p.m. to 4 p.m.; Kinetic Sculpture Race, May 6.
Walters Art Museum: 600 North Charles St. (thewalters.org): "Quiet Beauty: The Watercolors of Leon Bonvin," opened in February; "Arts of the Medieval Mediterranean," is ongoing, and "Across Asia: Arts of Asia and the Islamic World," a new installation of the museum's Asian and Islamic collections, opens April 23.
The Peale, 225 Holliday St. (thepeale.org): "Compensation for Loss" exhibition, March 19 to April 30, and Submersive Productions Performances: Katalepsis, March 24 to April 30.
Maryland Center for History and Culture, 610 Park Avenue (mdhistory.org): "Claire/McCardell," an exhibit about Claire McCardell, an influential designer of women's clothing from the 1930s to the 1950s and beyond; "Discover Maryland;" "The Unfinished Revolution: Maryland in the Wars for Independence," and "Passion and Purpose: Voices of Maryland's Civil Rights Activists."
Baltimore Museum of Industry, 1415 Key Highway (thebmi.org): "Fire & Shadow: The Rise and Fall of Bethlehem Steel," documenting the 125-history of the Sparrows Point steel mill.
B&O Railroad Museum, 901 West Pratt Street (borail.org): New permanent exhibit: "Freedom Seekers on the B&O Railroad."
Waverly Book Festival (waverlymainstreet.org): A new book festival organized to replace the Baltimore Book Festival, 32nd and Barclay streets and other locations, April 28 to 30.
John Waters at Atomic Books, 3620 Falls Road (atomicbooks.com): As part of a book tour for the release of the paperback version of his novel, "Liarmouth: A Feel Bad Romance," writer and filmmaker John Waters will sign books on May 12 starting at 7 p.m.
Performing arts events
Hippodrome Theatre, 12 South Eutaw St., (Baltimore.broadway.com): Spring shows include: To Kill A Mockingbird, March 14 to 19; Respect – Aretha Franklin Tribute, March 23; Aziza, March 25; Lewis Black, April 2; Hadestown, April 12 to 22; Rock From The Heart, April 22; Shen Yun Performing Arts, April 28-30; Dino Ranch Live, May 6; Six the Musical, May 9 to 14, and Frozen, June 7 to 18.
The Lyric Baltimore, 140 West Mount Royal Ave., (lyric.baltimore.com): Royal Comedy 2023: Sommore, Bruce Bruce, Lavell Crawford and Special K, March 18; Hits! The Musical, March 19; Killer Queen, March 25; Bored Teacher Comedy Hour, March 31; Good Friday: Carl Thomas, Lyfe Jennings and Christopher Williams, April 7; Brit Floyd, April 15; Soul Marathon: Bloodstone, April 22; Yes Epics & Classics featuring Jon Anderson and The Band Geeks, May 6; Fortune Feimster, May 19; Boz Scaggs, May 20; Puscifer, June 1; John Mellencamp, June 2; Kansas – The Band, June 3; Luis Angel, June 4; Bad Friends Podcast: Andrew Santino and Bobby Lee, June 16; Stephen Sharer, June 17, and Les Claypool's Fearless Flying Frog Brigade and W.I.T.C.H.
Creative Alliance, 3134 Eastern Ave. (creativealliance.org): The High & Wides with Hannah Lee Thompson, March 31; 2023 Marquee Ball, April 22; Alison Crockett Presents Echoes of an Era: The Jazz Sides of Chaka Kahn, April 28, Ngaiire, May 5; Brandee Younger, June 22, and Madison McFerrin, June 23.
Baltimore Center Stage, 700 North Calvert St., (centerstage.org): Tiny Beautiful Things, March 9 to April 2.
Everyman Theatre, 315 West Fayette St. (everymantheatre.org): The Sound Inside, March 7 to April 2; Harvey, April 25 to May 21, and The World Goes Round, June 6 to July 2.
Arena Players, 801 McCulloh Street (arenaplayersinc.com): Open Admissions and When Men Reduce as Women Do, March 17, 18, 19, 24, 25, 26, 31 and April 1 and 3; Sizwe Banzi is Dead, April 21, 22, 23, 28, 29, 30, May 5, 6, and 7, and Nina, May 26, 27, 28, June 2, 3, 4, 9, 10, 11, 16, 17 and 18.
Live! Casino Hotel Maryland, 7002 Arundel Mills Circle, Hanover, Md., (maryland.livecasinohotel.com): Patti LaBelle, March 10; Air Supply, March 11; Hoops Fest Watch Parties, March 14; Lovers in the Night Spring Concert, March 19; Mixed Martial Arts: Shogun Fights, March 25; Jerry Seinfeld, May 19, and Kevin Hart, June 11.
Baltimore Soundstage, 124 Market Place, presents the Hell in the Harbor Festival over the Memorial Day weekend, May 27 and 28. Its complete spring lineup for March to June, with dozens of acts, is on its website, Baltimoresoundstage.com.
PHOTOS: Jackie Cox and Jan at Pitchers
RuPaul's Drag Race alums join local performers at gay sports bar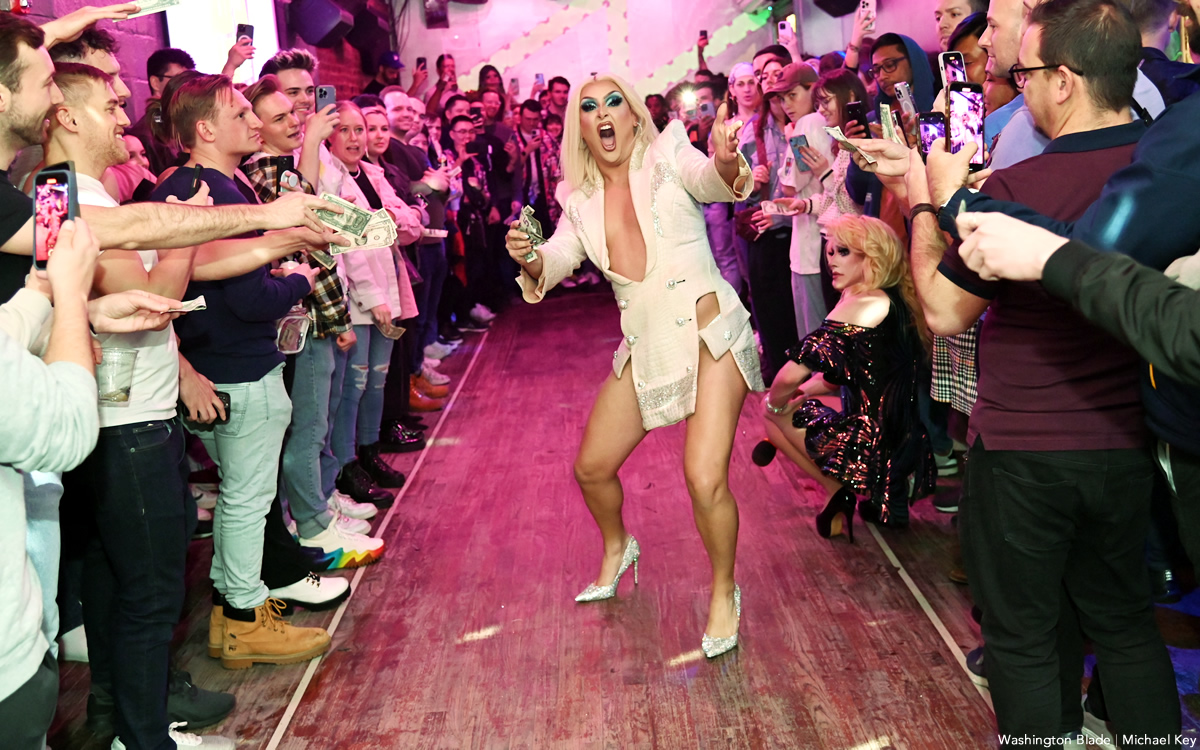 RuPaul's Drag Race alums Jackie Cox and Jan performed at Pitchers DC on Wednesday, March 29. Other performers included Cake Pop!, Venus Valhalla, Brooklyn Heights, Jayzeer Shantey and Logan Stone.
(Washington Blade photos by Michael Key)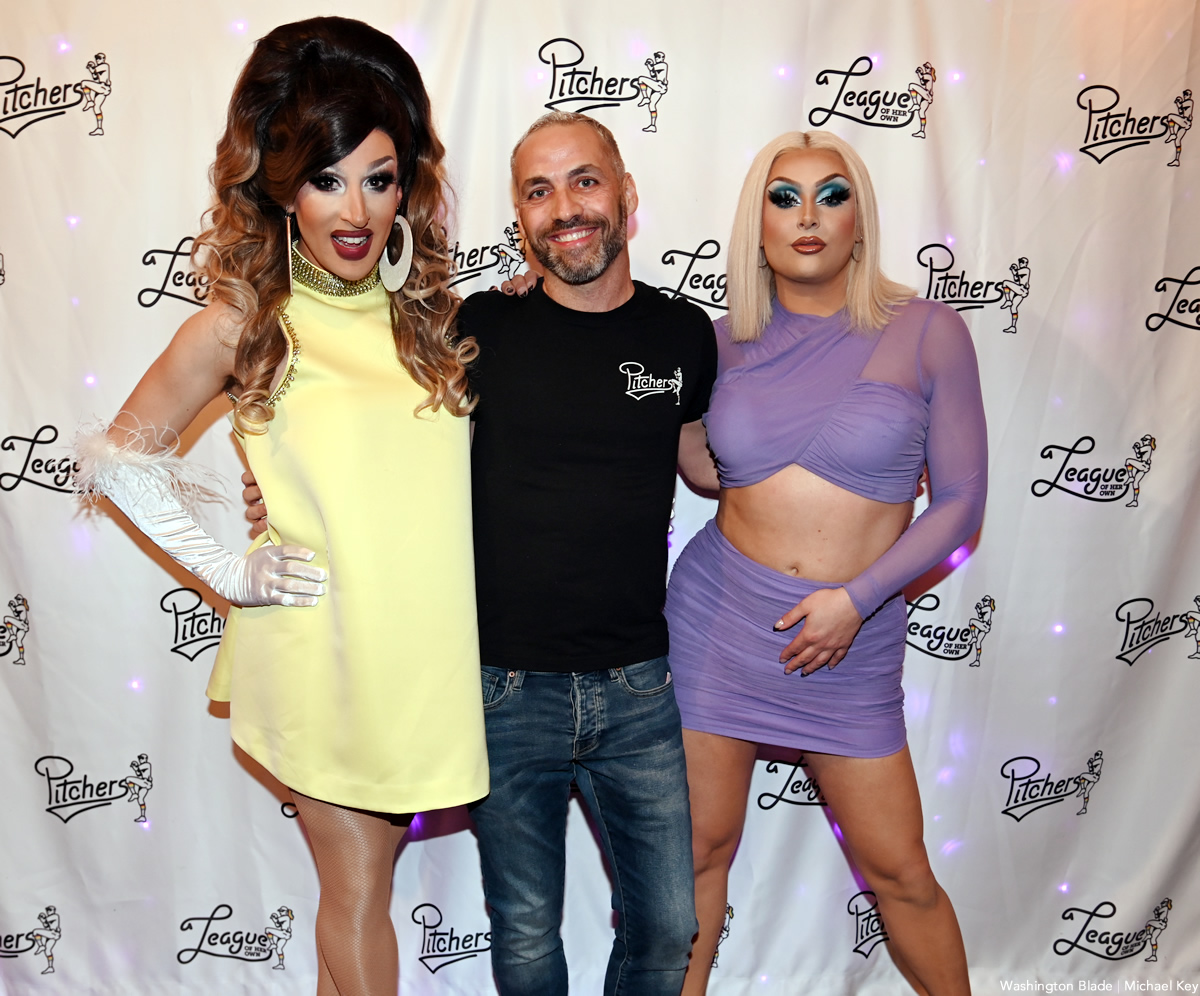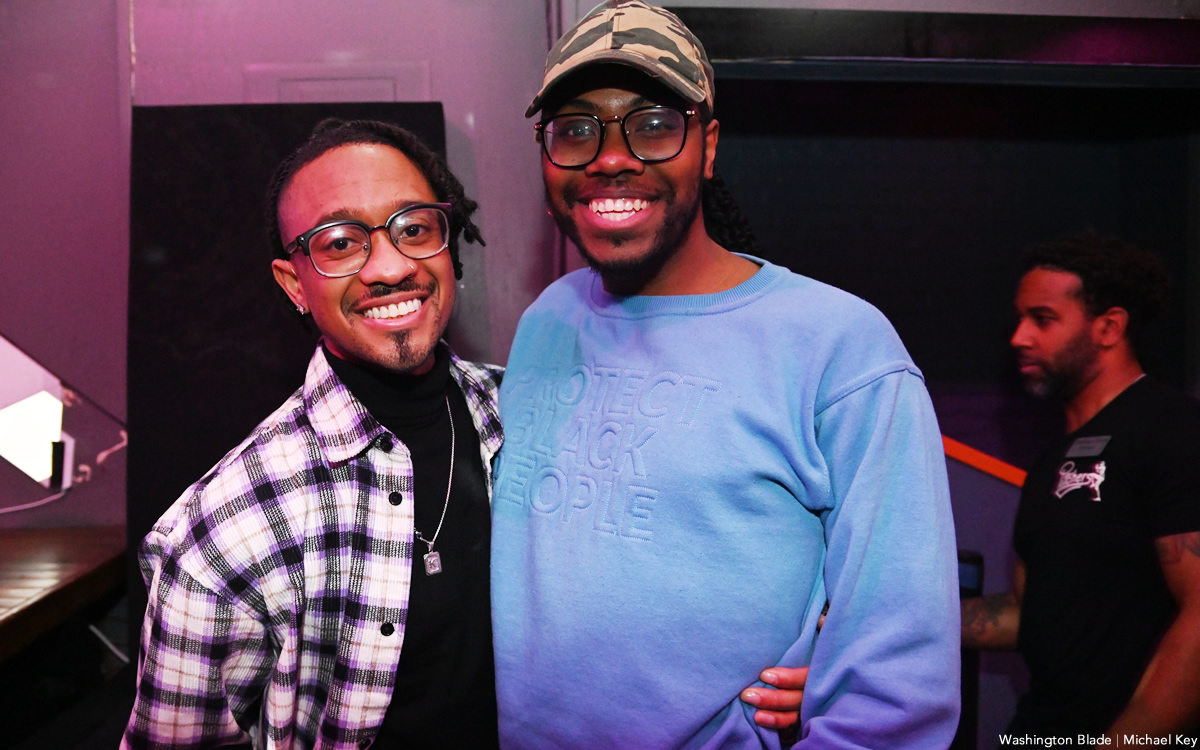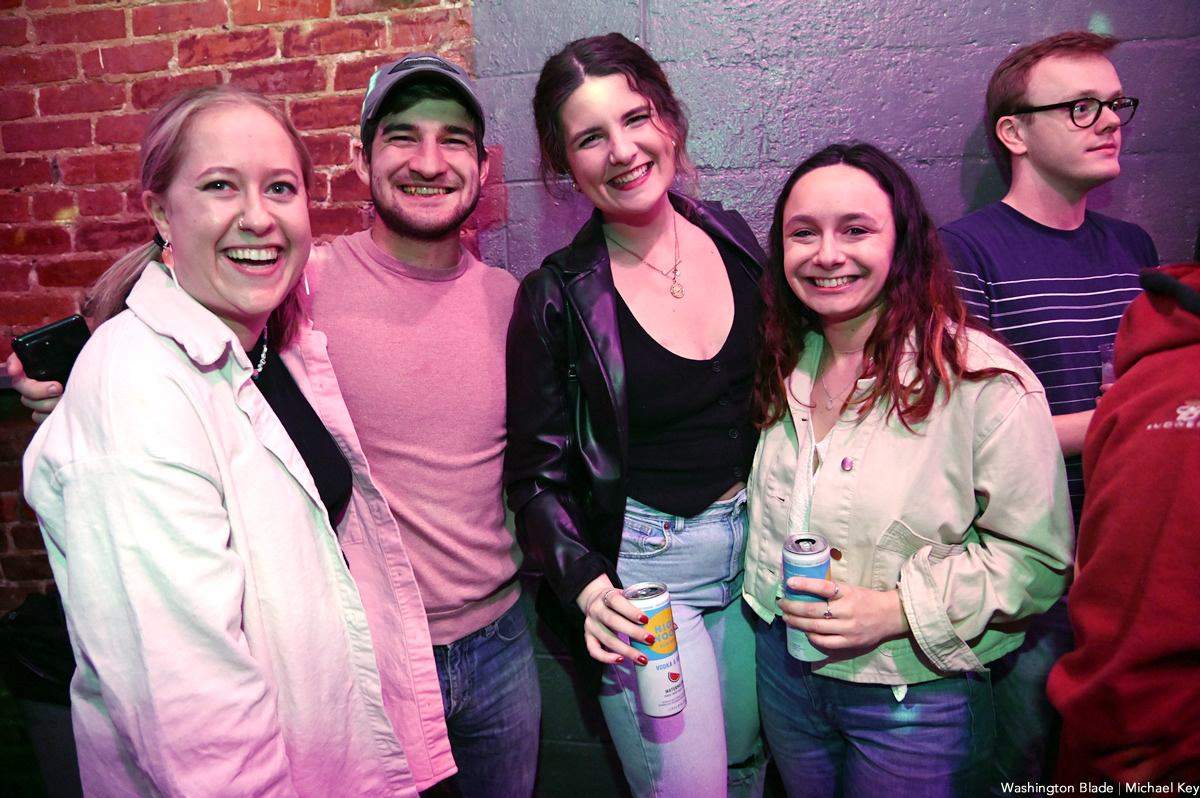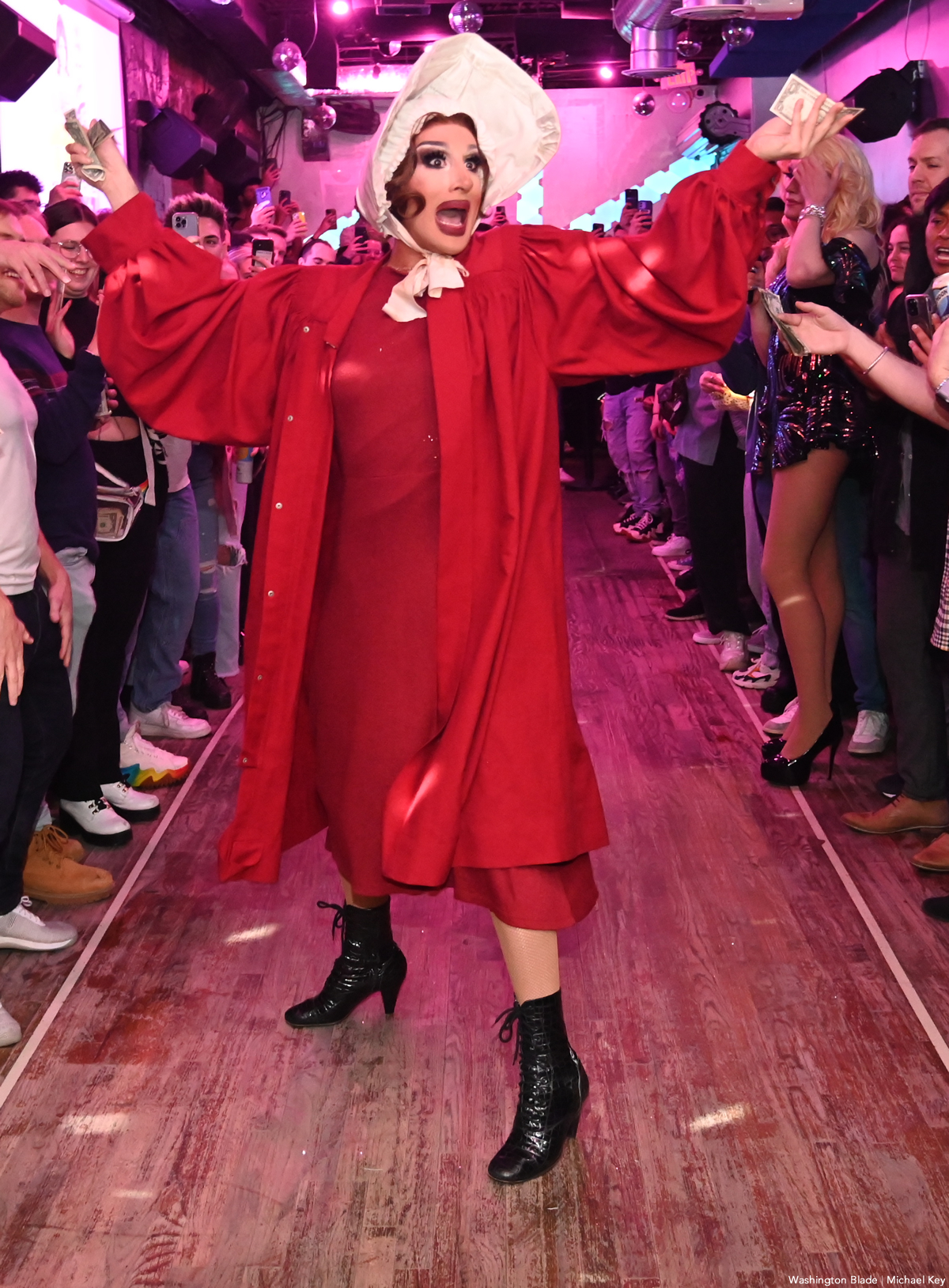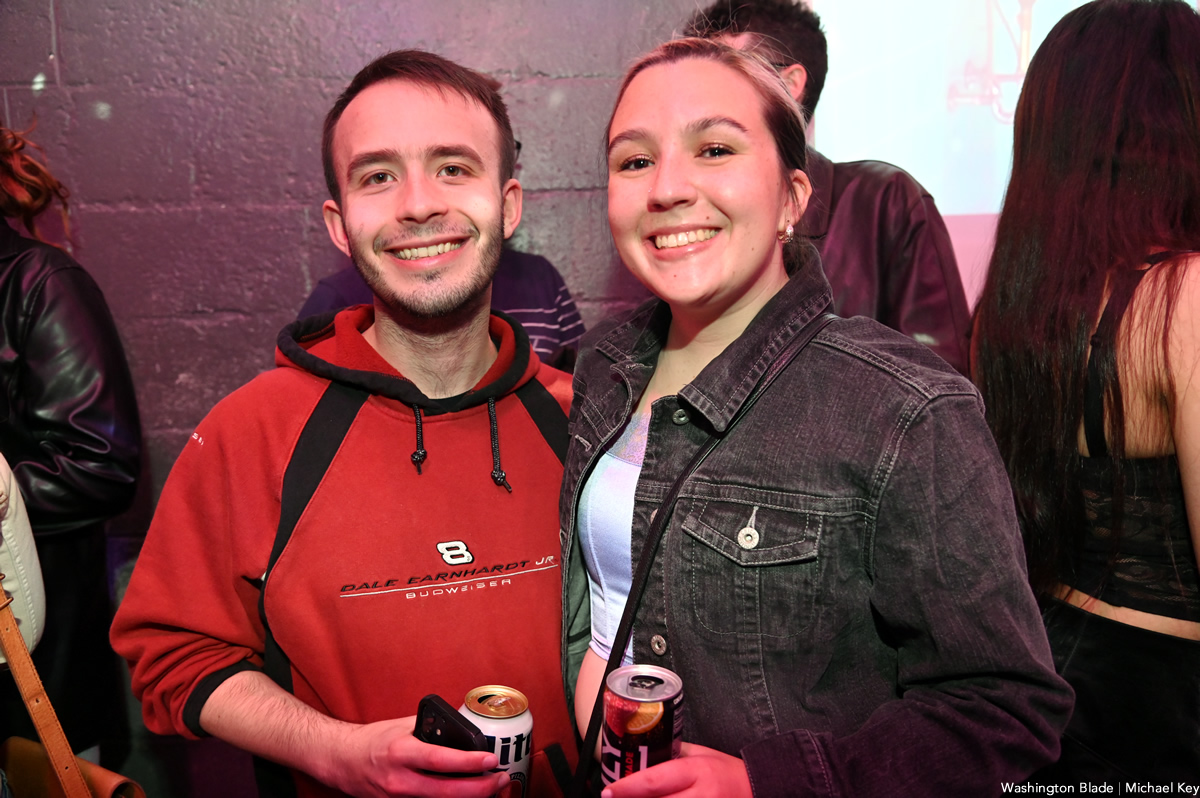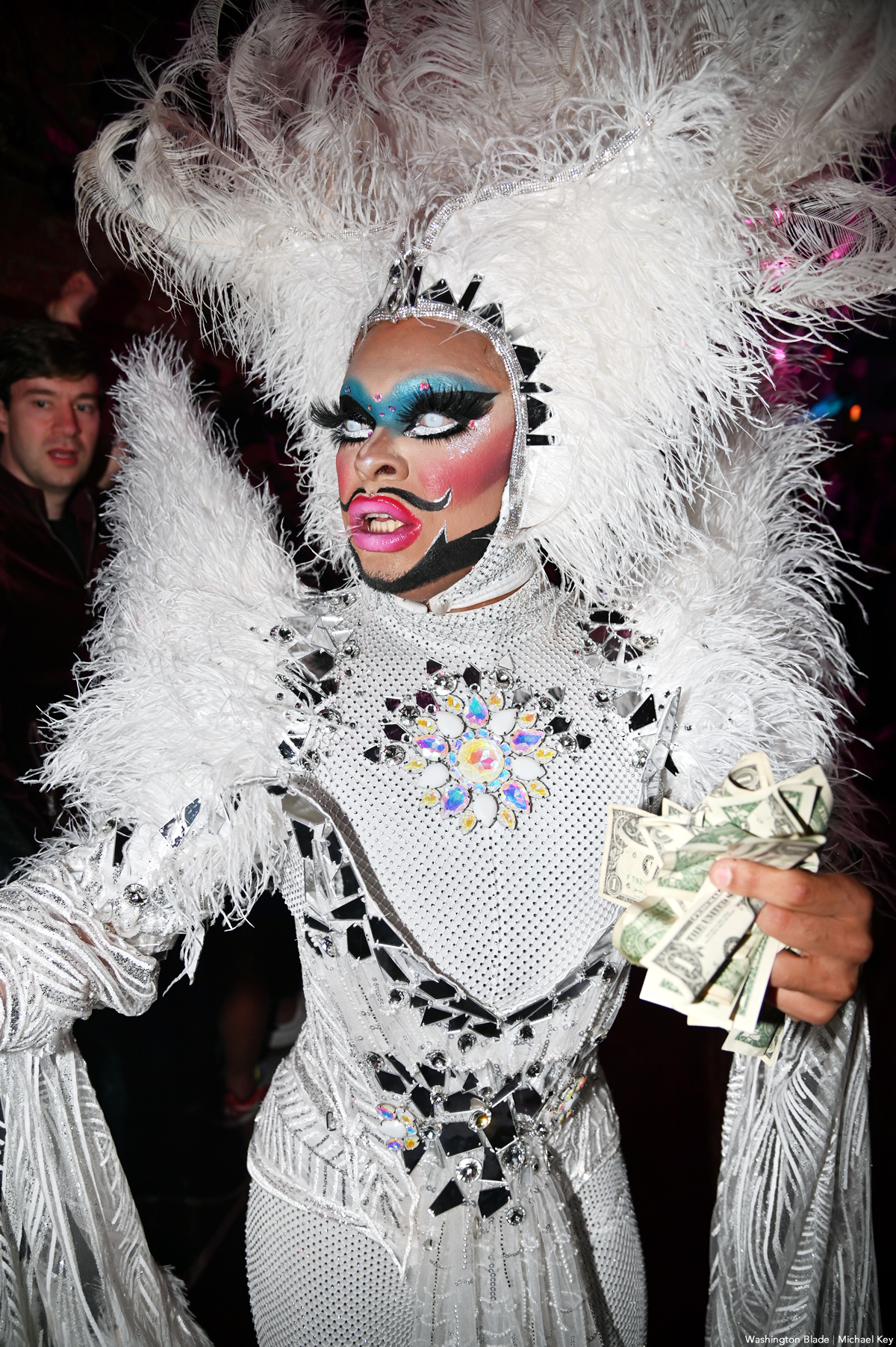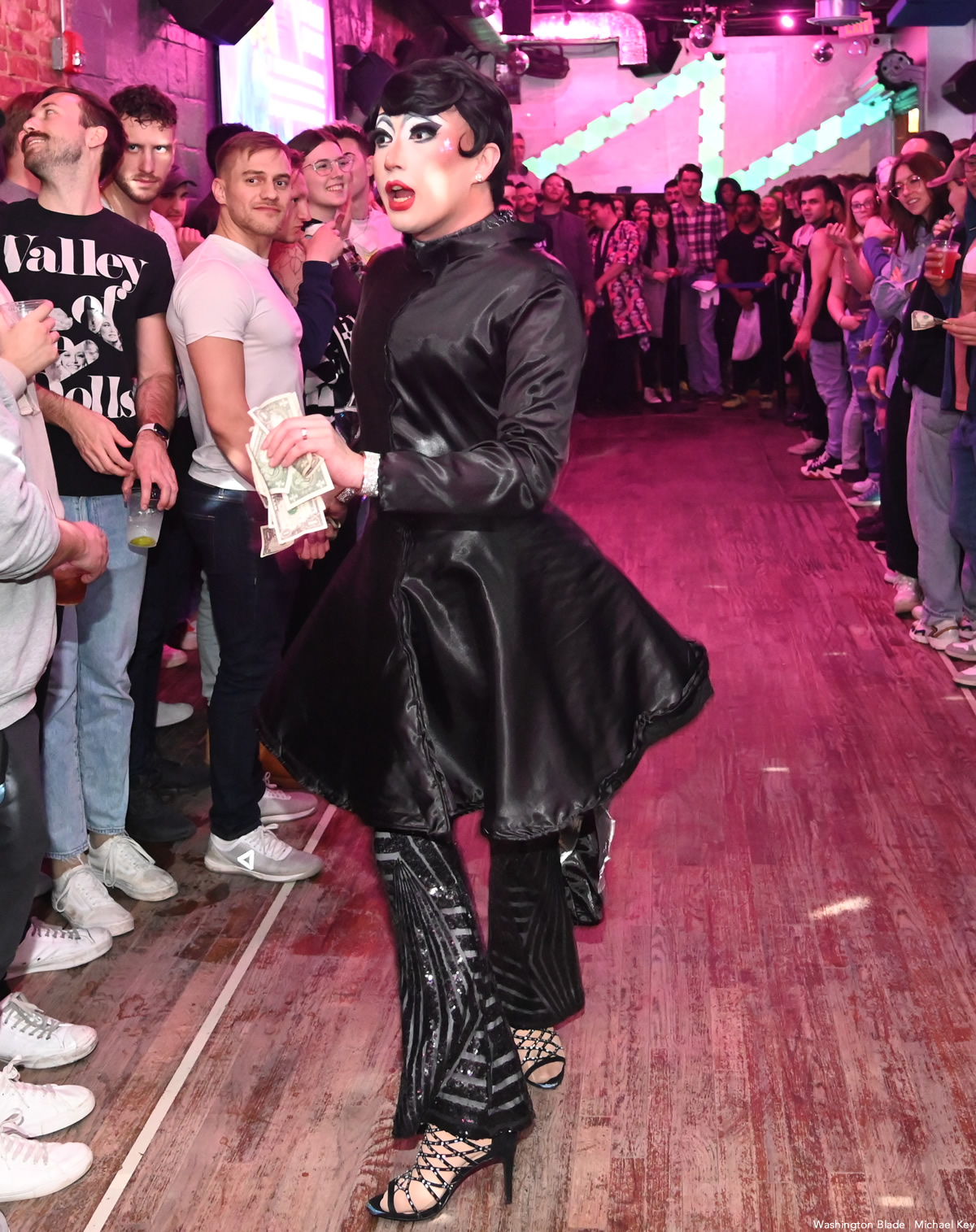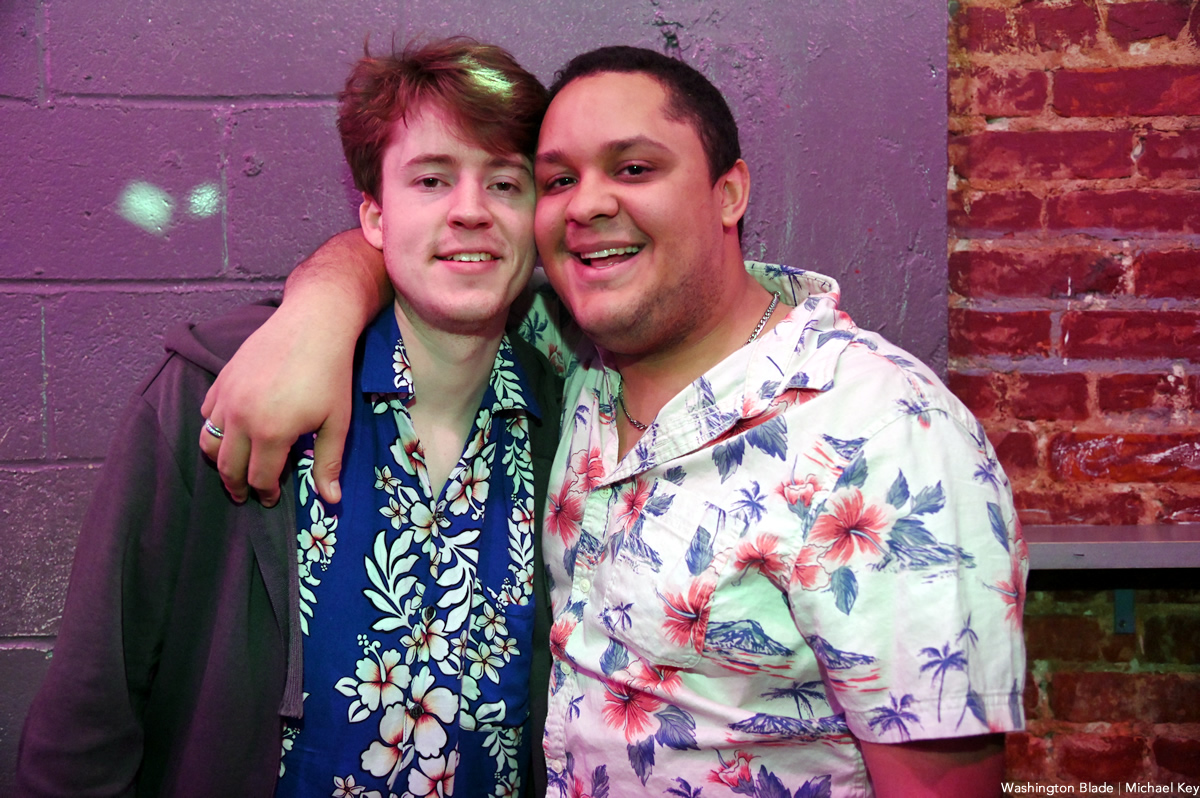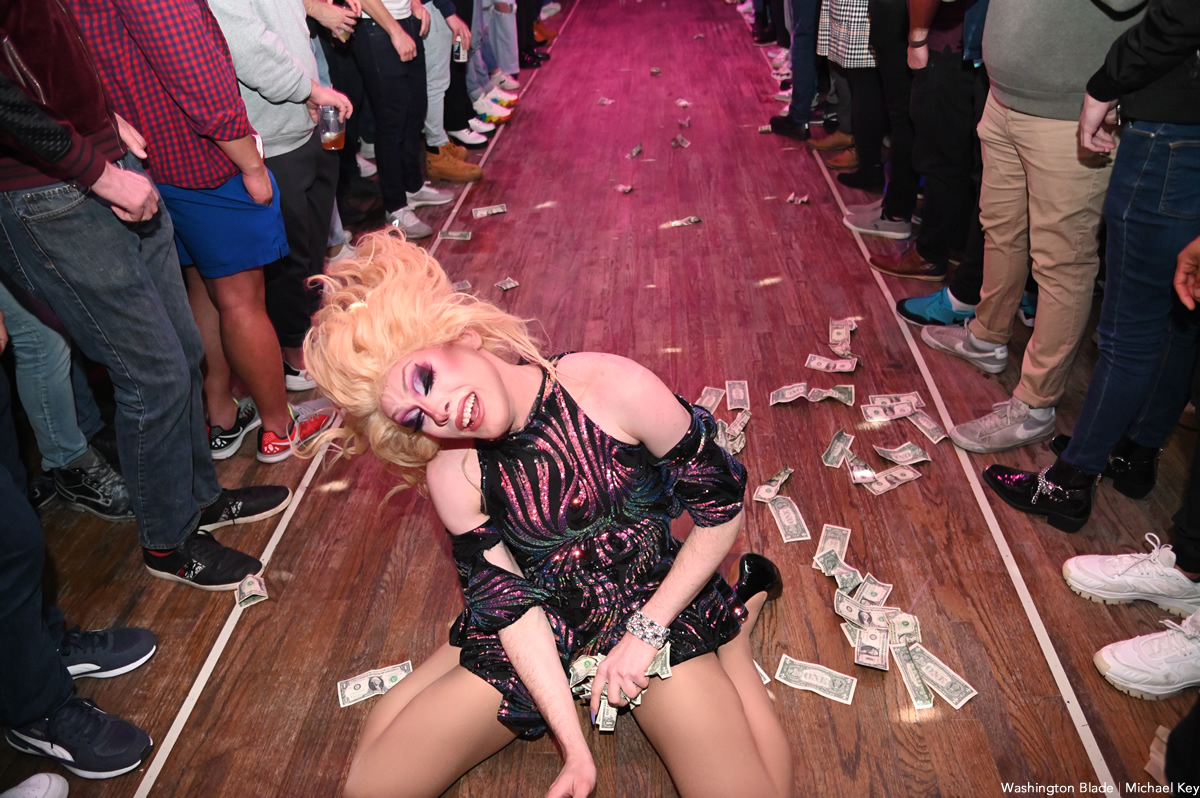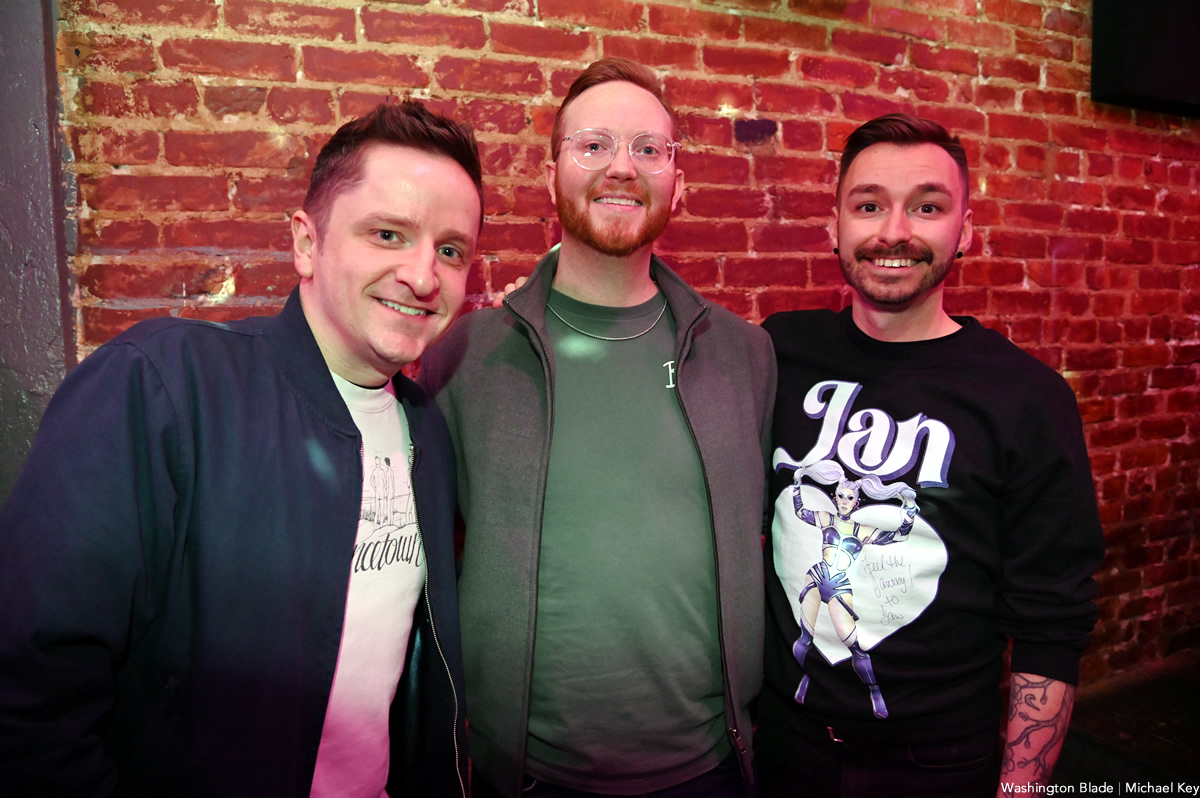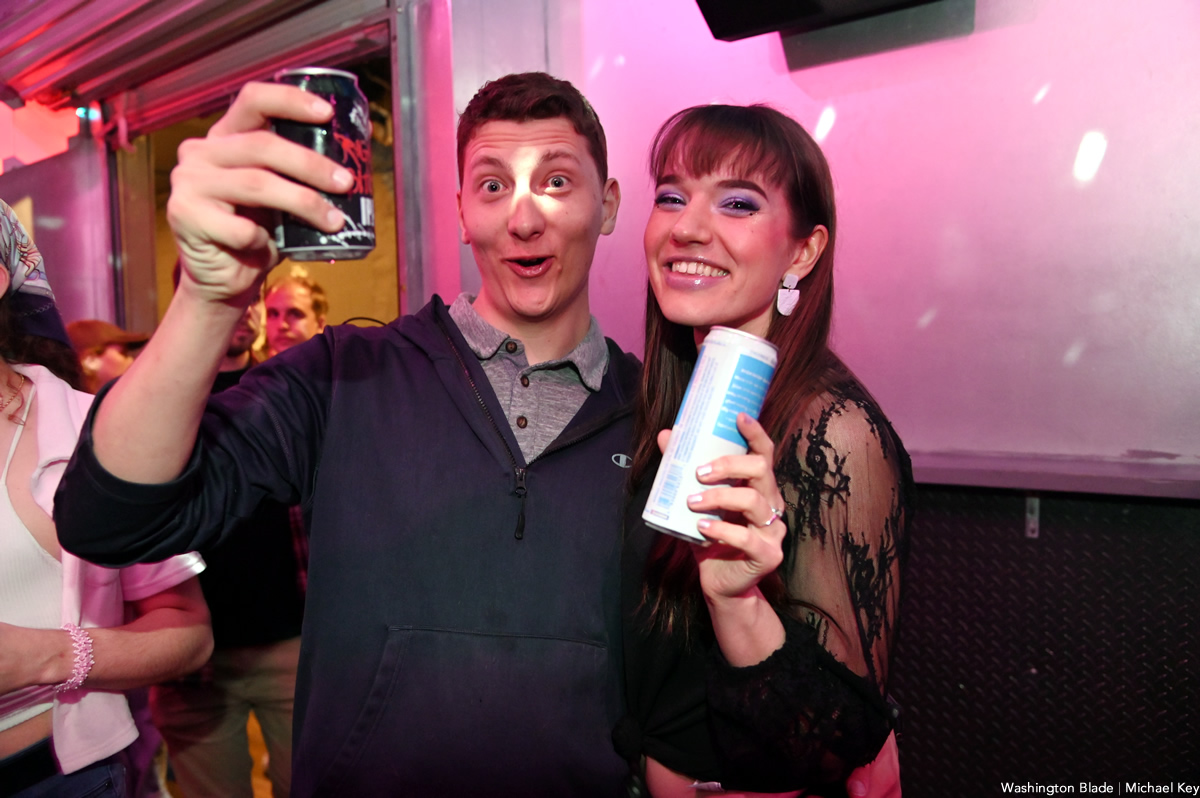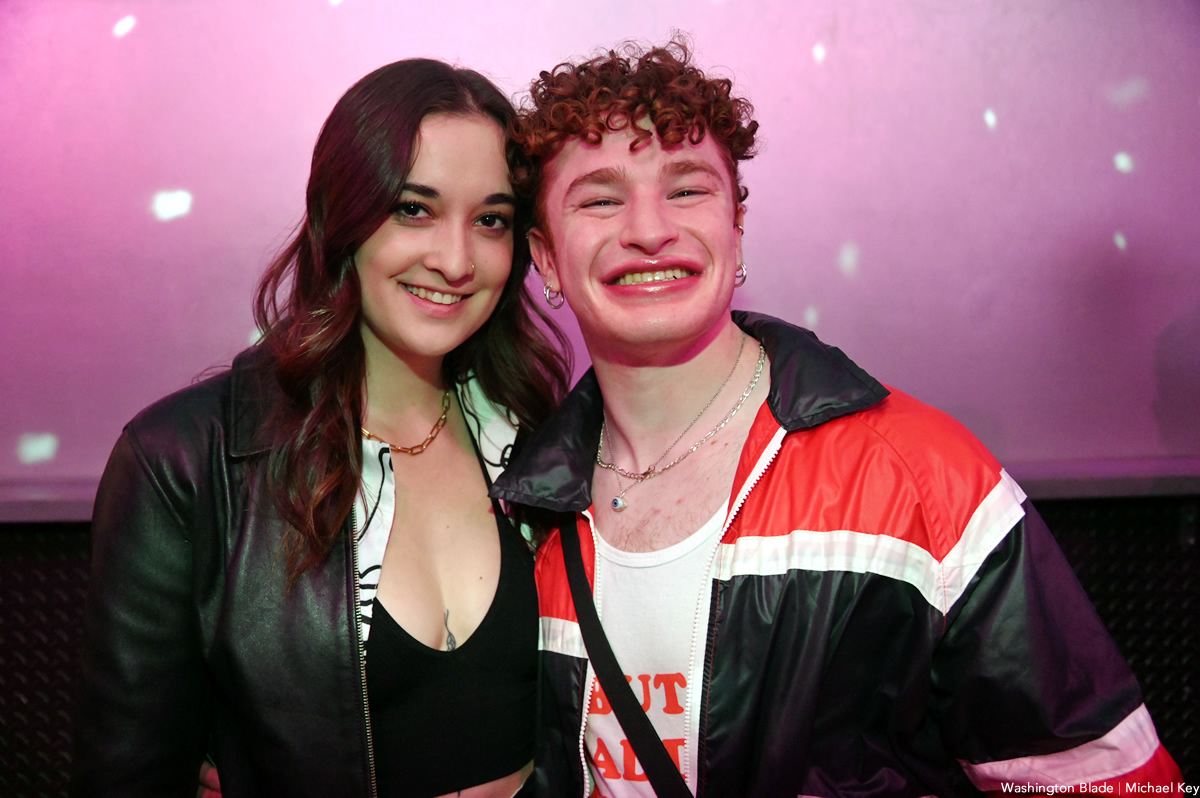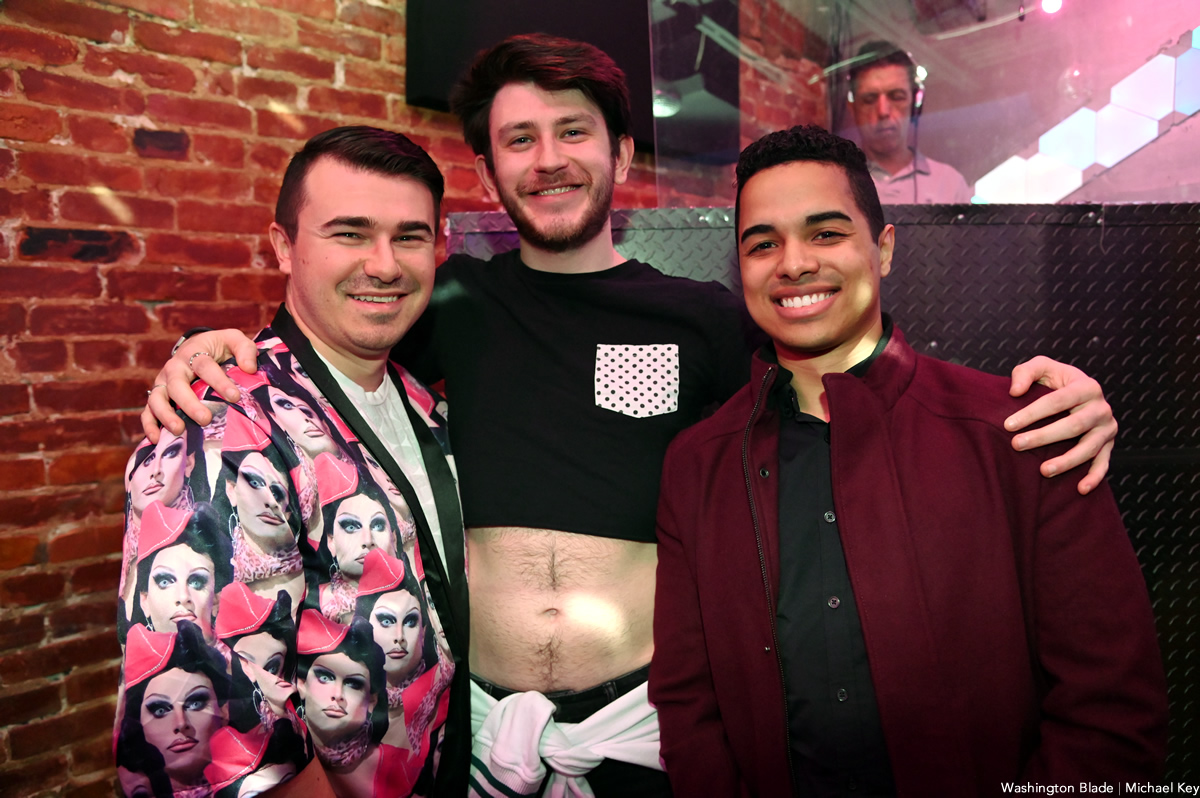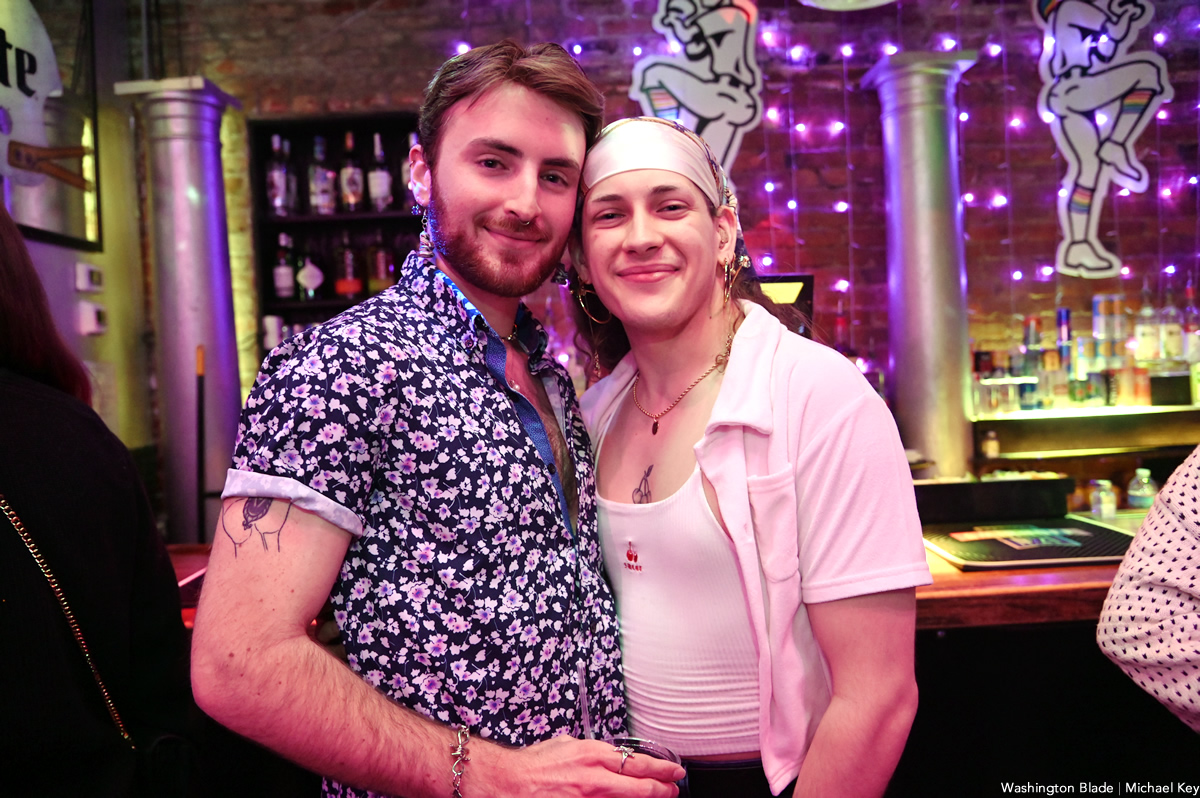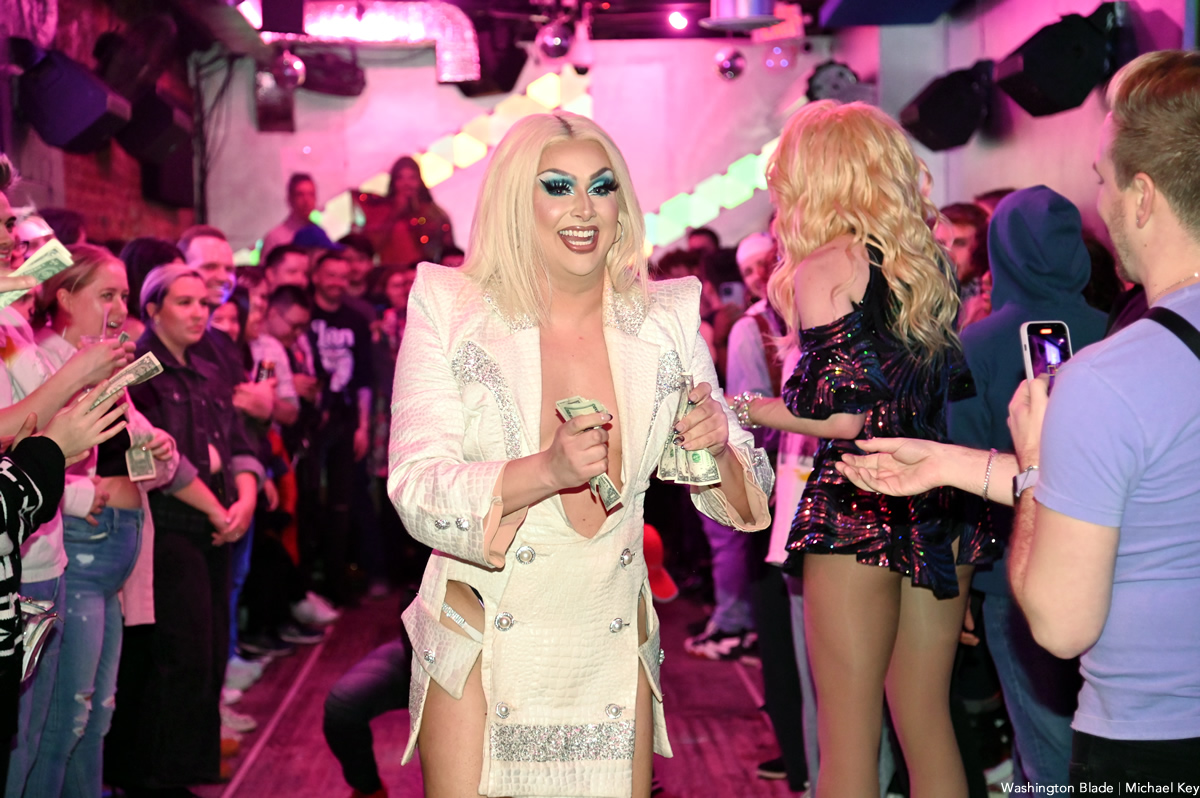 Covering @RuPaulsDragRace @JackieCoxNYC at @PitchersDC for @WashBlade . pic.twitter.com/DkB4P3GrJC

— Michael Patrick Key (@MichaelKeyWB) March 30, 2023
Arab-American playwright delves into queer themes in 'Unseen'
Mosaic production entwined with heartbreak and humor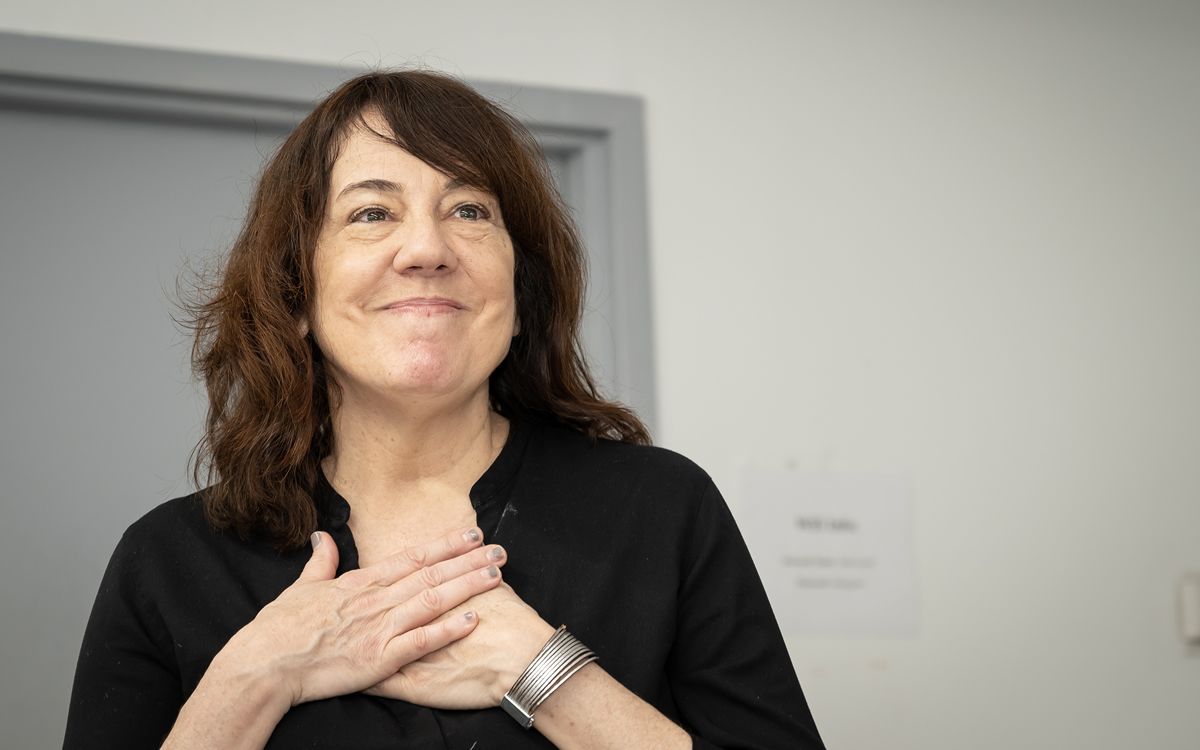 'Unseen' 
Through April 23
Mosaic Theater Company at Atlas Performing Arts Center
1333 H St., N.E.
$50-$64
Mosaictheater.org
New York playwright Mona Mansour is best known for exploring her Arab-American identity, but with her most recent work "Unseen," now playing at Mosaic Theater, she delves into queer themes, shining a light on her own sexuality.
"Doing a gay-themed play had been nagging at me for a while," explains Mansour via phone from a cozy coastal town in Connecticut where she's taking a short break from the city with her girlfriend, a children's book author. "So, when I started writing about a woman with a camera, it just seemed to fit."
Entwined with heartbreak and humor, "Unseen" focuses on Mia, an American conflict photographer who wakes up in her off-and-on girlfriend Derya's apartment in Istanbul with no idea of how she got there. In a cross-cultural, time-shifting journey, Mia, neither sanctimonious nor self-congratulatory about her work, wends through Istanbul, Gaza, Syria, and an art gallery in Philadelphia, confronting personal and professional challenges.
At turns, the women's relationship can be described as estranged, fiery, adversarial, sexy, and romantic.
"With each rewrite I increasingly stacked the deck in Mia and Derya's favor," says Mansour "Early on, one might have said, 'boy, I don't know about these two.' But now, there's love along with the contentiousness."
But will the women make it as a couple? Mansour suggests an after-play thing where the audience makes bets.
"What's clear is that Mia can't keep going on as she has been, and though the play doesn't take us to this, what I think personally is that we as a country can't keep going in the way we have either. Those are things I think are around the play, but for me as writing, putting those ideas into a play into a character's mouth, I feel like I shut down. It's tricky.
"Theater is a tough business and kicks your ass but there's a reason we all do it," she continues. "I'm a cynical person in a lot of ways, but I'm definitely not interested in writing plays that when the lights come up, the first thing people say is 'where are we going for cocktails?'. Those are fine too, and I've done silly plays in the past, but just not now."
Mansour likes a Washington audience. Her play "The Vagrant Trilogy," a stunning piece about a displaced Palestinian family in exile, debuted at Mosaic in 2018 before moving to New York's Public Theater last year. She credits the play with her having recently received the prestigious Arts and Letters Award in Literature from one of the country's foremost cultural bodies, The American Academy of Arts and Letters.
Growing up in a Southern California suburb, the daughter of a Lebanese immigrant father and an American mother from Seattle, Mansour was obsessed with Patty Hearst's kidnapping and battles of World War II. She says, "We weren't the rich family who took off for a week in Tahoe, though sometimes I would have liked that. We had a stream of cousins coming to stay with us during the Lebanese Civil War."
For Mansour, coming out to her parents shortly after meeting her first girlfriend in the mid-90s was a mixed bag: "It was a thing for my 'moderny' Lebanese dad," she says. "But my mother accepted it instantly." She recalls a gay friend at the time saying "I'm gay for 14 years and haven't told my mom. You've been gay for five minutes and have already come told your mom and hugged it out."
Before writing, Mansour acted, including a stint studying at Second City Chicago and improvising with the Groundlings Sunday Company: "I was good enough to know when I wasn't good. I write way above what my own punching ability was, but I always feel like someone else can do it." And with "Unseen," she has written three meaty tracks for three women, here played by Katie Kleiger, Dina Soltan, and Emily Townley. Directed by Johanna Gruenhut.
"As the bringer of images, Mia is part of a system, a system that I, Mona, think about all the time. But you can't address a system of endless wars in 90 minutes," she says.
Without spelling it out, Mansour's work makes audiences think about the big questions. "That's my hope," she adds. "I want them to come to that same psychic space without literally leading them there and plopping them down in a chair. You know, even when I agree with someone, I don't like to be lectured."
This Zurich bar was once a meeting place for a secret gay society
Barfüsser is now Kweer and attracting a new generation of diverse patrons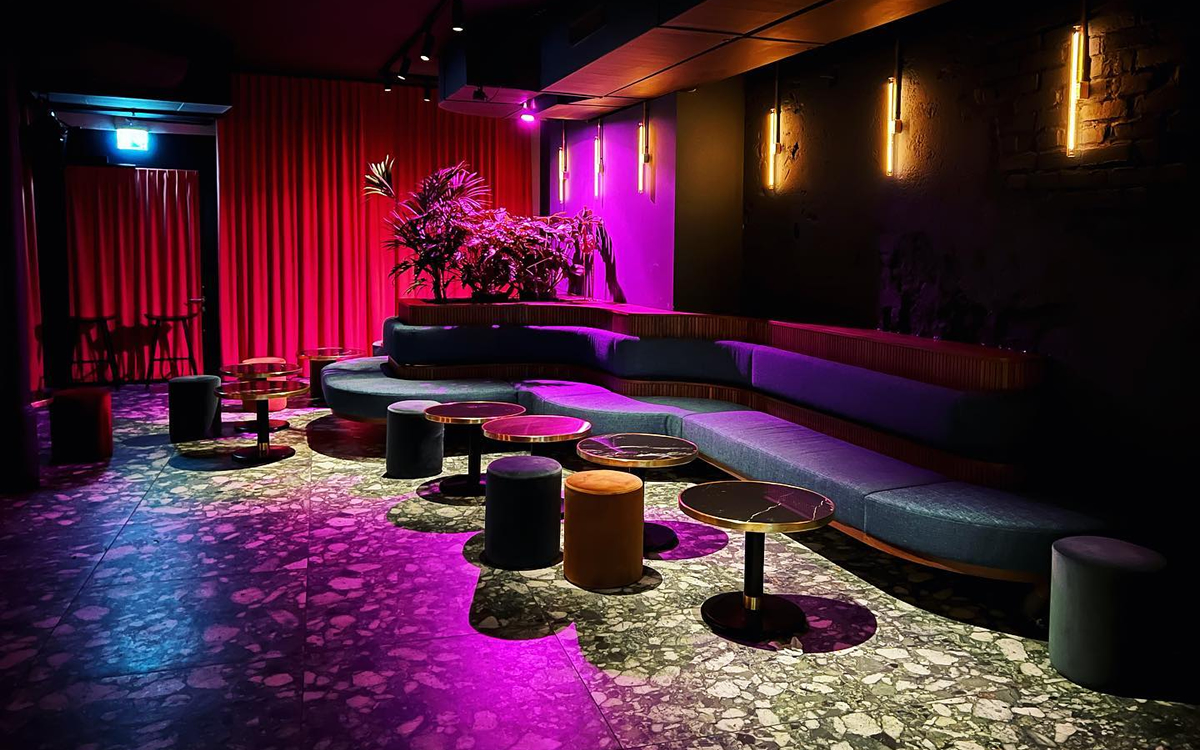 In 1942, as the Nazis were bombing their way around Europe, a quiet revolution was forming in Switzerland. The Swiss government decriminalized homosexuality that year, and the legal victory emboldened a group of gay men who had been secretly publishing a magazine. Der Kreis, a.k.a. The Circle, featured news, sexy stories and artwork, all about gay life in Switzerland, and most importantly there were details for upcoming parties at a nightclub in Zurich. With pages published in German, French, and English, The Circle was a lifeline for its subscribers, perhaps serving as their only glimpse of life beyond their oppressive reality.
With the absence of anti-gay laws in Switzerland, and the social scene created by The Circle's publishing team, Zurich became one of the gay capitals of the mid-20th century, where bands played for raucous parties and attendees dressed as their gender of choice. Just to the north in Germany, the Nazi regime arrested suspected homosexuals and imprisoned them in concentration camps, but gay Germans could take trains to Zurich and spend the weekend, dancing and drinking and engaging in taboo activities of the night.
Zurich's police tolerated the publishers of The Circle, on the condition that members had to be at least 20 years old. But social attitudes in Switzerland were still predictably conservative, and any public exposure of a homosexual lifestyle was grounds for immediately losing your job and eviction from your home. The Circle's parties were cloaked in secrecy. Attendance was restricted to registered members, and those registration lists were stored in a member's home, in an oven filled with wood, ready to ignite should the police invade looking for evidence for blackmail.
Those blackmail attempts began in the 1960s. Several gay men in Zurich were murdered by male prostitutes, but the killers claimed the "gay panic" defense, as if they had been coerced into being paid for sex by predatory older men, and the Swiss courts set them free. Mainstream press jumped on the story, also portraying the killers as the victims, and painted an image of Zurich as a pit of debauchery, which riled up the public. The police, embarrassed by the city's distasteful image, interrogated The Circle's publishers and threatened them with exposure if they did not disclose the names of their members. The publishers never caved to the threats, but the harassment led to the demise of The Circle, which ceased production in 1967, and those legendary parties disappeared.
All is not lost to history, however. In the 1950s, a bar opened in Zurich's Old Town historic district; called Barfüsser, it was owned by a liberal-minded husband and wife couple who defiantly hired a waiter who had been fired from his previous job for being gay. That bit of gossip spread quickly, mostly among the waiter's gay friends, and business flooded in, leading to Barfüsser quickly becoming one of Zurich's first gay bars. Women sat in the front, and men congregated in the back room, and it was in that back room where The Circle held meetings, amid the antics of dancing boys and drag queens and other shenanigans occurring around them.
Barfüsser soldiered on for decades and eventually closed in the early 2000s after the owners retired. The space was leased to a new business, a sushi restaurant, but in 2022 the restaurant moved out, and two local nightlife impresarios claimed the historic building. Marco Uhlig, who owns the nearby nightclub Heaven, a hotspot for Zurich's twink scene, and Sam Rensing, who owns restaurants outside of the city, worried that "the space might be occupied by a big gastro-chain," as explained by Rensing, and they wanted to return to its roots in European gay history. So they opened a bar there once again, now with the new name in the German spelling, Kweer.
The new Kweer is a beautiful lounge, with long serpentine couches and a small stage for shows, and the space opens early in the day as a coffeeshop, then changes to a posh cocktail bar in the evening. As progressive as it was in the 1950s when they hired their first gay employee, the bar is just as progressive now: instead of the self-imposed split of women in one room, men in the other, the crowd is entirely gender-friendly, with young patrons embracing their chosen pronouns and giving the place some fresh energy.
"We made sure to pivot the place as a queer space," said Rensing. "We really thought that it was imperative, that this place became a thriving queer space again, as it had been in the second half of the last century."