May 10, 2019 at 11:36 am EDT | by Patrick Folliard
MCC drama team presents original play, dinner this weekend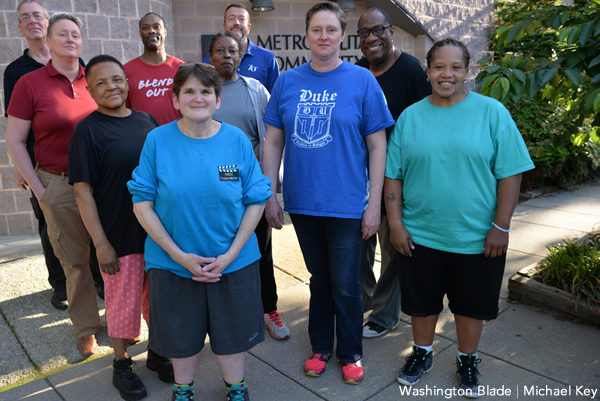 MCC-D.C. Drama Ministry Dinner Theater

'Maker of Zoe'

May 17 at 7 p.m.

May 18 at 1 and 7 p.m.

Metropolitan Community Church of Washington

474 Ridge St., N.W.

$40
Jules Christian's faith was tested but never wavered. An ordained minister and playwright, she began a nine-month exploration of her sexuality and spirituality about the same time she moved to Washington from Greensboro, N.C., in 2015.
This journey is reflected in her new play "Maker of Zoe," currently poised to premiere at Metropolitan Community Church of Washington, the city's largest mostly LGBT church.
As a newly minted member of MCC in April 2017, Christian eagerly agreed to support the church with her "time, talents and treasure."
"I'd done drama ministry as a youth pastor in North Carolina, and really liked it, so I approached the pastors about doing it here, and they agreed," Christian says. "Every month we do a presentation, usually a skit or spoken word."
But with MCC's permission, she was also working on a bigger, long-range project, "Maker of Zoe," a two-act fun, supernatural play that strives to illuminate the compatibility of sexuality and spirituality for LGBTQ people, and looks at common misconceptions of scripture concerning homosexuality.
"Typically, writing is hard but rewarding work for me," Christian says. "This play wasn't work at all. It flowed. I feel God put this play on my heart."
And she believes that might have something to do with the work's message.
"Its aim is to spread God's love to all of those who are in the LGBTQ community, to say, 'God loves you unconditionally despite what you might have heard.' It's about setting people free. My other intention is to start and continue a conversation about sexuality and spirituality in the church. Both for denominations that are open and affirming and those that teach homosexuality is sinful. There are good people who love God but believe being LGBTQ is wrong because of what they've been taught."
She'd like to set those people straight.
"Maker of Zoe" is the story of Avery, a whimsical, non-binary toy designer (played by Tina Renay Fulp), who beneath an upbeat exterior, is missing something inside. After falling into a state of despair, Avery receives an invite to meet the maker and is transported from D.C. to Zoe, a mystical, magical, peaceful place. There Avery meets different characters — a Jamaican landscaper, a pillar of salt, a hog, a platypus, a tomato and assorted angels — who explain that it's OK to be LGBTQ and a believer.
Christian, 43, loves all aspects of theater. In addition to writing the play and directing the production's 18-person cast, she also plays a small part.
"Expressing myself through theater is truly awesome," she says. "And drama done well connects with people in a special way; it touches their hearts."
Growing up in a small town outside Greensboro, N.C., Christian attended services at an ultra-conservative Christian church three times a week. At age 8, she felt called to be a minister. Her parents weren't pleased. They told her they'd rather she be dead than preach. Preaching was a man's job. This was the first of many conflicts young Christian would encounter.
But Christian's love for God and the church trumped anything naysayers threw her way. She detached herself from conservative circles moved forward, receiving a master's degree in theology in 2008 and being ordained the following year. In Washington, she's a hospital chaplain.
Though she has never doubted that God loves gay people, prior to coming out, Christian bought into the "hate-the-sin-not-the-sinner" model. That stopped after she ended her engagement to a man and came to terms with her sexuality. She studied scripture and realized passages regarding homosexuality have been blanketly interpreted incorrectly for centuries.
Slated for three performances in MCC's expansive, glass sanctuary, "Maker of Zoe" is part of the congregation's fundraising push. The ticket price includes an Italian dinner.
"We like to make it a big experience," Christian says.
The play's takeaways are a good time, and an important lesson for audience members — LGBTQ or straight — that access to Christian faith is not contingent on sexuality.
"I want people to be free to be who God made them, and open to exploring an area of spirituality they may have shutoff," Christian says. "And I'd like those who aren't LGBTQ to be more understanding."