May 16, 2019 at 1:11 pm EDT | by Joey DiGuglielmo
Capital Trans Pride returns this weekend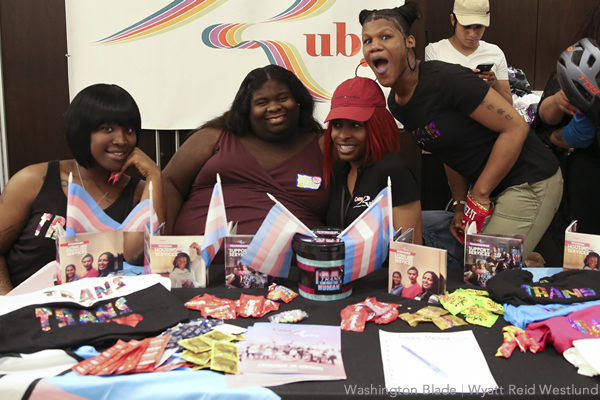 Capital Trans Pride

shhhOUT: Past, Present & Proud

Free but registration encouraged 

Look for the event on Facebook to register
Saturday, May 18
Workshops & Resource Fair

8 a.m.-4 p.m.

Eaton Workshop

1201 K St., N.W.
Capital Trans Pride Happy Hour

Saturday, May 18

5-8 p.m.

Studio Theatre

1501 14th St., N.W.
"The Garden Left Behind" movie screening
Sunday, May 19
5-9 p.m.

Studio Theatre

free
If intersectionality is a current buzzword when discussing LGBT and other issues, it's one that's explored dramatically in the movie "The Garden Left Behind," which tells of Tina, a young trans woman, and Eliana, her grandmother, as they navigate Tina's transition and struggle to build a life for themselves as undocumented immigrants in New York.
It will be screened this weekend as part of Capital Trans Pride on Sunday at 6 p.m. at Studio Theatre (1501 14th St., N.W.) as part of a weekend full of activities. Its theme is one that especially resonates with Trans Pride organizer Bianca Humady Rey, a native Filipino who came to the U.S. in '98 and came out as trans in 2013.
"It really resonated with me personally," Humady Rey says. "There's a scene where she's talking with her therapist to get those two letters required (for gender affirmation surgery) and it really connected with many of us when we previewed the film because these are also the challenges many of us in our community are facing."
Humady Rey says the film skillfully captures what it's like to be trans.
"It shows why it's important for us to be visible, to fight the fight and make sure that everybody is aware that trans people are human. We're being killed in high numbers yearly and that needs to stop. But it's also about what the journey is like and the process. There's a lot there that will resonate with our diverse community."
Filmmakers will be on hand after the screening for a Q&A session.
That's Sunday, but Saturday is the main day for Trans Pride programming. After battling rain last year, organizers have nixed the outdoor element that was part of the 2018 event when Trans Pride was at Foundry Church and Stead Park. This year, the main day of programming will be held at Eaton Workshop (1201 K St., N.W.) from 8 a.m.-4 p.m. for the workshop and resource fair. This year's theme is "shhhOUT: Past, Present & Proud." It's free but registration is requested.
SaVanna Wanzer started Capital Trans Pride in 2007 and is now active with We the People, another local trans group in the midst of its May Is? All About Trans series of events.
Jamison Crowell, executive director of the D.C. Area Transmasculine Society, a queer trans man, is one of the Trans Pride session presenters along with the society's program associate Jake Paiva.
Ann Murdoch will present a workshop called "Celebrating Trans and Gender Non-conforming Identities" at 10 a.m. in which "participants will gain an appreciation for how inspiring many people from all walks of life find our stories of overcoming shame, stigma and discrimination to live our authentic lives as well as explore of how our personal stories both shape and are shaped by our identities."
Murdoch is a blogger, speaker and trainer who helps organizations harness the power of diversity and inclusion, teaches leadership, and "helps people be their best, most authentic selves," according to Trans Pride promotional material. She is a retired U.S. Army officer who rose through the ranks from private to lieutenant colonel and now works for the federal government. After a long career representing as male, she transitioned in 2016.
Breakfast and lunch will be served at the event.
Other workshops planned throughout the day include "intro to Government Consulting," "It's Your Health: Understanding Insurance Maze & Filing Appeals," "PrEP and Trans Bodies," "Adult Allies for Transgender and Non-binary Youth" and many more.
Cecilia Gentili will be the keynote speaker at 1 p.m. in the Beverly Snow Room.
Attendance estimates are hard to determine, but Trans Pride organizers say between 400-600 attend throughout the weekend. RSVPs on social media are already higher this year than in previous years, organizers said.
Humady Rey says the resources Trans Pride offers are especially needed now in what some have called a hostile presidential administration in which trans rights — what few there are — are often first on the chopping block.
"I'm always thinking about medical access for myself and my trans brothers and sisters," Humady Rey says. "I don't understand how you can deny someone access to what they need to be their fully authentic self. It's outrageous."
Ultimately, though, she's hopeful.
"I live a very optimistic life," she says. "There's a light coming at the end of the tunnel. In the meantime, we need to really start educating people in power and our allies and even people who are not our allies, to hear our stories. That's what really makes an impact."