Capital Trans Pride returns this weekend
Day-long seminar, resource fair, social hour, film screening planned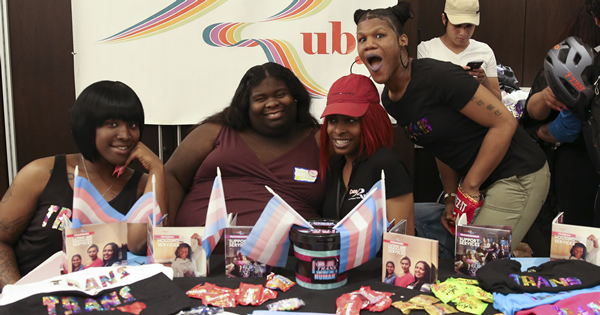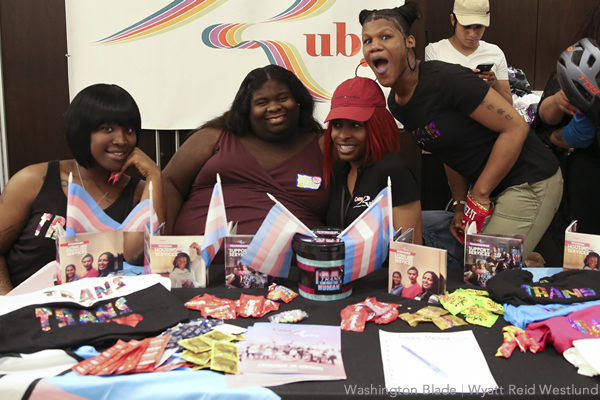 Capital Trans Pride

shhhOUT: Past, Present & Proud

Free but registration encouraged 

Look for the event on Facebook to register
Saturday, May 18
Workshops & Resource Fair

8 a.m.-4 p.m.

Eaton Workshop

1201 K St., N.W.
Capital Trans Pride Happy Hour

Saturday, May 18

5-8 p.m.

Studio Theatre

1501 14th St., N.W.
"The Garden Left Behind" movie screening
Sunday, May 19
5-9 p.m.

Studio Theatre

free
If intersectionality is a current buzzword when discussing LGBT and other issues, it's one that's explored dramatically in the movie "The Garden Left Behind," which tells of Tina, a young trans woman, and Eliana, her grandmother, as they navigate Tina's transition and struggle to build a life for themselves as undocumented immigrants in New York.
It will be screened this weekend as part of Capital Trans Pride on Sunday at 6 p.m. at Studio Theatre (1501 14th St., N.W.) as part of a weekend full of activities. Its theme is one that especially resonates with Trans Pride organizer Bianca Humady Rey, a native Filipino who came to the U.S. in '98 and came out as trans in 2013.
"It really resonated with me personally," Humady Rey says. "There's a scene where she's talking with her therapist to get those two letters required (for gender affirmation surgery) and it really connected with many of us when we previewed the film because these are also the challenges many of us in our community are facing."
Humady Rey says the film skillfully captures what it's like to be trans.
"It shows why it's important for us to be visible, to fight the fight and make sure that everybody is aware that trans people are human. We're being killed in high numbers yearly and that needs to stop. But it's also about what the journey is like and the process. There's a lot there that will resonate with our diverse community."
Filmmakers will be on hand after the screening for a Q&A session.
That's Sunday, but Saturday is the main day for Trans Pride programming. After battling rain last year, organizers have nixed the outdoor element that was part of the 2018 event when Trans Pride was at Foundry Church and Stead Park. This year, the main day of programming will be held at Eaton Workshop (1201 K St., N.W.) from 8 a.m.-4 p.m. for the workshop and resource fair. This year's theme is "shhhOUT: Past, Present & Proud." It's free but registration is requested.
SaVanna Wanzer started Capital Trans Pride in 2007 and is now active with We the People, another local trans group in the midst of its May Is? All About Trans series of events.
Jamison Crowell, executive director of the D.C. Area Transmasculine Society, a queer trans man, is one of the Trans Pride session presenters along with the society's program associate Jake Paiva.
Ann Murdoch will present a workshop called "Celebrating Trans and Gender Non-conforming Identities" at 10 a.m. in which "participants will gain an appreciation for how inspiring many people from all walks of life find our stories of overcoming shame, stigma and discrimination to live our authentic lives as well as explore of how our personal stories both shape and are shaped by our identities."
Murdoch is a blogger, speaker and trainer who helps organizations harness the power of diversity and inclusion, teaches leadership, and "helps people be their best, most authentic selves," according to Trans Pride promotional material. She is a retired U.S. Army officer who rose through the ranks from private to lieutenant colonel and now works for the federal government. After a long career representing as male, she transitioned in 2016.
Breakfast and lunch will be served at the event.
Other workshops planned throughout the day include "intro to Government Consulting," "It's Your Health: Understanding Insurance Maze & Filing Appeals," "PrEP and Trans Bodies," "Adult Allies for Transgender and Non-binary Youth" and many more.
Cecilia Gentili will be the keynote speaker at 1 p.m. in the Beverly Snow Room.
Attendance estimates are hard to determine, but Trans Pride organizers say between 400-600 attend throughout the weekend. RSVPs on social media are already higher this year than in previous years, organizers said.
Humady Rey says the resources Trans Pride offers are especially needed now in what some have called a hostile presidential administration in which trans rights — what few there are — are often first on the chopping block.
"I'm always thinking about medical access for myself and my trans brothers and sisters," Humady Rey says. "I don't understand how you can deny someone access to what they need to be their fully authentic self. It's outrageous."
Ultimately, though, she's hopeful.
"I live a very optimistic life," she says. "There's a light coming at the end of the tunnel. In the meantime, we need to really start educating people in power and our allies and even people who are not our allies, to hear our stories. That's what really makes an impact."

André Leon Talley dies at 73
Iconic Black fashion journalist was born in D.C.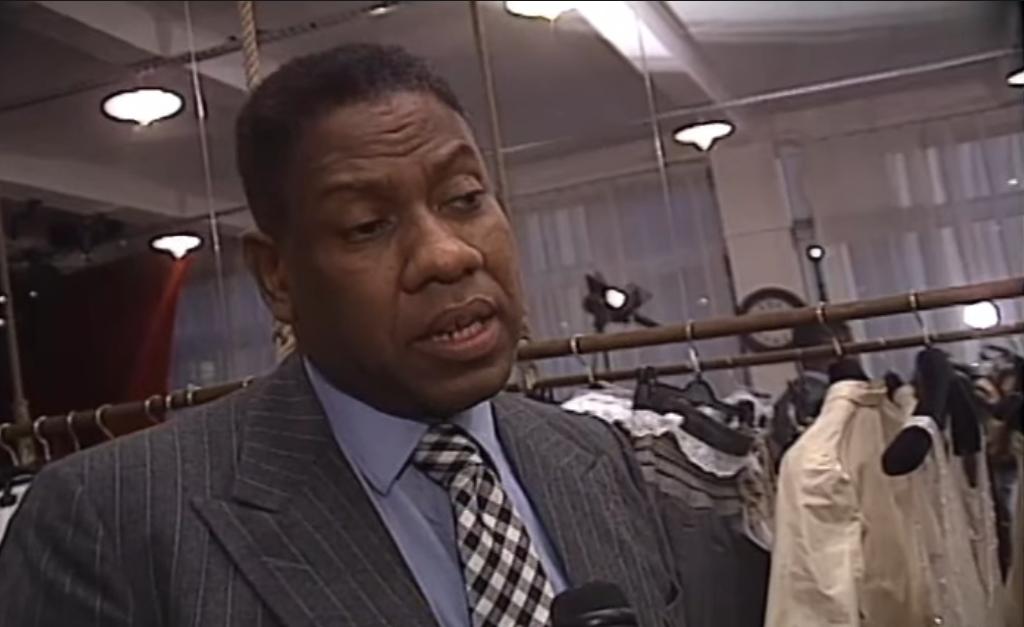 André Leon Talley, a formidable iconic fashion journalist and the former creative director and one-time editor-at-large of Vogue magazine, passed away at age 73 of unspecified causes at a hospital in White Plains, an inner suburb of New York City in Westchester County, New York.
News of the famed fashion journalist's death Tuesday was first reported by celebrity news and gossip site TMZ.
Andre Leon Talley, a giant in the fashion world, has died at 73. https://t.co/eckqP7zdwk

— TMZ (@TMZ) January 19, 2022
Talley was known for his close friendships with designers like Karl Lagerfeld, Tracy Reese, Rachel Roy, and singer/actress Jennifer Hudson, and Vogue magazine editor-in-chief Anna Wintour among others.
Talley worked at Vogue during an unprecedented time of growth in the fashion industry in the 1980's and 1990's. From 1983 until late 1987, he was the magazine's the news director and was then promoted to Vogue's creative director in 1988, a post he held until 1995. He later came back to the magazine in 1998 as the editor-at-large until his departure in 2013.
Born in D.C. on Oct. 16, 1948 and raised in North Carolina, Talley graduated with a Bachelor of Arts degree in French Literature in 1970 from North Carolina Central University. He later attended Brown University, after he was awarded a scholarship, where he earned a Master of Arts degree in French Literature in 1972.
Talley's early career as a journalist saw him working at Andy Warhol's Factory and Interview magazine. He later became the Paris bureau chief for Women's Wear Daily.
His later career saw Talley hosting his own radio show principally concerned with fashion and pop culture on Sirius XM. He also released a book "The Chiffon Trenches: A Memoir" on May 19, 2020, which detailed his early career start and some of the issues he encountered as a Black man.
Talley was also an LGBTQ icon. When asked about his sexual orientation by daytime chat show host Wendy Williams during a May 29, 2018 appearance, he stated, "No, I'm not heterosexual; I'm saying I'm fluid in my sexuality, darling."
André Leon Talley, fashion's godfather | fashion icon profile:
VideoFashion profile in 2020 marking of the release of André Leon Talley's memoir, "THE CHIFFON TRENCHES."
André Leon Talley | full address | Oxford Union:
DC Center to host estate planning seminar series
Three sessions presented by Murray Scheel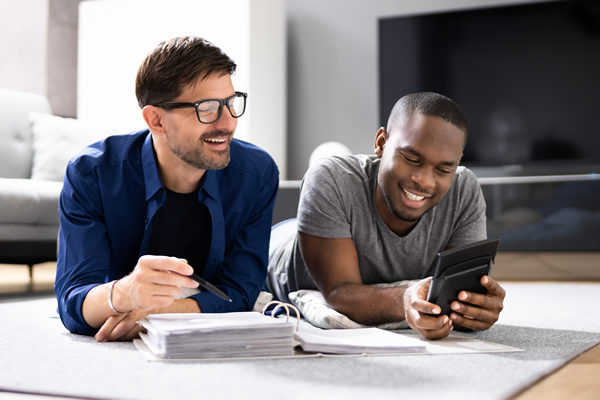 The DC Center for the LGBT Community and the DC Department on Aging and Community Living will host "Estate Planning Tools with Murray Scheel" via Zoom. 
Scheel will walk guests through the process of taking care of the end-of-life planning business that needs to be addressed during the golden years. Scheel is Senior Staff Attorney at Whitman-Walker Health's Legal Services.
This event series will consist of three 1.5-hour sessions:
Jan. 19, 3 p.m. – "Tools for while you're living" (overview, general power of attorney, healthcare power of attorney, disposition of remains, etc.)
Jan. 26, 3 p.m. – "Tools for after you're gone" (living wills, last wills, assets, etc.)
Feb. 2, 3 p.m. – "Healthcare insurance & long term care" (Medicare, Medicaid, correcting misinformation, skilled nursing, hospice care, etc.)
To register for this event, visit the DC Center website.
DC Center to host legal seminar for trans people
Attorney Richard Tappan and paralegal Miranda Shipman to give legal advice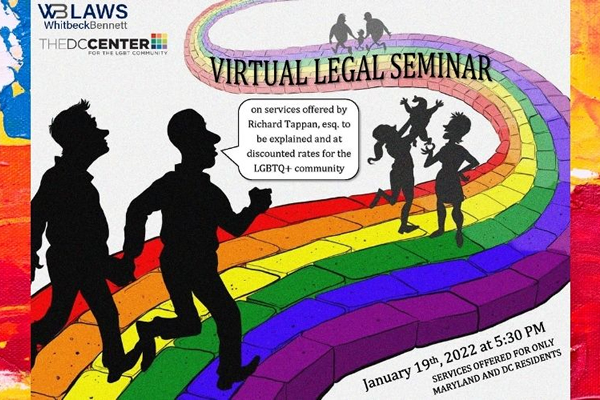 The DC Center for the LGBT Community will host a "Gender and Name Change Legal Seminar" on Wednesday, Jan. 19 at 5:30 p.m. online.
Attorney Richard Tappan and paralegal Miranda Shipman will give legal advice and speak on the importance of the legal community within the LGBTQ community, the difficulties of the LGBTQ community in the legal field and name and gender changes.
Guests can find the link at the DC Center website.