May 22, 2019 at 8:00 am EDT | by Joey DiGuglielmo
Out hip-hop artist/arapper MarcWayne readies D.C. Black Pride performance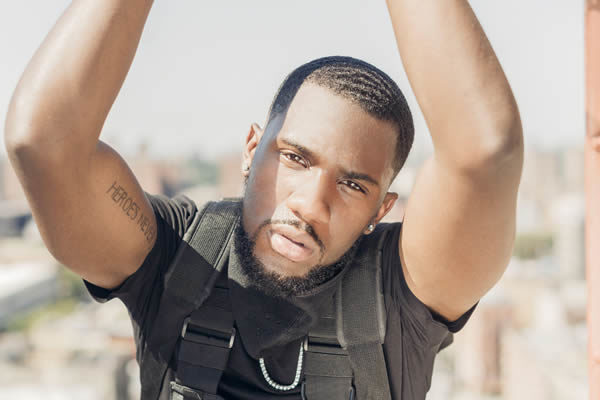 29th annual D.C. Black Pride CommUNITY Opening Reception

Friday, May 24

7 p.m.

Renaissance Washington D.C. Downtown

999 9th St., N.W.

sold out
If you've been attending D.C. Black Pride's annual opening reception for years, this year's might look a bit different.
For its 29th annual event, D.C. Black Pride (a program of the Center for Black Equity), invited about 60 other organizations in the region — everything from Al Sura, Casa Ruby to Daryl Wilson Productions and dozens more — to co-present the event. It all ties in with this year's theme "Our TRUTHS in HARMONY: D.C. Black Pride 2019."
Because thousands come to D.C. Black Pride from all over, the event is sold out. Clairity from Queen & Clair will emcee. Local R&B artist Rinny will perform as well as MarcWayne.
The Blade caught up with MarcWayne, a former D.C. resident, by phone Monday from Newark, N.J., where the 25-year-old, openly gay rapper is now based. His comments have been slightly edited for length. Find out more about MarcWayne at findingmarcwayne.weebly.com. 
WASHINGTON BLADE: Your debut EP "Finding MarcWayne" dropped in January. Are you pleased with how it turned out and how has it been received?
MARCWAYNE: Really good. It's compiled of my emotions and feelings for the past two years. The EP was a soul-searching journey of finding out who I was. I got a lot of great reviews and we had over 2,000 streams the first week. It's a really good vibe man, a good vibe.
BLADE: What did you learn about yourself in the process?
MARCWAYNE: I learned that I've allowed things to stir my feelings. I've been through some stuff, but through adversity comes triumph and through triumph comes happiness. It's about my journey struggling not only as an LGBT person but as an artist and a person in New York City, which is not the easiest place to live. I've learned not to trivialize the strength I have.
BLADE: Are you in Newark for work or do you live there?
MARCWAYNE: It's where I'm based for now but I'm always in New York for work. Eventually I'll be moving closer to the city or even to D.C., but for the moment I'm here. But I'll be from Flint, Mich., til the death of me.
BLADE: What is it about growing up in Flint that still resonates with you?
MARCWAYNE: Just the rawness of Flint. It's a very, very smart town where pretty much everybody knows everybody, but it's genuine, it's family oriented. I love love, I value friendship, I love humanity and I grew up in a city where people are close. When I'm in New York or any big city, I'm like that little hometown kid who's always trying to bring people together. I say, "Excuse me," and stuff like that. Also there are a lot of people rooting for me from back home. They see somebody from Flint actually making it, so I feel that support.
BLADE: Has being out in the hip-hop world been a hindrance in your career?
MARCWAYNE: It's been a challenge, I will definitely say that. We live in an industry where the perception of LGBT artists is that we're very over the top, we use a lot of vulgar words, sexual words to characterize who we are. And there's nothing wrong with being who you are, but we're in an industry that tries to block a lot of people like me. Like we'll be talking about x, y or z and there's a preconceived idea of what it means to be an LGBT artist. I stay away from the norm. There are people who like my music who don't know I'm a gay artist. It's not something that's always clear on the surface of the music. I want people to see me for that first, then have them realize that it's a gay rapper or a gay artist up there doing big things. I never really say, "Hey, I'm an out artist," but if you listen to my music from 2015 onward, you can hear some of the lyrics talk about guys. But I never made it that blatant.
BLADE: Are you in a relationship now?
MARCWAYNE: Yes I am, Im very happy. That and my EP, those are the best things that have happened to me this year.
BLADE: So this is kind of recent?
MARCWAYNE: Yeah, we started dating in February. It's very fresh and new but it's something I need and it's been an inspiration for my music. Now my songs are about him. You might see me doing some more R&B-leaning stuff soon.
BLADE: Who are your musical influences?
MARCWAYNE: Bryson Tiller, Frank Ocean, Drake, Teyana Taylor and Yo gotti. As for women, I love Teyana Taylor and Brandy. Brandy is a classic, but Teyana, her lyrics are deep. I didn't start appreciating her music until early adulthood. Fashion was always my thing growing up and I studied at the Art Institute of Washington, but music has always been my heart and I really started moving more in that direction about three years ago.
BLADE: Have you done many Pride events?
MARCWAYNE: Yes. In Newark, Detroit, Flint, Chicago, but this is my first D.C. pride performance.
BLADE: What do you have planned for your D.C. performance?
MARCWAYNE: It's gonna be dope. I'll be doing about a 15-minute set at the opening reception with Rinny. I want to highlight and promote that collaboration and togetherness. It's gonna be a really good show, epic. Some singing, some rapping, some good times, all o 'dat.
BLADE: When were you living in Washington?
MARCWAYNE: This was when I was studying retail management in 2014 and into 2015. I was going to art school, but I'd be in the computer lab working on music. D.C. really helped me get started and know the direction I wanted to go in life. I was 21, I wasn't doing a lot but I was figuring out who I was and what I wanted to do.
BLADE: How is your summer shaping up?
MARCWAYNE: I'm doing a mini tour, the "Finding MarcWayne, Guys Like Me Experience." I'll be in Brooklyn, in the Bronx for a Pride event, then going back to Michigan. Basically my summer is touring but I have three new singles coming out with hot summer vibes. And I'll be giving my people some R&B something special later in the year.
BLADE: Why do you think events like Black Pride are important?
MARCWAYNE: If we don't have these, we'll be forgotten. We have to create more moments, more community, more events to celebrate each other. A lot of people don't want to see you win but it's needed because we need the togetherness, we can uplift each other and bring knowledge. It's a time for us to come together and be ourselves. We need spaces like this. I wish I'd had this growing up in Flint. It's very important to have this for the people coming up after us.