May 22, 2019 at 7:00 am EST | by Joey DiGuglielmo
QUEERY: Nii-Quartelai Quartey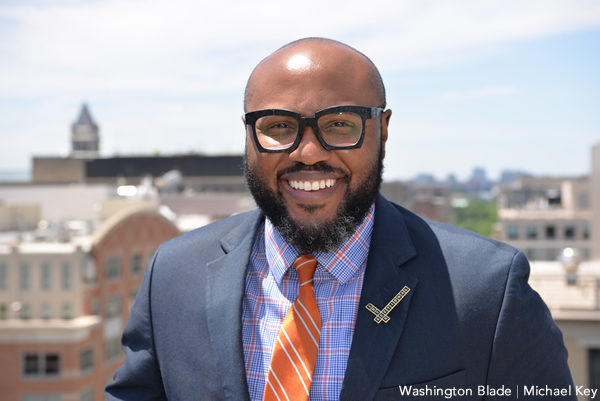 Nii-Quartelai Quartey didn't plan to have a "gay job" or career — it just kind of worked out that way.
"I always intended to do pioneering, consequential social justice work that reflected lessons from my lived experience," says the 35-year-old Concord, Calif., native, who is senior advisor and national LGBT liaison for AARP. "But I never intended for LGBT work to be a significant part of my academic or professional career."
Quartey came to Washington about three years ago when recruited to the AARP National Office. He'd been in Los Angeles from 2003-2016 and earned a doctorate and master's degree from Pepperdine University Graduate School of Education and Psychology. His work at AARP and beyond involves coalition building.
"It means understanding what your collaborators do well and understanding how to leverage their assets to drive efforts aligned with shared goals and values," he says.
For his work, Quartey has received this year's Welmore Cook Award from D.C. Black Pride (named after one of the co-founders of the event). The award is presented annually to two D.C.-based, black LGBT residents providing "outstanding leadership." The reception was held Tuesday at The Park at 14th. Bishop Allyson Abrams and Bishop Emeritus Diana Williams of Empowerment Liberation Cathedral shared this year's other Cook Award.
Quartey says he's "deeply humbled" to receive the award and "stand on the shoulders of such a pioneering and consequential leader who had the wisdom to create D.C. Black Pride."
Quartey and husband Montre Burton have been together for 10 years, married almost four. They live in Northeast Washington. Burton enjoys reading, brunch, travel, talking and Netflix in his free time.
How long have you been out and who was the hardest person to tell?
I do not have one coming-out experience. Like most people, I come out every day in grand and subtle ways. Still this pales in comparison to being the one to tell my mom, when my dad passed away.
Who's your LGBTQ hero?
I have several heroes and sheroes.James Baldwin, Barbara Jordan, Sylvia Rivera, Ford Foundation President Darren Walker and Rainbow Railroad Executive Director Kimahli Powell come to mind at the moment. Their boldness and bravery inspires me to dig deeper and be a brighter light in the world.
What LGBTQ stereotype most annoys you?
LGBTQ folks might have a heightened awareness around nuance and detail, but being LGBTQ doesn't make us interior designers like Martha Stewart.
What's your proudest professional achievement?
After receiving a request from Lambda Legal for AARP to file an amicus brief in support of Marshal Wetzel, my proudest professional achievement was the day AARP Foundation Litigation Chief Bill Rivera emailed me the brief we filed in the U.S. 7th Circuit Court. Marsha had become the subject of harassment in an assisted living facility because she's an out lesbian and the administrators did not act to keep her safe from harassment. I knew doing so was a consequential next step for our organization and the LGBT movement.
What terrifies you?
Images of clowns make me uncomfortable. Shaking the hands of people with dirt under the fingernails weirds me out!
What's something trashy or vapid you love?
"Real Housewives of Atlanta"
What's your greatest domestic skill?
I am a novice plant dad but seasoned at flower arrangement. I enjoy coming home and waking up to fresh flowers. Whenever I have out-of-town visitors, I like for them to be welcomed into our home with fresh flowers, too.
What's your favorite LGBTQ movie or show?
I really enjoy "Pose" on FX Network and "Special" on Netflix.
What's your social media pet peeve?
Facebook instant messenger is not called Facebook instant response and should not be used with that expectation. Stop putting your email in an instant message for a faster response.
What would the end of the LGBTQ movement look like to you?
I don't think we'll see the LGBTQ movement end in our lifetime but I imagine a more mature movement would include women, people of color and trans people in staff leadership roles, board leadership roles and leading on issues of the day that today are not considered tent pole issues in our community.
What's the most overrated social custom?
Saying "Hi" at the beginning of every email.
What was your religion, if any, as a child and what is it today?
I was raised as a Christian and I still love the Lord, though my faith is more aligned with liberation theology.
What's D.C.'s best hidden gem?
The Penthouse Pool at VIDA is pretty awesome. Feels like a splash of Los Angeles in D.C.
What's been the most memorable pop culture moment of your lifetime?
It's a tie between hearing Nelson Mandela speak at the Oakland Coliseum at 7 years old on the world tour following his release from prison and being on "The Oprah Winfrey Show" as 13-year-old student activist for raising money to send deserving young people to college.
What celebrity death hit you hardest?
The death of Prince made me feel like the world lost some of its magic. His musicianship made so many people feel something.
If you could redo one moment from your past, what would it be?
I do not live my life with regrets. There are lessons in everything.
What are your obsessions?
Jamaican stew peas with dumplings; eyeglasses; and spades.
Finish this sentence — It is about damn time:
America normalizes its consideration of people of color, women and gay people for president of the United States.
What do you wish you'd known at 18?
I wish I knew I was going to be bald by 35 years old. I would have had more fun with my full head of hair at 18. But don't think for a second I've ruled out any interventions.
Why Washington?
D.C. is an international city and small town all wrapped up in one. What we do and do not do here matters to the world. If you are like me, deeply committed to being a mighty force for good, D.C. is good place to be the change you wish to see in the world.