June 8, 2019 at 11:43 pm EDT | by Joey DiGuglielmo
Gun scare in Dupont Circle halts 2019 Pride Parade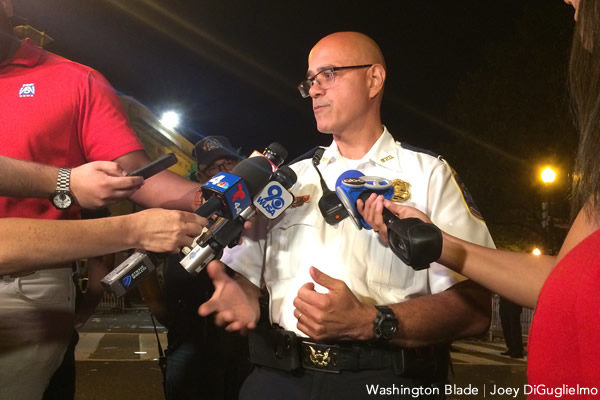 A gun scare in Dupont Circle tonight about 7:30 p.m. brought the annual Capital Pride Parade to a screeching halt and sent hundreds of observers fleeing the scene in panic, according to eyewitnesses and police.
"At about 7:20 p.m., officers responded to a report of a man with a gun," said Commander Guillermo Rivera of D.C. Metro Police during an impromptu press conference in Dupont Circle about 9:15 p.m. "As the officers were going to the scene, some of the people running away said there was a man with a gun and someone had fired shots. Officers arrived and stopped an individual and a gun was recovered close by. There is no evidence that any shots were fired, but that's under investigation."
The scene at the circle was still buzzing after 9 p.m. Dozens of police officers were on scene all around the circle along with fire and EMS personnel. Sgt. Brett Parson was on the scene with Rivera. Capital Pride organizers such as Ryan Bos (executive director, Capital Pride Alliance), Bernie Delia (former president), Ashley Smith (president of the Capital Pride Alliance board), Cathy Renna (whose PR firm Target Cue works with Capital Pride), et. al. huddled and eventually departed the scene.
"We're just waiting to find out exactly what happened," Smith said.
Rivera said one adult male was arrested for possession of "what appears to be a handgun." Additional charges may be filed, Rivera said. A woman was arrested as well for an altercation with a police officer, Rivera said. The officer was not injured. It doesn't appear, Rivera said, that the two incidents were related.
Shortly before the press conference, a young woman was taken away in a Metro PD van in handcuffs. She appeared to have difficulty walking but it wasn't clear if she was being uncooperative. Someone asked Rivera if she had been naked at one point. He said he didn't know but she was clothed at the time she was taken away. Both the man and woman are being arraigned at Second District headquarters.
"At this point, it's unclear if they were together," Rivera said.
People who were in the circle at the time of the hubbub said it appeared to have started over a fight.
"Apparently there were two people who got in a fight," said Cory Bittner, a gay Chevy Chase man who was at the parade with friends. "About 10 minutes later, he came back and was waving a gun in the air and that's when everybody started running."
Bittner and his friend Rob Nelson of Baltimore fled to Connecticut Ave. and waited there about 10 minutes.
"It was like a stampede," Nelson said.
Police consulted with Capital Pride organizers and decided to cancel the parade about 7:30 p.m. The parade was slated to continue until 8 p.m. According to witnesses, there were many contingents that didn't get to participate.
Dave Kolesar and husband Patrick Wojahn were standing at 23rd and P N.W. and were second in line to start the parade route with Dignity Washington, a gay Catholic group, when they heard the music stop.
"Things got a little quiet and then saw people stampeding down P street from the circle," Kolesar said. "We heard people say, 'Get back, take cover, there's an active shooter,' but it was like a big game of telephone. As people were coming down, I did hear a few loud bangs, which were obviously the cause of additional panic, but they were probably just the sound of the temporary barriers getting knocked down as people were trying to leave the scene."
Neither Kolesar nor Bittner said they saw anyone fall or get trampled but police said about seven people were transported to local hospitals with minor injuries. Others — they didn't say how many — were treated at the circle.
After about 15-20 minutes, Kolesar said a Pride organizer informed them that the parade was being canceled. Foot traffic was still flowing heavily out of the circle, so Kolesar and Wojhan headed toward Georgetown. They felt safe to come out of an area they were taking cover at after about 15 minutes. He guesses "at least several dozen" contingents didn't get to be in the parade. He said the scene was "a mixture of curiosity, fear and panic."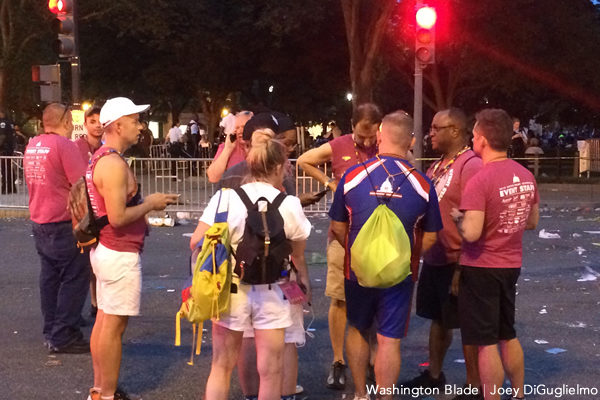 Kristina Kelly, a prominent local drag queen (aka Chris Smith) posted on Facebook about the incident about 8:15 p.m.
"Kids, we are here at Dupount (sic) and fine, however we heard shots and 3,000 people (were) running down Connecticut Ave. Trust (me), it wasn't false," she wrote.
"I wasn't at the circle, so I don't want to second guess police," Kolesar said. "But I know they consulted with the Pride folks when they made the decision out of an abundance of caution. Sadly, I think it's reflective of the times we live in."
About 10 minutes after the police briefing, the mood in the circle seemed to lighten. A group of a hundred or more young people gathered in a large pack and were break dancing to hip-hop music, seemingly intent on recovering some of the fun of the evening.
This is a breaking story. The Blade will have more on it as details emerge.