June 27, 2019 at 9:47 am EDT | by Joey DiGuglielmo
Steps to Stonewall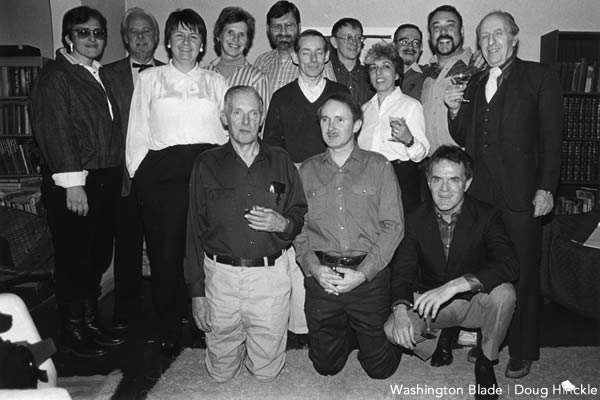 Editor's note: This story is reprinted from the June 5, 2009 edition of the Blade.
The widely held notion that 1969's Stonewall riots in New York's Greenwich Village were the start of the modern gay rights movement is inaccurate local activists say as they were meeting and picketing years before.
"When people say as you so often hear, that the gay movement started with Stonewall, if I have a chance under the circumstances in which it's said, I invariably correct them very insistently," says Frank Kameny, 84, a legendary gay activist widely recognized as one of the great leaders of the homophile movement, as it was then known. "And point out that the movement was just sort of 20 years old already and there was a groundwork."
Kameny and others who were involved in the early years agree, though, that Stonewall's influence can't be overstated, through its significance wasn't immediately apparent.
Kameny, Lilli Vincenz, Paul Kuntzler, the late Barbara Gittings, the late Jack Nichols and others had been involved in East Coast gay activism for years. An April 1965 picket at the White House by the Kameny-and-Nichols-founded Mattachine Society of Washington was the first of its kind, but involved a small group dressed — at Kameny's insistence — in shirts and ties for the men and dresses or skirts for the women.
"Things culturally were very, very different then," Kameny says, describing the scene of an early picket at the Civil Service Commission to protect the inability of gays to get security clearances. "In 1965, men's shirts were white. Period. There were no other kinds. Dress was very conservative. It changed over the next half decade, changed very significantly … but in terms of those days, if we're gonna picket to be employed, we have to look employable by their standards."
A handful of gay groups existed on the East Coast and met regularly as the East Coast Homophile Organizations (ECHO). Those involved say it was a different world.
"Most gay people at the time were not interested in any kind of civil rights activity," Vincenz, 71, says. "So we were seen as kind of Don Quixotes chasing windmills. I felt they could at least give us some money, but they didn't do that either. They were worried about their careers and they thought it was a lost cause. They couldn't imagine it. So I was seen as a crusader and so we were a small group."
Kameny says it soon became obvious from ECHO gatherings that D.C.'s Mattachine Society was a trendsetter taking on the Civil Service Commission, the qualification of homosexuality as an illness by the American Psychiatric Association, security clearances, the military gay ban and more.
"All those things we were doing, nobody else was doing to any meaningful extent anywhere," Kameny says. "We had ECHO meetings in October of each year in '63, '64 and '65 and monthly meetings here in Washington, Philadelphia and New York over that period and the Washington Mattachine was doing things and reporting to everyone else what we were doing. Philadelphia had two women … the New York Mattachine had monthly meetings but they were just meetings, they weren't accomplishing anything particularly. The things that were being done were being done by us here."
Kuntzler met Kameny one night at the Chicken Hut, a gay D.C. bar, in late February of '62 and found a kindred spirit. He remembers the sign he made to carry in the first White House protest.
"Jack (Nichols) saw my poster and wanted it, so I let him carry it," Kuntzler, 67, says with a chuckle. "He ended up in the front of a photo carrying my sign."
"That was the first time we had any visibility," Vincenz, who'll be honored as a Pride "superhero" with Kameny at this year's Capital Pride parade, says. "Confidential magazine picked us up and put our pictures everywhere. … We'd never had any visibility before that actually."
One of ECHO's signature yearly events was an Independence Day protest each year at Independence Hall in Philadelphia. The one held in 1969, though, which turned out to be ECHO's last, was markedly different. Stonewall had happened less than a week before and changed things forever.
None of the Mattachine activists were involved in the Stonewall riots. Because it was a spontaneous event that quickly gathered steam during a then par-for-the-course police raid on the gay bar, the only people involved were those who happened to be at the Stonewall Inn, a seedy, Mafia-owned dive that attracted drag queens and homeless gay youth, that night. But they heard about it almost instantly.
"We were all in contact through ECHO, so we heard immediately of what had happened," Vincenz says. "This was a big event that somebody had, so many people fought back against the police."
Kameny doesn't remember exactly whom he heard the news from first but says he was "elated."
In Philadelphia just days later at the ECHO protest, it was clear the formal Mattachine members had some new allies.
"It looked very different," Vincenz says. "People didn't care about any dress rules. The Stonewall crowd came over and there we had, we weren't supposed to have beards and sandals but now we had beards and sandals. I remember two women, black, white, holding a baby and holding hands. It was just new. And there was some of kind of disgruntlement by some of the old guard. This was a new influx of grassroots activists."
While the Independence Day picket seemed slightly different, it became apparent that things were much different on June 28, 1970 for the first Christopher Street Gay Liberation Day March, a one-year commemoration of Stonewall that morphed into the annual Pride parades.
Kameny, who attended, was dumbfounded by the turnout.
"I remember … seeing this vast horde of people and I was absolutely speechless," he says. "Flowing in like a river into the Sheep Meadow in Central Park. If nothing else, there it was in front of one's eyes. It would have been impossible in terms of anything movement-wise prior to that. We had clearly overstepped a line. We had transitioned."
Cliff Witt, a longtime local D.C. gay activist, accompanied Vincenz to the parade as a camera assistant for the film she made called "Gay and Proud."
"I had heard of Stonewall before, but I don't remember how I first heard," he says. "I had many trepidations. You could not be gay in those days. Lilli was out through her Mattachine work. I agreed that I would be like the press, running along side, but not part of it."
Back home in Washington, huge changes were underway. The Mattachine Society was winding down, eclipsed somewhat by the newly formed Gay Activist Alliance (GAA, which became the Gay & Lesbian Activist Alliance in the '80s), a spin-off of a similar New York group.
Stonewall's significance is almost universally recognized but it's not the whole story players active then say.
Kuntzler says Stonewall-type events were also brewing in Washington around that time. He recalls a May 1969 night at D.C.'s Plus One, a gay bar on 8th Street, S.E. It didn't turn violent and wasn't as dramatic as Stonewall, but the long line of gay men waiting to get in that Thursday night didn't turn and run when a mammoth flock of police cars arrived.
"They hardly paid any attention (to the cops)," Kuntzler says. "It just didn't work, so the cops went away. This was a liberation in a way, too. It was indicative of a profound psychological shift that had started."
"It was like Stonewall started the mainstream gays," Witt says. "It sort of started the organization of the gay liberation movement as we came to know it. … It became more militant and demanding and in your face. We weren't polite any longer."
Kameny puts it succinctly: "I feel we created a mindset without which Stonewall would not have occurred at all."