July 3, 2019 at 9:12 am EDT | by Lou Chibbaro Jr.
Video captures man ripping down rainbow flag, yelling anti-gay slurs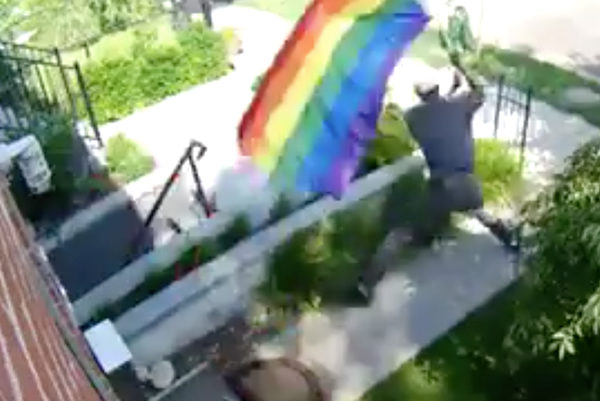 A resident of D.C.'s Capitol Hill East neighborhood on Tuesday posted a video online showing an angry man walking up to the resident's house, forcefully removing a rainbow flag that had been attached to the side of the house, and slamming the flag onto a nearby fence and tossing it onto the sidewalk while yelling anti-gay slurs.
"This happened in broad daylight at our house on Independence [Avenue] at 17th St., S.E. this morning while my wife was walking our dog," said the resident in a posting on the local D.C. community blog Popville.com.
"People like this should not be on the streets," added the resident, who also posted the video on Twitter under the name @mjasonroades.
It appeared from the video, but could not immediately be confirmed, that the video camera that captured the incident was attached to the resident's house as part of a security system. The video also included an audio recording that captured some of what the unidentified man said as he ripped down the flag.
Among the words that can be heard in the audio recording, which were repeated several times, are "faggot mother fucker" and "fucking faggots."
The posting by the resident on the Popville blog site shows that the resident also sent the video on Twitter to D.C. police, D.C. Mayor Muriel Bowser, and D.C. Council member Charles Allen, who represents Ward 6, where the incident occurred.
D.C. Police Lt. Brett Parson, who oversees the department's LGBT Liaison Unit, told the Washington Blade police have seen the video and have attempted without success as of Tuesday night to reach out to the resident who posted the video.
"We saw the Popville post as well and have attempted to make contact with and have the property owner make a report," Parson said. "They were encouraged to contact the LGBT Liaison Unit Duty Phone or call 911," Parson said in an email. "We stand ready to respond, investigate, and provide support.
The Blade couldn't immediately reach the resident who posted the video for further comment.
. ⁦@PoPville⁩ ⁦@CMCharlesAllen⁩ ⁦@MayorBowser⁩ ⁦@DCPoliceDept⁩ This happened in broad daylight at our house on Independence at 17th St SE this morning while my wife was walking our dog. People like this should not be on our streets. pic.twitter.com/L6DEIrrbEp

— No One (@mjasonrhoades) July 2, 2019