October 3, 2019 at 4:59 am EDT | by Lou Chibbaro Jr.
U.S. Attorney prosecuting D.C. anti-trans attack as hate crime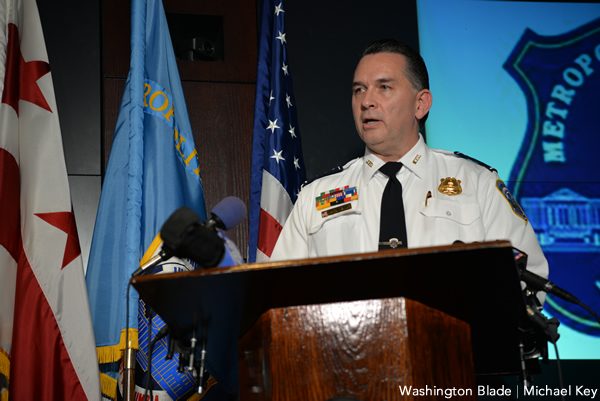 D.C. Police Chief Peter Newsham and Mayor Muriel Bowser were reluctant at a news conference on Tuesday to join LGBT activists in criticizing the U.S. Attorney's Office for dropping most of the hate crime designations made by D.C. police for violent crimes against LGBT people in 2018.
Bowser and Newsham called the news conference to provide an update on the D.C. police response to an increase in violent crime, including shootings, in recent weeks. Newsham gave a report on several arrests in a number of cases. He and Bowser said the department would be requiring some officers to work one extra day in overtime each week to step up efforts to apprehend violent offenders and recover illegal firearms.
In response to a question by the Washington Blade asking for their reaction to a Washington Post investigative report in August showing that prosecutors with the U.S. Attorney's Office dropped hate crime designations last year for nearly all hate crime charges brought by D.C. police in both LGBT and non-LGBT cases, Bowser said she was pleased that LGBT people, especially transgender women, were coming forward to report hate crimes.
"And we are sending a very clear message that we're investigating these crimes and we expect them to be prosecuted to the fullest extent of the law," she said.
"I appreciate the work that MPD has done," Bowser said, adding that the increase in hate crimes based on LGBT status, religious status and other categories over the past two years in D.C. appears to be part of a national trend. "And I think we should be proud people in the LGBT community, especially transgender women, are calling us for help."
Newsham noted that the U.S. Attorney's Office, which prosecutes most violent crimes in the District, has retained the hate crime designation made by D.C. police for the most recent anti-LGBT incident in the city. He was referring to a Sept. 17 assault and robbery of a transgender woman on the 7700 block of Eastern Ave., N.W. for which D.C. police arrested a male suspect, 23-year-old Besufikad Tujuba, on charges of bias related assault and biased related second-degree theft.
Charging documents filed in D.C. Superior Court accuse Tujuba of yelling anti-trans and anti-gay slurs shortly before he allegedly punched and kicked the woman and stole her purse, which contained $40 in cash and her cell phone. The victim is a client of the Casa Ruby LGBT community services center, which is located about three blocks from where the incident took place.
"I think there's been a lot of discussion about it, about the fact that there have been a lot of crimes going to the U.S. Attorney's Office that we believe to be hate crimes," Newsham said in response to the Blade's question. "I'm really thankful that in this most recent case they did make the hate crime designation."
U.S. Attorney for D.C., Jessie K. Liu, who was appointed by President Trump, has said her office drops hate crime designations for cases only after her prosecutors determine the evidence isn't sufficient to obtain a hate crime conviction before a jury.
She has said her office continues to prosecute such cases as non-hate crimes for the underlying offense such as assault or murder.
LGBT activists have complained that prosecutors with the U.S. Attorney's Office appear to be overly cautious about bringing hate crimes cases to trial, saying the federally appointed prosecutors often prefer to drop the hate crime designation as part of a plea bargain offer to persuade a defendant to plead guilty to a less serious charge.