November 1, 2019 at 12:40 pm EDT | by Michael K. Lavers
Anti-LGBTQ Va. group criticized over anti-Roem ad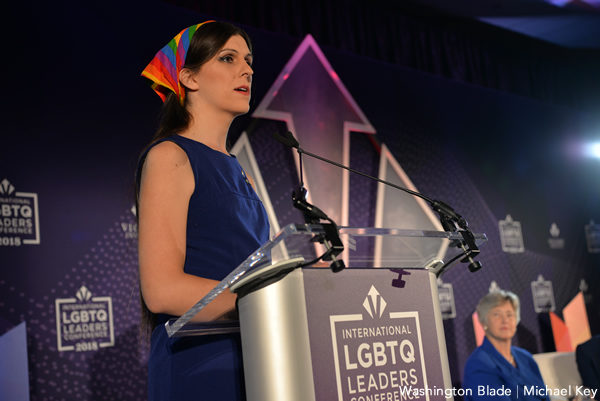 An anti-LGBTQ group has been criticized over a transphobic ad against Virginia state Del. Danica Roem (D-Manassas).
The Family Foundation Action on Oct. 25 posted to its Facebook page an ad with Roem's picture that said she "sponsored a bill to force all insurance companies to pay for harmful and unnecessary 'gender transition' surgeries."
"Reject Roem's extreme social agenda on Nov. 5," says the ad.
Roem, a former journalist who represents the 13th District in the Virginia House of Delegates, in 2018 became the first openly transgender person seated in any state legislature in the U.S. Roem is running against Republican Kelly McGinn, who has been criticized over her anti-LGBTQ positions and statements.
McGinn is not mentioned in the Family Foundation Action ad.
"The ad is paid for by Family Foundation Action, an anti-LGBTQ organization in Virginia with strong ties to McGinn, who spoke at one of their press conferences as recently as January," said the LGBTQ Victory Fund on Thursday in a press release.
Roem on Friday pointed out to the Blade she has faced criticism over her gender identity throughout her campaign.
She provided a screenshot of a tweet the Prince William County Republican Committee sent on Oct. 23 after a debate between her and McGinn that said, "Danica closes the debate claiming to be a mom."
"Is there a new definition for that term as well?" reads the tweet.
A Republican Party of Virginia ad with a picture that describes Roem as "extremely liberal" notes she "is chief co-patron of a bill that would force insurance companies to pay for optional sex change surgeries."
"In effect, the bill provides a subsidy for sex change operation (sic) to be paid by all Virginians," proclaims the ad. "When Virginian families health insurance premiums are already at record highs, we cannot afford to pay for unnecessary liberal lifestyle choices."
Roem also provided the Blade with a copy of a press release from the Westboro Baptist Church in Topeka, Kan., about a March protest outside the Virginia General Assembly that mentioned her by name. Roem used the event to raise tens of thousands of dollars for her re-election campaign
"Throughout my two years in office, I've voted for Medicaid expansion, raising teacher pay and passing the largest transportation funding bill in six years — core constituent-service issues that directly affect the quality of life for the people I represent," Roem told the Blade on Friday in a statement.
"And what do the groups that want to unseat me resort to?" she added. "Transphobia."
Roem said "the transphobic attack on me this week from the Family Foundation Action is part of a pattern of behavior from groups backing Kelly McGinn, who's called marriage equality 'morally repugnant,' called same-sex couples wanting to adopt a "social experiment on our children" and took $4,000 from the self-described "chief homophobe" of Virginia — my predecessor, former Del. Bob Marshall."
"The Family Foundation is just following the same transphobic attack launched by the Republican Party of Virginia on the same issue, in which they repeatedly erred in their hit that came out after the 2018 General Assembly session concluded," she added.
'I'm here to serve everyone'
Roem spoke with the Blade five days before Election Day, which could determine whether Democrats regain control of the General Assembly and the future of LGBTQ bills that have stalled in the Republican-controlled legislature.
State Sen. Adam Ebbin (D-Alexandria), who is openly gay, told the Blade earlier this week that Roem's race is among the handful of contests that could indicate whether Virginia is trending blue. Human rights Campaign President Alphonso David on Sunday is scheduled to canvass in Manassas Park with Roem and U.S. Rep. Jennifer Wexton (D-Va.).
"I know LGBTQ families in each of the four communities I represent — Haymarket, Gainesville, Manassas and Manassas Park — all of whom are my constituents and all of whom I serve because of who they are, not despite it," Roem told the Blade.
Roem, among other things, also noted she voted for Medicaid expansion in Virginia, which she said has benefitted 3,800 of her constituents. Roem also noted she is the chief co-patron of state Del. Debra Rodman (D-Henrico County)'s bill that would require health insurance providers to cover transition-related health care for trans policyholders.
"I'm the only person in this race who the people of the 13th District can trust to expand access to quality, affordable health care — no matter what they look like, where they come from, how they worship if they do or who they love," said Roem.
"I welcome all families to the 13th District because of who they are, not despite it," she added. "I'm here to serve everyone."
The Blade has reached out to Family Foundation Action for comment.