Anti-LGBTQ Va. group criticized over anti-Roem ad
Voters urged to reject trans delegate's 'extreme social agenda'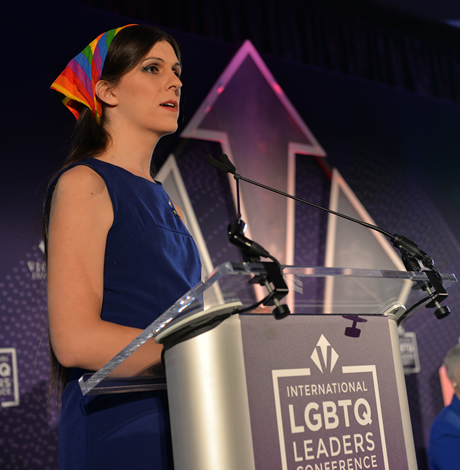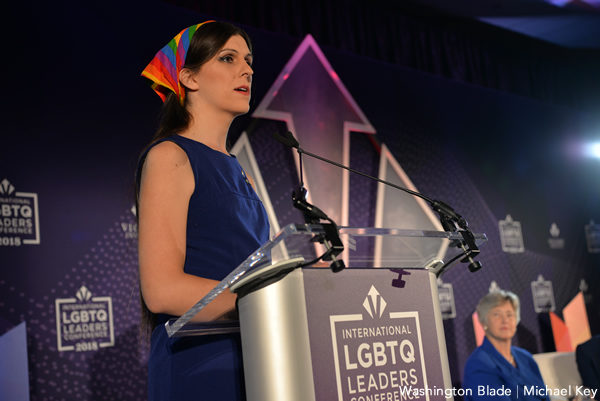 An anti-LGBTQ group has been criticized over a transphobic ad against Virginia state Del. Danica Roem (D-Manassas).
The Family Foundation Action on Oct. 25 posted to its Facebook page an ad with Roem's picture that said she "sponsored a bill to force all insurance companies to pay for harmful and unnecessary 'gender transition' surgeries."
"Reject Roem's extreme social agenda on Nov. 5," says the ad.
Roem, a former journalist who represents the 13th District in the Virginia House of Delegates, in 2018 became the first openly transgender person seated in any state legislature in the U.S. Roem is running against Republican Kelly McGinn, who has been criticized over her anti-LGBTQ positions and statements.
McGinn is not mentioned in the Family Foundation Action ad.
"The ad is paid for by Family Foundation Action, an anti-LGBTQ organization in Virginia with strong ties to McGinn, who spoke at one of their press conferences as recently as January," said the LGBTQ Victory Fund on Thursday in a press release.
Roem on Friday pointed out to the Blade she has faced criticism over her gender identity throughout her campaign.
She provided a screenshot of a tweet the Prince William County Republican Committee sent on Oct. 23 after a debate between her and McGinn that said, "Danica closes the debate claiming to be a mom."
"Is there a new definition for that term as well?" reads the tweet.
A Republican Party of Virginia ad with a picture that describes Roem as "extremely liberal" notes she "is chief co-patron of a bill that would force insurance companies to pay for optional sex change surgeries."
"In effect, the bill provides a subsidy for sex change operation (sic) to be paid by all Virginians," proclaims the ad. "When Virginian families health insurance premiums are already at record highs, we cannot afford to pay for unnecessary liberal lifestyle choices."
Roem also provided the Blade with a copy of a press release from the Westboro Baptist Church in Topeka, Kan., about a March protest outside the Virginia General Assembly that mentioned her by name. Roem used the event to raise tens of thousands of dollars for her re-election campaign
"Throughout my two years in office, I've voted for Medicaid expansion, raising teacher pay and passing the largest transportation funding bill in six years — core constituent-service issues that directly affect the quality of life for the people I represent," Roem told the Blade on Friday in a statement.
"And what do the groups that want to unseat me resort to?" she added. "Transphobia."
Roem said "the transphobic attack on me this week from the Family Foundation Action is part of a pattern of behavior from groups backing Kelly McGinn, who's called marriage equality 'morally repugnant,' called same-sex couples wanting to adopt a "social experiment on our children" and took $4,000 from the self-described "chief homophobe" of Virginia — my predecessor, former Del. Bob Marshall."
"The Family Foundation is just following the same transphobic attack launched by the Republican Party of Virginia on the same issue, in which they repeatedly erred in their hit that came out after the 2018 General Assembly session concluded," she added.
'I'm here to serve everyone'
Roem spoke with the Blade five days before Election Day, which could determine whether Democrats regain control of the General Assembly and the future of LGBTQ bills that have stalled in the Republican-controlled legislature.
State Sen. Adam Ebbin (D-Alexandria), who is openly gay, told the Blade earlier this week that Roem's race is among the handful of contests that could indicate whether Virginia is trending blue. Human rights Campaign President Alphonso David on Sunday is scheduled to canvass in Manassas Park with Roem and U.S. Rep. Jennifer Wexton (D-Va.).
"I know LGBTQ families in each of the four communities I represent — Haymarket, Gainesville, Manassas and Manassas Park — all of whom are my constituents and all of whom I serve because of who they are, not despite it," Roem told the Blade.
Roem, among other things, also noted she voted for Medicaid expansion in Virginia, which she said has benefitted 3,800 of her constituents. Roem also noted she is the chief co-patron of state Del. Debra Rodman (D-Henrico County)'s bill that would require health insurance providers to cover transition-related health care for trans policyholders.
"I'm the only person in this race who the people of the 13th District can trust to expand access to quality, affordable health care — no matter what they look like, where they come from, how they worship if they do or who they love," said Roem.
"I welcome all families to the 13th District because of who they are, not despite it," she added. "I'm here to serve everyone."
The Blade has reached out to Family Foundation Action for comment.
Judge postpones ruling on whether Casa Ruby should be dissolved
Request by Corado for gag order to stop 'one sided' information denied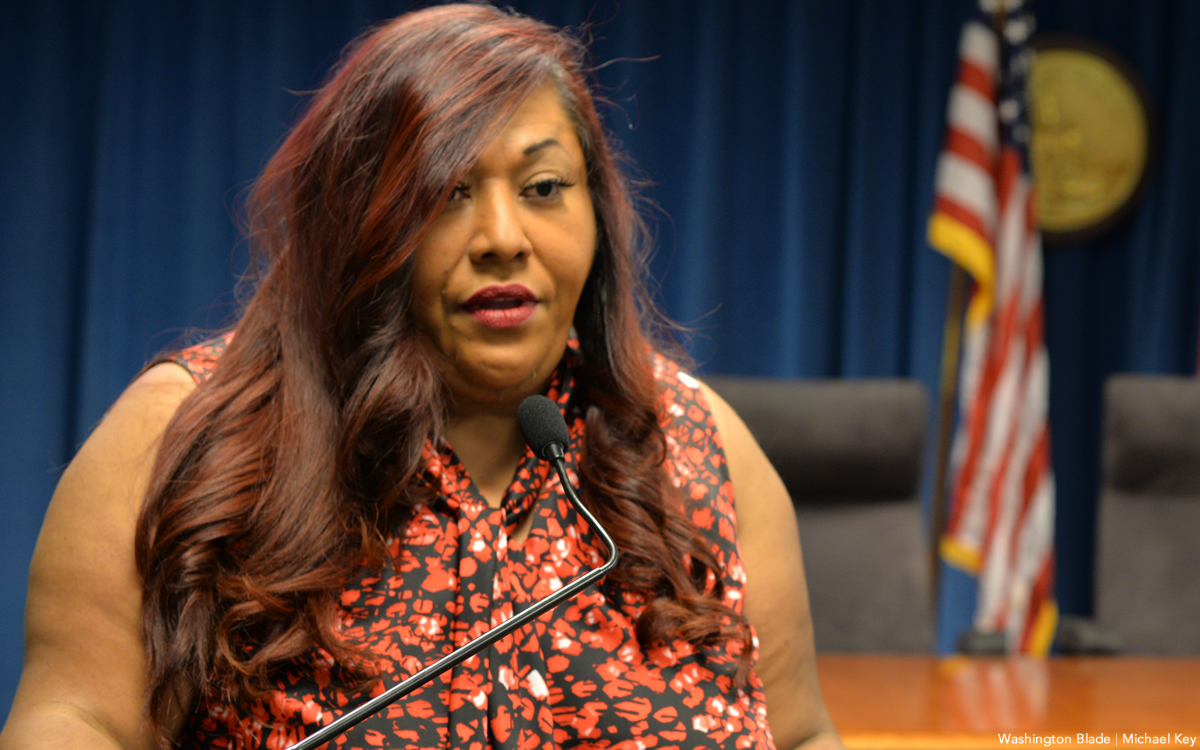 A D.C. Superior Court judge on Thursday said she was not ready to issue a ruling on whether the LGBTQ community services center Casa Ruby should be dissolved as recommended two and a half weeks earlier by a court-appointed receiver that took control of Casa Ruby's operations.
Judge Danya A. Dayson stated at a Sept. 29 court status hearing that the Office of the D.C. Attorney General, which filed civil charges against Casa Ruby and its founder and former executive director Ruby Corado in July, needed more time to complete its investigation into Casa Ruby's operations.
"We think it may be premature to immediately commence proceedings for dissolution while our investigation is still pending," Cara Spencer, an official with the Office of the Attorney General, told the judge. "We're still gathering information. We still intend to shortly serve discovery so we can bring it to a resolution promptly," she said.
The AG's office filed a civil complaint against Casa Ruby and Corado on July 29 alleging that the LGBTQ group had violated the city's Nonprofit Corporations Act for the past several years. The complaint says improper actions by Corado, including the unaccounted-for expenditure of funds and a failure by the Casa Ruby Board of Directors to provide oversight led to a financial crisis.
The complaint notes that Casa Ruby employees were not getting paid and over $1 million was owed to landlords in back rent for at least three buildings Casa Ruby used for its offices and to provide emergency housing for homeless LGBTQ youth.
With Corado spending most of the past year in El Salvador, according to Casa Ruby employees, the employees and managers struggling to keep its operations going said they were forced to shut down all operations in late July.
Corado, who attended the Sept. 29 status hearing through a phone hookup, said she had yet to retain a lawyer due to a "shortage of funds." She told Dayson she expects to finally retain an attorney but said she had not received a copy of the receiver's report that recommended Casa Ruby be dissolved. One of the attorneys with the AG's office told Dayson the office sent a copy of the report to four email addresses it had for Corado and Casa Ruby.
At the judge's request, one of the AG office officials sent another copy of the report to Corado during the hearing to an email address that the judge asked Corado to provide.
Dayson on Aug. 12, at the recommendation of the AG's office, appointed the Wanda Alston Foundation, a D.C. organization that provides housing for homeless LGBTQ youth, as the Casa Ruby receiver. One day earlier, Dayson approved the AG office's request that Casa Ruby be placed under receivership.
On Aug. 3, also at the request of the AG's office, the judge issued an order that all of Casa Ruby's bank accounts and financial assets, which had been under the sole control of Corado, be frozen. Dayson lifted that freeze after the Alston Foundation assumed control of Casa Ruby under the receivership.
As she had at the Aug. 11 court hearing, Corado stated in the Sept. 29 hearing that Casa Ruby's financial problems were caused by the D.C. government withholding as much as $600,000 in grant funds for services Casa Ruby had provided.
Officials with the D.C. Department of Human Services, which initially approved the grants, have said some of the grant funds were withdrawn or cancelled because Casa Ruby failed to comply with the terms of the grants. In some cases, the officials said, required financial reports were not filed to substantiate how the funds were spent.
Corado also asked Dayson at the Sept. 29 hearing to order the receiver and officials with the AG's office stop releasing "one-sided" information that she said was falsely placing her and Casa Ruby in a negative light through reports in the press.
"The story that has been painted is that Casa Ruby left the clients in the cold," Corado said. "That is not accurate."
When asked by Dayson what she wanted the court to do, Corado said, among other things, she did not want the receiver to be allowed to disclose information about what happened in the court proceedings that Corado said was being reported by the press inaccurately.
She said highly negative publicity resulting from the release of information from the previous court hearing resulted in her receiving death threats and damage to the engine of her vehicle in an act of vandalism that cost $1,700 to repair.
Dayson said Corado appeared to be seeking a gag order to prohibit the receiver or the AG's office from discussing or releasing information that was part of the public record. Saying there were insufficient grounds for such an order, Dayson announced she was denying a request to seal court records or issue a gag order against the receiver.
The judge ruled in favor of a request by the AG office attorney to file an amended complaint for the case, directing them to file the amended complaint by Nov. 28. Court records show that Dayson directed the parties to return to court for scheduling hearings on Oct. 28 and Jan. 6.
Former FreeState Justice executive director denies allegations against them
Jeremy LaMaster denies they launched 'coordinated attack'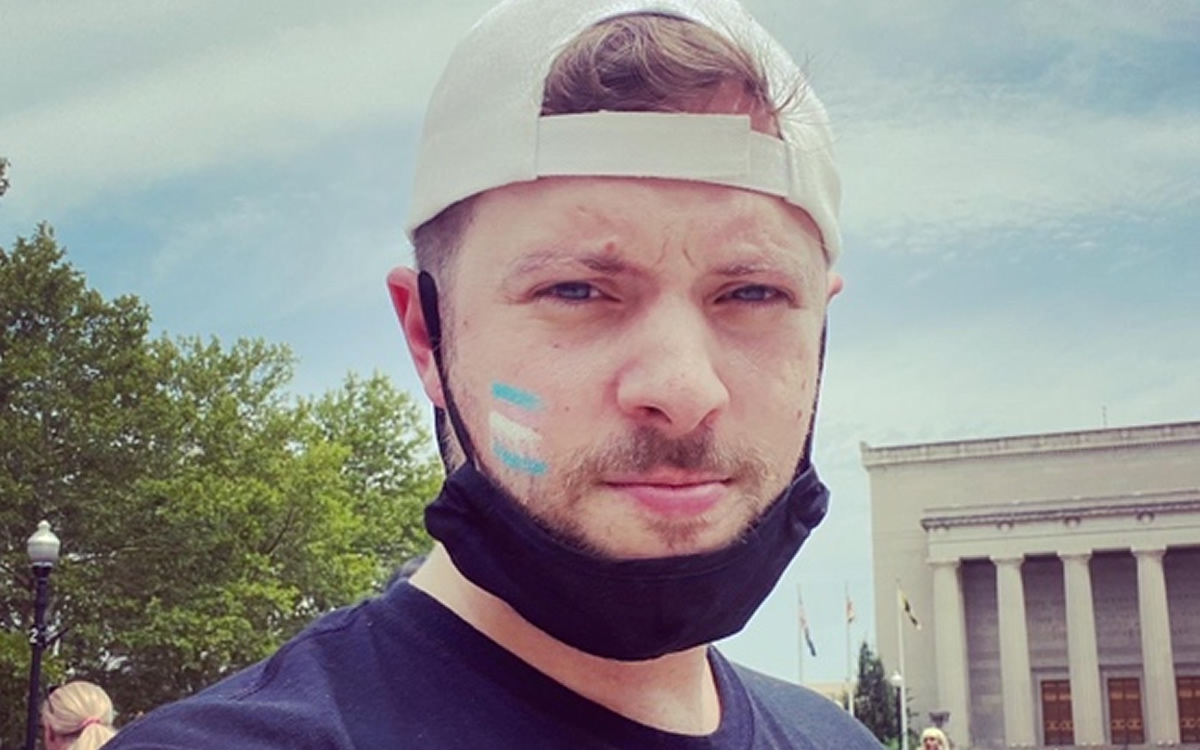 The former executive director of FreeState Justice on Tuesday denied they have launched a "coordinated attack" against their former organization.
Jeremy LaMaster on Sept. 19 announced their resignation after they said FreeState Justice"s board of directors declined their request to step down.
FreeState Justice two days later in a federal court filing against LaMaster said they "immediately began a coordinated attack on FreeState's operations; in particular, its IT assets" after they left a Sept. 16 meeting in which the board informed them they "were relieved of their duties, and the final two weeks of their employment were to be spent cooperating in the transition of FreeState's operations."
"When FreeState discovered LaMaster's improper interference, it terminated their employment effective immediately, ordered them to cease and desist and to rectify their actions," reads the court filing. "LaMaster did not abide and continued to hijack and misappropriate FreeState's IT infrastructure and documents."
"What would hacking into someone's email and deleting an email do," LaMaster told the Washington Blade during a FaceTime interview.
LaMaster, who uses they/them pronouns, told the Blade they started "working on this transition stuff" once they returned home from the Sept. 16 meeting and "I started getting error messages for our intake system."
"After the Sept 16 meeting, someone else, not me, began deactivating email accounts, including mine, breaking workflows for our client intake and other processes, causing a lot of problems for our IT infrastructure," said LaMaster on Wednesday in a follow-up text message.
LaMaster said they began to receive text messages on Sept. 18 about "criminal charges" and "allegations."
LaMaster told the Blade they tried to call now FreeState Justice Executive Director Phillip Westry on Sept. 18, but he did not accept his call.
"I sent an email to the team about this is what happened, this is what I was doing,'" said LaMaster. "Some of our things are down. Please let me know."
LaMaster said they sent a Slack message to Westry and now Deputy Executive Director Tina Jones on the morning of Sept. 20 in order to "help transition IT." LaMaster told the Blade they "learned about the restraining order and a number of IT issues and allegations when everyone else did."
LaMaster, who is representing themself, attended a court hearing in Baltimore on Monday.
LaMaster told the Blade that they said they could provide passwords to their FreeState Justice email account. LaMaster said they provided the passwords to all other software systems the organization uses.
LaMaster sent the Blade a screenshot of a text message thread between them and Jones.
"Please provide the the (sic) appropriate login credentials and administrator access to all FreeState Justice systems," Jones told LaMaster. "Please do not attempt to access any systems or the office."
"As I mentioned yesterday — I do not know the passwords off the top of my head and will need to either 1) test them or 2) reset them. This required accessing the systems," responded LaMaster. "I'm not being obtuse — but you've all made a large number of false (and impossible) accusation based on the very limited understanding of our tech, or tech in general (not being rude, but y'all know it's true.)
"Like I said, I think a phone call or Zoom, we can even record it so that I cam (sic) do/show exactly what I am doing," added LaMaster. "I'm here for the lawyer robot responses and the desire for retaliation to continue to block FreeState legal services delivery, and then turn around and blame you (sic) lack of cooperation and knowledge on me."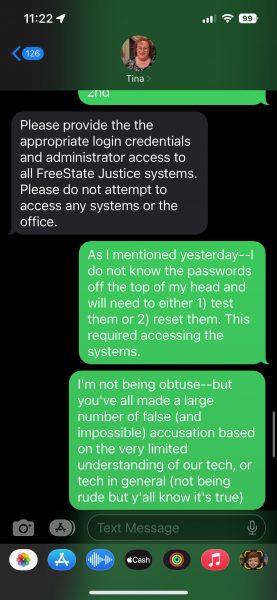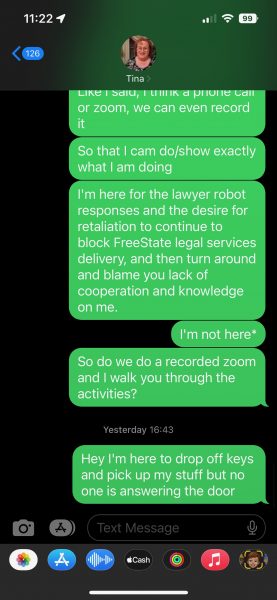 LaMaster told the Blade they were "supposed to return items and keys and such" to FreeState Justice's offices at 4:30 p.m. on Tuesday, but "no one was there." The text thread shows LaMaster texted Jones at 4:43 p.m. to let her know that they're "here to drop off keys and pick up my stuff, but no one is answering the door."
"They're still holding my personal belongings and not accepting my keys and FSJ (FreeState Justice) checks," LaMaster told the Blade.
Board has 'white supremacist culture'
LaMaster in June 2020 succeeded Mark Procopio as executive director.
LaMaster in their resignation letter said they stepped down after board members refused their request to immediately step down "due to persistent violations of our board handbook, consistent failures in their fiduciary responsibilities, and using positions of power to engage in partisan lobbying within FreeState Justice and their repeated refusal to add new members and leadership to the board."
LaMaster in his email noted they "exhausted every avenue over the past two years to get our board fully staffed and running, and I made good faith efforts to work with the board to ensure that our clients and low-income LGBTQ Marylanders remained at our center."
"Instead, the board has refused to accept any new board members since 2021 and refused to staff and run core board activities as per our handbook," wrote LaMaster. "Instead, they have worked to consolidate power and amend the board handbook in secret to lower the minimum number of board members required and ensure that our policy positions prioritize relationships with legislators, not the best interests of our clients and community. I have provided clear warnings and consistent concerns over these issues that were repeatedly ignored."
LaMaster reiterated his criticism of the board when they spoke with the Blade.
"As with most nonprofits, I'm sure if you talk to any executive director, they will tell you the large number of challenges that comes to board and nonprofit boards and cultivating and building them and supporting them. There have been chronic issues for two years now," they said.
"I think everyone gets a pass with the (COVID-19) pandemic, but at some point, stop getting passes," LaMaster added. "There was just a lot of really poor decision making that was costing the organization money, and really not fulfilling core responsibilities laid out in our board handbook."
LaMaster specifically noted the board's abrupt decision in May 2022 to stop offering COVID-19 vaccines to people experiencing homelessness after FreeState Justice's landlord "did a full Karen" and "went to the board and was complaining about a whole lot of things, the majority of which were not true."
"It basically screwed six or seven of our homeless clients out of getting their second dose," they said.
LaMaster also said board members did not take their calls for more advocacy on behalf of LGBTQ students in Maryland seriously. LaMaster further accused board members of threatening FreeState Justice's 501(c)(3) status because of their ties to politicians they didn't specifically identify.
"We don't exist to help politicians get easy wins and in the General Assembly," said LaMaster. "We exist to provide widespread advocacy work and transparent information to the community."
LaMaster also accused board members of engaging in unethical behavior.
They said Brianna January, the board's vice president, repeatedly asked FreeState Justice staff to secure funding that would allow her to be hired as the organization's policy director. LaMaster provided the Blade with a text message in which January asked them to hire her.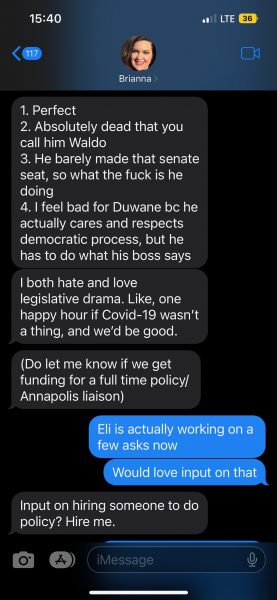 LaMaster further reiterated their previous claim the board engages in white supremacism.
"When I say white supremacist culture within the board, this response is case and point of that culture, of that type of culture," they said.
Westry on Wednesday declined to comment on LaMaster's allegations.
"FreeState Justice has provided comments on this issue to several publications about the ongoing litigation with Jeremy LaMaster," Westry told the Blade in an email. "We are in active litigation with LaMaster and will offer no further comment."
Va. students stage mass walkout over anti-LGBTQ policies
Activists from more than 90 schools across state hold rallies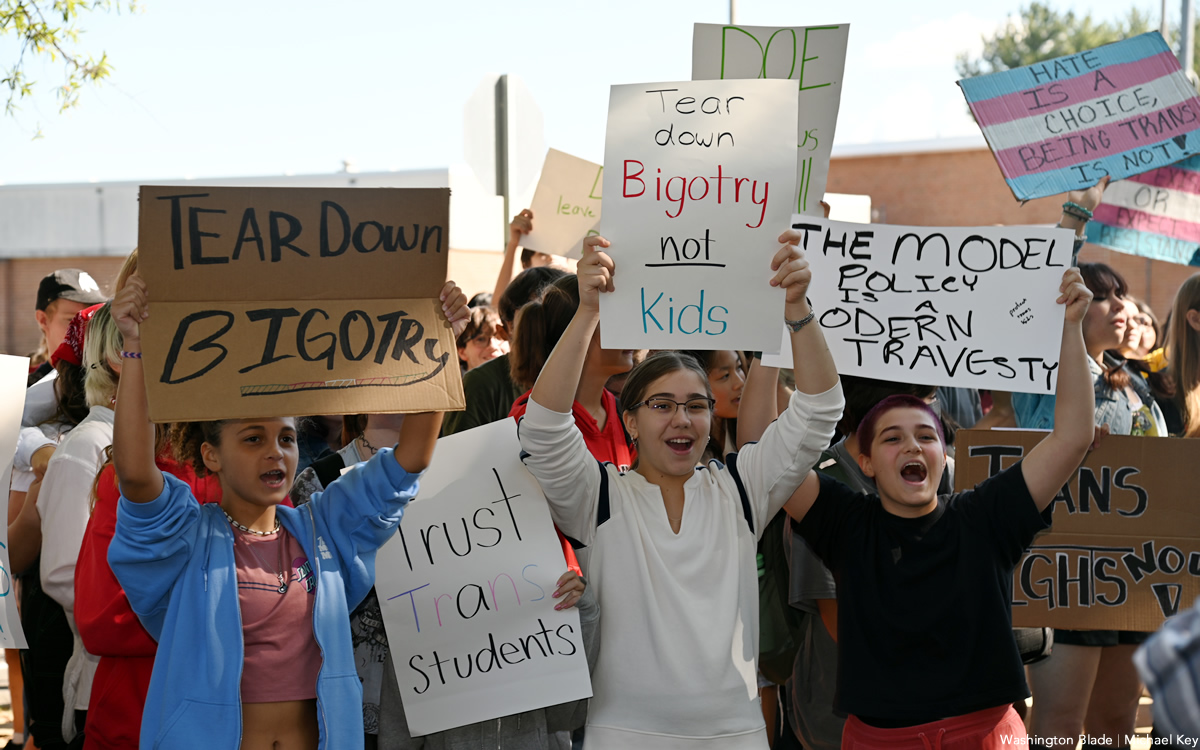 Thousands of students in schools across Virginia participated in walkouts and rallies on Tuesday to oppose the revised "model policies" on transgender students released by the Virginia Department of Education.
VDOE policy revisions were released on Sept. 16 and differ substantially from the policies passed into law in 2020.
The original policies on the treatment of trans students were intended to protect LGBTQ students; but the revised "model policies" have been criticized by activists, educators and legislators for mandating students use school facilities for the sex they were assigned at birth and bars students from changing their names and pronouns without parental permission. Further, the policies direct teachers and staff not to conceal a student's gender identity from parents, even when a student asks to keep that information private.
The student-led Virginia-based Pride Liberation Project responded to these policy changes by organizing mass walkouts and rallies in more than 90 schools from Alexandria to Williamsburg.
"These proposed guidelines are essentially taking that cornerstone and using it to undermine our rights. If these guidelines are implemented, it will be the single biggest loss for queer rights in Virginia in years," Natasha Sanghvi, a student organizer with the Pride Liberation Project, said in a statement.
Openly gay Virginia state Sen. Adam Ebbin (D-Alexandria) in a statement said "these new model policies, which are in flagrant violation of Virginia law, will do serious harm to transgender students. They are not based in science or compassion and will lead to students being outed before they are ready, increased bullying and harassment of marginalized youth, and will require students to jump through legal hoops just to be referred to with their proper name."
Ebbin joined several hundred students at West Potomac High School in Alexandria in a rally opposing the model policies proposed by Republican Gov. Glenn Youngkin.
"The new policy drafts are only going to do more harm to trans students who are already at risk for being outed, harassed and harmed," Jules Lombardi, a Fairfax County high school senior, told the Washington Blade. "These drafts will take schools, which are supposed to be safe environments for students, and make them spaces where students have to hide themselves for fear of their parents finding out about their identities."
"This isn't a matter of 'parental rights,' it's a matter of human rights and we deserve to be treated with the same respect as cis students," Lombardi added.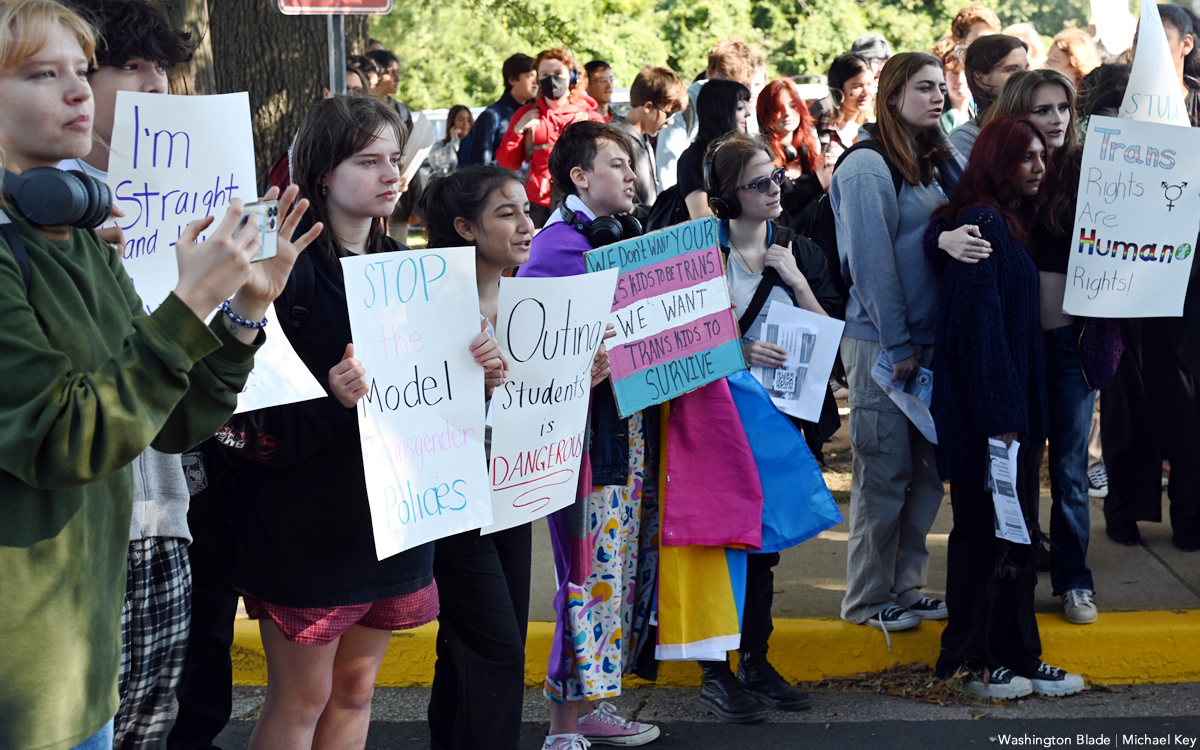 Andrea-Grace Mukuna, a senior at John R. Lewis High School in Springfield, told the Blade that "gender affirmation matters. Something so easily given to cisgender people is a right that our trans and gender non conforming youth deserve. I am walking out because schools will no longer be a safe place for queer students to be in if these policies get passed."
"Requirements for teachers to refer to students by their birth name and pronouns aligning with their sex, rather than trusting our students to know themselves and who they are best, reinforces the idea that we as students have no power, no control and no knowledge over anything in our lives. Gender queer youth exist, and no policy can change that," Mukuna said.
Mukuna continued, "making an attempt at denying them their ability to be who they are is a malicious attack on vulnerable students that could cause deathly harm."
"I walk out for my queer community — there is no erasing us," Mukuna said.
Several hundred students walked out of McLean High School. The walkout was lead by members of the school's GSA and organizers from the Pride Liberation Project including McLean High School senior Casey Calabia.
Calibia asked the crowd, "Do we want Gov. Youngkin to understand that this is not what Virginia looks like?"
The crowd roared, "yes!"
"Virginia stands for trans kids. Trans and queer people are a fact of humanity. We will be accepted one way or another and to see everybody here today is another step toward that change," said Calibia through a bull horn.
Calibia told the Blade in a pre-walkout statement said "to call these policies in favor of respecting trans students' rights and privacy is to call an apple an orange. The 2022 Transgender Model policies, even as a draft, have begun to actively hurt my community's mental health."
"Instead of focusing on academics and our future, we have to sit in class and wonder if we will be safe in school," Calibia concluded. "To not only take away the 2021 policies, a cornerstone in LGBTQIA+ rights for Virginia, but to mock them with these replacements, is a devastating blow to myself, trans students, queer students, and the whole of Virginia's public school student body. How can we be safe, if we can be taken out of school-provided counseling, maliciously misgendered, and denied opportunities given to other students simply because of our gender? Accepting queer students in class does not indoctrinate or brainwash kids. It tells queer students like me that it is okay and safe to be ourselves in school."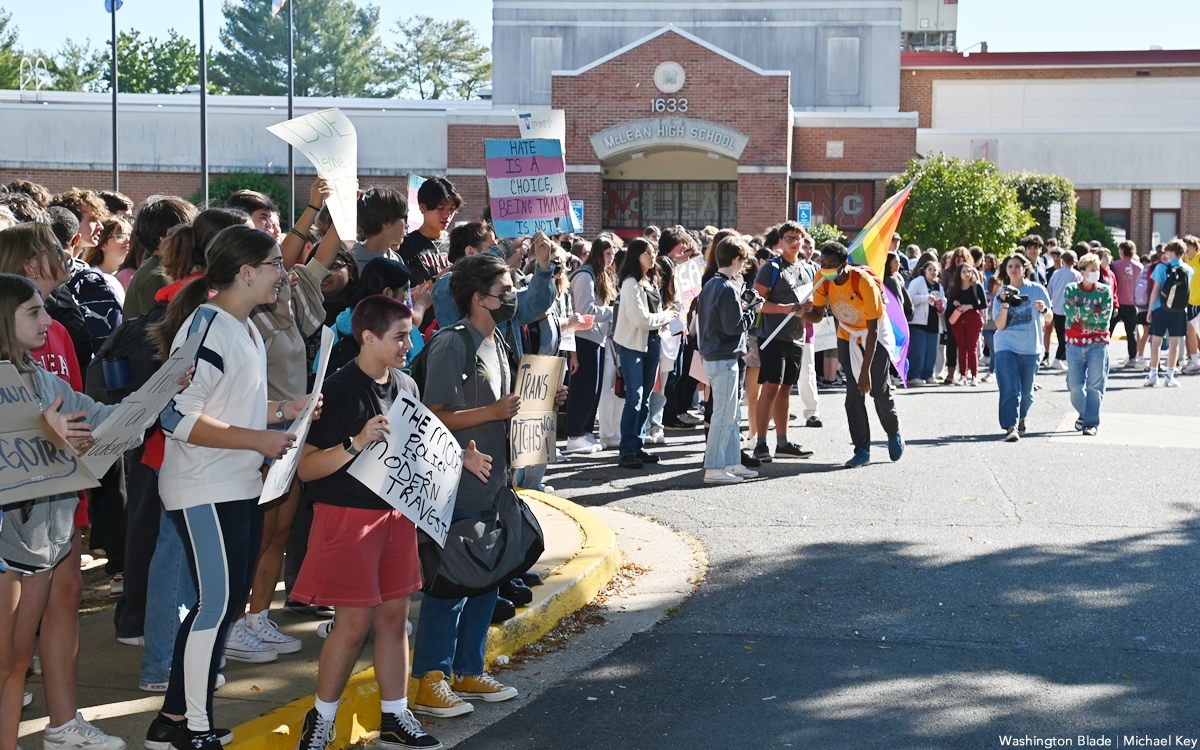 The student protests in Virginia have made national news.
"This is a president who supports the LGBTQI+ community and has been supporting that community for some time now as a vice president, as senator, and certainly as president now," said White House Press Secretary Karine Jean-Pierre in response to a question about the protests during her daily press briefing. "And he . . . always is proud to speak out against the mistreatment of that community … We believe and he believes transgender youth should be allowed to be able to go to school freely, to be able to express themselves freely, to be able to have the protections that they need to be who they are."
"When it comes to this community, he is a partner, and he is a strong ally, as well as the vice president," Jean-Pierre stated.
Walkouts and rallies were held at middle and high schools in Arlington, Bedford, Buchanan, Chesterfield, Culpeper, Fairfax, Fauquier, Frederick, Henrico, James City, Loudoun, Louisa, Montgomery, Powhatan, Prince George's, Prince William, Spotsylvania, Stafford, Warren and York Counties as well as in the cities of Alexandria, Chesapeake, Newport News, Portsmouth, Richmond, Williamsburg and Winchester.
"Every parent wants Virginia's laws to ensure children's safety, freedom, and to encourage a vibrant and engaging learning experience. But the Virginia Department of Education is rejecting those shared values by advancing policies that will target LGBTQ kids for harassment and mistreatment simply because of who they are," said Ebbin.