November 12, 2019 at 8:20 pm EST | by Staff reports
New Baltimore Eagle 'to drip sex'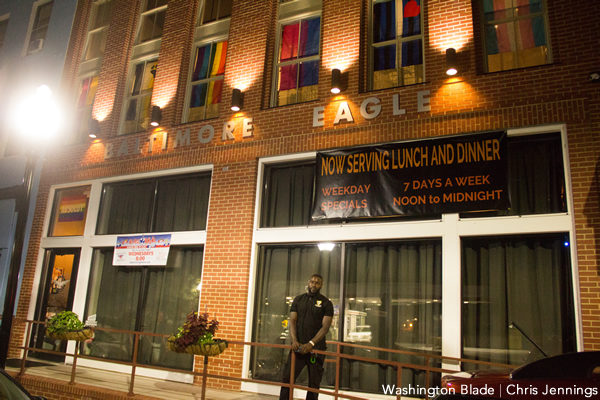 This is your father's Eagle.
Baltimore's LGBTQ nightlife scene is about to get a much needed boost as the Eagle reopens on Nov. 15. And if you're looking for disco balls and Taylor Swift remixes, look elsewhere.
In a nod to the rich tradition of Eagle bars across the country, Baltimore's renovated and reinvented venue includes plenty of dark nooks for discreet encounters, along with red "crotch lights" newly installed under the bar.
That's not to say the bar and restaurant aren't welcoming to all. There's a convivial sports bar at the front of the space; but as you walk deeper into the cavernous building, the lights get dimmer, the decor more risqué and ultimately a dress code will be enforced.
The design and the emphasis on leather tradition are the work of Thomas Kiple, the new owner of the business and the original founder of the Baltimore Eagle in 1991. Kiple, 76, was enticed out of retirement by the building's straight owners, Charles and Ian Parrish (father and son), to return to Baltimore from Florida and oversee the Eagle's restoration.
Why would Kiple leave a tropical retirement to tackle a challenging business venture following the failure of two previous ownership groups at the same location?
"Because leather is my life," he says, noting he got his start in the leather scene at age 16 thanks to an interest in motorcycles. "The Eagle is my baby, I invented it and I'm bringing it back."
Kiple is indeed a pioneering figure in the leather scene, joining the Spartan Motorcycle Club in 1978. He first retired from a career in TV and radio in his 50s and wanted something more. So in 1991, he started Baltimore's first leather bar, the Eagle, at the same location where it reopens this week, at 21st and Charles streets. He sold the original Eagle in 1996 and moved to Tampa, where he opened that city's Eagle. Two years later, he bought a hotel/resort in St. Petersburg, Fla., and opened the world's largest gay resort, the SunCoast, which he operated for 10 years before selling and retiring again.
Earlier this year, after a second iteration of the Eagle closed, Kiple's phone rang. It was the Parrishes, seeking advice and ultimately an operator for the business. When they agreed to his conditions for some key renovations to the building, Kiple was in, along with David Lessner, who returns as the Eagle's new general manager. Lessner was the first bartender Kiple hired for the original Eagle in 1991.
Kiple takes leather culture seriously and demands respect from patrons for his bar. To that end, the Eagle plans to offer classes in leather history and culture. While the front of the new space will be a sports bar welcoming to all regardless of attire and featuring large TVs and a pool table, a dress code will be enforced in other sections. Passing through the sports area, visitors will find comfortable seating, the kitchen, which will turn out classic pub fare, then a long hallway with a large chalkboard and newly installed drink rails along the walls. There's an outdoor smoking area, known as the "Cockpit," a narrow alley covered by a parachute strung above. Another large outdoor patio will feature a new bar, along with a freshly painted Eagle logo, camouflage netting above and an upstairs deck.
Continue down the hallway inside and you come to a door for the "Toolbox" area where patrons must be in leather, Levi's or "skin." Inside, there's another bar, a cage on the floor topped with plexiglass; look up and you'll see perhaps the world's largest lighted penis running the length of the room.
Titillated? We're not done yet.
At the back of that room is another door to the "Bunkhouse," an even darker area that houses a jail cell (a popular fundraising game in which someone is locked up and released only after a certain amount of money has been raised for his bail, which goes to charity). Also in this area is a St. Andrew's Cross behind curtain number one; curtain number two reveals a locker room motif. There's another door leading to an upstairs cruise bar called the "Pig Pen," which wasn't open yet on a recent Blade tour of the building. Strict leather dress code will apply to that space.
The 10,000-square-foot building will ultimately offer a quieter upstairs speakeasy lounge with comfy leather couches and a large event space with stage. Kiple says the adjoining building, which the Parrishes also own, will eventually bring another 3,000 square feet of space to include a leather store and expanded events space.
But the key to success?
"This place has got to drip sex," Kiple says.
And there lies the advantage of a brick-and-mortar bar over the Internet and apps that continue to challenge traditional gay bars and other businesses. "The Internet has taken a chunk of the business, but there will always be a need for a place to go," he says. "The thrill of the chase and being conquered — you don't get that on the Internet."
The Baltimore Eagle, 2022 N. Charles St., will be open 7 days/week, 365 days/year starting Nov. 15. There will be happy hour specials. As for security, Kiple says there will be a door person, plentiful outdoor lighting and valet parking is planned. He emphasizes that women are welcome. "My bar was the first to have a Ms. Leather contest," he notes. The bar is also open to those 18 years and older with the caveat that underage customers will be banned if caught trying to order alcohol. Kiple would like the younger generation to feel welcome and to learn the leather lifestyle.
"This is here for our community and I take that very seriously," he says, adding that he hopes D.C.'s leather aficionados will make the trip up I-95. "Baltimore and Washington are growing together more and more and we need an active leather community in both cities."