December 11, 2019 at 2:57 pm EST | by Lou Chibbaro Jr.
Falls Church approves limited LGBT rights ordinance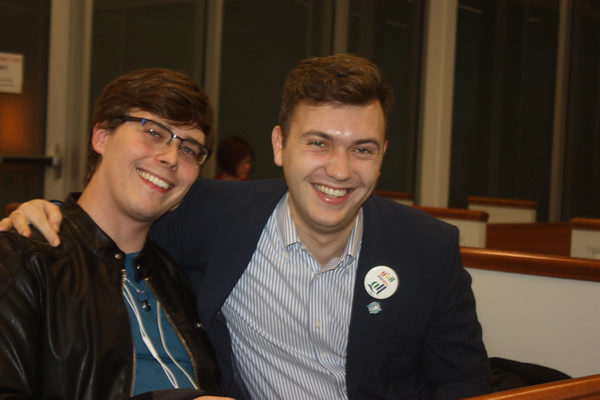 The Falls Church, Va. City Council voted 6-0 on Monday to approve an amendment to the suburban Washington jurisdiction's nondiscrimination ordinance that adds new language banning discrimination in employment and housing based on sexual orientation and gender identity.
The newly revised ordinance, which takes effect 10 days after its approval on Dec. 9, adds LGBT people to two existing ordinances by changing the definition of "sex" to include sexual orientation and gender identity.
"As used herein, discrimination on the basis of 'sex' shall be defined to include discrimination based on sexual orientation, gender identity, or transgender status," the ordinance declares.
A statement released by the Falls Church City Council announcing the new ordinance says it was carefully worded with help from the city attorney as an amendment to the nondiscrimination provisions of an existing Falls Church cable television franchise ordinance related to employment and a citywide housing nondiscrimination ordinance.
The new ordinance "applies only to the cable television and housing chapters of the city's code," said Falls Church City spokesperson Susan Finarelli. "The action the Council took does not apply to businesses outside of the scope of those chapters," Finarelli said.
Both of those existing ordinances had been approved in the past by the Virginia General Assembly under a longstanding statewide legal requirement known as the Dillon Rule, which prohibits local jurisdictions from enacting laws in certain areas that go beyond the scope of state law.
"The General Assembly of Virginia has not authorized localities to prohibit discrimination on the basis of sexual orientation, gender identity, or transgender status," the statement released by the Falls Church City Council says. "However, recently a number of courts have recognized that discrimination on these bases is also, factually, discrimination based on sex," the statement says.
The new ordinance was sponsored by Council member Phil Duncan at the initiative of Patrick Cochran, chair of the LGBTQ Caucus of the Young Democrats of Virginia, according to the Falls Church News-Press. The newspaper reports that Cochran and his partner Chris Munden were present during the Falls Church City Council's approval of the ordinance on Monday evening.
Nick Benton, editor and publisher of the News-Press and a recognized expert on Virginia politics, said Falls Church officials believe that while the new ordinance is technically limited to employment nondiscrimination policies pertaining to the local cable television franchise as well as citywide housing policies, the ordinance will likely be interpreted to apply to a broader private sector employment arena.
"Usually the way these things work is it sends a clear signal to anyone doing business with the city that if they do discriminate that the city will not do business with them," Benton told the Washington Blade. "That's my read on it and that's pretty clear the intent of the ordinance and the way it was presented and carried forward."
Benton and Virginia State Sen. Adam Ebbin (D-Alexandria), who's gay, said they believe the newly elected Democratic Party majority in both houses of the General Assembly, which takes office in January, will likely approve a statewide LGBT rights law, which could take effect next August. Ebbin said he will introduce comprehensive LGBT nondiscrimination legislation early next year.
Thus the Falls Church ordinance could serve as a stop-gap measure to protect LGBT people from discrimination until a state law goes into effect, Benton said.
Other Northern Virginia jurisdictions, including Arlington County and the City of Alexandria, have adopted LGBT nondiscrimination ordinances in past years. Although they were written in a way to circumvent restrictions under the Dillon Rule, some observers say the Dillon Rule could be invoked to challenge those ordinances.
"I'm very happy that Falls Church has taken a step forward and that I'm hoping with the passage of legislation that I will offer in 2020 that we will have the entire state covered so that we don't need a patchwork," Ebbin said.
Gay Virginia House of Delegates member Mark Levine (D-Alexandria) said he too plans to introduce comprehensive LGBT nondiscrimination legislation in January that will also weaken the grip that the Dillon Rule has on local jurisdictions. He said his bill will allow local jurisdictions to enact stronger civil rights related legislation than existing state civil rights laws, but it will not allow localities to become exempt from stronger state laws.
"I will allow localities to go further in preventing nondiscrimination than Virginia law does but they won't be able to go less far," he said. "It's a one-way ratchet."