December 20, 2019 at 8:17 am EST | by Valerie Blake
Pet safety for the holidays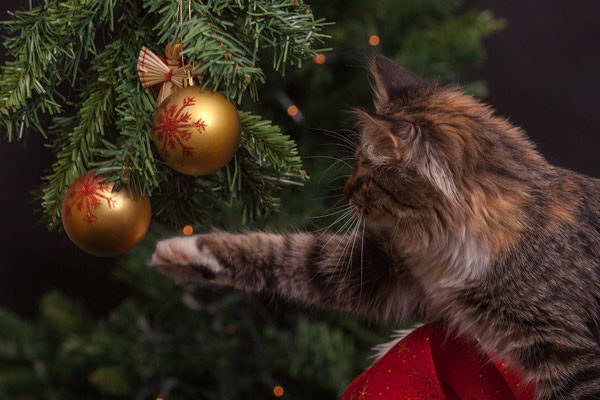 Last summer, I became aware of an operation by Homeward Bound Schnauzer Rescue in Millersville, Md., to remove 17 Miniature Schnauzers from a puppy mill in Virginia. The rescue went well, and the pups became known as the VA17.
Most of the dogs had an illness of one sort or another, so they were quarantined for 30 days or more while being treated. During that time, people made applications to foster or adopt them. I was one of the applicants.
Shortly after Thanksgiving, I received a call from Homeward Bound to let me know I had passed all the requisite checks and would be able to adopt a dog. I asked if there was a little girl available and the answer was yes. About a week later, I picked up Fiona.
At that point it was December and I explained to my other Schnauzers, Fulbright (age 14), Cory (age 11) and Sasha (age 7), that they would be getting a puppy for Christmas. Ultimately, Sasha was delighted to have a little sister. Cory is a bit more nonchalant and Fulbright wants nothing to do with her. They'll come around over time.
Fiona (age 1) had lived all her young life in a cage, so even though she is an adult dog, she had never touched grass, walked on leash, been housetrained, or played with toys. We were starting from scratch.
So far, she has run circles around the yard, hit the pee pads 80% of the time, and discovered how to play with her sister, Sasha, and her favorite toy, a stuffed red devil. On the other hand, she has also gnawed on my hand and arm while teething, learned how to put her front paws on the coffee table and steal stuff, and eaten the bathmat.
We all love our pets and during the holidays, whether we're spending them in our own home or someone else's, there may be decorating items not normally present that could be dangerous for them. Here is a reminder of things to avoid.
Start with a Christmas tree. Add chewing on electrical cords, drinking the water in the tree stand and jumping up for a closer examination of a twinkling light and you have a recipe for disaster or, at minimum, a toppled tree. Even the tinsel that mesmerizes your cat can result in foreign body obstruction, if ingested.
Luckily, mistletoe is usually hung at the top of a doorway, but if not securely fastened, it can fall to the floor when you're not in the room to notice. Eating mistletoe can cause your pet to have gastrointestinal and cardiovascular problems. Holly on wreaths can cause diarrhea and vomiting and eating lilies can cause kidney failure in cats.
It should go without saying that pets should not go near the candles on a menorah or on the buffet. And we all know that anything on a fireplace mantel is fair game for a cat. Please be sure to blow candles out when you leave the house, so no pet can turn a lit candle into a fire.
'Tis the season for parties large and small. Crowds can cause anxiety for pets, so make sure they have a special space to retreat to, if you're the host. Leave them at home if you're not. When letting people in and out of your home, keep your pets out of the way of the door so they don't get stepped on or escape.
Let guests know if they can pet or feed your animals and provide suitable treats so they don't feel the urge to give them "people food." Items like chocolate cookies or candy, raisins in that unpopular fruitcake, grapes on the cheese platter, and the bowl of nuts or salty chips on the coffee table should be avoided. These foods can cause a multitude of problems from vomiting and diarrhea to pancreatitis to seizures or worse.
And keep an eye on Uncle Charlie, who thinks it's cute to get the dog drunk. Alcohol poisoning can produce decreased coordination, changes in a pet's central nervous system, tremors, coma and more.
I highly recommend programming the ASPCA Animal Poison Control Center emergency number into your phone. It's (888) 426-4435 and is available 24/7, 365 days of the year and should be your first call if you think your pet has eaten something it shouldn't have.
Fiona and I will be feasting on a small platter of crudités with a side of kibble and I wish all my furry (and not so furry) friends a Merry Christmahanukwanzaa, and a safe holiday season.
Valerie M. Blake is a licensed Associate Broker in D.C., Maryland and Virginia and Director of Education & Mentorship at RLAH Real Estate. Call or text her at 202-246-8602, email her via DCHomeQuest.com, or follow her on Facebook at TheRealst8ofAffairs.