January 16, 2020 at 5:22 pm EST | by Lou Chibbaro Jr.
Brett Parson to retire from D.C. Police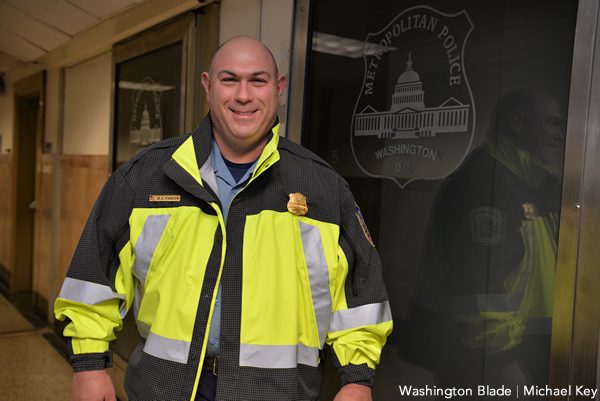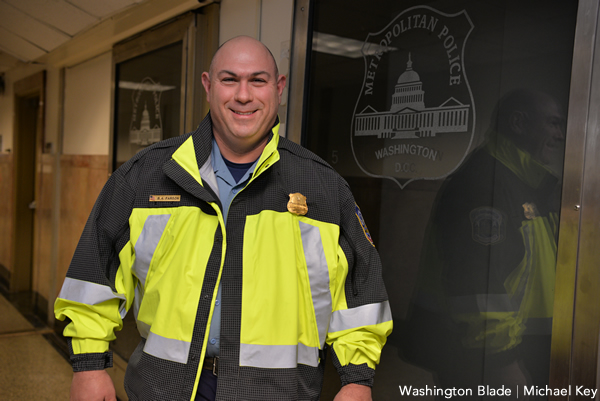 D.C. police announced in a statement on Thursday that Acting Lt. Brett Parson, the openly gay cop who has served for many years as head of the department's LGBT Liaison Unit and currently serves as supervisor of the Special Liaison Branch that oversees all six of the liaison units, will step down from that position to retire from the force on Feb. 1.
In a development that comes as a surprise to the D.C. LGBTQ community in which Parson has been a well-known figure since 1999, the announcement says Parson is retiring "after 26 years of excellent service to the city."
According to the announcement, Sixth District Lt. David Hong has been named as Parson's successor as supervisor of the Special Liaison Branch. It says Hong, whose parents immigrated to the U.S. from South Korea, joined the department in 2003 and has served in a wide range of assignments.
He began as an officer assigned to the department's diverse First District, which includes Chinatown and later served as a sergeant in the Fifth District, which includes Gallaudet University and much of the city's sizable deaf and hard of hearing community, the statement says.
It says he has most recently worked in the Sixth District, "supervising areas that include Latino and LGBTQ+ communities and partners."
Parson has been credited with playing a key role in improving police relations with the LGBTQ community since he was first named as supervisor of the then-Gay and Lesbian Liaison Unit in 1999 by former Police Chief Charles Ramsey. Parson served in that position for 10 years until 2009 under both Ramsey and later under Ramsey's successor, D.C. Police Chief Kathy Lanier.
He has served as supervisor of the Special Liaison Branch since 2016 under current D.C. Police Chief Peter Newsham.
"The SLB, which is located in the Executive Office of the Chief of Police, Strategic Change Division, is a model for community policing in its work with historically underserved communities," the statement announcing Parson's departure says. "The SLB works closely with the District's diverse community, in particular its African, Asian, Deaf and Hard of Hearing, interfaith, LGBTQ+, and Latino communities," according to the statement.
Under Ramsey's original directive creating the liaison units and under additional authority given to them by Newsham, the units have powers to investigate crimes and assist detectives, including homicide detectives, in investigations of crimes targeting minority communities, including the LGBTQ community.
"I will be retiring from full-time employment with MPD effective Feb. 1, 2020," Parson told the Washington Blade in a statement. "Immediately, I will be taking a few months to develop my own consulting, speaking, and teaching work, which will take me out of the country for a bit," he said.
"Upon my return, I will remain with MPD as a part-time Reserve Officer serving at the pleasure of the Reserve Corps in whatever role I can best assist the agency I love," Parson told the Blade.
Police spokesperson Dustin Sternbeck told the Blade on Thursday that Hong will begin his new job as supervisor of the SLB this Sunday, Jan. 19. Parson said his and Hong's duties will "overlap" between Jan. 19 and Feb. 1 so Parson can assist Hong in the transition.
The police statement announcing Parson's retirement and Hong's appointment says Hong grew up in Rochester, N.Y., where his parents first moved after emigrating from South Korea. It says Hong has a degree in criminal justice from Damon College in Rochester.
"Lt. Hong's work with MPD has been shaped by his childhood experiences," the statement says. "Watching his parents tackle numerous challenges as immigrant small business owners taught him the importance and impact of positive relationships with the police." Police spokesperson Sternbeck said Hong would be available for an interview with the Blade shortly after he begins his new job.
He is expected to be working closely with Sgt. Nicole Brown, who currently serves as supervisor of the LGBT Liaison Unit.