January 29, 2020 at 1:22 pm EST | by Lou Chibbaro Jr.
Ruby Corado endorses Kennedy in Ward 2 race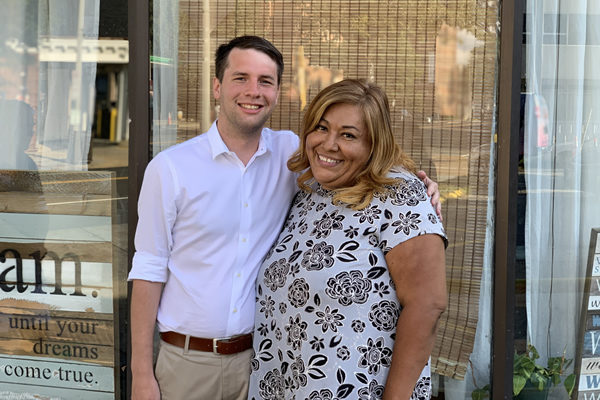 Ruby Corado, the founder and executive director of the D.C. LGBTQ community services center Casa Ruby, announced on Tuesday that she has endorsed Foggy Bottom Advisory Neighborhood Commissioner Patrick Kennedy in the hotly contested race for the Ward 2 D.C. Council seat.
Corado becomes the first well-known LGBTQ rights leader to make an endorsement in the race in which gay Logan Circle ANC commissioner John Fanning is among six other candidates running in the June 2 Democratic primary and in a June 16 special election for the Ward 2 seat.
Former D.C. Council member Jack Evans, who held the seat for 29 years, and who resigned from the Council on Jan. 17 before the Council was expected to expel him for multiple ethics violations, filed papers on Monday to run in the primary and special election in an effort to win back his seat.
"In endorsing Patrick Kennedy, Corado pointed to his combination of youth and experience, with many years of hard work in the community on behalf of young people, the elderly, and those most vulnerable," according to a statement released by the Kennedy campaign.
"The city needs change," Corado said. "We need new voices on Council and Patrick is one of them. He's the new young talent. He has values for the real people of D.C.," said Corado in the statement released by the campaign.
"Patrick has shown he is committed to our entire community," Corado added. "Patrick reached out to the LGBTQ community from the very beginning, listened, and knows how important we are to the city."
Kennedy, 28, an education management consultant, said in the statement that he's "honored and humbled" to have received Corado's endorsement.
"Her support isn't just a distinction in a political campaign, it is a mark of trust that I feel a deep obligation to uphold," he said. "I am committed to centering the experiences of LGBTQ youth experiencing homelessness, trans people of color, immigrants, and others who are too often forgotten and left out of the dialogue in the District."
In addition to Fanning, a longtime gay rights advocate, and Evans, the others running in the Democratic primary and special election for the Ward 2 seat include ANC commissioner Kishan Putta, former Capitol Hill staffer and D.C. government employee Jordan Grossman; and community activists Daniel Hernandez and Yilin Zhang. All have expressed strong support for LGBTQ rights.