August 24, 2020 at 9:41 am EDT | by Lou Chibbaro Jr.
Retired D.C. Police Lt. Parson blasts NYPD union for endorsing Trump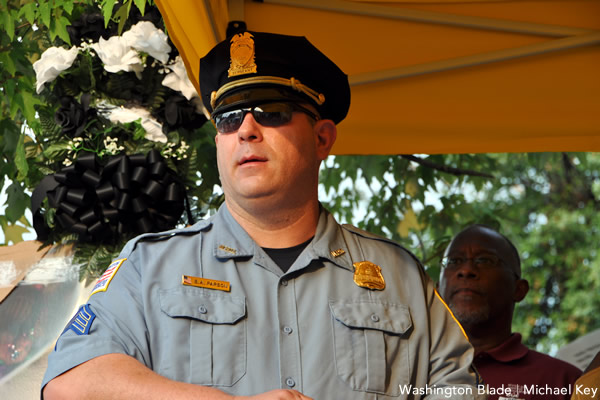 Gay retired D.C. Police Lt. Brett Parson, who served as commander of the department's Special Liaison Branch which oversees the LGBT Liaison Unit, has released a statement denouncing the union representing rank and file police officers in New York City for its decision to endorse the re-election of President Donald Trump.
Patrick J. Lynch, the leader of the Police Benevolent Association, which represents 24,000 NYPD officers, released his own statement on Aug. 16 saying the endorsement came at a time when police are under attack across the country and "neighborhoods are being ripped apart by violence and lawlessness."
Added Lynch, "Most politicians have abandoned us, but we still have one strong voice speaking up in our defense," he said, referring to Trump.
Parson, who operates a law enforcement consulting service, said in his statement that the action by Lynch and the PBA leadership "has further jeopardized the safety of every private citizen and Police Officer in the USA."
He added, "This endorsement symbolizes a massive middle finger to the millions of Americans who fear or hate the police. By endorsing Trump, the leadership and members of NYPD PBA have said loud and clear, 'We don't care what you think. We are untouchable, more powerful, and only care about our wealth and safety.'"
Parson concluded his statement by citing the late civil rights icon Martin Luther King Jr.'s statement that a "riot is the language of the unheard."
"If a riot is a fire, those responsible for dousing those flames and saving lives just poured fuel upon it and stand chanting, 'Burn baby Burn.' I am ashamed of my brothers and sisters in blue."