Driving away the winter blues
Nifty features, pleasant surprises in three crossovers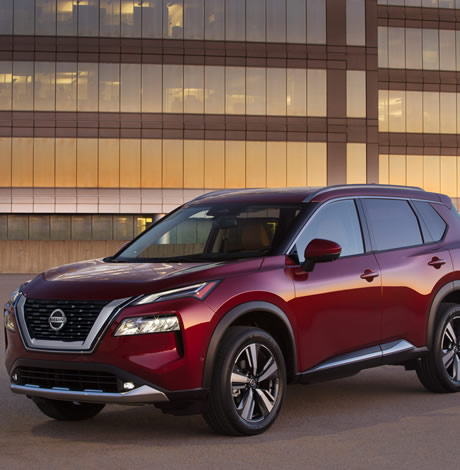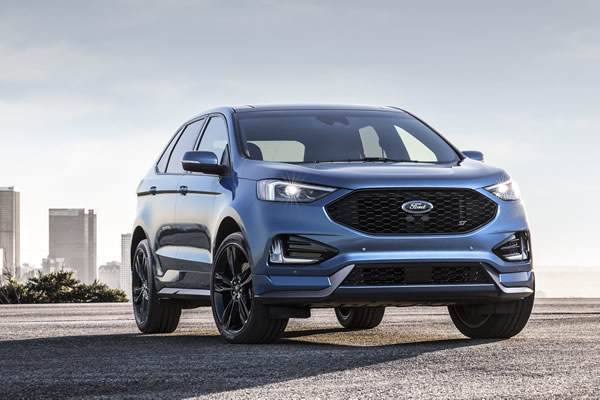 To help keep the winter doldrums at bay, I recently test drove three fun crossovers. All had plenty of nifty features, as well as a few pleasant surprises.
FORD EDGE
$32,000
Mpg: 21 city/29 highway
0 to 60 mph: 7.6 seconds
During these uncertain times, it's nice to know a Ford Edge offers steady reassurance. This five-seat mid-sizer is surprisingly quiet, with a comfy ride and precise steering. A base four-cylinder turbo is peppy enough, especially for in-town driving. But for more gusto, the sporty ST model—with a potent V6 engine, larger tires and firmer suspension—scoots from 0 to 60 mph in less than 6 seconds.
A major redesign a few years ago gave the Edge the snazzy exterior styling of an upscale Lexus RX. This year the updates are on the inside: 12-inch vertical touchscreen (the largest in its class) with smartphone compatibility, Wi-Fi hotspot, improved voice-recognition system and over-the-air software updates. Top safety scores are a plus, as is the adaptive cruise control, semiautonomous parking and 180-degree front-end camera. I loved the long list of options, even if they can be a bit pricey: all-wheel drive, heated/ventilated seats, heated side mirrors, power liftgate, panoramic roof and 12-speaker Bang & Olufsen premium stereo. For anyone needing a weekend away from the Washington scene, the Edge can tow up to 3,500 pounds—perfect for small campers and such.
KIA SELTOS
$24,000
Mpg: 29 city/34 highway
0 to 60 mph: 7.3 seconds
Looking for totally new versus tried and true? This year the Kia Seltos makes its grand debut, with "crown jewel" headlights, a tiger nose grille and a front end with vertical chrome lines inspired by—OK, wait for it—buffalo horns. At least that's how Kia designers describe the look of this funky subcompact crossover. Entering what is an already crowded market segment, the Seltos is based on the same refined platform as the popular Hyundai Kona. Both provide a composed ride and high-quality cabin at an affordable price. But while the Seltos has the same sure handling, it's also taller and roomier.
The base four-cylinder is certainly capable, but I was enamored with the extra oomph from the optional turbo engine. Gas mileage is almost the same anyway, and a top-of-the-line SX Turbo—fully loaded—is just $28,000. Keyless entry, tinted rear glass and smartphone integration are standard on all models. And depending on trim level, the long list of amenities includes heated seats, automatic high beams, sunroof, premium Bose audio and more, as well as the latest safety features. For me, the Seltos seemed to be a nice mix of style and substance, with a refreshing bit of whimsy.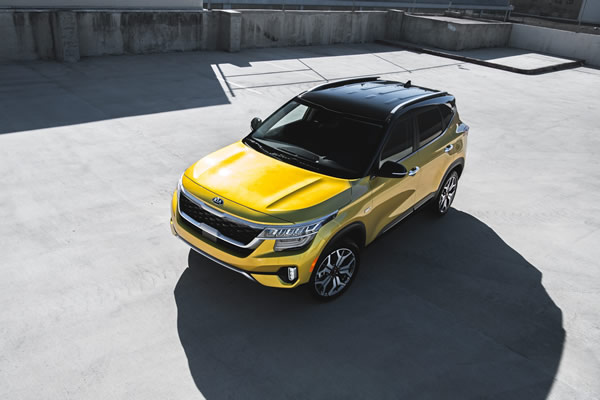 NISSAN ROGUE
$26,000
Mpg: 27 city/35 highway
0 to 60 mph: 8.1 seconds
It's been seven years since the Nissan Rogue was updated. That's an eternity in the auto biz. But this year the automaker's most popular vehicle gets an extreme makeover, with a glitzy new profile, freakishly thin headlights and racy rear spoiler.
With the ongoing hullabaloo about former Nissan Chairman Carlos Ghosn skipping out of Japan to avoid facing criminal charges, it's easy to forget that this company churns out very impressive and reliable vehicles. This includes the updated Rogue, with its zippy engine—tweaked for a bit more horsepower this year—and extremely smooth suspension. Those Zero Gravity seats were a pleasant surprise, as was the minimal body roll and solid braking. Inside, the cabin is now more upscale, with an almost BMW-like dash and acoustic glass in the windshield for a quiet ride. Standard gear includes remote keyless entry and rear parking sensors, as well as automatic braking, blind-spot monitor and lane-departure warning. Despite being 1.5 inches shorter than before, the updated Rogue has more rear-seat legroom.
Options include tri-zone climate control, large head-up display, floating 9.0-inch touchscreen and 12.3-inch digital gauge cluster. There's also wireless charging, Wi-Fi hotspot, front/rear heated seats and a panoramic moonroof. As for those rear-window sunshades, you likely won't find them on competing models—at least not in this price range.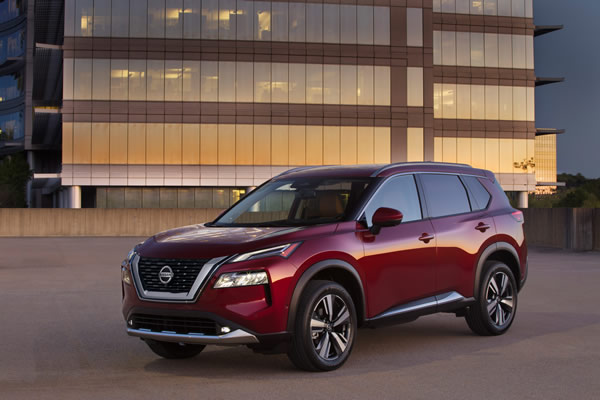 Adventure cruisers
These two vehicles are perfect for your next adventure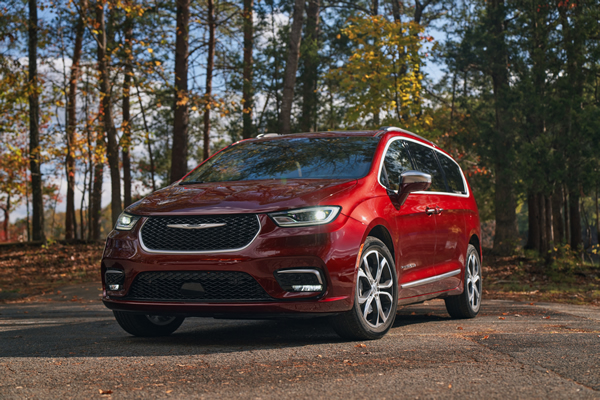 With everyone itching to get out and travel during the big reopening, it's no wonder roadways are jammed with day-trippers and tourists. But these two vehicles can help you avoid the noise and go on your own excellent adventure.
CHRYSLER PACIFICA PINNACLE
$55,000
Mpg: 19 city/28 highway
0 to 60 mph: 7.9 seconds
Is there such a thing as a fun minivan? You wouldn't think so. But the Chrysler Pacifica has won numerous awards for its spirited suspension and nimble handling. This hauler is much better at transporting people and cargo than most pickups and SUVs. And this year the Pacifica, already a style maven among minivans, gets a tasteful makeover. This includes a streamlined grille, liftgate, wheels, and front and rear running lights.
For better traction on slippery roads, all-wheel drive is now available. There's also a new top-tier trim level—the Pinnacle—with quilted Nappa leather seats and (bling alert!) snazzy matching pillows for the second-row captain's chairs. The infotainment system, already easy to use, now has a crisp 10.1-inch screen, along with smartphone integration and up to 12 USB ports. Because of an improved processor, the infotainment system is more responsive. This was a big plus whenever I approached highway construction zones and needed to find a quick escape route. In the end, I was able to deftly skirt bottlenecks, enjoy a few unfamiliar yet pleasant byways, and still arrive everywhere on time.
Along with a backup camera, there's a 360-degree view to help you fit into almost any parking spot. And while it may seem a bit creepy, a new FamCam inside the cabin helps you keep an eye on the kids—or any unruly adults—who may be acting up in the backseat. Crash-test scores are stellar, and Chrysler found a way to shoehorn in almost every safety feature, including blind-spot monitor, lane-departure warning, adaptive cruise control, and automated emergency braking with pedestrian detection. No, the Pacifica Pinnacle is not a sport sedan or souped-up super coupe. But it also doesn't drive like a bulky minivan, despite the acres of interior room and cubbyholes. Instead, I was able to enjoy the best of both worlds—a refreshing ride with plenty of room for passengers and cargo. For neat freaks like me, there was an extra bonus: a built-in vacuum cleaner.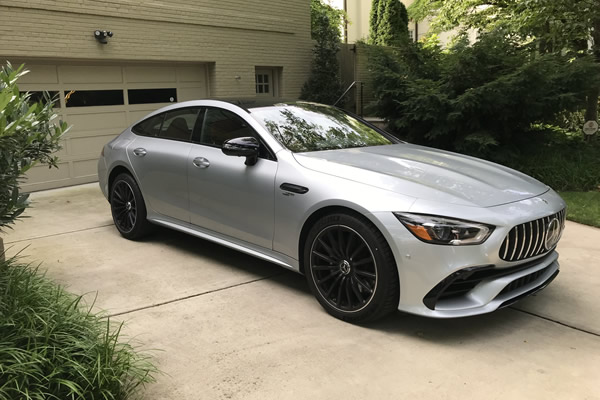 MERCEDES AMG GT 43
$91,000
Mpg: 20 city/25 highway
0 to 60 mph: 4.8 seconds
For auto journalists, test vehicles are like speed dating: Each car is the object of your affection—but only until the next one arrives. Yet sometimes you really do find a soul mate. That's the case with the Mercedes AMG GT 43. This four-door sedan looks like a hot rod, sounds like a muscle car and drives like a high-performance speedster. Each time I slipped behind the wheel, there was something new and exciting to stir the senses. Cue the silky nine-speed transmission. The subdued ambient lighting. The snug seats that hug you like a lover. And the various driver settings that let you stiffen the suspension to take any corner like a pro.
With the touch of a button, you can ratchet up the exhaust rumble to impress your neighbors. Press another button to raise the large rear spoiler—effectively saying "back off" to anyone clueless enough to tailgate such a ferocious fastback. Even curbside, the haughty look of this ride is intimidating. Inside, there are dual 12.3-inch digital displays and a wide center console with wireless charging pad. Another charging pad is part of an optional rear-seat package, which adds three-zone climate control, heated/cooled rear cupholders, two more USB ports and a rear touchscreen. The new infotainment system offers speech recognition for voice commands and software that actually learns how to anticipate when you might be about to change the nav screen or radio channel. And the clarity of the Burmester surround-sound stereo remains crystal clear even when it's cranked up to the max. Despite a base price of $91,000, the AMG GT 43 is actually a bargain. After all, the slightly more powerful GT 53 starts at $100,000, and the high-end GT 63 is an eye-popping $162,000. At the end of a weeklong stint with this dream machine, I had fallen hard it—finding any excuse to make an extra Starbucks run or go on a spur-of-the-moment day trip or drive to the grocery store three times in an hour or, well, you get the picture.
Pride rides
Two models offer strong, confident, inspiring styling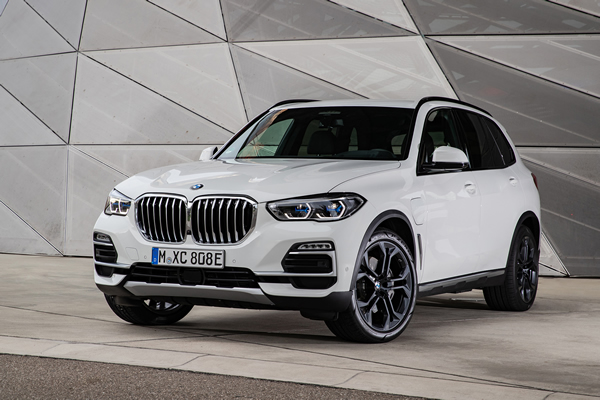 As usual, June is bustin' out all over, with Vice President Kamala Harris making history by joining in the festivities. But the fun doesn't have to end there. Two fine crossover SUVs show how easy it is to keep the party going indefinitely. I call them Pride rides—strong, confident and inspiring.
BMW X5 XDRIVE 45E
$66,000
Mpg: 20 mpg (gas only), 50 mpg (electric and gas)
0 to 60 mph: 4.7 seconds
In 2015, back when Gus Kenworthy and Caitlin Jenner came charging out of the closet, BMW was making its own hoopla with the X5 xDrive 40e. This was the automaker's first plug-in hybrid, an engineering marvel that could shift seamlessly between EV and gas-engine mode. Ride and handling were as good as any traditional SUV. And despite a hefty curb weight, acceleration to 60 mph was a decent 6.2 seconds.
Fast forward to the X5 xDrive 45e, the next-gen model rolling into showrooms this year. Thanks to the pandemic, this debut has been more subtle. But the enhancements are quite substantial. The new engine—stronger and quieter than the previous model—helps this midsize SUV blast to 60 mph in just 4.7 seconds. Despite being over 400 pounds heavier, the updated X5 is actually nimbler. And the electric-only range is 31 miles, or twice as far as the old model. That's a good thing, because overall fuel economy is now 20 mpg versus 24 mpg. Luckily, most motorists drive only about 30 miles each day anyway. (Or at least they did prior to the pandemic.)
Inside, the cockpit design is minimalist chic, but with lots of standard features: faux-leather seats, panoramic roof, two 12.3-inch digital screens, and smartphone integration for both Android Auto and Apple CarPlay. All-wheel drive also is standard, even in electric-only mode. Along with all the latest safety gear, there's active cruise control with a stop-and-go function that can be used at speeds up to 130 mph (yo, for autobahn drivers, not those of us stateside). And during a much-needed weekend getaway with some freeway backups, the traffic-jam-assist feature worked its magic: I was able take my hands off the wheel and relieve a lot of driver fatigue and frustration as the vehicle drove itself. This also was a blessing for my partner, who didn't have to listen to me swear like a New York City taxi driver.
MERCEDES GLS 450
$76,000
Mpg: 20 city/24 highway
0 to 60 mph: 5.8 seconds
For a few more bells and whistles, there's the Mercedes GLS 450. This full-size SUV has acres of cargo room and can easily seat seven passengers. For a sportier vibe, you can swap out the second-row bench seat for two captain's chairs.
A robust six-cylinder engine comes standard and provides plenty of punch. The entry-level GLS handles just as effortlessly as the higher-end V8 model, which adds another $23,000 to the price tag. Both vehicles are smooth operators, with all-wheel drive and a sophisticated suspension that raises and lowers the chassis. There's even a clever pothole-sensing system to neutralize nasty bumps and enhance the feeling that this hulking SUV is floating on air. As with many BMWs and Mercedes, the GLS now comes with two huge 12.3-inch screens: one for the digital gauges and the other for the infotainment system.
Various pricey options abound, including five-zone climate control, a tablet to operate the infotainment system, and front and rear massaging seats that can be programmed to apply soothing relief to your back, tush or both. As if such amenities weren't enough, you can toss in heated and cooled cupholders, as well as a cabin fragrance system with choice of four aromas. Both Mercedes and BMW offer vibrant ambient lighting, with thin strips of interior lights illuminating the foot wells, door panels, dashboard trim, climate control vents, cupholders, speaker rims, center console and more. To tap into your inner rainbow, the GLS has a digital color wheel where you can choose from 64 lustrous hues. You can customize the lighting even further, selecting different colors to illuminate various parts of the interior at the same time. For me, calling up some funky mood lighting and a few rockin' Pride songs on the stereo is the perfect way to get the party started.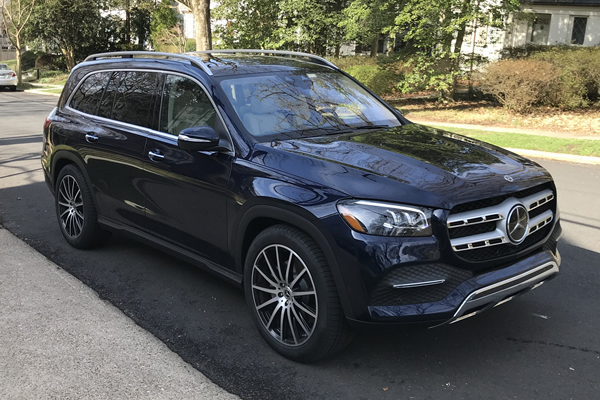 Smart rides for trying times
Two affordable options as supply dwindles and demand soars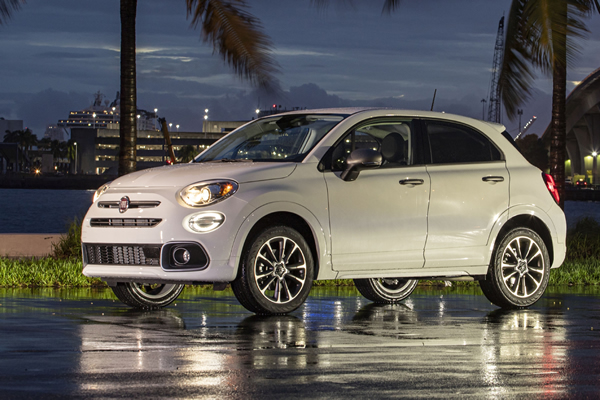 As if the pandemic, political discord and even cicadas weren't enough, now there's trouble brewing when trying to buy a new car. Parts shortages of computer chips, rubber, and other supplies mean new-vehicle inventory is down a whopping 40 percent. And with supply so low, demand is ratcheting up. So expect higher prices, along with fewer dealer and automaker incentives. But there are still opportunities out there. This includes opting for less popular models, such as coupes or sedans instead of hot-ticket SUVs and trucks. Or choosing niche models like the Fiat 500X or Mini Cooper Countryman. These two rather off-beat rides may lack the overall room and practicality of larger crossovers, but they perform nicely and are relatively affordable—at least for now.
FIAT 500X
$25,900
Mpg: 24 city/30 highway
0 to 60 mph: 8.7 seconds
Buying a Fiat is all about making a fashion statement, combining Italian flair with frugal pricing. The automaker's decision to reduce its lineup and focus on just one vehicle—the 500X subcompact crossover—only adds to the cachet. Everything about the 500X is charming, including the Lilliputian size, retro exterior and dazzling dashboard with interlocking display gauges. And the name of the base-model adds a bit of whimsy: Pop. There are three other trims—Sport, Trekking and Trekking Plus—but none of them is exactly racy or off-road ready.
Built on the same platform as the Jeep Renegade, the 500X handles fairly smoothly, at least on the freeway. The short chassis makes it difficult to glide over bigger bumps and potholes, and some body sway is noticeable on tight curves. With just 14 cubic feet of back-end cargo space, there's room only to haul some groceries and such. Still, the four-cylinder turbo engine is perky enough, and the standard all-wheel drive came in handy during a few unexpected downpours. The well-bolstered seats now have updated upholstery, and those funky circular headrests look like something from a Flash Gordon spaceship. There are a surprising number of safety features, including automated emergency braking, blind-spot monitor with rear cross-traffic alert, and lane-departure warning with lane-keeping assist. And warranty coverage is decent, though there is no complimentary scheduled maintenance. Sure, the 7-inch infotainment touchscreen seems tiny compared with larger displays in other crossovers. But those vehicles cost more, and at least the Fiat comes with smartphone integration and three USB ports. Options include a Beats stereo, heated seats, LED headlamps, front and rear parking sensors, and even a panoramic sunroof. Yes, there's plenty of personality here and also a decent number of amenities.
MINI COOPER COUNTRYMAN JCW
$42,400
Mpg: 23 city/31 highway
0 to 60 mph: 4.4 seconds
For a bit more room and a lot more vroom, there's the Mini Cooper Countryman. The base model starts at a very affordable $29,200. But the test vehicle that arrived for me to review was the souped-up JCW edition. While it's definitely pricey, this pocket rocket costs much less than high-performance crossovers from BWW or Mercedes. Yet it's just as blisteringly fast. The acceleration literally took my breath away, and the guttural exhaust rumble—which was downright primal—turned more than a few heads.
The Countryman is the largest vehicle in the Mini lineup, and for 2021 the exterior gets a tasteful refresh. This includes a flashier grille and bumpers, as well as the clever Union Jack design etched into the taillights. The JCW model boasts larger wheels, more form-fitting seats, rear spoiler and a sport-tuned suspension that helps transform this crossover into a tuner car. Along with keyless entry and power-folding mirrors, there's also a rear-view camera, ambient lighting and wireless charging. But while Apple CarPlay is available, Android Auto is not. As with the Fiat 500X, the high seating and deft placement of side pillars help with driver visibility. But the Countryman does offer a tad more legroom and rear cargo space. Either vehicle will do, though, if you're itching to toss in a few overnight bags to simply get away from it all.