February 21, 2021 at 3:03 pm EST | by Joe Phillips
Driving away the winter blues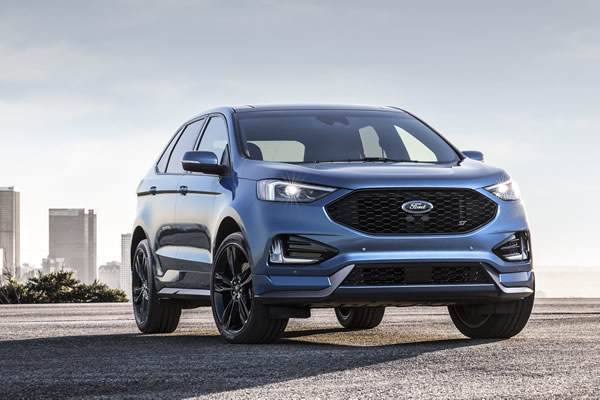 To help keep the winter doldrums at bay, I recently test drove three fun crossovers. All had plenty of nifty features, as well as a few pleasant surprises.
FORD EDGE
$32,000
Mpg: 21 city/29 highway
0 to 60 mph: 7.6 seconds
During these uncertain times, it's nice to know a Ford Edge offers steady reassurance. This five-seat mid-sizer is surprisingly quiet, with a comfy ride and precise steering. A base four-cylinder turbo is peppy enough, especially for in-town driving. But for more gusto, the sporty ST model—with a potent V6 engine, larger tires and firmer suspension—scoots from 0 to 60 mph in less than 6 seconds.
A major redesign a few years ago gave the Edge the snazzy exterior styling of an upscale Lexus RX. This year the updates are on the inside: 12-inch vertical touchscreen (the largest in its class) with smartphone compatibility, Wi-Fi hotspot, improved voice-recognition system and over-the-air software updates. Top safety scores are a plus, as is the adaptive cruise control, semiautonomous parking and 180-degree front-end camera. I loved the long list of options, even if they can be a bit pricey: all-wheel drive, heated/ventilated seats, heated side mirrors, power liftgate, panoramic roof and 12-speaker Bang & Olufsen premium stereo. For anyone needing a weekend away from the Washington scene, the Edge can tow up to 3,500 pounds—perfect for small campers and such.
KIA SELTOS
$24,000
Mpg: 29 city/34 highway
0 to 60 mph: 7.3 seconds
Looking for totally new versus tried and true? This year the Kia Seltos makes its grand debut, with "crown jewel" headlights, a tiger nose grille and a front end with vertical chrome lines inspired by—OK, wait for it—buffalo horns. At least that's how Kia designers describe the look of this funky subcompact crossover. Entering what is an already crowded market segment, the Seltos is based on the same refined platform as the popular Hyundai Kona. Both provide a composed ride and high-quality cabin at an affordable price. But while the Seltos has the same sure handling, it's also taller and roomier.
The base four-cylinder is certainly capable, but I was enamored with the extra oomph from the optional turbo engine. Gas mileage is almost the same anyway, and a top-of-the-line SX Turbo—fully loaded—is just $28,000. Keyless entry, tinted rear glass and smartphone integration are standard on all models. And depending on trim level, the long list of amenities includes heated seats, automatic high beams, sunroof, premium Bose audio and more, as well as the latest safety features. For me, the Seltos seemed to be a nice mix of style and substance, with a refreshing bit of whimsy.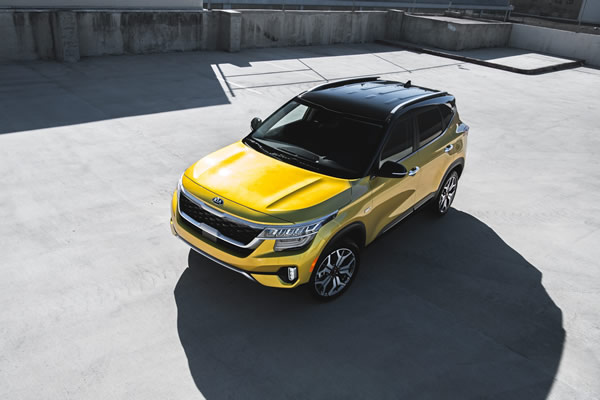 NISSAN ROGUE
$26,000
Mpg: 27 city/35 highway
0 to 60 mph: 8.1 seconds
It's been seven years since the Nissan Rogue was updated. That's an eternity in the auto biz. But this year the automaker's most popular vehicle gets an extreme makeover, with a glitzy new profile, freakishly thin headlights and racy rear spoiler.
With the ongoing hullabaloo about former Nissan Chairman Carlos Ghosn skipping out of Japan to avoid facing criminal charges, it's easy to forget that this company churns out very impressive and reliable vehicles. This includes the updated Rogue, with its zippy engine—tweaked for a bit more horsepower this year—and extremely smooth suspension. Those Zero Gravity seats were a pleasant surprise, as was the minimal body roll and solid braking. Inside, the cabin is now more upscale, with an almost BMW-like dash and acoustic glass in the windshield for a quiet ride. Standard gear includes remote keyless entry and rear parking sensors, as well as automatic braking, blind-spot monitor and lane-departure warning. Despite being 1.5 inches shorter than before, the updated Rogue has more rear-seat legroom.
Options include tri-zone climate control, large head-up display, floating 9.0-inch touchscreen and 12.3-inch digital gauge cluster. There's also wireless charging, Wi-Fi hotspot, front/rear heated seats and a panoramic moonroof. As for those rear-window sunshades, you likely won't find them on competing models—at least not in this price range.