Sport sedans make spirited return
Forget crossovers, these models are a thrill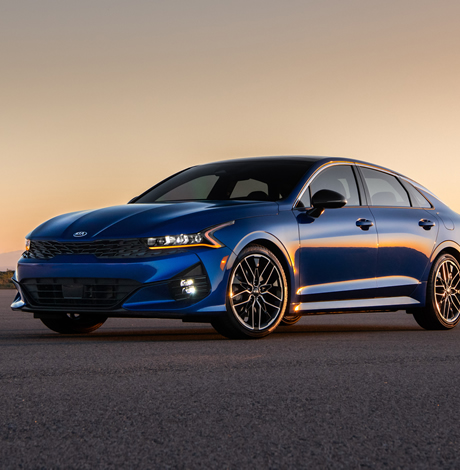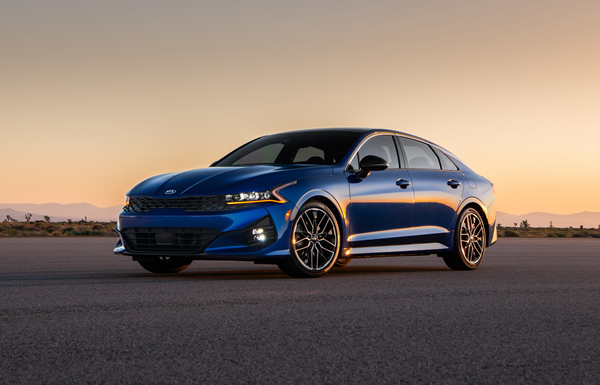 Remember four-door sedans? Once upon a time, they ruled the road. But today the buzz is all about crossovers and SUVs. Last year Ford phased out most of its sedans, and cars were only 8% of GM's retail sales. Case closed, or so it seemed. After recently testing the all-new Kia K5 and a restyled Mercedes E 450 for a week, I was blown away with how a true sport sedan—done just right—is still a thrill ride. Perhaps Nietzsche said it best: What doesn't kill you makes you stronger.
KIA K5
$24,000
Mpg: 29 city/38 highway
0 to 60 mph: 5.8 seconds
Gay magician Michael Carbonaro would feel right at home at Kia. The automaker keeps pulling rabbits out of the hat with dazzling vehicles at affordable prices. Such is the case with the all-new K5, which replaces the once-formidable Optima midsize sedan. Optima sales slid some 40% the past few years as consumers gobbled up crossovers, so Kia sprinkled pixie dust on the sheet metal to come up with styling that borrows heavily from the high-test Stinger muscle sedan. The result is a snotty-nosed grille on the K5, along with zig-zag headlights and a cascading rear that evokes a sexy fastback coupe.
Yet the base price is $10,000 less than a Stinger. The K5 also gets better gas mileage and comes with more standard safety gear, including automatic emergency braking, forward collision warning, driver attention warning, pedestrian detection and other goodies. There's even a rear-occupant alert—an audible reminder to check the backseat when exiting the vehicle—and a safe-exit system to prevent rear passengers from opening doors into vehicles approaching from behind. The base four-cylinder turbo is dandy, especially for daily commutes. But to unleash your inner speed demon, the GT model boasts a lustier engine, bigger brakes, sportier suspension and wider tires. No, this isn't a BMW 5 Series sedan, but the GT's ride and handling are close. The interior on all trim levels looks chic, with a sculpted dash full of user-friendly knobs and switches, tasteful wood trim and smartphone integration. Among the many options: all-wheel drive, heated/ventilated seats, ambient lighting, panoramic sunroof and a 10.25-inch touchscreen. I also enjoyed bopping to tunes on the premium 12-speaker Bose stereo, which benefited from an acoustic-laminated windshield that muffles outside noise.
MERCEDES E 450 4MATIC
$64,000
Mpg: 23 city/31 highway
0 to 60 mph: 4.3 seconds
If your queer eye craves lots of glitz and glamour, there's the Mercedes E 450. At almost three times the price of a Kia K5, this swanky sport sedan has a split personality: sportster wannabe versus luxe-like land yacht. Yet the vibe works, combining jazzier-than-expected styling with a boatload of amenities.
The effortless acceleration and engaging steering are sublime, especially when dodging potholes and wayward delivery trucks. And the richly appointed cabin brought miles of smiles during my first weekend getaway in over a year. A wraparound dash has two ginormous 12.3-inch screens: one for the digital instrument cluster and another for all the infotainment gizmos. You can even add augmented reality navigation, with turn-by-turn directions ala Waze. Other options include rapid-heat front seats, heated armrests and heated front center console, as well as a 360-degree bird's-eye camera, rear sunshade and Burmester surround-sound stereo with 23 speakers. The finely crafted seats are exquisite—and slightly erotic, with deep-massage functions that caressed and stimulated me in sinful ways.
Alas, some of the creature comforts are almost too high tech, like the touchy steering-wheel audio controls and numerous options for accessing and updating channels and presets. I finally got the hang of it after a few days, but it would have been nice if the infotainment system was more intuitive from the get-go. Still, such quibbles turned out to be minor. As with the Kia K5, the Mercedes E 450 was a real pleasure to drive. Despite—or because of—fewer sedans on the road these days, both rides were also turning a lot of heads. That's the power of retro rides, when everything old becomes new again.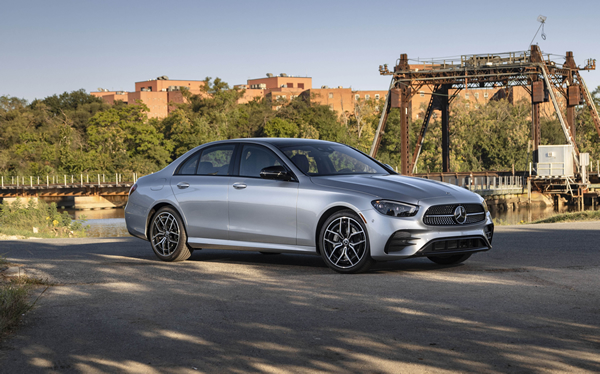 Fab full-sized sedans
Jaguar XF, Mercedes S 500 offer great rides at very different price points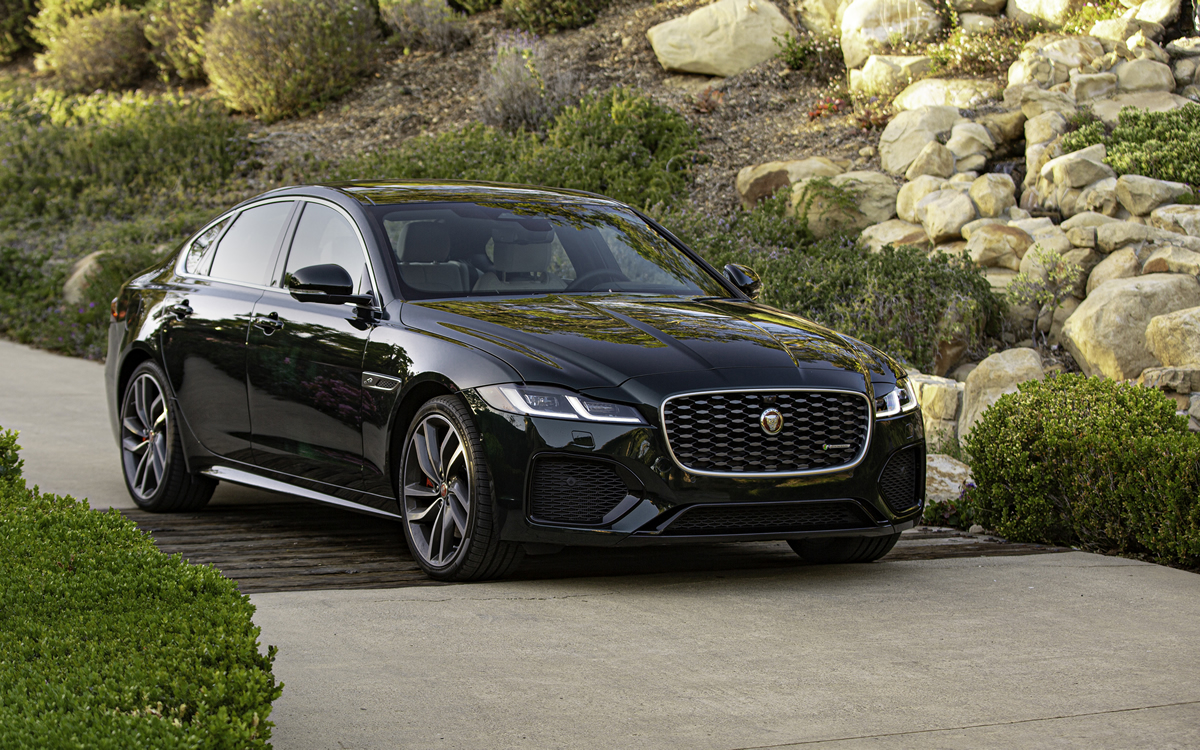 As drivers flock to SUVs and crossovers, it's as if the ubiquitous four-door sedan—poof!—has suddenly disappeared. Yet some steadfast sedans remain, including two absolutely fabulous rides below.
JAGUAR XF
$47,000
Mpg: 23 city/32 highway
0 to 60 mph: 6.5 seconds
Known for its super-luxe sedans, coupes and convertibles, even Jaguar has jumped on the sport-ute bandwagon. But though there are various Jag crossovers these days, at least one swanky sedan is still in the fleet: the XF mid-sizer. With streamlined looks—including a miles-long hood and swaybacked rear—this fetching chariot doesn't disappoint.
Handling is more lithe than lively, with supple suspension and snug braking. While neither of the two available four-cylinder turbo engines are Formula 1 material, the XF is plenty powerful for everyday driving. And the inviting interior is both refined and spacious, with cushy seats and lots of breathing room for backseat passengers. Along with a classy mix of rich wood trim and sleek aluminum accents, the updated cabin boasts a wireless charger, decent storage and curved glass on the 11.4-inch infotainment touchscreen.
Thankfully, a gearshift lever is back to replace the previous (and decidedly boring) rotary-dial shifter. I test drove the upscale R-Dynamic model, with special badging, snazzy split-spoked wheels and optional British Racing Green paint — a nice touch. Other ritzy add-ons included soft-close doors, power rear-window shade, power headlight washers and premium 12-speaker Meridian stereo. Note to self: The trunk, though adequate, is smaller than the competition. And because the XF no longer comes with a punchy V6 or V8 engine, rivals like the Audi A6, BMW 5 Series and Mercedes E-Class are speedier. But those sport-tuned rides also cost more — often a lot more. Considering how expensive gas has become these days, I'd say saving money on a stately but less expensive sedan makes a lot of sense.   
MERCEDES S 500
$112,000
Mpg: 21 city/30 highway
0 to 60 mph: 4.5 seconds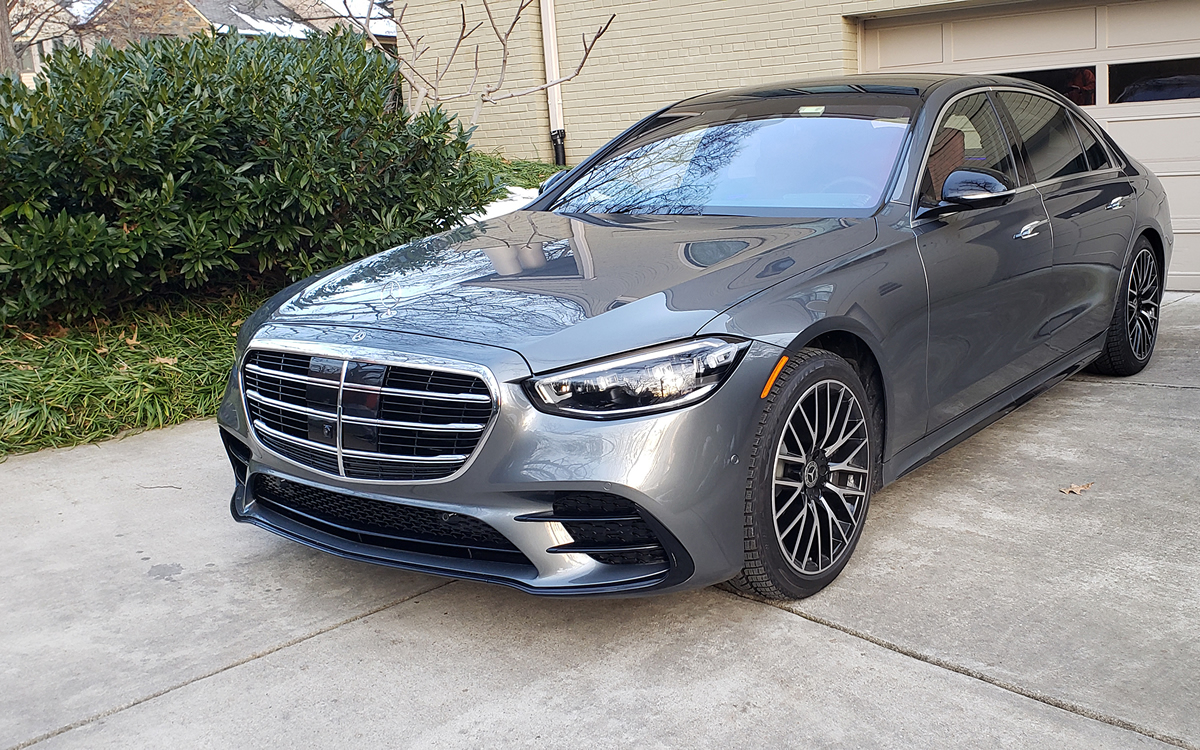 At twice the price of a Jaguar XF, the Mercedes S 500 is almost twice as nice. It's certainly bigger, measuring 13 inches longer and weighing 1,000 pounds more than the Jaguar. And for the first time, power for the S 500 comes from an eco-friendly six-cylinder turbo versus the typical V8, which is still available on pricier models. With impressive horsepower and a 48-volt hybrid system for added oomph, the S 500 rockets from 0-to-60 mph in just 4.5 seconds — amazing for such a beefy sedan. Adaptive dampers and agile air-spring suspension eliminate any land-yacht body roll. Instead, handling is more akin to a Porsche, while the cabin in this Benz beauty easily channels a Rolls-Royce. This includes a plethora of sumptuous upholstery and lacquer wood trim, as well as firewall insulation and other acoustic-absorbing materials to keep things eerily quiet.
Each front seat has 19 massage motors and 10 individual programs. Among the more than 120 recycled components are tony floor mats made from recycled fish nets and carpet remnants. A tasteful 12.8-inch central touchscreen has a sparkling OLED display. If the standard 15-speaker Burmester stereo doesn't rock your world, a thunderous 30-speaker system with 4D surround sound is available.
Still not sufficiently impressed? Along with an optional refrigerator, there are heated and cooled cup holders. Reach over toward an empty seat or other area at night and an overhead pin light immediately shines down, then douses itself when you remove your hand. And there are 250 interior LEDs, including red ambient door lights that flash when a dangerous traffic situation is detected. Outside, the futuristic door handles—aerodynamically flush and hidden in the side panels—tastefully emerge and begin glowing as you approach the car. Bucking the trend to reduce or completely eliminate sedans from its lineup, Mercedes offers seven of them. These range from the affordable A Class to the fancy S Class flagship that is reviewed here. Sure, at first glance the $112,000 MSRP on an S 500 looks steep. But that sticker price is a bargain when a similarly tricked-out Rolls can easily set you back $500,000.
BMW speed demons
Two fun, flashy high-performance rides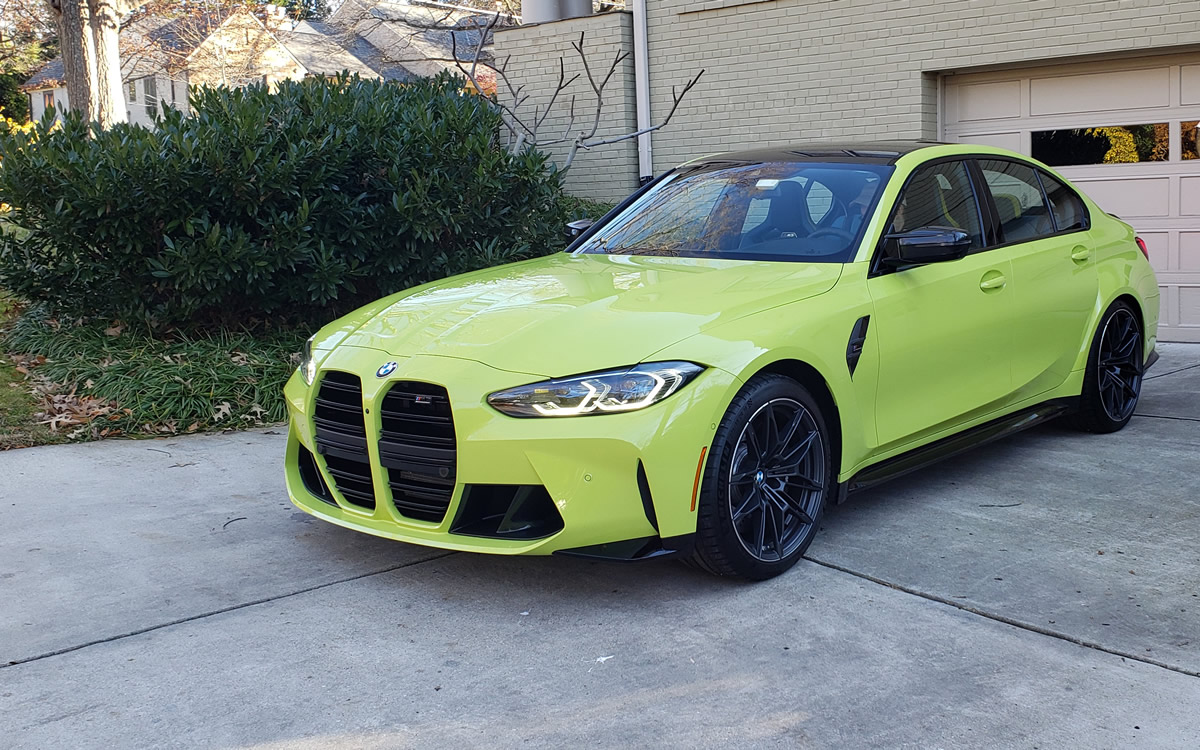 Just in time for Pride month, two BMW sport sedans celebrate just how fun, fast and flashy a true high-performance ride can be.
BMW M3 COMPETITION xDRIVE
$78,000
Mpg: 16 city/22 highway
0 to 60 mph: 3.2 seconds
Talk about a pocket rocket, it's hard to beat the thrill of the BMW M3 Competition xDrive sport sedan. This 503-horsepower speed demon streaks from 0 to 60 mph as fast as many premium sportsters, including the glitzy new 621-horsepower Maserati MC20 super coupe — which costs a whopping $215,000. Along with the lower price tag, the M3 has room for twice as many passengers and boasts three times as much rear cargo space as that two-person Maserati.
While this high-test BMW may be classified as a compact car, there's ample legroom, decent headroom and a sharply angled dashboard for improved driver visibility. My test car had optional carbon-fiber racing bucket seats, trimmed in snazzy aqua blue and lemon yellow and backlit with illuminated M logos. While the futuristic design is truly a piece of art, scooching in and out of those sci-fi seats — which sit lower than standard seats and have sharply angled side bolsters—was quite a challenge. And, hello, it didn't help that a "thigh separator" (a raised, hard-padded object stuck in the middle of the bottom cushion) protruded oh-so-close to my scrotum. Let's just say I got more than my fill of butt-clenching exercises during the week-long test drive.
But once situated comfortably behind the sculpted steering wheel, all was forgiven. The M3 cabin is superbly sleek, with modish armrests and a duo of sweeping digital display screens. The eight-speed automatic transmission is wicked smooth, making it practically unnoticeable as the car shifts through gears. And the overall handling is rousing yet controlled, especially with the all-wheel drive. When not grooving to the guttural exhaust growl, I enjoyed jamming to a sparkling 16-speaker Harman Kardon stereo. There are plenty of other creature comforts, such as smartphone integration, wireless charging pad and Wi-Fi hotspot. Driving aids include blind-spot monitor, head-up display, collision alert and pedestrian detection. There's even a system to automatically pull the car over if the driver falls asleep at the wheel. As you could tell, I didn't have to worry about that happening.
BMW M440i GRAN COUPE xDRIVE
$60,000
Mpg: 22 city/29 highway
0 to 60 mph: 4.5 seconds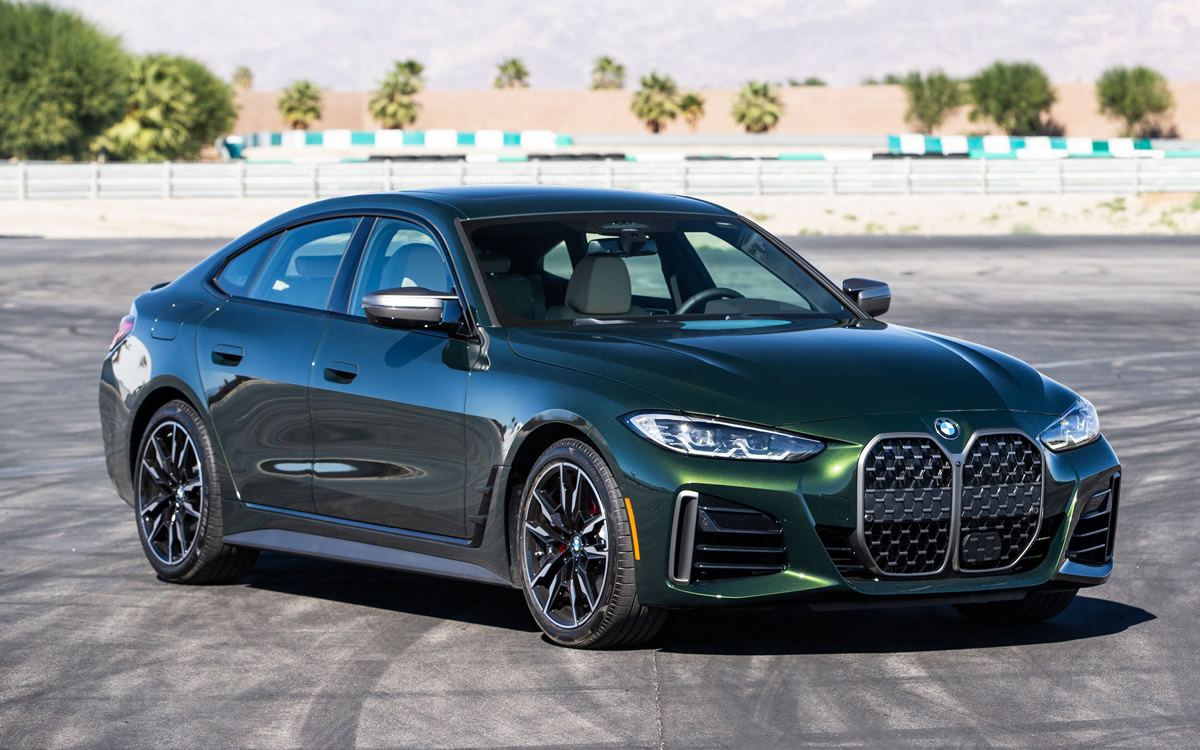 If the BMW M3 Competition xDrive is a badass sport sedan, then the M440i Gran Coupe xDrive is more buttoned-down — but only to a point. The M Sport trim level on both vehicles includes sturdier brakes, suspension, and stability control. And each car can be ordered with all-wheel drive, a big plus considering the number of downpours and icy road conditions in this part of the country.
But the M3 is extra taut, tight and tuned — a race car enthusiast's dream — whereas the M440i feels as suave as an Aston Martin. Think of it as trading flash for finesse. Styling is just as sharp, though the body cladding, side air vents and rear spoiler are all less pronounced on the 4 Series. It's also wider and sits higher off the ground. And instead of having a trunk lid, the M440i is a hatchback with a more swoopy profile and easier access to the cargo area. Despite smaller wheels and about two-thirds the horsepower of an M3, the M440i is still plucky and a delight to drive.
And safety features and optional amenities are comparable. Inside, the cabin exudes refined BMW luxury but loses the Jedi spaceship vibe so noticeable on the M3. Gauges and the infotainment layout are the same, with similar but fewer performance-oriented readouts on the digital screens. I still found the M440i cabin to be plenty sporty, with premium fit and finish. And there's beaucoup insulation to block annoying road noise. Perhaps most important, my tush welcomed the return to more traditional seats.
Rides in all sizes
With sky-high gas prices, how much car do you really need?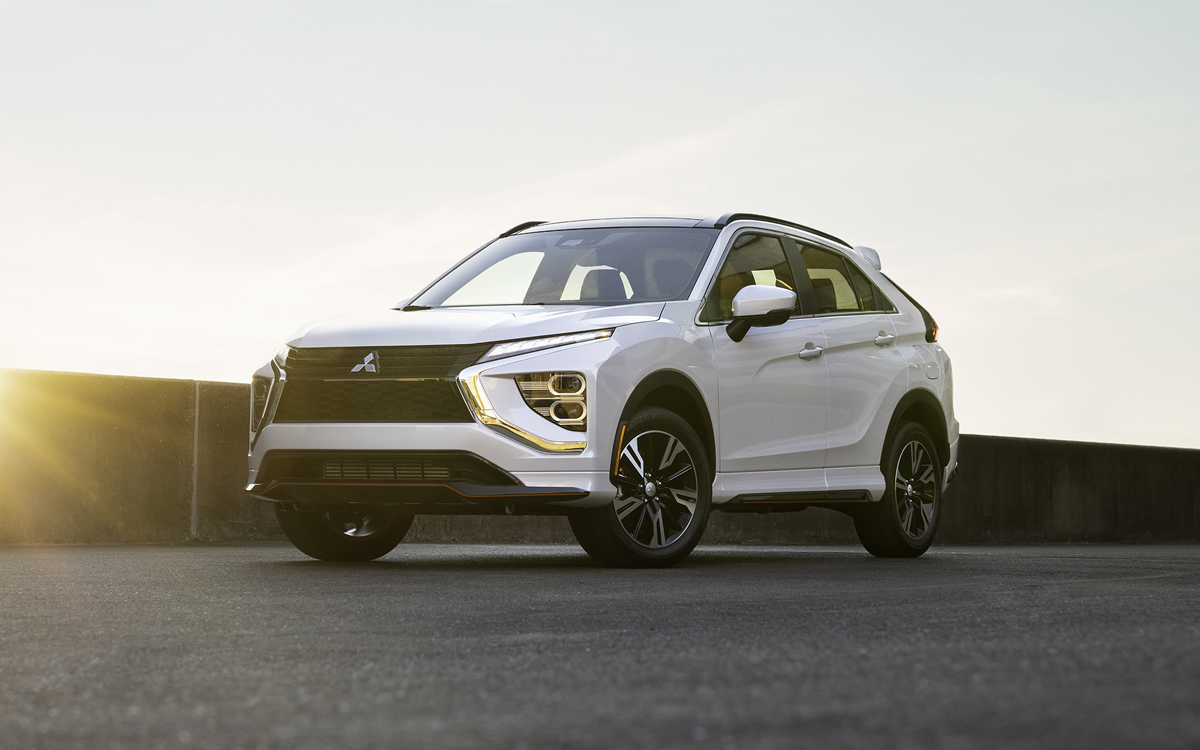 With the current surge in gas prices, many potential buyers are taking a hard look at just how much vehicle they really need. Here's a look at three choice rides in various sizes: small, medium, and large.
SMALL: MITSUBISHI ECLIPSE CROSS
$24,000
Mpg: 26 city/29 highway
0 to 60 mph: 8.6 seconds 
Introduced in 2018, the Mitsubishi Eclipse Cross channels plenty of excitement for those of us still pining for the sporty Eclipse coupe produced between 1989 and 2011. This affordable compact crossover offers similar cocky styling, including a futuristic fascia and tony Lexus-like tush.
But despite the rakish good looks, the acceleration from the four-cylinder turbo is more practical than powerful. And the composed suspension is more amiable than arousing. But the nimble steering and taut cornering are perfect for quick maneuvers during rush-hour congestion and for squeezing into tight parking spaces. The straightforward cabin design comes with faux-aluminum trim and fairly comfortable cloth seats—though the lack of an adjustable lumbar support to cushion my back was a bummer. Some of the many standard features include 7-inch touchscreen, four-speaker stereo, Bluetooth and lots of safety gear: automatic emergency braking, forward collision warning, pedestrian detection, lane-departure warning and rearview camera.
Step up to any of the three other trim levels to add heated seats, smartphone integration, synthetic suede upholstery, power panoramic sunroof, head-up display, additional safety gizmos and more. In other words, despite its budget-pleasing price, the Eclipse Cross boasts plenty of amenities.
MEDIUM: JEEP GRAND CHEROKEE
$41,000
Mpg: 19 city/26 highway
0 to 60 mph: 7.4 seconds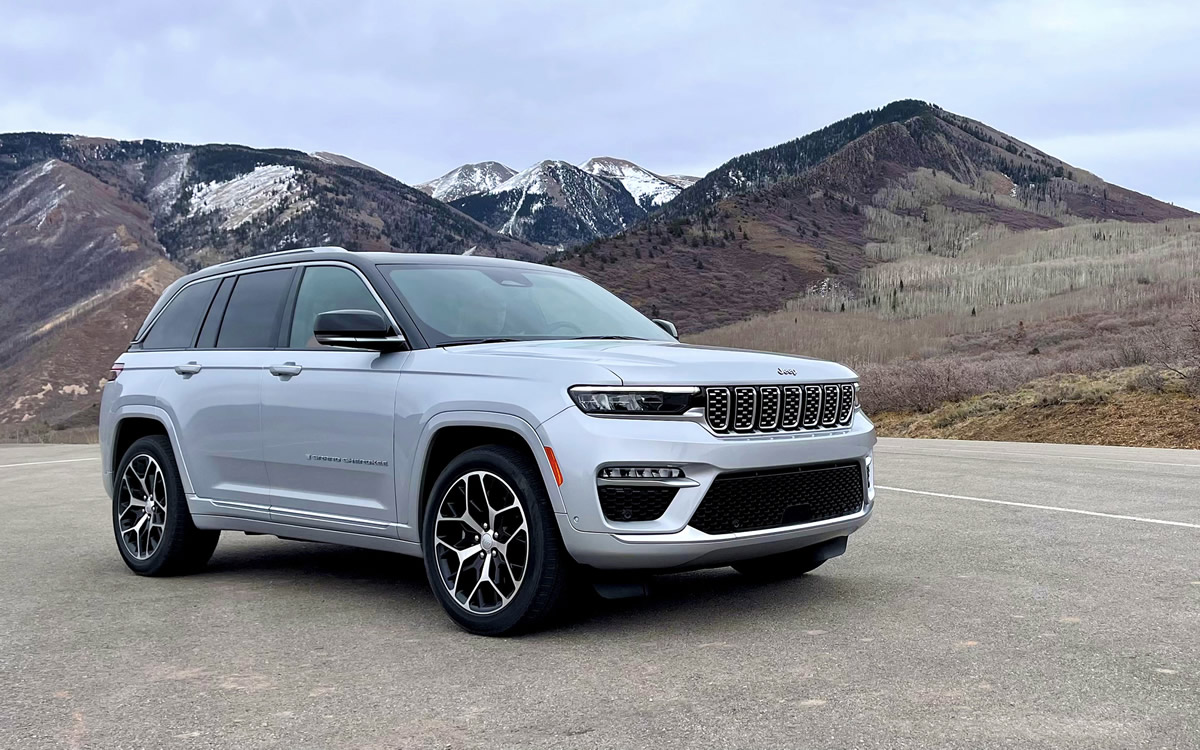 Completely redesigned this year, the Jeep Grand Cherokee now looks more luxe-like than rugged. This could have been a disaster, considering the automaker's reputation for churning out rough-and-tumble rides. Yet despite what is essentially a nod to Land Rover's boxy yet soft-edged styling, this midsizer still retains its true Jeep DNA.
This is evident in the seamless mix of smooth on-road handling with stellar off-road capability. There are more than a dozen trim levels, from the $41,000 base-model Laredo all the way up to the Summit Reserve 4xe PHEV at $77,000. While that's quite a price difference, it shows Jeep's commitment to offering a Grand Cherokee for every buyer personality. Sure, offering so many configurations can be confusing, but it gives drivers the chance to really customize their rides. This includes choice of three powertrains: standard V6, robust Hemi V8 and the fuel-friendly 4xe plug-in hybrid that can travel up to 25 miles on battery power alone.
Inside, there's so much glam you might think this was a high-end Mercedes. Depending on trim level, you can deck out the interior with quilted upholstery, open-pore wood, dual-pane panoramic sunroof, quad-zone climate control, second-row shades and other goodies. For techies, there's a Wi-Fi hot spot, various USB ports, smartphone integration, 10.10-inch infotainment touchscreen and 10.25-inch digital gauge cluster. Call me a hedonist, but I especially liked the massaging seats, premium 19-speaker McIntosh stereo and a rear-seat entertainment system that adds dual hi-def screens with built-in Amazon Fire TV.
LARGE: CADILLAC ESCALADE
$78,000
Mpg: 14 city/19 highway
0 to 60 mph: 5.9 seconds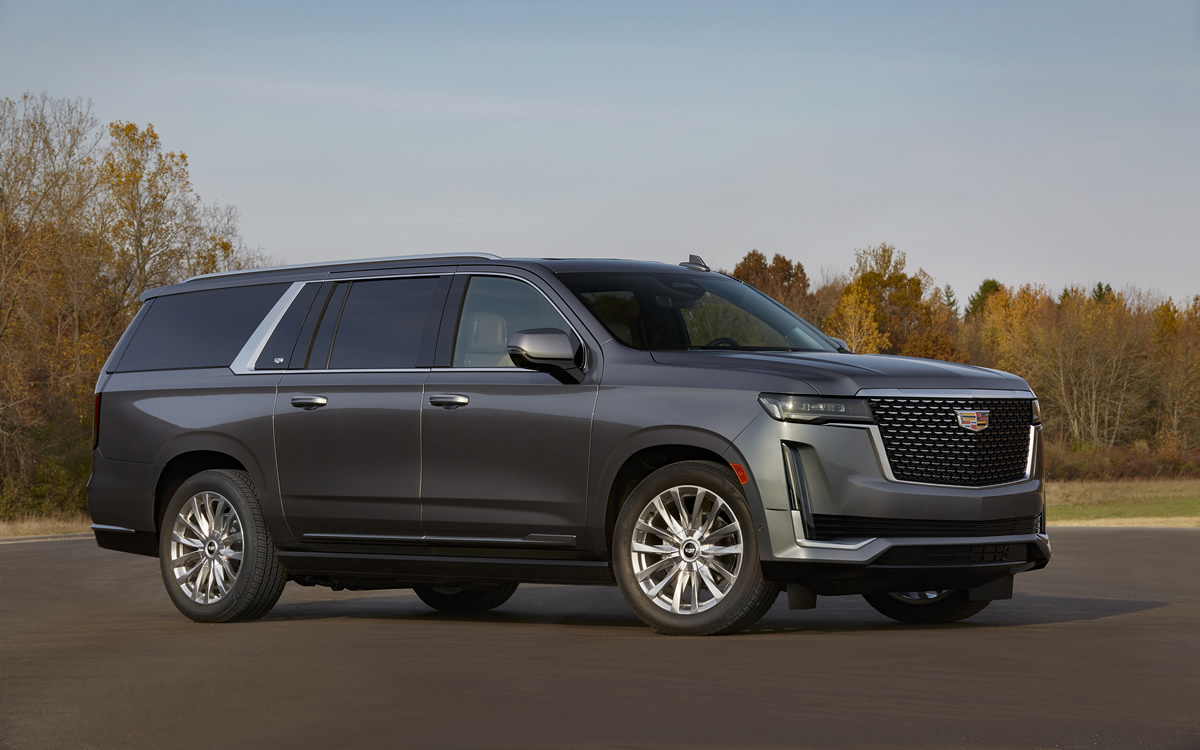 Introduced in 1999, the Cadillac Escalade received a complete makeover last year. The head-turning styling is daring and dramatic, with a massive prow-like hood, severely creased sheet metal, and bold, vertical lighting treatments that would make Thor proud. This colossus is 6 feet, 4 inches tall and tips the scale at a hulking 5,700 pounds—twice the weight of a Mini Cooper.
Yet it's surprisingly spry, outpacing the Mini Cooper by 0.3 seconds when accelerating from 0 to 60 mph. While power comes from a thirsty V8, half of the cylinders are automatically deactivated at cruising speed to reduce gas consumption. A more eco-friendly option is the diesel engine, which gets 50% better fuel economy. (And earlier this month, Cadillac announced its all-electric Escalade is expected by 2024.) I test drove one of the top-of-the-line Platinum models, with a hefty price tag of $105,000. To say this large SUV was oozing luxury is an understatement, with high-end finishes everywhere, adjustable ambient lighting, center console refrigerator, night-vision camera, 36-speaker stereo and rear-seat captain's chairs. Perhaps even more impressive: The front dash has a staggering 38 inches of curved OLED screens, combining the digital gauge cluster, infotainment display and surround-view camera.