Opinion | Pack your suitcase, it's time to travel again
The world awaits those who are vaccinated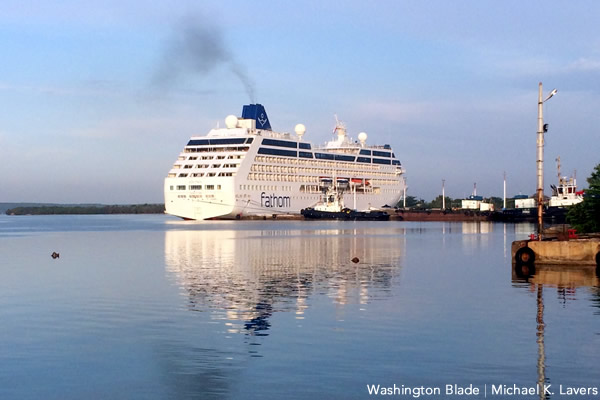 The light at the end of COVID for me means going back to cruising, no not online, but on the high seas. Each of us has a place we wanted to visit before the pandemic and are now planning to take that trip. For me it's a transatlantic cruise on the Celebrity APEX. After COVID, traveling won't always be easy, especially internationally.
The excitement of seeing the light at the end of the COVID tunnel was never more obvious than when watching the thousands of people participate in D.C.'s Pride walk. The energy was infectious.
Planning my cruise began two years ago. It was cancelled in 2020 and rescheduled to sail Oct. 21, 2021 from Barcelona. Until recently, no one knew when cruise ships could begin to sail again. First to announce regular sailings was Celebrity with summer sailings out of Athens. With that knowledge I made flight arrangements to Barcelona. Then the CDC announced with appropriate precautions they could start sailing from U.S. ports on June 26. I still waited with baited breath to see if my cruise would go. Now I know it will but the APEX will leave Barcelona on Oct. 10 instead of the 21. Kudos to American Express travel for helping to make my ticket changes at the same price. Some of you may be finding airlines are now jacking up their prices.
The other change was Celebrity cancelled a planned stop in Lisbon, a city I looked forward to seeing, having never been there. But nothing will take away from the excitement I will feel when walking up the gangplank and being shown to my stateroom on Oct. 10. With three ports of call in Spain; one in Portugal; and one in the Canary Islands it will be a fantastic voyage because for me the best times are those when the ship is at sea and we will have eight days at sea.
Then there is the idiot Republican governor of Florida, Ron DeSantis, trying to insist cruise ships leaving from his state allow anyone to sail with or without a vaccination. One would think after the Celebrity Millennium sailing out of St. Marten had two vaccinated guests test positive with breakthrough infections and no symptoms he would agree it was fortunate Celebrity had mandated all crew and passengers be vaccinated, based on CDC guidelines, preventing spread of the virus. This actually made me feel more positive about going on my cruise.
According to CNN travel "More of Europe is opening up to US leisure travelers in time for summer — especially the fully vaccinated. Travel heavyweights France and Spain are the latest to open their doors. It is important if you want expert input into your travel decision, to view the websites of the US State Department and the US Centers for Disease Control and Prevention, which provide COVID-19 risk assessments by country. Both agencies rate many of the countries open to U.S. travelers at Level 4, the highest risk for COVID-19. Also, remember that all air passengers age two and older must show proof of a negative COVID-19 test that's no more than three days old to enter the United States. So if you want to travel internationally make sure you are up to date on the latest documents and information you will need to do so safely.
Instead you may decide to stay in the United States and see some of the sights you haven't had time to visit before. Travel the California coast on Highway One and see Big Sur. You will be amazed at places like the Grand Canyon, or national parks like Yosemite, Yellowstone, or Acadia in Maine. Stop and see Mt. Rushmore on your travels. States across the nation are opening up and if you are vaccinated you can feel pretty comfortable even if you come across some idiots who haven't taken advantage of the opportunity to make their own and other's lives safer. We must never forget all those who lost their lives during the past year but let it remind us life is short and we must live it to the fullest while we can.
So pack your bags, be prepared to deal with the unexpected, but have a great time wherever your travels take you.
Peter Rosenstein is a longtime LGBTQ rights and Democratic Party activist. He writes regularly for the Blade.
Don't sever corporate ties at Pride celebrations
We need our business allies in face of growing political attacks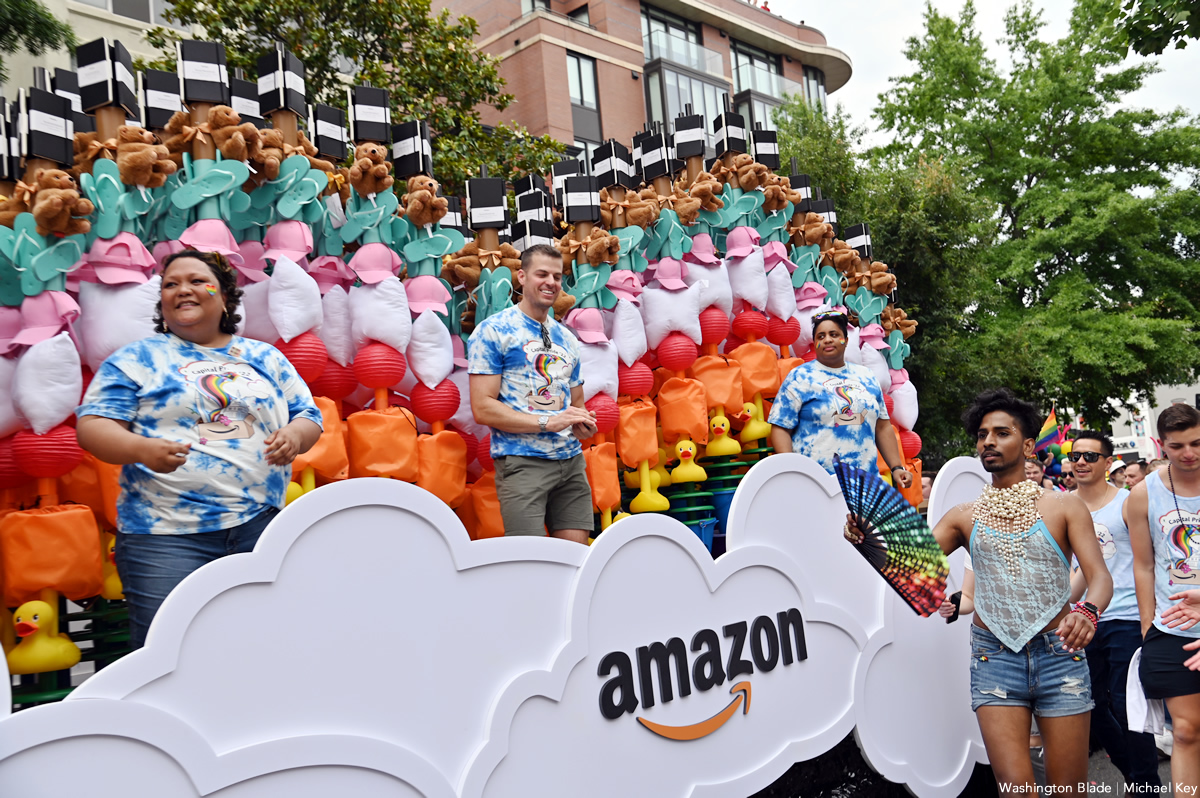 As Pride 2022 winds down in Washington, D.C., New York City, San Francisco, Wilton Manors and other parts of the country, I am compelled to address the issue of corporate support in Pride celebrations. As a leader in and a senior member of the LGBTQ+ community, I remember clearly the time when being out as a gay person in the workplace could cost one their employment. Many of my generation lived in fear of being outed at their jobs. It was a terrible place to be and contributed detrimentally to one's mental and physical well being; living in fear of termination of your career was no picnic.
There is a segment in today's LGBTQ+ community that voice their opposition to the inclusion of a corporate presence in Pride celebrations. Many of these voices are from a generation that have not experienced the trauma of being forced to live in the "corporate closet" in fear of retaliation from their employers. Their lived experience is very different from my generation's experience. The past actions of employers warranted boycotts and other drastic responses by our community. These aggressive stances brought about today's corporate changes that welcome, embrace and celebrate the diversity of our community and enhance the workplace. These changes are due to the contributions and sacrifices of the current senior LGBTQ+ community. We should not sever corporate ties with Pride celebrations.
In the current political climate, there's a disturbing trend by elected officials and legislatures passing legislation and policies that target corporate support of LGBTQ+ rights and issues.
One example is Florida's legislature and Gov. Ron DeSantis' bullying tactics toward Disney and other corporations. The governor's bellicose actions toward corporate support of our LGBTQ+ community is sufficient proof that our community should be strengthening our bonds with the corporate community and not severing them by excluding their participation and presence at Pride parades and festivals.
Understanding the evolution of LGBTQ+ rights over the past decades, our younger generation can continue to build and contribute (as they already are) to the expansion of LGBTQ+ rights in our society. Severing corporate ties to our community is not the appropriate direction to take and will not be helpful battling hateful and polarizing actions directed against our community.
John E. Lazar has held leadership roles in Democratic and LGBTQ+ organizations in Florida, New York City, San Francisco, Los Angeles and D.C. including the elected position in D.C. as Ward 2 Committeeman to the Democratic State Party.
As governor, I will fight to make Maryland an inclusive state
LGBTQ+ residents deserve prosperous, affirming lives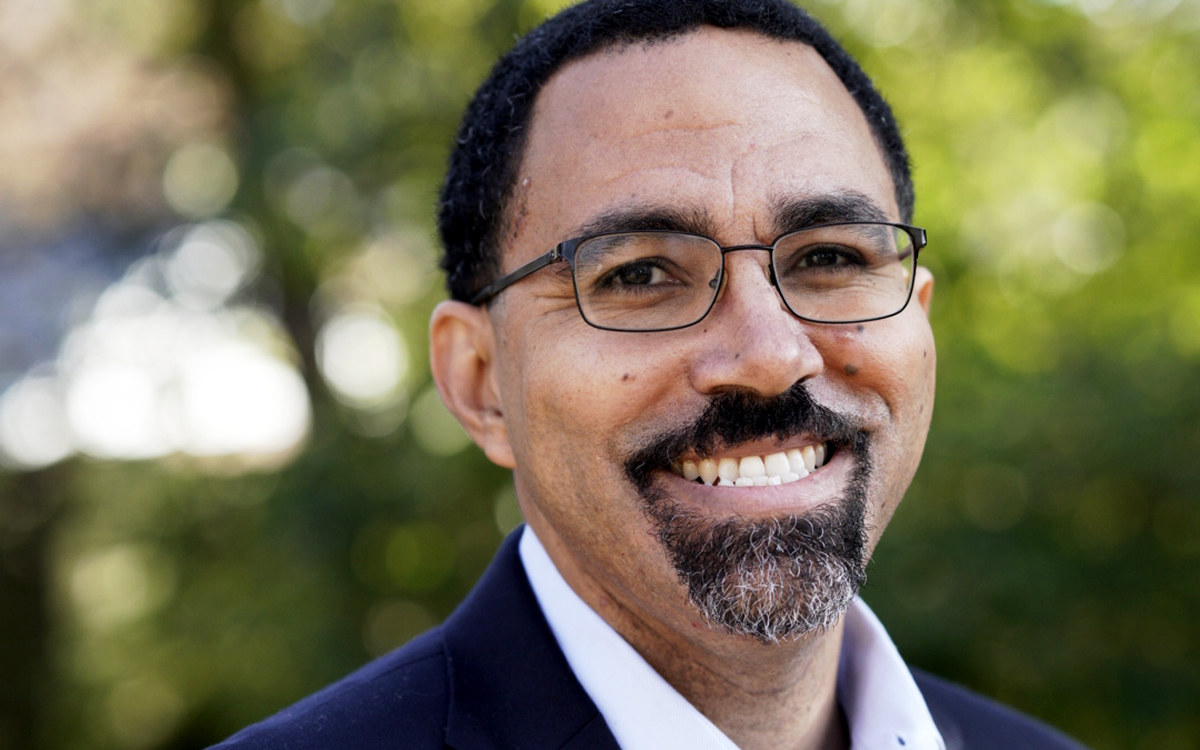 LGBTQ+ people of all ages deserve to live safe, prosperous, and affirming lives — but right now, across the country, they are facing discriminatory policies, bigoted rhetoric, and escalating violence. So why did it take until Pride month for even one of my major competitors for governor in the Maryland Democratic primary to post anything on their campaign websites about the issues facing LGBTQ+ folks?
True allies in government must stand up for the LGBTQ+ community while GOP lawmakers, governors, and state attorneys general continue to push regressive and discriminatory policies. My administration will be committed to ensuring that all LGBTQ+ people, especially LGBTQ+ people of color, have the protections and support they need in Maryland.
Having worked to put civil rights protections in place for transgender students as U.S. Secretary of Education, I know how important it is to not just have good policy, but follow it up with good implementation. I'm running for governor because I want to lead Maryland forward, not take it backward. As the GOP targets LGBTQ+ people and their families, I will work hard to make Maryland a safe state for everyone. There is simply too much at stake to not act.
Legislators in 28 states introduced more than 300 anti-LGBTQ+ laws this year alone. Ohio's statehouse passed legislation that would subject student athletes whose genders are challenged by others to invasive gender-confirmation procedures. Fifteen states have bans on health care for trans youth or are considering them, while Missouri lawmakers considered banning hormone therapy for anyone under 25. The Texas governor and attorney general are fighting in court to continue investigations of families of transgender children, and Florida is considering even investigating parents who bring their kids to family-friendly drag shows.
Rather than supporting their LGBTQ+ students, school boards controlled by the far right are banning library books and Pride flags, while state legislatures controlled by the far right are effectively prohibiting classroom discussion about anything LGBTQ+ related. Teachers have already been fired for displaying Pride flags; others have resigned because they do not feel welcome at their schools. In Maryland's Carroll County, the school board voted earlier this month to ban Pride flags on school grounds.
Threats of violence and hateful rhetoric against LGBTQ+ Americans have significantly increased in recent years — just a few weeks ago, 31 members of a white supremacist group were arrested on their way to start a riot at a Pride event in Idaho, and a house fire in Baltimore started by a burning Pride flag is being investigated as a hate crime.
Maryland has made many strides in the last few years, like banning the panic defense and making mental health care more accessible to young LGBTQ+ people. But Maryland has also failed LGBTQ+ Marylanders in many ways. As governor, I'd like to improve our state's track record.
We must do more to make Maryland a safe place for transgender people and their families. As other states continue to pass discriminatory legislation, we must in turn make Maryland a safe haven for transgender people seeking refuge, and we must strengthen the LGBTQ+ protections we already have.
As governor, I will protect and expand access to gender-affirming health care, pass the Trans Health Equity Act, work to make healthcare more affordable and accessible to LGBTQ+ Marylanders, and ensure that providers are properly trained to give the level of competent care that all LGBTQ+ people deserve.
In our public schools, I will ensure that LGBTQ+ students have a safe place to learn and are protected by written anti-discrimination policies and an internal complaint process. I'll fight for an inclusive curriculum that teaches and celebrates LGBTQ+ stories at all grade levels.
As governor, I'll work with community members and organizations to invest in violence prevention and intervention programs focused on protecting LGBTQ+ people, especially trans women of color. I'll protect our LGBTQ+ seniors by pursuing specific anti-discrimination policies for seniors in long-term care facilities. And I'll invest in LGBTQ-owned businesses to promote economic opportunity for all LGBTQ+ Marylanders.
My administration will also build on reforms to make our legal system both easier to navigate and more inclusive for LGBTQ+ people, like making it easier to change your name and gender marker on marriage licenses and your child's birth certificate. It's also time to end the criminalization of HIV by repealing outdated laws and changing discriminatory prosecutorial practices.
This Pride month and beyond, LGBTQ+ Americans need more than empty allyship from politicians, governments, and corporations — they need someone who will stand with them and provide tangible support. I'm running for governor to be a real defender, ally, and advocate for LGBTQ+ Marylanders, and to make our state a safe place for all Americans to live. 
John King is a former U.S. Secretary of Education and a Maryland gubernatorial candidate.
Roe ruling returns us to the discriminatory 1950s
For the first time, I no longer think of our nation as a democracy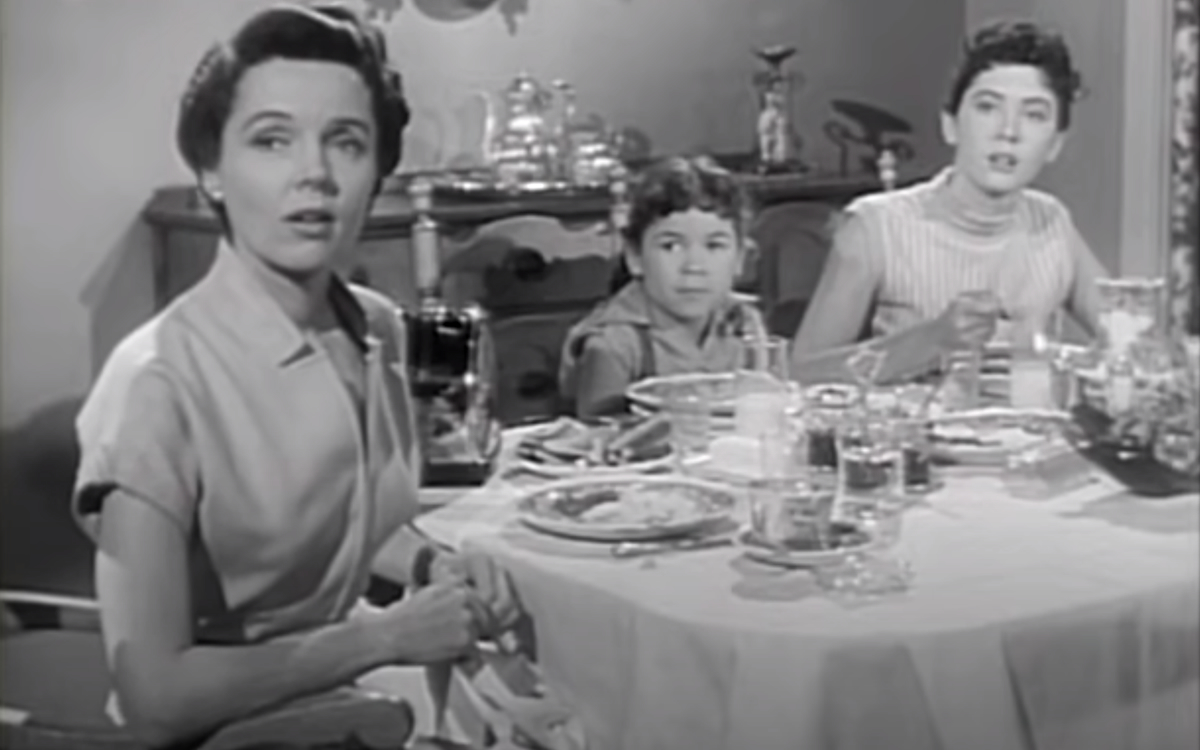 (Editor's Note: This is the first of a two-part column.)
I love looking at photos of my grandmother in the 1950s, going out to lunch with her friends, wearing hats with combs, white gloves in hand.
The 1950s had it all over us in style, I think.
Until, I remember:
• Black people who were discriminated against had little or no legal recourse;
• Most women couldn't get a charge card, let alone buy a home, unless their husbands got it for them;
• If you were queer, you could be arrested for dancing with someone of the same-sex at a gay bar, or lose your job because of your sexuality.
Those memories erase my 1950s nostalgia. I'll enjoy family pictures from that era but I don't want to return to the 1950s.
Unfortunately, that's what the Supreme Court has done. The court's overthrow of Roe v. Wade (in its 6-3 ruling on Dobbs v. Jackson Women's Health Organization) thrusts us back to an era that threatens to be as repressive as the 1950s.
The court's reversal of the landmark Roe v. Wade wasn't surprising.
Donald Trump in the 2016 presidential campaign made it clear: If elected he would appoint Supreme Court justices who would likely rule to overturn Roe v. Wade. Trump isn't known for his truth-telling or promise-keeping. But in this critical matter, he wasn't lying. He kept his word.
But the court's ending nearly 50 years of a fundamental right is still gut-wrenching.
We've known that America, though a democracy, has long had a record of denying rights and dignity to all of its citizens.
Black people were enslaved. For a good part of our history only white men could vote. Japanese people were put in concentration camps during World War II. To avoid being scorned by their families, most queer people had to be closeted.
Yet until the court overturned Roe v. Wade, no civil right had been taken away.
Now, for the first time, I no longer think of our nation as a democracy.
As I'm writing, at least 13 states have laws that will immediately or in a short time ban abortions. States where abortion remains illegal are looking to find ways to prosecute out-of-state clinics and doctors who perform abortions.
In Texas, citizens are legally permitted to sue anyone (from an Uber driver to a clergy person to a doctor or clinic) who performs an abortion or helps anyone to obtain an abortion.
Putting reproductive freedom into the quagmire of state legislatures isn't enough for many Republicans and members of the religious right.
They're chomping at the bit, if the Democrats lose their slim majority in Congress and a Republican becomes president in 2024, to impose a federal ban on abortion.
To add to this toxic mix, some Republicans and members of the religious right want to punish women who've had abortions.
I am terrified for all who seek reproductive health care.
I have childhood memories of my mom, who had type 1 diabetes, having an abortion pre- Roe v. Wade. If my mother hadn't had the abortion, she may have died when I was 7 and my brother was 4. Though devastated by the stigma of having an abortion when terminating a pregnancy wasn't legal, my mom was lucky. She could afford to have an abortion.
Then (as now), many poor women couldn't have afforded to have an abortion or have the means to travel out of state to end their pregnancies.
One in four women have had an abortion. Now those needing reproductive health care (whether an abortion or, in some cases, treatment for miscarriage) again face stigma. Poverty will prevent many from having legal, safe abortions.
People won't stop terminating their pregnancies. If they have to, they'll resort to unsafe, self-administered abortions.
As a lesbian, I, like many queer folk, fear that the repeal of Roe will be a foreshadowing of the overturning of LGBTQ rights (from marriage equality to the right to have sex with whom we love).
In post-Roe America, fighting for the rights and dignity of women, LGBTQ folk and other marginalized people will be the life's work of our generation and of generations to come.
Kathi Wolfe, a writer and a poet, is a regular contributor to the Blade.