D.C. LGBTQ community reckons with anti-Blackness, gentrification after Nellie's incident
Preston Mitchum among those calling for boycott of U Street bar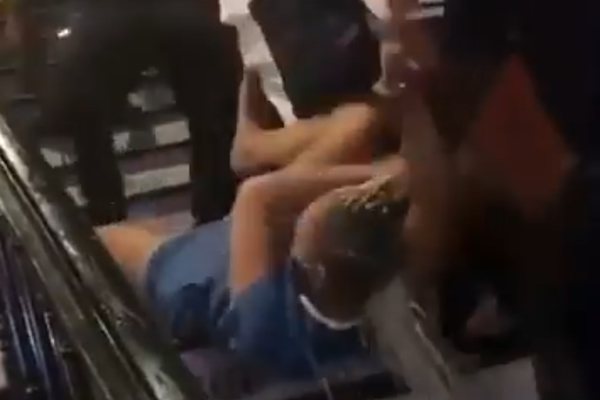 A video posted to Twitter earlier this month showed a member of Nellie's Sports Bar's security detail dragging Keisha Young, a 22-year-old Black woman, down the stairs by her hair after confusing her with a different customer who had reportedly tried to sneak liquor into the bar.
The video went viral, attracting massive online attention, including from Mayor Muriel Bowser and many others. A second video that appears to show an altercation between Young and other patrons seconds before security dragged her down the stairs has also emerged.
"Obviously, entrepreneurs enforce rules in their restaurants, but they're not allowed to assault anybody," Bowser told the Washington Post. "If that's a matter for the Metropolitan Police Department, we'll take it up."
In a Facebook post that has since been deleted, Nellie's responded to the surfacing of the video.
"We were incredibly upset and disturbed to see the unfortunate event that took place at Nellie's last night," referring to the June 12 incident. "We are undergoing a full investigation of the situation. At Nellie's, we foster an inclusive and safe environment, so events like this are completely unacceptable to us."
The statement garnered negative reactions online, forcing Nellie's to issue a follow-up statement, part of which read, "We offer a heartfelt apology to all who witnessed the horrific events of the past weekend … Nellie's will be closed this week as we evaluate this regrettable situation."
Since Nellie's closed and a protest in solidarity with Young was staged outside the bar on June 13, the queer community has been forced to reckon with what some describe as Nellie's history of racist practices, as well as D.C.'s increasing gentrification.
Accusations of racism at Nellie's are not new. Whitman-Walker Health in a June 15 tweet noted the incident that involved Young "is not the first time we have heard calls for respect for Black patrons of Nellie's Sports Bar." The Capital Pride Alliance in its statement about what happened to Young said Nellie's response "will impact the CPA's relationship with Nellie's."
"Over the years, the culture [at Nellie's] became one that seemed hell-bent on pushing Black patrons out and making it a bar more for straight people and white gay men. In fact, [owner] Doug Schantz has gone on record calling his bar 'straight-friendly'," said Preston Mitchum, director of policy for Unite for Reproductive and Gender Equity (URGE) and a former avid Nellie's patron. 
Mitchum moved to D.C. in 2011 and started frequenting Nellie's because of its reasonably priced drinks, which "sounded good" to him as a then-25-year-old professional.
On the alleged racial profiling at Nellie's, Mitchum added, "I noticed that when more Black people went, particularly on Sundays, security increased. That always felt peculiar because Friday and Saturday nights were packed and had less security, based on observation. Staff also paid minimal attention to the interactions [between] white patrons. In short, there were many racist interactions and drunken behavior, and no one moved a muscle."
Mitchum also claims that Black patrons were treated poorly compared to white customers in similar situations. He recalls incidents in which police officers were called on Black patrons and they were kicked out whereas many white patrons received warnings or "had fights broken up."
Nellie's in 2018 was embroiled in controversy over its display of a Blue Lives Matter flag on social media.
FOX 5 reported Nellie's claimed to display the flag in support of LGBTQ officers who were "attending a meeting in a welcoming space." However, many on social media were enraged by the display of the flag, which is viewed as opposing the Black Lives Matter movement, which hinges on advocating for victims of police brutality, and more importantly, reforming or abolishing the police and replacing it with community security efforts to reduce instances of racial profiling and Black deaths.
As a Black customer invested in making Nellie's safer for him and the rest of the POC queer community, Mitchum said he participated in a number of measures to help change the culture at Nellie's.
In a Facebook post published on his page, Mitchum wrote, "Myself and others have written letters, did interviews, conducted 'sensitivity' trainings, met with the owner, and even planted ourselves as observers to document our experiences."
The efforts, however, were in vain, as according to Mitchum, Schantz did not take the efforts seriously.
For instance, Mitchum in June 2017 met with Schantz and his manager to discuss the issues at Nellie's and to draft solutions moving forward. The meeting proved futile as Mitchum notes in a letter to Schantz, made public on social media, that among others things, asserts that Mitchum experienced rudeness from Schantz's manager and that Schantz uttered statements with racist undertones.
"I have revisited our conversation many times and I'm still unsure of the purpose of your manager at our May 30 meeting. Not only did it create an attacking atmosphere of two-on-one, she was your 'yes woman' thus another person to shut down my opinion because it didn't jive with both of yours," penned Mitchum.
Mitchum added, "I hope you can genuinely realize that you equated hip-hop music (that uses "fuck" and the N-word) to violence … there is no valid statistical proof that creates a casual relationship between rap music and violence. Even as I pressed this fact, your response (as well as your manager's) was 'it's his/my bar' so you can play any music you like."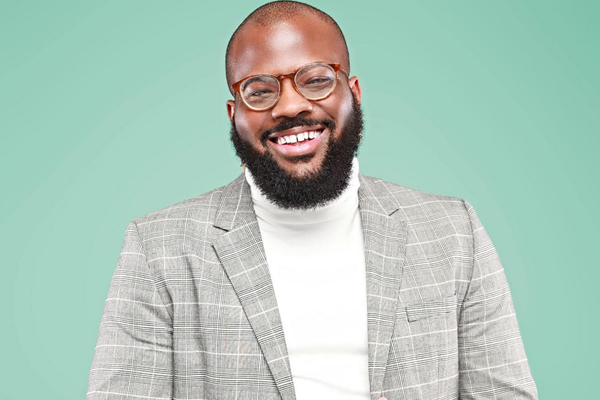 Given the lack of change in culture at Nellie's and the recent incident involving Young, Mitchum and others have called for a boycott of the bar.
A protest was staged outside Nellie's on June 13.
The Georgetown Voice reports that Nee-Nee Taylor, co-conductor of Harriet's Dreams (a Black-led community defense organization) said, "we ask the people to protest and boycott Nellie's because the owner, who is a white man, don't care about Black women."
The Georgetown Voice also reports that Mitchum, who was present at the protest, "accused Nellie's of relying on the business of Black patrons and gentrifying the local community while failing to care for its Black employees and patrons."
As Mitchum reflects on how venues safe for Black LGBTQ people are disappearing, he mentions, "What was once 'Chocolate City,' we now see a city hovering around 50 percent Black. That's intentional. I live a few blocks from U Street and anyone need not to be in the area to understand just how much the landscape has shifted."
Regarding places to frequent now, Mitchum recommends Mr. Braxton's Bar and Restaurant; Hook Hall; BIN 1301; and Fireplace.
The Washington Blade has reached out to Schantz for a response to Mitchum's allegations but did not receive a response.
Michael K. Lavers contributed to this story.
Monika Nemeth to run for Ward 3 D.C. Council seat
First known trans elected official in city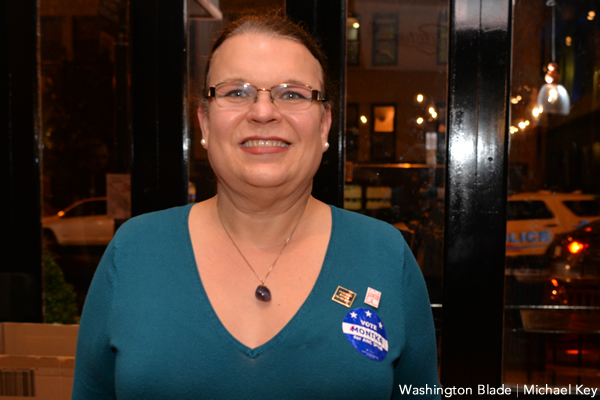 Ward 3 Advisory Neighborhood Commissioner Monika Nemeth, who became the first known transgender person to win election to public office in D.C. when she won her ANC seat in 2018, says she plans to run as a Democrat for the Ward 3 D.C. Council seat currently held by incumbent Democrat Mary Cheh.
Nemeth is a former president of D.C.'s Gertrude Stein Democratic Club, which recently changed its name to the Capital Stonewall Democrats. She currently serves as chair of the ANC Rainbow Caucus, which advocates for LGBTQ issues. She holds the seat for ANC 3F 06, which represents the neighborhoods of North Cleveland Park and Wakefield.
Nemeth's LinkedIn page says she has worked for more than 25 years in the Information Technology field. She says she currently manages a team of software developers for an IT company.
"Yes, I am planning a run for Ward 3 D.C. Council in 2022," Nemeth told the Washington Blade. "I will be running as a Democrat, so I plan to be on the Democratic primary ballot," she said. "I will pursue the public finance option for my campaign."
When asked what she would do differently from Cheh, who is a longtime supporter of LGBTQ rights and who is expected to run for re-election, Nemeth said only that she will announce her platform at the time she formally announces her candidacy, which she expects to happen in early September.
Cheh was first elected to the D.C. Council in 2006. She is an attorney and tenured professor of constitutional law at George Washington University Law School.
The Washington City Paper has reported that at least one other candidate is considering running against Cheh for the Ward 3 Council seat – Washington Metropolitan Area Transit Authority attorney Petar Dimtchev. Dimtchev received the Washington Post endorsement when he ran unsuccessfully against Cheh in 2018 as an independent, according to the City Paper.
UDC hit with anti-trans discrimination complaint
University accused of misgendering student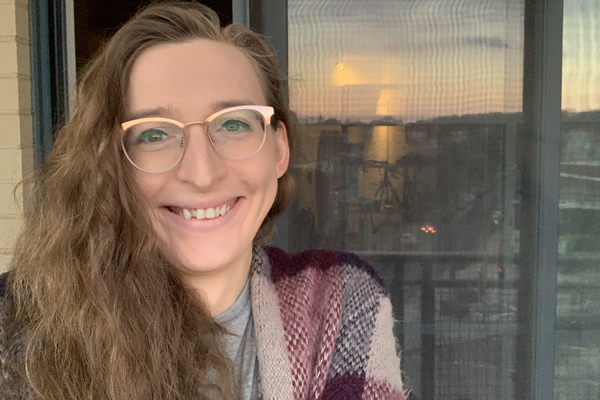 A female transgender student at the University of the District of Columbia on Aug. 2 filed a discrimination complaint against the university on grounds that it is violating the city's Human Rights Act by continuing to use her legal name on school documents and class enrollment lists unless she obtains a legal name change.
Emma K. Alexandra, 28, a part-time student who was admitted to UDC in April, states in her complaint filed with the D.C. Office of Human Rights that she informed UDC officials that she was not ready to immediately undertake a legal name change. She states in her complaint that she has repeatedly asked that her chosen name alone be used on all documents and student lists that can be viewed by fellow students and professors.
She said she understands that her legal name may be needed for legal admissions and academic transcript related documents. But to her dismay, Alexandra told the Washington Blade, UDC officials put in place what they consider a compromise position that identifies her on all public university documents and student class lists by both her legal name and her chosen name.
She said the university began and currently continues to identify her by her male legal name with her preferred name written next to her legal name inside parentheses in this way: Legal First Name (preferred name Emma); Legal last name (preferred name Alexandra).
"This is an egregious solution," Alexandra told UDC President Ronald Mason Jr. in a July 4 email. "This is the name that appears everywhere now," she wrote Mason. "Most notable, it's the name that was displayed to my fellow students and professor during the class I took this summer on Blackboard," she said, which is an online site like Zoom on which UDC conducts classes.
"This effectively outed me as trans to every other student and my professor," she told Mason. "I assume the same will continue when I go to campus in the fall and get an ID. My ID will have this name and out me to everyone I show it to," she wrote. "This is completely unacceptable, disrespectful and dangerous."
Alexandra said she currently works full time as a Web Application Architect for Bloomberg Industry Group as part of its News Engineering team. She said the company is fully accepting of her using her chosen name without obtaining a legal name change. She said she has enrolled at UDC to take courses she needs to qualify for applying to medical school to fulfill her dream of becoming a psychiatrist.
Under longstanding procedures, the D.C. Office of Human Rights investigates discrimination complaints and usually calls on both parties to consider reaching a conciliation agreement over the complaint if possible. If conciliation cannot be reached, OHR makes a determination of whether probable cause exists that discrimination occurred in violation of D.C. law.
If such a determination is made, the case is sent to the D.C. Commission on Human Rights, which conducts a trial-like hearing that includes testimony by witnesses before it issues a ruling on the case.
In response to a question from the Blade about whether a refusal by a D.C. university to use a transgender person's chosen name violates the Human Rights Act, OHR Director Monica Palacio said OHR cannot provide legal advice on such a question. But in a statement to the Blade, Palacio said for educational institutions, the Human Rights Act prohibits discrimination based on 15 protected characteristics, including gender identity and expression.
OHR's regulations related to educational institutions "prohibit creating a hostile environment which could include deliberately misgendering a student," Palacio said. "If anyone believes the statute has been violated, they may file a complaint with OHR," she said. "OHR investigations are confidential."
Alexandra said she had yet to receive a direct reply to her email message to Mason as of early this week. But last week she was contacted by phone by an official from the university's admissions office and from Dr. William Latham, UDC's Chief Student Development and Success Officer on behalf of Mason.
According to Alexandra, the two explained that her legal name was needed on certain legal documents. She said Latham explained that a software system the university uses to manage student records known as the Banner system, doesn't support preferred names and currently prevents the school from displaying only her preferred name.
The officials said the university planned to upgrade to a newer version of Banner in October and the new system "may" support using preferred names, Alexandra said.
"Overall, I thought this was a really ridiculous conversation where folks from UDC tried to convince me that they are using my preferred name while also stating that they cannot use my preferred name as it should be used, mostly due to limitations of software," Alexandra told the Blade. "I don't think the Human Rights Act has an exception for software systems," she said.
The Blade contacted UDC President Mason by email on July 20, asking him to comment on Alexandra's concerns and asking him what, if any, problems would be caused if the university used Alexandra's chosen name rather than her legal name on the various public, external documents and lists in which her legal name is being used.
"In response to your July 20 email, the Office of the Registrar can enter the student's preferred name in Banner (via all access screen for faculty and staff awareness), however all official documents, such as the academic transcript, will require the use of the student's official legal name," Mason told the Blade in a one-sentence response.
His response didn't address the issue raised by UDC official Latham in his phone conversation with Alexandra in which Latham said the Banner software system couldn't currently identify Alexandra only by her chosen name. Mason also didn't respond to the Blade's question of why UDC could not adopt a policy like the D.C. Public Schools system, which accepts a request by transgender students to use their chosen name without having to obtain a legal name change.
Alexandra, meanwhile, points out that UDC's refusal so far to allow her chosen name alone to be used on all public university documents and student lists without her legal name being attached to it appears to be at odds with a May 4 open letter Mason released to the university community expressing strong support for using the appropriate pronouns for transgender and gender non-conforming students.
"The University of the District of Columbia (UDC) strives to be an inclusive campus that supports and values all members of our community, including LGBTQIA+, nonbinary, intersex and gender non-conforming students," Mason says in his letter.
"Choosing to not use or ignore the pronouns someone has requested you to use implies that person shouldn't and doesn't exist and does not deserve respect," Mason wrote in his letter. "Therefore, we encourage all faculty and staff to use pronouns in their email signatures as an act of solidarity and to foster a culture of respect for every Firebird," he concludes in referring to the symbolic name used for members of the UDC community.
UDC is governed by a 15-member independent Board of Trustees. Eleven of the members are appointed by the D.C. mayor and confirmed by the D.C. Council. Three are appointed by UDC alumni and one by students, according to information on the UDC website.
LULAC Lambda announces 2021 scholarship awards
Castro, Javier Rodriguez win $1,000 honors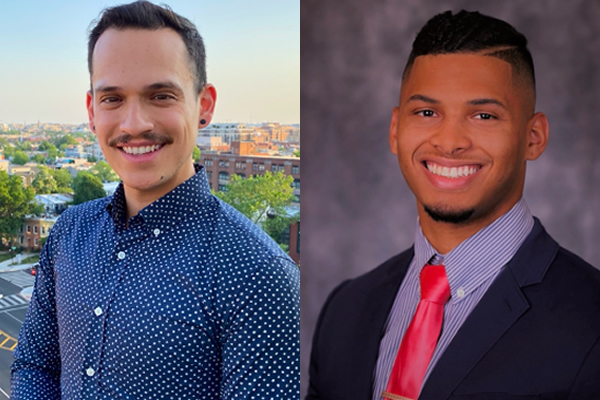 The D.C.-based LGBTQ Latinx organization LULAC Lambda has announced it has selected two D.C. residents bound for graduate studies in foreign affairs and higher education to receive its 2021 annual scholarship award.
"For a fourth year in a row, LULAC Lambda will provide scholarships to outstanding scholars who come from our LGBTQ+ Latinx community," said Erik Rodriquez, the LULAC Lambda president, in a statement released by the group. "Our scholarship program will help these scholars achieve their academic goals and reduce their student debt," Rodriquez said.
The statement says one of the two scholarship awards, for $1,000, will go to Brian Castro, who will begin studies for a master's degree in the fall of 2021 at Georgetown University's Walsh School of Foreign Service.
"The generous scholarship provided by LULAC Lambda will complement my studies by going directly into my tuition costs," Castro said in the statement. "Though I have been a resident of Washington, D.C., working full-time at a leading public health consulting firm, I am grateful to have received the support from an organization that is also committed to social justice," he said.
The other scholarship, for $1,300, will go to Victor Javier Rodriguez for his doctoral work in education at Florida State University. The LULAC Lambda statement says Javier Rodriquez's academic interest lies in "exploring the relationship between school communities and districts' implementation of anti-racist practice and student success."
In his own words, Javier Rodriquez said, "A long-term career goal of mine is to affect change at the federal level through the United States Department of Education, in which I would work to address our nation's education crisis by advocating for equitable policies and practices that improve the outcome for all our students, especially those who are most vulnerable."
LULAC Lambda says it was founded in October 2014 "to mobilize and strengthen the LGBTQ+ and Latinx communities of Washington, D.C. through community and civic engagement." It is one of 1,000 chapters across the country affiliated with the League of United Latin American Citizens (LULAC), the nation's largest and oldest Latinx volunteer-based civil rights organization, the group's statement says.