Violent mob forces cancellation of Tbilisi Pride in Georgia
March organizers' offices ransacked, journalists attacked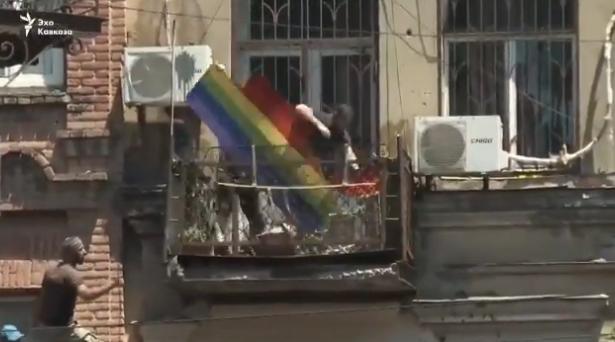 A violent mob forced the cancellation of a Pride march that was to have taken place in Georgia's capital on Monday.
Videos show what one source described to the Washington Blade as a "marginal mob of Christian and far-right extremists" ripping down a Pride flag that Tbilisi Pride had hung from the balcony of its offices. Tbilisi Pride Director Giorgi Tabagari later posted to social media a video that showed the mob ransacked them.
❗️This is how our office looks like after todays attack. @GovernmentGeo and @MIAofGeorgia failed to protect people and didn't stop aggressive groups to destroy our property..#TbilisiPride21 #Georgia #Pride pic.twitter.com/mLADg7BMgP

— Giorgi Tabagari (@Tabagari) July 5, 2021
Media reports indicate the mob attacked journalists and stabbed at least one person.
"They declared war against civil society, democratic values and the European course of the country," said Tbilisi Pride in a statement it released after it officially cancelled the march.
Tbilisi Pride and other Georgian LGBTQ activists accused the former Soviet republic's government of not doing enough to protect march participants. Tbilisi Pride in its statement also sharply criticized Prime Minister Irakli Garibashvili, Patriarch Ilia of the Georgian Orthodox Church and "pro-Russian groups" for comments they made before and after the march's cancellation.
"The (Georgia) Ministry of Internal Affairs, despite having all opportunities to ensure the safety of Pride Week participants, did not take any action to protect the fundamental rights of people," said Tbilisi Pride. "Tbilisi Pride members, representatives of international organizations and (members of the) diplomatic corps had a number of meetings with MIA representatives. They knew our action strategy. They were offered specific plans … but instead of measures, we have been watching from the morning government representatives encouraging violent groups."
The American, Austrian, Bulgarian, British, Bulgarian, Czech, Dutch, Estonian, Finnish, French, German, Greek, Hungarian, Irish, Israeli, Italian, Latvian, Lithuanian, Norwegian, Slovenian, Spanish and Swedish embassies in a joint statement condemned the violence. The U.N. and European Union missions in the country were also signatories.
"We condemn today's violent attacks on the civic activists, community members and journalists, as well as the failure of the government leaders and religious officials to condemn this violence," reads the statement. "Participation in peaceful gatherings is a human right guaranteed by Georgia's Constitution. Violence is simply unacceptable and cannot be excused. Those who incite or threaten violence or commit violent acts are interfering with the efforts of Georgia's law enforcement professionals to uphold a safe and secure environment. They should be prosecuted to the full extent of the law."  
"We call on all Georgia's leaders and law enforcement to act swiftly to protect those exercising their Constitutional rights to freedom of expression and assembly, to protect journalists exercising freedom of the press, and to publicly condemn violence," it adds.
ILGA-Europe is among the LGBTQ rights groups that have also condemned the violence. Civil.ge, a Georgian news website, reported that authorities have launched an investigation.
NOM president traveled to Tbilisi in June
The first Tbilisi Pride march was to have taken place in June 2019, but organizers postponed it amid protests against a Russian MP who spoke at the Georgian Parliament. A small Pride demonstration took place a few weeks later.
U.S. Ambassador to Georgia Kelly Degnan in May faced criticism after she met with Georgian Orthodox Church Archbishop Iakob.
Civil.ge Editor-in-Chief Otar "Otto" Kobakhidze in a series of tweets noted Iakob "led a program against LGBTQ activists in downtown Tbilisi" on the International Day Against Homophobia, Transphobia and Biphobia in 2013.
US Ambassador to Georgia Kelly Degnan comes under mounting criticism from liberal/leftist Georgians for her Friday visit to Bodbe Monastery, where she met Archbishop Iakob, the man who led a pogrom against LGBTQ activists in downtown Tbilisi on #IDAHOT 2013.

1/3 pic.twitter.com/4UPslLM0nB

— Otar (Otto) Kobakhidze (@Otto_Kobakhidze) May 16, 2021
National Organization for Marriage President Brian Brown traveled to Georgia last week. Brown on June 23 participated in a Tbilisi press conference with Levan Vesadze, an anti-LGBTQ Georgian businessman who recently founded an ultranationalist political party.
"In country after country we find men and women, men like Levan, who act and stand for truth, for the family," said Brown. "No lies, no slurs will stop us."
US ambassador to UN calls for repeal of criminalization laws
Linda Thomas-Greenfield spoke at U.N. LGBTI Core Group event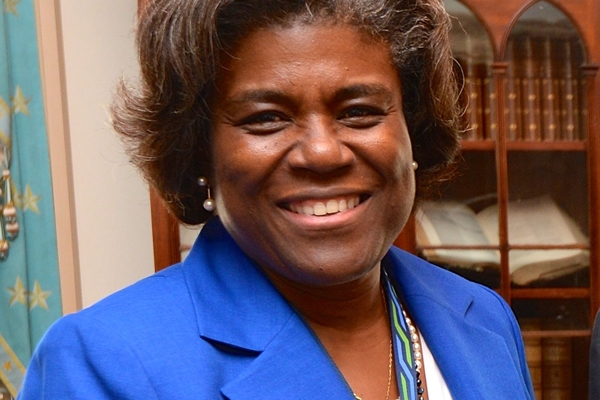 United States Ambassador to the U.N. Linda Thomas-Greenfield is among those who participated in a Wednesday event on the sidelines of the U.N. General Assembly that highlighted efforts to decriminalize consensual same-sex sexual relations.
Thomas-Greenfield in her remarks during the largely virtual U.N. LGBTI Core Group event noted consensual same-sex sexual relations remain criminalized in more than 70 countries.
"For millions of people it is illegal for them to be who they are, to love who they love. We need to repeal and eliminate these laws," she said. "For our part, the United States is using our diplomacy, our foreign assistance and every tool we have to protect human rights, empower civil society and support local LGBTQI movements."
The U.S. is one of 35 countries that are members of the Core Group.
Wednesday's event also highlighted efforts to decriminalize transgender people and repeal laws that specifically target them.
"We need more countries to join this committed group," said Thomas-Greenfield. "Together, let's do everything we can to protect human rights and promote equality for all."
Belgian Prime Minister Alexander De Croo; Nepalese Ambassador to the U.N. Amrit Bahadur Rai; New Zealand Ambassador to the U.N. Craig Hawke; Australian Permanent U.N. Representative Mitch Fifield; Brazilian Ambassador to the U.N. Rolando Costa Filho; Canadian Ambassador to the U.N. Robert Keith Rae; Assistant U.N. Secretary General for Strategic Coordination Volker Türk; Argentine Foreign Affairs Minister Santiago Cafiero; Dutch Foreign Affairs Minister Tom de Bruijn; Japanese Foreign Minister Jun Shimmi; Norwegian Foreign Affairs Minister Ine Eriksen Soreide; Salvadoran Foreign Affairs Minister Alexandra Hill Tinoco; Costa Rican Vice Multicultural Affairs Minister Christian Guillermet-Fernández; Finnish Foreign Affairs Ministry Johanna Sumuvuori; Nick Herbert of the British House of Lords; European Union Equality Commissioner Helena Dalli; Swedish Foreign Affairs Minister Ann Linde; Icelandic Foreign Affairs Minister Gudlaugur Thór Thórdarson; Maltese Equality, Research, Innovation and the Coordination of Post COVID-19 Strategy Minister Owen Bonnici; Mexican Multilateral Affairs and Human Rights Undersecretary Martha Delgado; Italian Foreign Affairs Undersecretary Benedetto Della Vedova; Chilean Foreign Affairs Undersecretary Carolina Valdivia; German MP Michael Roth; Irish State for Overseas Development Aid and Diaspora Minister Colm Brophy and Danish Development and Nordic Cooperation Minister Flemming Møller Mortensen participated in the event that Reuters U.N. Bureau Chief Michelle Nichols emceed.
Acting OutRight Action International Executive Director Maria Sjödin and activists from Bhutan, Botswana, Guyana, Mozambique, Angola, Panamá and India took part. Victor Madrigal-Borloz, the independent U.N. expert on LGBTQ issues, and Nikkie de Jager, a Dutch U.N. goodwill ambassador known as NikkieTutorials who is trans, also participated.
"Decriminalization is a very basic demand," said Sjödin. "Given how many countries have these laws on the books, it is still a priority."
Herbert, who is British Prime Minister Boris Johnson's LGBTQ envoy, noted consensual same-sex sexual relations remain criminalized in 35 of the Commonwealth's 54 countries. Herbert also announced the U.K. will give an additional $2.75 million to "support LGBT+ individuals in Commonwealth countries, including to those seeking to address outdated legislation that discriminates against women, girls and LGBT+ individuals."
"We are clear that tackling discrimination is only one part of the issue," said Herbert. "We must encourage countries as well to put in place laws that protect their LGBTI citizens going forward."
President Biden in February signed a memorandum that committed the U.S. to promote LGBTQ rights abroad. The decriminalization of consensual same-sex sexual relation is one of the White House's five global LGBTQ rights priorities.
Immigration Equality condemns deportation of Haitian migrants, asylum seekers
Prominent activist found dead in Port-au-Prince home in 2019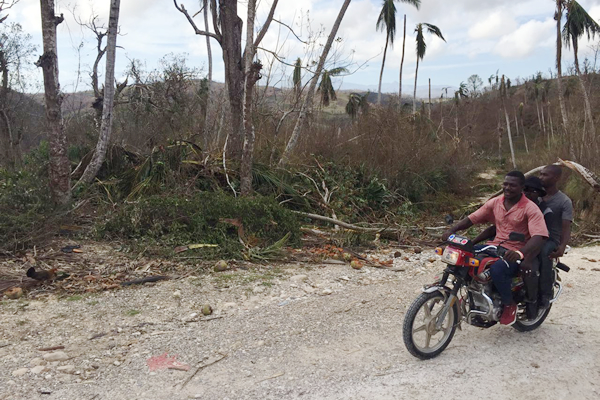 Immigration Equality on Wednesday sharply criticized the Biden administration over the deportation of Haitian migrants and asylum seekers from the U.S.
"Over 10,000 Haitian migrants and asylum seekers are waiting at America's doorstep, but the Biden administration won't uphold their basic right to ask for protection," said Immigration Equality Legal Director Bridget Crawford in a press release. "This is blatantly illegal and morally reprehensible. Many of these people are asylum seekers who face grave danger if returned to Haiti. They have traveled thousands of miles to escape a country torn apart by devastating earthquakes and political turmoil."
The White House in recent days has been struggling to respond to the influx of Haitian migrants and asylum seekers in Del Rio, Texas, which is across the Rio Grande from Ciudad Acuña, Mexico. Pictures of U.S. Border Patrol agents on horseback chasing and whipping Haitians have sparked widespread outrage.
Title 42, a Centers for Disease Control and Prevention rule that closed the Southern border to most migrants and asylum seekers because of the pandemic, remains in place. The U.S. Department of Homeland Security has begun to deport Haitian migrants and asylum seekers from Texas.
Immigration Equality in its press release notes Charlot Jeudy, a member of Kouraj, a Haitian LGBTQ rights group, was found dead inside his home in Port-au-Prince, the country's capital, in 2019.
Violence and discrimination based on sexual orientation and gender identity remain commonplace in Haiti.
President Jovenel Moïse's assassination on July 7 and an 7.2 magnitude earthquake on Aug. 14 that left scores of people dead and displaced hundreds of thousands of others have caused additional turmoil in Haiti, which is the Western Hemisphere' poorest country.
A 7.0 magnitude earthquake that devastated Port-au-Prince and surrounding areas in 2010 killed an estimated 200,000 people.
Fondation SEROvie, a Haitian HIV/AIDS service organization, contributed to relief efforts after Hurricane Matthew caused widespread damage on the country's Tiburon Peninsula in 2016. Last month's earthquake struck in the same area.
"For LGBTQ people in particular, expulsion means returning to a society that rejects them. They are frequent targets of violence and sexual assault, including by the police," said Crawford. "The country is fundamentally unsafe for the queer and transgender community."
"Instead of welcoming Haitian asylum seekers as the U.S. should, the Biden administration is sending them back to life-threatening conditions," added Crawford. "We call on the administration to halt the deportation flights immediately and end Title 42 in its entirety. The disturbing images of border agents on horseback chasing down terrified Haitian migrants go against the administration's professed ideals. Shame on the Biden administration for embracing this xenophobic and illegal Trump-era policy and mistreating vulnerable migrants."
Biden highlights LGBTQ rights in UN General Assembly speech
President noted crackdowns in Chechnya, Cameroon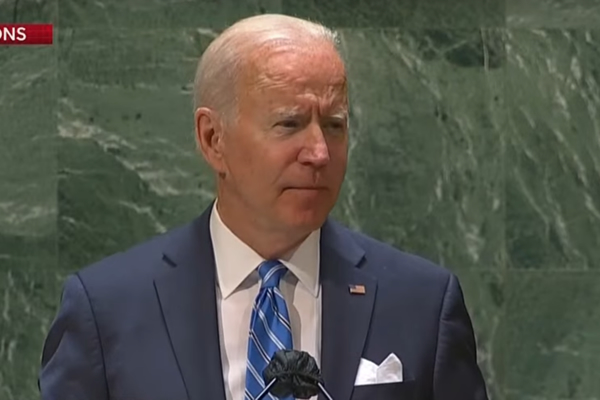 President Biden on Tuesday in his speech to the U.N. General Assembly spoke in support of LGBTQ rights around the world.
"We all must defend the rights of LGBTQI individuals so they can live and love openly without fear," he said.
Biden in his speech specifically cited anti-LGBTQ crackdowns in Chechnya and Cameroon. He spoke after Brazilian President Jair Bolsonaro, who is a vocal opponent of LGBTQ rights, addressed the General Assembly.
"As we pursue diplomacy across the board, the United States will champion the democratic values that go to the very heart of who we are as a nation and a people: freedom, equality, opportunity and a belief in the universal rights of all people," said Biden.
The White House earlier this year released a memorandum that committed the U.S. to promoting LGBTQ rights abroad.
The decriminalization of consensual same-sex sexual relations and protecting LGBTQ migrants and asylum seekers are two of the administration's five priorities in its efforts to promote LGBTQ rights abroad. Secretary of State Antony Blinken last week expressed concern over the fate of LGBTQ Afghans who remain in their country after the Taliban regained control of it, but it remains unclear how many of them the U.S. has been able to evacuate.