Brazil governor, presidential candidate comes out as gay
Eduardo Leite hopes to challenge President Jair Bolsonaro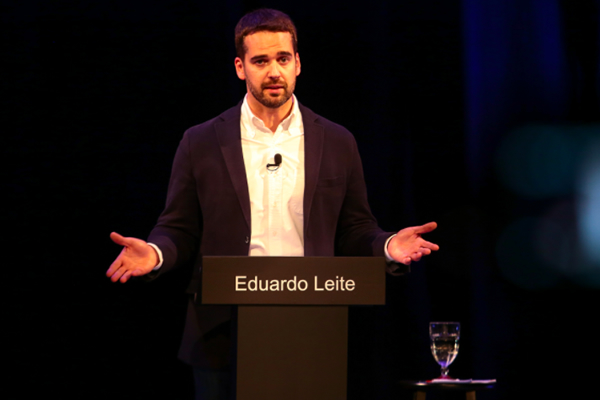 The governor of Brazil's Rio Grande do Sul state came out as gay on July 1 during an interview with a late-night talk show host.
"I am gay, I am gay," Eduardo Leite told "Conversa Com Bial" host Pedro Bial. "I am a governor who is gay, not a gay governor, like Obama in the United States was a president who was Black, not a Black president, and I'm proud of that."
"I didn't bring this issue up, but I never denied who I am. I never created a character," added Leite. "I didn't try to make people believe in something different, and I am proud of this integrity."
Leite also told Bial that he has been with his boyfriend — a doctor from Espírito Santo state — for nine months.
"I have enormous admiration and love for him," said Leite.
Leite, 36, is the first openly gay governor in Brazil's history.
He is a member of the center-left Brazilian Social Democracy Party. Leite has governed Rio Grande do Sul, which is Brazil's southernmost state, since 2019.
Leite endorsed President Jair Bolsonaro, despite his anti-LGBTQ rhetoric and vocal opposition to marriage equality and other issues, during the second round of Brazil's 2018 presidential election.
Leite has sharply criticized Bolsonaro over his handling of the COVID-19 pandemic in the country. Leite is running in his party's primaries in November, which will choose the candidate who will challenge Bolsonaro in next year's presidential election.
Toni Reis, president of Aliança Nacional LGBTI+, a Brazilian LGBTQ advocacy group, on Monday described Leite's coming out to the Washington Blade as a "courageous act, particularly in a state (Rio Grande do Sul) that has a very strong 'machista' culture with strong dividing lines between the roles expected of males and females." Reis also noted Leite recently attended Aliança National LGBTI+ Rio Grande do Sul Coordinator Dani Boeira's wedding.
"He's still in the 'primaries' of his political party, along with another three possible presidential candidates in the same party, which is center-left," Reis told the Blade. "Nevertheless, coming out was probably a wise step to take in order to prevent his being gay being used against him in the campaign period should he get to be a candidate."
"The positive visibility he has given to being gay is very important for the Brazilian LGBTI+ community," added Reis. "He's openly supportive of LGBTI+ issues, but is more aligned with the center than the left, given his political party."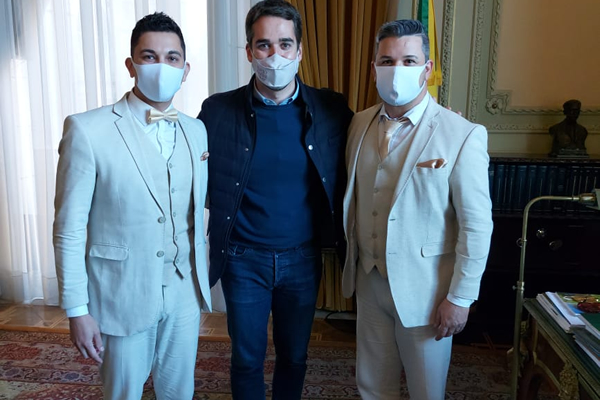 Ricardo Sales, founder of Mais Diversidade, a São Paulo-based consultancy that promotes diversity and inclusion throughout Latin America, also applauded Leite.
"It is important that the governor of one of the biggest states of the country come out," Sales told the Blade on Saturday.
Sales, nevertheless, noted Leite's decision to back Bolsonaro for president.
"I hope, now that Eduardo is out of the closet, he can promote the agenda of LGBT rights," said Sales.
Sales also noted Fatima Bezerra, the governor of Rio Grande do Norte state, in a July 2 tweet appeared to publicly acknowledge she is an LGBTQ Brazilian.
"There have never been closets in my public or private life," tweeted Bezerra. "I have always noted my positions through my political activities; without ever erasing myself in the fight against machismo, racism, LGBTphobia and any other type of oppression and violence."
Na minha vida pública ou privada nunca existiram armários. Sempre demarquei minhas posições através da minha atuação política, sem jamais me omitir na luta contra o machismo, o racismo, a LGBTfobia e qualquer outro tipo de opressão e de violência.

+

— Fátima Bezerra (@fatimabezerra) July 2, 2021
Reuters reported Bolsonaro accused Leite of wanting to use his coming out as a "business card" for his presidential campaign.
"I have nothing against his private life, but he cannot impose his lifestyle on others," Bolsonaro told his supporters, according to Reuters.
Transgender, intersex activists participate in White House listening session
Alexus D'Marco from the Bahamas took part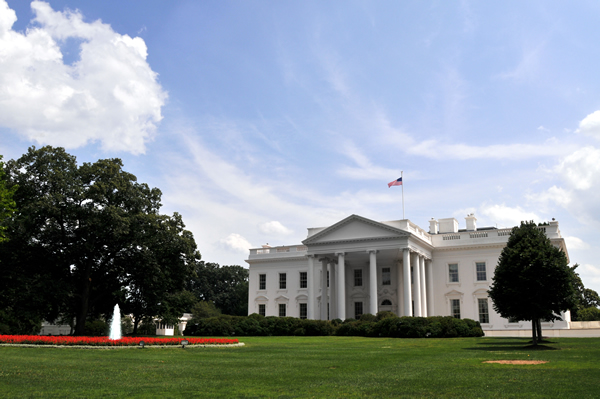 Sixteen transgender and intersex activists from around the world on Tuesday participated in a White House listening session.
A State Department spokesperson told the Washington Blade the meeting was one of "a series of listening sessions that State is organizing on the human rights of transgender individuals" through the Interagency Working Group on Safety, Inclusion and Opportunity for Transgender Americans, which the White House Domestic Policy and Gender Policy Councils created in June.
The Departments of Justice, Housing and Urban Development, Health and Human Services, Education, Homeland Security, Labor, Interior and Veterans Affairs participate in the working group. The State Department and the U.S. Agency for International Development are, according to the State Department spokesperson, "also participating to strengthen efforts to protect transgender individuals from violence and discrimination around the world."
"These listening sessions will inform the working group's review of policies that drive violence and poverty for transgender individuals at home and around the world, including homelessness, employment discrimination, violence and abuse, and bullying and rejection at school," said the State Department spokesperson.
Jessica Stern, the special U.S. envoy for the promotion of LGBTQ rights abroad who officially began her tenure on Monday, is among those who took part in the meeting, which is one of three that happened on Tuesday. Additional meetings are scheduled to take place later this week.
"She looks forward to learning from transgender and intersex human rights defenders what their most pressing priorities are for continued U.S. engagement," said the State Department spokesperson.  
Alexus D'Marco, executive director of the D'Marco Organization in the Bahamas, is among those who the White House invited to participate in one of Tuesday's sessions.
"It is timely and important that the Caribbean region is included in this discussion," D'Marco told the Blade. "As a region, we are often left behind. LGB and trans citizens in the Caribbean are becoming more visible; their access to healthcare, housing, justice, education and a decent quality of life are often impeded and fuel by stigma and discriminations."
"I am grateful to be apart of theses discussion to move the Caribbean region forward," added D'Marco.
The White House earlier this year released a memorandum that committed the U.S. to promoting LGBTQ rights abroad. State Department spokesperson Ned Price in May noted to the Blade that funding efforts "to protect human rights and to advance nondiscrimination around the world" are among the administration's global LGBTQ rights priorities.
Africa reeling from scourge of gender-based violence
The pandemic, poverty has exacerbated problem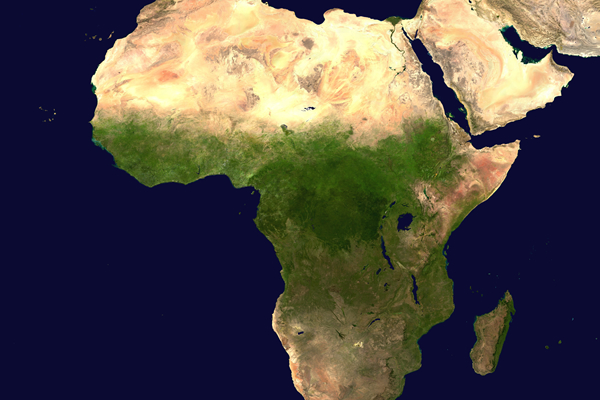 The effects of gender-based violence in Africa are now being reverberated throughout the continent and have been exacerbated by the current COVID-19 pandemic.
A country like South Africa, according to Public Works and Administration Minister Ayanda Dlodlo, has the highest rate of gender-based violence in the world, a sentiment which was recently echoed by Police Minister Bheki Cele, who cited that over 1,000 cases of gender-based violence are recorded on a daily basis in South Africa.
However, regardless of South Africa being a hotspot of gender-based violence, it is not the only country on the continent that is witnessing a surge in the cases. Relatively all the countries in Africa are now seeing an increase in the number of gender-based violence cases.
Although cultural and religious norms have been seen as the major contributing facets to the issue of gender-based violence, unemployment and poverty have also been highlighted as among the major reasons of the scourge and as a matter of fact, Africa is regarded as the poorest continent by organizations such as the U.N., the World Bank and the International Monetary Fund with millions surviving on less than $1 per day.
As a result, the anger associated with hunger, unemployment and lack of financial stability is in most cases channeled towards the "weaker gender" as Nicola Rodda, a victim and gender-based violence activist from South Africa who I interviewed aptly states.
"My view of the cause of GBV is that the abuser feels a lack of power in some situation and regains the sense of power through abusing the weaker victim whether be it sexually, physically, emotionally or financially with male on female and male on child violence being the most common but they are not the only forms that occur but the two I have mentioned are the most prevalent," said Nicola.
With that being said, I also took up the cause by interviewing Knowledge Chuma from Zambia, the founder and chairperson of the Zambia Wushu Kungfu Federation, a non-profit organization that focuses on the issues of gender-based violence and he also shared the same sentiment as Nicola citing poverty and cultural norms as the root cause of GBV in Africa.
"The causes of GBV are deeply rooted in discriminatory cultural beliefs and attitudes that perpetuate inequality and powerlessness, in particular of women and girls. Various actors such as poverty, lack of education, livelihood opportunities, impunity for crimes and abuse also tend to contribute and reinforce the culture of discrimination and violence based on the gender. Such factors are frequently aggravated in terms of conflict and displacement as the rule of law, as societies and families are torn apart," said Knowledge.
So now that the root cause of gender-based violence has been established one would now ask how then can the continent rid itself from such a heinous act? Rest assured this is the follow-up question I also brought before Knowledge and Nicola which they tackled immaculately and not only that but they both came out with ways a victim of gender-based violence can be able to get assistance from law enforcement agents and how friends and family members can help in the journey to recovery.
"The best way for the continent to tackle gender-based violence is multifactorial. In Africa, we tend to have patriarchal societies in which men hold greater power than women so it is easy for a conflict to degenerate into a situation where a man exerts his power over the woman either physically or sexually. So the solution to that is not just changing patriarchal roles although education can play a large role of understanding gender equality and equal gender rights, however, in the broader context the sense of helplessness and powerlessness created in the abuser can often be the result of poverty, unemployment, feeling powerless in the face of economic or other social pressure so uplifting the continent as a whole in terms of job availability, quality of life, quality of services would help in bringing out gender-based violence in addition to a strong element of education on gender equality and the right of a female or child not to live in fear of their abuser.
Moreover, if one reports a case of gender-based violence to the police and no action is taken then the victim should approach the head of the police and if there is still no action then the victim has to approach the courts directly for perfection and the best way family members and friends can assist a victim of gender-based violence would be to help the victim, remove herself or himself from the circumstances because by and large it is true that an abuser who abuses once will abuse again so the best way is not to allow the victim near the abuser.
In addition, a victim can also approach trauma counsellors that can be accessed through the police or gender-based violence organizations free of charge and also to find further recourse of being able to defend herself or himself be it physically or financially through organizations like Legal Aid or religious organizations because that can protect the victim and provide support for the victim in the longer term from being re-abused either by the original abuser or another person who might perceive him or her vulnerable. Gender-based violence is one of the biggest scourges that is being faced on the African continent," said Nicola.
Moreover, Knowledge cited that education is the most important factor and also shared some words of wisdom on how friends and family can be able to approach and engage with a victim of gender-based violence that does not show apathy.
"What the African continent must do to avert the issue of GBV is to educate youths and adults about this serious issue. We need to give the youths the arts, sports or academic skills that they might need in future to avoid lack of employment that leads to depression and anxiety because that also contributes to the causes of GBV.
If friends or family are approached by the victim the best way is by responding in a soothing manner such as, I believe you! I am here for you! You can tell me as much or as little as you want! It is not your fault! I am glad you told me! I am glad you came to me! So we need to support them because if we do not it becomes discriminatory," said Knowledge.
The onus is now upon every African to do their best in lynching off gender-based violence as on a daily basis it leaves someone with a mental or physical challenge and catastrophic challenges for the bereaved.
Columbia University researcher helps evacuate LGBTQ Afghans
Taylor Hirschberg working with Belgian lawmaker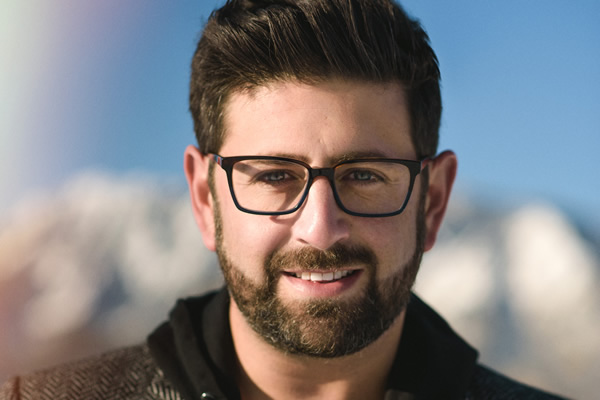 Some of the 50 human rights activists that a Columbia University researcher has helped evacuate from Afghanistan since the Taliban regained control of the country are LGBTQ.
A press release the Washington Blade received notes Taylor Hirschberg — a researcher at the Columbia Mailman School of Public Health who is also a Hearst Foundation scholar — has worked with Belgian Sen. Orry Vandewauwer to help 50 Afghan "activists leave the country."
"The refugees included those who identify as LGBTQI+ or gender non-conforming and their families," notes the press release.
The Blade has seen the list of names of the more than 100 people that Hirschberg and Vandewauwer are trying to evacuate from Afghanistan. These include the country's first female police officer, the independent U.N. expert on Afghanistan and a number of LGBTQ activists.
"There are many more human rights advocates we are still trying to get out of the country," said Hirschberg.
Hirschberg has previously worked in Afghanistan.
He and Vandewauwer were also once affiliated with Skateistan, an NGO that works with children in the Middle East and Africa. The documentary "Learning to Skateboard in a Warzone" features it.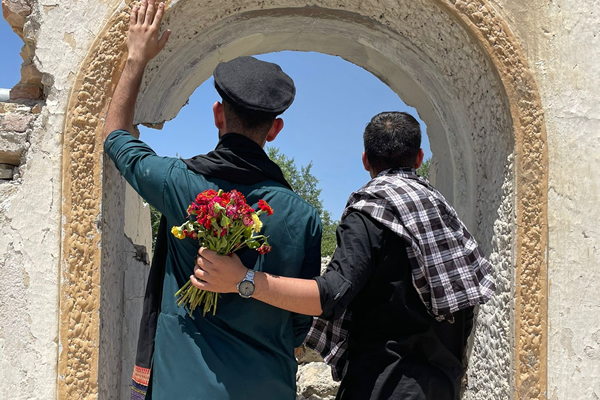 The Taliban entered Kabul, the Afghan capital on Aug. 15 and toppled then-President Ashraf Ghani's government.
A Taliban judge over the summer said the group would once again execute gay men if it were to return to power in Afghanistan.
The U.S. evacuated more than 100,000 people from the country before American troops completed their withdrawal from the country on Aug. 30. It remains unclear whether the U.S. was able to successfully evacuate LGBTQ Afghans from Kabul International Airport, but Immigration Equality earlier this month said it spoke "directly" with 50 LGBTQ Afghans before the U.S. withdrawal ended.
Secretary of State Antony Blinken on Sept. 13 during a House Foreign Affairs Committee hearing expressed concern over the fate of LGBTQ Afghans who remain in the country.
The Human Rights Campaign; Immigration Equality; the Council for Global Equality; Rainbow Railroad; the International Refugee Assistance Project and the Organization for Refuge, Asylum and Migration have called upon the Biden administration to develop a 10-point plan to protect LGBTQ Afghans that includes prioritizing "the evacuation and resettlement of vulnerable refugee populations, including LGBTQI people." Canada is thus far the only country that has specifically said it would offer refuge to LGBTQ Afghans.
Hirschberg on Monday told the Blade that he and Vandewauwer have charted an airplane to evacuate Afghans, but they have not secured a "third country" to which they can bring them.
"Currently, we are working towards a multi-country collaboration for resettlement," he said. "Our work has now expanded to include election officials and women activists, including those from the LGBTQI+ community."
Hirschberg also urged the U.S. and humanitarian organizations to do more to help evacuate LGBTQ people, human rights activists and others from Afghanistan
"I understand that this is complicated and that I do not have all the working pieces but why does the United States ignore those who helped in building their agenda in Afghanistan. The same goes for multilateral organizations," he told the Blade. "Why are neither funding charters and creating agreement with partnering states? If they are why have the not contacted the countries that we are creating collaborations with?"