Adventure cruisers
These two vehicles are perfect for your next adventure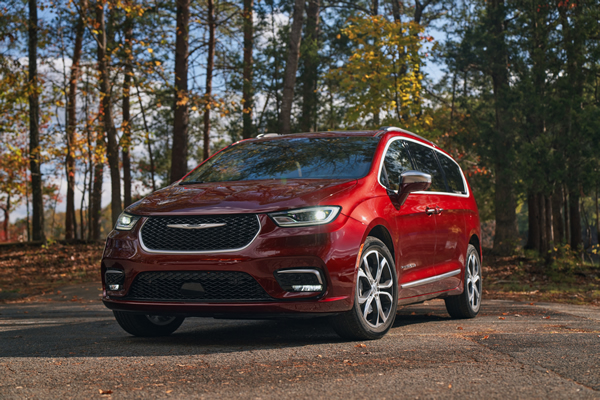 With everyone itching to get out and travel during the big reopening, it's no wonder roadways are jammed with day-trippers and tourists. But these two vehicles can help you avoid the noise and go on your own excellent adventure.
CHRYSLER PACIFICA PINNACLE
$55,000
Mpg: 19 city/28 highway
0 to 60 mph: 7.9 seconds
Is there such a thing as a fun minivan? You wouldn't think so. But the Chrysler Pacifica has won numerous awards for its spirited suspension and nimble handling. This hauler is much better at transporting people and cargo than most pickups and SUVs. And this year the Pacifica, already a style maven among minivans, gets a tasteful makeover. This includes a streamlined grille, liftgate, wheels, and front and rear running lights.
For better traction on slippery roads, all-wheel drive is now available. There's also a new top-tier trim level—the Pinnacle—with quilted Nappa leather seats and (bling alert!) snazzy matching pillows for the second-row captain's chairs. The infotainment system, already easy to use, now has a crisp 10.1-inch screen, along with smartphone integration and up to 12 USB ports. Because of an improved processor, the infotainment system is more responsive. This was a big plus whenever I approached highway construction zones and needed to find a quick escape route. In the end, I was able to deftly skirt bottlenecks, enjoy a few unfamiliar yet pleasant byways, and still arrive everywhere on time.
Along with a backup camera, there's a 360-degree view to help you fit into almost any parking spot. And while it may seem a bit creepy, a new FamCam inside the cabin helps you keep an eye on the kids—or any unruly adults—who may be acting up in the backseat. Crash-test scores are stellar, and Chrysler found a way to shoehorn in almost every safety feature, including blind-spot monitor, lane-departure warning, adaptive cruise control, and automated emergency braking with pedestrian detection. No, the Pacifica Pinnacle is not a sport sedan or souped-up super coupe. But it also doesn't drive like a bulky minivan, despite the acres of interior room and cubbyholes. Instead, I was able to enjoy the best of both worlds—a refreshing ride with plenty of room for passengers and cargo. For neat freaks like me, there was an extra bonus: a built-in vacuum cleaner.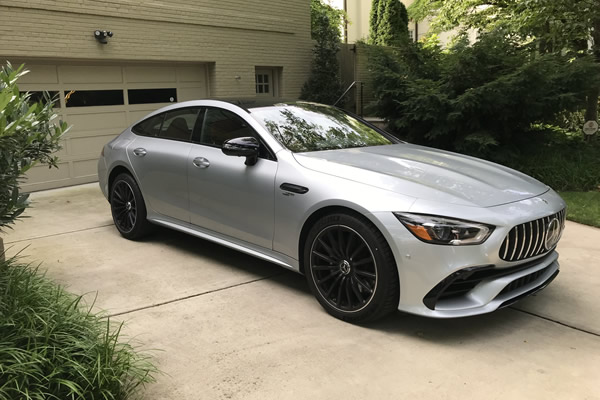 MERCEDES AMG GT 43
$91,000
Mpg: 20 city/25 highway
0 to 60 mph: 4.8 seconds
For auto journalists, test vehicles are like speed dating: Each car is the object of your affection—but only until the next one arrives. Yet sometimes you really do find a soul mate. That's the case with the Mercedes AMG GT 43. This four-door sedan looks like a hot rod, sounds like a muscle car and drives like a high-performance speedster. Each time I slipped behind the wheel, there was something new and exciting to stir the senses. Cue the silky nine-speed transmission. The subdued ambient lighting. The snug seats that hug you like a lover. And the various driver settings that let you stiffen the suspension to take any corner like a pro.
With the touch of a button, you can ratchet up the exhaust rumble to impress your neighbors. Press another button to raise the large rear spoiler—effectively saying "back off" to anyone clueless enough to tailgate such a ferocious fastback. Even curbside, the haughty look of this ride is intimidating. Inside, there are dual 12.3-inch digital displays and a wide center console with wireless charging pad. Another charging pad is part of an optional rear-seat package, which adds three-zone climate control, heated/cooled rear cupholders, two more USB ports and a rear touchscreen. The new infotainment system offers speech recognition for voice commands and software that actually learns how to anticipate when you might be about to change the nav screen or radio channel. And the clarity of the Burmester surround-sound stereo remains crystal clear even when it's cranked up to the max. Despite a base price of $91,000, the AMG GT 43 is actually a bargain. After all, the slightly more powerful GT 53 starts at $100,000, and the high-end GT 63 is an eye-popping $162,000. At the end of a weeklong stint with this dream machine, I had fallen hard it—finding any excuse to make an extra Starbucks run or go on a spur-of-the-moment day trip or drive to the grocery store three times in an hour or, well, you get the picture.
Smart haulers: Nissan Pathfinder and Ford Expedition
Two big bruisers that won't break the budget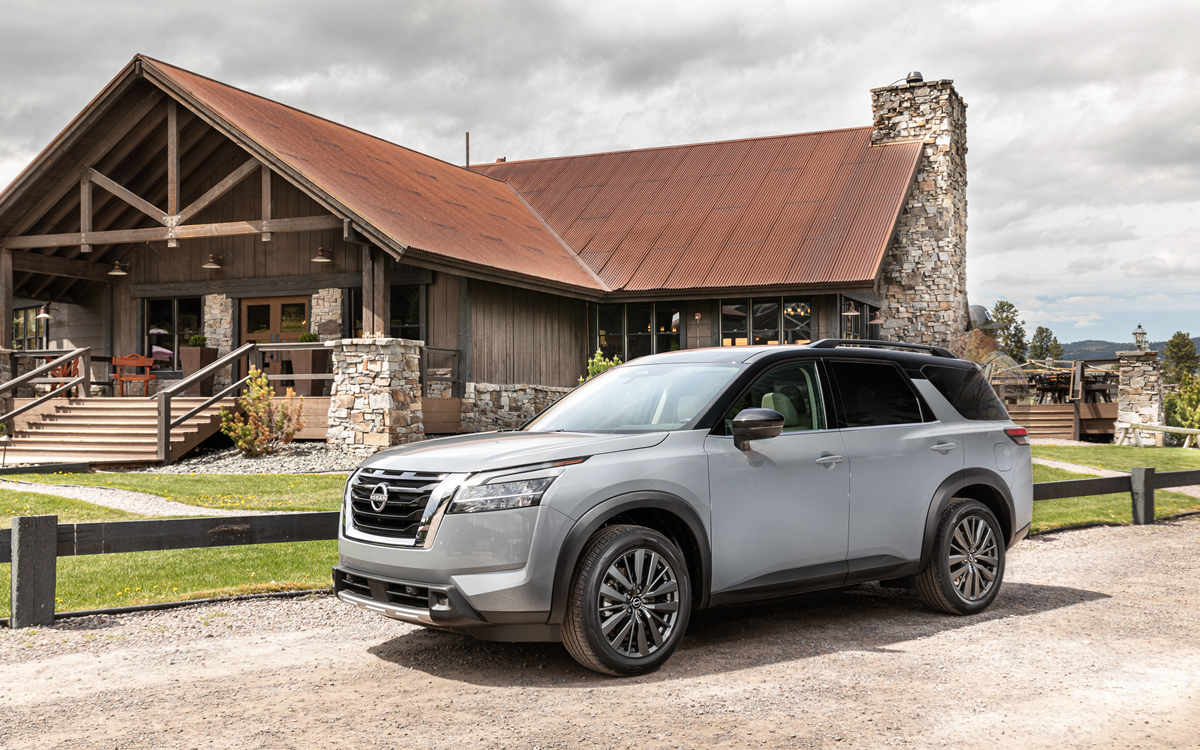 Electric vehicles are charging ahead, with the passage of a landmark clean-energy bill last month and automakers designing innovative new models. But a world of electric-only vehicles will take time. In the U.S. the goal is 2035, but until then many drivers—especially those looking for huge haulers—will still need to rely on traditional gas-powered rides.
Luckily, there are some smart choices out there, including these two big bruisers.
NISSAN PATHFINDER
$35,000
Mpg: 21 city/27 highway
0 to 60 mph: 6.7 seconds
The completely redesigned Nissan Pathfinder is a big step up from the previous model. Although classified as a midsize SUV, this year's new Pathfinder is now a lot longer, wider, and taller. The result: a spacious cabin with oodles more storage compartments and enough room for up to eight passengers. Another plus: Accessing the third row is much easier here than in most SUVs. Gone is the slouching profile of the previous Pathfinder, last updated 10 years ago (about twice the time most vehicles receive a redesign). The edgier styling is also boxier, but in a good way, with a chiseled front fascia, brawny side panels and strapping rear end—you know, sort of like Luke Evans.
Despite having the same capable V6 engine as before, fuel economy is slightly better. An updated transmission improves acceleration, while stiffer springs and other tweaks shore up the steering and overall handing. In other words, there's no mushy bounciness over potholes and speed bumps. Thicker glass and extra insulation create a more muted cabin. And there's a modish vibe with high-quality materials, including finely stitched seats, faux brushed-aluminum trim and a sporty flat-bottom steering. Most impressive, though, are the high-tech bells and whistles: smartphone integration, wireless charging pad, voice-command capability, windshield head-up display, 360-degree bird's-eye camera, ambient interior lighting, 13-speaker Bose stereo and scads of safety options.
During a weekend getaway along the East Coast this summer, my husband Robert sat regally in one of the second-row captain's chairs as he occasionally bellowed, er, gently suggested alternate routes to less congested roads. It may not have been the same as being chauffeured around in a limousine, but it sure felt that way—for both of us.
FORD EXPEDITION
$53,000
Mpg: 17 city/23 highway
0 to 60 mph: 6.7 seconds
Speaking of limos, President Biden's ride—nicknamed "the Beast"—shares dimensions with another jaw-dropping vehicle: the Ford Expedition, which is almost 18-feet long. (An extended-wheelbase model—the Expedition Max—stretches, incredibly, about 20 feet.) At 5,500 pounds, the Expedition is lightweight compared with the Beast, which weighs four times as much. Gas mileage in the Expedition is decent for such a large hauler. And acceleration is superb, with an energetic twin-turbo V6 available in three configurations.
Slipping behind the wheel, I expected this hulking SUV to be a challenge driving in city traffic. But the composed handling is more akin to the midsize Nissan Pathfinder, which itself performs like a smooth yet sporty family sedan. And the front parking sensors, backup camera, surround-view camera and parking-assist feature help you fit this full-size Ford practically anywhere.
For 2022, the Expedition gets a midlife makeover, with some styling cues that echo a ritzy Range Rover: less exterior chrome, streamlined grille and thin wraparound headlights. Luxe amenities include a tech-laden dashboard, tri-zone automatic climate control, massaging front seats, power-folding second and third seats, and running boards that automatically deploy whenever getting in or out of the vehicle. While a 12-inch touchscreen for the infotainment system comes standard, you can opt for the stunning 15.5-inch vertical display found in the all-electric Mustang Mach-E. Other notable goodies: Wi-Fi hotspot, rear-seat entertainment system, 22-speaker Bang & Olufsen stereo and even hands-free driving. Best of all are two new trim levels: the rugged Timberline, with better off-road capability, and the supersonic Stealth, which rockets from 0 to 60 mph in just 4.9 seconds—faster than a high-performance tuner car.
While the Expedition may not be built for heads of state like that other Beast, this behemoth is affordable and full of fine features. And it came in handy when I drove to Goodwill to donate boxes of baubles and such that had been gathering dust in the basement. But don't tell my husband — many of those trinkets were his.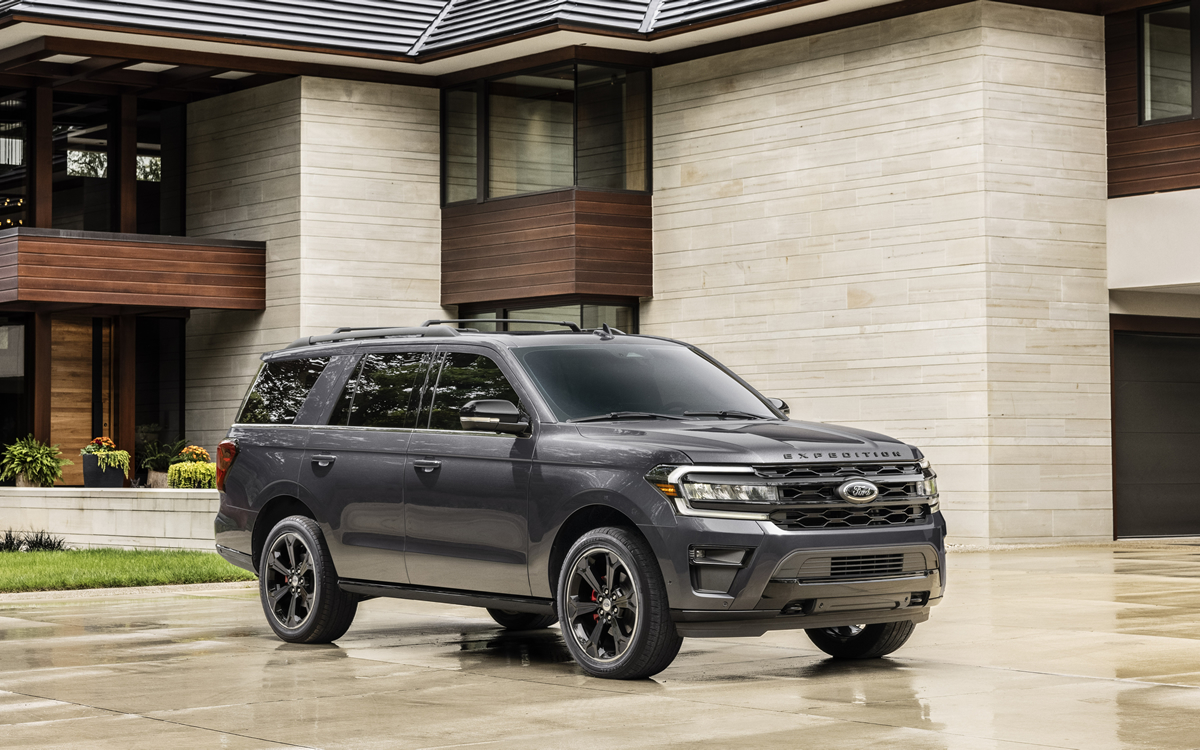 Two small, fun, and affordable rides
Ford Maverick, Kia Nightfall easy on your wallet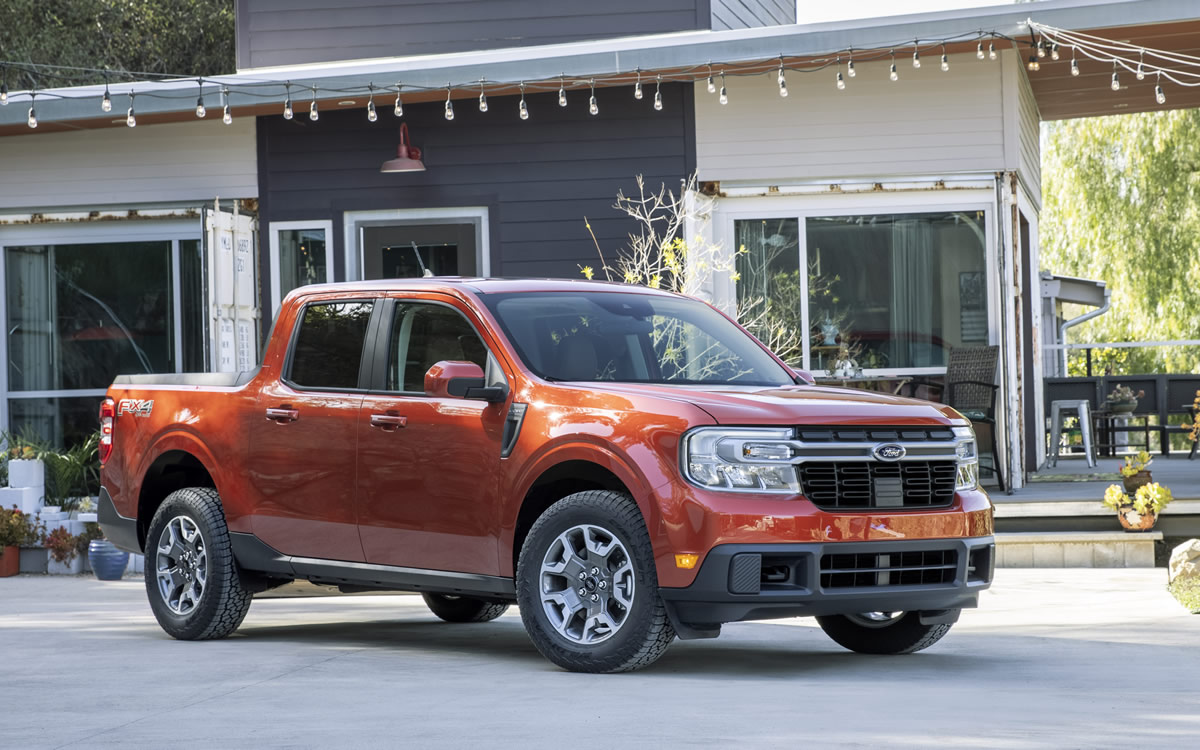 Who doesn't love a bargain? At $47,148, the average price of a new car is quickly approaching — yikes! — $50,000. So when I recently tested two vehicles that cost only half as much, you might assume such rides appeal to my penchant for being kinda-sorta cheap. OK, this is partly true, but along with affordable MSRPs, these low-cost chariots offer lots of other pleasant surprises.
FORD MAVERICK
$22,000
Mpg: 42 city/33 highway
0 to 60 mph: 7.7 seconds
With all the hoo-ha over electric vehicles, I wasn't expecting to go gaga over a rather traditional pickup. Yet that's what happened with the Ford Maverick, an all-new compact truck that comes standard as a hybrid. While a non-hybrid is available, it's hard not to love the hybrid's stellar fuel efficiency.
I also think this pickup looks sexy, with sumptuously curved sheet metal that any fashionista could love. Another plus: The Maverick is the least expensive tiny pickup out there. It's also surprisingly comfy, available only as a four-door crew cab with ample legroom and headroom, as well as nifty storage spaces. The low-slung truck bed, which can carry cargo up to 1,500 pounds, makes loading and unloading easy. And if, say, you're looking to enter a float in your local Pride parade, this small but mighty hauler can tow up to 4,000 pounds.
Built on the same platform as two popular Ford SUVs—the Escape and Bronco Sport—the Maverick boasts handling more akin to a steady sedan than a rough-and-rugged truck. Sure, there was some annoying jostling over potholes, but the steering and braking were precise. All models offer niceties such as remote keyless entry, steering-wheel audio controls, smartphone integration and forward-collision warning. While various option packages add up quickly, some features are hard to resist: Bang & Olufsen premium stereo, wireless smartphone charging pad, power-sliding rear window, key fob with remote start, adaptive cruise control and more.
During my weeklong testing of this vehicle, I took it on a few far-flung treks outside the city. Each time, it was refreshing to tumble back into the Maverick for my drive home. For me — wink, wink — this pickup was the perfect pick-me-up.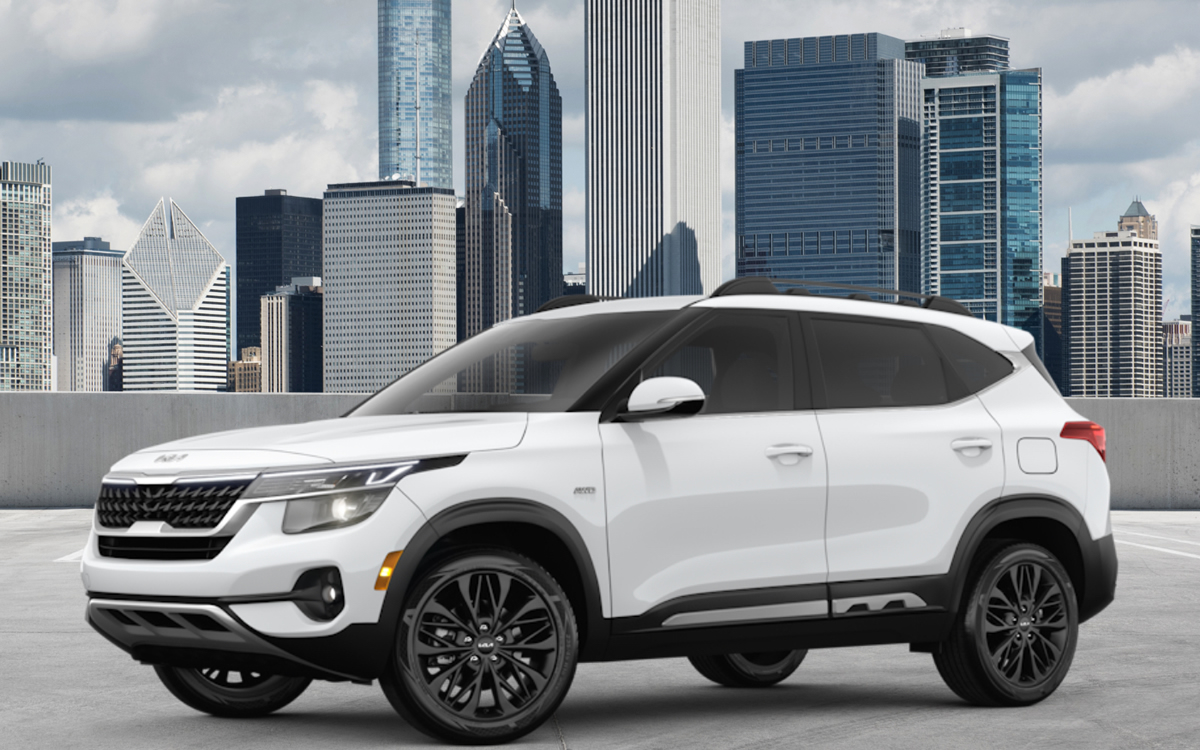 KIA SELTOS NIGHTFALL
$27,000
Mpg: 25 city/30 highway
0 to 60 mph: 7.5 seconds
When I first slid behind the wheel of a Kia Seltos subcompact SUV last year, the low price — $24,000 for the base model — was beguiling. Overall, though, the funky styling and available options were more notable than the actual ride and handling. Not so when I recently drove the latest Seltos — this time the Nightfall Edition, which feels like a completely different vehicle.
For just $3,000 extra, the Nightfall trim level adds a bit more style and a lot more substance. This includes a zippy 175-hp turbo engine, which shaves off almost a full second when accelerating from 0 to 60 mph. There's a smooth seven-speed automatic transmission and all-wheel drive for grippier traction. And larger 18-inch tires offer more road control, as well as slightly higher ground clearance for better driver visibility.
Inside, the upscale design and materials are still impressive. But while all models come with tinted rear windows, smartphone integration, automatic headlights and keyless entry, the Nightfall adds heated front seats, large touchscreen, navigation system, wireless phone charger, sunroof and other amenities. A blind-spot monitor (with rear cross-traffic alert) is also included with the plentiful array of standard safety gear. To distinguish the Nightfall from its Seltos siblings, there are even blacked-out wheels and exterior trim accents for a sportier look. It's hard to believe that these two vehicles I drove are related. But with the Nightfall, the difference is night and day.
Fab full-sized sedans
Jaguar XF, Mercedes S 500 offer great rides at very different price points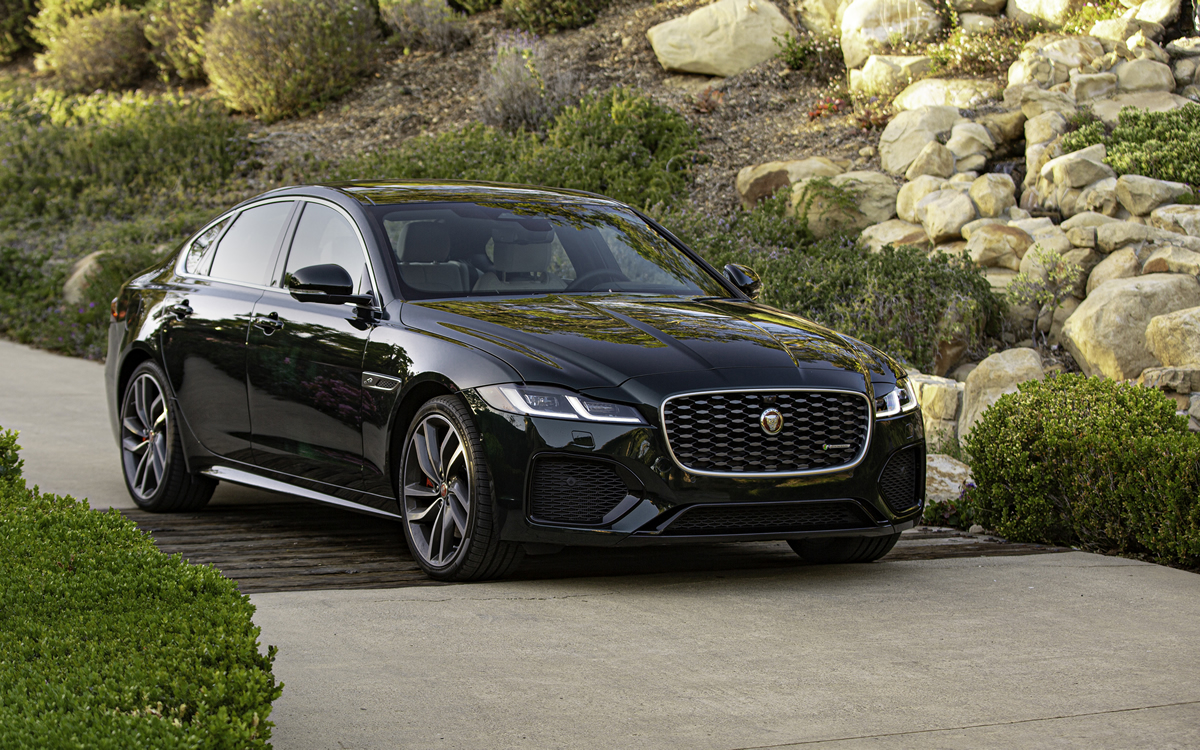 As drivers flock to SUVs and crossovers, it's as if the ubiquitous four-door sedan—poof!—has suddenly disappeared. Yet some steadfast sedans remain, including two absolutely fabulous rides below.
JAGUAR XF
$47,000
Mpg: 23 city/32 highway
0 to 60 mph: 6.5 seconds
Known for its super-luxe sedans, coupes and convertibles, even Jaguar has jumped on the sport-ute bandwagon. But though there are various Jag crossovers these days, at least one swanky sedan is still in the fleet: the XF mid-sizer. With streamlined looks—including a miles-long hood and swaybacked rear—this fetching chariot doesn't disappoint.
Handling is more lithe than lively, with supple suspension and snug braking. While neither of the two available four-cylinder turbo engines are Formula 1 material, the XF is plenty powerful for everyday driving. And the inviting interior is both refined and spacious, with cushy seats and lots of breathing room for backseat passengers. Along with a classy mix of rich wood trim and sleek aluminum accents, the updated cabin boasts a wireless charger, decent storage and curved glass on the 11.4-inch infotainment touchscreen.
Thankfully, a gearshift lever is back to replace the previous (and decidedly boring) rotary-dial shifter. I test drove the upscale R-Dynamic model, with special badging, snazzy split-spoked wheels and optional British Racing Green paint — a nice touch. Other ritzy add-ons included soft-close doors, power rear-window shade, power headlight washers and premium 12-speaker Meridian stereo. Note to self: The trunk, though adequate, is smaller than the competition. And because the XF no longer comes with a punchy V6 or V8 engine, rivals like the Audi A6, BMW 5 Series and Mercedes E-Class are speedier. But those sport-tuned rides also cost more — often a lot more. Considering how expensive gas has become these days, I'd say saving money on a stately but less expensive sedan makes a lot of sense.   
MERCEDES S 500
$112,000
Mpg: 21 city/30 highway
0 to 60 mph: 4.5 seconds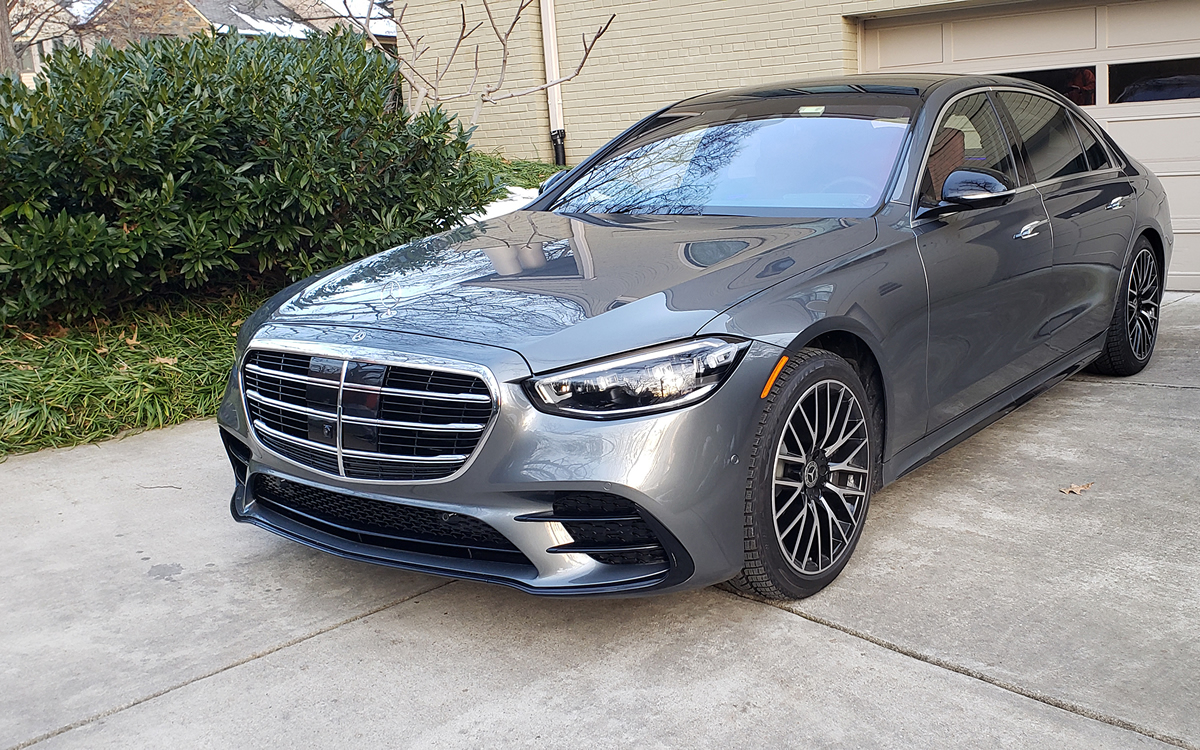 At twice the price of a Jaguar XF, the Mercedes S 500 is almost twice as nice. It's certainly bigger, measuring 13 inches longer and weighing 1,000 pounds more than the Jaguar. And for the first time, power for the S 500 comes from an eco-friendly six-cylinder turbo versus the typical V8, which is still available on pricier models. With impressive horsepower and a 48-volt hybrid system for added oomph, the S 500 rockets from 0-to-60 mph in just 4.5 seconds — amazing for such a beefy sedan. Adaptive dampers and agile air-spring suspension eliminate any land-yacht body roll. Instead, handling is more akin to a Porsche, while the cabin in this Benz beauty easily channels a Rolls-Royce. This includes a plethora of sumptuous upholstery and lacquer wood trim, as well as firewall insulation and other acoustic-absorbing materials to keep things eerily quiet.
Each front seat has 19 massage motors and 10 individual programs. Among the more than 120 recycled components are tony floor mats made from recycled fish nets and carpet remnants. A tasteful 12.8-inch central touchscreen has a sparkling OLED display. If the standard 15-speaker Burmester stereo doesn't rock your world, a thunderous 30-speaker system with 4D surround sound is available.
Still not sufficiently impressed? Along with an optional refrigerator, there are heated and cooled cup holders. Reach over toward an empty seat or other area at night and an overhead pin light immediately shines down, then douses itself when you remove your hand. And there are 250 interior LEDs, including red ambient door lights that flash when a dangerous traffic situation is detected. Outside, the futuristic door handles—aerodynamically flush and hidden in the side panels—tastefully emerge and begin glowing as you approach the car. Bucking the trend to reduce or completely eliminate sedans from its lineup, Mercedes offers seven of them. These range from the affordable A Class to the fancy S Class flagship that is reviewed here. Sure, at first glance the $112,000 MSRP on an S 500 looks steep. But that sticker price is a bargain when a similarly tricked-out Rolls can easily set you back $500,000.