Hong Kong Gay Games postponed for one year
Organizers cite potential COVID-related travel restrictions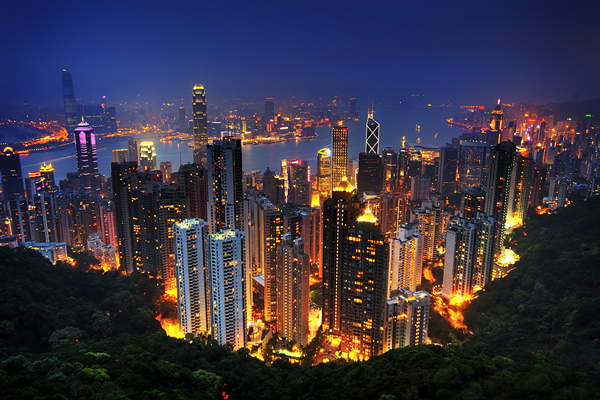 Officials with Gay Games Hong Kong 2022, the committee organizing the quadrennial international LGBTQ sports event scheduled to take place in Hong Kong in November 2022, announced on Sept. 15 that the Gay Games will be postponed for one year due to concerns over the COVID-19 pandemic.
"After much internal deliberation and in consultation with the Federation of Gay Games (FGG) leadership and board, it has been decided that Gay Games 11, originally scheduled for November 2022, will be postponed to November 2023 in Hong Kong," a statement released by the organizing committee says.
"This decision has been made primarily due to the unpredictable progression of COVID variants and the corresponding travel restrictions that continue to make it challenging for participants from around the world to make plans to travel to Hong Kong," the statement says.
"With many parts of the world, including many across Asia, still struggling to contain the virus and facing uneven access to vaccines, we felt that delaying the Games until November 2023 will enhance the likelihood of delivering on our promise to have the Hong Kong Games serve as a beacon of hope for the wider community across the region," it says.
In 2017, when the U.S.-based Federation of Gay Games selected Hong Kong to host the Games it predicted at least 12,000 athletes would participate in 36 sports at the Hong Kong Games. It also predicted that at least 75,000 spectators from throughout the world would turn out in Hong Kong to watch the games and participate in at least 20 accompanying arts and cultural events.
In its statement this week announcing the one-year postponement, the Gay Games Hong Kong committee also referred to opposition to the event expressed by some officials with the local Hong Kong government who are said to be aligned with China.
The Washington Post reported last month that one pro-Beijing lawmaker called the Gay Games "disgraceful" and a "wolf in sheep's clothing" that could violate a strict security law imposed on Hong Kong by China that has led to the arrest and imprisonment of many pro-democracy protesters over the past year. Some have expressed concern that Gay Games spectators from Europe, North America or elsewhere could be subjected to arrest if they make statements critical of China during the Gay Games cultural events.
"Anti-inclusion objections to Gay Games Hong Kong from a small but vocal minority have galvanized the resolve of our 300 volunteers, and brought overwhelming support from the general public, business community and establishment legislators," the Gay Games Hong Kong statement says. "Mrs. Carrie Lam, Hong Kong Chief Executive, has also expressed her support for the spirit of inclusion and diversity of the games," according to the statement.
"We would like to thank everyone for their early support and will ride this wave of positivity to the most successful hosting of Gay Games 11 Hong Kong in 2023," the statement concludes.
D.C. and Guadalajara, Mexico were the two finalist cities competing with Hong Kong to host the 2022 Gay Games. D.C. Mayor Muriel Bowser traveled to Paris in 2017 to join officials with Team DC, the local LGBTQ sports organization that helped prepare D.C.'s bid to host the Games, to deliver D.C.'s final but unsuccessful presentation before the FGG in support of its bid to host the Games.
Under FGG rules and past practice, the finalist city or cities that competed to host the Gay Games are given an opportunity to reinstate their bid in the unlikely event that the city selected to host the Games can no longer serve as the host city.
Brent Minor, executive director of Team D.C., who served as chair of D.C.'s Gay Games Bid Committee in 2017, did not respond to a request from the Blade for comment on whether Team D.C. would consider renewing its effort to push for D.C. to host the Gay Games if Hong Kong were unable to remain as the host city.
Ugandan president signs Anti-Homosexuality Act
Law calls for death penalty for 'aggravated homosexuality'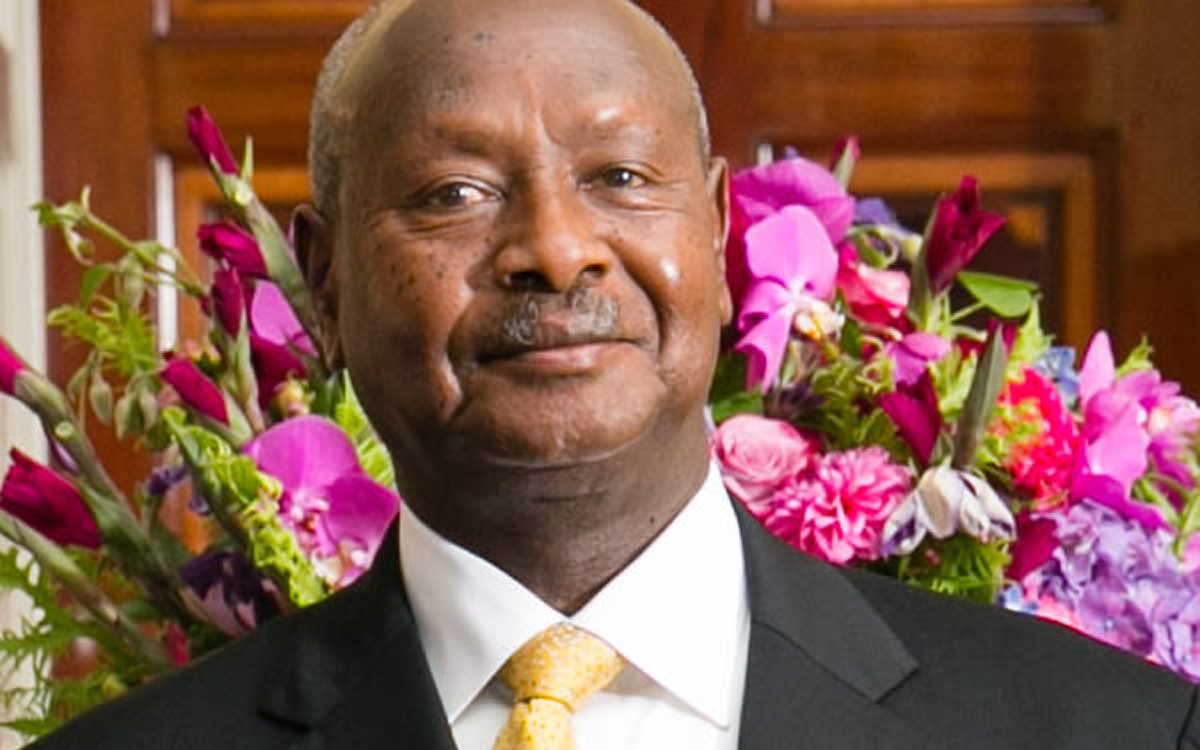 Ugandan President Yoweri Museveni on Monday signed his country's Anti-Homosexuality Act into law.
MPs in March approved the Anti-Homosexuality Act, but Museveni on April 20 sent it back to Parliament for additional consideration.
Lawmakers earlier this month once again approved the measure without provisions that would have required Ugandans to "report acts of homosexuality" and would have not criminalized LGBTQ people simply because of their sexual orientation or gender identity. The second version of the Anti-Homosexuality Act that MPs passed calls for the death penalty for anyone found guilty of "aggravated homosexuality."
"As the Parliament of Uganda, we have answered the cries of our people. We have legislated to protect the sanctity of family as per Article 31 of the Constitution of Uganda," said Ugandan Parliament Speaker Anita Among in a statement after Museveni signed the bill. "We have stood strong to defend our culture and aspirations of our people as per objectives 19 and 24 of national objectives and directive principles of state policy."
Jacqueline Kasha Nabagesara, a Ugandan LGBTQ and intersex activist, described Museveni's decision to sign the Anti-Homosexuality Act as a "dark day for human rights of LGBTQIA+ and allies."
Anti homosexuality bill signed into law by President. Dark day for human rights of LGBTQIA+ and allies.https://t.co/UD3jvVARdi

— Bombastic Kasha (@KashaJacqueline) May 29, 2023
Human Rights Campaign President Kelley Robinson in a statement condemned the law.
"This new law to restrict the rights of LGBTQ+ Ugandans is by far the most horrific display of bigotry we have seen in recent memory in Uganda, and in all of Africa," said Robinson. "The Ugandan Parliament should be ashamed of themselves for considering this draconian law that erases the internationally recognized rights of LGBTQ+ Ugandans, and President Museveni should be condemned for not using the full power of his position to stop it. We at the Human Rights Campaign stand in solidarity with human rights defenders and the LGBTQ+ community in Uganda."
The U.S. President's Emergency Plan for AIDS Relief, UNAIDS and the Global Fund to Fight AIDS, Tuberculosis and Malaria in a joint statement said they "are deeply concerned about the harmful impact of the Ugandan Anti-Homosexuality Act 2023 on the health of its citizens and its impact on the AIDS response that has been so successful up to now."
"Uganda's progress on its HIV response is now in grave jeopardy," reads the statement. "The Anti-Homosexuality Act 2023 will obstruct health education and the outreach that can help end AIDS as a public health threat. The stigma and discrimination associated with the passage of the act has already led to reduced access to prevention as well as treatment services. Trust, confidentiality and stigma-free engagement are essential for anyone seeking health care. LGBTQI+ people in Uganda increasingly fear for their safety and security, and increasing numbers of people are being discouraged from seeking vital health services for fear of attack, punishment and further marginalization."
Museveni, with the support of anti-LGBTQ evangelicals from the U.S., in 2014 signed a version of the Anti-Homosexuality Act that imposed a life sentence upon anyone found guilty of repeated same-sex sexual acts. The law was known as the "Kill the Gays" bill because it previously contained a death penalty provision.
The U.S. subsequently cut aid to Uganda and imposed a travel ban against officials who carried out human rights abuses. Uganda's Constitutional Court later struck down the 2014 Anti-Homosexuality Act on a technicality.
The U.S. last month postponed a meeting on the PEPFAR's work in Uganda in order to assess the potential impact the Anti-Homosexuality Act will have on it. Jessica Stern, the special U.S. envoy for the promotion of LGBTQ and intersex rights, and other American officials have said the Biden-Harris administration is considering "the potential impact of the Anti-Homosexuality Act on U.S. foreign assistance."
Nabagesera and Sexual Minorities Uganda Executive Director Frank Mugisha are among those who challenged the Anti-Homosexuality Act in the Ugandan Constitutional Court after Museveni signed it.
Intersex Kenyans see significant gains since landmark law took effect
MPs approved statute last year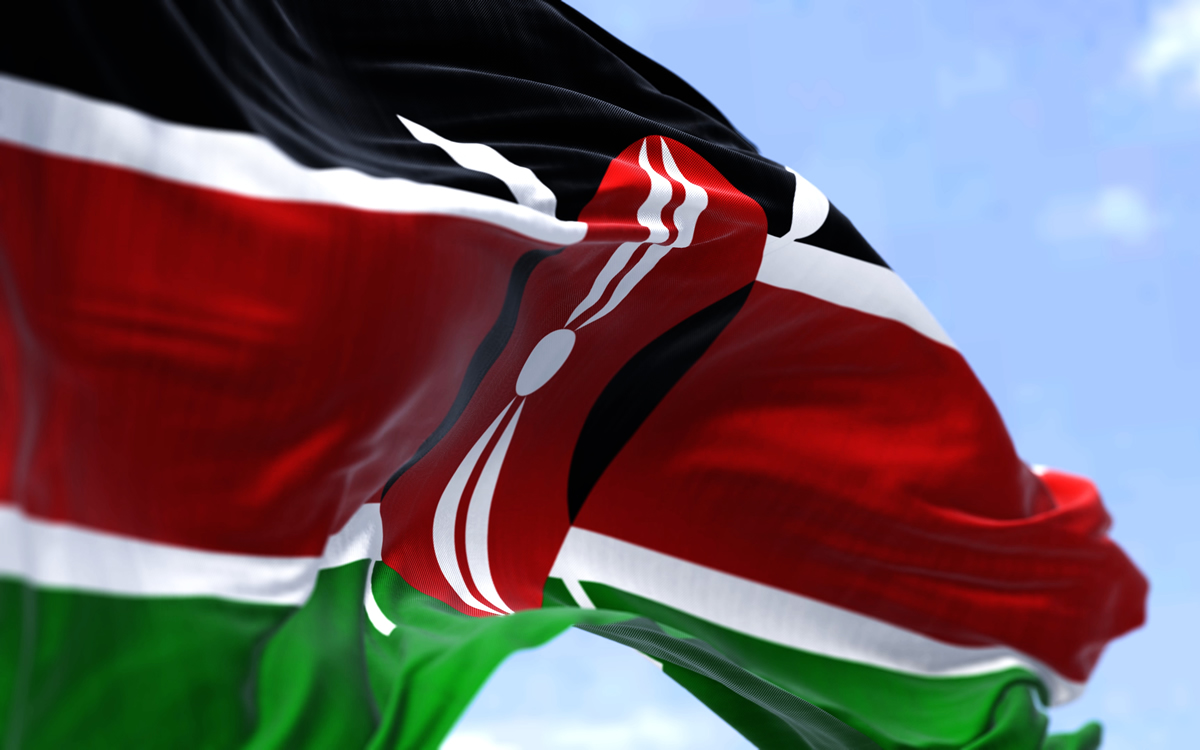 The push for intersex people to enjoy equal rights as Kenya's third sex has recorded significant gains since a landmark law took effect last July.
Intersex people arrested for breaking the law can now be presented in court as intersex, since prosecutors have adopted the special 'I' sex marker for the group in charging documents.
This addresses the problem of authorities identifying intersex people for trial that became public in 2006 when police officers could not tell the sex of a detainee they perceived as a man who had been accused of a violent robbery. They had strip-searched him.
The gains noted in the latest report by the country's Intersex Persons Implementation Coordination Committee also note the inclusion of intersex concepts in Kenya's new education curriculum for awareness.
The IPICC falls under the purview of Kenya's National Commission on Human Rights.
Intersex awareness in schools for recognition and capacity building in the future targets adolescents at the junior secondary level where they are educated on the reproductive system.
Veronica Mwangi, the IPICC's head of secretariat who spoke to Washington Blade, commended the Office of the Director of Public Prosecutions for introducing the 'I' sex marker for intersex people in charging documents.
"We have made gains in the criminal justice but we should not go back to the tendencies where intersex persons only require a lot of attention when it comes to crime. It is a misconception that misses the map," she said.
Citing a proposed Intersex Persons Bill 2023 currently undergoing public comment before being presented for debate in Parliament, Mwangi believes it envisages more benefits to intersex people.
For instance, the bill proposes access to more comprehensive medical attention for intersex people during surgeries and expensive medical examinations like Karyotype, a DNA and hormonal composition test that costs between $900-$1,000.
The bill would also require medical insurance providers to come up with an affordable, unique package that addresses the needs of intersex people by taking into account the reality of their lived experiences.
"The reality of the matter is you may give birth to an intersex child as a girl but later it turns out to be a boy. Hence the medical package that was given to the girl may not apply to the boy," Mwangi said.
She added the medical insurance policy should be capable of responding to such changes, since intersex people will always have medical needs that keep shifting.
The bill would also allow intersex people to change their sex marker at any time to reflect their new status after undergoing a comprehensive medical examination and a medical certificate to prove it. The measure would also demand the government to recognize intersex people as a vulnerable group, such as those living with disabilities, women, young people and orphans, in order to more easily access social protection programs.
It would further require employers to consider intersex people for employment and the Kenya Examination Council to support the registration of intersex people's' academic documents that indicate their name has changed because of a legal sex change.
The Civil Registration Services, a government agency that documenting all births and deaths, has already been working closely with IPICC to change names on the birth certificates of intersex people to reflect their correct sex for easier access to public services.
Kenya became the first African country to grant equal rights and recognition to intersex people in 2022. It is also the first nation on the continent and the second in the world after Australia to count intersex people in a Census in 2019.
The survey showed 1,524 Kenyans were intersex.
After many years of marginalization and discrimination, the IPICC progress report states that several intersex people for the first time were involved in monitoring Kenya's August 2022 general election as observers. Other intersex people subjected themselves to the electoral process to be nominated or elected as county assembly representatives, the lowest electoral position, including one in the Kenyan capital of Nairobi.
"This was a bold move and a big achievement because, for the first time in Kenya, intersex persons came out and tested the waters in politics," Mwangi said.
She cited stigma and fear among intersex people in presenting conflicting documents about their sex to the electoral commission for clearance as the cause of staying away from politics before the enactment of the law that recognizes them. Mwangi urged intersex people to come out and take advance of available opportunities and assistance, since most of them don't and it becomes hard to reach them.
Since the landmark law came into force in July last year; several psychosocial support groups for intersex persons, their parents and caregivers have been established in the country to offer any necessary assistance that includes counselling. The IPICC has also created a database of intersex people, a text message service and a toll-free number to report cases of discrimination and to advocate on their behalf.
Oct. 26, 2022, also marked the first official event that commemorated Intersex Awareness Day in Kenya.
Transgender journalist who enlisted in Ukrainian military returns to D.C.
Sarah Ashton-Cirillo wounded on battlefield in February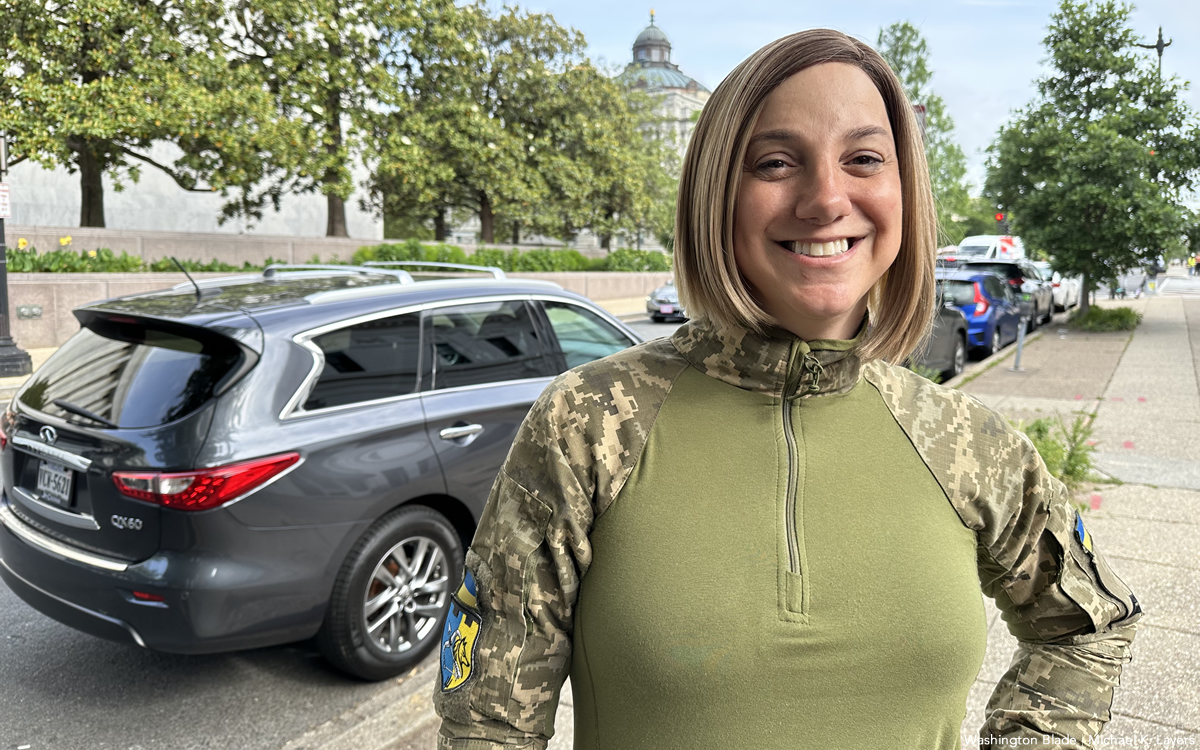 Sarah Ashton-Cirillo was a journalist when she began to cover the Armed Forces of Ukraine's Kharkiv Defense Forces at the beginning of Russia's war against the country. She eventually enlisted, and a commander from the Ukrainian Defense Ministry on Jan. 31 facilitated her transfer to the unit's 209th Batallion of the 113th Brigade.
Ashton-Cirillo, a transgender woman who was born in New York, was working as a senior combat medic in a trench near Kreminna, a Russian-occupied city in eastern Ukraine, on Feb. 23 when shrapnel from an enemy artillery shell wounded her. Ashton-Cirillo suffered injuries to her right hand and to her face, and her fellow soldiers had to wait seven hours to evacuate her. Ashton-Cirillo eventually received treatment for her injuries in Kharkiv, Ukraine's second-largest city that is roughly 130 miles northwest of Kreminna.
"The big key there was I wasn't able to take any painkiller by staying in the trench because I was still technically in battle," she recalled to the Washington Blade on May 19 during an interview that took place at a coffee shop near the U.S. Capitol.
Ashton-Cirillo noted her unit won the battle during which she had been wounded.
"Seven hours after my injury, I finally got to a hospital," she said. "By that point I hadn't taken any antibiotics (because) we didn't have any antibiotics and infection had set in. They took me to a hospital in Kharkiv and they had to clean the wound. They had to wait to make certain that it was healing before they could do surgery."
"I was living with this open wound for eight days," added Ashton-Cirillo, who was in uniform when she spoke with the Blade. "They were able to close my face up on the second day."
Two small scars on her face are visible. She said she has limited mobility in her right hand, and has no feeling from her wrist to her fingers.
"For the most part, I'm so blessed and very lucky," said Ashton-Cirillo.
Ashton-Cirillo now a junior sergeant
The Blade first spoke with Ashton-Cirillo last December while she was in D.C. to speak with lawmakers on behalf of the Ukrainian Defense Ministry about the Armed Forces of Ukraine's medical needs.
Ukrainian President Volodymyr Zelenskyy met with President Joe Biden and spoke to a joint session of Congress less than three weeks after the interview.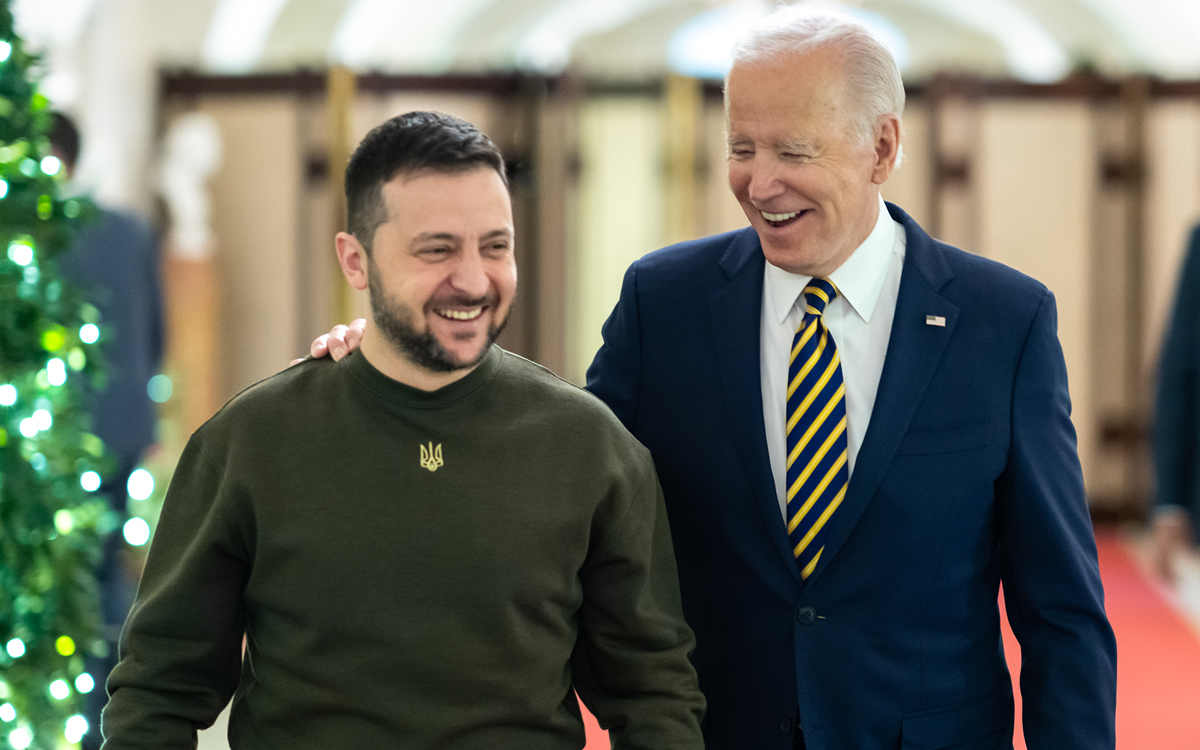 Ashton-Cirillo early last month became a junior sergeant. She returned to D.C. on May 15.
Ashton-Cirillo met with U.S. Reps. Eric Swalwell (D-Calif.), Mike Quigley (D-Ill.) and Steven Horsford (D-Nev.) and aides for U.S. Rep. Michael McCaul (R-Texas) and U.S. Sens. Marco Rubio (R-Fla.) and Jacky Rosen (D-Nev.) before she left the nation's capital on May 19. Ashton-Cirillo also spoke to journalists from the Global South at the National Press Club and met with José Andrés, whose World Central Kitchen continues to operate in Ukraine, and Amnesty International representatives.
"We had some successes on my trip in December," she said. "Members of Congress … in the House and Senate were interested in my experiences regarding my service."
Ashton-Cirillo specifically praised Andrés for his work in Ukraine.
"There is nobody that's done more for our cause," said Ashton-Cirillo. "Nobody has done more to save the Ukrainian people as a foreign civilian than World Central Kitchen and Chef José Andrés."
No timeframe for spring offensive
Ashton-Cirillo sat down with the Blade two days before Zelenskyy met with Biden and other world leaders at the G7 summit in Japan. (Biden met with Zelenskyy in Kyiv, the Ukrainian capital, on Feb. 20.)
Ukrainian officials this week denied Russia's claims that it had captured Bakhmut, a city in Donetsk Oblast. (Ashton-Cirillo last December told the Blade she had previously worked to counter Russian propaganda that claimed Russian troops had captured the city.) The Associated Press reported a group of anti-Kremlin Russian partisans — the Russian government described them as Ukrainian "military sabeteurs" — attacked an area near Belgorod, a Russian city that is roughly 25 miles from the country's border with Ukraine.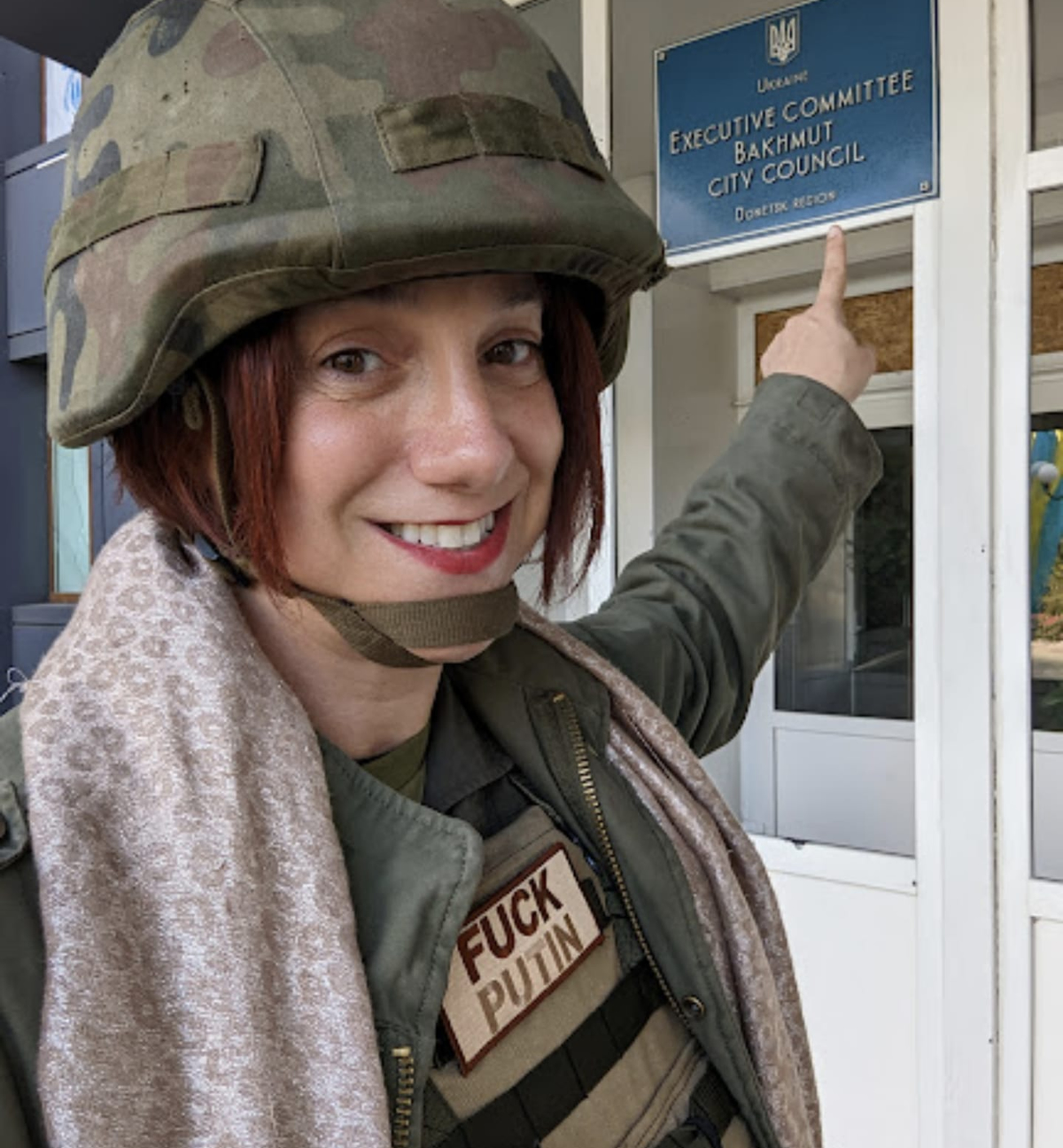 The International Criminal Court in March issued arrest warrants for Russian President Vladimir Putin and Russian Children's Rights Commissioner Maria Lvova-Belova over the abduction of children from Ukraine. Zelenskyy earlier this month visited the ICC while he was in the Netherlands.
Ukraine continues to ask the U.S. and other countries for more weapons as it prepares to launch its long anticipated "spring" offensive.
Patriot missiles on May 16 shot down 29 of the 30 missiles that Russia launched at Kyiv. Ashton-Cirillo said Ukraine specifically needs DPICMs (dual-purpose improved conventional munition), a type of smart munition, "so we can soften up the Russian trench lines."
"I know what these trenches are," she said. "They are going to be absolutely fortified as we attempt our counter attacks and any potential counter offensive."
Ashton-Cirillo said she does not have a "timeframe" for when the offensive to begin.
"We want all the weapons we can get now before launching," she said. "We will beat the Russians under any circumstances and we are we have the history to prove it."
"We're trying to make certain that we're not losing unnecessary Ukrainian lives," added Ashton-Cirillo. "We're not wasting U.S. taxpayer dollars and the best way to do that is have an efficient, effective attack method, and that's why we need some of these more technologically advanced weapons. We can fight with RPGs and our assault rifles, and we'll win, but at high cost, high cost to us, high cost to the American taxpayer. We understand as stewards of the Americans' trust that we have to do everything in a proper way to bring victory as soon as possible."
Gender identity 'less of a spectacle among the international press'
Zelenskyy last summer said he supports a civil partnerships law for same-sex couples. Ukrainian lawmakers later approved a media regulation bill that will ban hate speech and incitement based on sexual orientation and gender identity.
Zelenskyy, a former actor and comedian, in made a broad reference to LGBTQ and intersex rights in a virtual appearance at this year's Golden Globes. Ukrainian Ambassador to the U.S. Oksana Markarova during a Jan. 26 event in D.C. that highlighted Ukrainian LGBTQ servicemembers applauded Kyiv Pride and other LGBTQ and intersex rights groups in her country.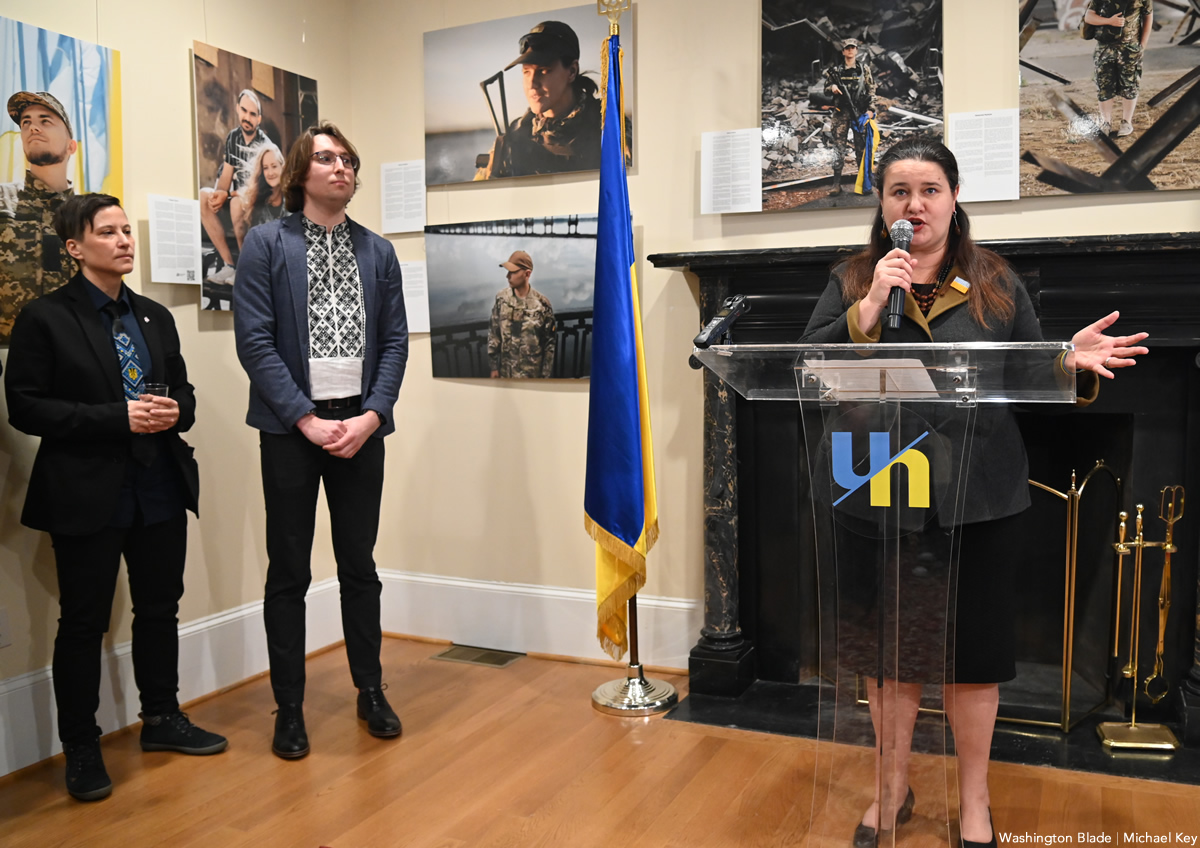 Ashton-Cirillo pointed out the Ukrainian military is creating a group that will work directly with journalists in the country and from around the world. She said the initiative's goals are "to guarantee free speech during war time, to guarantee a clear message based on truth and facts from the journalist standpoint during wartime and also to ensure that we have free speech, and free thought among the press post victory in Ukraine." Ashton-Cirillo also told the Blade that her gender identity is "becoming less of a spectacle among the international press, and that's important to me, too, as well."
"There's no denying I'm trans. I don't hide it," she said. "I'm very proud to be a member of the LGBT community. My work and my focus is on this war, this liberation for Ukrainians and liberty for everyone who cares about freedom, and that includes trans people. That includes Crimean Tatars, that includes any immigrants from the Global South that live in Ukraine."
"This victory will help strengthen the LGBT community around the world because there's going to be one less country that will be able to persecute Ukrainians, LGBTQ members," added Ashton-Cirillo. "We are going to inflict a transformative defeat upon the Russian invaders such that Russia themselves will have to look inward as to the mistakes they've made with human rights … and understand the price that they're paying is very high for things like taking (Wall Street Journal reporter) Evan Gershkovich hostage."
She also said she and her comrades "understand the cascading effect of a Ukrainian a clear transformative Ukrainian victory over Russia will have for human rights around the globe."