D.C. state board calls for LGBTQ-inclusive teaching standards
Sweeping resolution proposing content in curricula approved unanimously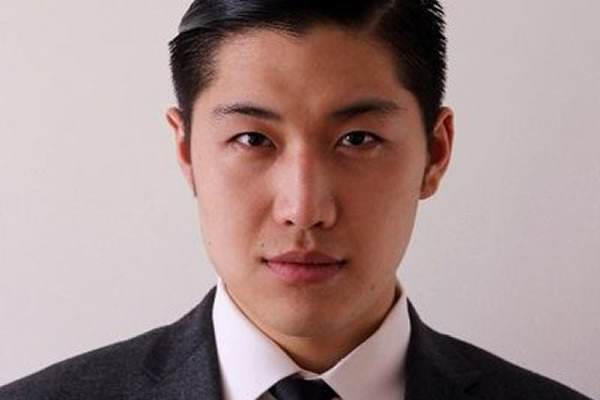 The D.C. State Board of Education voted unanimously on Oct. 20 to approve a resolution calling for LGBTQ+ Inclusive Education Standards for the city's public schools that "reflect on the political, economic, social, cultural, and scientific contributions and experiences of lesbian, gay, bisexual, and transgender people."
The two-page resolution, which was introduced by gay State Board of Education member Allister Chang, who represents Ward 2, cites national research showing that students who have access to LGBTQ+ curricula in their schools "are more likely to report lower frequency of bullying, lower levels of depression, more accepting peers, and greater feelings of safety in school."
The resolution states that research also shows that multicultural education, including the teaching of LGBTQ topics, "helps prevent the formation of bias and prejudice and creates more democratic communities."
LGBTQ rights advocates have long considered the local D.C. government through its mayor and City Council to be highly supportive of the LGBTQ community. But Chang and other supporters of the resolution approved by the board Wednesday night say their research shows that D.C. public schools, while supportive of LGBTQ students, are far behind the school systems in several other states in the inclusion of LGBTQ topics in school curricula.
As an example, supporters of the resolution point out that curriculum standards for social studies classes in the D.C. school system include only one mention of LGBTQ people in a teaching section related to victims of the Holocaust.
Unlike most other cities and states, under current D.C. law, the school system is controlled by the mayor through the D.C. Department of Education, which is headed by a Deputy Mayor for Education and who, in turn and in consultation with the mayor, appoints a State Superintendent of Education who oversees the day-to-day operations of the schools.
Under a change in the education statute approved by the D.C. Council and signed by then-Mayor Adrian Fenty in 2007, the school board, which was renamed the State Board of Education, became a mostly advisory body on education matters with some statutory authority to approve education standards on which school curricula are based.
Thus, the resolution approved by the board on Wednesday "advises" and "recommends" that the State Superintendent of Education develop school curricula, guidance for teachers, and school-based leaders and staff "in providing LGBTQ+ inclusive lessons and practices in their classrooms."
The resolution concludes by recommending that the State Superintendent of Education conduct a survey of students within two years after the Oct. 20 adoption of the resolution "to establish baseline data and to gain an understanding of the current experiences of LGBTQ+ students across the district and what all students know and understand about the contributions and experiences of LGBTQ+ people in the relevant subject areas."
Chang and other members of the State Board of Education noted at the Oct. 20 meeting, which was virtual, that Will Beckerman, who graduated this year from D.C.'s School Without Walls High School, played an important role in conducting the research used to prepare the LGBTQ standards resolution and helped in the drafting of the resolution.
Chang noted that much of the background information used to draft the resolution came from Beckerman's senior year school research paper and advocacy project that focuses on the topic of LGBTQ-inclusive education.
In comments supporting the resolution, Chang also spoke about how the very limited LGBTQ content he encountered during his high school days helped him accept himself as a gay youth.
"As a student myself, I don't remember a single mention of any LGBTQ people in any of my classwork until I read Thomas Mann in my senior year in high school," Chang said. "And in Death in Venice, this Nobel Prize winner touches upon his struggles with homosexuality but never actually names it explicitly," Chang told fellow board members.
"And I remember holding on to this novella despite the self-hatred that's woven throughout this story because it was the first time that I saw this aspect of my identity reflected in my class work," he said. "My hope – and I think this hope comes true with this resolution tonight – is that future generations of LGBTQ students have more opportunities to see themselves reflected in their class work and to feel less isolated by their class work than I did growing up."
It couldn't immediately be determined whether D.C. Mayor Muriel Bowser will endorse the school system changes proposed by the resolution approved by the State Board of Education.
The full text of the resolution follows:
State Board of Education Resolution
On LGBTQ+ Inclusive Education Standards
SR21-7
WHEREAS, the 2019 District of Columbia Youth Risk Behavior Survey found that lesbian, gay, and bisexual students make up 15.9 percent of high school students in the District and transgender students make up1.9 percent of District high school students;
WHEREAS, in the District, these students, in comparison to their heterosexual peers, experience double the rate of bullying on school property, report higher rates of being removed from class for disciplinary reasons, and are more than twice as likely to experience suicidal ideation;
WHEREAS, national data shows that lesbian, gay, and bisexual students are significantly more likely to receive grades of D or F than their heterosexual peers and were more likely to be truant;
WHEREAS, consistent research suggests that students with LGBTQ+ inclusive curricula in their schools are more likely to report lower frequency of bullying, lower levels of depression, more accepting peers, and greater feelings of safety in school—and this safety leads students to report higher attendance, higher GPAs, a greater sense of belonging in the school community, and higher educational aspirations;
WHEREAS, research shows that multicultural education helps prevent the formation of bias and prejudice and creates more democratic communities ;
WHEREAS, the State Board of Education recognizes the need to have revised social studies standards that create "windows and mirrors" so students see themselves and people like them reflected in the content of standards and curriculum, as well as having the opportunity to learn about diverse people, cultures, places, and experiences unlike themselves—explicitly noting that the current standards emphasize the lives of presidents and other figures who held/hold power and under-represent or lack representation of people and groups like those identifying as LGBTQ+, and their respective histories;
WHEREAS, in the State Board of Education's review and revision of the social studies standards, the State Board called upon the Office of the State Superintendent of Education (OSSE) to "seek standards writers who reflect the demographics and experiences of District students and of the communities they are writing about" sharing a list of examples that included writers identifying as LGBTQ+;
WHEREAS, the State Board of Education is committed to ensuring students acquire the knowledge and skills necessary to be engaged global citizens in a diverse democratic society; and,
WHEREAS, the State Board of Education has a commitment to promote equity, introduce policies to reduce disparities between students, and create safe school environments for all students.
NOW, THEREFORE, BE IT RESOLVED THAT, upon the next revision of any District of Columbia state education standards, the State Board of Education should adapt standards, when appropriate, that reflect on the political, economic, social, cultural, and scientific contributions and experiences of lesbian, gay, bisexual, and transgender people;
BE IT FURTHER RESOLVED THAT, the State Board of Education advises the Office of the State Superintendent of Education (OSSE) to provide guidance to teachers and school-based leaders and staff on creating inclusive lessons in science and English language arts (ELA) classes that align with Next Generation Science Standards (NGSS) and Common Core ELA standards, respectively;
BE IT FURTHER RESOLVED THAT, the State Board of Education recommends that the Office of the State Superintendent of Education (OSSE) implement professional development for teachers and school-based leaders and staff to aid them in providing LGBTQ+ inclusive lessons and practices in their classrooms, such that that the professional development includes: workshops for local education agencies (LEAs) and teachers to draft curriculum related to LGBTQ+ topics in their subject areas, lessons on use of inclusive language in the classroom, lessons on ensuring LGBTQ+ students' safety and confidentiality while maintaining respect for their name and pronouns, and mandatory diversity training related to the LGBTQ+ community; and,
BE IT FINALLY RESOLVED THAT, the State Board of Education recommends that the Office of the State Superintendent of Education (OSSE) survey students within two (2) years of adoption of this resolution to establish baseline date and to gain an understanding of the current experiences of LGBTQ+ students across the district and what all students know and understand about the contributions and experiences of LGBTQ+ people in the relevant subject areas.
https://osse.dc.gov/sites/default/files/dc/sites/osse/publication/attachments/2019%20DC%20YRBS%20Report.pdf
Brikett, Michelle et al. "Sexual-orientation disparities in school: the meditational role of indicators of victimization in achievement and truancy because of feeling unsafe." American Journal of Public Health vol. 104, 6 (2014): 1124-8. doi: 10.2105/AJHP.2013.301785
Kosciw, Joseph G., et al. "The 2019 National School Climate Survey: The Experiences of Lesbian, Gay, Bisexual, Transgender, and Queer Youth in Our Nation's Schools." GLSEN, GLSEN, 2020, glsen.org.
Camicia, Steven P. Critical Democratic Education and LGBTQ-Inclusive Curriculum: Opportunities and Constraints. Routledge Focus, 2016.
Camicia, Steven P. "Prejudice Reduction through Multicultural Education: Connecting Multiple Literatures." Social Studies Research and Practice, vol. 2, no. 2, 2007, pp. 219–227.
socstrpr.org/files/Vol%25202/Issue%25202%2520-%2520Summer%25202007/Action%2520Research/2.2.6.pdf
Dignity Washington holds Catholic mass in honor of woman priest
LGBTQ group celebrates its support for ordination of women priests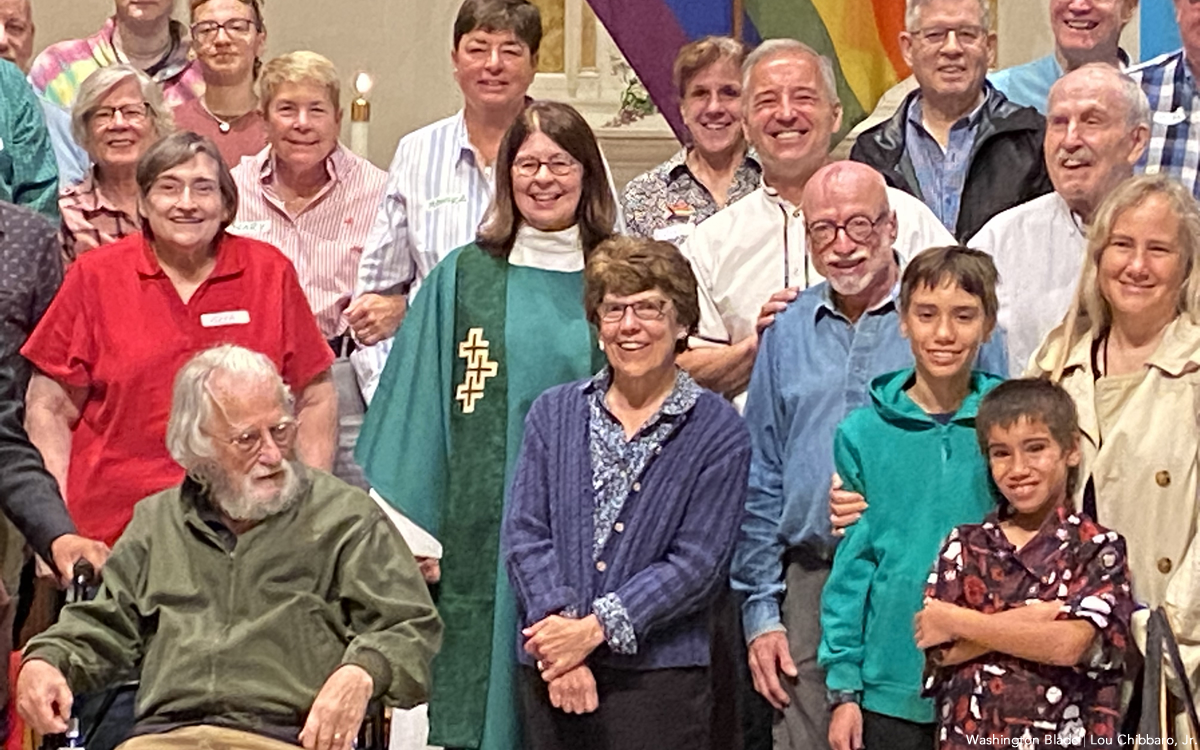 The D.C. LGBTQ Catholic group Dignity Washington says it dedicated its weekly Catholic mass on Sunday, Sept. 24, to honor a woman priest who has served as one of its priests since 2017 in a gesture of support for the women's priest movement.
"This Mass commemorates the ordination of Ann Penick as a Roman Catholic Woman Priest and celebrates the invaluable contributions of women who have served the church in various capacities," the group said in a statement.
"Rev. Ann Penick's ordination as a Catholic priest, and the ordination of female priests like her, represents a step forward in the Catholic Church's ongoing journey towards greater inclusivity and recognition of diverse vocations within its ranks," the statement says. "Dignity Washington is deeply honored to support her ministry and those of other women priests," it says.
The fact that the Dignity mass in honor of Rev. Penick, who presided over the mass, and all of its weekly Sunday masses are held at St. Margaret's Episcopal Church near Dupont Circle highlights the fact that the official Catholic church recognizes neither Dignity nor women priests.
Dignity, a nationwide LGBTQ Catholic group with chapters across the country, is banned from holding any of its masses in Catholic Churches.
Penick told the Washington Blade in an interview the week prior to her saying the Dignity Mass on Sept. 24 that she was ordained as a priest in June 2011 by a woman bishop associated with a breakaway Catholic organization, the Association of Roman Catholic Womenpriests. The organization was formed shortly after three male Roman Catholic Bishops ordained the first known women priests on a ship sailing along the Danube River in Europe in June 2002.
Two of the bishops who publicly disclosed their decision to ordain the women were excommunicated by Catholic Church officials at the Vatican in Rome. The third bishop acted anonymously and is believed to be continuing to serve as a bishop.
One of these bishops subsequently ordained female bishops who, in turn, began ordaining other women Catholic priests in Europe and in the U.S.
Information posted on the Association of Roman Catholic Womenpriests website says it and others associated with the women priest movement believe the ordination of women bishops and priests is valid under the biblical concept of 'apostolic succession."
Under that concept, the spiritual authority that Jesus bestowed on his original apostles has been handed down to subsequent generations of clergy, and the ordained women bishops and priests can pass that spiritual authority on to other female clergy.
A spokesperson for the Catholic Archdiocese of Washington, which oversees Catholic churches in D.C. and parts of Maryland, did not respond to a request by the Blade for comment on the women' priest movement.
Penick, who is married and has two stepchildren with her husband, points out that the women's priest movement has also broken with the official church over the longstanding church requirement that priests practice celibacy and cannot marry.
"The Roman Catholic women's priest movement sees celibacy as a personal calling," Penick told the Blade. "If a woman is personally called to celibacy, she follows that call," Penick said. "But a woman can also be married and have children, and that's always been a vision of the Roman Catholic Women's priest movement."
Penick notes that it was not until the early 1100s that the church put in place a celibacy requirement for its priests.
She has been active in the Catholic Church for most of her life in several states where she has lived and worked. She received a certification in lay ministry from the Diocese of Birmingham, Ala. in 1993, a master's in counseling degree from the University of Birmingham in 1995, and a master's in Pastoral Ministry from Boston College in 2008.
She and her family currently live in Alexandria, Va., and she currently works as a mental health counselor at the Counseling and Psychological Services department at George Mason University in Fairfax, Va. Penick said while living in Maryland she served as a priest for Living Water Inclusive Catholic Community in Catonsville, and currently serves as a priest for the D.C. Living Family Mass Community in D.C. as well as serving as one of Dignity Washington's rotating priests.
"We are so lucky to have her," said Dignity Washington former president Daniel Barutta, who noted that Penick and her husband are Dignity members. "She's just a shining star for women," he said. "And we really hope that Dignity Washington is leading the church, showing the church which direction to go in terms of empowering women and having them as our spiritual leaders."
Barutta said Penick has joined the Dignity Washington contingent in D.C.'s LGBTQ Pride parade and the city's St. Patrick's Day Parade and has led Dignity prayer services on various occasions.
Peter Edwards, Dignity Washington's vice president, said following its Sunday mass that the organization "certainly does affirm that women can serve as priests in our community." Edwards added, "We had a wonderful congregation tonight for a mass in celebration of Rev. Ann."
Sister Jeannine Gramick, co-founder of the Mount Rainier, Md., based LGBTQ Catholic advocacy organization New Ways Ministry, said she believes the fully approved ordination of women priests in the Catholic Church will someday happen.
"There is no theological reason, only cultural ones, why women have not been ordained priests," she said in referring to the official church. "I believe that a Catholic organization that ordains women priests is living out their sincere and deep-seated beliefs and preparing the wider community for what will eventually come to pass,' she said.
"Not all arrive at the destination at the same time, and I admire those with the courage of their convictions who lead the way," she added.
Activists, policy makers mark Celebrate Bisexual Day in D.C.
BiPlus Organizing US hosted event at HRC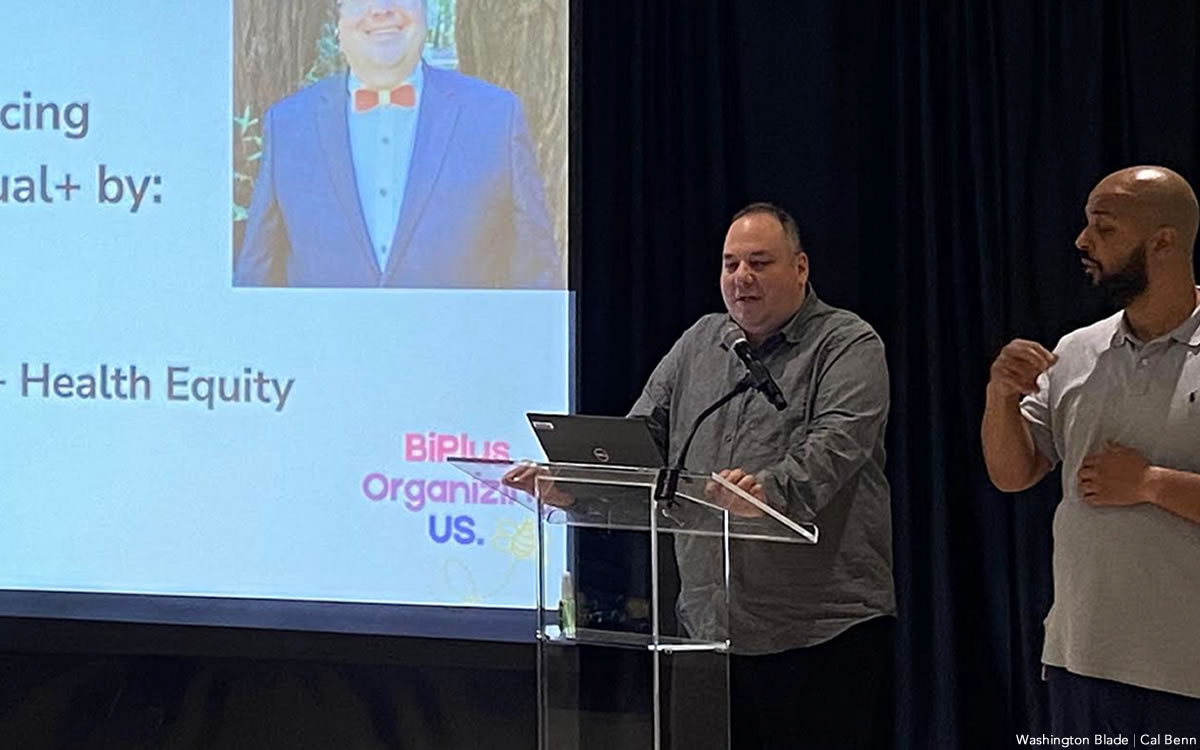 BiPlus Organizing US on Saturday hosted a Celebrate Bisexual Day event at the Human Rights Campaign.
Fiona Dawson, co-founder of BiPlus Organizing US, and Mélanie Snail, committee member of the organization, emceed the event. HRC Senior Vice President of Diversity, Equity, Inclusion and Belonging Rebecca Hershey welcomed attendees.
Heyshey discussed her journey as a bisexual, mixed race, Jewish woman. Hershey paraphrased Adrienne Maree Brown, stating "change is coming, we are creating change."
PFLAG Learning and Inclusion Manager Mackenzie Harte gave a presentation on the history of bisexual identities, defined terms surrounding gender and sexuality and went over statistics of discrimination and health disparities that bisexual individuals face.
Harte's presentation noted 48 percent of bisexual individuals reported an annual income of less than $30,000, compared to 30 percent of gay men, 39 percent of lesbians and 28 percent of all adults in the U.S.
Harte went on to say 28 percent of bisexual students report having attempted suicide; and bisexual people have a higher risk of mood disorders, substance abuse and mental illness than their lesbian, gay, or straight cohorts. Bisexual people of all genders face higher rates of sexual assault than those same peers. One reason for these statistics is isolation: 39 percent of bisexual men and 33 percent of bisexual women report not being out to any health care provider, and only 44 percent of bisexual youth report having an adult they could turn to if they were sad.
Harte also spoke about the Bisexual Manifesto, which the Bay Area Bisexual Network wrote in 1990.
"The bisexual manifesto very intentionally was not binary," Harte said.
They said the text works against the stigma and stereotypes that claim bisexuality is confined to "male, female." 
Tania Israel, a bisexual advocate and psychology professor at the University of California, Santa Barbara, shared some of her bisexual haikus, which she calls, "bikus."
Dawson moderated the next panel.
Panelists included Nicole Holmes, a bisexual advocate and public health professional, National Center for Transgender Equality Communications Director Leroy Thomas and NCTE Policy Counsel Kris Tassone.
The panel talked about how shame and stigma drive the statistics that negatively impact the bisexual community. Another word that came up as a driving force was "intersectionality."
Holmes said that when it comes to intersectionality, it's important to not just "list identities," but to look deep into "the purpose behind why we are talking about intersectional identities" in the first place.
Adrian Shanker, senior advisor on LGBTQ+ Health Equity for the U.S. Department of Health and Human Services, spoke about health equity for the bisexual community.
"Striving for health equity remains a core priority. It also remains an unmet dream," said Shanker. "Queer people have always had to be our own health advocates." While health equity may not be here yet, Shanker says there is much in the works for the LGBTQ community, bisexuals specifically.
Shanker cited a National Cancer Institute funding opportunity that invites research proposals to cancer care for sexual and gender minorities, stating bisexual specific proposals are welcome. The impending potential government shutdown may postpone it.
The Biden-Harris administration is also working to ban so-called conversion therapy at the federal level. Additionally, 988, the national suicide prevention hotline, began a program to offer specialized support for LGBTQ youth and young adults last year.
Shanker said bisexual people should prioritize preventative screenings for skin cancer, oral cancer, lung cancer, regular cervical and anal pap tests, mammograms, prostate exams and colonoscopies.
"If you have a body part, get it screened," said Shanker.
Megan Townsend, senior director of entertainment research and analysis for the GLAAD Media Institute, did a presentation on bisexual representation in the media and opportunities for advancement.
 "I want to see bi+/pan colors displayed on the White House," said Dawson. "I want every national LGBTQIA+ organization to be talking about us, to put our concerns front and center."
The data presented can be found here.
Flight attendants union endorses Sarah McBride
Del. lawmaker would be first transgender member of Congress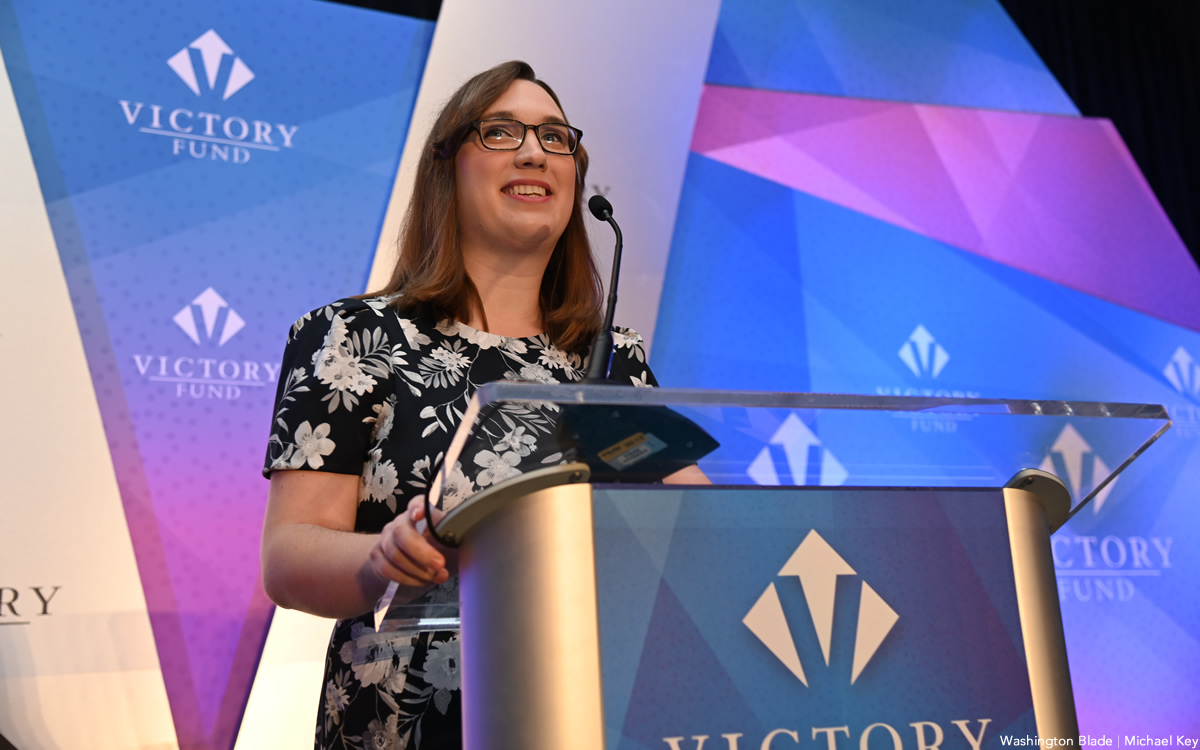 Delaware congressional candidate Sarah McBride has earned the support of the Association of Flight Attendants, the nation's most prominent flight attendant union.
It's the second big labor endorsement for McBride after the United Food and Commercial Workers Local 27's endorsement. The Association of Flight Attendants praised her for spearheading efforts to bring paid family and medical leave to Delaware, which will take effect in 2026.
"Sarah's record in the Delaware Senate shows that she understands how to work collaboratively, build power and make big things happen," the union's president, Sara Nelson, wrote in a press release shared exclusively with the Washington Blade. "That's the kind of leader we need in Congress, and we're proud to endorse her candidacy."
McBride also announced her support for creating a list of abusive passengers and banning them from flying. Each airline has a list of passengers banned from flying, but airlines don't share the lists with each other, though Delta Air Lines has asked them, because of "legal and operational challenges," as a representative for the airline industry trade group Airlines of America told a House committee in September 2021.
"Right now, someone can be violent towards a flight attendant or another passenger and walk directly off of that flight and onto one with a different airline to endanger more people," an Association of Flight Attendants spokesperson wrote in a statement.
The Protection from Abusive Passengers Act would put the Transportation Security Administration in charge of building the database of passengers fined or convicted of abuse and has bipartisan support but has sat idly in committee since March. It failed to pass last year, and civil rights groups including the American Civil Liberties Union have charged that the list would disproportionately target people of color and strip and a better step to reducing hostility would be making flights more comfortable. Reports of defiant and unruly passengers have more than doubled between 2019, before the COVID-19 pandemic, and 2022.
"I thank the Association of Flight Attendants for endorsing our campaign," McBride wrote in the press release. "It's important that we recognize and celebrate the symbiotic relationship between strong, unionized workforces and the continued growth of employers here in our state."
The union representing 50,000 flight attendants across 19 airlines is putting pressure on airlines to grant union demands in contract negotiations. At American Airlines, unionized flight attendants voted to authorize a strike — putting pressure on the airline to accede to its demands. Flight attendants at Alaska Airlines say they are ready to strike but have not voted to authorize one yet. United Airlines flight attendants picketed at 19 airports around the country in August, ratcheting up the pressure.
The union's endorsement adds to a growing list of McBride endorsements, including 21 Delaware legislators, the United Food and Commercial Workers, the Human Rights Campaign, EMILY's List, and Delaware Stonewall PAC. McBride, who would be the first openly transgender politician in Congress, has powerful connections in Washington — including with the White House — and is favored to win Delaware's lone House seat.
A poll commissioned by HRC shows her leading the pack of three candidates vying for the seat — 44 percent of "likely Democratic voters" told pollster company Change Research, which works with liberal organizations. The poll of 531 likely Delaware Democratic primary voters, though, was conducted only online — meaning those with less familiarity or access to the internet may not have been counted — and Change Research's methodology for screening likely voters is unclear. The company also did not provide a breakdown of respondents by age, gender, and race, but says it uses an algorithm to make the results representative.
Nelson said McBride's time in Delaware's state Senate shows her prowess in building power and working collaboratively.
"That's the kind of leader we need in Congress, and we're proud to endorse her candidacy," she wrote.