Dignity Washington opens new center in Dupont Circle
Proceeds from sale of old building used to expand programming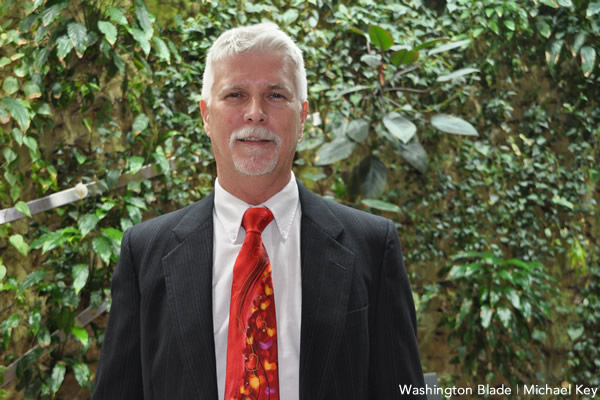 The local LGBTQ Catholic organization Dignity Washington recently opened its new Dignity Center office and community meeting space at a Dupont Circle condominium building that includes first-floor offices for small businesses and community organizations.
Dignity Washington President Tom Yates said the new space at the Imperial House condominium building at 1601 18th Street, N.W., is currently being used as Dignity's office headquarters and for meetings of the group's board and committees. He said as COVID-related restrictions are relaxed the space will be used for various events and possible use by other LGBTQ community organizations.
Yates said the group purchased the 1,700-square-foot office space in March of this year, eight months after selling its former Dignity Center building at 721 8th St., S.E., in the Barracks Row section of Capitol Hill. Dignity officials have said the Capitol Hill building was larger than the space the group needed and the proceeds from its sale would provide funds to expand its programs.
"Dignity Washington, making use of the fiscal support made possible by the change of properties, hopes to become more active speaking truth to power of the Catholic Church," Yates told the Blade. "The new facility is only a handful of blocks from the Cathedral of St. Matthew," he said, referring to one of the city's largest Catholic churches.
Noting the Catholic Church's historic lack of support for the LGBTQ community, Yates said the proximity of the new Dignity Center would help the group's mission of showing "the local same-sex community that one can be both Catholic and same-sex loving."
Yates said Dignity Washington, founded in 1972, is the largest chapter of the national LGBTQ Catholic organization Dignity USA.
Dignity Washington, among other things, organizes a weekly 6 p.m. Sunday Mass for LGBTQ Catholics and their friends and families at St. Margaret's Episcopal Church at 1830 Connecticut Ave., N.W.
ANC postpones decision on license for Capitol Hill queer bar
As You Are Bar in negotiations over 'settlement agreement'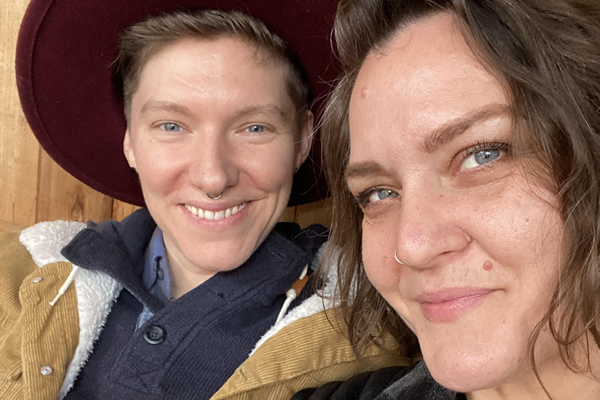 The Capitol Hill Advisory Neighborhood Commission ANC 6B has decided to postpone until Jan. 25 its decision on whether to support or oppose a liquor license for the queer-owned As You Are Bar, which hopes to open in a two-story building at 500 8th St., S.E. in a commercial area known as Barracks Row.
The postponement followed a Jan. 6 virtual community meeting organized by ANC 6B to obtain community input on As You Are Bar's license application. More than 120 people participated in the meeting, with about an equal number expressing support and opposition to the license.
Lesbian activists and small business advocates Jo McDaniel and Rachel Pike, the founders and co-owners of As You Are Bar, pointed out at the meeting that they are actively taking steps to soundproof the building to ensure their plans to operate a dance bar with music from a DJ on the second floor will not disturb nearby residents.
The two have said the upstairs dance bar and a café they plan to open on the first floor during both daytime and evening hours will be an inclusive space that "welcomes anyone of any walk of life that will support, love, and celebrate the mission of queer culture." McDaniel told the Blade in December that she and Pike, who are partners in life as well as business partners, will seek out "people of all ages, gender, sexual identity, as well as drinkers and non-drinkers" as customers of As You Are Bar.
Several people who said they live within the boundaries of ANC 6B as well as near the site of As You Are Bar expressed strong support for the proposed license during the virtual meeting, saying the bar would be an asset to the neighborhood. Others, however, expressed concern that opening a dance bar at a site close to nearby houses would result in excessive noise, parking problems, and other disturbances that have been caused by previous businesses operating in the same building.
ANC 6B Chair Brian Ready told the meeting he has called on his fellow ANC members to base their decision on whether to support the As You Are Bar license on its individual merits and not to hold As You Are Bar responsible for the bad actions of other businesses that operated in the building in the past.
Ready and other ANC 6B members said they wanted to put off their vote on whether to support or oppose the As You Are Bar license until Jan. 25 to allow more time for the ANC and McDaniel, Pike, and their attorney to negotiate a settlement agreement that would result in the ANC supporting the license.
Settlement agreements, which are widely used between bars, restaurants, nightclubs and other nightlife businesses and Advisory Neighborhood Commissions, often include restrictions related to the operating hours of bars and nightclubs. They sometimes ban dancing and live entertainment, which are activities that ANC officials claim would create a neighborhood disturbance.
McDaniel and Pike have said they would like their dance bar to remain open until the legal D.C. closing hour of 3 a.m. on Friday and Saturday nights. At least one nearby neighbor attending the Jan. 6 ANC community meeting said dancing should either be banned or required to end much earlier than 3 a.m.
McDaniel told the Blade on Tuesday that she and Pike believe a demonstration of their soundproofing renovations in the upstairs space where the dancing is planned will convince neighbors that noise from the music will absolutely not spill out into the neighborhood. But McDaniel said the nationwide supply chain problem caused by the COVID pandemic has resulted in delays in the delivery of soundproofing curtains that As You Are Bar will place over the upstairs windows. She said she's hopeful that the curtains and other equipment will be delivered prior to the Jan. 25 ANC meeting in which a vote on the license is planned.
Although the city's Alcoholic Beverage Control Board will make the final decision on whether to approve the license, a decision by the ANC to oppose a license through an official "protest" vote could delay the ABC Board's final decision on the license by four months or more.
Local nightlife business advocates have said ANCs and residents of adjoining properties, who also have a legal right to a license protest, sometimes file such protests with the deliberate intention of forcing a bar, restaurant or nightclub into bankruptcy due to the extensive legal overhead costs associated with contesting a license protest.
"The outpouring of support for this establishment among 6B residents and city-wide is amazing," As You Are Bar attorney Richard Bianco told the Hill Rag newspaper. "We know the ANC hears those voices and are confident that they will consider all constituents and not just the demands of a few loud naysayers," he said.
D.C. police release video of suspect in shooting of gay man
Victim attacked outside store next to Georgia Ave.-Petworth Metro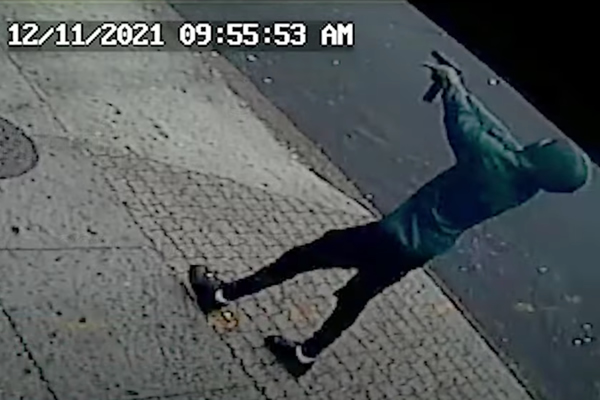 D.C. police are seeking help from the public in identifying a "person of interest" in connection with the Dec. 11 shooting of a gay man outside a store next to the Georgia Avenue-Petworth Metro station.
A video released by police shows a male suspect pointing a gun in the direction of where D.C. resident Larry Henderson, 36, was standing when he was shot in the hip.
Henderson, who spent nearly two weeks at MedStar Washington Hospital Center undergoing surgery to treat his gunshot wound, said the suspect initially pointed the gun at his groin, prompting him to turn his body around, resulting in a single gunshot in the hip area.
A police incident report says Henderson was hit by a male suspect who fired nine shots into a crowd where Henderson was standing on the 3700 block of Georgia Avenue, N.W. just before 10 a.m. on Dec. 11.
"The subject was captured by a nearby surveillance camera," according to a police statement sent to the Blade on Jan. 4. "Anyone who can identify this individual or who has knowledge of this incident should take no action but call police at (202) 727-9099 or text your tip to the Department's TEXT TIP LINE to 50411," the statement says.
"The Metropolitan Police Department currently offers a reward of up to $10,000 to anyone who provides information that leads to the arrest and conviction of the person or persons responsible for a violent crime committed in the District of Columbia," the statement points out. It says anyone contacting police with information about the shooting incident involving Henderson should refer to case CCN #21-180-648.
Kevin McDonnell, Henderson's partner, said Henderson told him and police that the shooter did not say anything and did not attempt to rob him. McDonnell told the Blade that because he and Henderson frequently patronize the stores and shops surrounding the area where the shooting occurred and sometimes exhibit affection toward one another, he believes the shooter may have perceived Henderson to be a partner in a gay relationship and targeted him for a hate crime.
The police report says the incident is not listed as a suspected hate crime, a designation that McDonnell has questioned.
"It's no accident that that guy pointed his gun at his genitalia," McDonnell said. "And had LD not pivoted it would be a different story," said McDonnell, who refers to Henderson by his nickname LD.
D.C. police spokesperson Alaina Gertz told the Blade in a Jan. 4 email that the case remains under "active investigation."
McDonnell said a detective working on the case told him hate crimes are often difficult to prove and there did not appear to be sufficient evidence to classify the case as a hate crime.
He and Henderson told the Blade in a phone interview on Tuesday that the D.C. LGBTQ community services center Casa Ruby was helping Henderson apply for financial assistance with the D.C. Superior Court's Crime Victims Compensation Program. Henderson said the gunshot wound has resulted in his having difficulty walking and could impair his ability to do routine daily functions.
The video released by D.C. police can be viewed here:
Mid-Atlantic Leather Weekend returns to D.C. Jan. 13-17
Organizers decide against cancellation despite surge in COVID cases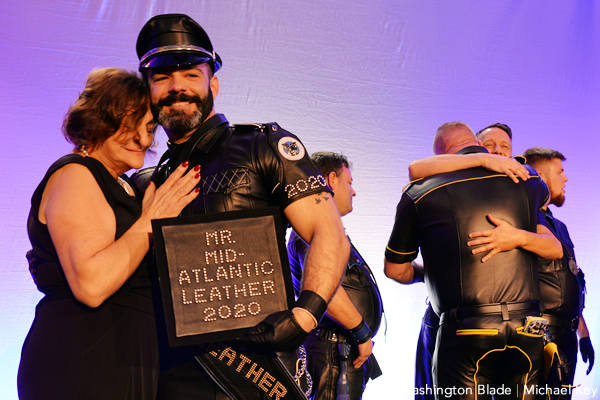 The D.C.-based Centaur Motorcycle Club announced on Jan. 2 that its members had voted to hold its annual Mid-Atlantic Leather Weekend events in Washington, D.C. as planned Jan. 13-17.
The announcement came at a time when other large events in D.C. and across the country are being canceled due to a surge in the number of people testing positive for the COVID-19 Omicron strain.
An earlier announcement posted on the event's website describes the Mid-Atlantic Leather, or MAL Weekend, as an event "that attracts thousands of leather men, kinksters, fetish-lovers and curious spectators from all over the world."
That announcement says this year's MAL for the first time is being organized in a partnership between the Centaur Motorcycle Club, which started the annual MAL events, and the leaders of four prominent D.C. event production companies affiliated with some of the city's largest nightclubs.
It also says proof of COVID vaccination or a negative COVID test within the previous five days will be required for entry to all events.
"We acknowledge that it is each individual's personal choice to attend the Mid-Atlantic Leather Weekend 2022," the motorcycle club says in its Jan. 2 announcement. "More details are to come and will include any additional rules, restrictions, or other changes to help make the weekend as safe and fun as possible."
The MAL website also says that the Hyatt Regency Hotel on Capitol Hill, which serves as the event's headquarters hotel, and the nearby Phoenix Park Hotel have agreed to refund any room deposits for MAL weekend guests who decide to cancel their reservations.
Among the event company leaders who are producing five of this year's MAL events are Dougie Meyer of Dougie Meyer Presents, Jimmy Martin of JMar Productions, Jesus Quispe of La Fantasy, and Zach Nalbone of Takeover Presents, who collectively have created a team called KINETIC to jointly produce the events for Centaur Motorcycle Club.
"Whether you're a jock, bear, wolf, otter, or any other member of our community, all are welcome to unleash their urges on the largest dance floors MAL has ever seen," the announcement quotes Meyer as saying.
"We have secured the city's best and most colossal venues for KINETIC: MAL Weekend," Quispe says in the announcement. "There will be lots of dancing, cruising, and sliding into one another," the announcement quotes Quispe as saying.
One of the weekend's largest dance events called "KINK," scheduled for Saturday night, Jan. 15 at D.C.'s Echostage nightclub, "will feature live fetish acts, epic performances, and more chains and whips than can be imagined," a statement released by MAL organizers says.