Va. school board names new chair who called for burning books
Kirk Twigg backed torching of materials with "sexually explicit" content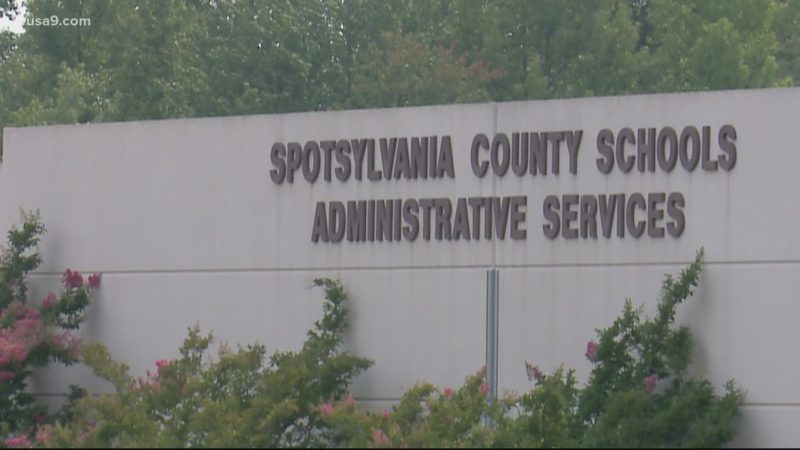 The Spotsylvania County School Board voted Monday to name Kirk Twigg, who advocated for burning books he deemed "sexually explicit" in November, as its new chair. 
His win gives conservatives the majority on the board as Republicans across the country continue an effort to ban books dealing with LGBTQ issues and racism from schools.
Spotsylvania County has been involved in the controversy from the beginning, voting last year to remove books containing "sexually explicit" materials — only to rescind the order a week later.  
Monday's board meeting, Twigg's first as chair, would prove to be disorganized and, at times, unruly.
Twigg's first order of business was to call an unscheduled, closed-door session, which may have violated Virginia's open meeting requirements. According to Virginia Code, a closed meeting cannot be called without a public body approving a motion that states the subject matter and the purpose of the meeting, as well as an applicable exemption from open meeting requirements.
After the board returned from the closed-door session, Twigg said well-regarded Superintendent Dr. Scott Baker would be fired without cause. Baker had already announced he would be resigning at the end of the school year in December.
After Baker decided to resign, a longtime Spotsylvania resident penned a letter in the Free Lance-Star, calling him "the finest superintendent, by far."
"Dr. Baker is trusted and respected by parents, students and employees of Spotsylvania Schools; and he never lost sight of his mission for good reason," it read. "He did so despite the noise and disruption from those few board members dedicated to bringing political disruption and dissidence into our public educational system. Shame on the few."
As Twigg made the announcement, another member of the board interrupted him, saying: "Um, Mr. Twigg, no he is not. You need to make a motion — there needs to be a motion and a vote."
Board members continued to speak over each other as conservative members attempted a vote. But Board Member Nicole Cole told the chairman she had comments.
"I believe that the board members who have lodged this termination owe our citizens and our students of Spotsylvania County a justification for firing Dr. Baker," said Cole. "You have not stated any justification or ability to fill the position. How is this good for the students, the children of Spotsylvania? How does this make sense?"
In a rebuke of the chaotic meeting, she added that Twigg "couldn't even properly chair a meeting."
After approximately 7 minutes of heated discussion where members from both sides got noticeably frustrated, the board voted 4-3 to fire Baker.
Twigg, Lisa Phelps, April Gillespie and Rabih Abuismail, who also advocated for burning books, voted in favor.
The Free Lance-Star reported that Baker was escorted from the building before the board returned from the second closed-door meeting.
An emergency meeting has been scheduled for Friday to name an interim superintendent.
"It's just very sad to hear that a superintendent who has been fully engaged in this community for 10 years is just let go with no rhyme or reason," said Board Member Dawn Shelley, while noting Baker's accomplishments.
Va. students stage mass walkout over anti-LGBTQ policies
Activists from more than 90 schools across state hold rallies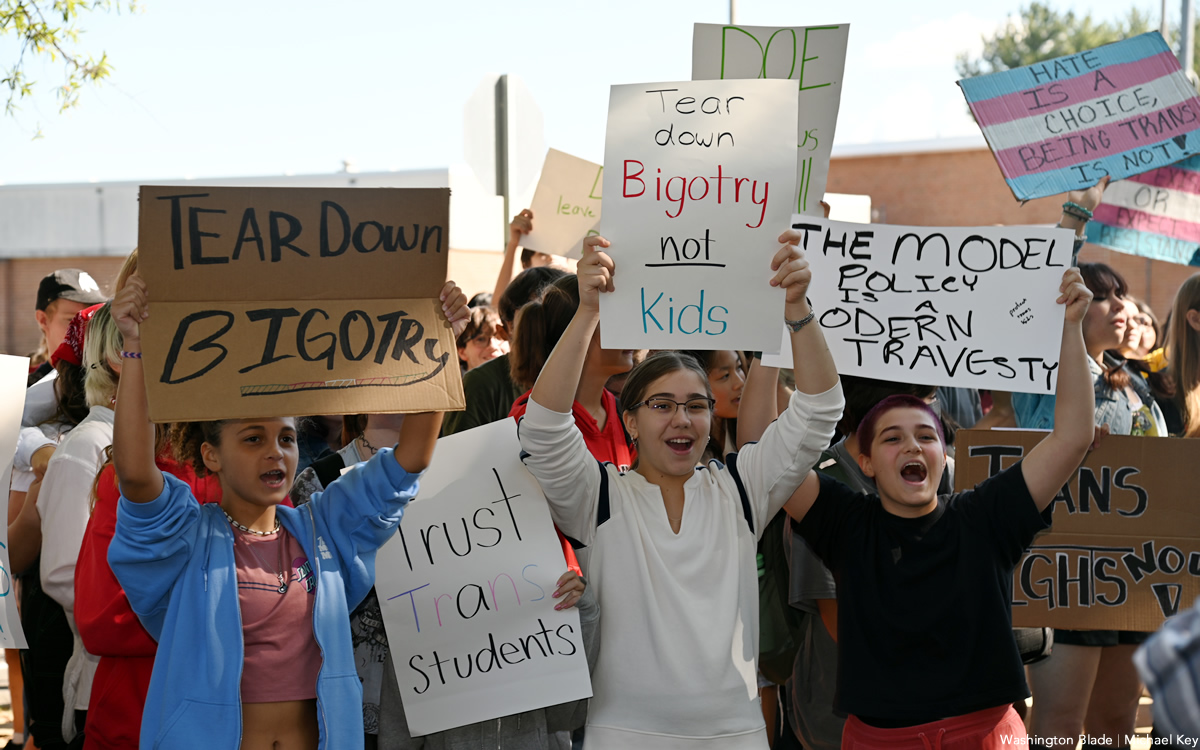 Thousands of students in schools across Virginia participated in walkouts and rallies on Tuesday to oppose the revised "model policies" on transgender students released by the Virginia Department of Education.
VDOE policy revisions were released on Sept. 16 and differ substantially from the policies passed into law in 2020.
The original policies on the treatment of trans students were intended to protect LGBTQ students; but the revised "model policies" have been criticized by activists, educators and legislators for mandating students use school facilities for the sex they were assigned at birth and bars students from changing their names and pronouns without parental permission. Further, the policies direct teachers and staff not to conceal a student's gender identity from parents, even when a student asks to keep that information private.
The student-led Virginia-based Pride Liberation Project responded to these policy changes by organizing mass walkouts and rallies in more than 90 schools from Alexandria to Williamsburg.
"These proposed guidelines are essentially taking that cornerstone and using it to undermine our rights. If these guidelines are implemented, it will be the single biggest loss for queer rights in Virginia in years," Natasha Sanghvi, a student organizer with the Pride Liberation Project, said in a statement.
Openly gay Virginia state Sen. Adam Ebbin (D-Alexandria) in a statement said "these new model policies, which are in flagrant violation of Virginia law, will do serious harm to transgender students. They are not based in science or compassion and will lead to students being outed before they are ready, increased bullying and harassment of marginalized youth, and will require students to jump through legal hoops just to be referred to with their proper name."
Ebbin joined several hundred students at West Potomac High School in Alexandria in a rally opposing the model policies proposed by Republican Gov. Glenn Youngkin.
"The new policy drafts are only going to do more harm to trans students who are already at risk for being outed, harassed and harmed," Jules Lombardi, a Fairfax County high school senior, told the Washington Blade. "These drafts will take schools, which are supposed to be safe environments for students, and make them spaces where students have to hide themselves for fear of their parents finding out about their identities."
"This isn't a matter of 'parental rights,' it's a matter of human rights and we deserve to be treated with the same respect as cis students," Lombardi added.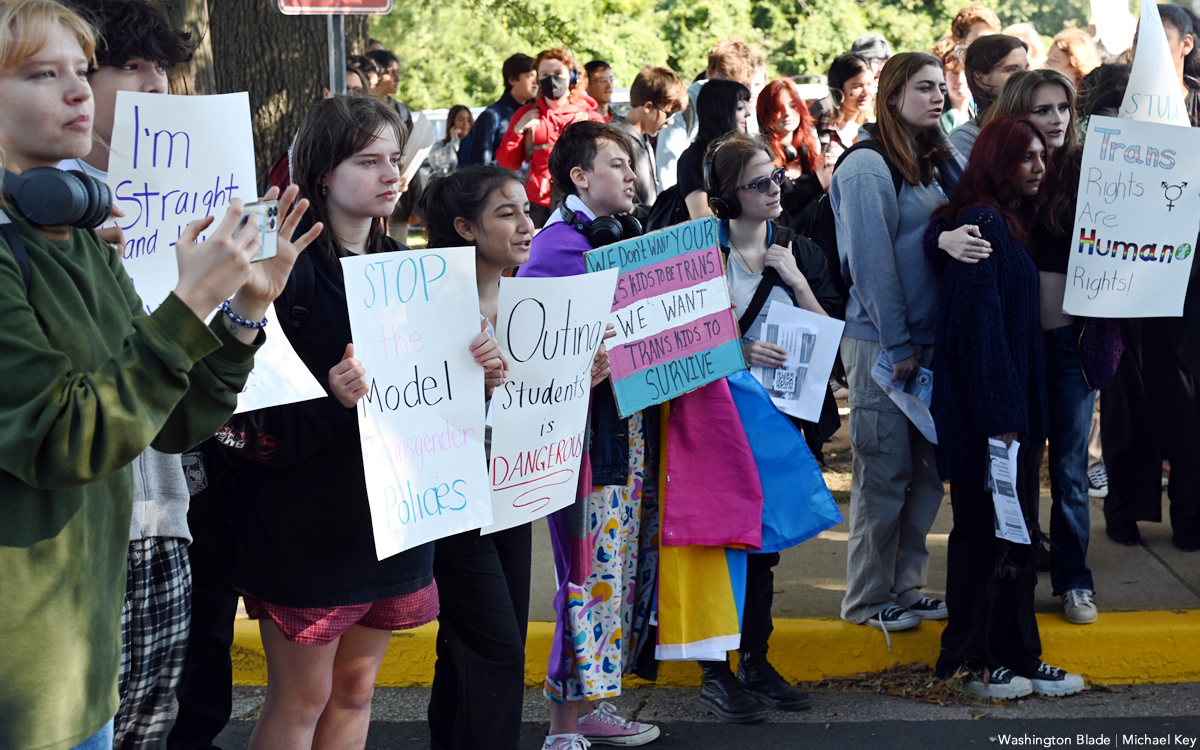 Andrea-Grace Mukuna, a senior at John R. Lewis High School in Springfield, told the Blade that "gender affirmation matters. Something so easily given to cisgender people is a right that our trans and gender non conforming youth deserve. I am walking out because schools will no longer be a safe place for queer students to be in if these policies get passed."
"Requirements for teachers to refer to students by their birth name and pronouns aligning with their sex, rather than trusting our students to know themselves and who they are best, reinforces the idea that we as students have no power, no control and no knowledge over anything in our lives. Gender queer youth exist, and no policy can change that," Mukuna said.
Mukuna continued, "making an attempt at denying them their ability to be who they are is a malicious attack on vulnerable students that could cause deathly harm."
"I walk out for my queer community — there is no erasing us," Mukuna said.
Several hundred students walked out of McLean High School. The walkout was lead by members of the school's GSA and organizers from the Pride Liberation Project including McLean High School senior Casey Calabia.
Calibia asked the crowd, "Do we want Gov. Youngkin to understand that this is not what Virginia looks like?"
The crowd roared, "yes!"
"Virginia stands for trans kids. Trans and queer people are a fact of humanity. We will be accepted one way or another and to see everybody here today is another step toward that change," said Calibia through a bull horn.
Calibia told the Blade in a pre-walkout statement said "to call these policies in favor of respecting trans students' rights and privacy is to call an apple an orange. The 2022 Transgender Model policies, even as a draft, have begun to actively hurt my community's mental health."
"Instead of focusing on academics and our future, we have to sit in class and wonder if we will be safe in school," Calibia concluded. "To not only take away the 2021 policies, a cornerstone in LGBTQIA+ rights for Virginia, but to mock them with these replacements, is a devastating blow to myself, trans students, queer students, and the whole of Virginia's public school student body. How can we be safe, if we can be taken out of school-provided counseling, maliciously misgendered, and denied opportunities given to other students simply because of our gender? Accepting queer students in class does not indoctrinate or brainwash kids. It tells queer students like me that it is okay and safe to be ourselves in school."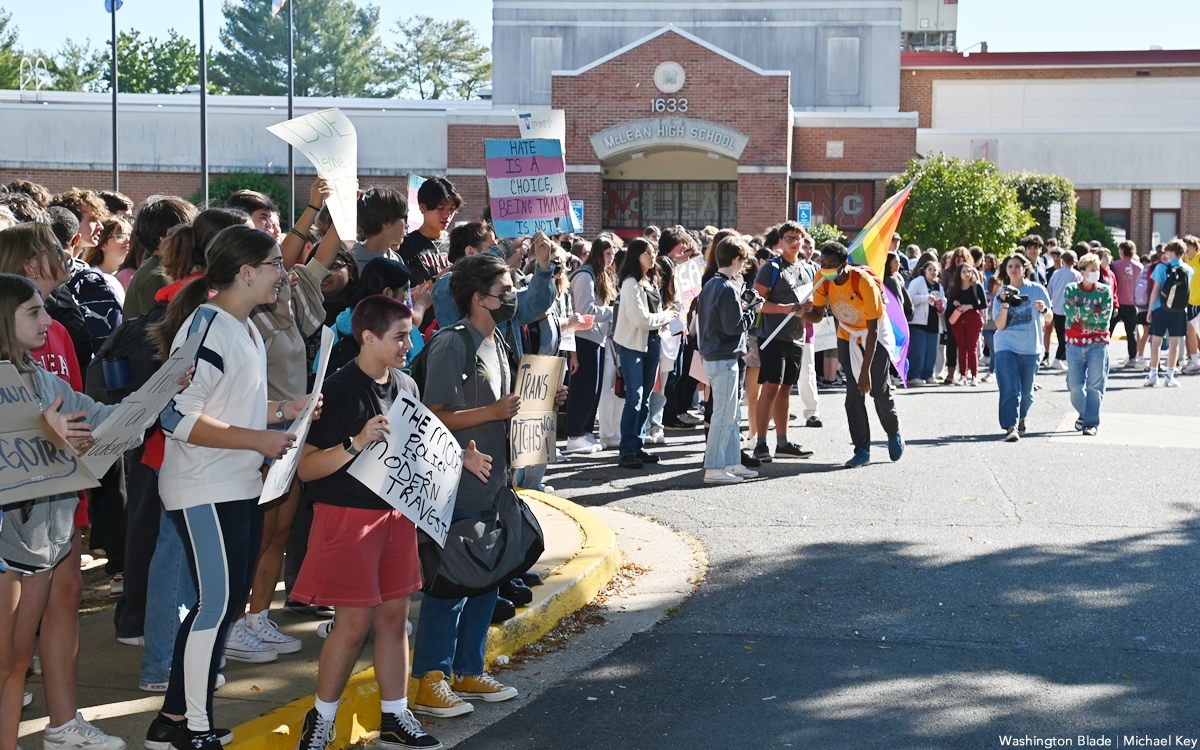 The student protests in Virginia have made national news.
"This is a president who supports the LGBTQI+ community and has been supporting that community for some time now as a vice president, as senator, and certainly as president now," said White House Press Secretary Karine Jean-Pierre in response to a question about the protests during her daily press briefing. "And he . . . always is proud to speak out against the mistreatment of that community … We believe and he believes transgender youth should be allowed to be able to go to school freely, to be able to express themselves freely, to be able to have the protections that they need to be who they are."
"When it comes to this community, he is a partner, and he is a strong ally, as well as the vice president," Jean-Pierre stated.
Walkouts and rallies were held at middle and high schools in Arlington, Bedford, Buchanan, Chesterfield, Culpeper, Fairfax, Fauquier, Frederick, Henrico, James City, Loudoun, Louisa, Montgomery, Powhatan, Prince George's, Prince William, Spotsylvania, Stafford, Warren and York Counties as well as in the cities of Alexandria, Chesapeake, Newport News, Portsmouth, Richmond, Williamsburg and Winchester.
"Every parent wants Virginia's laws to ensure children's safety, freedom, and to encourage a vibrant and engaging learning experience. But the Virginia Department of Education is rejecting those shared values by advancing policies that will target LGBTQ kids for harassment and mistreatment simply because of who they are," said Ebbin.
Whitman-Walker wins $280,000 grant to support LGBTQ immigrants
Providing legal resources for migrants facing persecution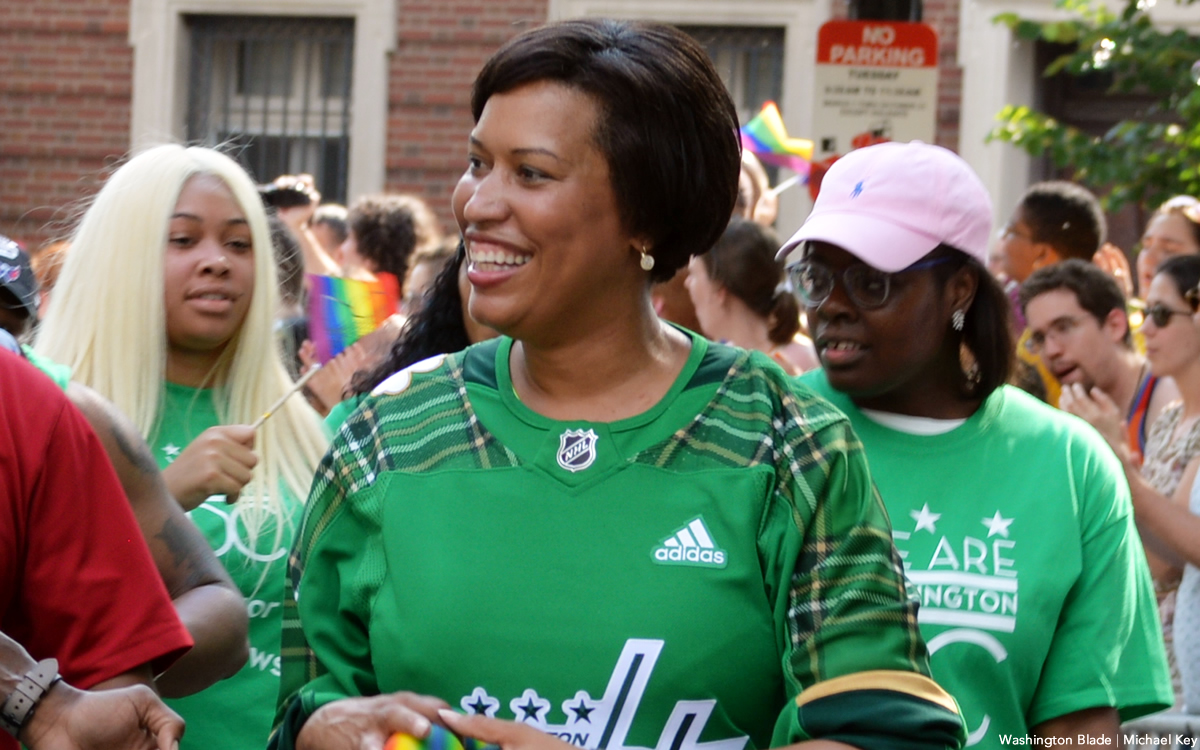 Whitman-Walker Health, which provides medical as well as legal services for the D.C.-area LGBTQ community, was among 25 community-based organizations to receive a grant from the D.C. government earlier this month to provide legal support for immigrants.
Amy Nelson, director of Whitman-Walker's legal department, said the $280,000 grant it received from the city for 2023 marked the fifth year in a row that the city has supported its work in providing legal support for LGBTQ immigrants arriving in D.C. from countries in Latin America as well as Asia, Africa, and Europe.
"We help people file for U.S. asylum on grounds of HIV, sexual orientation, and gender identity," Nelson said. "Most of our cases now are trans women from Central America," Nelson told the Blade. "But we also have people from Cameroon, Russia, and Jamaica."
She said Whitman-Walker currently has about 150 open cases, including cases handled by outside attorneys working on a pro bono basis.
Nelson said Whitman-Walker's legal team has provided legal advice to some of the migrants arriving by bus to D.C. that the governors of Texas and Arizona have sent in recent months. But she said most of those arriving by bus from the two states plan to leave D.C. for other parts of the country.
A Sept. 16 statement released by the office of D.C. Mayor Muriel Bowser says the mayor's fiscal year 2023 budget allocated a total of $3.5 million for grants from the city's Immigrant Justice Legal Service (IJLS) grant program to 25 local organizations, including Whitman-Walker.
"Over the years, the IJLS program has not only benefited DC's immigrant residents, it has also helped us advance our DC values and strengthened the capacity of legal services providers and pro bono attorneys," Bowser said in the statement.
"Having a lawyer can make the difference between having legal status and living in the shadows, and I am incredibly grateful for the community organizations who have worked with us to make the IJLS program a success," she said.
Bowser pledges continued support for LGBTQ community if re-elected
Mayor addresses local LGBTQ Democratic group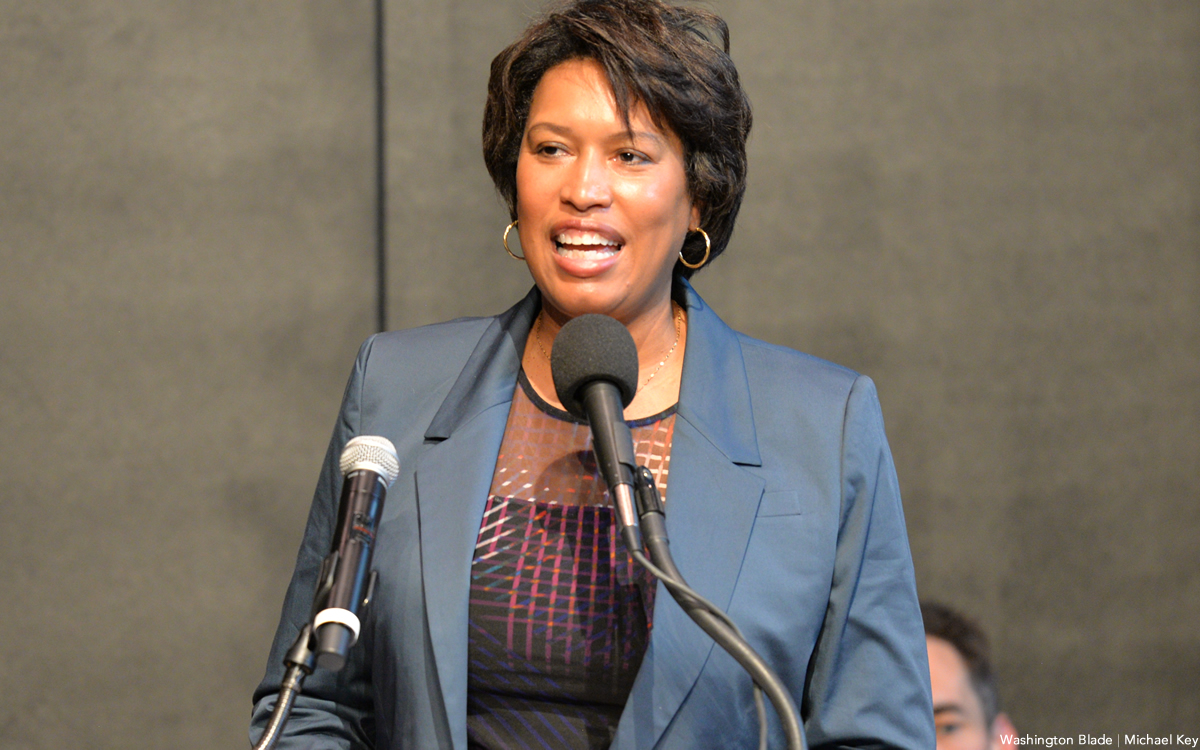 D.C. Mayor Muriel Bowser reflected on her record of support for the LGBTQ community and pledged to continue that support if elected to a third term as mayor during an appearance Monday night before the Capital Stonewall Democrats, the city's largest local LGBTQ political group.
The mayor's appearance at the virtual Zoom meeting took place a little over four months after Capital Stonewall Democrats endorsed her opponent, D.C. Council member Robert White, over Bowser in the June Democratic mayoral primary. The group later endorsed the mayor in the November general election after she won the primary to capture the Democratic nomination.
In a city with Democratic voters outnumbering Republicans and members of two other small parties by a lopsided margin, Bowser is considered the strong favorite to emerge as the winner in the Nov. 8 general election.
"I'm thrilled to be here and thrilled to be your Democratic nominee for mayor," she told members of Capital Stonewall Democrats, which used to be known as the Gertrude Stein Democratic Club.
"We spent many months, the better part of a year, going across all eight wards talking to people about their priorities for Washington, D.C., and what the next four years are really about," she said. "And I am proud of the eight years almost now that I've served as mayor and the things that we've accomplished. And more than that, I've kept my word about how we would pursue D.C.'s values and our goal to make our city a more inclusive city," she said.
"I'm also very proud of the work that I've done with the LGBTQ community, not only as mayor but through my tenure of service in D.C. government, which now is a little over 15 years," she said, referring to her tenure as a D.C. Council member before being elected mayor.
"In working with our trusted organizations, all of my agency directors, all the way through the people I have appointed to serve in our LGBTQ office," she said. "We've been very focused on making sure that D.C. works for LGBTQ residents."
The mayor added, "We continue to have a focus, for example, on making sure we're protecting our trans community from violence. But more than that, creating jobs and job training opportunities inside and outside the government."
After delivering opening remarks the mayor answered a wide range of questions that had been submitted by members of the group and presented by the group's president, Jatarious Frazier. Among them was a question on whether the city will partner with another organization for services for LGBTQ youth, especially trans youth of color, after the recent shutdown of the LGBTQ community services center Casa Ruby.
"I think we have some work to do to replace the work that Casa Ruby was doing," the mayor said. "And I'm quite frankly sad about that," she said, adding, "We like when some work is done in the nonprofit community. And we will be looking for trusted partners to help us replace that work."