Church's welcoming sign vandalized in Howard County
'As a community, we must not accept hate'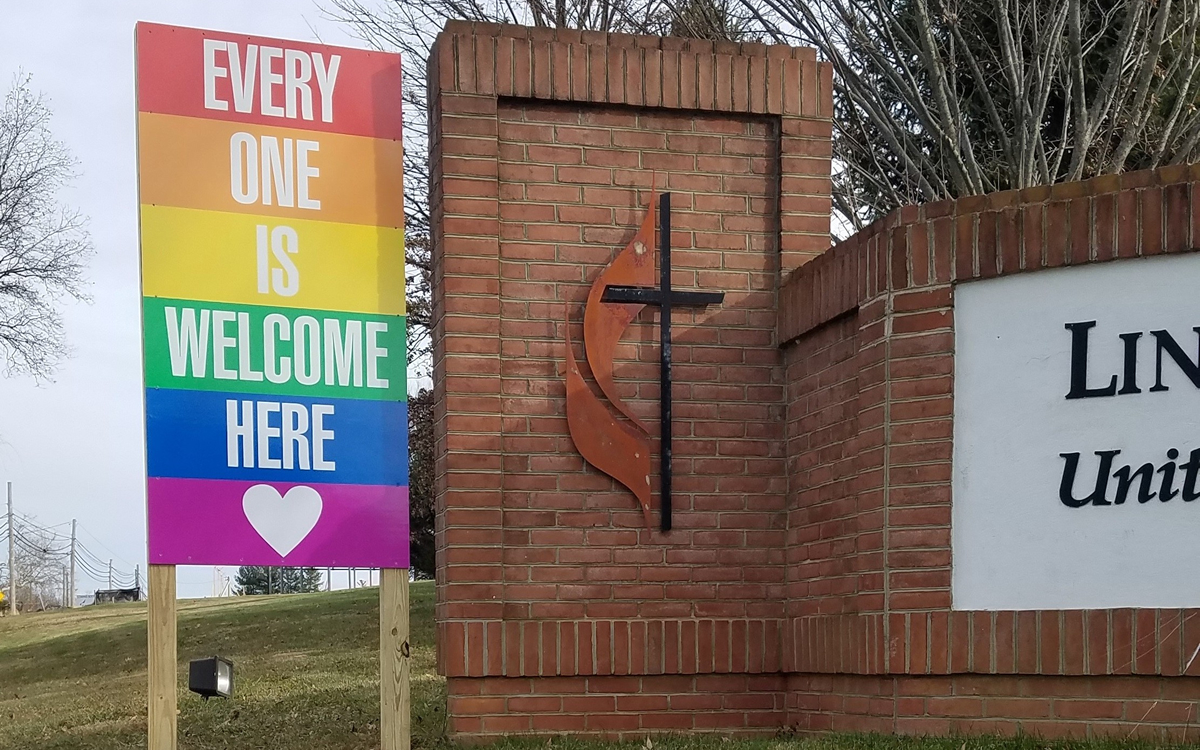 If you drive east on Route 108 just beyond the River Hill Village Center in the Clarksville area of Howard County, Md. you can't miss the 3 ft. by 6 ft. sign in front of the Linden Linthicum United Methodist Church. That sign boldly proclaimed, "EVERY ONE IS WELCOME HERE" with rainbow-colored decorations on it.
Well, you will miss it now, at least for the time being.
Apparently, not everyone buys into the message of inclusion. Under the cover of darkness on the night of Feb. 24, a person or persons used a chainsaw to cut through the substantial wooden posts supporting the sign adjacent to the church located at 12101 Linden Linthicum Lane and removed it.
Gayle Annis-Forder, pastor of the roughly 500-member congregation church promptly took to the Clarksville Happenings group on Facebook—one that typically includes member posts requesting information on contractors, babysitters, lost pets, and the like—to explain that it was not the church that took down the familiar sign but someone else had done the deed. She pointed out that the sign had been defaced last June and despite its unauthorized removal this time, "LLUMC still believes what the sign said, that everyone is welcome here."
A total of 300 reactions appeared along with 150 comments all supporting Pastor Gayle and the church and denouncing the act of vandalism, which was reported the next morning to Howard County Police. Many believe this act should be investigated as a hate crime.
Bob Ford, a member of the Howard County Human Rights Commission, stressed the importance of reporting hate bias incidents to the police. "Even if a crime is not committed, being the victim of racial, religious, ethnic or sexual orientation and gender identity slurs should be reported to the police as hate bias incidents," Ford explains. "Data must be compiled by law enforcement concerning these incidents so that measures can be implemented to reduce them in the future."
In this matter, however, a crime was committed as private property was vandalized and removed.
"I've always loved that sign, big, bright, and right up front for all to see," Charlotte Gammel Wojcik posted as an example of the type of comments displayed in response to the incident.
"I'm sorry some jackass ruined it. I hope you'll replace it because I believe many who saw it felt supported, even if they never entered the church."
Another comment was posted by Howard County Councilwoman Deb Jung whose district currently includes LLUMC.
"There is no doubt in my mind that you and your congregation live the values represented by your beautiful and welcoming sign. Reading these comments warms my heart knowing there are so many in our community who will not allow this to stand. We will replace the sign and it is my hope that we can make the sign replacement an event that will allow us all to come together and celebrate our love for one another. Later, Jung told me, "It was a despicable act of hate and vandalism."
Janssen Evelyn, who is opposing Jung in the Democratic primary in that district, weighed in as well.
"The fact that someone went there with a chainsaw meant that they were intentional in their hate. We must be more intentional than that individual in our resolve and in our love. As a community, we must not accept hate. This is our watch, and we must show that everyone is welcome in our community."
Pastor Gayle points out that although the sign contained rainbow colors, the welcoming message is not exclusively aimed at members of the LGBTQ+ community. She noted that members of that community would recognize the color scheme and understand that they are welcome. The message is broader, however. "LLUMC welcomes everybody."
Indeed, the church's Statement of Values and Inclusion on the website reflects that point.
"As followers of Jesus, we the people of Linden Linthicum United Methodist Church are committed to welcoming and loving everyone as he did, without regard to ability, race, ethnicity, gender, gender identity, sexual orientation, family make-up or religion. We embrace the principles of love over hate, inclusion over bias, respect over prejudice, equality over bigotry, and caring for all. Therefore, we reject the targeted hate messages and exclusivist ideologies advocated by any group. Such messages are antithetical to the inclusive message of Jesus. We are committed to living out non-discriminating love in our lives, worship, study and service."
Nonetheless, the LGBTQ community especially transgender kids have been under attack and would find this church a spiritual safe space for them and their family members to receive support. As an example of the assault on members of the community, Republican Senator from Florida, Rick Scott, laid out a widely panned agenda that says that there are only two genders, failing to acknowledge the reality of a gender identity spectrum. Moreover, Florida passed legislation dubbed the "Don't Say Gay" bill whereby the subjects of sexual orientation and gender identity cannot be discussed in primary grade levels.
Recognizing these developments in Florida and Texas specifically, Becca Niburg, an immigration attorney and a candidate for the Maryland House of Delegates from Howard County, issued the following statement:
"The sign referenced states that all are welcome across a rainbow background, specifically signaling inclusion to those in the LGBTQ community. Especially under the backdrop of the governor of Texas persecuting Trans kids, the removal of the sign signifies hate and division in our community and those who perpetrated the destructive act should be punished to the full extent of the law both criminally and civilly. I stand with the LGBTQ community and the Church, ready to assist and support."
Adds Byron Macfarlane, the County's Register of Wills and the first openly gay elected official in Howard County, "This is a reminder that Howard County isn't immune to criminal acts of hate and intolerance. We have to reject hate in all its forms, call it out when we see it, and stand together. Our amazing rainbow LGBTQ+ community and our tremendous allies, including so many faith partners, must remain vigilant and undeterred as we build enduring relationships based on love and solidarity. These criminals can take down a sign, but they'll never stop the march to true and lasting equality."
Pastor Gayle has been moved by the support she has received from the community and by other faith leaders in Howard County. She indicated a new sign will be ordered and a celebration outside the church whereby community members can join in and observe the new welcoming sign is under consideration.
Montgomery County Council approves bill for gender-inclusive, single-use restrooms
Measure passed by 9-0 vote margin on July 26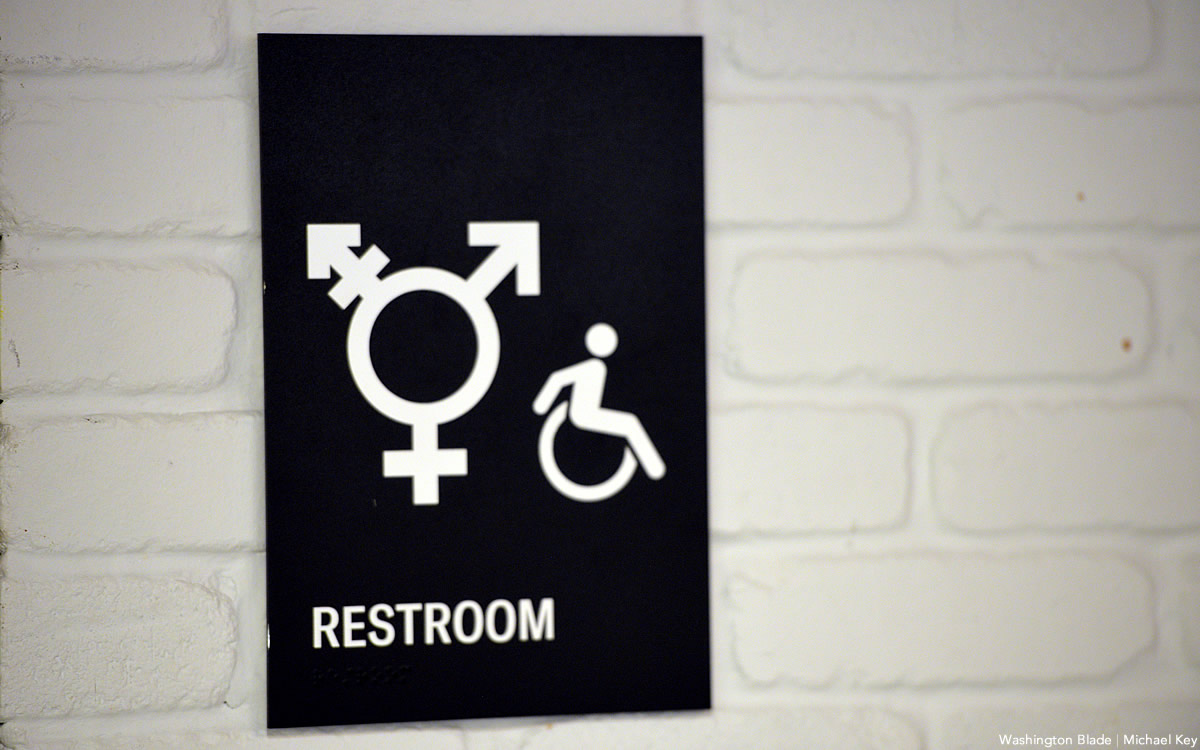 The Montgomery County Council has approved a bill that will pave the way for gender-inclusive, single-user restrooms in public and county-owned buildings.
The council in a 9-0 vote on July 26 passed Bill 4-22.
The bill requires at least one single-user restroom available for all gender identities in a place of public accommodation or county-owned buildings with signage that designates it as gender-inclusive.
Council member Sidney Katz and Council Vice President Evan Glass, who is the first gay man elected to the Montgomery County Council, co-sponsored the bill.
"This bill is supported by many advocacy groups including those representing the disability community and the LGBTQ+ community," said Katz in a press news release, following the bill's approval. "It is well reasoned, will not be burdensome to implement and will help everyone feel more comfortable."
Beyond increasing accessibility for people of various gender identities and expressions, this bill also means to benefit people with disabilities with caregivers who are of a different gender, and parents with children of a different gender who may require assistance using a public restroom.
"We want everyone in Montgomery County to feel welcome here," Glass told the Blade on Wednesday in a statement. "Members of our trans, nonbinary and disability communities often feel anxious and ignored by the choices of restrooms in commercial spaces. This legislation will help them and also provide relief for families with young children and caregivers who oftentimes are left waiting outside a restroom." 
Local activists also supported the bill.
"As a person with disabilities that sometimes needs assistance in the bathroom, gendered single occupancy stalls are stressful for both my spouse and I because we are perceived as differently gendered than one another," said Ezra Towne, a Montgomery County activist, during a public hearing on the bill.
The bill exempts some locations that include private restrooms in a residence; a hospital; inn, hotel, motel, or an establishment that provides lodging for transient guests; or restrooms that are only accessible from a private room or office.
Similar legislation has been implemented in Maryland — Salisbury, Baltimore City and Howard County — and in cities across the country that include Seattle; Philadelphia and Austin, Texas. California has also enacted a similar measure.
Md. presses federal government for more monkeypox vaccine doses
State has 129 confirmed cases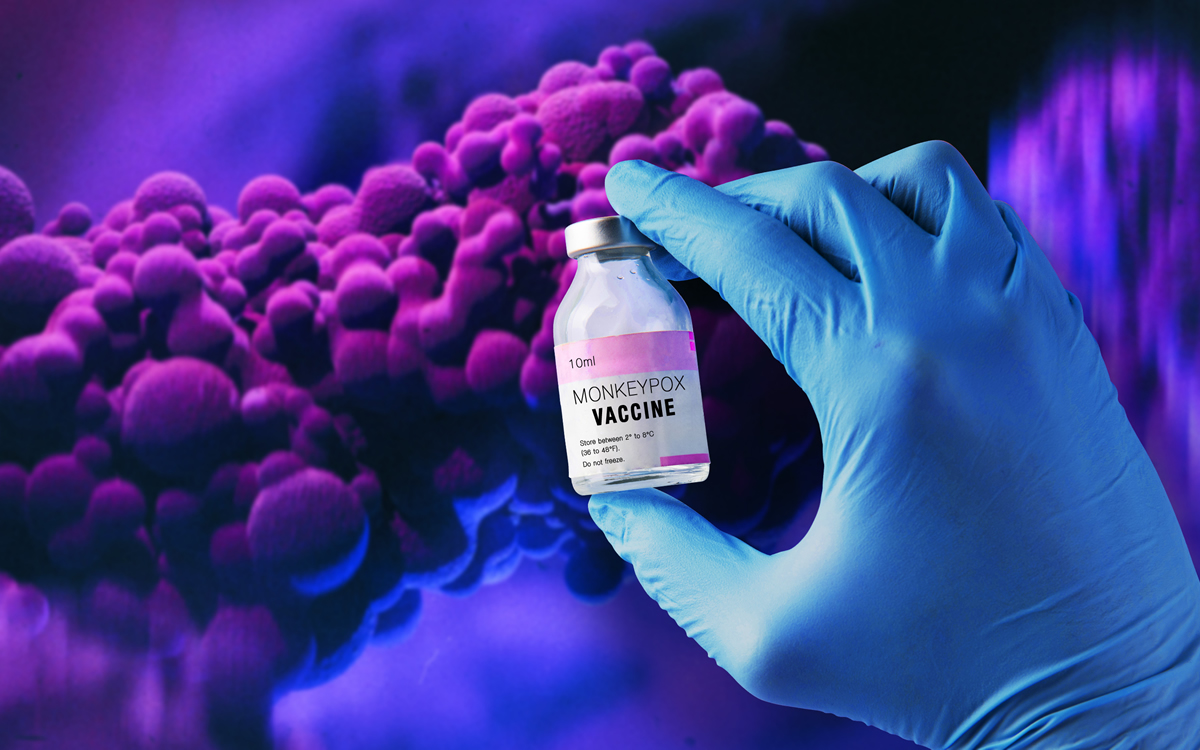 Maryland Gov. Larry Hogan and the Maryland Department of Health on Tuesday pressed the federal government for more monkeypox vaccine doses to states.
"While vaccine supply from the federal government is severely limited at this time, anyone who believes that they may need testing or treatment should contact their healthcare provider or local health department immediately." Hogan said in a statement that detailed updated information about monkeypox. "We will keep pressing the federal government to provide more vaccines to the states and do all we can to make resources available to those at risk."
"We want to emphasize that the goal is limiting the spread of the virus and vaccinating those who may have been exposed in the prior two weeks," Deputy Secretary of Public Health Services Jinlene Chan added. "Due to the limited supply of the vaccine from the federal government, the state is working closely with local health partners to make doses available in a manner that focuses on locations that have case counts and higher-risk populations. We plan to expand access to the vaccine as more supply becomes available."
According to the latest release, 3,202 patients will be able to get the two-dose Jynneos vaccine in Maryland, as allocated by the federal government. Vaccination priority will be given to identified close contacts and health workers exposed to infection. People whose sexual partners have been diagnosed over the last two weeks and those who are members of high-risk populations will be able to access the vaccine.
The Centers for Disease Control and Prevention has reported there are 129 lab-confirmed monkeypox cases in Maryland, constituting 2.2 percent of cases nationwide. Most of the reported cases have been found in the National Capital Region. 
Individuals who believe they were exposed to monkeypox or have similar symbols should contact their medical provider. People without a provider or insurance should visit health.maryland.gov/CSTIP/local to find contact information for their local health department.
Lesbian couple assails ongoing investigation into 2021 firebombing of their Md. home
Probe into possible hate crime 'riddled with missteps, incompetence'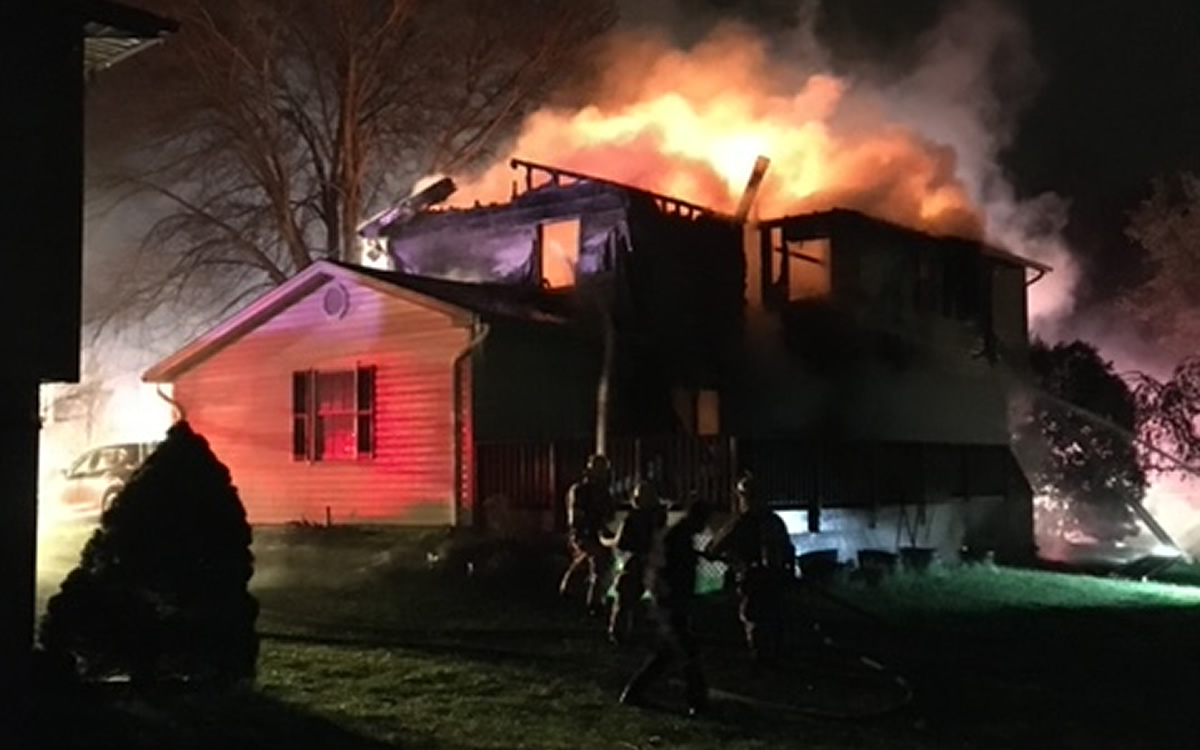 In a little-noticed development, an unidentified suspect or suspects used what investigators believe to be an "improvised incendiary device" to start a fire around 1 a.m. on April 1, 2021, that destroyed the Gaithersburg, Md. home of a lesbian couple and their two young children.
The couple, who along with their children were away on vacation at the time of the fire, say they initially chose not to go public about the incident out of fear for their safety in what they and investigators say could have been an attempt to target their family because of their sexual orientation as a hate crime.
Although the fire was reported by local Montgomery County news publications at the time it occurred, none of the publications reported the home was owned and occupied by a married lesbian couple.
"We're generally very private people," Alyson Kozma, one of the two women, told the Washington Blade. "But I think more importantly, we had some significant security concerns," Kozma said.
Among other things, a bomb squad investigator with the Montgomery County Department of Fire and Rescue Services (MCFRS), which acts as the local fire department, told the couple the individual or individuals responsible for the fire, if apprehended, would be charged with attempted murder in addition to arson, according to Kozma.
Lt. Francisco Martinez, a spokesperson for the MCFRS, told the Blade the fire in question remains under "active investigation." He noted that in May of this year, investigators announced they are offering a $10,000 reward for information leading to an arrest in the Gaithersburg arson incident.
Martinez also said investigators with the MCFRS have assessed the damage caused by the fire to the couple's house at about $550,000, with $350,000 estimated for the structure of the house and $250,000 for the destroyed contents of the house such as furniture and belongings.
He said investigators are appealing to the public for help in identifying a suspect or suspects responsible for the fire. Anyone with information that might be helpful in any way is asked to call the Montgomery County Crime Solvers line for anonymous tips at 1-866-411-8477 or the Montgomery County Arson Tip Line at 240-777-2263.
With their two-story suburban house at 16 Marquis Dr. destroyed beyond repair, Kozma said she and her wife, local attorney Joanna Crandall, and their two kids are living in a rental house the location of which they prefer not to disclose out of concern that they may still be targets of the unknown perpetrator or perpetrators.
Kozma told the Blade that she and Crandall were not aware of anyone in the immediate neighborhood who expressed hostility toward them as a same-sex couple and household, and they have no idea who or why someone would want to firebomb their house other than possibly because of anti-gay hatred.
"We have lived in that neighborhood for about seven years," Kozma said. "We were as far as we knew the only out LGBTQ family in the neighborhood," she said, adding that the couple was also "very active" in the community.
"So, we were always very out and open, and everyone sort of knew who we were and what we were about," she said. "And we did not face any, as I said, hostility, nothing overt. But we certainly were different from the rest."
In a written statement they sent to the Blade, Kozma, who works as a senior adviser for a nonprofit organization involved in women's rights and human rights issues, and Crandall, an attorney, said they do not believe Montgomery County fire investigators have adequately investigated the fire.
"Although Montgomery County Fire and Rescue Services personnel informed us that the arson was being investigated as an attempted murder, they failed to inform Montgomery County Police Department (MCPD) of this unprecedented crime," the statement says. "To date, there are no local police investigating the crime," their statement says.
"The stalled investigation of this crime has been so riddled with missteps, incompetence, and failures that the lawyers we've consulted with have raised the possibility of MCFRS involvement in the arson and/or complicity in covering it up," the statement continues. "As both victims as well as Montgomery County residents, this possibility is terrifying," the two women say in their statement. "When we, personally, informed MCPD of this crime, we were advised by leadership to go to the press with this."
In response to a request by the Blade, Martinez, the Montgomery County Fire and Rescue Services spokesperson, said he would contact MCFRS officials to obtain a response to Kozma and Crandall's statement alleging that the investigation was stalled and has been "riddled with missteps, incompetence, and failures."
Charles Bailey, the Division Chief of Operations for the MCFRS, contacted the Blade late Friday in response to Martinez's inquiry. He said he can confirm that the fire that destroyed the home of the two women remains under active investigation and that Montgomery County police are also involved in the investigation. But he said he cannot comment further on an active, ongoing investigation.
"We are working with the county police on this and I think that's important to know," he said. "But now is just not the right time to say anything more than that. And hopefully there will be a right time when we can talk about this whole thing," he said.
The couple's statement also says they have been informed that as of early this year, the FBI, the U.S. Bureau of Alcohol, Tobacco, Firearms and Explosives (ATF), and the U.S. Justice Department's Civil Rights Division were all investigating the arson that destroyed their home.
Martinez said he couldn't immediately confirm whether the three federal agencies were specifically involved but said it wouldn't surprise him if they were involved.
"I know what I was told was other agencies were involved," he said. "And obviously the FBI and ATF, they also help generally in cases of arson and explosives and things like that."
Concerning Kozma and Crandall's claim that Montgomery County police were not involved in the investigation, Martinez said that, in fact, they are because fire investigators take on the role of sworn police officers.
"Our fire investigators, our fire and explosive investigators are police officers," he said. "And they go through the police academy, and so they are lieutenants in the service," he said. "They are a specialty unit, and they have full police authority and police training."
Martinez said that while he is not directly involved in the investigation, he is certain from speaking with officials on the investigative team that an active investigation is continuing to look into all possible motives for the fire, including a bias-related motive.
"They are still following up on any leads and they are still hoping to get any tips on that arson fire," he said. "Certainly, fire investigators along with other agencies took all those possibilities seriously and have been following up on any possible motive regardless of what it may be," he said, referring to a possible hate crime motive based on the couple's sexual orientation.