L'Enfant: First statue of gay figure in U.S. Capitol?
Book explores 'male friendships' of man who designed D.C.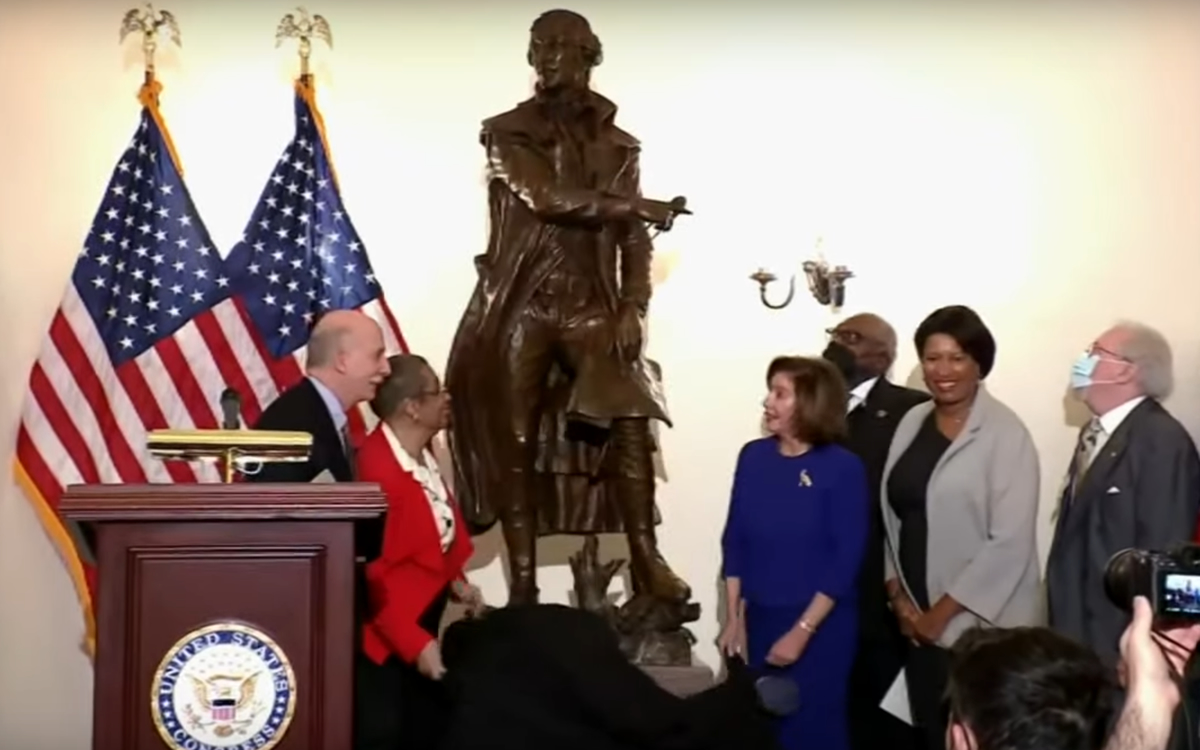 The unveiling at the U.S. Capitol on Feb. 28 of a statue of Pierre L'Enfant, the French American architect and civil engineer credited with designing the city of Washington, D.C., took place just under 20 years after the publication of a little-noticed book speculating that L'Enfant may have been gay.
The book, "Peter Charles L'Enfant: Vision, Honor and Male Friendship in the Early American Republic," is written by George Washington University history professor Kenneth R. Bowling, who states in the book that L'Enfant had "intense emotional friendships" with at least two prominent male figures in the late 1790s and early 1800s that could have been romantic in nature.
"Even for its time, L'Enfant's life was unusually male-centric," Bowling writes, adding, "readers may wonder if any of L'Enfant's relationships with men had a sexual expression." Bowling points out that while the terms "homosexual" and "heterosexual" didn't exist until the late 19th century, "sexual activity among people of the same gender, and awareness of it, did."
But Bowling states in his book that because human sexuality during L'Enfant's lifetime had not acquired the cultural emphasis that it gained in the 20th century it was not documented in writing in a way on which historians can rely.
"Consequently, we will probably never have smoking-gun proof as to whether any of L'Enfant's relationships with men had a sexual component," Bowling writes. "And if they did, that fact in no way disputes the claim that while he was living with Richard Soderstrom in 1797, L'Enfant fathered a child named Mary, mother unknown."
Bowling was referring to L'Enfant's longtime and often contentious friendship and business relationship with Richard Soderstrom, the Swedish Consul General to the newly formed United States in the late 1790s and early 1800s.
According to Bowling's book, Soderstrom filed and won what today would be considered a lawsuit against L'Enfant requiring L'Enfant to reimburse Soderstrom a large sum of money for "rent" and operating expenses for the large house that Soderstrom owned and in which L'Enfant lived with Soderstrom for many years before L'Enfant moved out. Bowling states in his book that L'Enfant, who became embittered over the legal action, argued that Soderstrom never before indicated L'Enfant had to pay for living in the house.
A Nov. 8, 2002, press release issued by George Washington University announcing a talk that Bowling was scheduled to give on campus about his then newly published book about L'Enfant, describes Soderstrom's legal action against L'Enfant as a "palimony" suit. The book itself makes no mention of the word "palimony," but it suggests that the bitter falling out between L'Enfant and Soderstrom could have been based on emotions beyond just a business relationship.
The L'Enfant statue unveiling ceremony at the Capitol on Feb. 28, meanwhile, was a celebration of L'Enfant's widely recognized contribution to the design of the nation's capital city and of D.C.'s right to place the second of two statues in the Capitol just like each of the 50 states.
D.C. Del. Eleanor Holmes Norton, who arranged for the statue to be installed at the Capitol, said she and other D.C. officials consider the placement of the statue as a symbolic further step in pushing for D.C. to become the nation's 51st state. D.C.'s first statue installed in the Capitol in 2013 is of African-American abolitionist Frederick Douglas.
Among those joining Norton in the L'Enfant statue unveiling ceremony were Speaker of the House Nancy Pelosi (D-Calif.), D.C. Mayor Muriel Bowser, and House Majority Whip James Clyburn (D-S.C.).
Ruby Corado withdrew $400,000 of Casa Ruby funds: D.C. att'y gen'l
Complaint says she transferred money to banks in El Salvador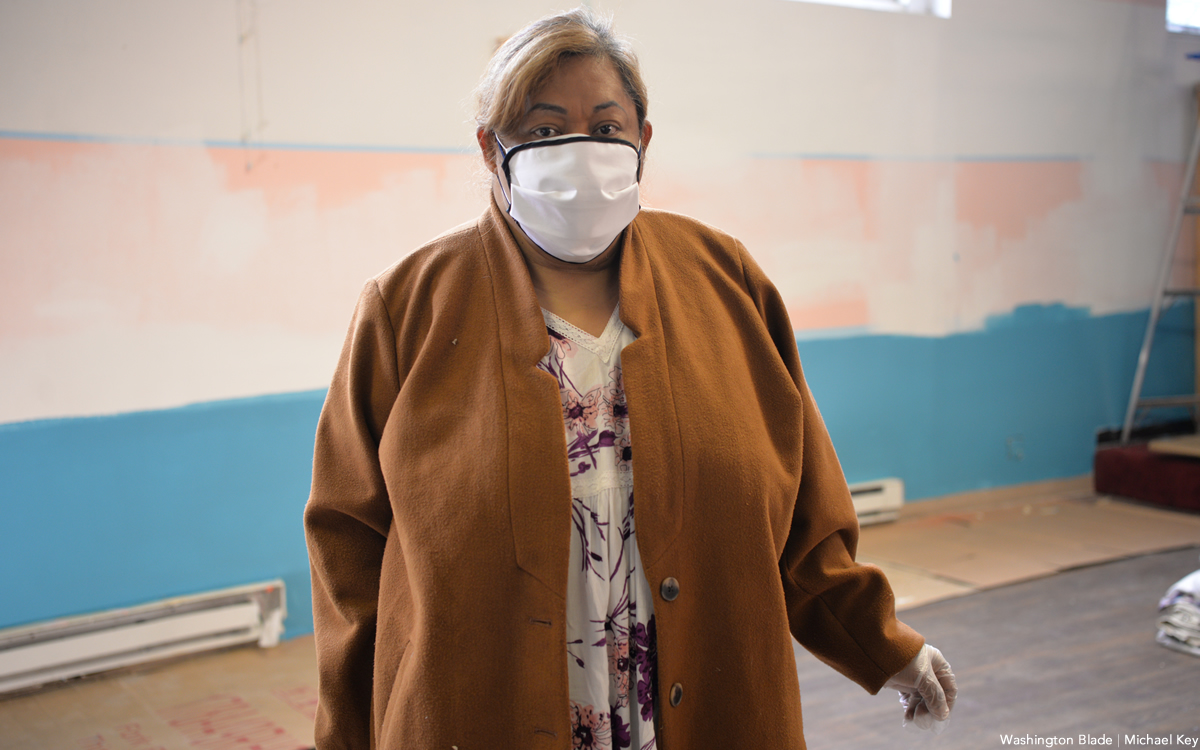 The Office of the D.C. Attorney General on Monday filed an amended civil complaint in D.C. Superior Court against Casa Ruby and its founder and former executive director Ruby Corado that includes new allegations, including claims that Corado withdrew more than $400,000 of Casa Ruby funds for unauthorized use in El Salvador.
The 25-page amended complaint adds multiple new allegations to the Attorney General office's original complaint against Casa Ruby filed on July 29. That complaint, among other things, charged the nonprofit LGBTQ community services organization and Corado with violating the D.C. Nonprofit Corporations Act in connection with its financial dealings.
The amended complaint also follows the approval by D.C. Superior Court Judge Danya Dayson of a request in August by the Attorney General's office to place Casa Ruby under receivership and to appoint the Wanda Alston Foundation as the receiver. The D.C.-based Alston Foundation provides housing services for homeless LGBTQ youth.
On Oct. 28, the Alston Foundation released its Receiver's Second Interim Report on its findings related to Casa Ruby's finances. The report points to some of the same unexplained and unauthorized expenditures and transfers of Casa Ruby's funds by Corado that are included in the AG office's amended complaint.
The Alston Foundation had been scheduled to release its Receiver's Third Interim Report also on Monday, Nov. 28. But Alston Foundation Executive Director June Crenshaw told the Washington Blade the foundation requested an extension of that deadline to give it a chance to review the new allegations in the AG office's amended complaint.
Among other things, the AG office's amended complaint adds three new defendants to what legal observers say is the equivalent of a lawsuit by the D.C. government against Corado and Casa Ruby. The new defendants named in the complaint are limited liability companies created and controlled by Corado to purportedly perform services in support of Casa Ruby.
They include a new version of Casa Ruby called Casa Ruby LLC doing business as Moxie Health; Pneuma Behavioral Health LLC; and Tigloballogistics LLC doing business as Casa Ruby Pharmacy.
The amended complaint notes that Corado, who claimed the new companies, especially the pharmacy, were part of Casa Ruby's mission, never received approval to create the companies from the Casa Ruby board of directors, which the AG's office has said rarely met and failed to provide any oversight of Corado's actions.
According to the amended complaint, Corado transferred large sums of money from the original Casa Ruby to these companies and at some point, transferred funds from the new companies to her own personal bank account.
Both the earlier complaint filed in July and the amended complaint allege that Corado transferred as much as $500,000 of Casa Ruby's funds to create what she said was a new Casa Ruby in El Salvador approved by the Casa Ruby board. But the earlier and amended complaints allege that the board never authorized the El Salvador operation.
Between April 2021 and September 2022, the amended complaint says, Corado transferred over $400,000 from two Casa Ruby related accounts "to accounts she held under her birth name in two El Salvador banks." It says the Casa Ruby board "never authorized any of these transfers."
In addition to the financial related allegations, the amended complaint charges Casa Ruby and Corado with violating D.C.'s Wage Payment and Collection Law and the D.C. Minimum Wage Revision Act by failing to pay Casa Ruby employees all the wages they earned for their work several months before Casa Ruby closed its operations in July 2022.
"At various times between July 2021 and July 2022, while Corado was freely supplementing her $260,000 salary with additional funds drawn from Casa Ruby's bank accounts, many of Casa Ruby's employees were paid only $15.00 per hour, less than the minimum wage in the District of Columbia as of July 1, 2021," the amended complaint says. "None of these employees received the full wages they earned," it says.
One of the former employees told the Washington Blade most of the remaining employees during Casa Ruby's final months before its shutdown were paid late or not paid at all. Under the two labor related laws the amended complaint has charged Casa Ruby and Corado with violating, an employer could be required to pay the employees any lost or missing wages.
But the Receiver's Second Interim Report filed in October by the Alston Foundation says among other improper financial dealings, Casa Ruby failed to pay the U.S. Internal Revenue Service payroll taxes withheld from its employees. The AG office's amended complaint says that as of June of this year, Casa Ruby owed the IRS $127,435 in employment taxes, not including interest and penalties.
The receiver's report points out that under federal law, employers that owe back taxes to the IRS must pay those claims first. "Thus, after all outstanding payroll taxes have been paid off, there is little chance that there will be anything left for any other debts or obligations like past rent or wages," the report says.
The amended complaint filed by the AG's office says a copy of the amended complaint was sent to Corado through an email address, which has been the only known way of reaching Corado. Former Casa Ruby employees have said she had been spending most of her time over the past year or longer in El Salvador. The complaint says that as of October, Corado still had not retained an attorney to represent her and was representing herself in a process known as pro se representation.
The Blade couldn't immediately reach Corado for comment on the amended complaint through the same email address.
During a virtual court hearing in September, Corado denied any improper or illegal financial practices and blamed the D.C. government for Casa Ruby's collapse, saying city agencies cut off funding for Casa Ruby without a legitimate reason. However, the D.C. Department of Human Services, which provided much of Casa Ruby's funding through grants, has said the funding was stopped after Casa Ruby failed to submit financial reports required for all grant recipients that account for how the grant money is spent.
Man charged with assaulting lesbian activist pleads guilty, gets 14 months in jail
Aiyi'nah Ford hit in head with barstool at Congress Heights restaurant in August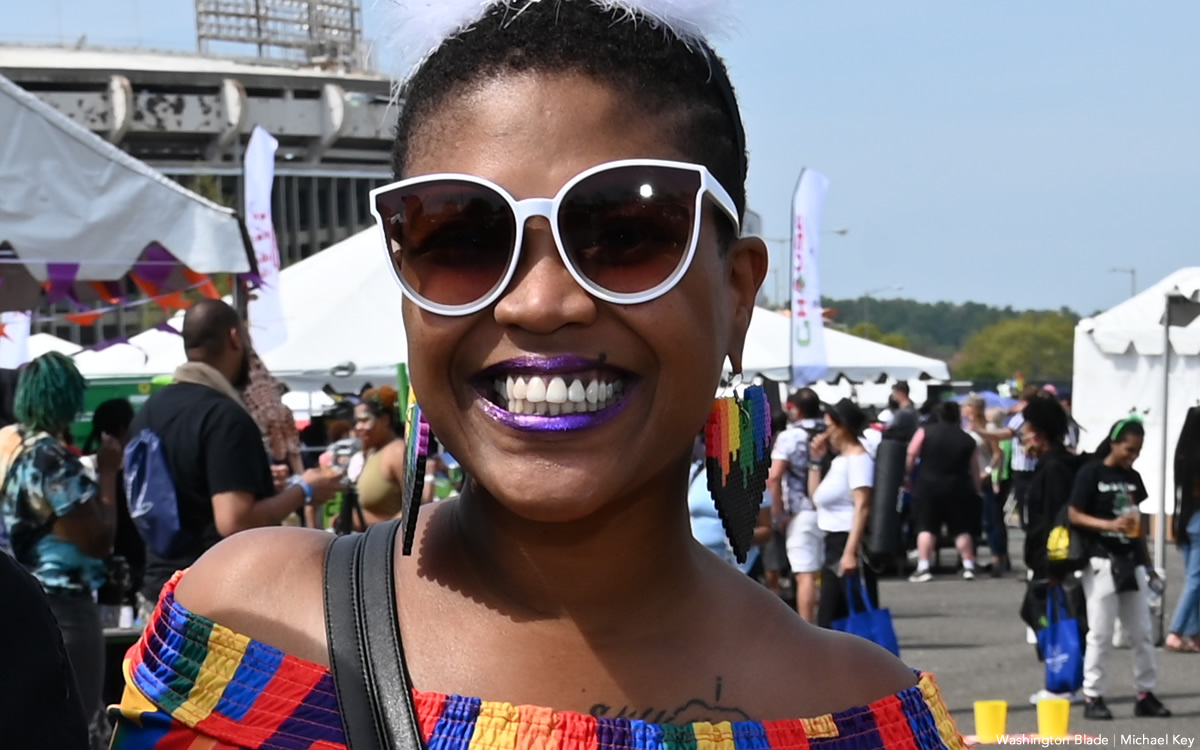 A D.C. Superior Court judge on Nov. 17 sentenced a 46-year-old D.C. man to 14 months in jail after he pleaded guilty in September to an assault charge for an incident in which he attacked lesbian activist Aiyi'nah Ford at a restaurant on Aug. 3
An arrest affidavit filed by D.C. police on Aug. 12 states that Donnell Anthony Peterson allegedly knocked Ford to the floor at the Player's Lounge restaurant and bar in the city's Congress Heights neighborhood before hitting her in the head twice with the metal legs of a barstool.
Ford told the Washington Blade that Peterson, who was a regular customer at Player's Lounge as was she, assaulted her while repeatedly calling her a "dyke bitch" after the two got into a verbal argument over, among other things, the city's violence interruption program. Ford said she told Peterson and others who were having a discussion that she considers the program to be ineffective and a "joke."
According to court records, witnesses reported seeing Ford bleeding profusely from the head before an ambulance took her to George Washington University Hospital, where she received multiple stitches to treat a serious head wound.
Court records show that D.C. police, who were called to the scene at the time of the assault, initially charged Peterson with Assault With a Dangerous Weapon. The records show that Peterson through his attorney agreed in September to accept a plea bargain offer by prosecutors with the Office of the U.S. Attorney for D.C.
The offer called for lowering the charge to Assault With Significant Bodily Injury in exchange for pleading guilty with a promise by prosecutors to seek a sentence of no more than 14 month in jail.
The court records show that Superior Court Judge James A. Cromwell sentenced Peterson to 32 months of incarceration but suspended 18 months, requiring that he serve 14 months after which he would be released on probation. Court records show the probation was to last 18 months. Under court rules, if someone violates the terms of their probation, which almost always prohibits them from breaking the law or threatening a person they were charged with assaulting, the released person is ordered back to jail to serve the remaining time that had been suspended.
At the time Peterson was arrested in August a spokesperson for the U.S. Attorney's office, in response to a question from the Blade, declined to disclose why prosecutors chose not to classify Peterson's assault against Ford as a hate crime based on her sexual orientation.
Ford told the Blade this week that the lead prosecutor, Assistant U.S. Attorney Alec Levi, was supportive of her throughout the case and told her a hate crime designation sometimes makes it more difficult to obtain a conviction if a case goes to trial. Ford said Levi told her prosecutors wanted to do all they could to bring Peterson to justice for his attack against her.
Longtime activist Lane Hudson arrested on drug charges
Homeland Security launched probe leading to August 2021 raid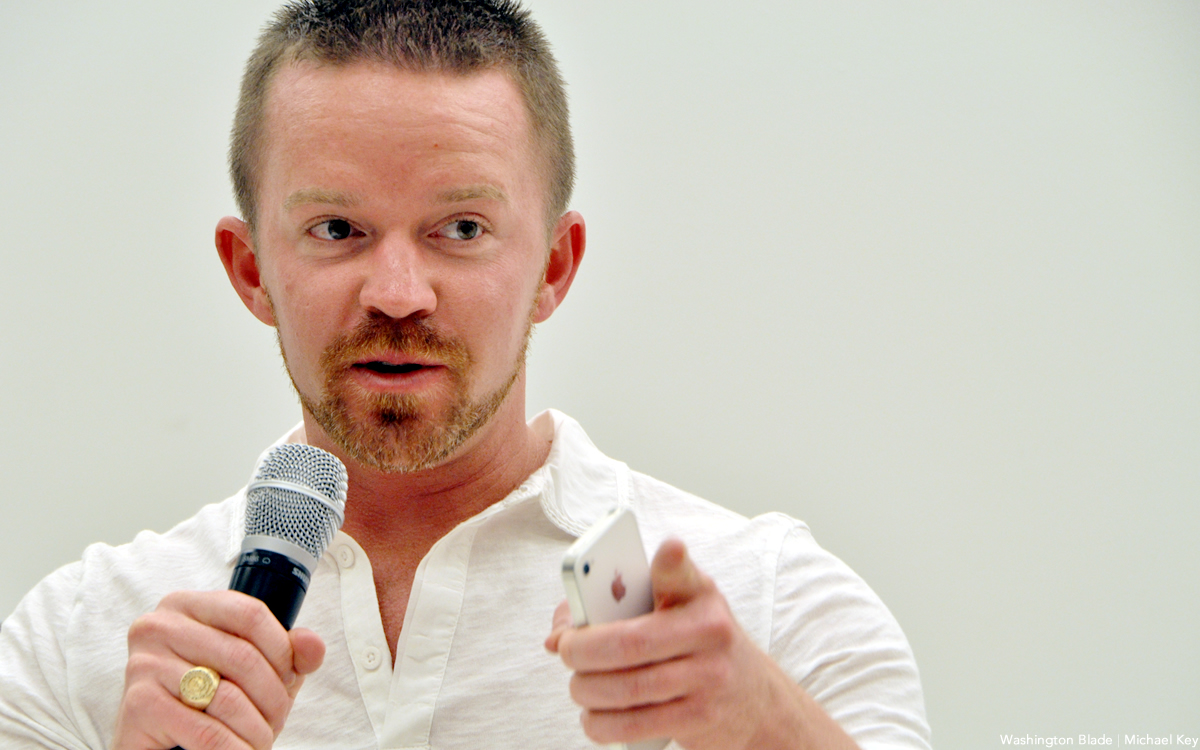 Documents filed in the United States District Court for the District of Columbia show that law enforcement officers with the U.S. Department of Homeland Security's Homeland Security Investigations division and the D.C. Metropolitan Police Department arrested D.C. gay activist Thomas Lane Hudson on Aug. 11, 2021, on charges of possession with the intent to distribute illegal drugs.
An affidavit filed in court says the arrest took place at Hudson's Logan Circle area apartment after officers forcibly entered the apartment when Hudson did not respond to their knocking on the door announcing their presence with a search warrant.
The affidavit says the officers discovered and seized illegal narcotics that were field tested and weighed and which included "1,096.4 grams of a mixture and substance containing Methamphetamine, a Schedule II controlled substance; 29.5 grams of a mixture and substance containing Heroin, a Schedule I controlled substance; and 322.974 fluid ounces of a mixture and substance containing Gamma Butyrolactone ('GBL'), a Schedule I controlled substance."
Court records show that Hudson was held without bond until at least Aug. 25, 2021, when U.S. District Court Judge Robin M. Meriweather approved a motion filed by prosecutors to seal the case from the public record on grounds that it "contains sensitive information regarding the underlying ongoing criminal investigation."
The Aug. 25 entry that up until then was part of the public court record announcing the decision to seal the case did not disclose any information about an underlying or ongoing investigation. It also did not disclose why federal Homeland Security investigators became involved in a drug case ordinarily handled by D.C. police.
Hudson and his attorney, who is identified in the court records as Brian Keith McDaniel, did not respond to repeated requests by the Washington Blade for comment on the case and to disclose whether they dispute the accuracy of the charges filed against Hudson.
The arrest affidavit, which was filed before the case was sealed, remains a part of the public record. It says that in addition to the allegation that illegal drugs were seized from Hudson's apartment, the officers conducting the search found "assorted items related to distribution of controlled substances."
Among the items found, it says, were digital scales, plastic zip bags, vacuum sealer and vacuum sealer bags, a currency counting machine, and "approximately $48,000 in United States currency."
Although the public court records do not show whether Hudson was released while awaiting trial or was still being held, sources who know Hudson pointed out that he resumed posting messages on social media in December of 2021 after a period when no postings from him could be found. This suggests he has been released while the case remains pending.
Hudson's arrest came less than a year before the D.C. Gay and Lesbian Activists Alliance released its 2022 D.C. LGBTQ Election Guide called Leave No One Behind, which calls for the decriminalization of possession of currently illegal drugs for personal use.
Although the GLAA document doesn't call for decriminalizing the selling of illegal drugs, it says "evidence demonstrates criminalization has done little to curb the prevalence of drugs in our communities and is not an effective way of getting people into treatment because it stigmatizes drug users."
Hudson is well known in the D.C. area and among LGBTQ advocates locally and nationally. He was twice elected as a delegate to the Democratic National Convention; served on Hillary Clinton's national finance committee; and once worked for the Human Rights Campaign.