Alabama Gov. Kay Ivey signs flurry of anti-LGBTQ+ bills
Including a bill that would criminalize doctors for providing best-practice, gender-affirming care to transgender and nonbinary youth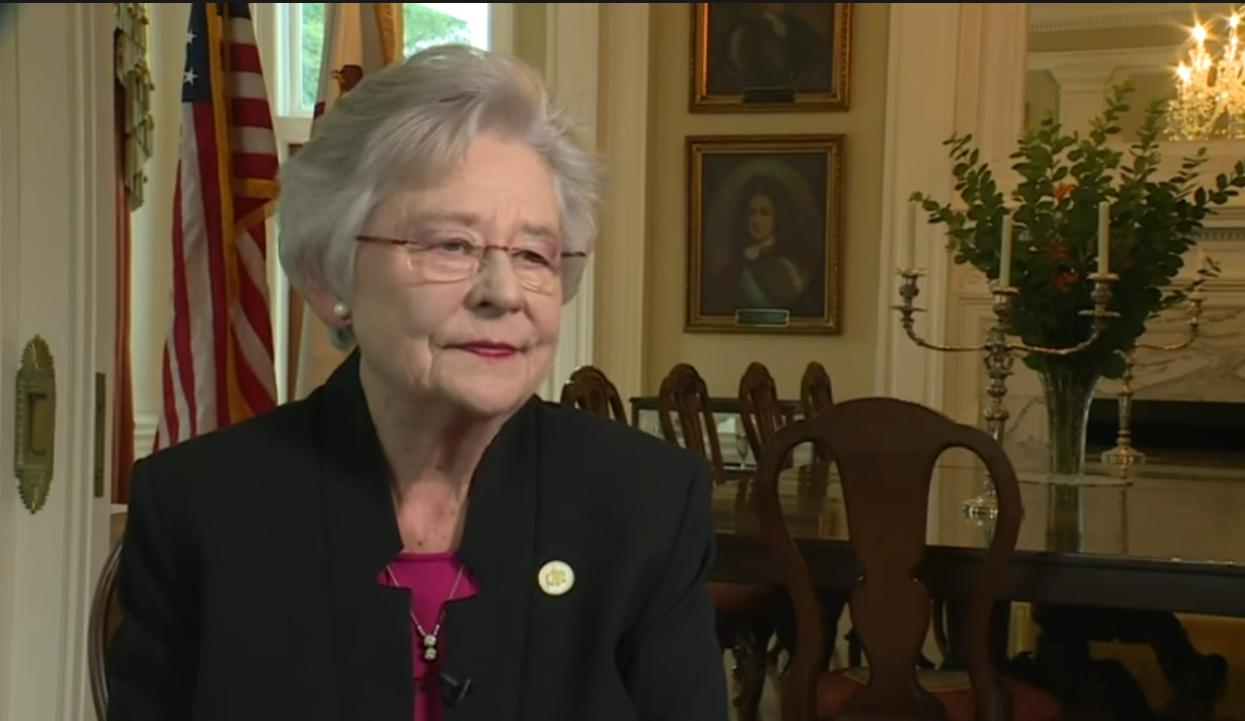 Alabama Republican Governor Kay Ivey signed a package of anti-LGBTQ+ legislation Friday including House Bill 322 which bans K-12 students from using bathrooms and school facilities consistent with their gender identity and enacts a bill similar to one recently enacted in Florida with "Don't Say Gay or Trans" provisions for classroom instruction in grades K-5.
Ivey also signed SB 184 – a bill that would criminalize doctors for providing best-practice, gender-affirming care to transgender and nonbinary youth.
In response, major LGBTQ+ and civil rights organizations – including The Southern Poverty Law Center (SPLC), the National Center for Lesbian Rights (NCLR), GLBTQ Legal Advocates & Defenders (GLAD) and Human Rights Campaign (HRC) – announced they would challenge the bill.
"A state cannot criminalize parents and doctors for following medical guidelines and providing needed medical treatments," said Asaf Orr, senior staff attorney and Transgender Youth Project director at the NCLR. "This is a blatantly unconstitutional bill that will cause enormous stress and harm to Alabama families and cost Alabama taxpayers millions of dollars to defend."
"At the eleventh hour, the governor of Alabama signed into law a slate of arguably the most extreme anti-trans bills we have ever seen. These policies attempt to make providing gender-affirming care a felony, and cut off access to nearly every support system transgender and nonbinary youth have – support systems we know are critical for reducing their suicide risk and for advancing their positive mental health," said Sam Ames, Director of Advocacy and Government Affairs for The Trevor Project. "But they will not succeed. To trans and nonbinary youth in Alabama and across the country watching on this dark day: This is not over. We will fight as far as it takes, until the day every young person knows they are loved, supported, and worthy just as they are. We're here with you today, we're here for you every day, and we're not going anywhere."
The American Civil Liberties Union, the ACLU of Alabama, Lambda Legal, Transgender Law Center, and Cooley LLP announced today plans to file a legal challenge to proposed legislation in Alabama that would criminalize medical professionals who provide gender-affirming care to transgender adolescents with up to 10 years in prison.
The bills have been opposed by doctors, medical associations, and the families of transgender youth who consider gender-affirming care to be medically necessary and lifesaving. Similar efforts by lawmakers in Arkansas and Texas to restrict access to gender-affirming care have been blocked by courts.
"If Alabama lawmakers insist on passing this cruel, dangerous, and unconstitutional legislation into law, the state will immediately have a lawsuit to deal with," said Carl S. Charles, senior attorney for Lambda Legal. "The Alabama Legislature and Governor Kay Ivey need to consider the time and resources they will invest, not to mention the stain of discrimination that often means lost opportunity and investment, and ask themselves if targeting the health care of children is truly worth it because we are prepared to make that investment in order to protect transgender youth, their families, and their doctors in Alabama."
New polling data from The Trevor Project and Morning Consult find:
A majority of U.S. adults oppose blocking students from accessing LGBTQ resources and educational content on the internet at school (57%), banning books on LGBTQ topics from school libraries (56%), and banning classroom discussions about LGBTQ topics — including sexual orientation and gender identity — in school (52%).
Further, a majority of adults agree that transgender minors should have access to gender-affirming hormone therapy (55%) and puberty blockers (52%) if it's recommended by their doctor and supported by their parents. And only 1 in 3 adults say lawmakers should have the ability to outlaw gender-affirming medical care for minors even if such a ban is against the recommendation of doctors and major medical associations.
Another poll released earlier this year found that found that 85% of transgender and nonbinary youth —and two-thirds of all LGBTQ youth (66%) — say recent debates about state laws restricting the rights of transgender people have negatively impacted their mental health.
Ala. mayor, pastor dies by suicide after far-right website published pictures of trans persona
F.L. "Bubba" Copeland was elected in Smiths Station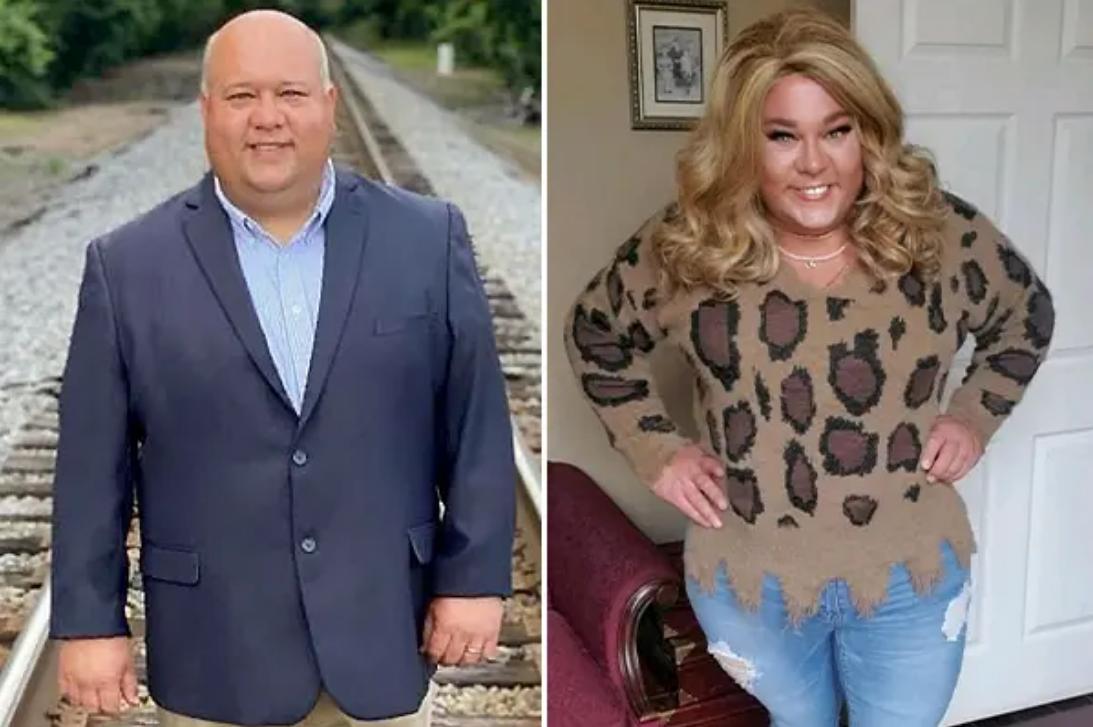 F.L. "Bubba" Copeland was the duly elected mayor of Smiths Station, a town in Lee County, Alabama. It is part of the neighboring Columbus, Ga., metropolitan area. Copeland was also pastor of the First Baptist Church of Phenix City, which sits across the Chattahoochee River from Columbus.
By all accounts "Bubba," as he was known in this small town of 6,756, was very popular, respected and beloved but early Nov. 3 he died by suicide after a far-right publication published photos and a story detailing the pastor-mayor's private and secret life.
Lee County Sheriff Jay Jones told media outlets that Copeland, a married father of three, "took his own life" around 5 p.m. According to the sheriff, at around 4:15 p.m. CT, his deputies received information regarding the mayor needing a possible welfare check. Deputies found Copeland in the Beulah community area, where a slow pursuit began. Officials say the mayor turned onto Lee Road and pulled over. When he exited his vehicle, he produced a handgun and used it to take his own life.
The tragic death of the pastor-mayor stemmed from an article published by writer Craig Monger on the far-right wing media website 1819 News earlier in the week. 1819 News is a website that was once owned by the Alabama Policy Institute, a conservative group that is staunchly anti-LGBTQ and has filed multiple lawsuits against same-sex marriage.
Monger's article disclosed Copeland's secret online social media alter persona Brittini Blaire Summerlin, which listed Copeland self labeled as a "transitioning" transgender woman. Monger went on to publish screenshots of other photos and entries including some photos that 1819 News alerted readers with the caution: "WARNING: EXPLICIT PHOTOS."
Copeland told Monger that he could confirm that he operated the various social media accounts and it was him who was featured in the photos. He claimed it was only a means of "getting rid of stress" and called the postings a "hobby" and a "fantasy." The pastor-mayor said his erotica and transgender persona was "purely fiction."
According to Monger, after the interview, Copeland promptly deleted the accounts and asked them not to be made public due to his family and position as a Baptist pastor.
The day the article was published online, that evening Copeland delivered a sermon from the pulpit at his church telling his congregation:
"The article is not who or what I am … I apologize for any embarrassment caused by my private and personal life that has become public. This will not cause my life to change. This will not waiver my devotion to my family, serving my city, serving my church," Copeland said.
He then read from the 23rd Psalm telling parishioners, "God will always protect you, take care of you," Copeland said. "He will see you through anything, absolutely anything."
WTVM in Columbus reported that reacting to the news of Copeland's suicide, some people in the community said they were saddened by the news in so many ways.
"Things that were obviously private came out publicly and quite frankly unexpectedly. I can't imagine, again, what that must be like for the mayor, his family and for anyone who's been affected by this," said Kris Patton. "Probably the most heart-wrenching thing about it is the effect that it is going to be on the community."
"What he did in his personal life… his business, you know," said Jennifer Schmitt.
Reaction from the Christian anti-LGBTQ right groups, however, was unsympathetic.
"We have become aware of the alleged unbiblical behavior related to the pastor of the First Baptist Church of Phenix City. We are praying for the leaders of the church family as they seek to determine the truth concerning these accusations. As the people of God, we pray for the pastor and his family as well. We are in consultation with the Russell Baptist Association's leadership as they endeavor to assist the First Baptist family during this critical time of need," the Alabama Baptist State Convention and Alabama Baptist State Board of Missions said in a statement to the Alabama Baptist, a news outlet for the state's Baptist churches.
Former Phenix City Schools Superintendent Larry DiChiara angrily posted on his personal Facebook page:
"I am so angry right now and heartbroken. I witnessed a good man be publicly ridiculed and crucified over the last few days to the point that he just took his own life today. I just want to ask you people who thought it humorous to publicly ridicule him, 'Are you happy now?' What crime did he commit?"
Prominent South Florida pastor and Biblical scholar Kevin M. Young posted on X, formerly Twitter: "This pastor committed suicide not too far from here today. We must end LGBTQ+ persecution."
Hemant Mehta, who authors the progressive website the Friendly Atheist, researched Copeland prior to learning of his suicide on Friday. Mehta noted; "There's a story making the rounds about an Alabama preacher/mayor who secretly dresses in drag and adopts the persona of a trans woman on social media. The problem? It's not clear he's a hypocrite. If he's not a bigot, why is he being outed?"
Mehta and others who dug into Copeland's background found absolutely no evidence of anti-LGBTQ animus from the pastor-mayor's social media and other sources. Mehta writes:
"As far as I can tell, there's no evidence that Copeland himself has ever participated in those right-wing attacks. I have yet to see a sermon clip where he rails against drag queens or trans people. I can't find a single policy he's promoted as mayor that would make life worse for the LGBTQ community. (All of those things may exist, to be clear, but I haven't found them yet.)
The article in 1819 News never once mentions a single example of his hypocrisy … which seems like an odd omission given the way the article is framed. If this was a slam-dunk story, all those images of Copeland dressing as a woman would be followed by screenshots of, say, his anti-LGBTQ social media posts. But you won't find anything like that in the article.
If there's no proof of hypocrisy, then why the hell is this a story?!"
Ala. extends ban on transgender female athletes to universities
Republican Gov. Kay Ivey signed bill on Tuesday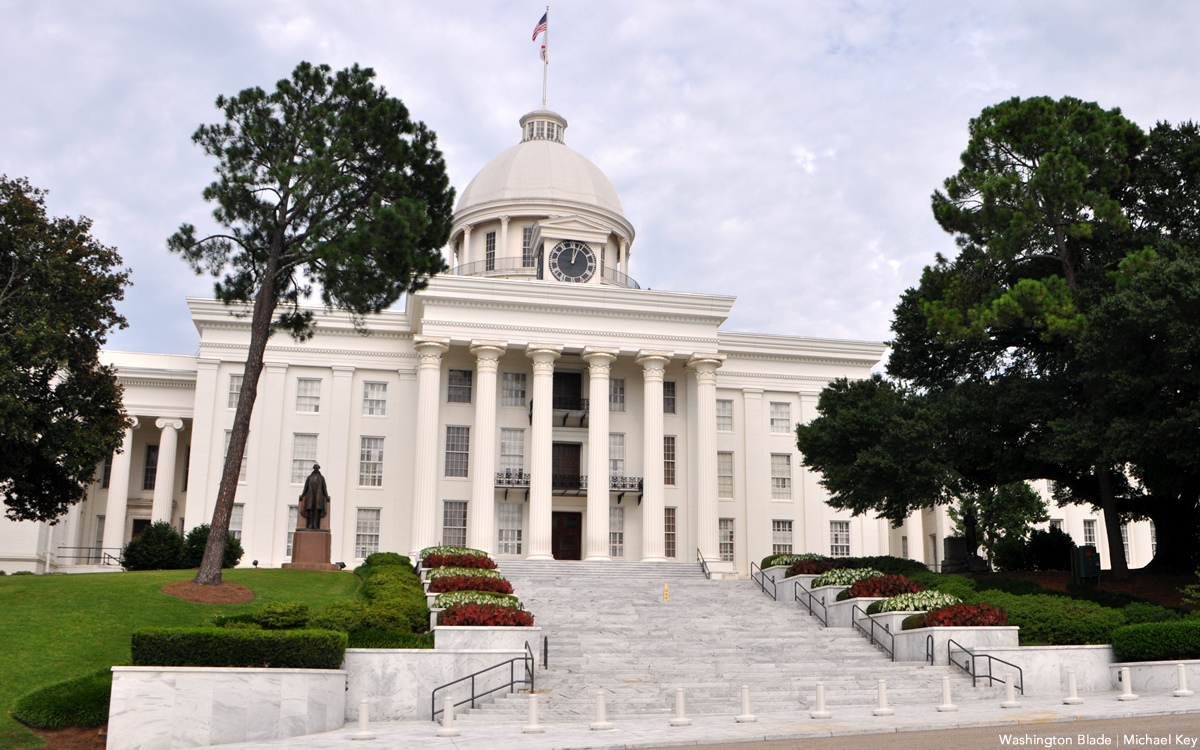 Governor Kay Ivey on Tuesday signed House Bill 261, which limits transgender students to playing sports in public colleges and universities only with "their biological sex assigned at birth."
"Look, if you are a biological male, you are not going to be competing in women's and girls' sports in Alabama. It's about fairness, plain and simple," said Ivey in a statement released by her office.
House Bill 261 was approved 26-4 in the Alabama Senate and 83-5 in the House of Representatives. In the vote in the House more than a dozen lawmakers abstained from the vote.
Ivey had previously signed legislation in 2021 banning trans female athletes from competing in K-12 girls sports. At the time she signed that bill the governor had noted that "Alabama remains committed to protecting female athletes at all levels and upholding the integrity of athletics."
Carmarion D. Anderson-Harvey, Alabama state director of the Human Rights Campaign, said the legislation is part of a "systematic attack against LGBTQ+ people" in Alabama and elsewhere.
"In just two years, [Ivey] and extremist lawmakers in Alabama have passed four anti-LGBTQ+ bills. From dictating what bathrooms we can use to blatantly ignoring the actual problems in women's sports, these politicians are making Alabama an increasingly hostile place for transgender people and the LGBTQ+ community as a whole," Anderson-Harvey said.
University of Alabama allows students to use "chosen names" on student ID
"Having something that accurately reflects who you are as a person and how you want to make sure that the world sees and respects you is obviously monumentally important, right?"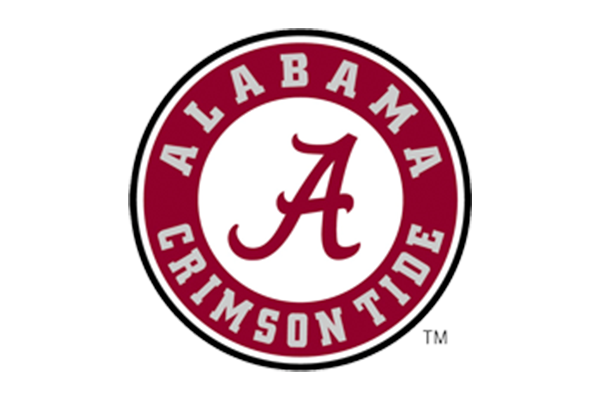 Students, faculty and campus members at University of Alabama are now able to put their preferred names on mobile Action Cards, which are the official campus ID cards, for free.
The university's assistant director of communications Shane Dorrill wrote in email that this option, available on physical cards for several years, will be available online as well after a software update.
ACT Card communications specialist Courtney Petrizzi said the ACT Card office recognized the importance of having the feature, which was previously available on physical cards, on mobile ACT Cards. 
"This change is an update that we created to reflect our campus community's needs," Petrizzi said.
The Action Card office announced this change on May 19. They updated the policy in partnership with UA Safe Zone, a resource center for LGBTQIA+ individuals and their allies on campus. 
Eli Strong, one co-founder of UA Safe Zone said during an interview with AL, "Having something that accurately reflects who you are as a person and how you want to make sure that the world sees and respects you is obviously monumentally important, right?" 
Strong is a transgender man who graduated from University of Alabama. He believed that this change is important because it's a safety issue. It's a way for the university to acknowledge people and a way for people to feel affirmed by the documentation they carry around each day.
"It's an exploratory time where you should be focused on learning and not be focused on the fear of being misgendered or harassed because of who you are," Will Thomas, one of the co-founders of the University of Alabama LGBTQ+ Alumni Association, claimed that affirming documentation can help students have a positive experience.
This policy change comes after a series of anti-gay lesigilations passed in Alabama, including the Don't Say Gay amendment and transgender bathroom restrictions.
Campus members can use Action Cards for various daily needs, such as meal plans and dining dollars, building access, sporting and entertainment events and health center access.