Man sentenced to 39 years for 3 D.C. 'home invasion' rapes
Prosecutors say suspect 'elaborately planned' sexual assaults in Capitol Hill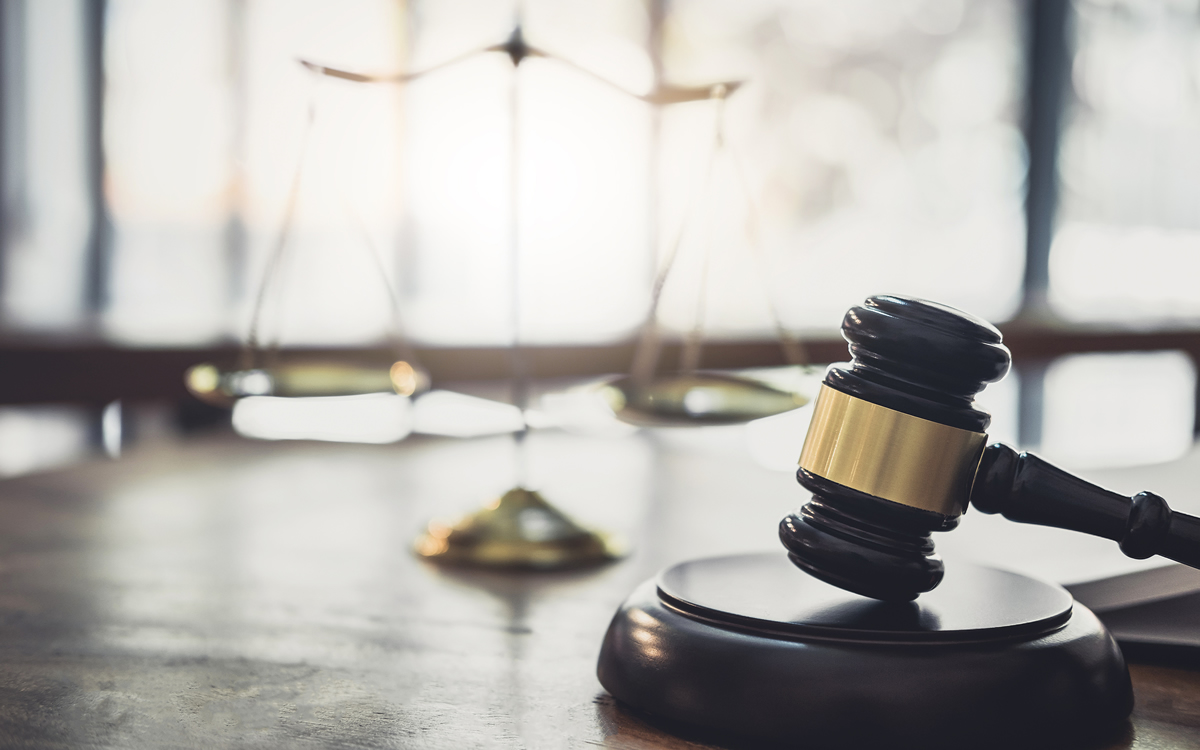 A D.C. Superior Court judge on April 6 sentenced Bryant Webster, 38, of Suitland, Md., to 39 years in prison just under three years after he pleaded guilty to sexually assaulting three men in their nearby Capitol Hill apartments in 2016 after entering the apartments through what authorities said were unlocked doors.
"During a 50-day period between August 12 and October 1, 2016, the defendant raped three adult men within blocks of each other," according to a 27-page sentencing memorandum submitted by prosecutors with the Office of the U.S. Attorney urging Superior Court Judge Marisa Demeo to hand down the full sentence of 39 years requested by prosecutors.
The memorandum says Webster committed "multiple acts of elaborately planned, stealth, home invasion rapes" against the three male victims, who he observed and stalked before committing the sexual assaults.
Among other things, the memorandum says Webster somehow found out about the victims' careers and college backgrounds and knew their names and the name and address of one of their girlfriends. And in at least one case, he entered and looked over the victim's apartment and stole some of his personal checks before coming back a week or so later to rape him, according to the lengthy memo.
None of the numerous court documents related to the case states whether Webster self-identifies as gay or whether he was involved in any LGBTQ organizations or activities in the D.C. area, where he has lived his entire life.
Thomas Key, who served as Webster's attorney at the time of the sentencing, did not respond to a request from the Blade for comment on the case.
In court charging documents, prosecutors said there were no signs of a forced entry into any of the apartments that Webster entered and committed the alleged sexual assaults. The charging documents say the victims told police and prosecutors they most likely left their doors unlocked.
The charging documents say Webster forced two of the three victims into submitting to his sexual assault by threatening them with a handgun and after he bound their hands and feet with black duct tape that he pulled out of a backpack he had with him.
He sexually assaulted the third victim, identified in charging documents as P.H., while P.H. was asleep and possibly unconscious on a sofa in the apartment he shared with one of the other two victims, identified as L.K. As he had in the other incident, Webster somehow entered the apartment of P.H. and L.K. on different occasions without breaking in, the charging documents say.
Police later analyzed video that Webster took with his phone, which police obtained at the time of his arrest, showing him performing oral sex on the unconscious P.H.
"Additional images captured the defendant taking a 'selfie' with the defendant's mouth on P.H.'s penis, the defendant wearing pink gloves manipulating P.H.'s genitals, and the defendant's penis next to P.H.'s face," the U.S. Attorney's sentencing memorandum states. "These images were taken all while P.H. remained asleep or otherwise unconscious," the memo says.
The charging documents and sentencing memo describe in detail how Webster's sexual assault of L.K., the last of the three men he's charged with sexually assaulting, led to his arrest. The documents say Webster entered the apartment where L.K., P.H. and two other roommates lived just after midnight on Oct. 1, 2016, through an apparent unlocked door.
At gunpoint, he ordered L.K. into L.K.'s bedroom, ordered him to take off his clothes, ordered him onto his bed, and bound his hands and feet with duct tape, the charging documents continue. He then removed his own pants and underpants and proceeded to rape L.K., the charging documents say. As the sexual assault continued, both L.K. and Webster heard someone enter the apartment, prompting Webster to lock the bedroom door.
Knowing the person who entered the apartment was one of his roommates, L.K. waited for Webster to let down his guard, the charging documents say. When he saw that Webster put his gun down on the bed, L.K. managed to break free of the duct tape on his hands, grabbed the gun, and screamed for his roommate to help him as he and Webster struggled for the gun. According to the charging documents and the sentencing memo, the roommate forced open the locked bedroom door and helped L.K. subdue Webster, allowing L.K. to take the gun, run out of the bedroom and call police, who arrived minutes later and arrested Webster.
He has been held in jail without bond in the five years and six months since the time of his Oct. 1, 2016, arrest, and the time of his sentencing earlier this month on April 6.
In July 2019, two years and nine months after his arrest, Webster pleaded guilty to two counts of first-degree sexual abuse while armed and one count of second-degree sexual abuse as part of a plea bargain agreement offered by prosecutors. The plea, which was dependent upon the judge's approval, called for a sentence of between 32 and 39 years.
Court records show that the sentencing date, which was initially set for September 19, 2019, was postponed repeatedly after Webster, through his attorneys, filed two separate motions to rescind his guilty plea and go to trial. Those motions were denied by the judge, but they and other motions filed by the defense challenging evidence presented by police and prosecutors along with COVID-related delays of court proceedings resulted in the sentencing being delayed two-and-a-half years until April 6 of this year.
The sentencing memorandum says police and prosecutors have obtained evidence through videos and photos on Webster's phone that he committed sexual assaults on other men while gaining access to their homes, none of whom have been identified. The memo says Webster also allegedly sexually assaulted one of his cellmates at the D.C. jail.
According to the sentencing memo, Webster led a double, "fraudulent" life, appearing to his family and friends as a highly respected upstanding citizen.
"He graduated from college with a degree in psychology," the memo says. "He worked regularly focusing on jobs where he interacted with people who had trouble faring for themselves like homeless men and special education students," it says. "He also had a history of working for various hotels and was involved in his church as a minister," the memo continues.
"However, behind that veneer is an extremely dangerous, sadistic, armed serial rapist," the memo to the judge concludes. "He stalks people, invades their homes, steals their possessions, and inflicts inconceivable horrors on their body…The danger he poses to the public is multiplied by the fact that he parades as a law abiding, rational, and even kind individual."
Hearing postponed for gay D.C. gym owner charged with distributing child porn
Prosecutors call for Everts to be held in jail until trial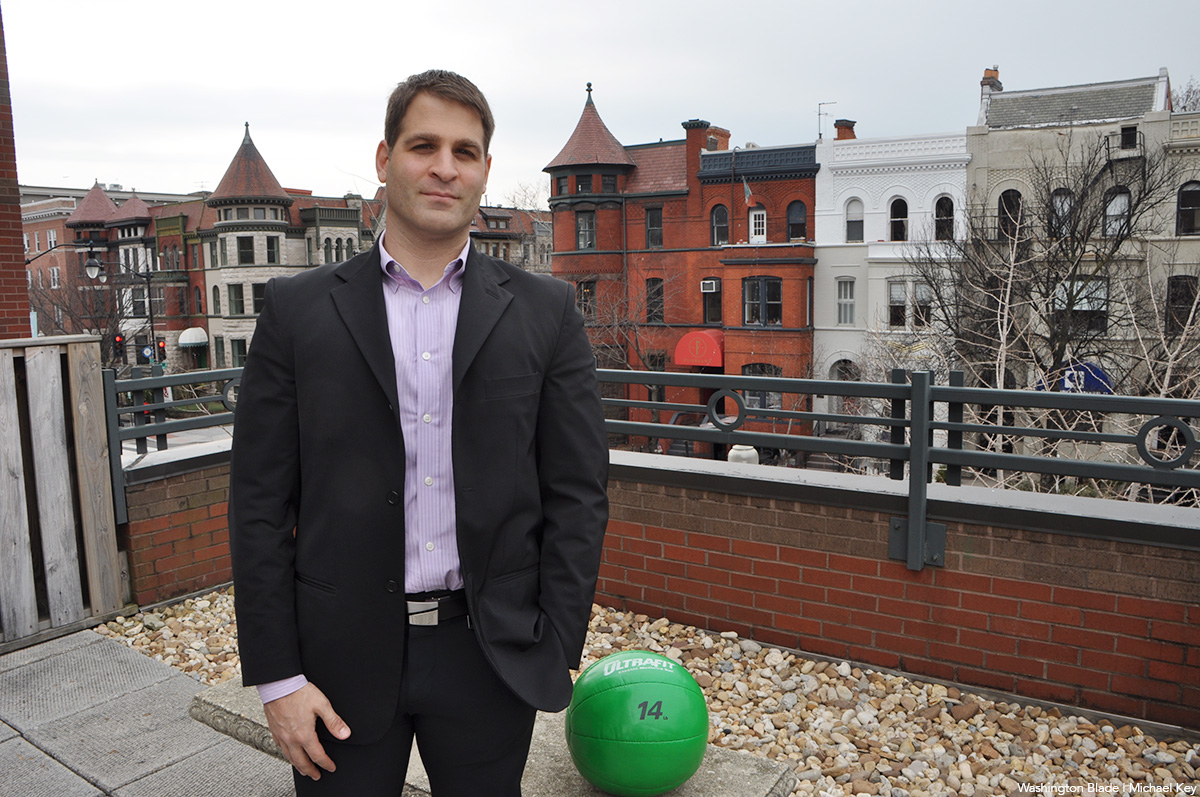 A detention hearing scheduled for Monday, Dec. 4, in which a judge would decide whether gay D.C. gym owner Michael Everts should remain in jail or be released while he awaits a trial on a charge of distribution of child pornography was postponed with no immediate date set to reschedule it.
However, records with the U.S. District Court for the District of Columbia, before which the case is being held, show that Everts's defense attorney later in the day on Dec. 4 filed a motion in which Everts waived his right to a detention hearing and requested that a preliminary hearing be scheduled on Jan. 10, 2024.
In his motion, defense attorney David Benowitz says the lead prosecutor with the Office of the U.S. Attorney for D.C. does not oppose this request. As of Tuesday morning, the magistrate judge presiding over the case had not ruled on Benowitz's motion.
But an entry in the court record on Wednesday, Dec. 5, states that Magistrate Judge G. Michael Harvey approved the motion and agreed to set the date for the preliminary hearing on Jan. 10 at 4 p.m. The court record shows that Magistrate Judge Robin M. Meriweather will preside over the preliminary hearing, in which prosecutors must present evidence, sometimes through testimony by witnesses, that probable cause or sufficient evidence exists to proceed to a trial. Meriweather will issue a ruling on whether probable cause exists.
Everts has been held without bond since the time of his arrest on Nov. 29 on a single charge of distribution of child pornography following a joint D.C. police-FBI investigation that led to his arrest.
He has owned and operated the FIT Personal Training gym located at 1633 Q St., N.W., near Dupont Circle since its opening in 2002.
Court records show that Benowitz filed a motion on Dec. 3 seeking a one-day postponement of the detention hearing to give him time to review the evidence presented by prosecutors with the U.S. Attorney's office. But Benowitz's second motion waiving Everts's right to a detention hearing and calling for a preliminary hearing on Jan. 10 appears to have voided his first motion and will result in Everts being held in jail until at least the time of the preliminary hearing in January.
"Mr. Everts has been advised of his rights under the Speedy Trial Act ("STA") and agrees to toll the time under the STA until the next hearing in this matter," Benowitz's second motion states.
Magistrate Judge G. Michael Harvey apparently agreed to the postponement, but as of Tuesday morning, court records showed a date for the preliminary hearing had not yet been posted on the court docket.
On Dec. 1, Assistant U.S. Attorney Jocelyn Bond, the lead prosecutor in the case, filed a 20-page Memorandum In Support of Pretrial Detention that describes the government's evidence against Everts and argues strongly in favor of having Everts held in custody at least until the time of his trial.
"Distribution of Child Pornography is a crime of violence and there is no condition or combination of conditions that will reasonably assure the safety of children in the community – both in the physical world and online – if Mr. Everts is released," the memorandum states.
The memorandum notes that Everts's arrest came about after an employee at the gay and bi hookup site Sniffies alerted the FBI that a Sniffies user was exchanging messages with other users expressing an interest in images of underage boys for sexual gratification. A joint FBI and D.C. police investigation traced the messages to Everts, according to an arrest affidavit and the U.S. Attorney's memo.
The affidavit and memo point out that an undercover D.C. police detective working with the FBI and posing as someone interested in underage boys contacted Everts through the Sniffies site and a social media messaging address of @ethaneffex. The undercover detective, who is identified in charging documents as the "online covert employee" or "OCE," engaged in messaging with Everts that prompted Everts to send the OCE video and photo images of child pornography, the arrest affidavit and memo state.
The memo seeking pretrial detention for Everts says Everts went beyond just expressing interest in viewing or sending the OCE child porn videos or photos but also described his interest in interacting with and possibly having sex with underage boys he knew.
"On multiple occasions he discussed his sexual interest in actual children that he encountered in his life, particularly emphasizing his desire to sexually abuse Minor 1 and noting that he had surreptitiously recorded Minor 1 at the playground in the past," the memorandum says.
"Not only did he send photos of these children to someone whom he had reason to believe also had a sexual interest in children," the memo states, "but he sent multiple voice messages to the OCE reiterating his sexual interest in Minor 1 – as well as in Minor 2 and other unknown minors — and describing the specific sexual acts he wanted to engage in with these minors."
The memo adds, "Only amplifying his danger to children, Everts then bragged about having previously engaged in sex with a minor and his willingness to sexually abuse a child as young as 10 years old."
Benowitz, Everts's attorney, didn't immediately respond to a request by the Washington Blade for comment on the case and whether he or his client dispute any of the allegations against Everts brought by prosecutors.
'Behind-the-scenes' activist Paul Kuntzler marks 62 years in D.C.
Inspired by Kennedy, Michigan native played key role in early LGBTQ movement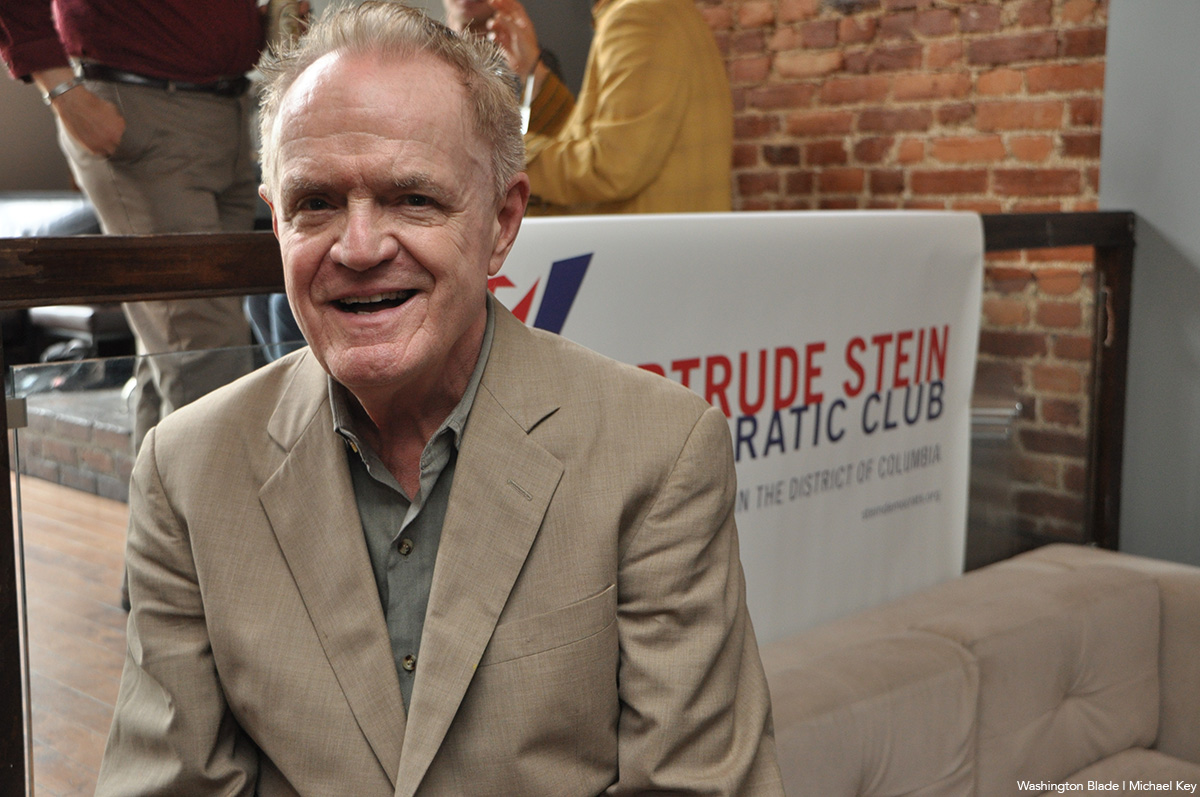 In reflecting on his many years of involvement in U.S. politics and the LGBTQ rights movement, Paul Kuntzler points out that Dec. 28 of this year will mark his 62nd year as a resident of Washington, D.C. And he also points out that two days before that, on Dec. 26, he will celebrate his 82nd birthday.
Those who have known Paul Kuntzler over the years say that while his is not a household name in politics and the LGBTQ rights movement, he has played a critical role as an everyday hero and behind-the-scenes organizer for the Democratic Party and the local and national LGBTQ rights movement.
Among other things, Kuntzler served as campaign manager for D.C. gay rights pioneer Frank Kameny's 1971 role as the first openly gay candidate for the U.S. Congress when Kameny ran for the newly created position of non-voting Delegate to the U.S. House of Representatives for D.C.
In his role as campaign manager, Kuntzler is also credited with arranging for more than a dozen volunteers from the then-Gay Activists Alliance and Gay Youth group of New York City to come to D.C. on a bus that the Kameny campaign paid for to help gather the needed 5,000 signatures to get Kameny's name on the ballot.
"I knew how difficult that was going to be," Kuntzler said. "And I recognized we were not going to do this all on our own," adding that the gay volunteers from New York, who joined forces with local D.C. volunteers, obtained a total of 7,800 signatures of registered D.C. voters to get Kameny's name on the ballot.
Although Kameny finished in fourth place in a six-candidate race, his run as the first openly gay candidate for the U.S. Congress drew national publicity, including support from actor Paul Newman and his wife Joanne Woodward, who made a $500 contribution to the Kameny campaign while they were performing at the time at D.C.'s National Theater.
Observers of the LGBTQ rights movement at that time considered Kameny's candidacy an important development in the effort to advance LGBTQ rights both in D.C. and nationwide.
"Looking back, that probably was one of the most significant things I did in my life," Kuntzler said in recalling his role as Kameny's campaign manager.
He says his involvement in politics began in the summer of 1960 in his hometown of Grosse Pointe Woods, Mich., a Detroit suburb, when he co-founded the Grosse Pointe Young Democrats and served as a volunteer on the presidential campaign of John F. Kennedy.
"I met JFK at the Detroit airport and shook his hand," Kuntzler recalls while he joined a crowd of supporters welcoming Kennedy on his arrival for a campaign tour in Michigan. "It was Labor Day weekend – Sunday, Sept. 4, 1960," Kuntzler said in demonstrating an amazing recall of dates and events.
Kuntzler, who traveled to D.C. to attend the Kennedy inauguration on Jan. 20, 1961, said the idealism of the Kennedy administration prompted him to move to D.C. one year later to become involved in politics and the fledgling gay rights movement.
"I met Frank Kameny at Lafayette Chicken Hut on Sunday, Feb. 25, 1962," Kuntzler says in referring to the then-popular D.C. gay bar. "And he was then president of the Mattachine Society of Washington," Kuntzler noted, which was the first significant gay rights group in D.C. that Kameny co-founded.
"He invited me to attend the next Mattachine Society meeting," Kuntzler recalls. "So, on Tuesday, March 6, 1962, at Earl Aiken's apartment on Harvard Street, I became the 17th member of the D.C. Mattachine Society.," Kuntzler continued. "And at the age of 20, I was the only minor involved in the gay rights movement consisting of about 150 people in five American cities," he said. "I'm the only one still living of the original 17."
His membership in the Mattachine Society of D.C. was the start of Kuntzler's 50-plus years of involvement in the local and national LGBTQ rights movement. He recalls that he helped make history when he joined Kameny and other members of the Mattachine Society in April of 1965 for the nation's first gay rights protest in front of the White House.
Kuntzler said he brought with him a large poster-size sign he made reading, "15 Million Homosexuals Protest Federal Treatment." He said Mattachine Society of D.C. co-founder Jack Nichols asked permission to carry that sign on the picket line in front of the White House. Kuntzler gave him permission to do so.
To this day, Kuntzler says, he has a large United Press International photo of Nichols carrying the sign with Kameny, lesbian activist Lilli Vincenz, and Kuntzler standing beside him with the White House as a backdrop.
In the following three decades or more, Kuntzler served as an organizer and founder of several LGBTQ organizations and projects while pursuing a work career as a manager for several organizations. He served from 1973 to 2007 as assistant executive director for advertising, exhibits and workshop sales for the D.C.-based National Science Teachers Association.
His many behind-the-scenes involvements included serving in 1975 as the first treasurer for the Gay Rights National Lobby, one of the first national LGBTQ rights organizations based in D.C. that later evolved into the Human Rights Campaign in 1980, for which he also served for a short time as treasurer. In 1979, Kuntzler became a co-founder of the Gertrude Stein Democratic Club, D.C.'s first LGBTQ Democratic organization.
Also in 1979, Kuntzler helped found the National Convention Project, an effort to elect openly gay delegates and secure a "gay rights" plank in the platform at the 1980 Democratic National Convention. The effort resulted in the election of about 100 openly LGBT delegates to the 1980 convention from states across the country, including D.C. and the adoption of an LGBT supportive plank in the Democratic Party's platform at that time.
Kuntzler said he and the others working on the project, which he called a success, were deeply disappointed when then-Democratic President Jimmy Carter lost the November 1980 presidential election to Republican Ronald Reagan. But he said he was inspired to continue his work on behalf of the Democratic Party and LGBTQ rights issues over the next several decades.
The person most important in his life, Kuntzler said, was his domestic partner Stephen Brent Miller of 42 years who died in July 2004.
"Stephen and I met on Friday, March 30, 1962, at Lafayette Chicken Hut," Kuntzler said. "I was sitting on the side and Stephen was sitting in the middle, and I think he sent me a beer and then came over and sat down and we talked," Kuntzler recalls. "We had our first date on the second Sunday in April of 1962."
The two went to brunch before going to see a movie and then took a bus to get to Frank Kameny's house. It was a housewarming party of the house that Kameny had just secured a lease to rent for his residence and his gay rights endeavors. Miller, a professional stenographer who later started his own court reporting business, Miller Reporting, quickly took on the role of being the loving spouse to a committed activist, people who knew the couple have said.
Kuntzler said his attendance at the Human Right Campaign's annual Washington dinner last month, which is one of the nation's largest LGBTQ events, in which President Joe Biden and first lady Jill Biden spoke, was a further sign of progress for the LGBTQ rights movement as he sees it.
Asked if he has any advice for the LGBTQ community at this time, Kuntzler said, "I think we need to continue to be vigilant … We need to continue to be vigilant."
Close to 200 turn out for D.C. LGBTQ+ Housing Summit
Speakers say LGBTQ residents impacted by housing 'crisis'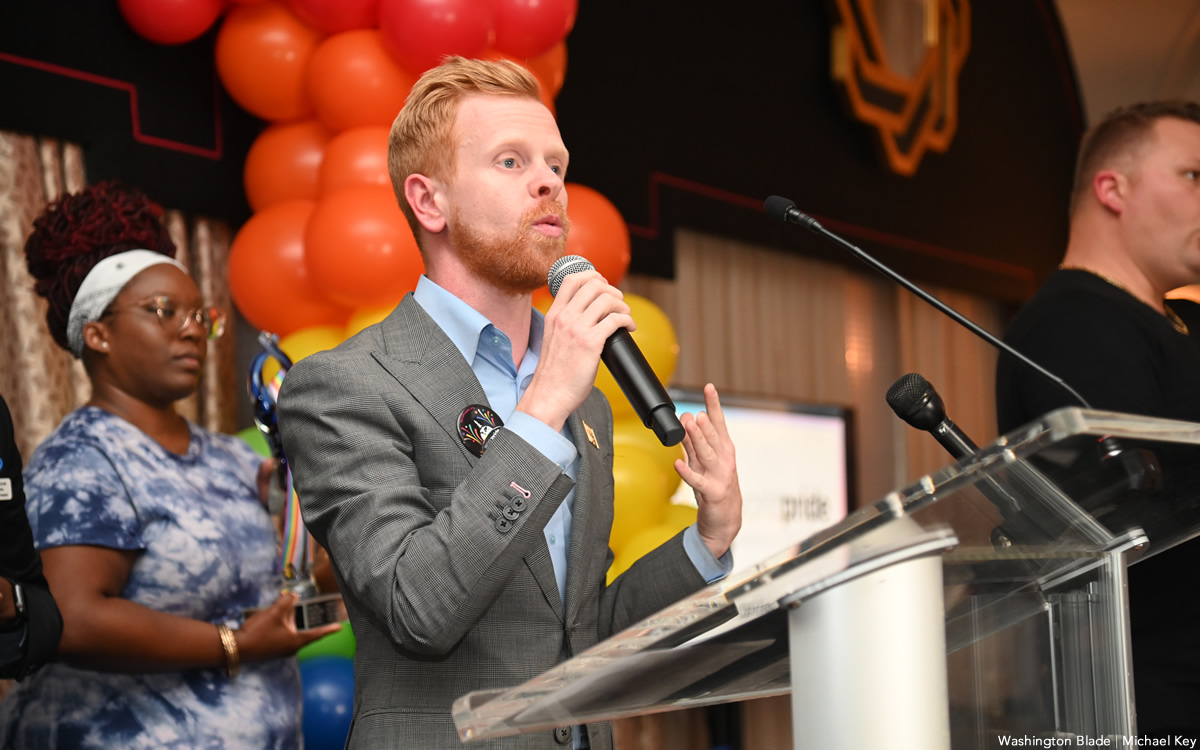 Close to 200 people turned out on Nov. 29 for the first day of a two-day D.C. LGBTQ+ Housing Summit held at the Martin Luther King Jr. Public Library's upper floor conference center.
Officials with the D.C. LGBTQ+ Budget Coalition and the D.C. Advisory Neighborhood Commission Rainbow Caucus, the two lead organizers of the summit, said participants, among other things, would be discussing ways to address what organizers say is the disproportionate impact of the city's shortage of affordable housing on members of the LGBTQ community.
Among those who helped organize and who participated in the event were Mayor Muriel Bowser's Office of LGBTQ Affairs and D.C. Council member Robert White (D-At-Large), who chairs the Council's Committee on Housing.
White and Japer Bowles, director of the Office of LGBTQ Affairs, were among those who gave presentations at the summit's opening session on Nov. 29. Also speaking at the summit and pledging support for LGBTQ housing issues was D.C. Council member Zachary Parker (D-Ward 5), the Council's only gay member.
"Please come to testify at our Council budget hearings for more funds for housing, " Parker told summit participants at the opening plenary session. He was among several speakers who called on the city to increase funding for affordable housing programs.
"Finding secure and affordable housing is an increasingly challenging task for many individuals in the District of Columbia," a statement released by summit organizers says. "However, for members of D.C.'s LGBTQ+ community, this challenge often reaches near impossible levels," the statement says.
"Alarming statistics in the District indicate that up to 40 percent of D.C.'s homeless youth identify as LGBTQ," the statement continues. "Furthermore, the absence of LGBTQ+ affirming senior housing in the District is an urgent concern," it says. "Participants will delve into strengthening LGBTQ+ participation in existing housing programs, identifying LGBTQ+ specific barriers to program participation, and leveraging federal resources to transform DC into a national leader in LGBTQ+ housing policy," the statement adds.
Heidi Ellis, director of the D.C. LGBTQ Budget Coalition, which consists of more than a dozen local LGBTQ and LGBTQ supportive organizations, pointed out that the two-day summit also included a resource fair in which as many as 20 LGBTQ and LGBTQ supportive organizations would be setting up information tables staffed with people who would provide important housing related resources to conference participants.
Among the organizations that set up information tables at the summit were the D.C. Center for the LGBT Community and the LGBTQ youth support and advocacy group SMYAL.
Ellis said summit organizers plan to release a report summarizing the main issues of concern raised at the summit and proposed solutions.
"I think the summit is going really well today," Vincent Slatt, chair of the ANC Rainbow Caucus, told the Blade during the summit's first day lunch break. "This is the start of a larger conversation," Slatt said. "The summit does not finish. Our talking about housing and coming out of this with policy recommendations, demands for budget changes, getting people involved" will continue after the two-day event, he said.
Organizers said the summit was open to the public and free of charge, and they would welcome community members to stop by on the second and closing day on Thursday, Nov. 30. The MLK Public Library, where the summit is being held, is located at 901 G St., N.W.