'Grace' explores the importance of food and family
Ford's musical an upbeat look at African-American culinary traditions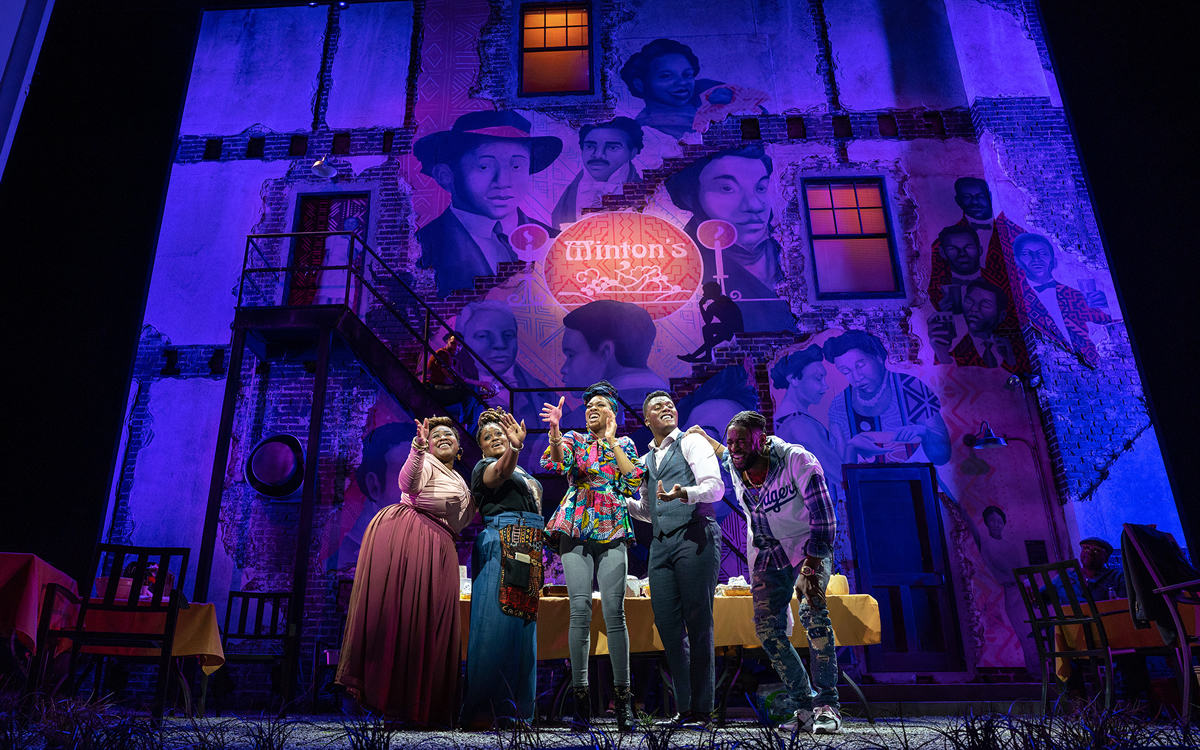 'Grace'
Through May 14
Ford's Theatre
511 10th St., N.W.
$22 -$81
Fords.org
The older you get the more dead people you know. So says Miss Minnie, the blunt but sage sister of the deceased in the new musical "Grace," now premiering at Ford's Theatre. 
With music and lyrics by D.C.'s Nolan Williams, Jr. and a book co-written by Williams and Nikkole Salter, it's an upbeat exploration of African-American culinary tradition and the challenges faced by Black-owned businesses as experienced through the personal lens of Philadelphia's Minton family.
For the Mintons, death has come for Gran'Me, the matriarch who has held the reins of the family's century old restaurant for the last 40 years. With her passing, the landmark Minton's Place goes to granddaughter Ruthie (Nova Y. Payton). But with ownership comes a host of problems, specifically keeping financially afloat in an evolving neighborhood where corner stores are replaced by doggy spas and soulless developers are on the rise.
Payton's Ruthie is a revelation. Seamlessly and subtly, she exudes a truthful blend of preoccupation, strength, and unsuccessfully concealed worry. And nightly, Payton deservedly receives a mid-show standing ovation for "Again," a powerfully sung pledge to muster the grit to endure.
The action unfolds on a fall day in the restaurant's outdoor courtyard. A flashily turned-out Miss Minnie (Virginia Ann Woodruff) along with Gran'Me's adult grandchildren have come to prepare for the memorial. No two are alike – for instance, Paul (David Hughey), who has a Ph.D. and lives far from home and rarely visits, is interested in the cultural significance of the restaurant while local D.J. and social media maven Joshua (Rayshun LaMarr) is eager to remember his grandmother in his own way – but ultimately food, memories, and a respect for family bring the disparate cousins together.
Nimbly staged by Robert Barry Fleming, the 90-minute without intermission production moves at an enjoyably brisk pace. In addition to Payton, the cast boasts seven other talented actors, all with marvelous voices and able to effectively play both the light and poignant moments.
Williams's impressive score played by an eight-person pit orchestra uses the wide-ranging sounds of jazz, R&B, soul, Broadway, and spirituals to explore life and culture. Both his music and the production design make nods to Black history.
The Minton family is part of a glorious Black culinary past that goes back many generations, and that is so briefly explained in "Bogle, Augustin, Prosser, Dorsey, Jones & Minton." That quick musical reference to the family's history, and the show's oddly abrupt ending are weaker bits in a mostly strong piece.
Scenic designer Jason Ardizzone-West's verisimilar set makes splendid use of Ford's stage – an uncluttered grouping of outdoor tables and chairs backed by a looming urban mural featuring the headliners of the early restaurant biz.
For the Mintons food is comfort, livelihood, and fun. As Haley, Arica Jackson shows off her comedic chops as the cousin who rightly feels overlooked, and without a doubt, enjoys to eat. Jackson ardently sings "The Gospel Bird (This Chicken Died)," a rousing tribute to the feathered friend who died that she might live.
Other melodies in praise of the family's relationship with food include "Good Lawd, Let's Eat," "Black Eyed Peas," and "Three Okra Seeds."
Whereas Haley loves Gran'Me's cooking, her nemesis cousin EJ (Jarran Muse) isn't that into it. Raised in an affluent suburb by parents with highly aspirational goals, he rarely frequented Minton's Place. At the memorial, when asked to run to the store to pick up some turkey necks to cook with greens, he's totally baffled. Still, EJ's memories of his grandmother, her food, and the old neighborhood are fond ones.
Siblings low-key Lawrence (Solomon Parker III) and self-described Afro-boho chic Jacqui (Raquel Jennings) regularly butt heads due to very different ideas about community organizing. She's willing to use any means necessary, corporate or otherwise, to promote change, while he remains truer to the longtime residents.
But, increasingly, it seems rifts are healed by Miss Minnie. Though forgetful and not ready to fill the formidable shoes of her dead sister, Minnie extends the importance of food and family.
New Philly production explores AIDS through three characters
Ain Gordon's 'These Don't Easily Scatter' more than a static memorial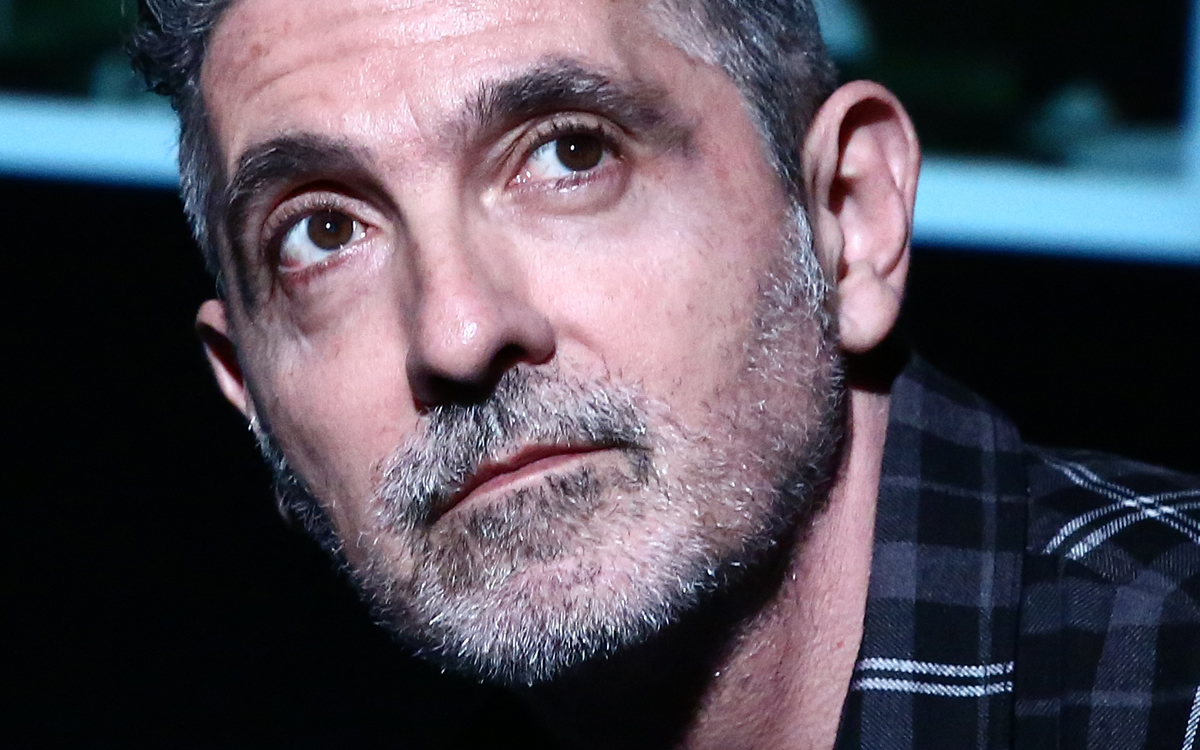 'These Don't Easily Scatter'
May 20-22
William Way LGBT Community Center
1315 Spruce St, Philadelphia 19107
$20
Waygay.org
Plaques fail. And a memorial doesn't need to be an immoveable piece of stone.
It's this line of thought that formulated "Remembrance," an alternative multidisciplinary memorial to Philadelphia's AIDS crisis and its under-mourned deaths, made up of activities throughout May and June in the City of Brotherly Love.
Included is Ain Gordon's new play "These Don't Easily Scatter" to be performed in the William Way LGBT Community Center's freshly renovated ballroom for just four performances (May 20-22). Both written and directed by the three-time Obie Award winning playwright, the work takes inspiration from interviews and stories gathered from individuals affected by HIV/AIDS and follows three imagined characters navigating the early days of the AIDS epidemic in Philadelphia.
Gordon, who is gay, has woven aspects of AIDS into previous plays ("217 Boxes of Dr. Henry Anonymous," "Radicals in Miniature"), but this time he's focused closely on the crisis. Set during 1982-1987, the play covers five intense years remembered vividly by the playwright, a lifelong New Yorker who was young, sexually active, and on the scene at the time.
Through interviews, he's unearthed stories of Philadelphia-area community members who passed unnoticed with very little support. Gordon also chronicles accounts of those who selflessly assisted including a Philadelphia funeral director who offered proper burials to the dead when others were too frightened.
"The process was difficult because all interviewing had to be remote, and that's the antithesis of what I like to do," he explains. "I prefer to go to the place and talk in person. When you're on site, meandering can happen and you find out things you hadn't planned to ask. But it was the reality, so I dealt with it."
With so many theatrical and film works surrounding HIV/AIDS and the '80s, Gordon sought a unique angle. His interviews included faith leaders and family, but he zeroed in on health care workers who administered to early AIDS patients, primarily nurses. Their stories were both illuminating and timely in context of the current pandemic.
He says, "Infectious disease doctors who were mostly men were the stars of the show. I'm often interested in the supporting players who stand behind the stars and those were the nurses."
But how do interviews become a cast of characters?
"To be brutally frank, the budget allowed for three actors," Gordon explains. "Didn't know who those characters were for a long time. But I knew that I had a collection of things that needed to get in and I needed to find a container that could hold them."
An especially revelatory interview with a nurse resulted in a character. An early interview with a faith leader who mentioned a woman who'd been in the choir and volunteered to sing at funerals when no one else would, conjured another. The third was a gay man, because gay men featured predominantly in all of the interviews.
"At that point," he says, "you stop talking, get rid of your notes, and start writing. And hopefully it all comes together."
Gordon is grateful to have assembled an A-list cast including Cherene Snow as the nurse, out actor Bill Kux is the gay guy, and the brilliant Kathleen Chalfant best known on Broadway for her part in the original production of Tony Kushner's seminal "Angels in America," plays the chorister.
The work's conceit is monologues resembling interviews. The unnamed gay character, a young man finding his way sexually and having a great time, brings the names he wants to remember – mostly casual sex partners. Some stories are short: He recalls a guy he had sex with in a train station bathroom. He'd forgotten all about him until he saw his obituary photo in the paper.
For the playwright, "These Don't Easily Scatter" is more than a static memorial.
"I'm interested in how history tends to be promoted in physically inactive objects. I think it can come in other forms and if they're more fluid history can actively live on."
A lot of his work is place-based plays – typically he gets a commission to travel to a location and write something specific to the place. And that's what he's done in Philadelphia.
"It's important that the work is freestanding enough so it can be presented as a piece of theater someplace else where nobody knows about the story," he adds. "It's also important to give something back to the generous people involved in the process, and to commemorate those who have died, if not by name, then by remembrance."
'John Proctor is the Villain' draws cannily from American lit
An enthralling work replete with pitch-perfect performances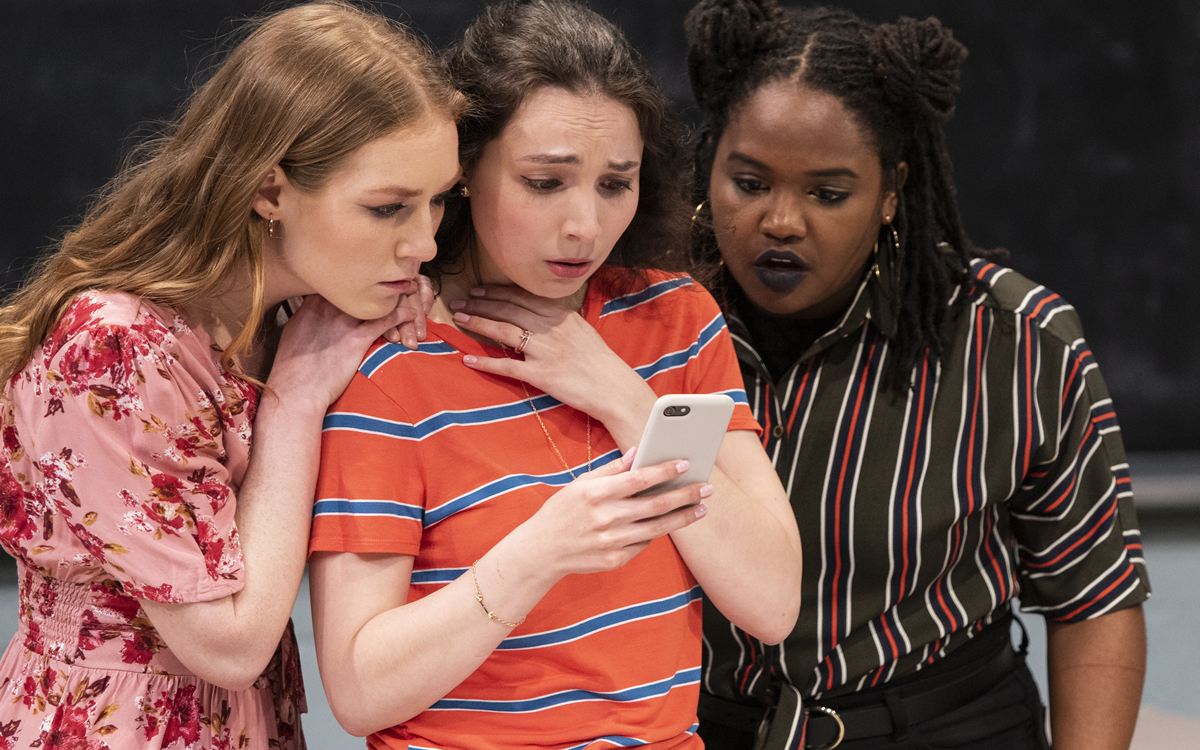 'John Proctor is the Villain'
Through June 5
Studio Theatre
1501 14th St., N.W.
$50 – $95
Studiotheatre.org
There's a lot going on in Carter Smith's junior English class at Helen County High in rural Georgia.
Not only are they tackling Arthur Miller's colonial Salem-set play "The Crucible," but budget cuts require that he open each class with 10 minutes of sex-ed over six weeks. To complicate matters further, there are unsavory rumors surrounding two of Smith's female students – one whose father has been accused of sexual misconduct and another who's absconded to Atlanta under a cloud of scandal.
Playwright Kimberly Belflower's terrific new work, "John Proctor is the Villain," a world premiere now running at Studio Theatre, draws cannily from American literature, examining the meaning of witch hunt in Miller's red scare allegory compared to what's happening in her play's one stop light (soon-to-be two) town in 2018. 
Filled with pop-culture references – lots of Taylor Swift, Beyoncé, Lizzo, Lorde, and even fashion guru Tim Gunn's catch phrase "make it work," the play's two hours with a fifteen-minute intermission moves quickly as action unfolds in many scenes scattered throughout a semester.
At a time when #MeToo was changing from allegations about individuals to something bigger, the smart girls in Smith's class want to form a feminism club. A well-meaning young counselor, Ms. Gallagher (Lida Maria Benson) thinks maybe it's not the right time, but with the help of Smith as moderator, it happens.
Dave Register's Carter Smith is a handsome, young teacher with a charming slight Georgia accent. The girls in his honors class admire him for different reasons including – in no particular order – his picture-perfect marriage and Christian faith, his sensitivity, and the bulge in his sweat pants.
Led by overachieving yet self-effacing Beth (Miranda Rizzolo), the feminist club shifts focus from timely topics to interpersonal relationships and spicy gossip. Other members include the local Baptist preacher's daughter Raelynn (Jordan Slattery), adamant Ivy (Resa Mishina) with the handsy father, and outgoing Nell (Deidre Staples), a big city transplant new to a school where friendships date back to first grade.
Eventually two boys join the group – Mason (Ignacio Diaz-Silverio) a regular dude in need of extra credit who proves surprisingly progressive, and Lee (Zachary Keller) a strapping guy who wants to be near to his ex-girlfriend.
Midsemester, volatile Shelby (Juliana Sass), a troubled girl with a secret, returns to Smith's class with her own significant take on Miller's honorable adulterer John Proctor and what makes a witch hunt.
While it's definitely an ensemble piece, Raelynn's coming of age arc is the most interesting. With a blank countenance similar to Jenelle from "Teen Mom" (my pop culture reference), Slattery plumbs her church girl part for laughs and meaning. By play's end, she's engaging in a defiant dance not unlike the Crucible girls who danced naked in the forest.
Despite taking inspiration from Miller's intense drama, the playwright slips in a sweet scene of bashful young love straight from the pages of Thornton Wilder. It's an endearing moment, seamlessly worked into the story.
Luciana Stecconi's brightly lit, pale blue-walled set is pure verité: standard issue desks and chairs, clutter, a white board adhered to an old blackboard, and a bulletin board dedicated to Georgia's women writers with Flannery O'Connell featured dead center. Sound designer Kathy Ruvuna further revs up the teen energy with blasts of familiar-sounding pop music.
But mostly, it's veteran director Marti Lyon who brings to life an enthralling work replete with hope, rage, and pitch-perfect performances. In 2018, Lyons had great success at Studio with "The Wolves," a candid glimpse into the lives of adolescent girls who play soccer. And now with Studio's current offering, she again makes audiences privy to an otherwise mostly closed world.
Out actor embraces role in audacious, healing production
'There's Always the Hudson' confronts painful wounds head on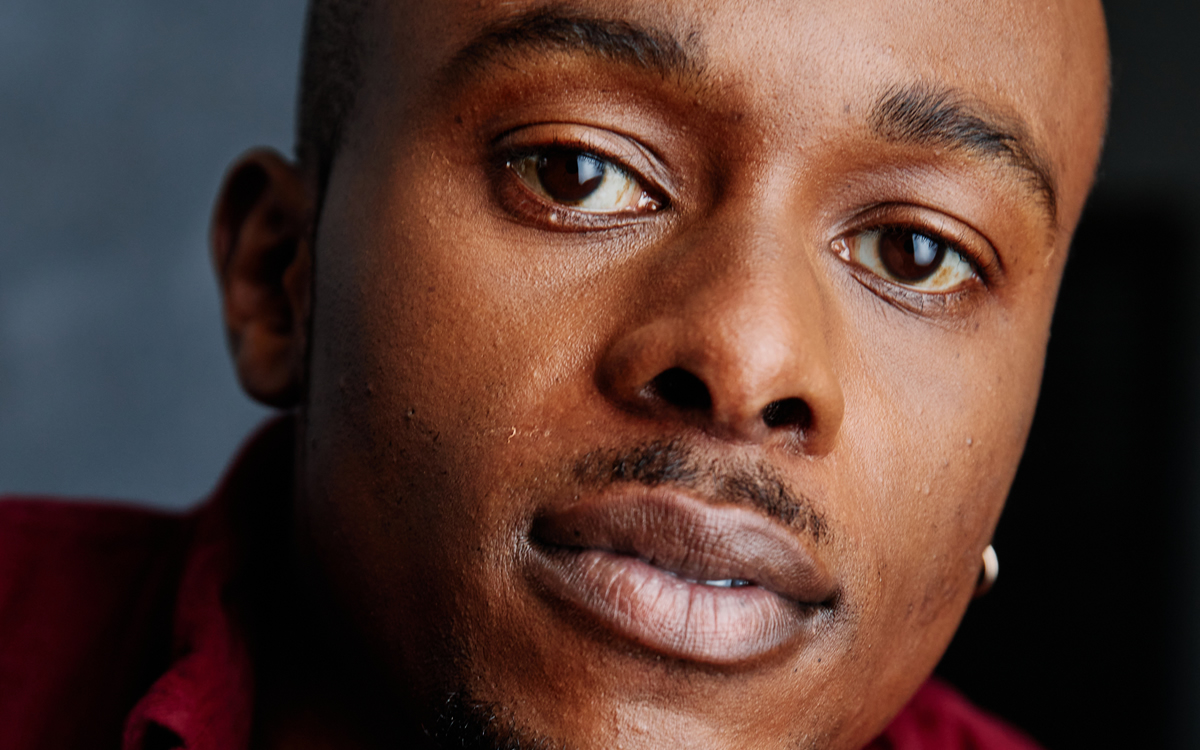 'There's Always the Hudson'
May 9-June 5
641 D St., N.W.
$29-$64
Woollymammoth.net
Healing can be messy, says out actor Justin Weaks. And in "There's Always the Hudson," playwright/actor Paola Lázaro's audacious and unapologetically healing new work, actors can't cower and audiences are compelled to experience a little discomfort along with the entertainment.
Lázaro and Weaks play best friends Lola and T (short for Toussaint) who met in a sexual abuse survivors support group three years previously. At some point, the pair made a pact that if things failed to improve, they'd kill themselves. When Lola says today's the day to die, they agree to first settle scores with some of those who've hurt them. The night is about them taking New York City by storm and confronting their wounds head-on.
T is Black, gay, a Haitian immigrant, and a survivor of sexual abuse and trauma – identities that can heavily stigmatize in our culture. Throughout the course of the play, the audience watches as T increasingly find his voice.
Weaks, 31, says, "Lola and T have a lot to say and world has told them they're not interested in hearing from people like them. But this is the night they say the shit that needs to be said."
And without hesitation, he adds, "Playing T is one of greatest honors of my career, a dream come true."
The piece is different from anything else he's done, and for the playwright and star to agree to take this ride with him, he feels, is extraordinary: "You've never seen people talk like this on stage, I promise. It's radical."
A lean and mean intermission-less 80 minutes, the play covers some heavy terrain but it's also "funny as hell – and might leave you with a little bit of whiplash," he says. Its director, Jess McLeod, whom Weaks charmingly describes as "a fiery general with an enormous heart, the perfect person for the job," keeps the five-person cast on task.
While Weaks has been a part of new works in the past, this time feels unique. It wasn't until a little over a month ago that T, a character conceived by the playwright four years ago, was rewritten as gay.
"The play worked with T straight, but now that he's gay it's hitting on so many cylinders," he says. "I'm not sure that change could have happened if someone else was in the role. I like to think my presence in the process maybe informed that in some way and deepened the work."
In November 2021, Weaks left D.C. for New York. "It was time, and 'There's Always the Hudson' is the perfect punctuation mark for the end of my time in Washington."
Just three weeks after coming to D.C. from North Carolina in 2016, the gifted actor was diagnosed with HIV: "I didn't know anybody yet. Didn't have community yet. I had come to work, for a year, maybe two. Never foresaw being embraced by the community in the way that I've been.
"I understand what it feels like to have an identity that is stigmatized. Part of why I feel connected to T., through playing him, I get to feel. By stepping into his journey, I get to heal a lot of stuff."
During Weaks' time in the DMV, he earned multiple Helen Hayes Award nods winning in 2017 for his supporting turn in Theater Alliance's "Word Becomes Flesh." Other performances of note, among many, include "BLKS" and "Gloria" (Woolly Mammoth) "G of the Ocean" (Round House) "Dontrell, Who Kissed the Sea" (Theater Alliance) and "Curve of Departure" and "Pipeline." (Studio).
"There's Always the Hudson" was two weeks into rehearsal in March 2020 when production was shut down due to COVID. Everyone involved felt then it was an important and affecting work, and they still feel that way, he says. Now the original cast and creative team have reconvened to deliver on the play's promise.
"It's a thrill to create a role that will forever be a part of the American theater canon. When I graduated from college 10 years ago there were no parts like T. I'm excited that he'll be inhabited by many actors after me, but I'll always feel protective of Toussaint."