If she was your girl, oh the things Peppermint would do to you
Performer talks love of Janet, new music, and political attacks on drag queens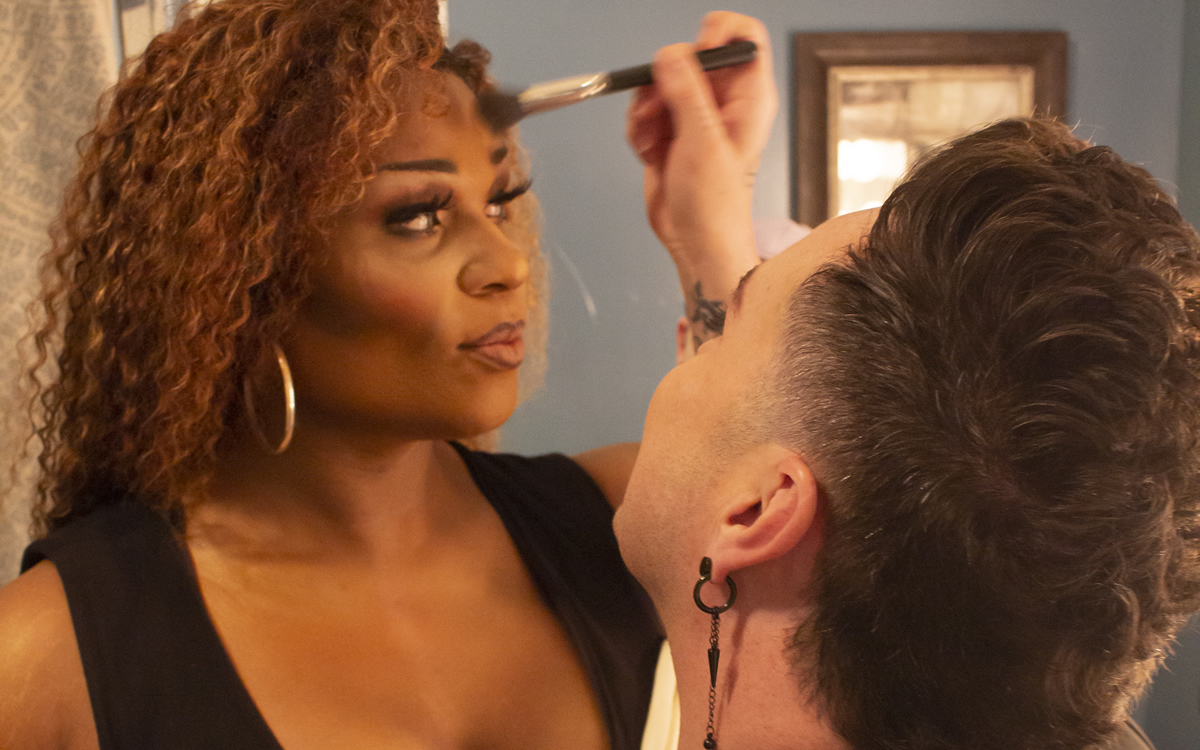 If she was your girl, oh the things she'd do to you. I'm not talking about Janet Jackson — I'm talking about Peppermint.
The "RuPaul's Drag Race" season 9 runner-up has parlayed that success into a diversified career in music, theater, LGBTQ advocacy, and more. From her work with RuPaul as the first out trans woman competitor on that hit show to her groundbreaking role in "Head Over Heels" as the first trans person to originate a starring role on Broadway, to her work as a GLAAD board member, Peppermint is a force in the LGBTQ movement.
She's not shy when asked about recent controversies involving Republican attacks on drag queens, such as Florida Gov. Ron DeSantis announcing he would pursue legislation making it illegal for a parent to take a child to a drag performance. In Arizona, the Trump-endorsed candidate for governor last month also attacked drag queens.
"I think the attacks are terrible and dirty," Peppermint told the Blade. "They are trying and succeeding in distracting us from protecting the most vulnerable of our population — trans children. The drag entertainers are adults and it's a fun celebratory scene that is inclusive of everyone and certainly not harmful. The only people supporting this are insidious and flat out lying or have probably never seen drag in real life."
Peppermint this week announced plans for a November tour of her new show and music. Specific dates are listed at the bottom of this article; visit peppermintonline.com for more information. 
But the main reason for a recent conversation with the Blade, was Peppermint's viral video recreation of Janet Jackson's iconic "If." The song was the second release from Jackson's 1993 "janet." album, peaking at No. 4 on the Billboard Hot 100 chart. Its accompanying video and choreography have proven timeless, influencing many other artists, including Peppermint. Her recent meticulous recreation of the video won tens of thousands of fans on YouTube and even led to a re-Tweet by Janet herself.
Jackson's video created a stir when it was released, revealing a bold and overtly sexual Janet that many fans weren't expecting. "If" features intricate choreography that depicted Janet grabbing the crotches of male dancers who simulated oral sex on her. The original video was also groundbreaking in its depiction of technologies that weren't invented in 1993, such as web cams and touchscreens.
"This song, the choreography is so iconic, professional dancers have seen it in other pieces over the years and it's been a blueprint for so many songs and videos by other artists," Peppermint said. "Just as people borrowed from Michael Jackson and 'Thriller.'"
Peppermint fell in love with Jackson's music following the release of "Control" in 1986 and says she learned all the dance routines over the years.
"There's something about the way her music and live performance is packaged and presented, it came off as memorable and iconic and forward thinking and progressive and made a big impact early on in high school," Peppermint said. "I learned the moves to 'If' immediately and remember every chance I got in high school and in summer camp, if you were around me you were not safe because you were learning the Janet moves, I would force everyone around me to do the routines."
Peppermint estimates she spent $30,000 on her "If" recreation and paid for it out of pocket. The video features 10 dancers with about 30 crew on set. It was filmed in one day and she says she studied all angles of the original performance to match the choreography. It took three takes to nail the iconic breakdown dance at the end of the song.
Angel Ayala created the costume; she hand-rolled the bones on the vest (Kim Kardashian recently purchased the original costume at auction for $25,000). Peppermint says she studied Janet's jewelry and replicated it, scouring the internet looking for similar pieces and ultimately making some by hand to match the originals perfectly.
"My look in replicating Janet's look, I wanted it to be as close as possible, which I nailed except for the six-pack abs," Peppermint said, "but I look sexy."
She noted the importance of finding talented dancers since every moment in the video is tightly choreographed.
"I wanted to update it a bit and make it as inclusive as possible with trans and nonbinary dancers, queer dancers, people of color, which is similar to the original video with its mostly Asian cast," she said.
She says "If" is, of course, her favorite Janet video; while her favorite Janet song is "Throb" and her favorite Janet tour is the "Velvet Rope."
Peppermint says she's never met her idol Janet, but hopes to one day, adding, "I did this for myself, it was a passion project." Will there be another Janet tribute video? Peppermint says yes, sometime next year, but declines to specify which video she plans to recreate next.
In the meantime, she's focused on her upcoming fall tour and her own original music about a breakup titled "Letter to my Lovers," a trilogy about the beginning, middle, and end of a relationship. "I wanted to do something that's a love letter to the trans community and letting people know you're deserving of love and deserve to hear a trans woman singing about love to some '90s R&B throwback."
And for those who haven't seen the Hulu rom-com "Fire Island," Peppermint stars in the film.
Peppermint tour dates:
November 2 @ Chop Suey – Seattle, WA
November 3 @ Hawthorne Theatre – Portland, OR
November 5 @ The Chapel – San Francisco, CA
November 7 @ Troubadour – Los Angeles, CA
November 20 @ City Winery – Atlanta, GA
November 23 @Evanston SPACE – Chicago, IL
November 27 @ Ardmore Music Hall – Philadelphia, PA
November 28 @ Brighton Music Hall – Boston, MA
November 29 @ City Winery – Loft – New York, NY
10 LGBTQ events this week
A Gaga afterparty and a cardboard boat regatta among attractions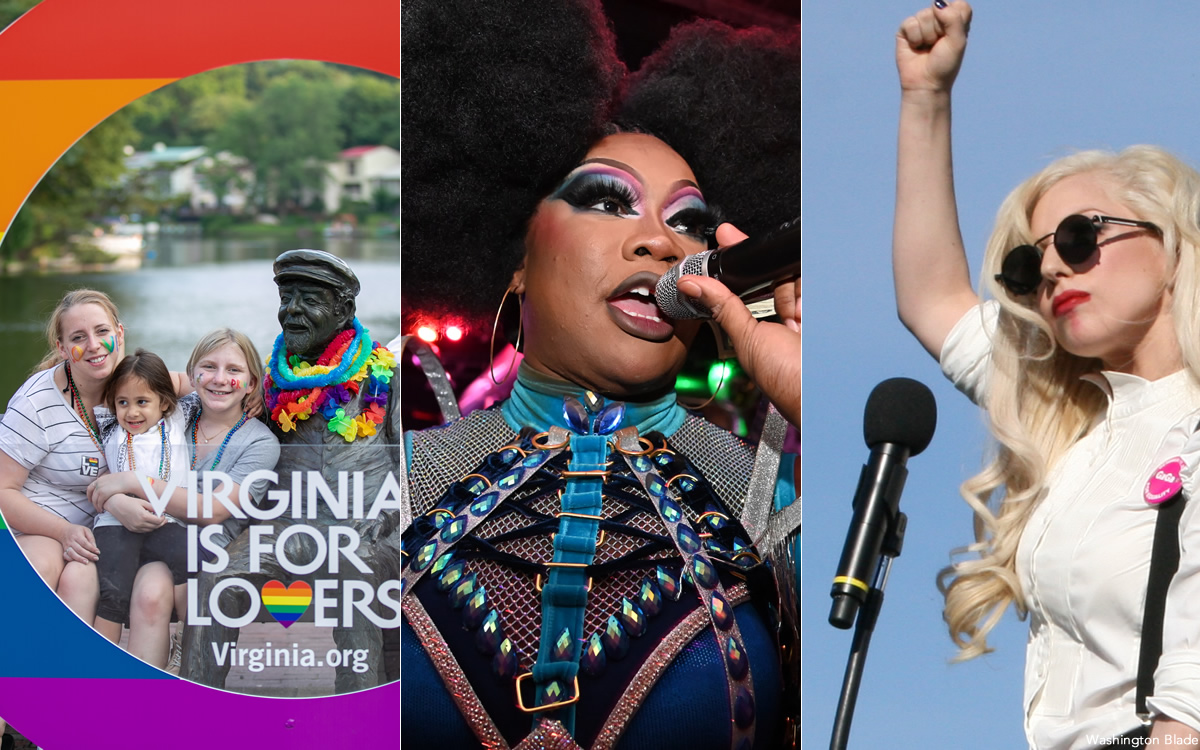 Below are our picks for some of the most fun and creative things to do this week in the DMV that are of special interest to the LGBTQ community.
---
Reign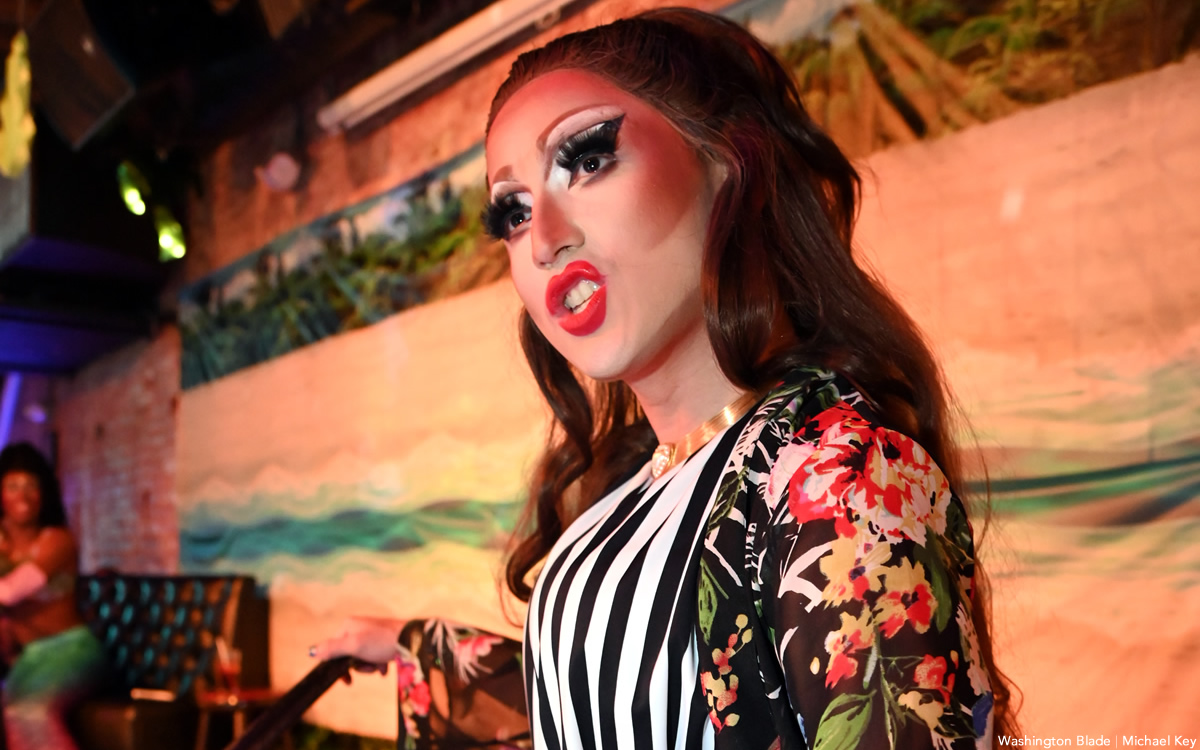 Monday, August 8
8-11 p.m.
DIK Bar
1637 17th Street, N.W. (second floor)
Facebook
Join Logan Stone, Dabatha Christie and Hennessey for a fun-filled drag show at Dupont Italian Kitchen Bar tonight at 8.
---
OMGaga Afterparty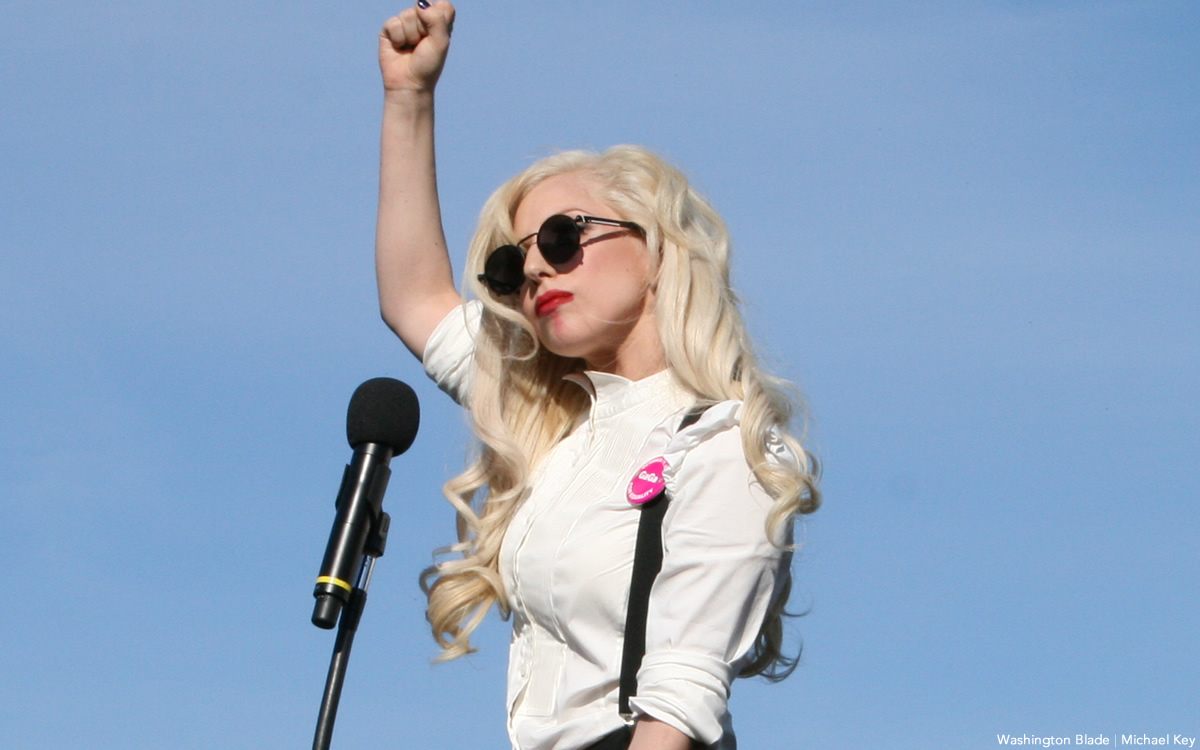 Monday, August 8
10 p.m.
Green Lantern
1335 Green Court, N.W.
Facebook
Did you catch the Gaga concert tonight? Whether you did or not, join the afterparty at Green Lantern. Show your ticket stub from the concert for a free drink on the dance floor.
---
Drag Bingo with Desiree Dik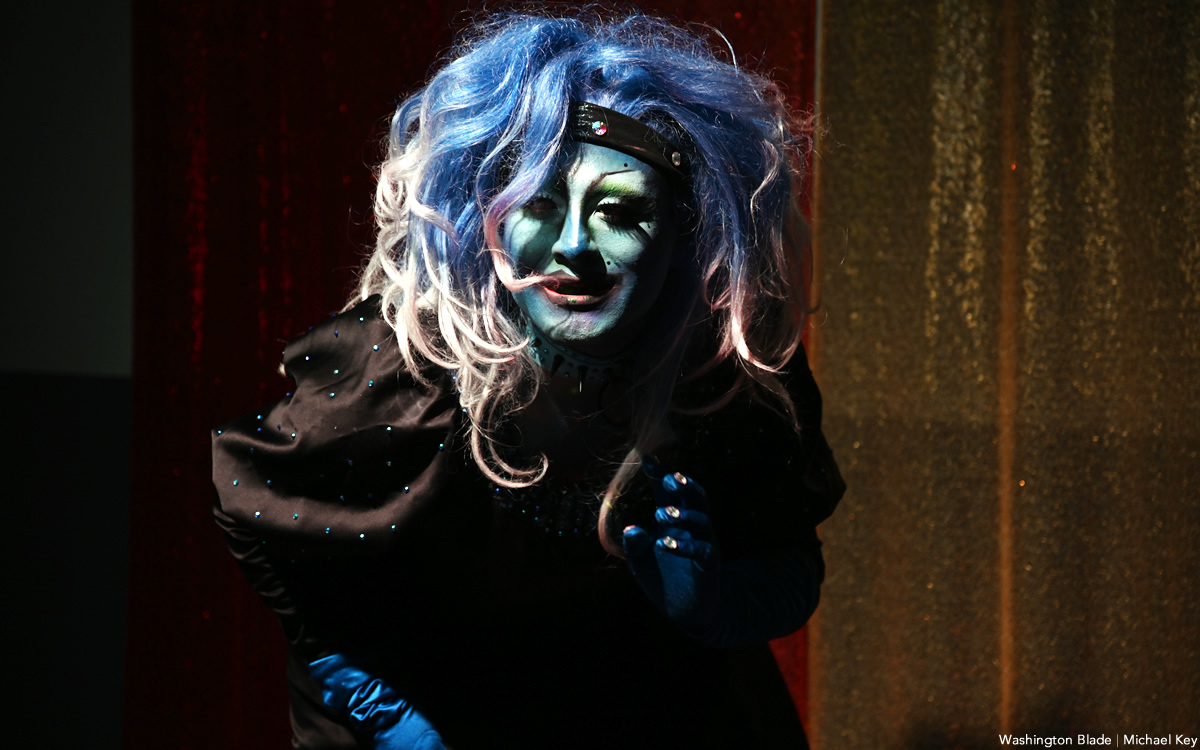 Tuesday, August 9
7-9 p.m.
Red Bear Brewing Co.
209 M Street, N.E.
Facebook
Join Desiree Dik for a game of bingo at Red Bear Brewing Co. on Tuesday. Free to play.
---
Queer Trivia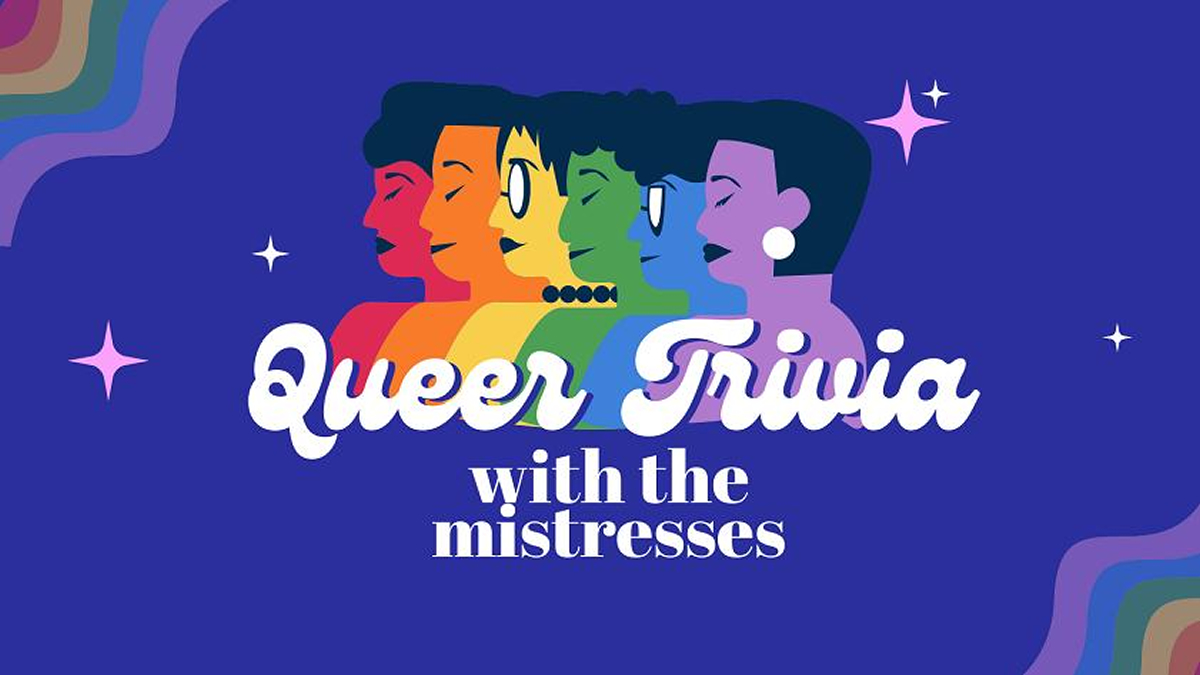 Wednesday, August 10
7-9 p.m.
Dew Drop Inn
2801 8th Street, N.E.
Facebook
The Mistresses lead a night of Queer Trivia on all things gay at the Dew Drop Inn on Wednesday.
---
Thirst Trap Thursdays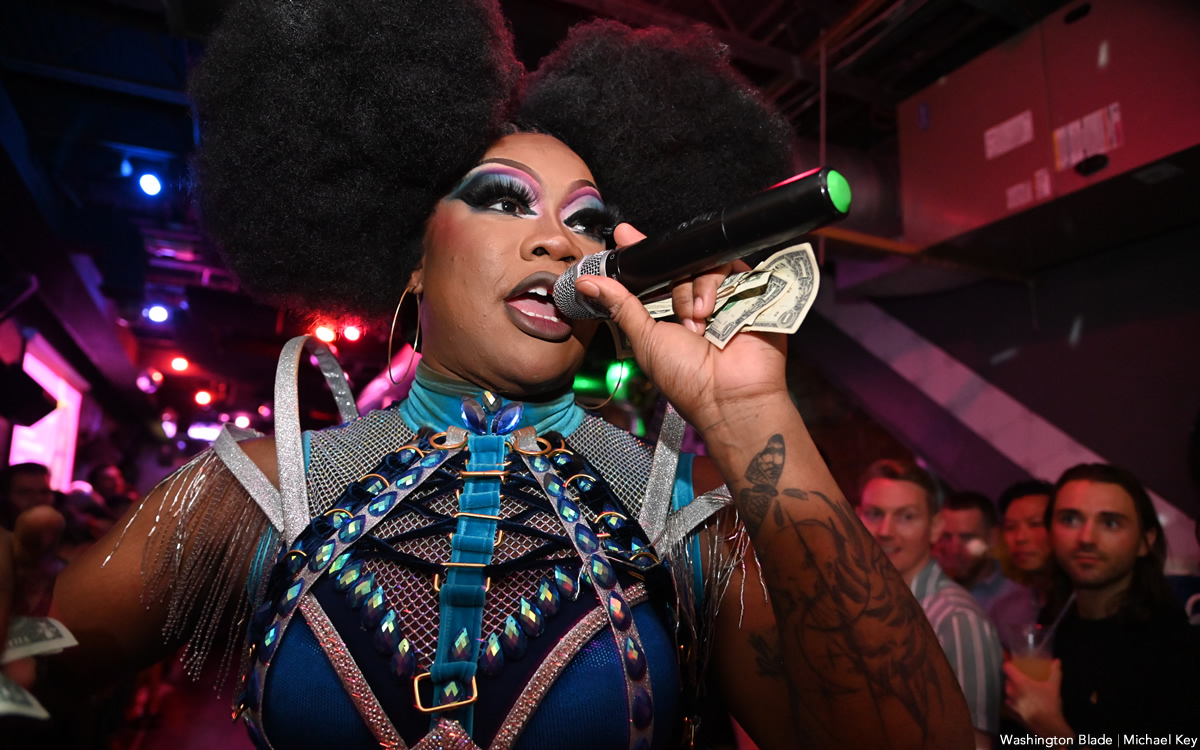 Thursday, August 11
10 p.m.
Pitchers DC/A League of Her Own
2317 18th Street, N.W.
Facebook
Venus Valhalla and Cake host the Thirsty Thursdays drag show at Pitchers/ALOHO on Aug. 11.
---
LGBTQ Social at Wild Days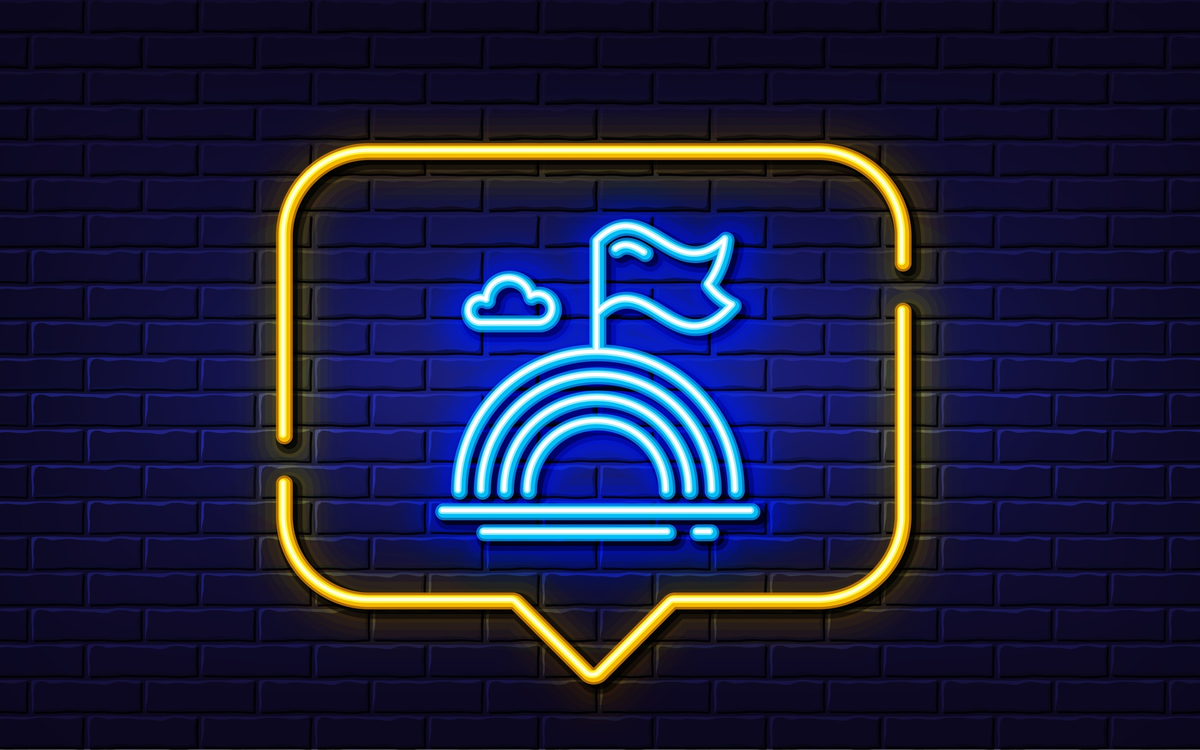 Friday, August 12
7-9 p.m.
Wild Days Rooftop Bar at the Eaton Hotel
1201 K Street, N.W.
21+
Eventbrite
Have some casual conversations with new friends in the LGBTQ community over drinks in a relaxed atmosphere. Hosted by Go Gay DC.
---
A Love Letter to RENT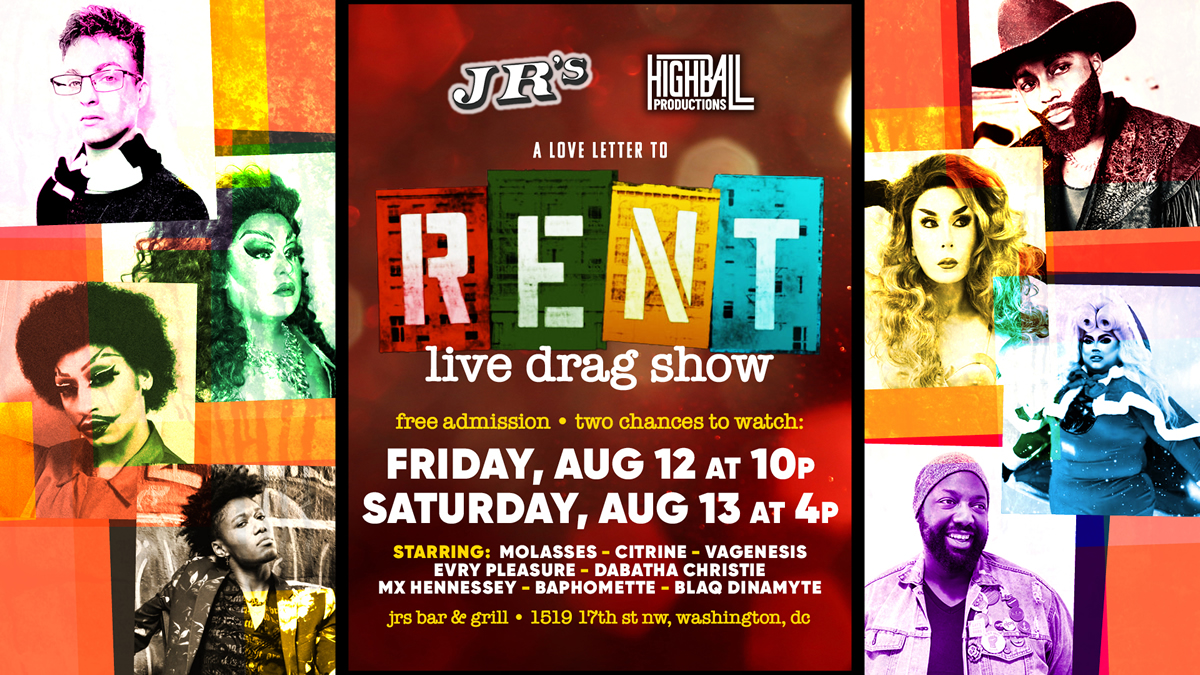 Friday, August 12
10 p.m.
JR.'s Bar
1519 17th Street, N.W.
Free admission
Facebook
Watch a drag show dedicated to the hit musical RENT. If you miss the first show on Friday, come by on Saturday at 4 p.m. for an encore performance.
---
Lights On, Barks Out! Disco Heat Drag Brunch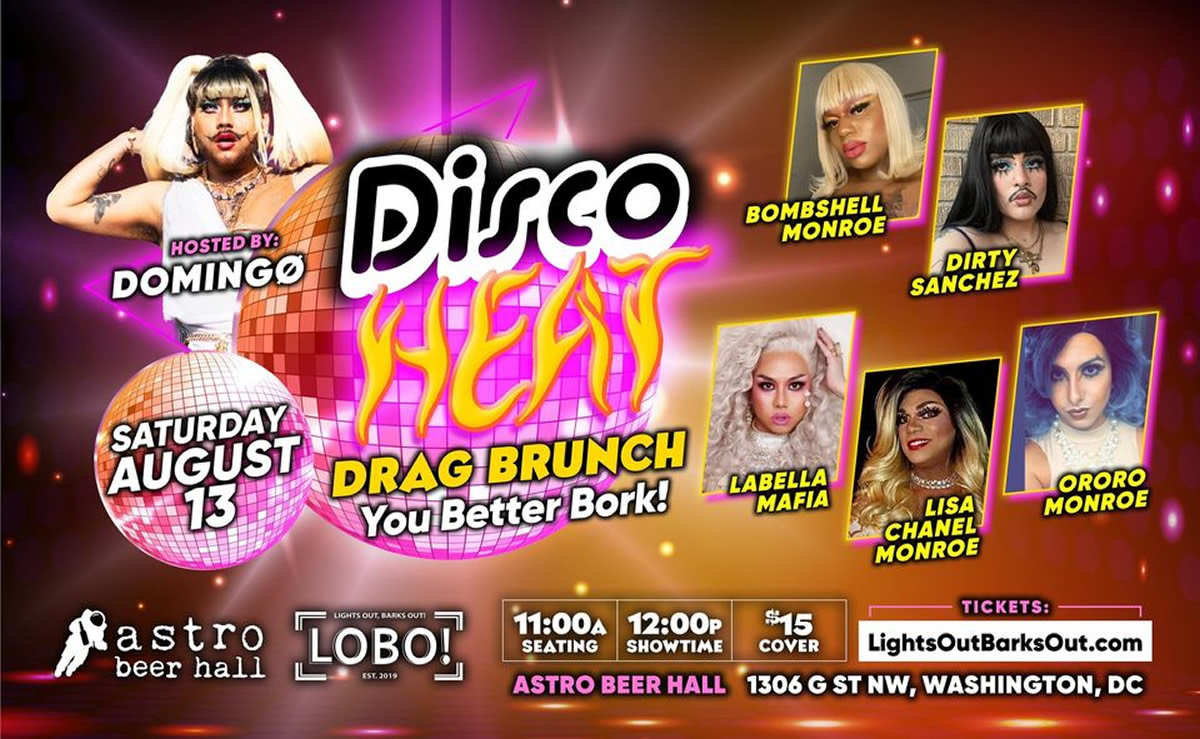 Saturday, August 13
Seating 11 a.m./show 12 p.m.
Astro Beer Hall
1306 G Street, N.W.
$15 cover
Facebook
Join host Doming0 for the Disco Heat Drag Brunch on Saturday at Astro Beer Hall.
---
Lake Anne Cardboard Boat Regatta
Saturday, August 13
2 p.m.
Lake Anne Plaza
1609 Washington Plaza
Reston, Va.
Facebook | Website
Watch a cardboard regatta race along Lake Anne in Reston, Va. Or, you could even participate (rules here)!
---
Mister & Miss AGLA Scholarship Fundraiser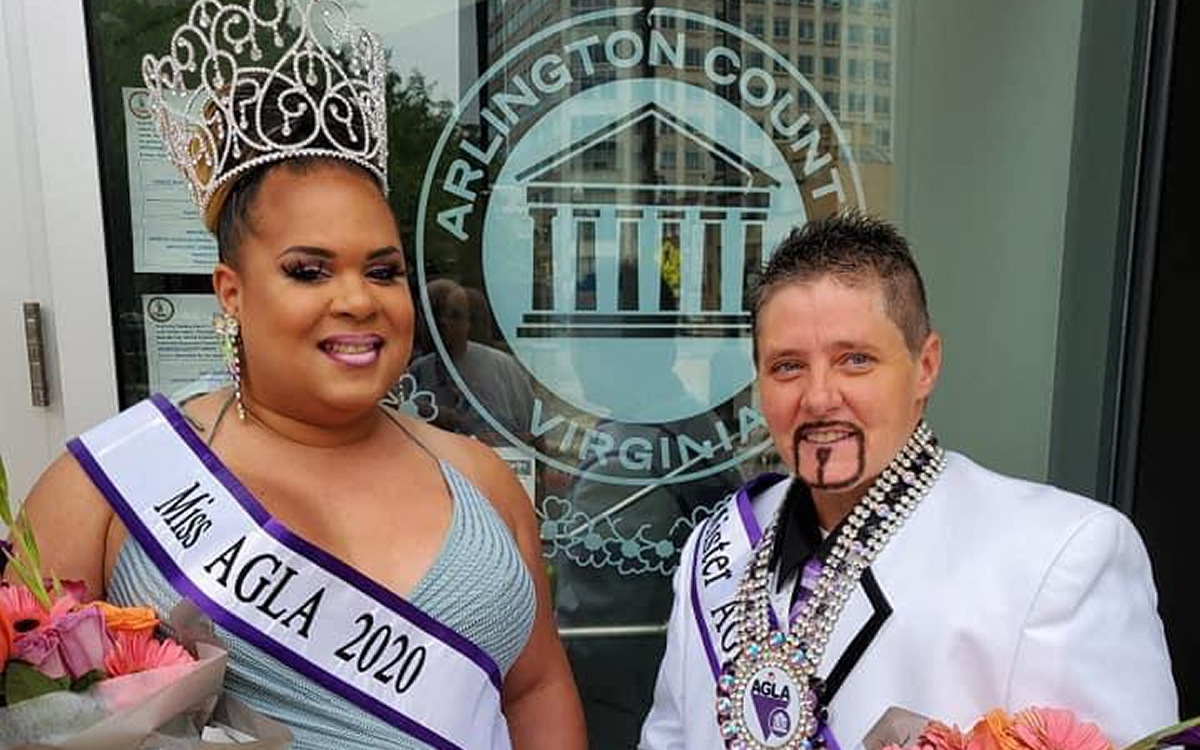 Sunday, August 14
7-9 p.m.
Freddie's Beach Bar & Grill
555 23rd Street S
Arlington, Va.
$10 donation requested
Facebook
Join a fundraiser for a good cause: a college scholarship for an outstanding Arlington County Public High School senior. Also, the 2022 Mr. and Miss AGLA will be crowned.
---
PHOTOS: United Night OUT
Team DC and Federal Triangles honored at halftime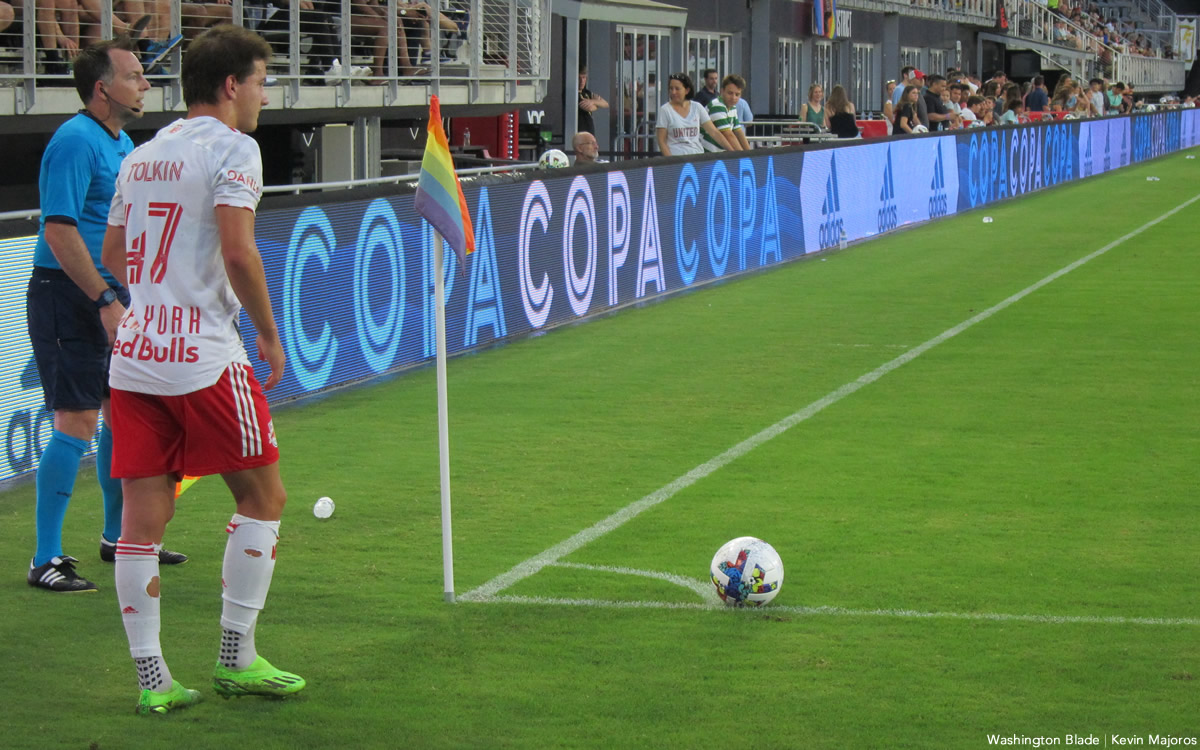 United Night OUT 2022 was held on August 6 at Audi Field with DC United taking on their Atlantic Cup rivals, the New York Red Bulls. The two teams battled to a 0-0 scoreless draw in their 99th meeting. The LGBTQ community event was co-hosted by Team DC and the Federal Triangles Soccer club who were both honored at halftime.
(Washington Blade photos by Kevin Majoros)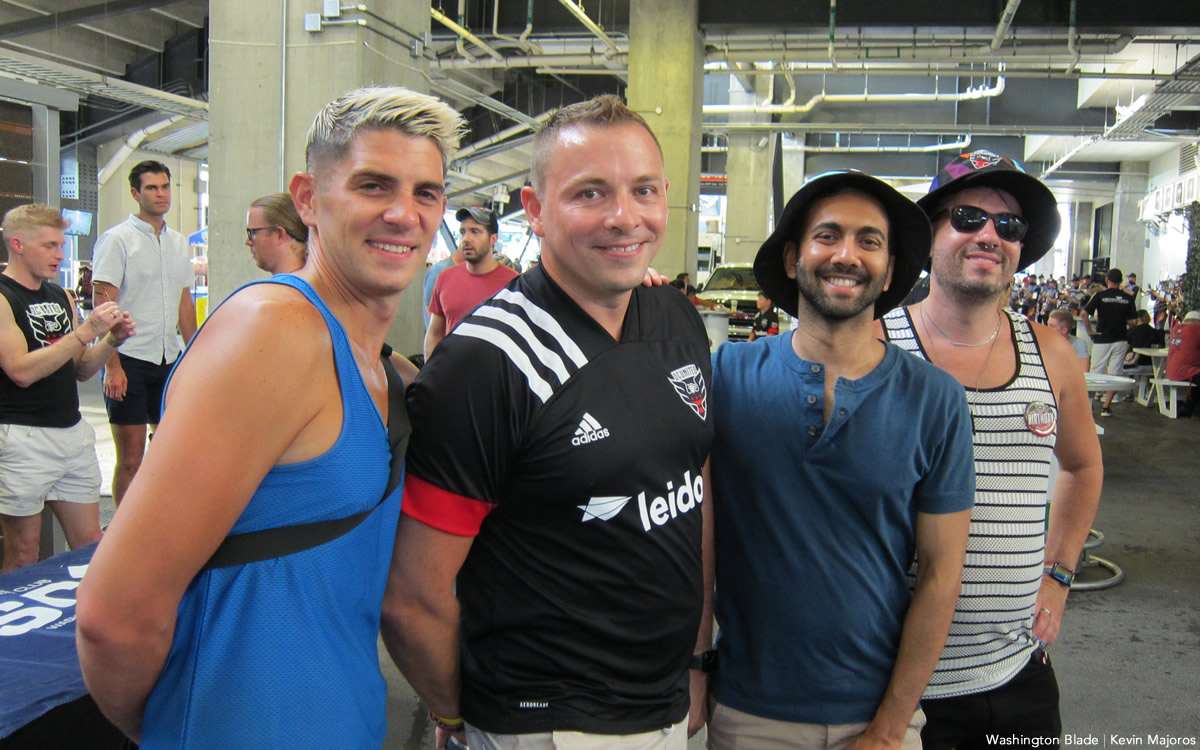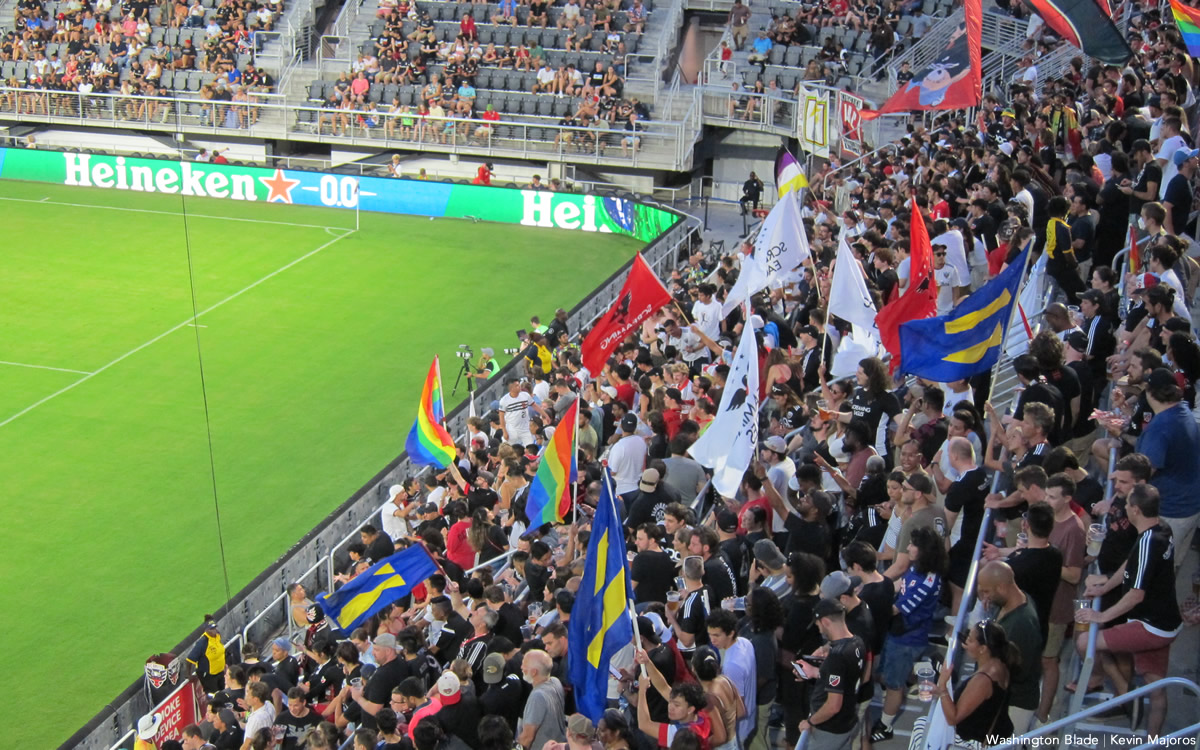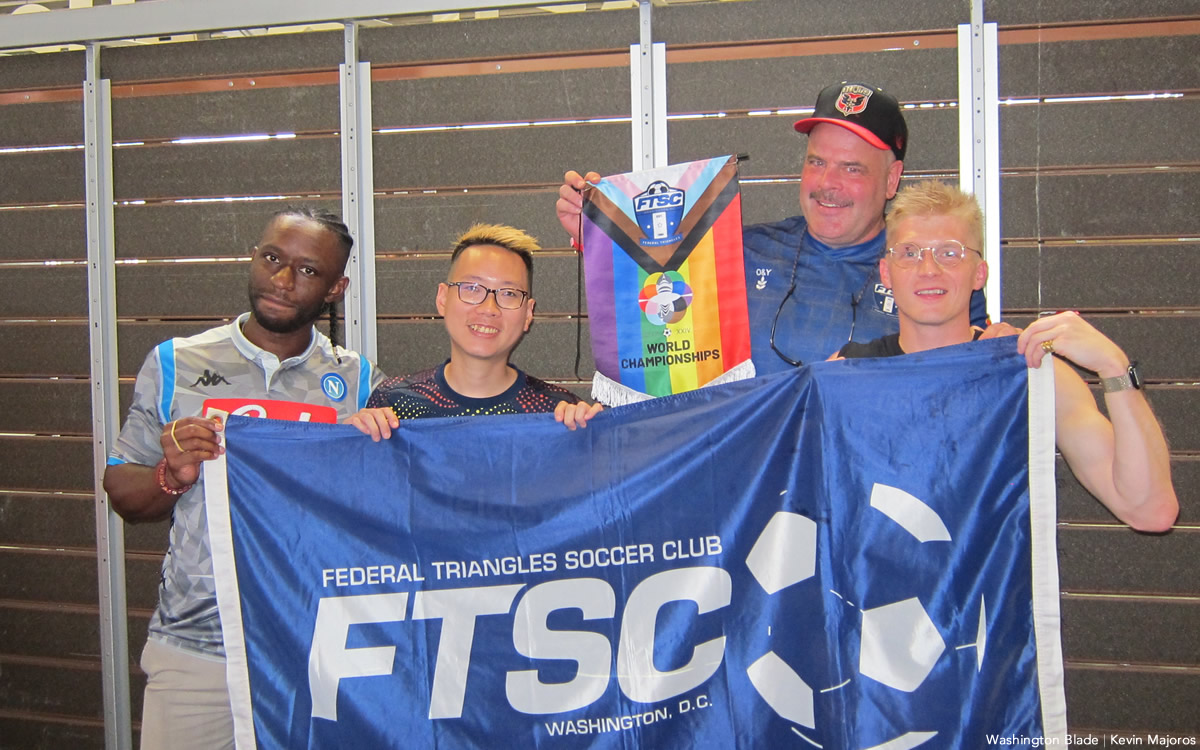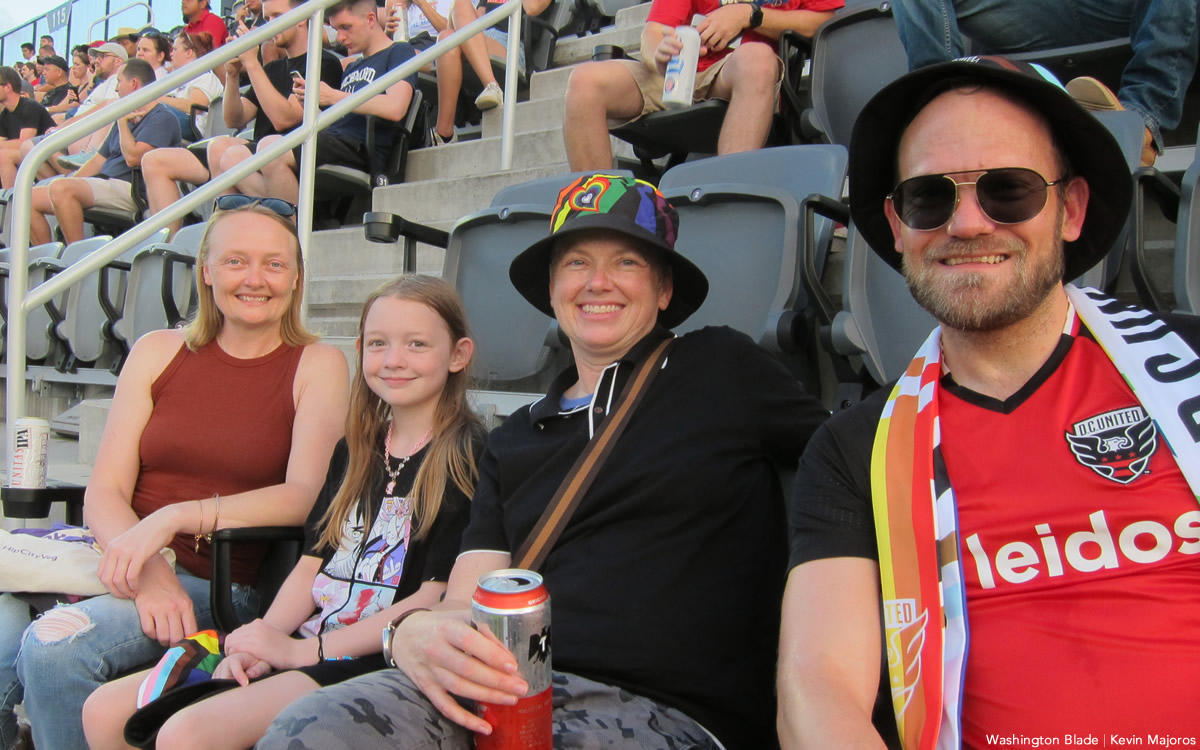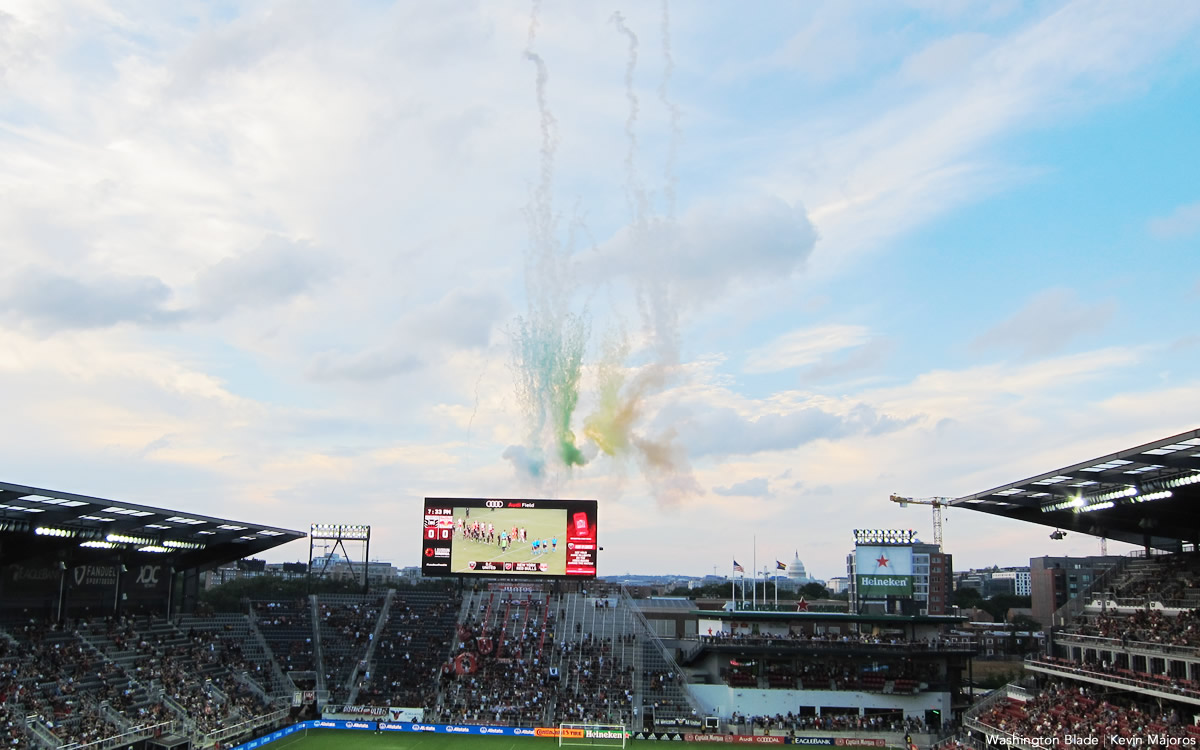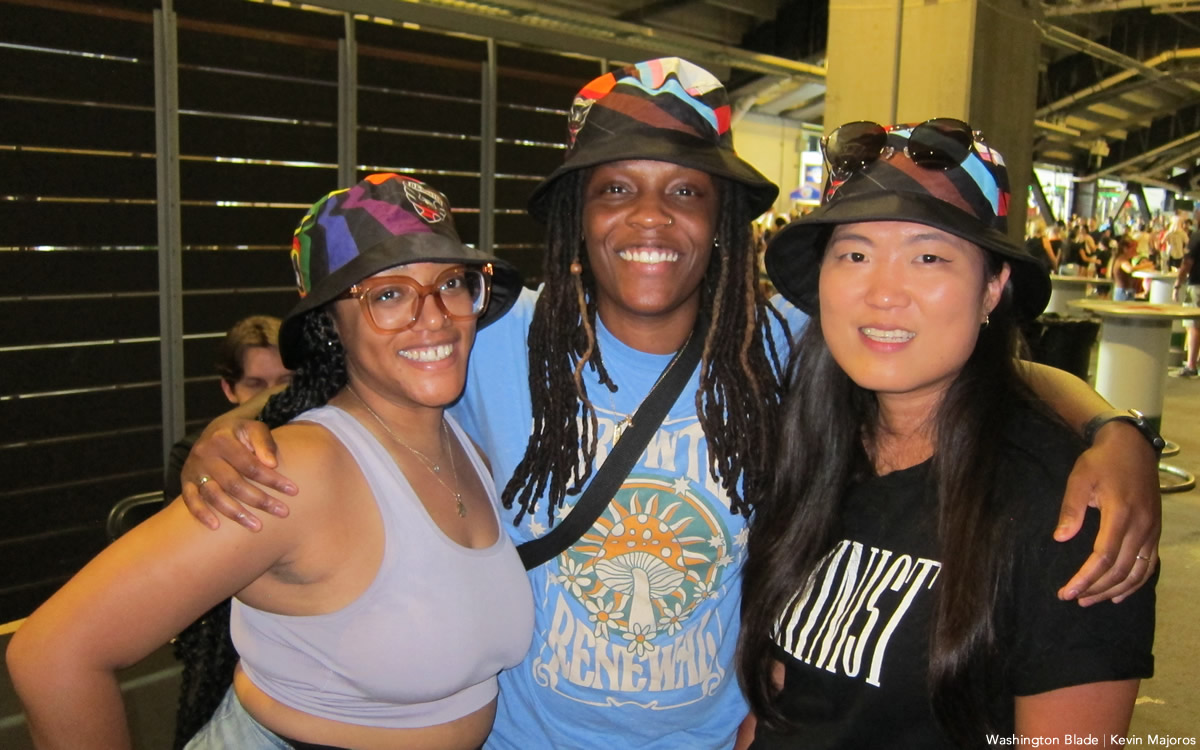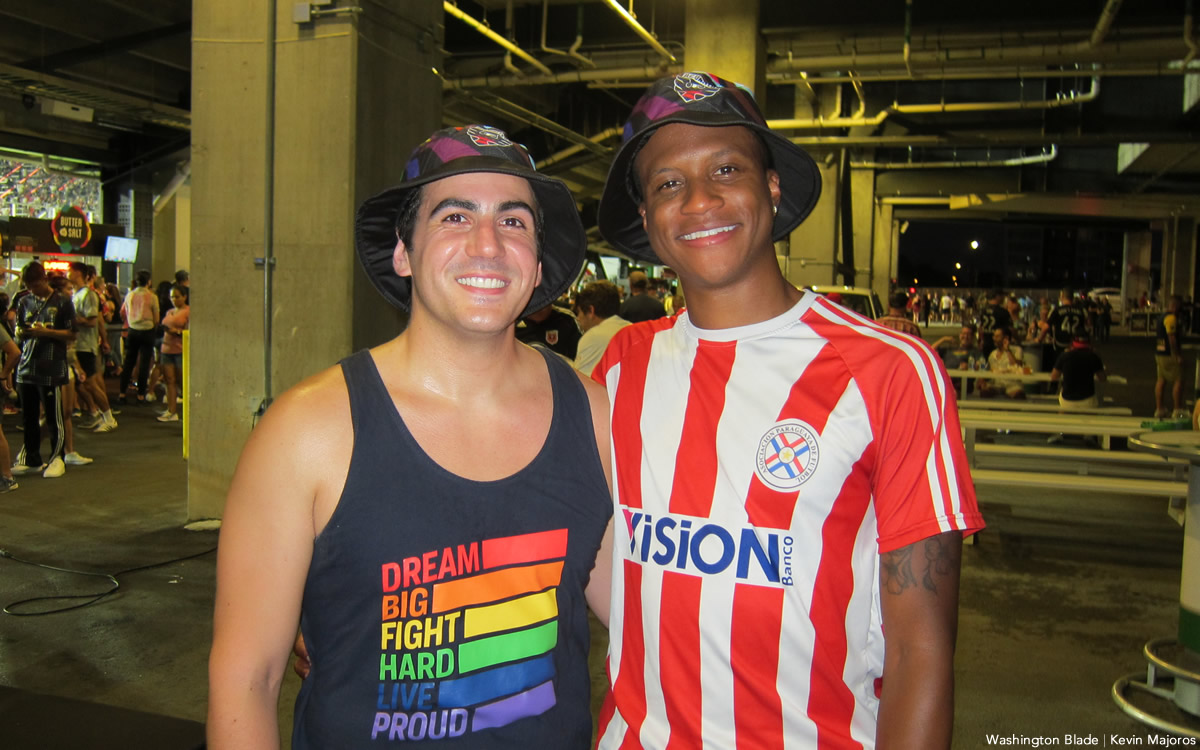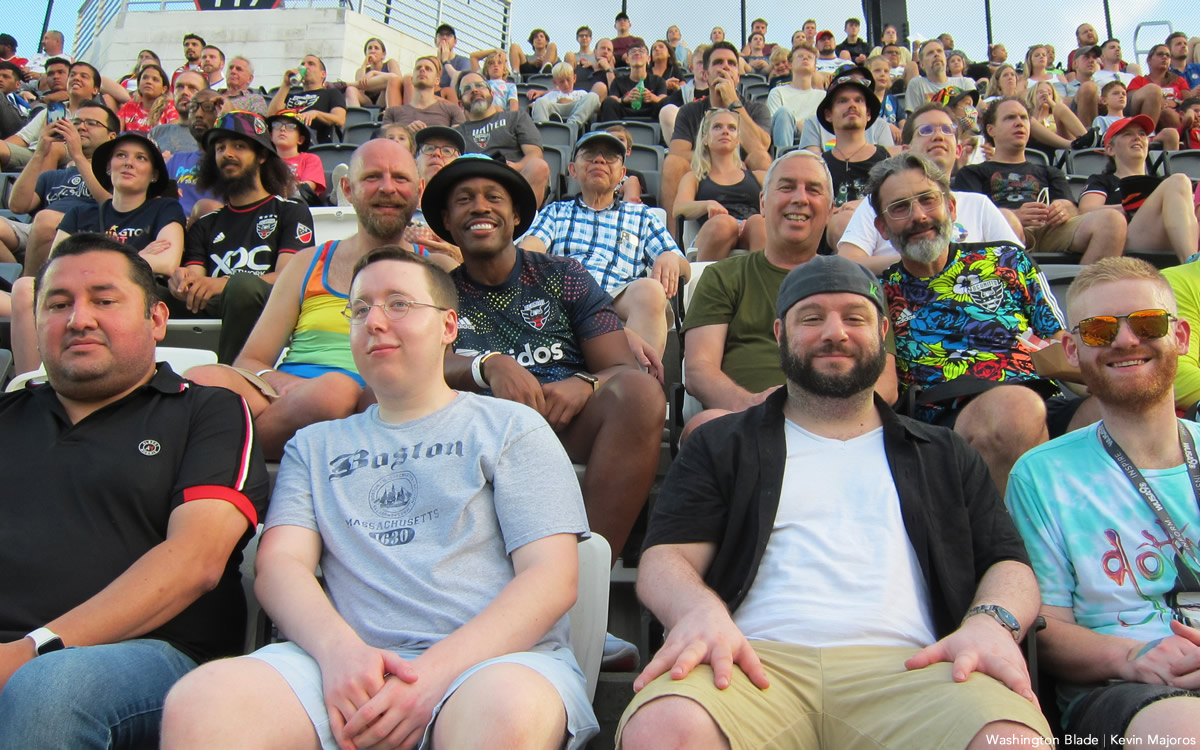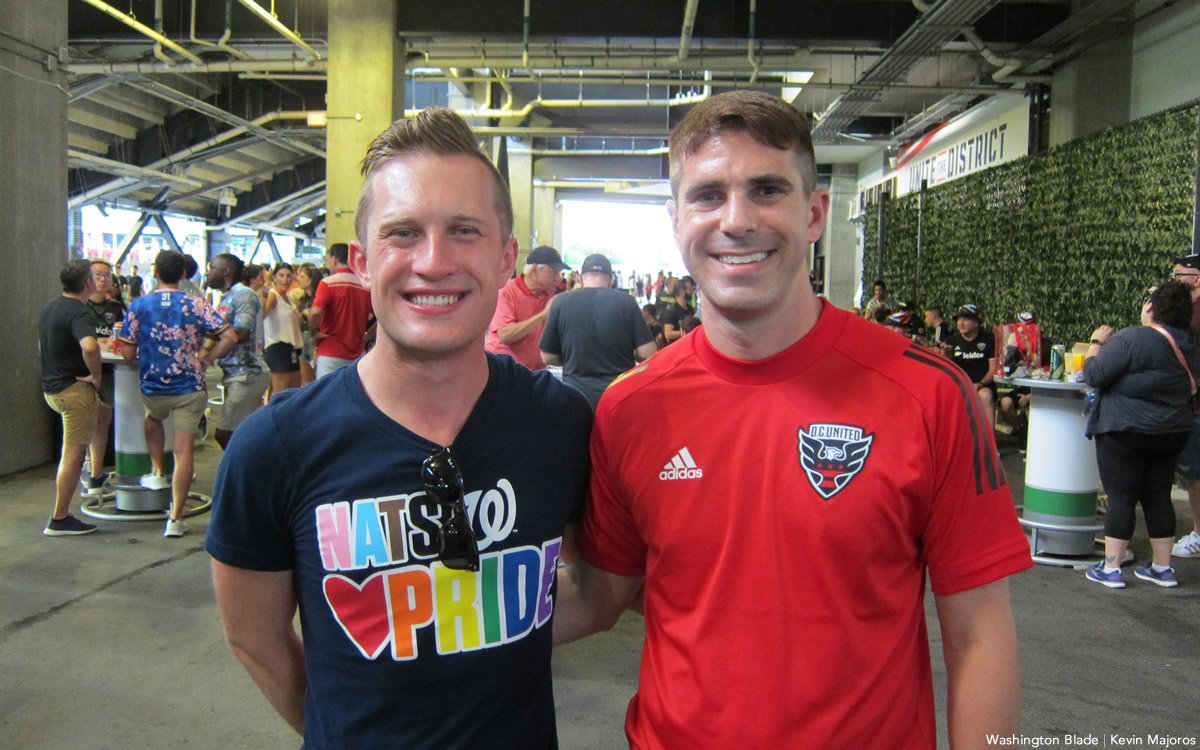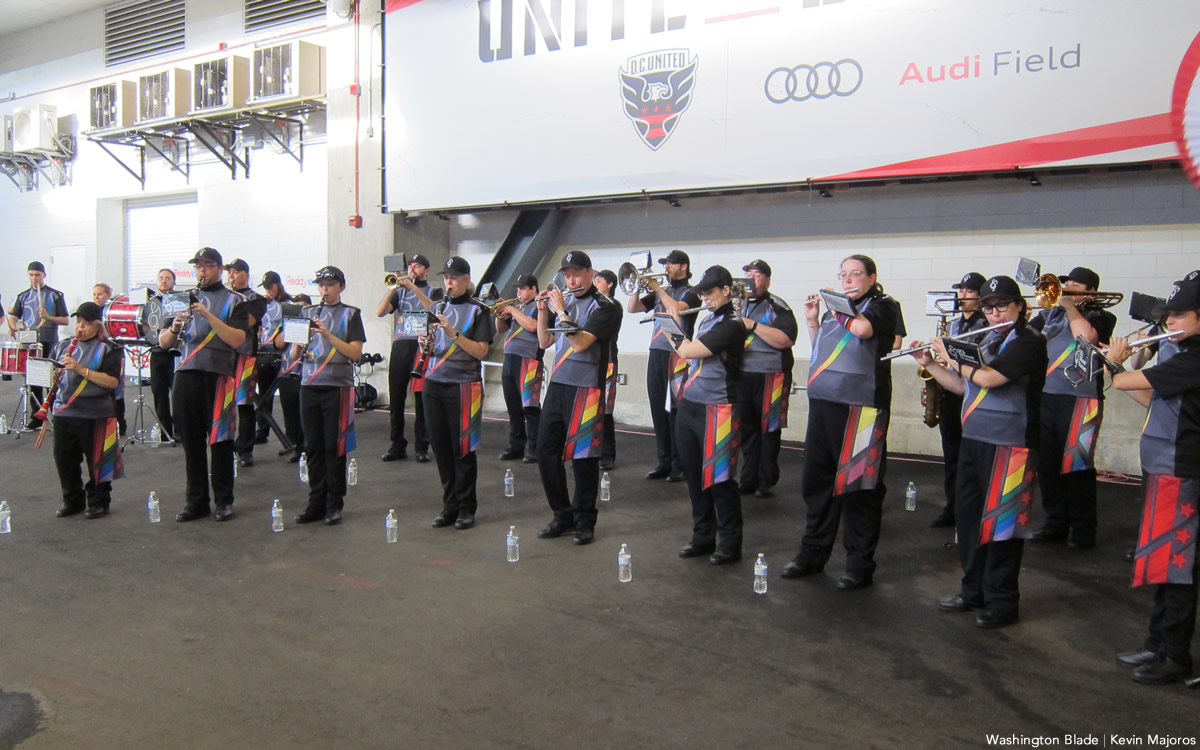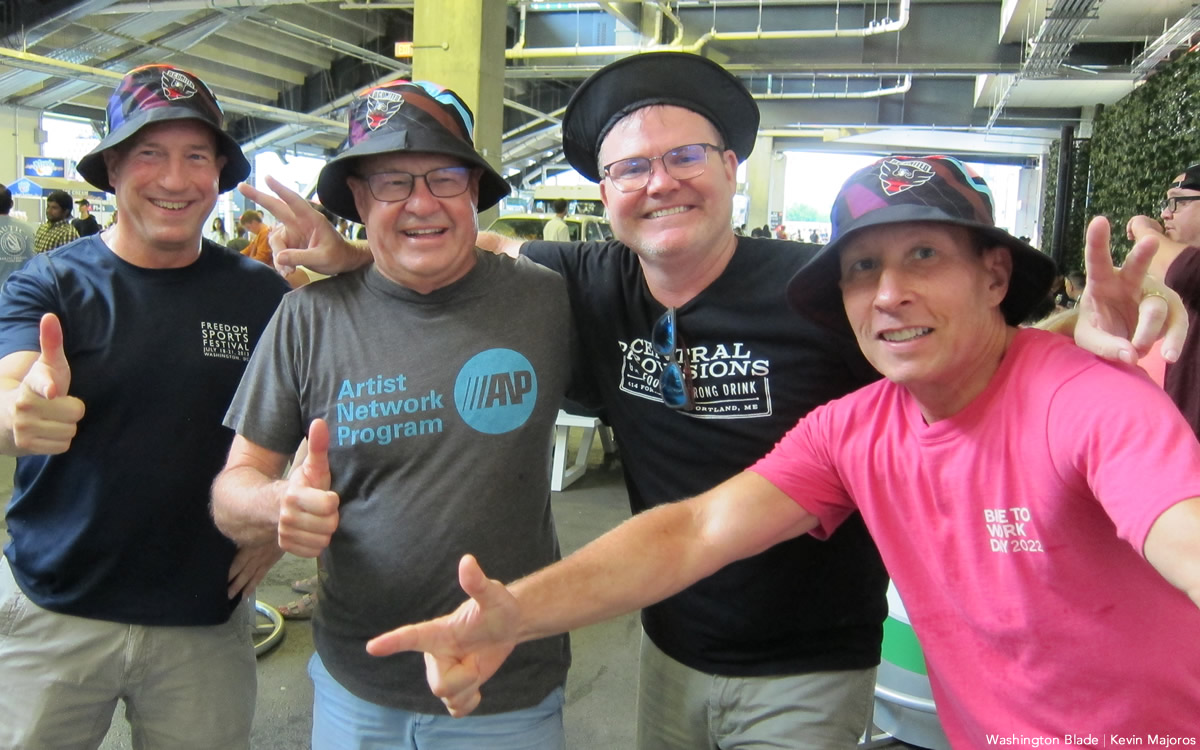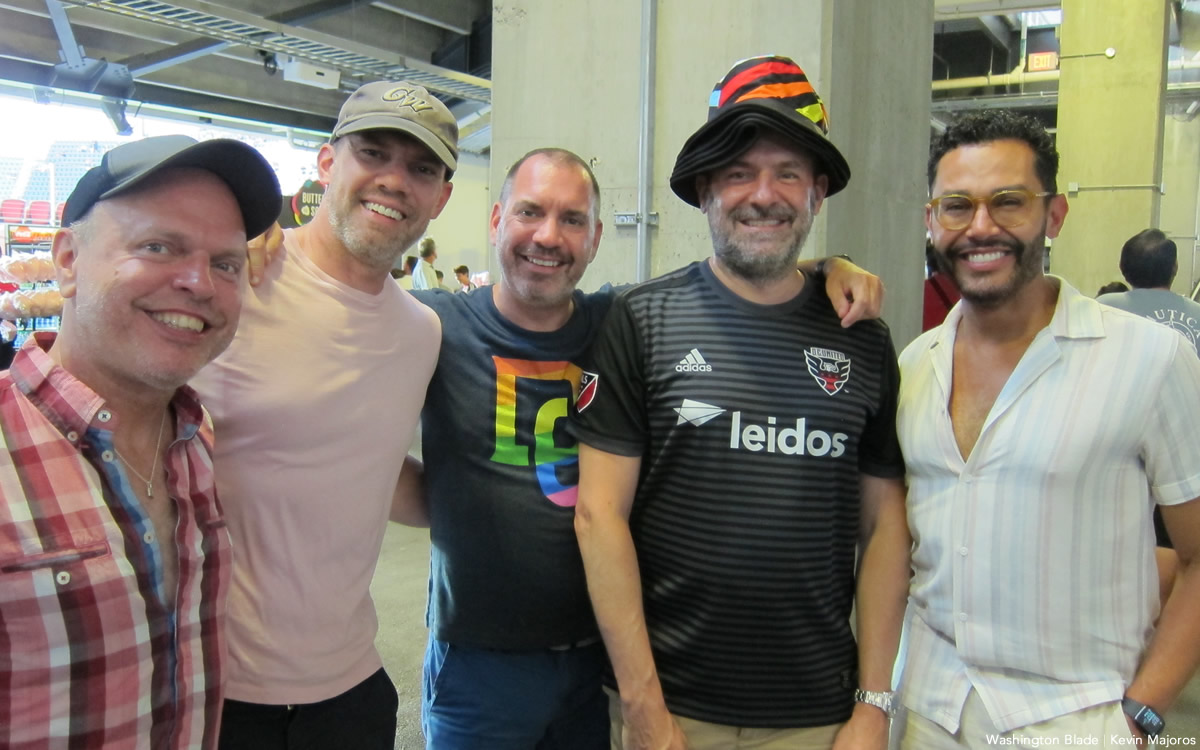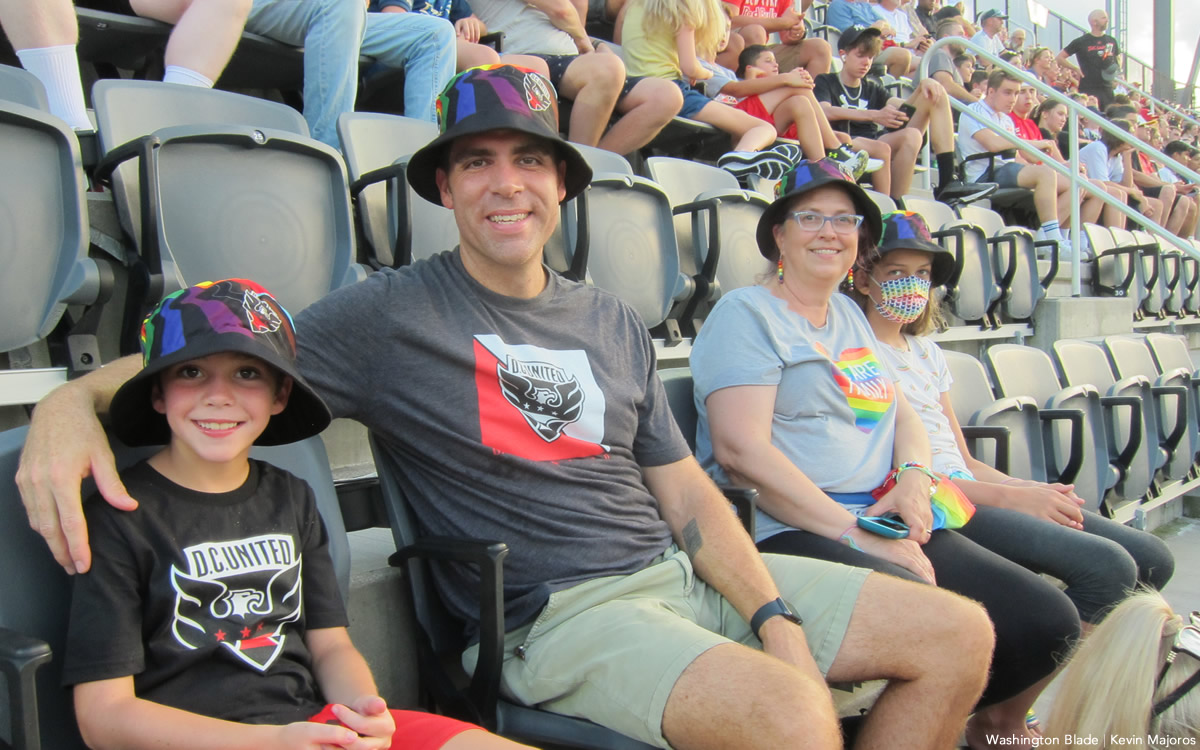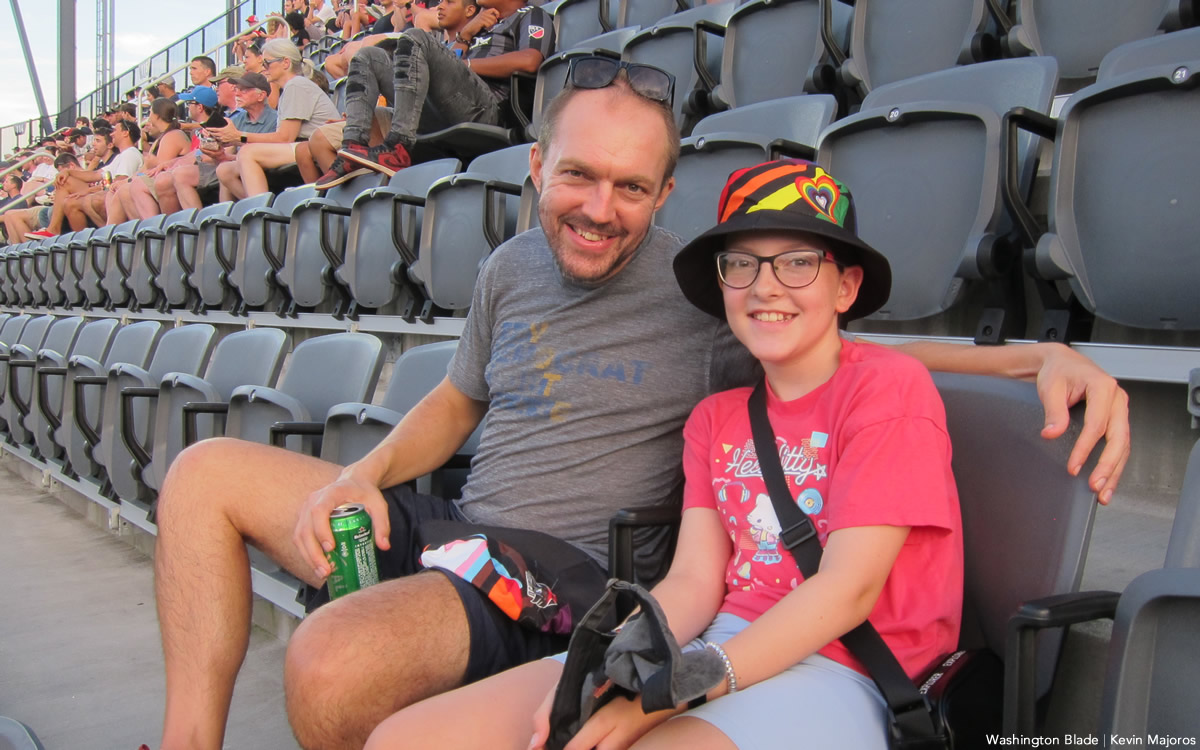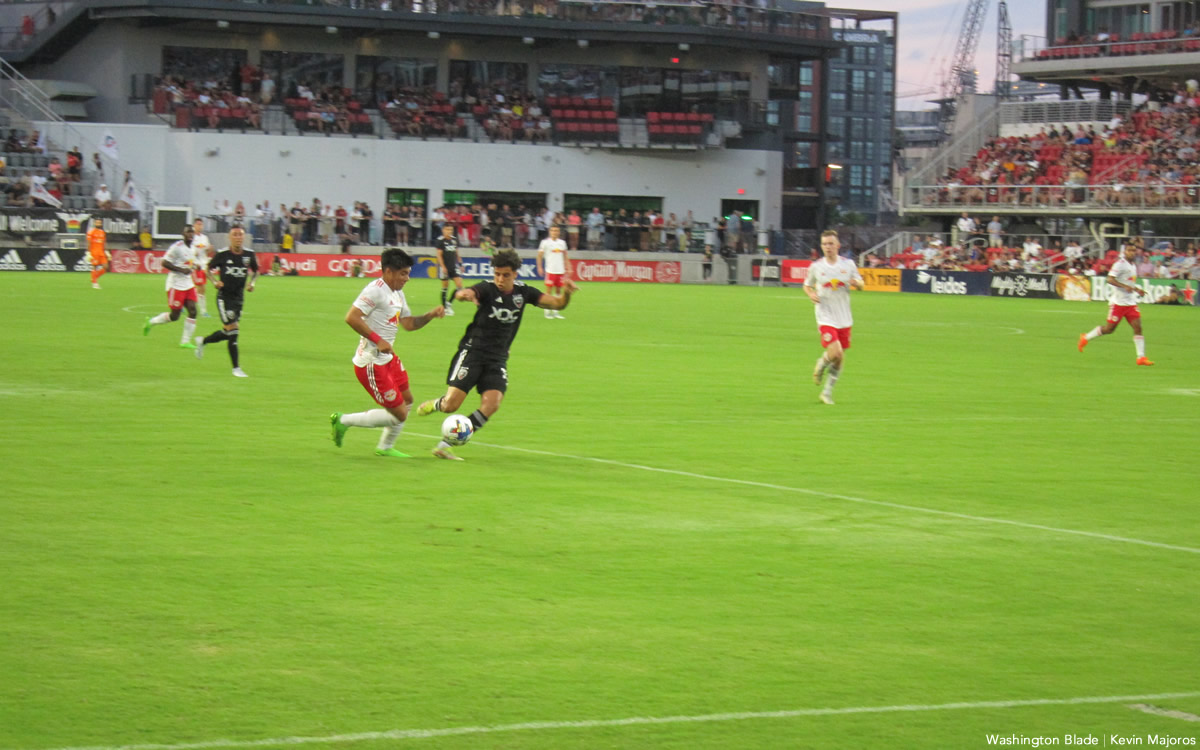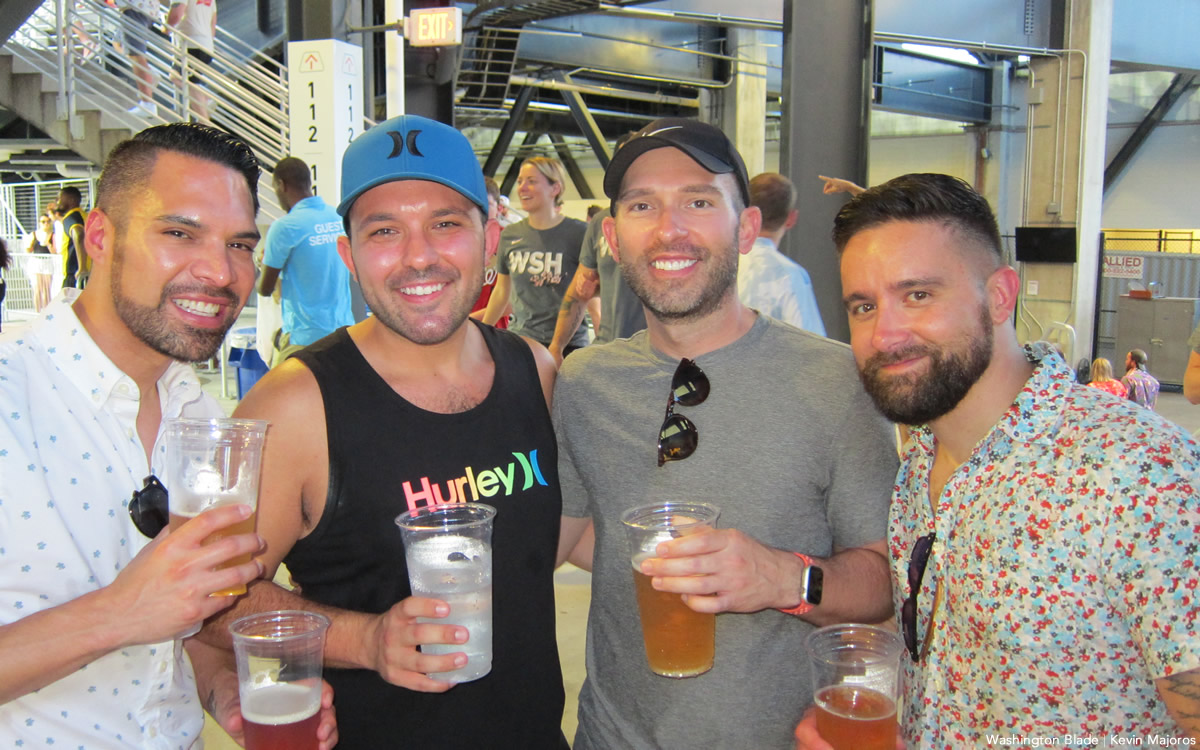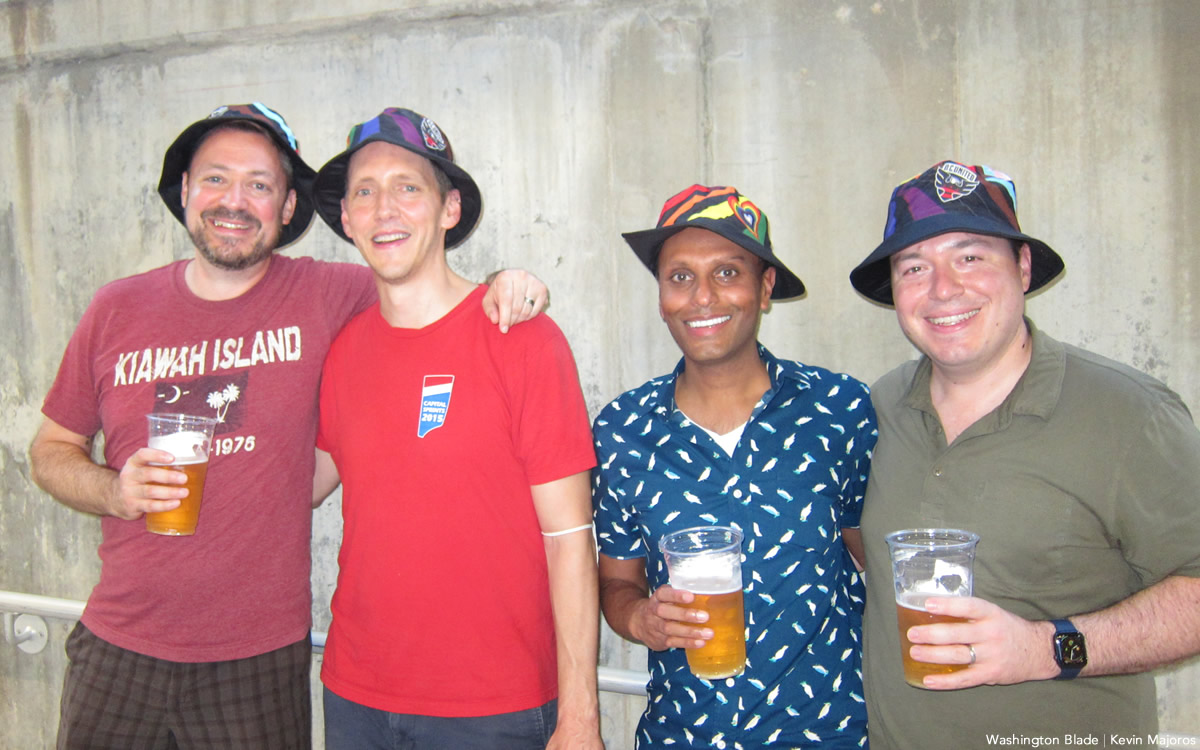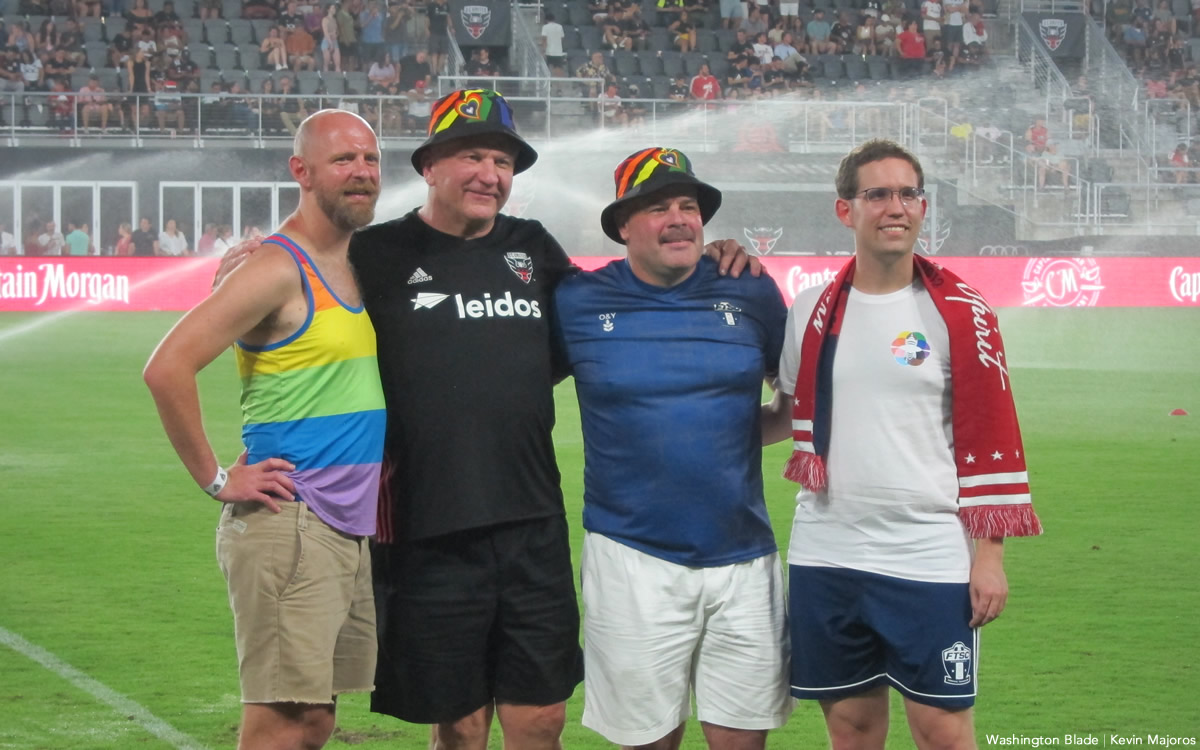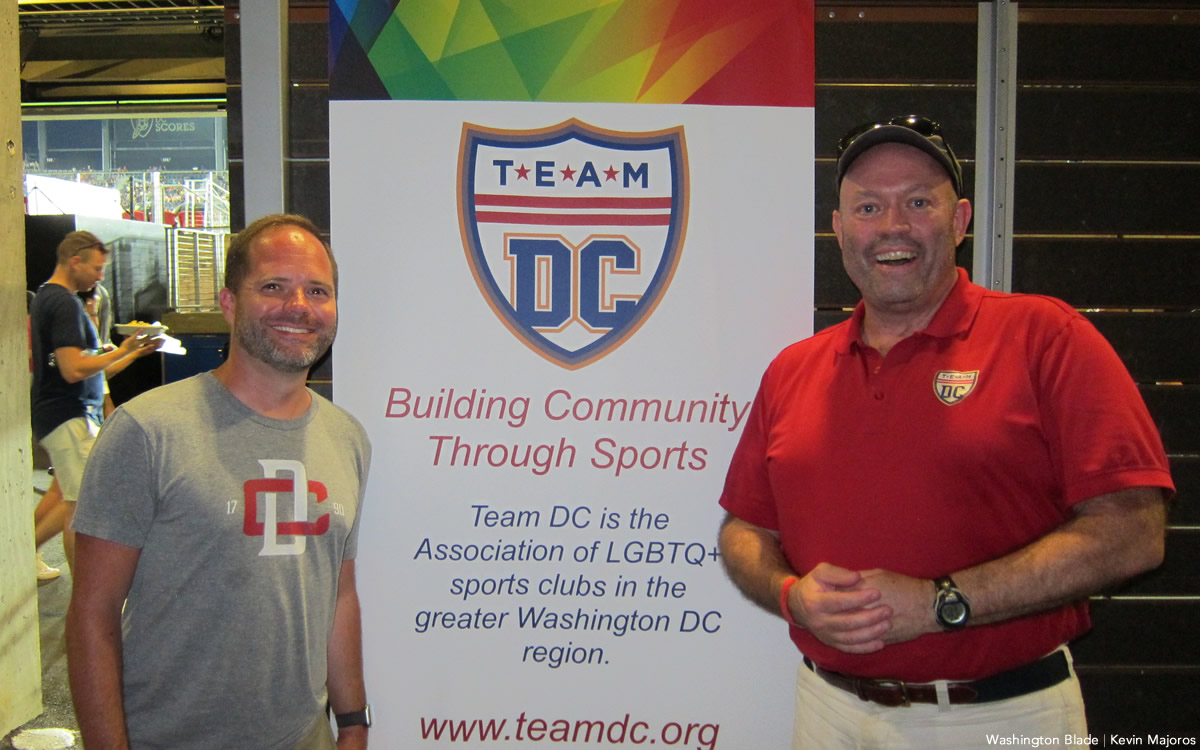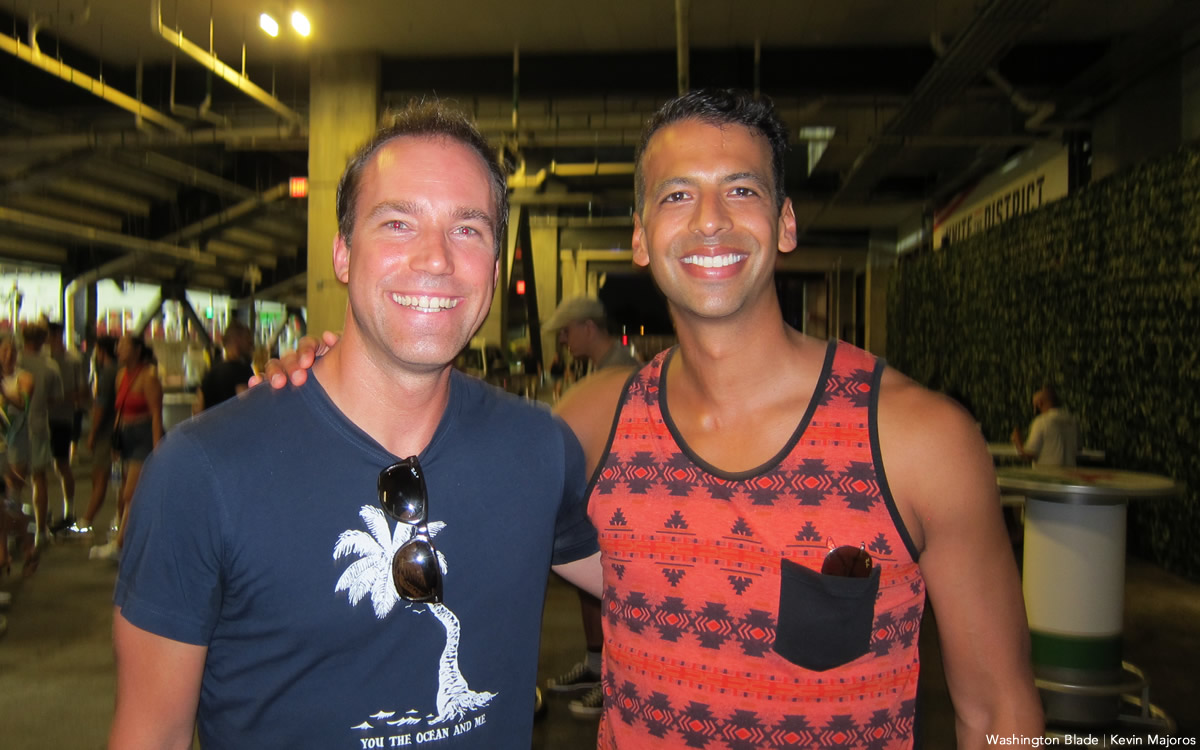 Abbi Jacobson engaged to her girlfriend Jodi Balfour
Last week, Jacobson and Balfour made their first red carpet debut at the Los Angeles premiere of A League of Their Own.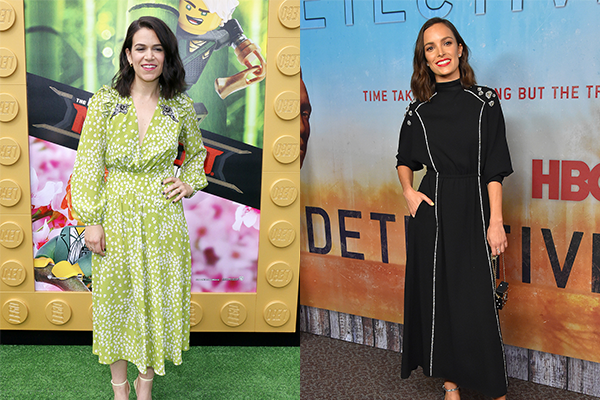 Abbi Jacobson, the Emmy Award nominee, is engaged to her girlfriend Jodi Balfour. She confirmed the news to People as she celebrated with her costars in the upcoming Amazon Video series A League of Their Own.
D'Arcy Carden, the costar and Jacobson's friend of 15 years, said, "It's out. It's great. We're so happy. We love [Jodi]."
"Abbi's engaged! Abbi's engaged! Abbi's engaged!" Chanté Adams, also a costar in the upcoming series, followed, "We've had to hide it for … No, I'm kidding."
"No, you have not. You have not had to hide it." Jacobson responded, blushing, "That was not a thing. It was not a secret."
Last week, Jacobson and Balfour made their first red carpet debut at the Los Angeles premiere of A League of Their Own.
The couple started dating in 2020 and celebrated their first anniversary last October. Jacobson shared some selfies of them on instagram: "One year with this incredible human. Don't know how I got so lucky ❤️."
Likewise, Balfour wrote in the caption: "365 days of the best surprise of my life 💚."
Jacobson officially came out as a bisexual in the interview with Vanity Fair. "I date men and women," she said, adding as long as the person is "funny" and is "doing something they love."
Balfour, a South African actress, is known for her performances on For All Mankind, Supernatural, The Crown and True Detective.
Jacobson is both cast and co-creator of A League of Their Own, in which she would tell the stories of these LGBTQ women in the 1940s. She also talked about Maybelle Blair, a consultant of the show as well as a former All-American Girls Professional Baseball League player who came out at 95.
"But Maybelle's point of view, specifically on the All-American Girls Professional Baseball League experience, what that was like to play baseball at the time, what it was like to be a queer woman in the league, was pretty important for some of the stories we were telling. But at Tribeca, she had not come out publicly and that was so incredible. And don't you feel like it's like, '95!' I'm like, 'This show needs to come out.' She came out because we made this show."
The first episode of A League of Their Own will be released on August 12.