Black voters support LGBTQ issues overall, but divided on transgender rights
Kaiser Family Foundation and TheGrio conducted survey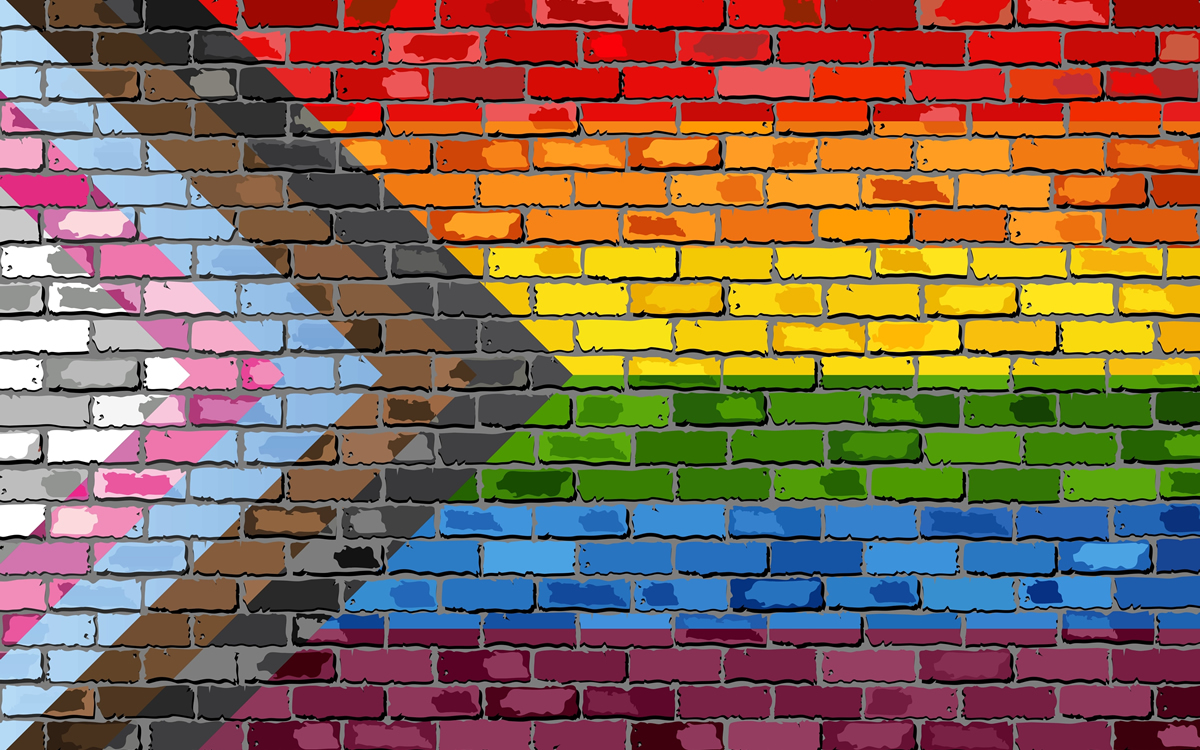 A survey of Black voters by the Kaiser Family Foundation and TheGrio revealed the mood and opinions of Black voters as the 2022 midterm election approaches on a variety of issues.
The polling examined Black voters' voting intentions, motivations and views on key electoral issues for the upcoming midterm. It also examines Black voters' attitudes toward the Democratic and Republican Parties, views on electoral integrity and past experiences with voter suppression.
In addition to these election-related topics, the survey sheds light on how Black voters feel about timely topics including the recent U.S. Supreme Court decision overturning Roe v. Wade, policies affecting the LGBTQ community and policies aimed at improving health for Black people in the nation.
The polling found that "in general, Black voters are supportive of policies that protect the rights of LGBTQ+ individuals, with more support among younger voters, those who identify as liberal, and those who themselves identify as LGBTQ+."
A large majority (78 percent) of Black voters support Congress updating the Civil Rights Act to include protections against discrimination based on sexual orientation and gender identity, including large majorities across age groups, and 93 percent of Black voters who identify as LGBTQ.
Of note, nine in 10 liberal Black voters support updating the Civil Rights Act in this way (89 percent,) but a majority (58 percent) of those who identify as conservatives do as well.
Same-sex marriage also garners solid support among Black voters, with more than two in three (68 percent) saying they support Congress passing a law to protect same-sex marriage (including 44 percent who say they strongly support this measure.) About nine in 10 (93 percent) Black voters who identify as LGBTQ support protecting same sex marriage.
Support differs by age among all Black voters, with nearly eight in 10 (78 percent) Black voters ages 18-29 saying they support this compared to a narrower majority (55 percent) of those ages 65 and older. On this topic, about eight in 10 (83 percent) liberal Black voters are in support, but conservative Black voters are split: 49 percent support it, while 51 percent oppose.

Most Black voters support allowing public schools to teach students about sexual orientation and gender identity, but those who are parents are more divided. Nearly six in 10 (58 percent) Black voters support allowing public school teachers to teach students about sexual orientation and gender identity.
However, while a clear majority (61 percent) of Black voters who are not parents support this, Black voters who are parents of children under 18 are more divided (52 percent support and 48 percent oppose.)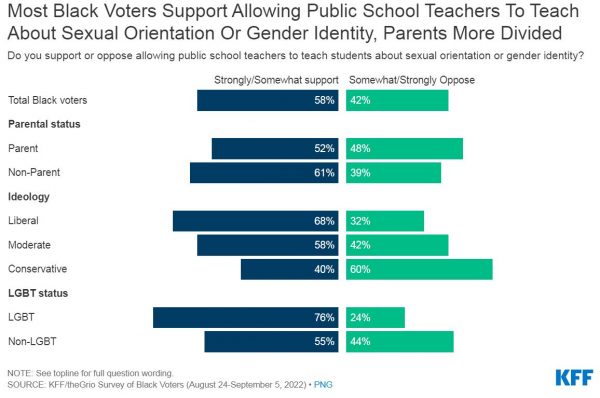 More Black voters oppose rather than support allowing transgender student athletes to compete on sports teams that match their gender identity, though majorities of younger Black voters and those who identify as LGBTQ are in support. Fewer than half of Black voters (43 percent) support allowing trans student athletes to compete on sports teams that match their gender identity, while 56 percent oppose.
However, a majority (56 percent) of young Black voters aged 18-29 are in support, as are six in 10 Black voters who identify as LGBT (62 percent) and about half (52 percent) of liberal Black voters.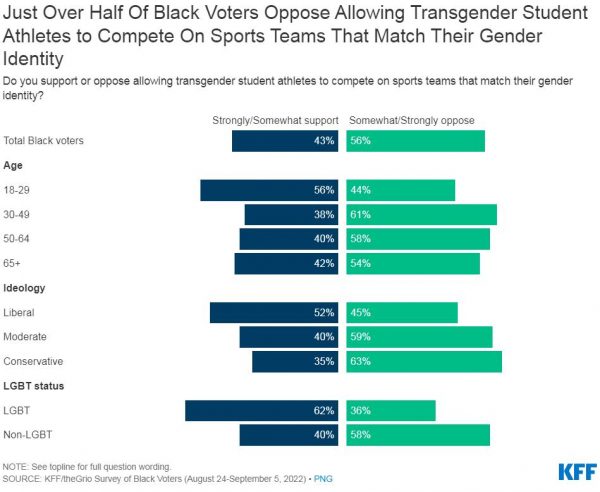 Read the entire poll: (Link)
Republicans gain control of the U.S. House
Narrow GOP majority could bode well for blocking anti-LGBTQ bills.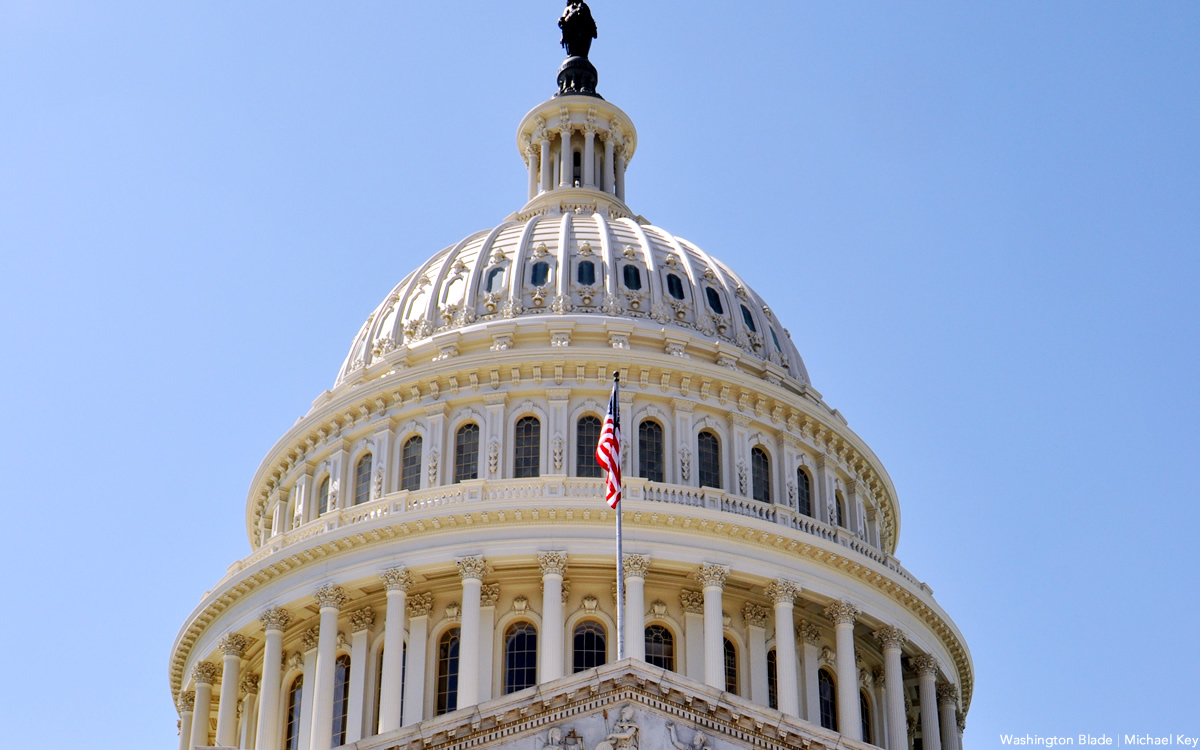 Certainty over Republicans' control of the U.S. House of Representatives crystalized on Tuesday, while Senate Minority Leader Mitch McConnell (R-Ky.) fended off a bid for his position by fellow GOP Sen. Rick Scott (Fla.).
As the final votes from last week's midterm elections continue to trickle in, by Wednesday evening it became clear that when the 118th Congress is seated in January, the legislature will be divided between the House and the U.S. Senate, where Democrats will either retain their 50-vote majority or win an extra seat, pending the results of Georgia's runoff election in December.
It is the House, too, that will be divided, as the majority's shift from blue to red was narrowly won, with only seven races whose results have not yet been tallied. Republicans' control of the chamber comes with 218 seats, a feat they accomplished today. By 7:40 p.m. ET, Democrats had won 210 seats.
Leadership in both chambers has also been decided. House Minority Leader Kevin McCarthy (R-Calif.) is poised to take over as House Speaker in January when the new Congress meets. McConnell, meanwhile, prevailed over a challenge for his Senate leadership by Scott, his Republican colleague.
"With a small Republican majority, we think there's a greater chance of blocking anti-gay and anti-trans bills, which may now not even be brought up for a vote," Geoff Wetrosky, campaign director for the Human Rights Campaign, told the Washington Blade by phone on Tuesday.
"Not only because of the composition of Congress, but also because last week's election made clear that voters do not support this kind of extremism," Wetrosky said.
Annise Parker, president of the LGBTQ Victory Fund, told the Blade by phone on Tuesday that "the first six months will be spent in internal warfare, but it's clear that there won't be anything positive coming out of the House for our community."
There "very well may be negative bills," Parker added, noting that with a slim majority in the lower chamber, there is unlikely to be much legislation, period.
Democrats retain control of the U.S. Senate
Catherine Cortez Masto won reelection in Nev.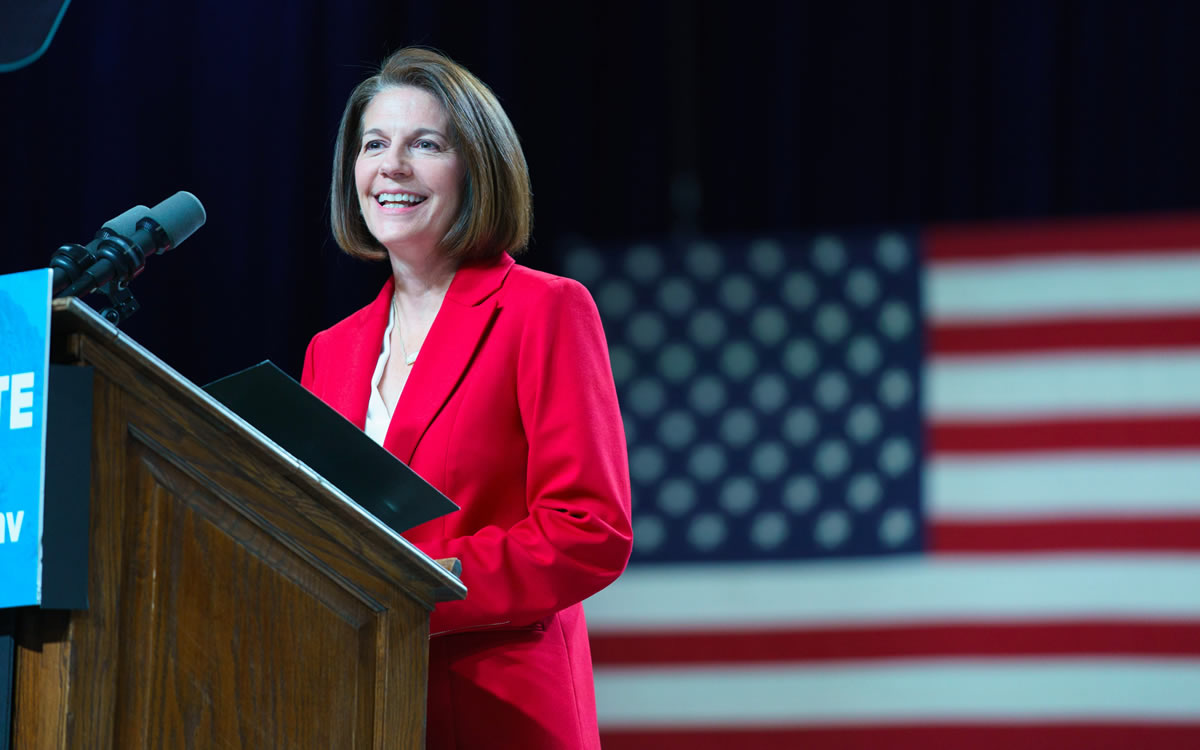 Control of the U.S. Senate will remain in the hands of Democrats after U.S. Sen. Catherine Cortez Masto (D-Nev.) defeated Republican Adam Laxalt, the state's former attorney general, in a hotly contested race.
The 58-year-old Cortez Masto has been serving as the senior U.S. senator from Nevada since 2017. Previously she was the state's 32nd attorney general from 2007-2015.
Her reelection means that President Joe Biden maintains his ability to confirm judicial nominees and Cabinet secretaries. All eyes are now on the U.S. House of Representatives where the balance of power is at stake.
David Wasserman, a House campaign analyst with the nonpartisan Cook Political Report, told the Los Angeles Times Saturday that "it will absolutely come down to California," which the Golden State's 10 Congressional races are deemed most at risk of flipping and still too close to call.
Cortez Masto, the first Latina elected to the Senate, endured a tough reelection campaign made more protracted after the mail-in ballot counting with the results resting largely with the state's most populous county, Clark County, home to Las Vegas, which posted updates once a day since Tuesday.
Thank you, Nevada! pic.twitter.com/NORNR52wp8

— Catherine Cortez Masto (@CortezMasto) November 13, 2022
NBC News reported that in the campaign's closing days, Laxalt, a MAGA Trump loyalist who drew the former president as well as Donald Trump, Jr., to the state to stump for him, hammered a strict partisan message, vowing not to work with the left and promising to hold Senate hearings examining Biden's top medical adviser Anthony Fauci and Biden's son, Hunter Biden.
Laxalt had also questioned the results of the 2020 election, even saying the results were "rigged."
"There should be consequences for people who undermine our democracy, who peddle the 'big lie' and conspiracy theories," Cortez Masto said at an event in Reno, the state's second largest city, in October.
Laxalt handily won the state's 15 rural counties, in some counties winning 80 percent of the vote, while Cortez Masto steadily led the reliably blue Clark County.
Speaking in the Cambodian capital city of Phnom Penh, where he is attending the East Asia Summit, Joe Biden finished his remarks and then took a couple questions from reporters. When asked about the news of the Democrats retaining the Senate after Cortez Masto's reelection victory the president said: "I feel good and I'm looking forward to the next couple years."
In the press pool traveling with Biden, The Washington Post's White House reporter Yasmeen Abutaleb, reported that the president made congratulatory calls to Cortez Masto at 10:08 a.m. local time and Senate Majority Leader Chuck Schumer (D-N.Y.) at 10:28 a.m. local time, (Cambodia.)
The president added that as he congratulated Schumer he noted their [Democrats] focus now is on Georgia.
"I'm not surprised by this … I think it's a reflection of the quality of our candidates," Biden said.
"It's always better at 51," he added and mentioned that with 51, Democrats don't need to have an even makeup of committees. "It's just simply better."
"Republicans are going to have to decide who they are," the president reflected.
Trone wins reelection in Md. 6th Congressional District
Incumbent Democrat beat state Rep. Neil Parrott (R-Frederick County)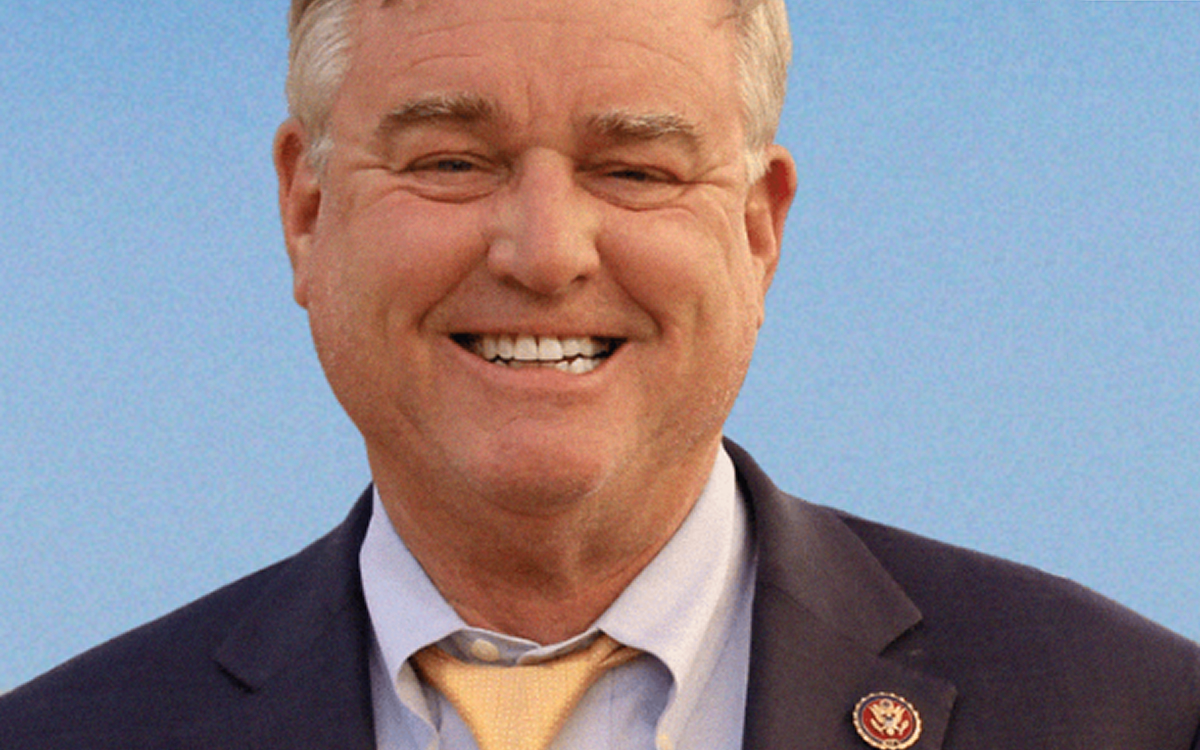 Maryland Congressman David Trone has defeated his Republican challenger in the state's 6th Congressional District.
Trone defeated state Del. Neil Parrott (R-Frederick County) by a 50.38-49.5 percent margin.
The Frederick County Republican had been ahead of the incumbent Democratic, in part, because the boundaries of the district, which includes all of western Maryland, had been redrawn during the last redistricting. Mail-in ballots had yet to be counted when Parrott was ahead of Trone immediately after Election Day.
"I want to thank Del. Parrott for his phone call this afternoon conceding the race," said Trone in a tweet. "My promise to him, and to all of the people of the 6th District, is this: I'll continue to work across the aisle to deliver results and get things done. Thank you, Maryland! Let's get back to work."
I want to thank Del. Parrott for his phone call this afternoon conceding the race. My promise to him, and to all of the people of the 6th District, is this: I'll continue to work across the aisle to deliver results and get things done. Thank you, Maryland! Let's get back to work.

— David Trone (@davidjtrone) November 11, 2022