George Santos admits lying about job and education
Gay congressman-elect divorced woman in 2019.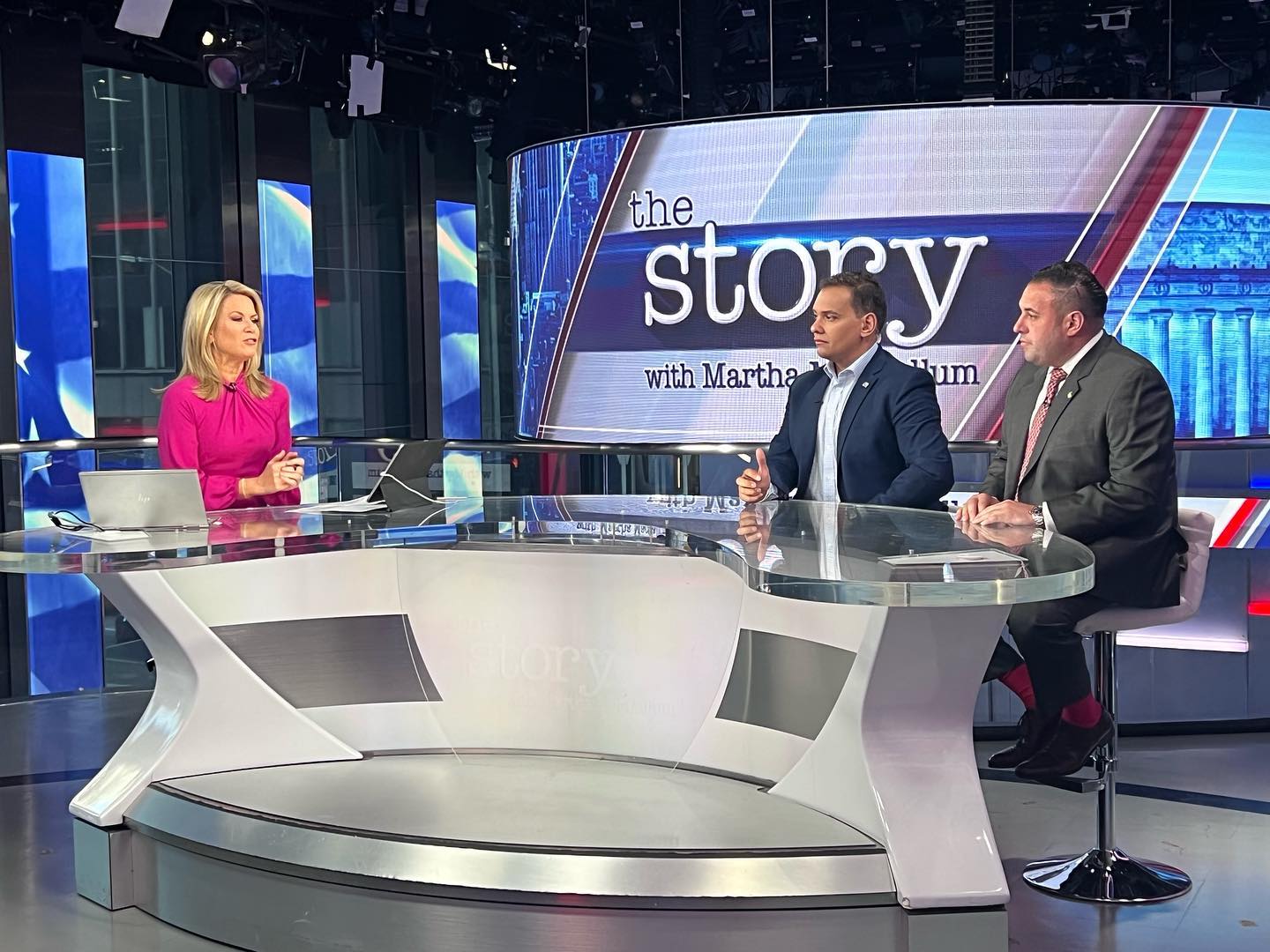 The headline from Monday's New York Post read "Liar Rep.-elect George Santos admits fabricating key details of his bio," and in the accompanying article he admits that he deceived voters in New York's 3rd Congressional District regarding his work history and education.
Santos admitted that he had not graduated from any institution of higher learning or worked directly for Citigroup or Goldman Sachs — claims the congressman-elect repeatedly made on the campaign trail.
Santos did not address other questions or discrepancies about his life and career, insisting that he is "not a criminal" and pledging to assume office as planned when the new Congress is seated after the new year.
Santos, who ran as an openly gay candidate in New York's 3rd Congressional District, beat another openly gay candidate, Robert Zimmerman in a first-of-its kind House race in the Empire State.
New York's 3rf Congressional district encompasses northwestern Suffolk County and northern Nassau County on Long Island and the northeast neighborhoods in Queens.
Santos has been embroiled in a pile-on of negative revelations as journalists continue to dig deeper into his professional and personal biography that he ran on. The controversy escalated after the New York Times published an article accusing Santos of lying about several aspects of his past, including his education and work history.
Speaking with New York Post reporters Victor Nava and Carl Campanile, Santos said:
"My sins here are embellishing my resume. I'm sorry."
Santos confessed he had "never worked directly" for Goldman Sachs and Citigroup, chalking that fib up to a "poor choice of words."
The 34-year-old now claims instead that a company called Link Bridge, where he worked as a vice president, did business with both of the financial giants.
"I will be clearer about that. It was stated poorly," Santos said of the lie.
At Link Bridge, Santos said, he helped make "capital introductions" between clients and investors, and Goldman Sachs and Citigroup were "LPS, Limited Partnerships" that his company dealt with.
He also admitted that he never graduated from any college, despite previously claiming to have received a degree from Baruch College in 2010.
One of the issues that angered New York's Jewish populace was his claims to Jewish ancestry and the lies about his grandparents surviving the Nazi Holocaust prior to and during World War II.
The Long Island Press and New York City-based The Forward, formerly known as The Jewish Daily Forward, reported that in his online biography, Santos claims that his grandparents fled Jewish persecution in Ukraine, and then in Belgium during World War II to avoid the Holocaust. The Forward investigated these claims and found that Santos' grandparents were born in Brazil and seem to be Catholic.
Nassau County Legislator Joshua A. Lafazan (D – Woodbury) from the Nassau County Legislature denounce the alleged falsehoods about Santos' claims of Jewish heritage, labeling the falsified biography as antisemitic to lie about having ancestors who survived the Holocaust.
"After multiple days of continued breaking news regarding Congressman-elect George Santos' fraudulent past, it is now being nationally reported that he lied regarding his grandparents fleeing the Holocaust," Lafazan said. "Exploiting the murder of 6 million Jews to win an election is arguably one of his most egregious acts yet. He must resign his election to the United States Congress immediately."
Santos told the Post that he's "clearly Catholic," but claimed his grandmother told stories about being Jewish and later converting to Catholicism.
"I never claimed to be Jewish," Santos said. "I am Catholic. Because I learned my maternal family had a Jewish background I said I was `Jew-ish.'"
At issue was also his sexual orientation after the Daily Beast discovered that he had been married to a woman whom he divorced the year prior to his first race in 2020 for Congress.
Santos had previously stated he had long been confident about his sexuality. In October, he told USA Today that he had not had any issue with his sexual identity over the last decade.
A Daily Beast article released this past Thursday revealed that Queens County court records show that Santos, who has claimed to be openly gay, divorced from a woman named Uadla Santos in 2019.
Queens New York media outlet QNS was able to confirm with the Queens County Court that George and Uadla Santos got divorced in September 2019.
Santos confirmed to the Post on Monday that he was indeed married to a woman for about five years, from 2012 until his divorce in 2019, but insisted that he is now a happily married gay man.
"I dated women in the past. I married a woman. It's personal stuff," Santos said, adding that the relationship "got a little toxic."
"I'm very much gay," he says now. "I'm OK with my sexuality. People change. I'm one of those people who change."
Santos however did not address the lies he made during an interview with a Florida radio station that a company he owned and conducted business in Brevard County, Fla., had four employees murdered in the mass-shooting on June 12, 2016, at the Pulse nightclub in Orlando.
From WKMG News 6 Orlando, mother of Pulse victim calls N.Y. congressman-elect's claims a lie:
The Orlando station and Talking Points Memo both revealed that Santos had recently re-registered a company in Florida, listing a Merritt Island address in Brevard County.
The Post also addressed the $11 million in assets reported in his financial disclosure report filed last September. Santos claimed those are tied to his Devolder consulting firm.
"All of my finances come from the firm. The assets are the contracts with the firm," he told The Post.
The office of New York Attorney General Letitia James is looking into issues with the 2022 congressional campaign run by Santos the Washington Blade's White House reporter has learned.
This week's reporting on Santos yielded calls for the congressman-elect to be investigated by U.S. Attorney's office in New York, the Federal Election Commission, Congressional House Ethics officials, and other legal actors.
On Thursday, the James' office did not confirm whether it had formally begun an investigation.
In a published account Christmas Eve in the Post, and in several phone calls Saturday with the Los Angeles Blade, sources knowledgeable confirmed U.S. House Republican leadership's awareness of the deceptive political and personal résumé of the Congressman-elect.
Sources also noted that the topic became a "running joke" within the party's congressional leadership.
Frost talks gun control with the Blade on anniversary of March for Our Lives
26-year-old congressman has been a gun violence prevention advocate since 2012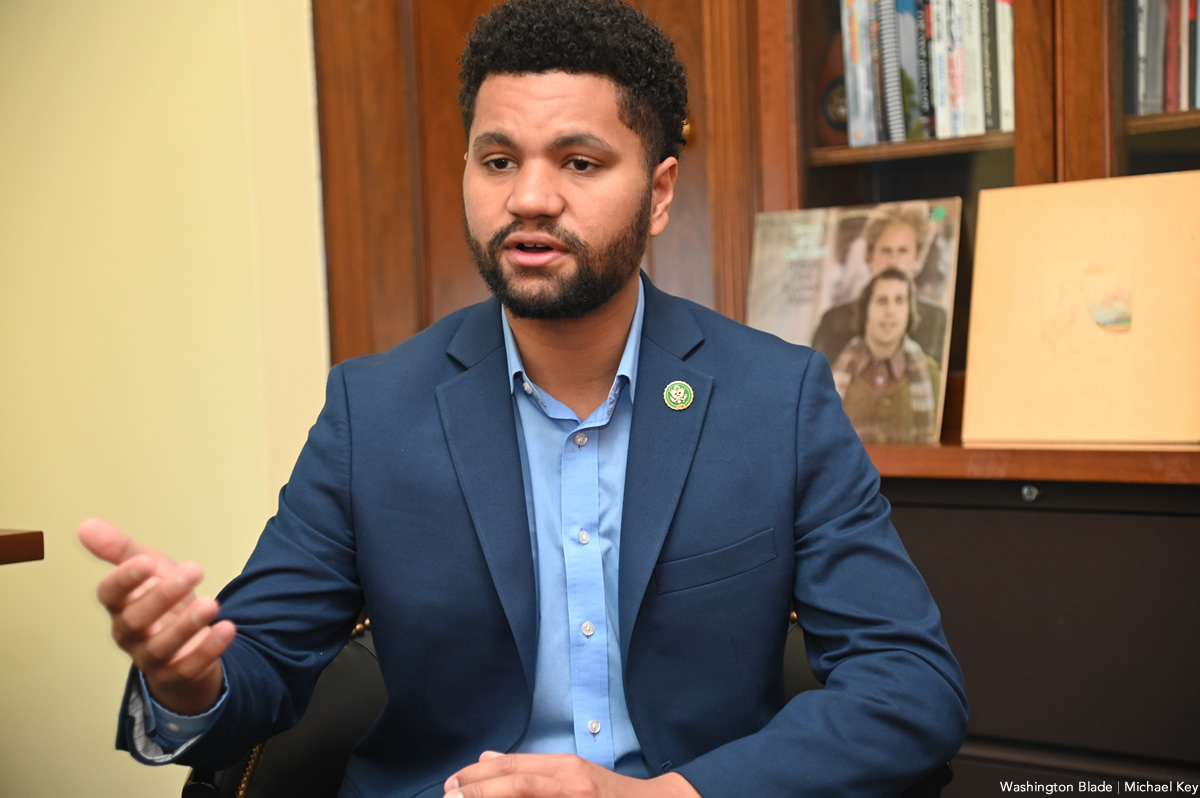 Author's note: The full interview with Congressman Frost will be published next week.
U.S. Rep. Maxwell Frost (D-Fla.), after a week of making headlines for his gun violence prevention advocacy, sat down with the Washington Blade for an exclusive interview on Friday, which marks the five-year anniversary of the founding of March for Our Lives.
The 26-year-old freshman congressman, who before his election was national organizing director for the student-led gun control group, had just introduced his first piece of legislation Tuesday with U.S. Sen. Chris Murphy (D-Conn. that would establish an Office of Gun Violence Prevention within the U.S. Department of Justice.
The proposal's aim, in part, is to better facilitate the implementation of last year's Bipartisan Safer Communities Act by establishing a singular office to coordinate that work.
And on Thursday, Frost captured and tweeted a video of a confrontation between U.S. Capitol Police and Patricia and Manuel Oliver, gun control advocates who lost their son Joaquin in the 2018 Parkland, Fla., high school shooting.
The couple had been removed by police from the House Oversight and House Judiciary Committees' gun rights hearing at the request of GOP Reps. Andy Biggs (Ariz.) and Pat Fallon (Texas).
Frost, who was in attendance, told the Blade the conflict started when Patricia Oliver "just stood up and she said, 'you took my son' and she sat down," but "instead of moving on, the Chair [Fallon] escalated things."
The congressman said the hearing itself was "a sham" convened for the purpose of attacking the Biden administration's Bureau of Alcohol, Tobacco, Firearms and Explosives (ATF), the entity within the U.S. Justice Department that investigates violations of laws governing the manufacture, possession, and use of guns.
"The real story here," said the congressman, "is the fact that there were two parents who lost their son who was in high school, because he was shot to death and died in a pool of his own blood, and now they're going to spend the rest of their lives fighting for a world where it doesn't happen to anybody else."
Frost noted the Olivers were joined at the hearing by other families, activists, and organizers – all of whom were gathered in Washington, D.C., to advance the mission established by the group of teenaged Parkland survivors who founded March for Our Lives five years ago.
Among these student activists were Cameron Kasky, who identifies as queer, and X González, who is bisexual and uses they/them pronouns.
Frost has repeatedly said he ran for Congress because of his involvement in the gun violence prevention advocacy movement, which began with his volunteering on behalf of the Newtown Action Alliance, a group formed in the wake of the 2012 Sandy Hook Elementary School shooting.
The congressman told NPR the 2016 shooting at Pulse, the gay nightclub in Orlando "where 49 angels were murdered right here because they're queer" marked one of the most significant moments of his life.
That same year and in that same city, Frost himself survived a gun violence incident.
During his congressional campaign, on the heels of last year's elementary school shooting in Uvalde, Texas, Frost tweeted: "10 years ago I became an Organizer because of Sandy Hook. 3 years later, I'd become a survivor myself. That same year, Pulse. Now I'm running for Congress and 15 lives were taken at another Elementary school. I will not stop until the endless shootings do."
House Republicans pass anti-LGBTQ Parents Bill of Rights Act
Measure passed by 213-208 vote margin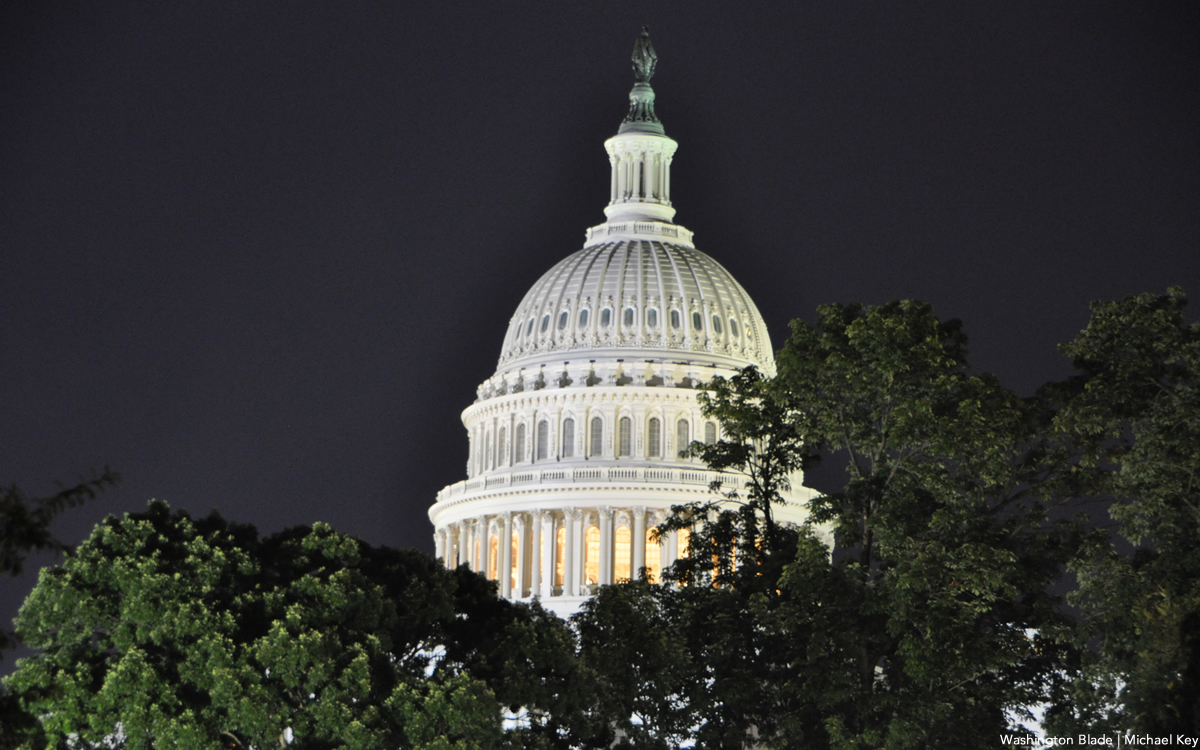 U.S. House Republicans on Friday passed the Parents Bill of Rights Act, a proposal that would require public schools to share educational materials with parents and also contains provisions that would trigger the outing of LGBTQ students without their consent.
Critics say the legislation's professed purpose, to equip parents with the information necessary for them to better engage with their children's educators, is a pretext for its ultimate goals: For schools to censor out content addressing race, or materials containing LGBTQ characters or themes, while also discouraging LGBTQ students from being out at school.
The Congressional Equality Caucus noted the likelihood of that outcome in a statement Friday denouncing the bill, which the group's chair, U.S. Rep. Mark Pocan (D-Wis.), called "dangerous" — pointing to its requirement for "schools to forcibly out transgender students, even if it puts those youth in harm's way."
"All children deserve access to a safe and affirming school environment," Pocan said in the statement. "Transgender youth have enough challenges already due to harassment, bullying, and anti-transgender state laws," he said, adding, "My colleagues who voted for this bill should be ashamed."
House members voted 213-208 for passage of the Parents Bill of Rights, or House Resolution 5, with Republican U.S. Reps. Andy Biggs (Ariz.), Ken Buck (Colo.), Matt Gaetz (Fla.), Mike Lawler (N.Y.) and Matt Rosendale (Mont.) voting against the legislation with every Democratic member. The bill was first introduced by GOP Rep. Julia Letlow (La.).
With Democrats' control of the U.S. Senate, movement on the bill will almost certainly be stopped once it reaches the upper chamber, but it may nevertheless still have a harmful impact on the country's LGBTQ youth.
For example, the National Institutes of Health published a peer reviewed study last year that found a link between anti-trans legislation and "suicide and depression-related Internet searches" using a dataset comprising 40 bills that were introduced and reached committee, of which three were passed and signed into law.
The caucus' statement noted HR 5 contains "two provisions that would require schools that take steps to respect a student's gender identity to forcibly out those transgender youth to their parents" along with another that would allow parents to access their children's answers to survey questions, answers that might include information about a student's sexual orientation or gender identity.
The risk that their parents will be able to see their answers will incentivize many students to lie about these and other questions, which the caucus said will undermine the federal government's ability to collect important demographic, statistical and survey data on America's LGBTQ youth.
Exacerbating that problem is another provision in the legislation, which requires parents to "opt-in" if their children would be asked to share their sexual orientation or gender identity.
America's largest LGBTQ advocacy organization, the Human Rights Campaign, also issued a statement Friday condemning HR 5.
"The bill, which picks and chooses which families have rights and which don't, has occupied the chamber's time while extremist House leaders continue neglecting the very real and urgent problems facing our schools, such as gun violence, teacher shortages and educational inequality," the group said in its statement.
HRC also noted the legislation's potential to trigger forcible outing of LGBTQ youth "would endanger students instead of fulfilling school officials' obligation to make judgments on a case-by-case basis in the best interests of the students under their supervision."
The organization said it expects House Republicans to move "in coming weeks" on House Resolution 734, "a bill to ban participation by transgender youth in school sports," and drew parallels between the Parents Bill of Rights Act and the "curriculum censorship seen in harmful, unnecessary bills passed in state legislatures recently."
U.S. Rep. Melanie Stanbury (D-N.M.), a member of the Equality Caucus, echoed that message in her statement Friday, writing that HR 5 was "modeled after bills passed at the state level, which have censored the teaching of American history, allowed book bans, and violated the safety and privacy of transgender and LGBTQ+ students."
The White House issued a Statement of Administration Policy on Monday addressing the bill, writing "the administration does not support HR 5 in its current form because the bill does not actually help parents support their children at school" and "moreover, instead of making LGBTQI+ students feel included in their school community, it puts them at higher risk."
Takano to renew House Democrats' push for the Equality Act
Measure would extend federal anti-discrimination protections to LGBTQ Americans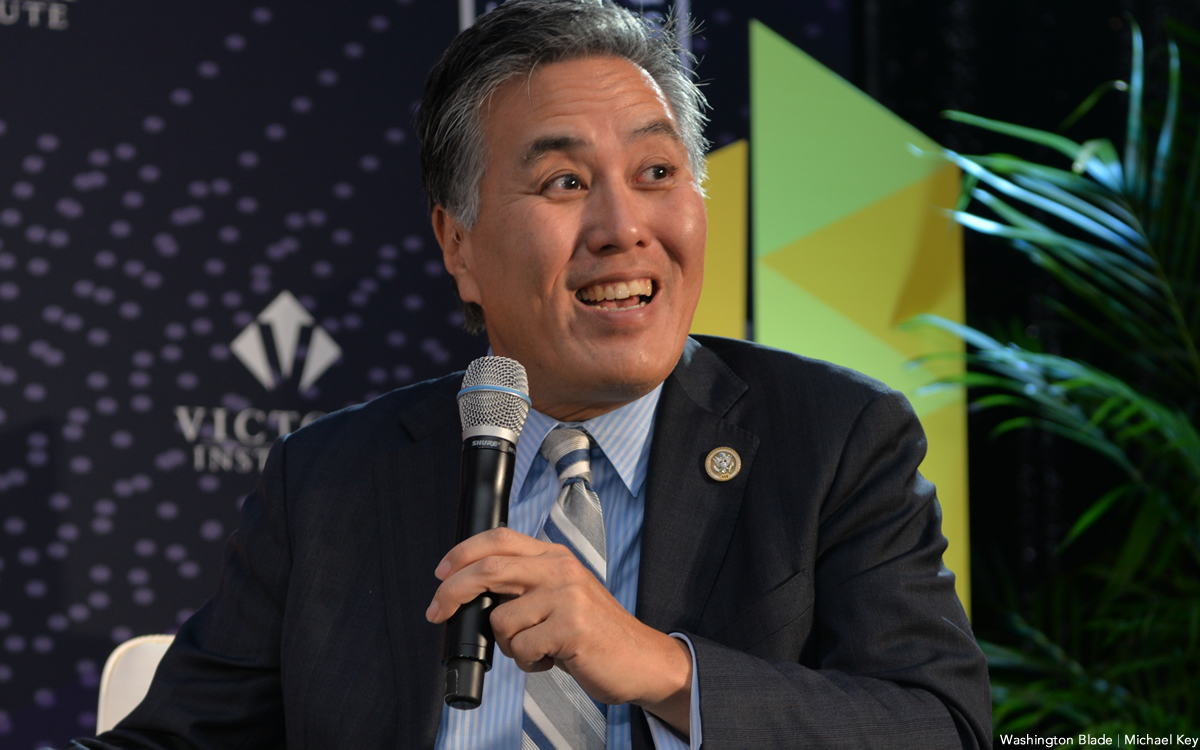 U.S. Rep. Mark Takano (D-Calif.), a co-chair of the Congressional Equality Caucus, issued a statement Thursday pledging to introduce the Equality Act during this Congress, legislation that would extend federal anti-discrimination protections to LGBTQ Americans.
The bill would prohibit discrimination on the basis of sexual orientation and gender identity in "employment, education, access to credit, jury service, federal funding housing, and public accommodations."
Four previous versions were introduced in the House by Rep. David Cicilline (D-R.I.) and in the Senate by U.S. Sen. Jeff Merkley (D-Ore.) in 2015, 2017, 2019, and 2021. The Biden administration and congressional Democrats have signaled that the legislation remains a major priority despite the Republicans now exercising their majority control of the lower chamber.
With Cicilline's planned departure from Congress on June 1 to lead the nonprofit Rhode Island Foundation, Takano thanked and credited his colleague "for his leadership on behalf of our community and stewardship of the Equality Act."
Cicilline, who drafted the legislation and chaired the Equality Caucus in the last Congress before Rep. Mark Pocan (D-Wis.) took over this year, noted the heightened importance of the Equality Act's passage amid the proliferation of anti-LGBTQ and especially anti-trans legislation.
"With homophobic and transphobic legislation being proposed in state legislatures across the country and here in Congress," he said, "it is far past time we act to finally outlaw discrimination against the LGBTQI+ community by passing the Equality Act."
The legislation is also backed by major LGBTQ advocacy groups including the nation's largest, the Human Rights Campaign. "There is overwhelming support for this bill among the American people and the business community, and we will continue fighting until this bill is signed into law," said the organization's President Kelley Robinson.
Robinson also thanked Cicilline for his leadership on the bill and said the Human Rights Campaign looks forward to working with Takano, "an incredible champion for our community" who "is the perfect leader for this effort" to "build on he work Congressman Cicilline started and get the Equality Act signed into law."