'Sylvia' summons queer horror comedy at its comedic best
Something refreshing while we wait for summer movie season to arrive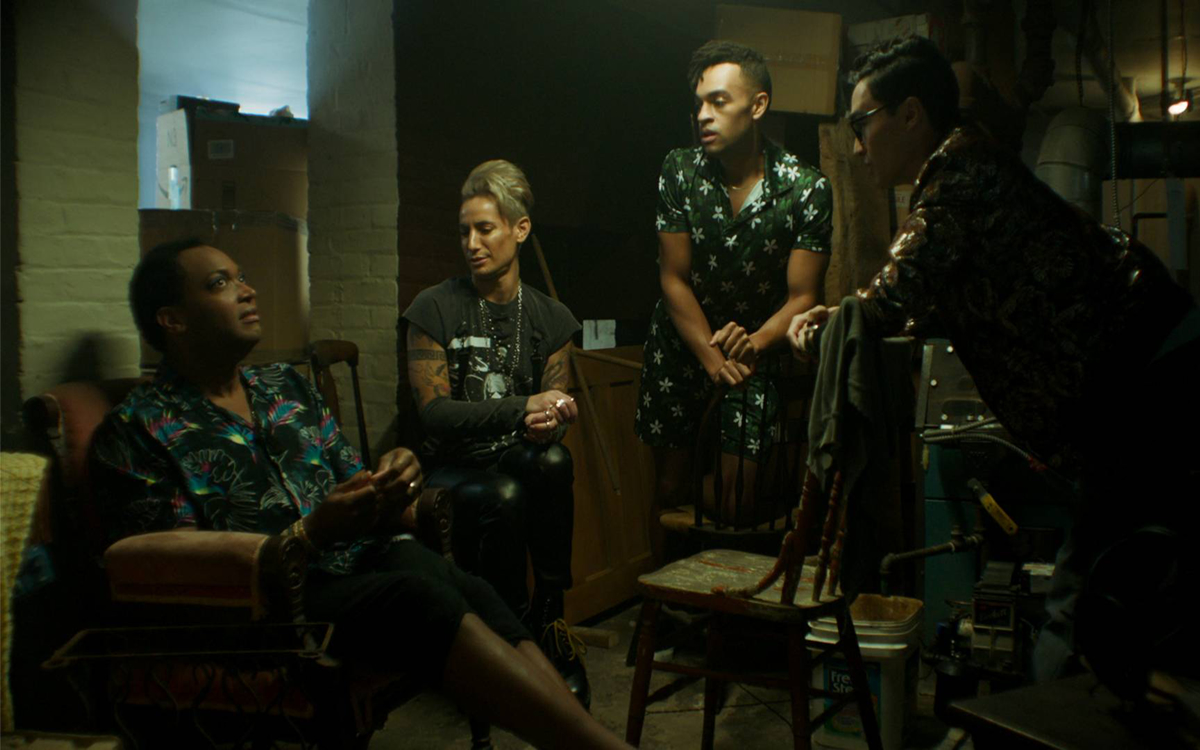 There was a time when the words "straight-to-video" carried an unspoken implication of mediocrity, at best – but that was before a massive shift in the film industry, accelerated but perhaps not solely driven by the pandemic and the need it created for "watch at home" options – changed the game when it comes to judging a movie by its viewing format.
Consider "Summoning Sylvia," a campy horror comedy that made its VOD premiere on April 7, in which all but one of the characters (two if you count dead people) are queer. It's safe to say that it's definitely a "niche" film, and despite being granted a brief-and-perfunctory theatrical run – presumably, like most non-mainstream movies of similar ilk, for the purposes of awards consideration – it's not the kind of thing that might have gotten a wide big screen release at any point in the history of the American film industry. At first assessment, it might seem like a rollicking, raunchy and VERY gay piece of fluff; it's all those things, but it has a lot more imagination and ambition behind it than meets the eye from scrolling past the trailer on social media.
Written and directed by Wesley Taylor and Alex Wyse, it's an absurdly farcical yet genuinely hair-raising adventure in which Larry (Travis Coles), on the eve of being "gay-married," is kidnapped by his groomsmen (Frankie Grande, Troy Iwata, and Noah J. Ricketts) for a bachelor party weekend at a country house in upstate New York, reputedly haunted by the ghost of a woman (the titular Sylvia, played by Veanne Cox) who murdered her own son (Camden Garcia) before being killed herself by an angry mob 100 years ago. Naturally, the queer quartet tries to unravel this century-old mystery by holding a séance, but the unforeseen addition to the mix of future brother-in-law Harrison (Nicholas Logan) – an ex-soldier with clearly antisocial and possibly homophobic personality issues – turns their tongue-in-cheek party game into a terrifying-yet-hilarious battle with the dark forces that seemingly rule over their fashionably rustic Airbnb.
It's all very silly, of course, and anyone hoping for hardcore horror featuring malevolent ghosts and demonic possession are likely to be sorely disappointed; what's surprising is how often it manages to supersede its silliness to deliver more than just the occasional cheap jump scare, and how well it frames its madcap scenario through a perspective that, incredibly, makes everything feel a lot weightier – or at least, more meaningful – than its campy comedic tone invites us to expect.
Some background on the film's creators quickly offers a possible explanation for why that might be so. Taylor and Wyse, Broadway stalwarts both onstage and off, come at their material from a theatrical tradition that includes such absurdist queer playwrights as Joe Orton, Christopher Durang, Paul Rudnick, and others whose work use pointedly nonsensical contrivances to poke fun at socially relevant themes that might otherwise not be so amusing. Their film is rife with that same surrealist spirit, while still evoking the old-fashioned pleasures of such humorously macabre classics as "Blithe Spirit" or "Arsenic and Old Lace" – a good-natured blending of styles that goes a long way toward opening audiences up to its familiar premise. To put it more simply, if a bit poetically, there is an unmistakable method to the madness.
If references to 20th-century absurdist theater don't ring a bell for you, it might be more appropriate to draw parallels from a cinematic angle; it's impossible not to notice how strongly "Summoning Sylvia" evokes the non-stop, throw-it-at-the-wall-and-see-what-sticks comedic milieu of filmmakers like Mel Brooks, whose anything-for-a-laugh style never got in the way of a respectful and proficient cinematic style nor precluded the possibility for scathingly candid cultural commentary, or even the self-aware "meta" sensibilities of someone like Guillermo Del Toro, whose understanding of horror is deeply intertwined with an recognition of the genre's potential for underscoring fear with a humanistic streak that makes it a vehicle for transcendence as well as for terror.
Still, such comparisons don't quite capture the exact nature of this unabashedly nonsensical movie's charms – it's neither as anarchic as a Mel Brooks film nor as melancholy as a Del Toro – but they approximate the space in which it stakes its claim; it should be obvious to any seasoned film buff that "Summoning Sylvia" carefully aligns its supposedly otherworldly sense of menace with an all-too-realistic fear of violent homophobia, and that its insinuation of an apparently angry straight man with seemingly toxic views about sexuality and gender as a potential existential threat to its queer band of determined-but-daffy protagonists has a lot more significance than a mere plot device. To put it simply, it's a movie that never tries too hard to drive home its allegorical story arc, which it highlights as much by sending up as by serious contemplation, but it also never tries to pretend that it doesn't have one, and in serving both ends at once it succeeds in proving that a film can be purely entertaining and still have the kind of substance that keeps it from being simply a guilty pleasure.
It should go without saying that much of its success comes from the ability of its cast to walk the thin line required of them by the material. Though the film's most recognizable star is arguably out Tony-winning actor Michael Urie, who delivers little more than a cameo performance – albeit a solid and likable one – as Larry's husband-to-be, it's up to the rest of the cast to do the heavy lifting; they're more than capable, with Coles standing out as a strong lead in a diverse ensemble of players, and Grande surpassing expectation with a show-stealing turn as the fiercely femme and unapologetically over-the-top Nico, whose self-proclaimed witchiness and unrestrained libido play a big part in making Larry's bachelor party a weekend to be remembered, for better or for worse. Even Sean Grandillo, whose short appearance as an unexpected interloper into the weekend's events adds a memorable dash of winking, trope-twisting humor to the program, makes an impression on the strength of his sheer, joyful goofiness alone.
All of this is not to say that "Summoning Sylvia" is the kind of cinematic masterpiece that makes a whole industry stand up and take notice; while its unpretentiousness allows us to absorb its higher points without heavy-handed obviousness, its messaging is hardly anything new. Even so, any movie that addresses the specter of homophobia – especially in an age when even the comparatively innocent phenomenon of drag, given suitably elevated status by Taylor and Wyse in a highly entertaining climactic sequence, is under attack from bigots desperate to turn the tide of growing queer acceptance – is a welcome addition to our must-see list, and this one manages to do so without sacrificing its sense of humor or its commitment to entertaining us.
It may not change your life, but it's sure to provide a fun 75 minutes' worth of viewing pleasure – and that's more than enough to earn our recommendation for any queer movie fan looking for something new and refreshing while we wait for the summer movie season to arrive.
Summer brings major dose of new queer film, TV content
Dramas, comedies, Barbie, and the return of 'Heartstopper'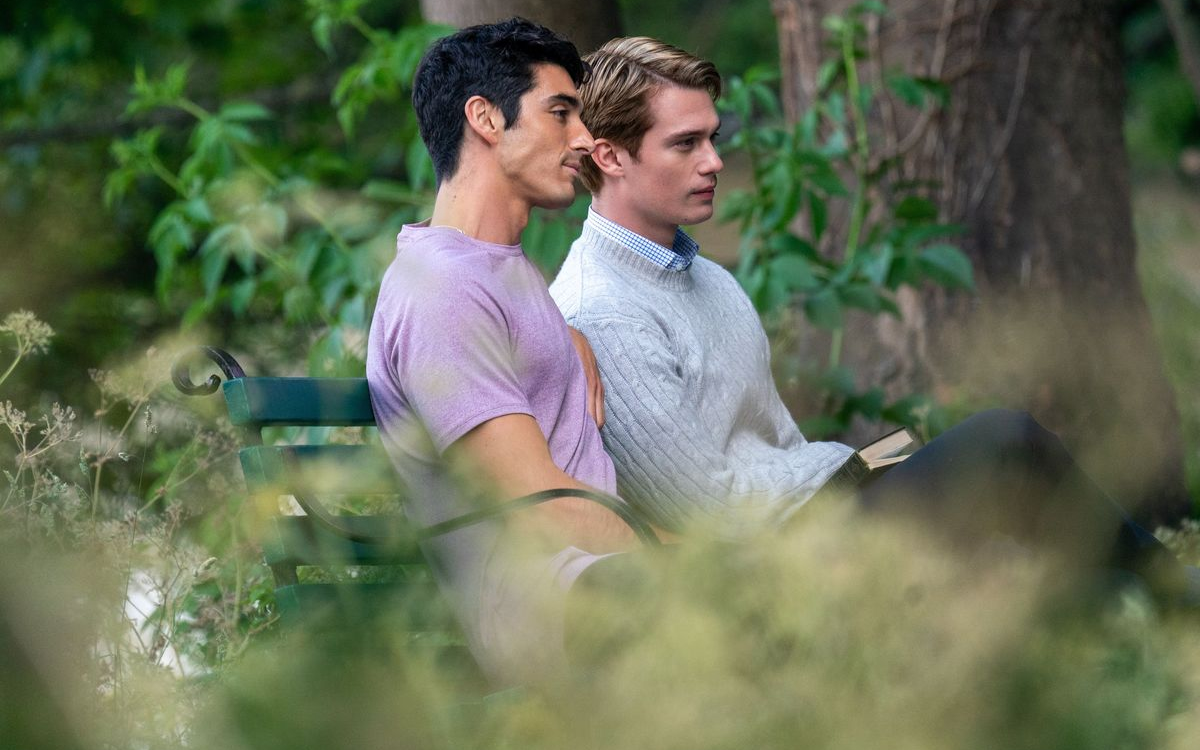 There's no season quite like the summer when it comes to having fun outdoors, for obvious reasons – but unless you want a nasty sunburn, you need to spend time indoors, too. Luckily, the Blade is here for our readers with our picks for the most promising new movies and shows coming to our various screens over the coming season, so you'll have something good to watch while you're recovering from all that shiny Vitamin D.
JUNE
THE NEIGHBOR (Limited theaters 6/2, Digital & DVD 6/6) – From Italian director Pasquale Marrazzo comes this fresh-from-the-festivals LGBTQ drama about two young men who begin an intense romance after having a terrifying experience together, and the parental hate and homophobia that comes to light in the face of their newfound love. It sounds grim, but it comes with a string of strong reviews to recommend it and acclaimed performances from Michelle Costabile and Jacopo Costantini, plus a score by prizewinning composer Teho Teardo ("House of Gucci," "Il Divo").
HORSEPLAY (Limited theaters 6/2, Digital & DVD 6/13) – Another queer LGBTQ film fest darling, this one a thriller from Argentina, about a group of friends at a summer get together; their hard-partying fun leads to horseplay (naturally), which (also naturally) stirs up other issues – and submerged secrets, feelings, and jealousies begin to push tensions toward a violent breaking point. Directed by acclaimed filmmaker Marco Berger and described as "a boundary-pushing look at masculinity, homophobia and sexuality," it stars Bruno Giganti, Agustín Machta, Franco De La Puente, and Ivan Masliah Taekwondo. It also looks very sexy, which makes us look forward to it that much more.
THE IDOL (HBO, 6/4) – "Euphoria" creator Dan Levinson is also behind this much-anticipated new series, which stars Lily-Rose Depp as a rising pop star who falls under the spell a Svengali-like self-help guru played by none other than The Weeknd (aka Abel Tesfaye). It also stars queer fan favorite and "Schitt's Creek" co-creator Dan Levy, along with Jane Adams, Hari Nef, and Troye Sivan, among others. Already controversial thanks to a behind-the-scenes whistleblower who told Rolling Stone that it "borders on sexual torture porn," you can bet there will be a lot of eyes – queer and otherwise – streaming this one.
ALL MAN: THE INTERNATIONAL MALE STORY (Digital, 6/6) – For a certain generation of gay men, the words "International Male" evoke memories of rushing home from high school to grab that precious sexy catalogue out of the mailbox before their parents got home. Now, this long-awaited documentary – which was an Official Selection at both the Tribeca and Outfest Film Festivals – finally arrives to bring the story of this iconic touchstone of queer history to light, by charting "the journey of an unlikely band of outsiders" who "designed one of the most sought-after mail-order catalogues of the '70s and '80s, forever changing the way men look at themselves, at each other, and how the world would look at them." Matt Bomer, Simon Doonan, and Carson Kressley are among the participating talking heads, but the real attraction is the wealth of archival imagery showing some of the most outrageously gay (and irresistible) fashion ever created.
BLUE JEAN (In Theaters, 9/9) – UK filmmaker Georgia Oakley won high praise for this 2022 slice-of-history drama, now making its official U.S. debut. Set in 1988 England as the conservative Thatcher government is poised to pass stigmatizing legislation against gays and lesbians, it features a powerhouse performance from Rosy McEwen as a gym teacher whose closeted double life is threatened by the arrival of a new student. BAFTA-nominated, this one won the Venice Film Festival's People's Choice Award and four British Independent Film Awards, making it both a heavy-hitter and a must-see.
WHAT WE DO IN THE SHADOWS (FX, 6/13) – The popular vampire mockumentary – along with its breakout star, queer fan favorite Harvey Guillén – returns for a fifth season.
JAGGED MIND (Hulu, 6/15) – Directed by Kelley Kali and inspired by her own short film "First Date", this feature-length queer thriller follows a woman (Maisie Richardson-Sellers) who, plagued by blackouts and strange visions, finds herself stuck in a series of time loops that may or may not be connected to her mysterious new girlfriend (Shannon Woodward). This one will have its world premiere at the American Black Film Festival in Miami Beach the day ahead of its streaming drop.
AND JUST LIKE THAT… (Max, 6/22) – The Samantha-less reboot of "Sex and the City" brings back the rest of the scandalous cadre for a second season.
EVERY BODY (In theaters, 6/30) – Julie Cohen directed this revelatory doc, which investigates the lives of intersex people, telling the stories of three individuals who have risen above childhood shame, secrecy, and non-consensual surgeries to thrive as adults after coming out as their authentic selves; it also weaves in a "stranger-than-fiction" tale of medical abuse, told in exclusive footage from the NBC News archives, which helps shed some light on the modern-day treatment of intersex people. We are definitely on board for anything that brings visibility to one of the most invisible sectors of our community – especially when it also aims to reduce stigma.
JULY
THEATER CAMP (In theaters, 7/14) – Sure to be a big draw for film fans who also love musical theater, this new movie from co-directors Molly Gordon and Nick Lieberman is an original comedy starring Tony-winner Ben Platt ("Dear Evan Hansen") opposite Gordon as a BFF pair of instructors at the rundown titular institution, who join forces with their loyal production manager (Noah Galvin, Platt's real-life boyfriend) to rescue it from the clueless tech-bro (Jimmy Tatro) that has been brought in to run it. How? Why, with a musical, of course! Written by Platt, Gordon, Galvin, and Leiberman, it also stars Patti Harrison, Nathan Lee Graham, Ayo Edebiri, Owen Thiele, Alan Kim, Alexander Bello, Bailee Bonick, Kyndra Sanchez, Donovan Colan, Vivienne Sachs, Quinn Titcomb, Caroline Aaron, and the always hilarious Amy Sedaris. Sign us up.
BARBIE (In theaters, 7/21) – Let's face it, this wickedly campy-looking, over-the-top comedy from the brilliant Greta Gerwig is probably going to be the film of the year – at least for a solid percentage of the queer audience, who are certain to be passing the popcorn on opening weekend as they watch Margot Robbie's Barbie and Ryan Gosling's Ken visit the real world together. And since collections have always been part of the "Barbie" game, Gerwig's satirical joyride offers an assortment of other Kens and Barbies, including Kingsley Ben-Adir, Simu Liu, Ncuti Gatwa, and Scott Evans as Ken, Hari Nef, Issa Rae, Kate McKinnon, Dua Lipa, Emma Mackey, Ana Cruz Kayne, Sharon Rooney, Alexandra Shipp, and Nicola Coughlan. Truthfully, if they throw in a Barbie camper set, we will be in heaven.
KOKOMO CITY (In theaters, 7/28) – Lena Waithe executive produced this "wildly entertaining and refreshingly unfiltered" documentary that follows the lives of four Black transgender sex workers in Atlanta and New York City. Winner of Sundance's NEXT Innovator Award and NEXT Audience Awards, it gives its quartet of subjects ample opportunity to spill the tea on their profession, and they do not hold back. As a bonus, it's the directorial debut of producer/singer/songwriter D. Smith, who made history as the first trans woman cast on a primetime unscripted TV show.
AUGUST
HEARTSTOPPER (Netflix, 8/3) – The eagerly awaited return of Nick and Charlie (Kit Connor and Joe Locke), the most irresistibly adorable pair of young teen boyfriends ever, for a second season of this beloved UK series that will likely have everyone immediately clamoring for a third.
ONLY MURDERS IN THE BUILDING (Hulu, 8/8) – Another returning favorite, the third season of this deliciously charming confectionary blend of characters, comedy and crime podcasts comes with the addition of a new premium ingredient – Meryl Streep (real, not imitation) – for extra delectability. Who could resist?
RED, WHITE & ROYAL BLUE (Prime, 8/11) – "Heartstopper" fans who have binged through the new season in one sitting and are hungry for more might find a suitable fix when this Greg Berlanti-produced, Matthew Lopez-directed film adaptation of nonbinary author Casey McQuiston's YA bestseller drops a week later. It's an implausible but infectiously sweet rom-com that imagines a same-sex romance between America's First Son and the heir to the British throne, with young newcomers Taylor Zakhar Pérez and Nicholas Galitzine taking on the leading roles; also starring are Clifton Collins Jr., Stephen Fry, Sarah Shahi, Rachel Hilson, Ellie Bamber, Aneesh Sheth, and Polo Morín, but we are frankly most excited to see Uma Thurman playing America's first female president. Let's hope that plot detail isn't such an implausible premise.
Out director brings queer perspective to mainstream with help from DeNiro
'About My Father' feels like a screwball comedy from the Golden Age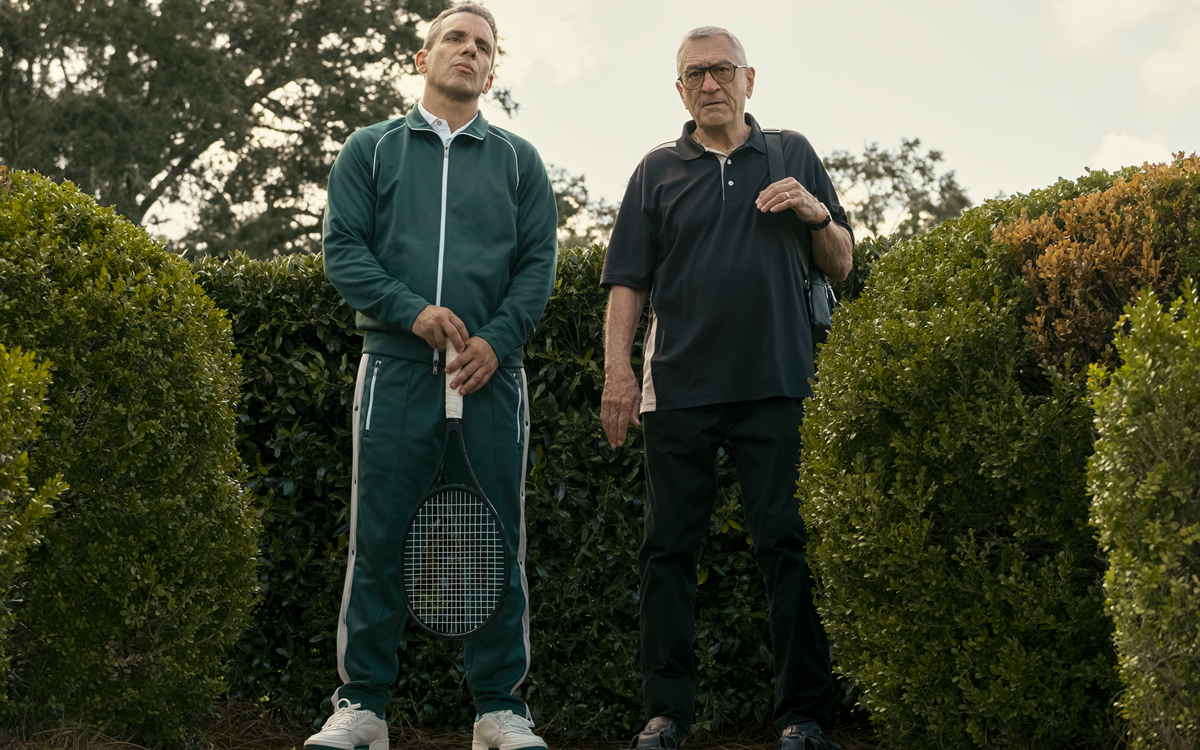 In all the discussion about the need for more and better queer inclusion in mainstream Hollywood movies, we sometimes overlook the trailblazers who are already working in the system, bringing their queerness – and the perspective that comes with it – into the mix even when the story isn't queer at all.
Take, for example, Laura Terruso, a queer director who, only eight years out from film school, already has three feature-length releases under her belt, and whose fourth – "About My Father," starring popular comedian Sebastian Maniscalco and screen icon Robert DeNiro – opens on May 26. In it, Maniscalco plays the son of a Sicilian immigrant hairdresser (DeNiro, of course) who reluctantly agrees when his fiancée (Leslie Bibb) convinces him to bring his very working-class father to a weekend getaway with her very wealthy eccentric family at their lavish summer estate. Needless to say, it's a culture clash waiting to happen; but when it does, the complications that ensue are mostly comedic. You can't get much more mainstream than that.
That's not a bad thing. "About My Father" is a refreshing, feel-good comedy with a uniformly excellent ensemble cast that seems to be having the time of their lives. And while it gets a lot of mileage out of the contrast between his obstinately independent working class dad and the amusingly tone deaf attitudes of his goofily eccentric in-laws-to-be, it remains good-natured enough to show us the flawed, funny, perfectly relatable human beings behind the stereotypes on both sides of the equation (even Kim Cattrall's staunchly conservative matriarch) even as we laugh at them.
Indeed, it feels more than a little nostalgic, and — as the Blade found out when we sat down to talk to Terruso about being a queer female director at the helm of a mainstream Hollywood feature — that's not an accident.
Our conversation is below.
BLADE: Your movie feels like a screwball comedy from the Golden Age. Was that deliberate?
LAURA TERRUSO: I'm so glad you picked up on that. That was a huge part of my vision for the film. The work of Frank Capra, Ernst Lubitsch, Billy Wilder — those are some of my favorite movies, and I really tried to incorporate the themes, even some of the visuals. I particularly love Depression-era comedies, and I really look to them a lot for inspiration, because I feel like the time we live in right now is not dissimilar from that time, in terms of what's going on.
BLADE: Part of the similarity also has to do with the way you poke fun at the characters – especially the one-percenters – without being mean-spirited or angry.
TERRUSO: That's something that's very important to me. I want to make kind comedies. I feel like nothing dates a comedy more than unkindness. The humor should come from the characters, and the situations, not from insults or ridicule – that stuff is just so tired, you know? – and I wanted this to be a film that everyone could love, that everyone could see themselves in and enjoy.
BLADE: Do you think that's because you're coming at it from a queer perspective? Even though the movie isn't a "queer" movie, it's certainly relatable for queer audiences with its story about trying to fit in a world where you don't belong. And there are a few nods to the queer audience, too, like a certain celebrity cameo we won't give away, and that flash-mob wedding proposal near the top of the film.
TERRUSO: Yes! And it was important to me to find real queer actors and dancers for that scene – which we did. [Laughing] In Mobile, Alabama, of all places. But definitely, as a queer filmmaker, I feel like I'm bringing my perspective to the work. Even if it's not themed in that way, I approach everything I do with that worldview in mind.
BLADE: That begs the question: as someone who is on the "inside" of the system, how do you think mainstream Hollywood is doing when it comes to queer inclusion?
TERRUSO: There's a lot of work to be done, but I think it all presents opportunity for us to tell our stories – because they haven't been told yet.
For instance, for my last film, a big studio movie called "Work It," there was a little bit of a battle with the original studio attached to the project, because they didn't want Keiynan Lonsdale to play an antagonist – they were like, 'Oh, he should be the best friend!' Fortunately, Netflix came in and took over that production, and let us cast Keiynan the way we wanted. It worked beautifully, and people loved it – and, of course Keiynan l both loved it.
BLADE: It's ironic that there's an over-cautiousness now after all those years of villainizing us on the screen.
TERRUSO: There's this beautiful book called "In the Dream House" by Carmen Maria Machado, a queer author, and there's a section where she talks about the trope of "queer villainy," and how incredibly important it is because it's a part of our humanity – if we're only ever playing 'the best friend' or one of those other "safe" tropes, it's not really a full portrait of who we are.
That's why I think it's important for queer people to work in the mainstream, because those kinds of conversations, left in the hands of people not in the community, would always be going the way of the "best friend". We want more nuance in our movies, and we can only do it by infiltrating the system in this way.
BLADE: What do you think is the most important thing that Hollywood needs to work on when it comes to telling our stories on the screen?
TERRUSO: I think the question that studio heads need to ask themselves when making a decision like that is, "Who's telling the story?" If you have a queer director and a queer actor and they are saying "this is what we want," trust them. If not, then maybe you can question it, but looking at who is telling the story and the point of view of the artists is so important to the nuance of this conversation.
BLADE: One last question: Was it great working with DeNiro?
TERRUSO: He's an absolute legend for a reason, incredible to work with. And he saw that I had a real personal relationship to the material – which Sebastian co-wrote with his writing partner, Austin Earle – because my mother and Sebastian's father are both Sicilian immigrants, who came to this country around the same time. When I read the script, I was like, "I have to direct this film!"
I find that sometimes the beauty of comedy is that you can heal wounds – you can make right things that maybe in life were left unresolved. My mom and I have had our challenges – when I came out, it was tough, I mean, she's a Sicilian mom – but she's so supportive now, and I feel so fortunate I was able to write a love letter to her with this film.
Besides, now I've introduced her to Robert DeNiro, which is basically like introducing a gay person to Beyonce, so I win. I'm a Black Sheep no more!
Genres blend and genders bend in 'Broadway'
Another example of VOD as a platform for smart, artfully crafted films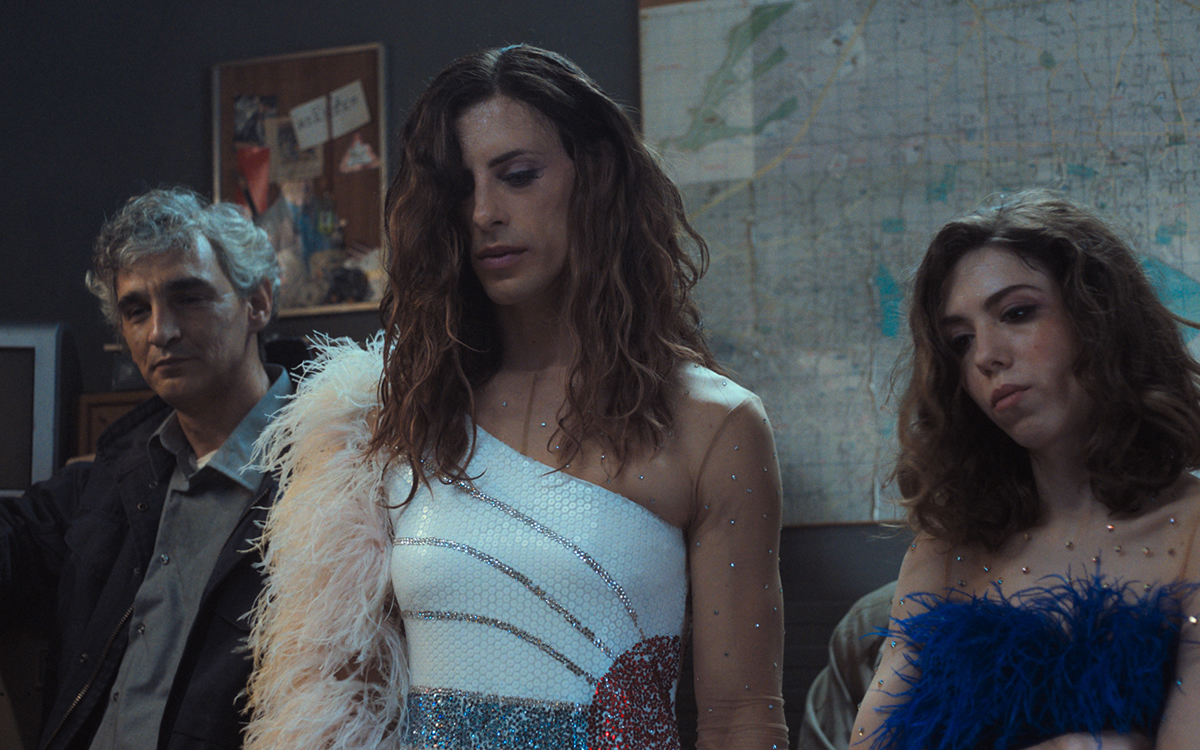 To read Greek writer/director Christos Massalas's comments in the "official" notes included within the press material for his debut feature film – "Broadway," which opened a limited theatrical run on April 26 and drops on DVD and VOD platforms May 16 – is to wonder what kind of abstract, experimental, hallucinatory vision he must have been following as he crafted it.
Describing the gestation process for his movie as he experienced it within his own mind, Massalas says that "The colors were saturated, and the feelings were sometimes red, sometimes blue, and sometimes they smelled of gasoline. There were dancers, there were thieves, and Athens was a sunlit stage where monuments of the 20th century stood glorious and rusty." All that sounds very raw and haphazard, and perhaps more than a little pretentious, like a fledgling author's ambitious-but-unfocused vision for the "Great American Novel" (or, in this case, the "Great Greek Novel") they are passionately planning to write.
Yet incredibly, it's a description that captures to perfection the essence of the film he crafted from that vision, and perhaps even conveys more useful information about it than any plot synopsis might ever be able to do.
Nevertheless, simply as a matter of form, we'll venture to offer one. "Broadway" is the story of a band of performers, pickpockets, and small-time thieves who form a little family of outcasts living in an abandoned entertainment complex – the "Broadway" of the title – while putting on shows in the streets and stealing unbeknownst from the audiences who gather to watch them. It's told from the perspective of Nelly (Elsa Lekakou), a strip club dancer on the run from her wealthy and controlling family who is drawn into the group by its charismatic mastermind, Markos (Stathis Apostolou), and finds a heaven from her "pitbull" of a stepfather and the gang of thugs he employs to keep her in check.
Nelly, however, is no naïve victim in need of rescue – though she claims to be accustomed to playing that role – but a resourceful and headstrong young woman more than capable of surviving by her own wits in the mean streets of an economically-ravaged Athens. Her talents as a performer quickly make her invaluable to the ragtag cadre under her new Markos' autocratic reign, and though she assumes and accepts the special status afforded to her as lover and muse to her new protector, she also wins the loyalty and affection of her new cohorts as easily and completely as she gains the trust of Lola, the allegedly vicious and rabid monkey they keep locked in a cage as a sort of unofficial and unappreciated mascot.
Lola is not the only confined member of the Broadway clan, however; a mysterious, badly beaten fugitive named Jonas (Foivos Papadopoulos) is being kept in a storage room, locked away as he recovers from his injuries and hides from the powerful underworld kingpin who wants him dead. As he returns to health, his presence becomes a dangerous liability – until Nelly hits upon an idea to keep him hidden in plain sight by turning him into Barbara, her partner in a two-woman dance act and the newest member of their troupe.
From there, "Broadway" launches into an ambitiously sweeping narrative that feels like equal parts film noir and Charles Dickens as it takes us into a colorful and morally ambiguous underworld, created by economic disparity and filled with shadowy figures and secret alliances, then bursting improbably forth into a gender-bending musical before finally moving into Hitchcock territory for a thrilling third act "caper" scenario made even more suspenseful by the shifting loyalties between its leading players. We don't like spoilers, but we'll just say that the question of whether there is "honor among thieves" is key to the story's endgame.
Massalas, a London-educated Greek filmmaker with an impressive catalogue of short films, has scored a long list of prizes at international festivals including Cannes, AFI Film Fest, and
Locarno, where in 2016 he was selected as one of the most promising new directors in the world. For his feature debut, he received support from the Greek Film Center and the Sundance Institute; with that kind of artistic pedigree behind it, it's no surprise that "Broadway" is a deeply, almost ecstatically cinematic piece of work.
Richly visual, it evokes filmic echoes not only from the influences cited above, but from directors like Fellini, Jodorowsky, Godard, and Marcel Carné – whose epic theatrical romance "Les Enfants du Paradis" seems almost baked into its core. Yet while it may contain plenty of nods, intentional or otherwise, to past masters of the medium, it never feels stodgy or over-reverent, and audiences coming at Massalas' movie from a less scholarly perspective will find plenty to appreciate in his own bold, artfully eclectic style – and everyone is sure to approve of his abilities as a storyteller, which enable him to pack an entire epic's worth of plot, complete with nuanced layers and deeply-drawn character development, into a just-over-90-minute movie without ever making it feel rushed.
Yet even with all that art packed into it, the thing that makes "Broadway" a standout entry in the VOD film market is its queerness. Not only does it hinge on a cis male character donning drag, it also features a gay couple (Rafael Papad and Salim Talbi) in significant roles as members of the gang. More important, perhaps, it never uses its potentially offensive "man-hiding-out-in-drag" premise to get cheap laughs or set him up for humiliation or ridicule. On the contrary, it quickly becomes clear that Barbara is more than a disguise for Jonas; she's an empowering influence, and he blossoms with the transformation. Is he straight or gay? Trans, gender fluid, or just a drag queen? The movie never really tells us, and in fact seems to disregard it as irrelevant. It's an ambiguity that feels comfortable rather than challenging, and makes his romance with Nelly – along with the steamy sex scenes that come with it – somehow even more hot.
There are a few quibbles that could be made about Massalas' film; there's some heavy-handed foreshadowing that makes a few of its twists more predictable than they might be, and it sometimes wallows a bit too much in its symbolism. Still, in context these elements are part of the cinematic ride he takes us on, and he provides enough unexpected surprises in other areas to make up for any perceived missteps along the way. With a universally excellent cast, grounded by Lekakou's solid, confident turn at the center of it all, "Broadway" is yet another example of the growing promise of VOD as a platform for the kind of smart, sophisticated, artfully crafted film content that just doesn't get shown in movie theaters in post-pandemic America.
That said, "Broadway" would undoubtedly look great on the big screen, and if you're lucky enough to be in a place where it's on one, it's worth making the effort. If not, don't let that stop you – it looks pretty great on the small screen, too.