Trans Colo. State Rep. Titone shares lessons from legislative victories
Lawmaker passed major bills on trans rights, abortion, 'right to repair'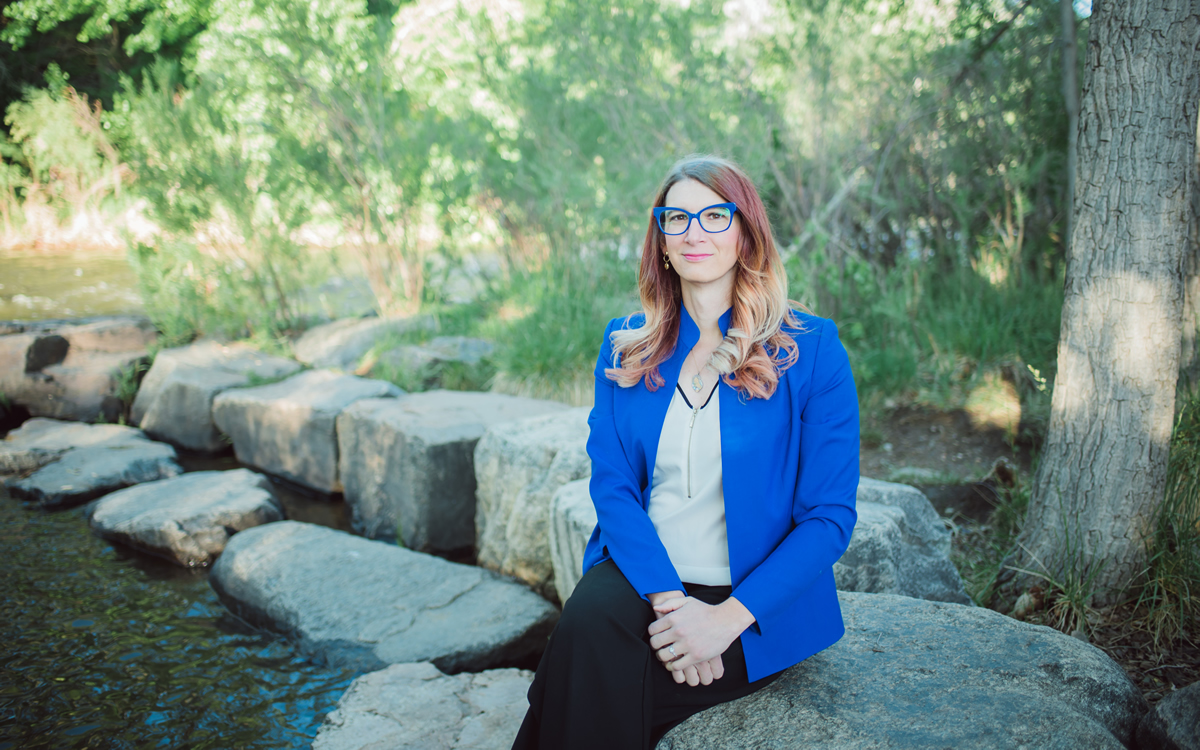 Recently, the focus of interviews of trans Colorado State Rep. Brianna Titone (D) have largely been defined by matters like last November's deadly anti-LGBTQ shooting at Club Q in Colorado Springs and the escalating legislative attacks on the trans community.
However, when she sat down with the Washington Blade on Thursday in the Washington, D.C. offices of the LGBTQ Victory Fund and Institute, Titone dove into another challenge that she, perhaps more than any other state lawmaker, has taken on directly: Why is it so difficult, or even impossible, for consumers, even those with the inclination and know-how, to repair their automobiles, wheelchairs, farm equipment, and electronics like printers, smartphones, and, as Titone experienced, video game consoles?
A self-described "tinkerer and scientist" who has a degree in information communications technology and considerable programming experience, Titone was dogged by the question after discovering there was no way for her to fix the optical drive of her Xbox. "I couldn't even figure out how to open the thing because there's not even a screw on it," she said.
As it turned out, the answer was even more frustrating.
Reading about the "right to repair" movement, Titone learned how manufacturers deliberately, anticompetitively, and, many argue, unlawfully erect barriers that discourage or prohibit their customers from fixing certain products – by, for example, allowing only the manufacturer's own maintenance services, restricting access to tools and components, and implementing software barriers.
Titone was first elected in 2018, becoming Colorado's first openly trans state lawmaker and only the fourth in the U.S. Shortly afterwards, she said, Colorado Gov. Jared Polis (D) – who is the country's second openly LGBTQ governor – asked Titone to create and introduce a right to repair bill.
She was ultimately successful by strategically taking on one industry at a time. Meanwhile, among the other issues Titone was working on was a bill protecting trans Coloradans' access to healthcare, which she passed by taking the exact opposite approach.
As Titone quickly learned, when it comes to right to repair, new legislation from federal or state lawmakers or new rules by the Federal Trade Commission's Bureau of Consumer Protection are met with powerful opposition from well-resourced industries backed by armies of lawyers and lobbyists. With her bill, Titone took on three: manufacturers of electric wheelchairs, farm equipment, and consumer electronics.
Titone told the Blade her first right to repair bill was tabled as the legislature worked to prioritize pandemic-related matters, and her second attempt was stymied in committee, having faced an "immense" lobbying effort, particularly from consumer electronics companies.
Partially because electric wheelchairs are often owned by Medicaid and purchased by insurance providers, they can be extremely costly and difficult to repair. As one patient with multiple sclerosis told Colorado Public Radio, each of the many adjustments that were necessary to accommodate his needs required a service visit from a technician, who made each fix with a smartphone app. It was available to download on the App Store – but only for "authorized users."
Of all the witnesses who were called to testify in favor of Titone's bill, she said it was these Coloradans whom her colleagues considered the most compelling. So, in 2021, Titone introduced a third right to repair bill focused only on electric wheelchairs, and "we were able to pull the heartstrings of the committee [members] so the legislature would pass it," she said, adding, "it wasn't an overwhelming vote, but I did get a couple of Republicans."
When the measure was signed into law in March, it became just the second statewide right to repair law since Massachusetts's successful ballot initiative in 2012, which focused on automobiles. "My bill," Titone said, "was the first right to repair bill after many, many, many attempts by many states over the last four or five years."
Up next was farm equipment. Companies like John Deere, the sector's largest manufacturer, have long been criticized for using software locks to prevent customers from fixing their tractors. And on the day in which the Colorado Senate Committee on Agriculture and Natural Resources was set to debate Titone's bill, the industry submitted a memorandum of understanding that was intended to allay concerns, likely in an effort to forestall the right to repair law.
"But we still we still went forward," Titone said, "we still passed the law" with Polis's signature on April 25.
Colorado's legislative session wrapped in May, but Titone expects to turn her attention next to the consumer electronics industry. In the meantime, she hopes to use some of her time in Washington to share experiences and insights that might help shore up efforts to pass federal right to repair protections like the Agriculture Right to Repair Act introduced last year by Sen. Jon Tester (D-Mont.).
The primary reason, however, that Titone was in the nation's capital was for a White House State Legislative Convening on Reproductive Rights, held on Thursday with Vice President Kamala Harris and officials from the administration like White House Press Secretary Karine Jean-Pierre.
Titone has considerable experience and insight to offer on this front, too – having successfully led passage of legislation protecting reproductive freedoms with provisions also guarding Coloradans' access to gender affirming care.
Grouping these issues together in one bill, a departure from how she advanced the right to repair legislation, proved to be a winning strategy.
Linking reproductive and gender related healthcare protections makes a lot of sense.
For one thing, Titone said, reproductive healthcare and guideline directed gender affirming healthcare interventions largely concern the same biological systems (sex hormones, for example). She added the overlaps only continue from there, extending all the way to the methods and tactics used by anti-abortion and anti-trans activists.
For example, she noted, lawmakers in conservative states are looking for ways to prevent transgender residents and their families from crossing into other states to access gender affirming treatments that they have banned or restricted within their own borders.
Likewise, the Washington Post reported that shortly after the U.S. Supreme Court struck down the constitutional right to abortion last year, conservative legal activists drafted model legislation that "would allow private citizens to sue anyone who helps a resident of a state that has banned abortion from terminating a pregnancy outside of that state."
"It hasn't come to the same level that abortion has, but those same aspects of attacking people [who are] getting this kind of care could easily be translated to gender affirming care," Titone said.
"Why should we stop at abortion care and leave this group of people out when [opponents are] just going to clone the bills that they have against the abortion providers and seekers to [target] the gender affirming care providers and seekers?"
Perhaps even more fundamental and more salient, Titone said, is how privacy and autonomy are under attack whether the targets are reproductive rights or the rights to access gender affirming care. "What does a politician have to do with a medical decision?"
Another important feature is the bedrock of support for access to both reproductive and gender affirming care, which comes from every scientific and medical institution with relevant expertise, Titone noted.
Even in liberal Colorado, passing Titone's bill was a considerable challenge politically.
Titone said that ultimately, because gender affirming care is comparably more controversial than reproductive care, bundling them together in one bill weakened opposition from Republicans because most voters support access to safe and legal abortions.
"When I debated my bill," Titone said, she told Republicans, "Look, this is the wrong issue for you to debate because when I [knocked on] doors, people said abortion was one of the issues that made them vote for Democrats."
Still, some GOP members like Colorado's House Minority Leader Mike Lynch objected to the provisions in Titone's legislation protecting abortion seekers from coming to Colorado from neighboring states that have restricted access to the procedure.
Titone's bill also protects the right of people in all states to travel to Colorado to begin puberty blocking medication or undergo gender-affirming surgery without the risk of interstate prosecution.
The lawmaker said debates in the legislature over, especially, the gender affirming care provisions in the bill "really showed some of the true colors of some of my colleagues." For example, she said one member argued access to gender affirming care "leads to people being murdered," pointing to the Nashville elementary school shooting in March that was committed by a trans gunman. Another member, she said, publicly declared during multiple town hall style events that he would never use Titone's feminine pronouns.
"I expected these things," Titone said, noting that "the attacks on social media were pretty harsh." At the same time, she said, "doing the hard work has its risks and has its rewards."
While Colorado is led by a Democratic governor and Democrats retain control of the state's General Assembly, Titone said it took some work to convince even colleagues from her own party to buy into the rationale for grouping reproductive and trans healthcare rights together in her bill.
Additionally, Titone said, she was approached by healthcare providers in Colorado who administer gender affirming care and were concerned that her bill might inspire threats of violence like those made recently against clinicians and facilities in Massachusetts.
"They said we're nervous about this bill," Titone said, but she told them, "Without this, your providers are going to get sued." Plus, she said, the anti-trans extremists "are going to find you eventually," so let's "rip the Band-Aid off and just do it."
Titone's bill was signed into law last month. She expressed gratitude for the coalition of people who made the law's passage possible, including Jack Teter, a trans man who had a major hand in drafting the language on gender affirming care. As it happens, he works for Planned Parenthood. 
The White House held two State Legislative Convenings – one with Democratic lawmakers in red states and the other, which Titone attended on Thursday, with Democratic lawmakers in blue states.
With these events, Titone said the Biden-Harris administration, which "has a strong position on reproductive rights," sought to provide a forum for the exchange of information on what the former group of legislators need to pass legislation protecting reproductive rights and what the latter group has done on this front that could be instructive or serve as a model.
It is not as though state lawmakers are operating in silos without following what is happening in other states' legislative bodies, Titone said, but nevertheless the convening was helpful because "we don't often have the time to reach out to those legislators personally, or have an opportunity to see them, to talk to them, unless there's a conference and we both happen to be there at the same time."
US Navy officer given valor award for actions during Club Q shooting
Massacre at LGBTQ nightclub in Colo. took place last November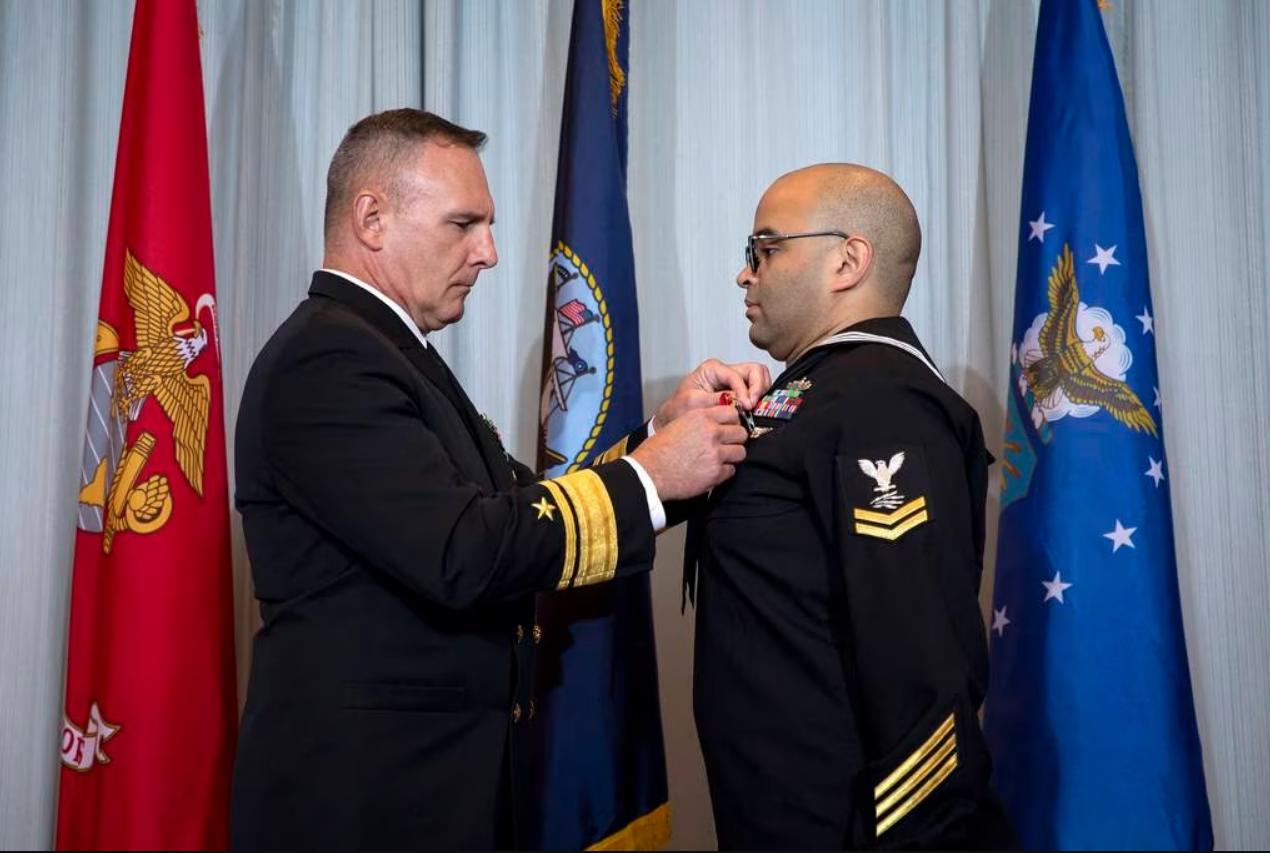 U.S. Navy Information Systems Technician Petty Officer Second Class Thomas James was awarded the Navy and Marine Corps Medal last week for his actions taken as one of the three persons who tackled and then disarmed the shooter in the LGBTQ Club Q nightclub mass shooting in Colorado Springs last November.
According to Colorado Springs Police Chief Adrian Vasquez at a press conference last year, James, U.S. Army veteran Rich Fierro and a transgender woman all joined in the courageous takedown, disarming the 22-year-old suspect and holding him until the arrival by responding Colorado Springs police officers.
James had grabbed the barrel of the weapon and restrained the gunman until the police arrived and took the assailant into custody, a Navy press release said.
He suffered a gunshot wound in his abdomen and burned his hands as a result of his actions. Still, he offered his seat in an ambulance to another injured person.
"I simply wanted to save the family I found," James, originally from West Virginia, said in a statement in November 2022. "If I had my way, I would shield everyone I could from the nonsensical acts of hate in the world, but I am only one person."
The shooter walked into Club Q late on Nov. 19, 2022, with multiple firearms and is accused of killing five people. At least 18 others were injured.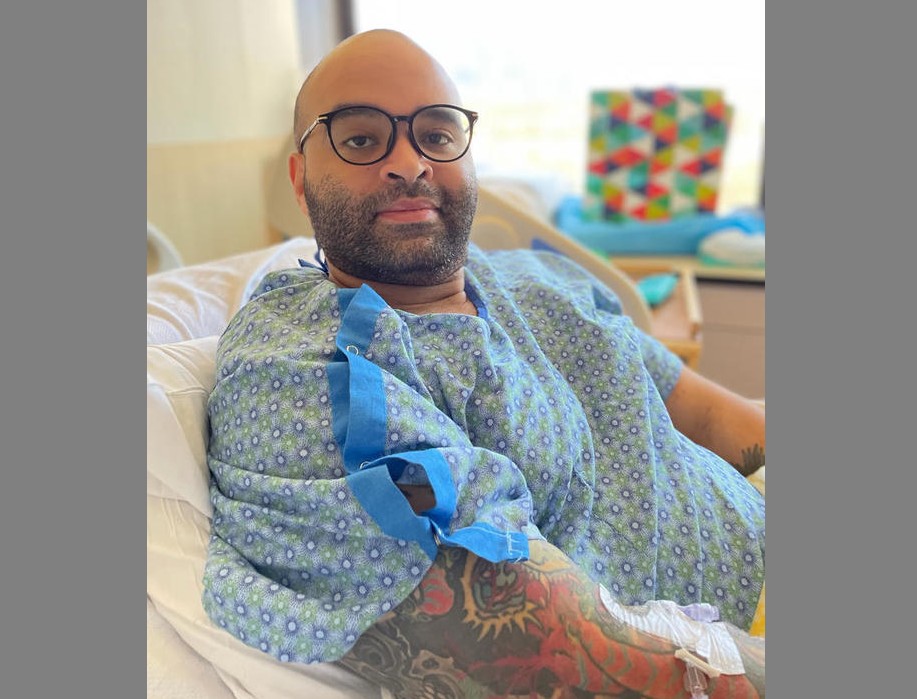 The Navy Times reported that Rear Adm. Scott Robertson, director of Plans, Policy and Strategy for North American Aerospace Defense Command and U.S. Northern Command, presented the award to James on Oct. 5 at Peterson Space Forces Base in Colorado Springs.
Robertson said ahead of the ceremony he asked James, who is assigned to the Defense Intelligence Agency, why he chose to act the way he did.
"He said, 'I wanted to buy time for my friends. I wanted to protect my community,'" Robertson said at the ceremony, according to the Navy press release.
Robertson also said James' actions caused him to reflect on how he himself would have responded if put in the same situation.
"I myself can only hope that I would channel the courage in our Navy core values like he did," Admiral Robertson said at the ceremony. "But, we don't have to wait for crisis to apply core values. We can and should apply them every day. That's what I am taking away from the lessons you taught us all."
The Navy and Marine Corps Medal is the highest noncombat award for heroism and typically is awarded to those who put their own life in jeopardy.
Club Q shooter sentenced to life without possibility of parole
Gunman pleaded guilty before judge imposed sentence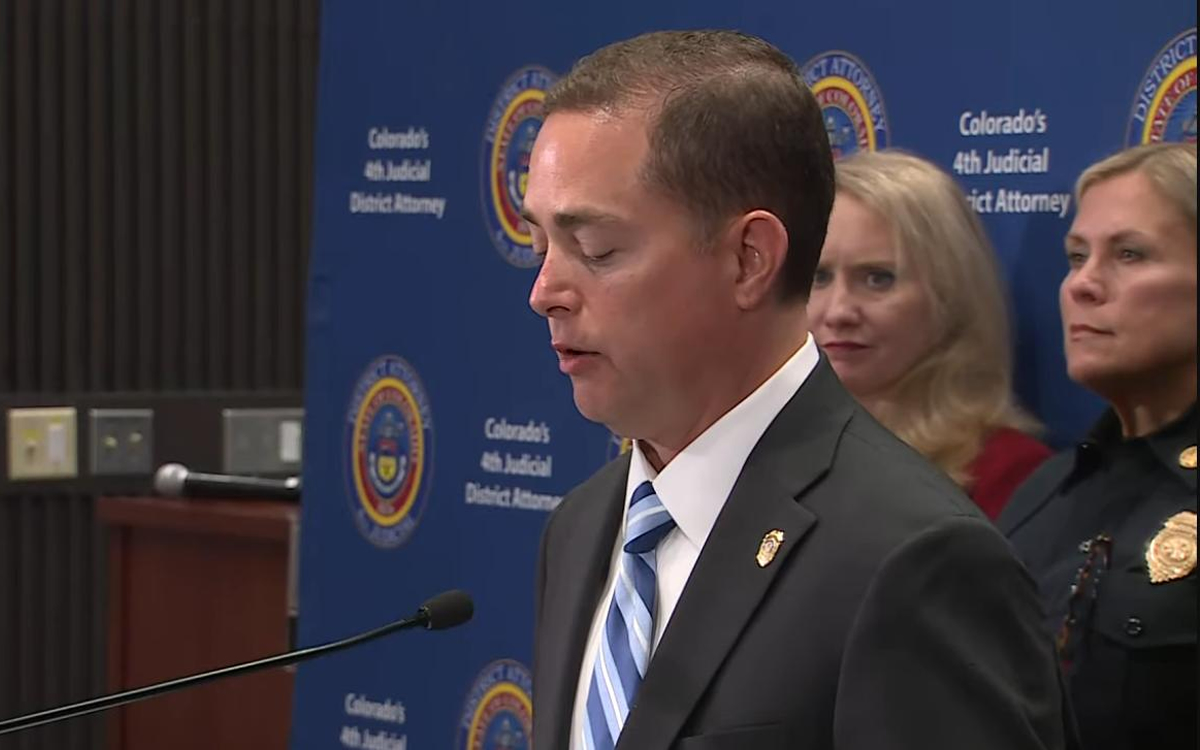 In a press conference Monday after the final court hearing, El Paso County (Colo.) District Attorney Michael J. Allen announced that a plea deal had been reached with the shooter in last November's mass shooting at the LGBTQ entertainment venue Club Q.
Colorado Fourth Judicial District Court Judge Michael McHenry accepted the plea deal worked out with Allen's office where Anderson Lee Aldrich, 23, pleaded guilty to five counts of murder in the first degree, 46 counts of attempted murder in the first degree.
Daniel Aston
Kelly Loving
Derrick Rump
Ashley Paugh
Raymond Vance
Which was followed by the statements on behalf of the other victims, survivors and families of survivors.
In addition to Allen, other officials including Colorado Springs Mayor Yemi Mobolade, Police Chief Adrian Vasquez, Deputy Fire Chief of Operations Jayme McConnellogue, former Colorado Springs Mayor John Suthers along with representatives of the FBI, sheriff's office and others spoke to the gathered reporters, witnesses families and victims.
Vasquez noted that while the families of those killed will never get their loved ones back and survivors will never will forget their experience, Vasquez vowed "that we will never forget." He then listed the five victims by name pivoting the highlight and praise the heroic acts that happened in the moments during and directly after the gunman was tackled and held down by other two other club goers, one of whom had been shot and seriously wounded.
The chief thanked the LGBTQ community for "their patience," and he then introduced Mobolade.
Mobolade, a Nigerian American businessman and politician and the city's first Black mayor, opened his remarks by addressing the victim's families and survivors.
"We see you, we remember you and we will be here for you, that's my pledge" he said.
McConnellogue, told those assembled that as the mother of a gay son, the impact of the shooting was felt throughout the entire community of Colorado Springs. The chief ended her emotional statement quoting by name slain San Francisco Supervisor Harvey Milk saying: "Hope is never silent."
Colo. governor signs four gun control bills
Club Q mass shooting in November left five people dead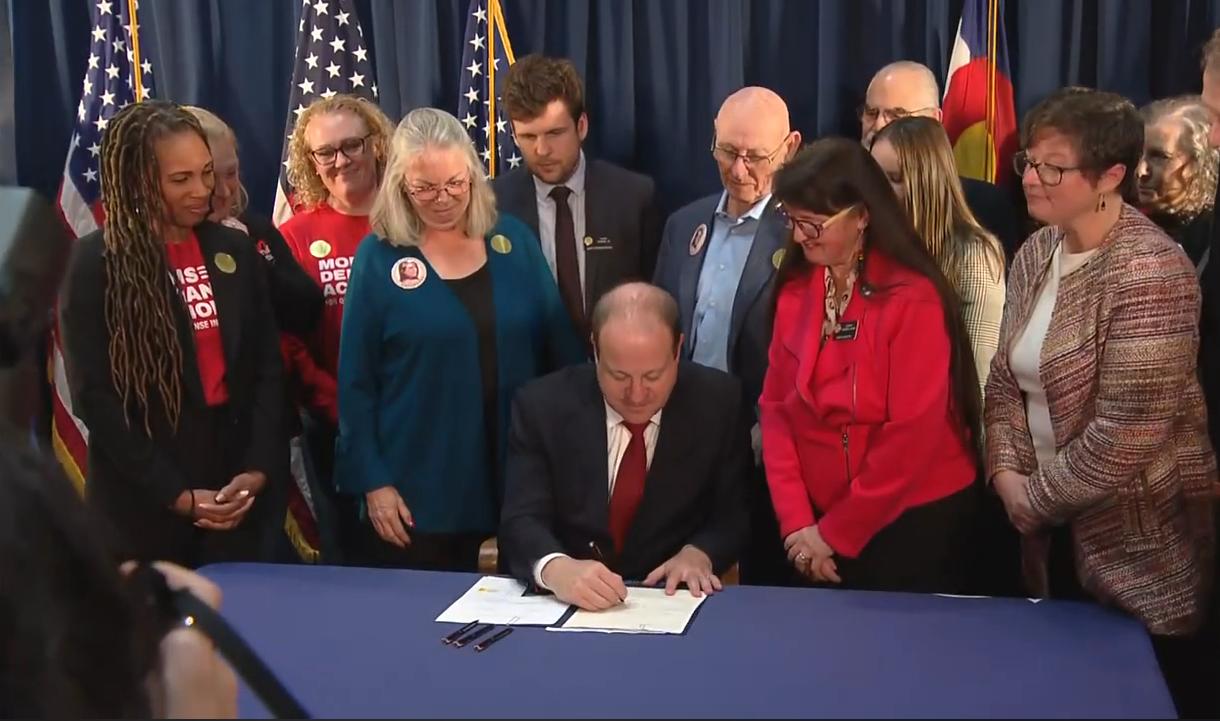 Democratic Colorado Gov. Jaren Polis signed four gun control measures Friday aimed at quelling rising suicides and youth violence, preventing mass shootings and opening avenues for victims of gun violence victims to be able to sue the firearm industry.
For many in the state who have advocated for reform, the history of mass shootings in particular has been a focal point although lawmakers were unable to pass a measure that would have banned sales of assault-style weapons in Colorado.
Earlier this month House Bill 1230, that would have banned the sale or transfer of so-called assault weapons, was rejected in a dramatic, 6-7 vote in the House Judiciary Committee at about 1 a.m. following a 14-hour hearing that featured testimony from hundreds of people, the Colorado Springs Sun newspaper reported.
House Bill 1230 was introduced in the aftermath of the mass shooting at Club Q, an LGBTQ night club in Colorado Springs that killed five people and injured another 25.
A handful of states including California, Illinois, New York and Maryland have bans on assault weapons.
CBS Colorado noted Friday before the ink was even dry on Polis' signature, gun rights groups sued to reverse two of the measures: Raising the buying age for any gun from 18 to 21, and establishing a 3-day waiting period between the purchase and receipt of a gun. The courts are already weighing lawsuits over such restrictions in other states.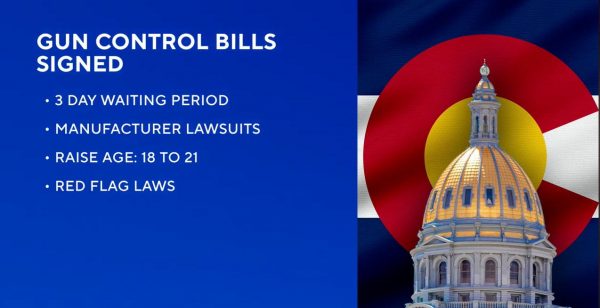 The Colorado Springs Gazette on Mar 15 published a list of the state's mass shootings:
Chuck E. Cheese, 1993, four dead
On Dec. 14, 19-year-old gunman and former employee Nathan Dunlap opened fire on the staff of an Aurora Chuck E. Cheese, killing four and injuring one employee.
Columbine High School, 1999, 15 dead
Two armed teens went on a shooting rampage April 20, killing 12 students and one teacher, and wounding more than 20 others. After the attack, gunmen Eric Harris, 18, and Dylan Klebold, 17, killed themselves. At the time, this was the largest school shooting in U.S history.
Platte Canyon High School, 2006, two dead
On Sept. 27, armed 53-year-old Duane Roger Morrison entered Platte Canyon High School, taking six young girls hostage and sexually assaulted them. Following a three-hour standoff with police, Morrison killed one of the girls before turning the gun on himself.
Youth with a Mission Center and New Life Church, 2007, five dead
In the morning of Dec. 9, 24-year-old Matthew John Murray opened fire on the Youth With a Mission Center in Arvada. He killed two, and injured two before escaping. Later that day, he made a similar attack on New Life Church in Colorado Springs, killing two and wounding three before shooting himself.
Aurora Movie Theater, 2012, 12 dead
One armed gunman, later identified as 25-year-old James Holmes, opened fire at a midnight showing of "Batman: The Dark Knight Rises," killing 12 and leaving 70 wounded.
Arapahoe High School, 2013, two dead
Student and gunman Karl Pierson, 18, made an armed attack on Dec. 13 that killed one 17-year-old girl. Pierson died by suicide on the scene.
Halloween 2015, three killed, shooter killed by police
Noah Harpham armed himself Halloween morning with an AR-15 rifle and two handguns, and went on a bloody rampage near downtown Colorado Springs that ended when Colorado Springs police officers fired on him.
Planned Parenthood, 2015, three dead
An armed anti-abortion radical entered a Planned Parenthood facility in Colorado Springs on Nov. 27, killing three including one police officer. Following a standoff that lasted nearly five hours and left nine others injured, the shooter was identified as Robert Lewis Dear, Jr., 57.
Walmart, 2017, three dead
On Nov. 1, 47-year-old Scott Ostrem opened fire in a Thornton Walmart, killing three shoppers. Ostrem escaped the scene and was later found and arrested in Westminster.
STEM school, 2019, one dead
An 18-year-old student, Devon Erickson, opened fire in the Highlands Ranch school, killing one teen and leaving eight others injured. The 18-year-old victim and two other students charged Erickson, an effort that disarmed the shooter but resulted in the student being fatally shot to the chest.
King Soopers, 2021, 10 dead
On March 22, a gunman attacked a Boulder King Soopers grocery store. Among the 10 killed was a Boulder police officer. The suspect, Ahmad Al Aliwi Alissa, has so far been ruled incompetent to stand trial.
Birthday party massacre, 2021, seven dead
The last mass shooting in Colorado Springs, prior to the Club Q mass shooting, happened in May 2021, when a gunman killed six members of an extended family at a birthday party at a mobile home in Colorado Springs, before turning the gun on himself. It was the fourth deadliest mass shooting in state history, tied for the deadliest mass murder in the city's history.
Polis signs for gun safety laws: