HRC report: 'Epidemic of violence' against transgender community
For the first time in its 40+ year history, the Human Rights Campaign declared a National State of Emergency for LGBTQ+ Americans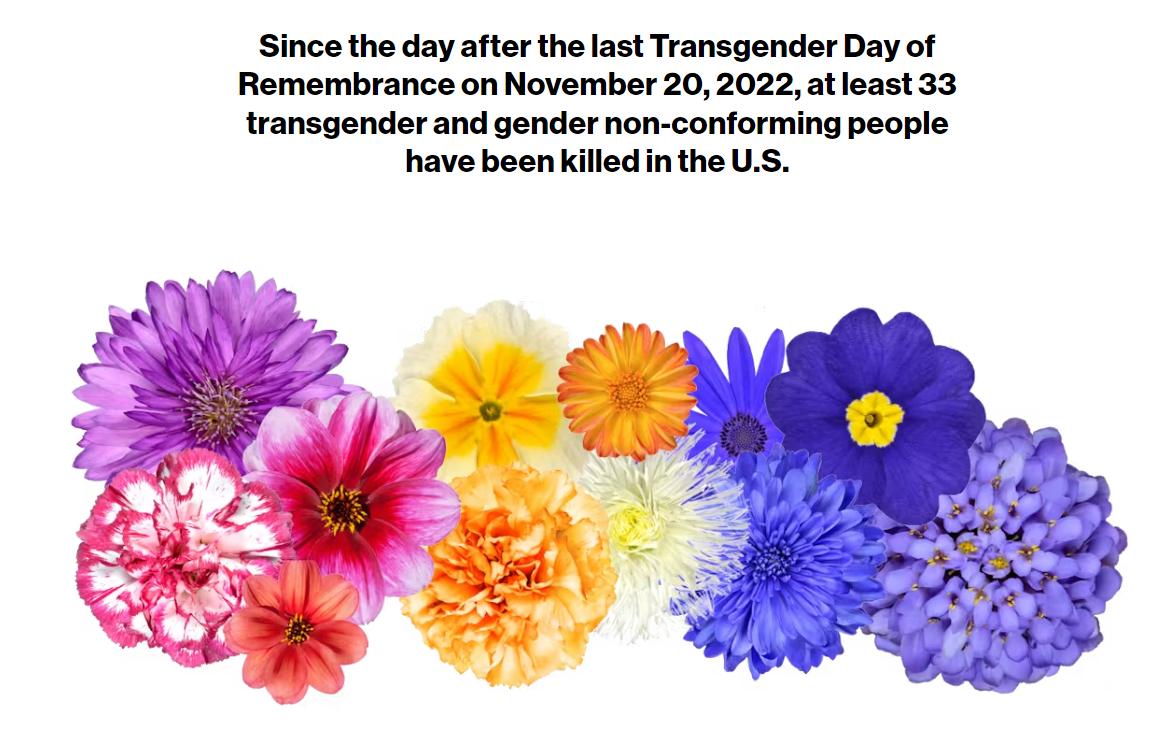 In marking the annual Transgender Day of Remembrance, the Human Rights Campaign released its 2023 annual report documenting the epidemic of violence taking the lives of trans and gender non-conforming people.
According to HRC's report, at least 33 transgender and gender-nonconforming people were killed in the last 12 months, an overwhelming majority who were young people of color, with Black transgender women disproportionately impacted.
"In the 12 months since Transgender Day of Remembrance 2022 (November 20, 2022), we've reported on at least 33 transgender and gender non-conforming people killed in an epidemic of violence threatening our community. These victims had families and friends, hopes and dreams. None of them deserved to have their lives stolen by horrific violence," said Tori Cooper, Director of Community Engagement for the Transgender Justice Initiative, Human Rights Campaign Foundation.
"Almost two-thirds of the victims were Black trans women, a tragedy that reflects an appalling trend of violence fueled by racism, toxic masculinity, misogyny and transphobia and the politicization of our lives. We need everyone to join us in empowering transgender leaders, building safer, stronger communities and reducing stigma. We cannot rest until all transgender and gender non-conforming people can live our lives safely as our full selves," she added.
"The epidemic of violence against transgender and gender-nonconforming people is a national tragedy and a national embarrassment," HRC President Kelly Robinson said Monday in a statement. "Each of the lives taken is the result of a society that demeans and devalues anyone who dares challenge the gender binary."
The report also noted that the actual tally of deaths may be much higher because "data collection is often incomplete or unreliable when it comes to violent and fatal crimes against trans and gender-nonconforming people."
The Federal Bureau of Investigation (FBI) recorded just 21 fatal hate crimes committed against transgender and gender-nonconforming people over the same time period.
This report comes amidst a tidal wave of anti-transgender legislation. In 2023, for the first time in its 40+ year history, the Human Rights Campaign declared a National State of Emergency for LGBTQ+ Americans, in response to the over 550 anti-LGBTQ+ bills introduced into state houses across the country, more than 80 of which were passed into law.
This is a record high for anti-LGBTQ+ legislation introduced and enacted in a single state legislative session since HRC began tracking—beating out 2022, which, with 25 anti-LGBTQ+ bills enacted, previously held the record for most anti-LGBTQ+ bills enacted in a single year.
The report noted that the vast majority of the bills introduced in 2023— over 220—specifically targeted transgender people in an attempt to: limit access to school sports, school restrooms and locker rooms; ban access to safe, effective, age-appropriate gender-affirming medical care; and remove inclusive books and references to LGBTQ+ identities and experiences from school curricula (a la "don't Say LGBTQ"). Coordinated efforts led by well-funded right-wing extremist organizations such as the Family Research Council, Heritage Action, and the Alliance Defending Freedom have led to similar efforts in the U.S. House of Representatives, including attempts to pass nationwide trans sports bans and bans on gender affirming care, as well as attempting to enact anti-LGBTQ+ legislation through attaching extraneous riders to appropriation bills.
Against this backdrop of discriminatory legislation, attacks on the transgender and gender non-conforming community, as well as the LGBTQ+ community and its allies writ large, are on the rise. Proponents of anti-trans legislation in state houses and Congress, have often relied on hate-filled rhetoric that demonizes transgender people and their allies, perpetuates misinformation, and legitimizes anti-trans stigma, violence, and hate.
Such rhetoric has, unfortunately, begun to translate to real world violence: 2022 saw the highest number of anti-LGB and anti-trans and gender non-conforming hate crimes reported by the FBI to date, with the number of hate crimes based on gender identity increasing by over 32% from 2021 to 2022.
Almost 500 gender identity-motivated hate crimes were recorded in 2022, accounting for 4% of all hate crimes recorded in that year; anti-LGBTQ+ hate crimes overall accounted for more than one in five (20.8%) hate crimes. And this number is an undercount, given that FBI data reporting does not capture all hate crimes, as not all jurisdictions track anti-trans hate crimes, nor do all jurisdictions report hate crimes to FBI databases.
In addition to the FBI-reported hate crime incidents , between the beginning of 2022 and late April 2023 GLAAD recorded 161 different attacks against drag events, including bomb threats, vandalization, armed and violent protests, and in one instance the firebombing of venues that hosted Drag Story Hour and other all-age drag events.
These attacks were part of the more than 350 anti-LGBTQ+ incidents across 46 states, recorded by GLAAD and the ADL over the same period. June 2023 saw 145 additional anti-LGBTQ+ extremism incidents recorded at Pride events across the country. Transphobic violence and hate has even taken the lives of several cisgender allies this year, such as in the case of Colin Michael Smith, a White cisgender man in Oregon who was stabbed and killed while defending a non-binary friend from an assailant "hurling anti-LGBTQ+ slurs," and Laura Ann Carlton, a White cisgender woman in California, who was shot and killed for refusing to stop flying a pride flag over her store.
These attacks are occurring against a community which is already vulnerable and marginalized. As detailed in HRC's report "Dismantling a Culture of Violence," transgender and gender non-conforming people face multiple forms of sigma, which result in lower access to status, power, and resources, and higher risk of discrimination, including in employment, healthcare, and housing. Together, this contributes to higher risk of poverty and homelessness/housing insecurity, social isolation, and worse physical and mental health outcomes, which in turn results in increased risk for violence.
Such stigma, bias and discrimination compounds for transgender and gender non-conforming people who hold multiple marginalized identities. Transgender women and transgender people of color are at elevated risk of fatal violence, and the risk is compounded for Black transgender women, who comprise the vast majority of victims of fatal violence against trans and gender non-conforming people.
"We must imagine a better future for transgender and gender-nonconforming people," Robinson said Monday. "Not just surviving, but truly living as free and equal members of our society."
Annise Parker: 'Protecting democracy is fundamentally an LGBTQ+ rights issue'
Victory Fund's annual DC conference began Thursday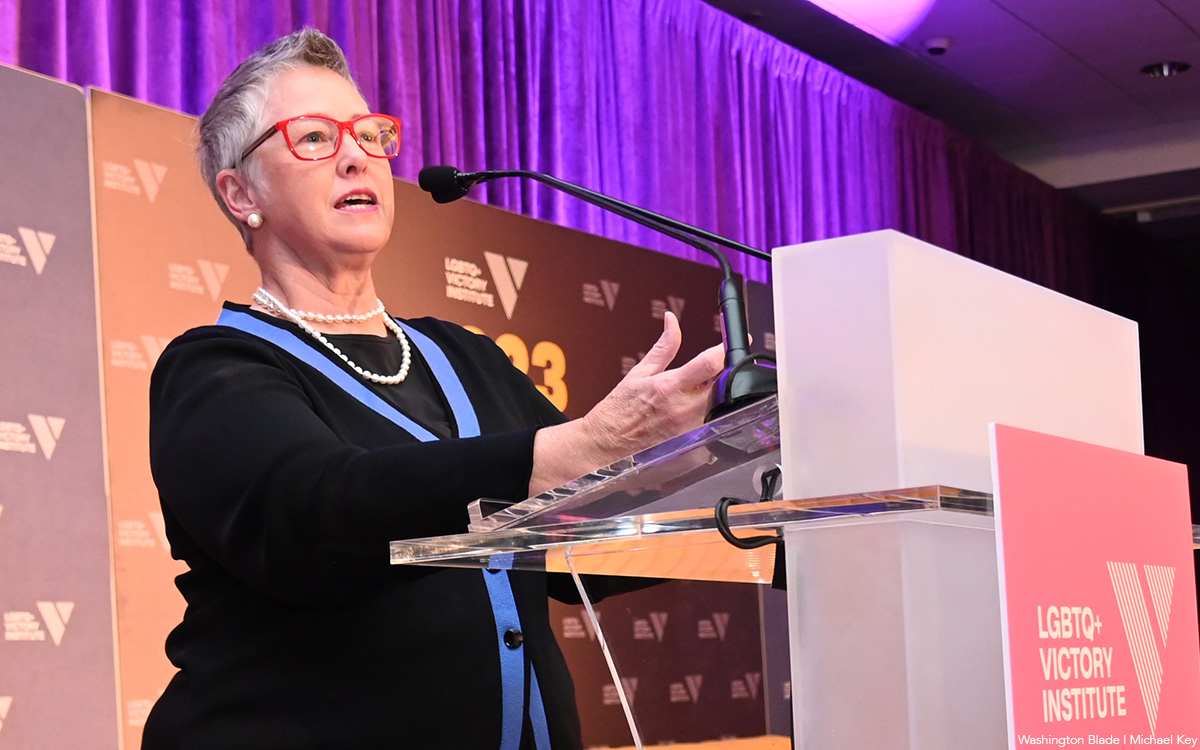 LGBTQ+ Victory Fund Annise Parker on Friday said the protection of democracy is an LGBTQ rights issue.
"Protecting democracy is fundamentally an LGBTQ+ rights issue," she said in her keynote speech at the organization's International LGBTQ+ Leaders Conference that took place in D.C.
Parker in her remarks specifically highlighted former President Donald Trump, former Brazilian President Jair Bolsonaro and Argentine President-elect Javier Milei. Parker said the three men "are all focused on the same thing: Holding on to power by creating a demonized minority they can attack."
Parker in her speech also noted lawmakers in Montana and Oklahoma "singled out" and censured two of their colleagues — Montana state Rep. Zooey Zephyr and Oklahoma state Rep. Mauree Turner — because "they are trans themselves."
Colorado Congresswoman Lauren Boebert has proposed to reduce Assistant Secretary of Defense for Readiness Shawn Skelley's annual salary to $1 "because she is trans," according to Parker. She also noted U.S. Rep. Marjorie Taylor Greene (R-Ga.) has sought to do the same thing to Transportation Secretary Pete Buttigieg and Assistant Health Secretary Rachel Levine "only because of their sexual orientation or gender identities."
"We are a community of LGBTQ+ people committed to defending and advancing democracy to insure it works equitably for everyone, not just for us," said Parker. "Here in the United States and around the world people are losing their faith in democracy."
"We're seeing opponents of democracy scapegoat the communities most marginalized and blame them as the source of all social ills: Immigrants, indigenous communities, people of color and yes, LGBTQ+ people," she added. "They do this because they believe inclusion is a zero-sum game that gains for those most marginalized take away something from those who have always held power."
Lambda Legal celebrates 50th anniversary
Kevin Jennings says litigation is 'crucial tool' to advance LGBTQ rights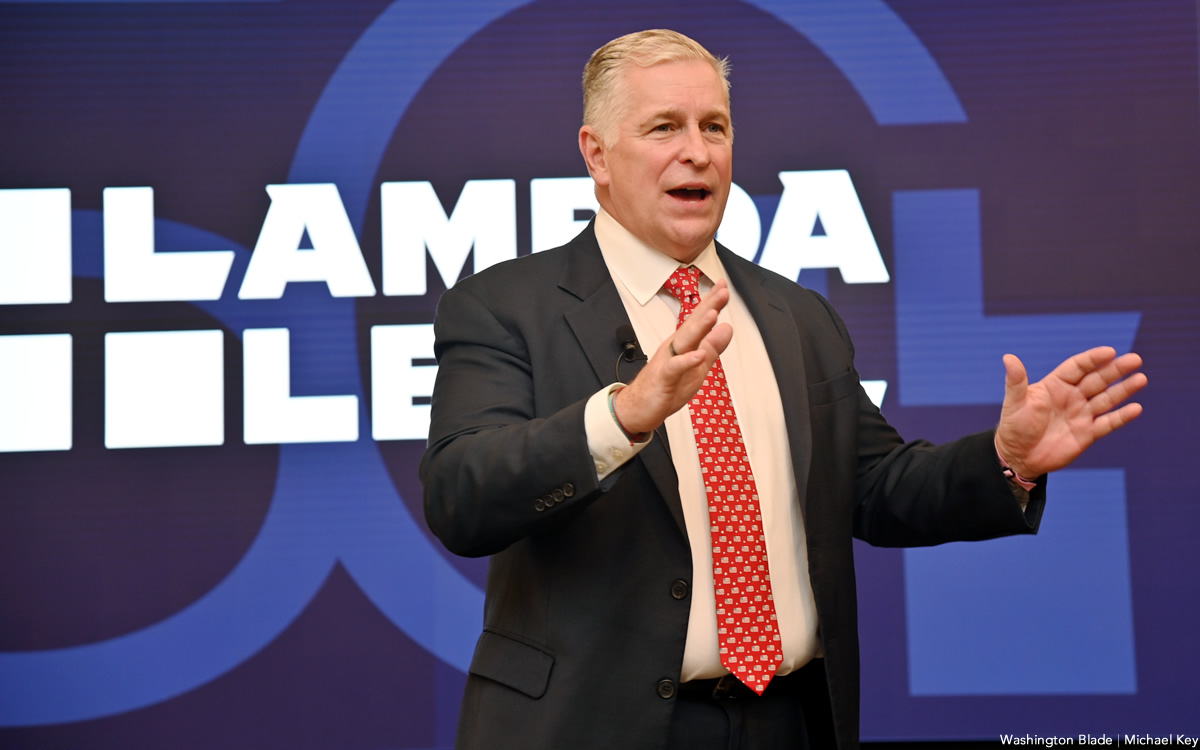 Lambda Legal CEO Kevin Jennings in conjunction with his organization's 50th anniversary said the courts remain crucial to the protection of LGBTQ rights in the country.
"Litigation has been the crucial tool for advancing the rights of the LGBTQ+ community," Jennings told the Washington Blade during a Sept. 25 interview. "Lambda Legal has been at the forefront of that litigation for 50 years."
The New York Court of Appeals in 1973 overruled a decision that denied Lambda Legal's application to incorporate because its mission was "neither benevolent nor charitable" and "there was no demonstrated need for its existence."
"We have to be our own first client," said Jennings.
Lambda Legal represented a group of gay students at the University of New Hampshire who sued after then-Gov. Mel Thomson threatened to defund the entire UNH system if they continued their "socially abhorrent activities." The U.S. Supreme Court in 1974 ruled in favor of the students in Gay Students Organization v. Bonner.
Lambda Legal in 1983 represented Dr. Joseph Sonnabend, an AIDS researcher who opened a clinic for people with HIV in New York's Greenwich Village. His neighbors tried to evict him, but Lambda Legal and the New York attorney general's office were able to stop the eviction in People v. West 12 Tenants Corps.
Police in Harris County, Texas, in 1998 arrested John Geddes Lawrence, Jr., and Tyron Garner, while they were having sex in Lawrence's apartment and charged them with violating the state's sodomy law. Lambda Legal represented the two men and the Supreme Court in 2003 struck down the Texas statute in Lawrence v. Texas.
Lambda Legal was co-counsel in Obergefell v. Hodges, the 2015 Supreme Court ruling that extended marriage rights to same-sex couples across the U.S. Lambda Legal also represented Dana Zzyym, an intersex person who sued the State Department in 2015 after it denied them a passport because they do not identify as male or female. (Zzyym in October 2021 received a passport with an "X" gender marker, and the State Department now issues gender-neutral passports.)
Jennings on Sept. 28 spoke at an event at Paul Hastings LLP in D.C. after Jennifer Eller, a former English teacher in Prince George's County who successfully sued the county's Board of Education after she suffered harassment and discrimination because of her gender identity, introduced him. Lambda Legal on Wednesday held similar events in New York, Los Angeles, Atlanta, Dallas and Chicago.
"The courts have been a central battleground for 50 years," Jennings told the Blade. "I predict they are going to remain one for the next 50 years."
Opponents using 'shock and awe against us'
Jennings, who was born in Florida and grew up in North Carolina, was a teacher in Massachusetts when he founded what became known as the Gay, Lesbian and Straight Education Network and later GLSEN in 1990. He left the organization in 2008.
Then-Education Secretary Arne Duncan in 2009 appointed Jennings as Assistant Deputy Secretary for the Office of Safe and Drug-Free Schools. Jennings was the CEO of Be the Change, executive director of the Arcus Foundation and president of the Tenement Museum in New York before Lambda Legal in 2019 named him as its CEO.
Jennings noted to the Blade that nearly 600 anti-LGBTQ bills have been introduced in 47 states.
"We are facing the most concerted effort to rollback LGBTQ+ rights in my lifetime," he said.
"Our opponents are using shock and awe against us right now," added Jennings. "They are trying to overwhelm us and drown us in the number of anti-LGBT bills nationwide. That's their own strategy."
Jennings said Lambda Legal currently has nearly 80 active lawsuits across the country.
He noted Lambda Legal for the last two years has represented Becky Pepper-Jackson, an 11-year-old transgender girl who challenged a West Virginia law that bans trans students from school sports teams that correspond with their gender identity. The Supreme Court in April ruled in her favor.
"Becky is on her middle school cross country team," said Jennings.
Lambda Legal is among the organizations that challenged a Florida law that prohibits the use of Medicaid funds for gender-affirming health care. A federal judge in June struck down the statute.
"Our opponents are trying to demoralize our community, and make us feel like we are going to be defeated," said Jennings.
He added the "battle" for LGBTQ rights in many states is "moving from the State House to the courthouse."
"It comes down to Lambda Legal to get them struck down in court," said Jennings. "We are the community's last line of defense."
Jill Biden condemns anti-LGBTQ book bans at PFLAG convention
First lady spoke at annual gathering in Arlington, Va.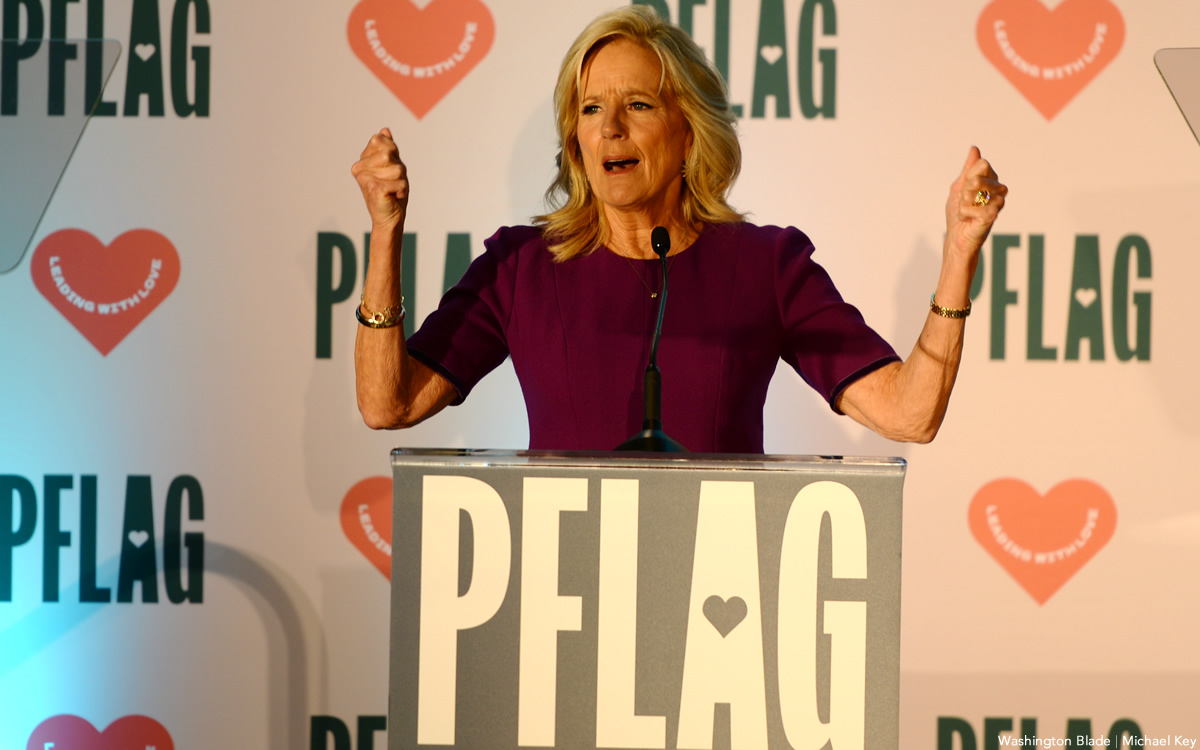 First lady Jill Biden spoke out against anti-LGBTQ book bans and discussed the potential for small acts of protest to spark transformative social change in prepared remarks on Friday for the opening plenary session of the PFLAG National Convention in Arlington, Va.
The organization's work has a profound impact, she said, from "the trans person who feels seen when we use the right pronouns" to "the bisexual student who wants to see herself reflected in the books she can borrow from her school library."
"America, my friends, we do not ban books," the first lady said, earning a round of applause. Later, she credited PFLAG's work "fighting unjust laws and school board policies that censor history."
She told the audience, "Know that my husband President Biden is a partner in your work. He's doing everything in his power to protect LGBTQ kids and support families. He's working to combat the dangerous and cruel practice of conversion therapy."
The Biden-Harris administration, the first lady noted, "launched a crisis hotline for young people" and "committed more resources to address youth homelessness," while "just a few months ago we hosted the largest Pride celebration ever held at the White House."
She began her remarks, though, by recounting the story of how PFLAG — which, with this year's four-day "Learning with Love" conference, celebrates its 50th anniversary — was founded.
Elementary school teacher Jeanne Manford had turned a small act of protest, writing to the New York Post in 1972 over police inaction after the beating of her gay son, into a movement that "changed our culture along with the course of history," the first lady said.
"Remember what Jean showed us — that change starts with one small step," she said. "Worldwide movements can begin with the smallest of actions."
Last week, as the featured speakers for the Human Rights Campaign's annual National Dinner in D.C., the first lady and the president discussed the administration's commitment to LGBTQ people amid the escalating attacks against the community across the country and around the world.
The first lady, who holds a PhD in education, has been an English professor at Northern Virginia Community College since 2009, having previously worked as a high school teacher for 13 years, has a long relationship with PFLAG and its executive director, Brian Bond.