January 13, 2011 at 2:49 pm EDT | by Kevin M. Norris
Mustering tenacity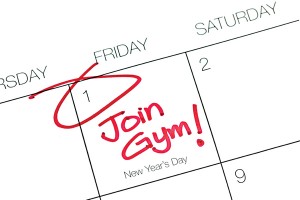 As the second week of January approaches us, have you stuck to your New Year's resolutions? It seems inevitable that one make a New Year's resolution or even several. It may be equally inevitable that those resolutions are not achieved perhaps throwing your hands up in frustration.
Why do we make resolutions? And why do so many of them slip through the cracks? Are we influenced too much by tradition while we forget about practicality? Is a resolution achievable with determination and will power or are there specific tools that can be applied to achieve the goal?
What happens to the best intentions and what makes for a successful New Year's resolution? Foregoing the psychological explanation, I have some insight from my experiences as a personal trainer for the last 18 years.
For some, the key may be that resolutions are best determined by one's state of mind rather than the time of year.
According to USA.gov, the nation's official web portal, Americans commonly resolve every January to such things as losing weight, saving money, getting better jobs, exercising and drinking less, among others. But why are so many resolutions unresolved?
In a Time magazine article and according to a Marist poll, 48 percent of American adults are somewhat likely to make a New Year's resolution. The poll also found that while 65 percent of people who made a resolution in 2008 kept their promise for at least part of the year, 35 percent never made it out of the gate.
So what advice is there for those best intentions? And how can we stick to our resolutions?
First and foremost consider setting goals that are realistic and can be achieved given one's circumstances. This means don't create a wide-eyed scenario that is extreme from your norm. A variation from your routine can be beneficial, but straying too far from your daily practices may set you up for failure. If you have a mediocre gym five minutes from your house, don't opt to join the state-of-the-art option 30 minutes from your house.
What's more, small incremental changes stick better for me than grandiose sweeping modifications. If you need more sleep, begin by going to bed 15 minutes earlier each night, or if losing 30 pounds is your goal, start by losing in five-pound increments.  Smaller increments are a much less daunting task and you allow yourself "mini" rewards along the way to assist in fueling your larger, often more-intimidating goal.
In keeping with realistic and incremental goals, I find it beneficial to acknowledge that "every little bit helps." No use in making a mountain out of a molehill. Discovering what you can do in each moment or each day geared toward your goals can be liberating. Knowing that you don't have to lose 30 pounds in one day or be able to run a marathon in a week can make an overwhelming task or resolution much more within reach.
I think back on the 100-mile bike rides I have done and remember that dissecting the ride into mini rides was not only a healthy contest, but a much more effective training approach than over-focusing on the totality and grueling nature of 100 miles.  Fifteen miles at a time was easier and I conquered them with more zest making the final goal of 100 miles more triumphant.
I realize that when I look too far for the end result or the larger goal that I am paralyzed and not sure what the next step should be. When I do "the next right thing," or think in terms of what I can do in that given moment if anything, my goals are far more manageable and more enjoyable.
It may be a tired cliche, but "one day at a time" is good advice. You didn't gain 30 pounds in one day so losing it that quickly is just as unrealistic. Quick fixes simply don't work for the kinds of goals most of us have for New Year's.