November 3, 2011 at 2:10 pm EDT | by Joey DiGuglielmo
Queery: Matt Swearman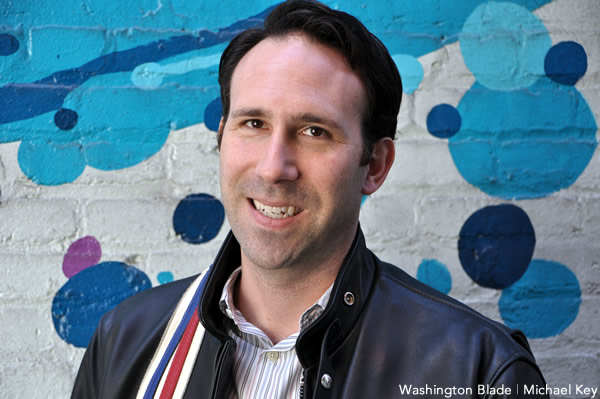 Matt Swearman had been playing the trombone since age 9 and the fourth grade. But like many, after years of playing in high school and college marching band, the instrument had been dormant for several years.
When he met a former D.C. Different Drummers conductor in 2002, he was encouraged to pick it up again. The Drummers, an umbrella non-profit of three bands (marching, concert and swing) has about 100 members and is a mostly LGBT outfit. Its concert band has a program scheduled for Saturday night dubbed "Architects of Music." The 8 p.m. show (to be held at the Columbia Heights Education Campus Auditorium at 3101 16th Street, N.W.) will feature works by Bach, Holst, Italian composer Ottorino Respighi and Eric Whitacre. The pieces were chosen for their robust musical construction. Tickets are $20 and can be purchased at dcdd.org or call 202-403-3669.
"Each of the bands has its own conductor, but I'm kind of the conductor of the whole board," Swearman, who's been president since July, says. "I'm kind of the cheerleader for the group, the connection to the community."
The group, now in its 31st year, performs at various Pride and other local and regional LGBT events like Night Out, the AIDS Walk, holiday parades and more. This is the concert band's traditional fall concert. They'll also give a holiday show in December.
Swearman says Saturday's concert is special.
"It kind of has a duel theme," he says. "We're paying tribute to composers who have a lot of structure in their music, but it's also a tribute to our own personal architects … the people who inspired us to play music."
By day, Swearman, a 39-year-old East Berlin, Pa., native, is director of marketing for Seven-Twenty Strategies, a public affairs and PR consulting firm. He and his partner of a decade, wine guru Terry Brown, got married last year. He enjoys music, wine, travel and spending time at home with Brown and their two dogs.
How long have you been out and who was the hardest person to tell?
I have been out since 1999. My parents were the hardest people to tell because I thought it would change how they feel about me. They are wonderful, and very supportive.
Who's your LGBT hero? 
Frank Kameny
What's Washington's best nightspot, past or present? 
Honestly, I don't go out that much, so I'd be inclined to say our house, a few friends and a few bottles of wine (my husband sells wine for a living)! But I'd also say Number 9. Love the sleek and chic atmosphere.
Describe your dream wedding. 
It is the one that Terry and I had on May 5, 2010. Just the two of us, our closest family and best friends. There were only 18 of us, and it was a very special day to celebrate us and the people we share our lives with.
What non-LGBT issue are you most passionate about? 
Environmental issues. I recycle, I compost, I reduce, I reuse, I only have one car, and it is a hybrid, etc. It is incredibly important and every little bit helps.
What historical outcome would you change? 
The passage of DADT in the 1990s.  It never should have become law. Fortunately, it's been repealed.
What's been the most memorable pop culture moment of your lifetime?
The first thing that pops into my mind is the day Michael Jackson and Farrah Fawcett died.
On what do you insist?
Honest  and open communication.
What was your last Facebook post or Tweet?
"The young lady ahead of me at CVS is paying in quarters. Charming."
If your life were a book, what would the title be? 
"Got a minute? Let's talk!"
If science discovered a way to change sexual orientation, what would you do?
Oppose it.
What do you believe in beyond the physical world?
I consider myself agnostic.
What's your advice for LGBT movement leaders? 
Stop pandering to candidates and lawmakers who take our money and then do nothing for our community. Talk is cheap. Actions speak louder than words. It's time we have the next Harvey Milk and the next Frank Kameny!
What would you walk across hot coals for? 
My husband and my dogs.
What LGBT stereotype annoys you most? 
Demonization of people based on sexual preference is absurd and incredibly annoying.
What's your favorite LGBT movie? 
"A Single Man" staring Colin Firth
What's the most overrated social custom?  
Bringing a hostess gift. Your good company is what I appreciate.
What trophy or prize do you most covet? 
The Michael Rutherford Spirit Award from D.C.'s Different Drummers. It is awarded each year by members to the member they feel embodies the spirit of our founder.
What do you wish you'd known at 18? 
That it REALLY does get better!
Why Washington? 
I was always drawn to a metropolitan area and I have always had a fondness for D.C.