February 13, 2015 at 8:00 am EDT | by Ted Smith
Renting vs. buying, revisited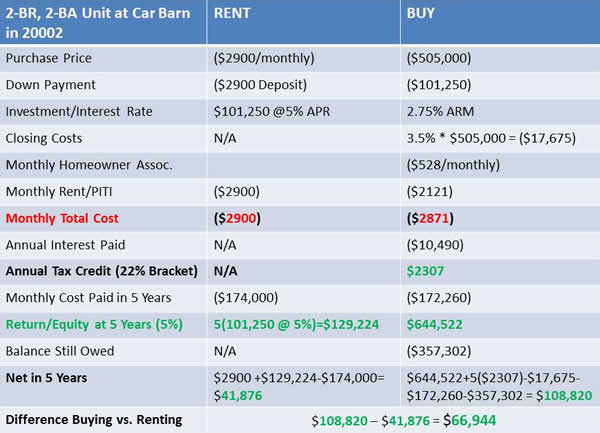 This is an updated version of my very first column in the Blade from November 2012. The example I used there to consider renting vs. buying was a 1-bedroom, 1-bath unit in a Navy Yard Co-op at $1700/month rental or a $239,000 purchase price. Since that time, rental prices in that building have increased 15%, and the purchase price for that coop has increased 32%. So in this article, I use a contemporary example of renting vs. buying a 2-bedroom/2-bath townhouse-style condo at the Car Barn in Capitol Hill.
Initially it makes sense for newcomers to D.C. to rent while you get a feel for different parts of the city where you might like to ultimately live. But once you decide you're going to be in Washington for five years or longer, it probably makes sense to start thinking about buying a place—even a starter place from which you might move up.
I say "five years" because that is the average amount of time it will take for you to recoup your initial investment in buying—and later selling—a home. It will cost you around 3.5 percent in additional costs (mainly for the city recordation tax and  title-related expenses) on top of your purchase price to buy a home. And when it comes time to sell, it will cost you around 8 percent of the selling price (mainly for commission expenses and the city transfer tax) to sell your home. So even though it's going to cost you around 11.5 percent to buy and sell a home; conservatively assuming 2-3 percent a year in appreciation, you should be able to recoup that extra cost in around 4-5 years.
One major hurdle in buying your first place is to come up with the down payment.  It is a daunting challenge to save 10 to 20 percent of the purchase price of a home that may cost $400,000- 500,000. Even saving 3.5 percent (the minimum amount required for an FHA mortgage, now matched by some conventional mortgage programs) can be difficult when you are first starting out in your career. You may be fortunate enough to have a family member who will help you out with a down payment gift to get you started (don't forget to get that gift letter from them). Or you may be able to qualify for one of the assistance programs like DC Open Doors, run by the city to help first-time buyers with their down payments. And once you've "put your chips in the game," you get to continue to play up as long as your stake increases. Plus you get a nice bonus every year in the form of tax credit for the interest paid on your mortgage.
So let's return to the initial question that serves as the title of this article: Should I rent or should I buy? Let's do the math based on the chart above:
Let's say you're paying $2900 a month for a 2-bedroom/2-bath unit at the Car Barn. In the course of five years, you'd pay $174,900 plus your initial $2900 deposit for a total of $177,800—with no financial advantage to show, not even a tax credit. With a purchase price of $505,000 for the same unit and a 20 percent down payment (to avoid Private Mortgage Insurance) and an Adjustable Rate Mortgage of 2.75 for 5 years, you would pay $2871 a month for principle & interest, condo fees (including taxes) and homeowner insurance—already a $29/month savings over renting. In the course of five years, you'd pay $172,000 ($127,260 in principle, interest, taxes and insurance) for a savings of $1740 over renting.
Assuming 5 percent appreciation per year (which is closer to what the DC market has done over the last 5 years), your initial investment would be worth $644,522 after 5 years and you would have been paying down your $404,000 mortgage, so with appreciation, you would have accrued $287,220 in equity. Plus you would have received a credit for a total of $52,450 in interest payments, which at a 22 percent tax rate would have given you $2307 tax credit for each of the 5 years you lived in the home. So, even assuming that you were renting and had invested the original down payment amount of $101,250 in an index fund at 5%, you would still have a net gain from buying of $66,944! (And even counting your 8% cost to sell at 5 years should you decide to do so, you would still come out ahead by $15,344.)
Of course, as they say in automobile ads touting the fuel efficiency of a certain vehicle, "Your mileage may vary." And in the case of considering whether to buy a home, you should start by consulting a mortgage professional who will help evaluate your situation and mortgage-readiness. But when you are ready to buy, a home continues to be one of the best investments you can make, especially over time and in spite of periodic market adjustments like the one we're just recovering from. And unlike stocks or other investments, you actually get to live in this one while your investment appreciates.
Happy hunting.
Ted Smith is a licensed Realtor with Real Living | at Home specializing in mid-city D.C. Reach him at TedSmithSellsDC@rlathome.com and follow him on Facebook, YouTube or @TedSmithSellsDC. You can also join him on monthly tours of mid-city neighborhood Open Houses, as well as monthly seminars geared toward first-time buyers. Sign up at www.meetup.com/DCMidCity1stTimeHomeBuyers/. 
Sign Up for Blade eBlasts