Top 10 local news stories of 2009
Among last year's biggest stories locally were tales of great victories and heartbreaking losses.
ten
Ziegfeld's/Secrets reopens: Ziegfeld's/Secrets, the popular gay nightclub that offers drag entertainment and nude male dancers, reopened in March in a warehouse building in the city's Buzzard's Point section at 1824 Half St., S.W. It became the first of two of the eight LGBT clubs displaced by the Washington Nationals baseball stadium to reopen. The Glorious Health Club, which bills itself as a men's spa and art gallery, reopened in the summer at 2120 West Virginia Ave., N.E. Gay activists have complained that city zoning laws and restrictions against nude dance entertainment in most parts of the city have made it difficult for the other gay adult-oriented clubs displaced by the stadium to find a new location. Most of the clubs had been located on the unit block of O St., S.E., which operated as an adult gay entertainment enclave for more than 25 years.
nine
Evidence challenged in Robert Wone case: Aug. 2 marked the third anniversary of the murder of prominent Washington attorney Robert Wone, who was stabbed to death in the Dupont Circle home of three gay friends. The friends — attorney Joseph Price, public relations executive Victor Zaborsky and massage therapist Dylan Ward — have been charged with obstruction of justice, conspiracy to obstruct justice and evidence tampering in connection with Wone's murder. But authorities have yet to charge anyone with the murder itself. The case continued to capture the attention of local gays as prosecutors and defense attorneys sparred over evidence expected to be presented at trial, which is scheduled to begin May 10.
eight
Cleveland beats D.C. in bid to host Gay Games: Leaders of the Gay Games, the world's largest international LGBT sporting event, voted in September to select Cleveland over D.C. and Boston as the host city for the 2014 Gay Games. The quadrennial event draws 12,000 athletes and about 80,000 spectators for more than a week of Olympic style athletic competition, bringing millions of dollars in revenue to the host city. Stunned officials with Metropolitan Washington Gaymes, Inc. and Team D.C., the two groups that spent nearly six years promoting D.C. as a candidate to host the 2014 games, were present in Cologne, Germany, when the Federation of Gay Games announced its decision. A Gay Games official told the Washington Blade that Cleveland won because Ohio and surrounding states are less advanced in LGBT rights than D.C. and Boston, and holding the Gay Games there would provide a boost to efforts in the region to promote LGBT equality through the universal appeal of sporting events.
seven
LGBT groups lose D.C. Council earmark grants: The City Council in July eliminated $1 million in city grants for four LGBT organizations, forcing the organizations to cut their budgets and, in some cases, lay off staff members. Council Chair Vincent Gray (D-At Large) said the elimination of the grants was part of a decision to end all earmarked, or non-competitive, grants for more than 100 non-profit organizations in the city. The four LGBT groups that lost the grants included the D.C. Center, which was set to receive a $500,000 grant to help it purchase a building; the Center's Crystal Meth Project, which expected to receive a $150,000 earmarked grant; the Mautner Project for lesbian health, which expected to receive separate grants of $150,000 and $60,000; and Transgender Health Empowerment, which was slated to receive a grant of $150,000.
six
Trans woman's stabbing death alarms activists: An unidentified man fatally stabbed a transgender woman as she and a friend were walking to a transgender services center near Second and Q streets, N.W., on Aug. 26. D.C. police investigated the murder as a possible hate crime targeting Tyli'a 'NaNa Boo' Mack, 21, because she was transgender. The incident prompted transgender activists associated with the D.C. group Transgender Health Empowerment to organize a rally at the site of Mack's murder to raise the visibility of what they called a growing number of local hate crimes targeting transgender people. Police said the assailant stabbed another transgender woman who was walking with Mack at the time of the incident. The second victim suffered non-life-threatening wounds, police said.
five
Panic defense duped prosecutors, activists say: Police and prosecutors' handling of the September 2008 beating death of gay bar patron Tony Randolph Hunter became a rallying cry for LGBT activists in July 2009, when a grand jury lowered charges against an 18-year-old man arrested in the case from manslaughter to misdemeanor assault. Activists accused D.C. police and prosecutors of being unduly influenced by defendant Robert Hannah's claim that he punched Hunter several times in self-defense after Hunter allegedly grabbed Hannah's crotch and butt in a sexually suggestive way. Hunter fell onto the street as a result of the assault and sustained a fatal brain injury when his head hit the pavement. The activists called Hannah's crotch-grabbing claim an attempt to use the so-called "gay panic defense" as an alibi for anti-gay violence. A friend of Hunter's, who was present during the assault near a Northwest D.C. gay bar, said Hunter never touched Hannah and that the assault was unprovoked. But prosecutors have said the friend gave conflicting accounts of what happened and was an unreliable witness. To the dismay of activists, a D.C. Superior Court grand jury lowered charges against Hannah from a single count of felony manslaughter to a misdemeanor assault, to which he pleaded guilty. A judge sentenced him to the maximum penalty of 180 days in jail, a sentence that some activists called a miscarriage of justice in an incident that led to a gay man's death.
four
Parson leaves GLLU, police chief faces criticism: Gay D.C. Police Sgt. Brett Parson, who served as commander of the department's Gay & Lesbian Liaison Unit, transferred to a new position in October as a supervisory patrol officer in the Sixth Police District. Parson's departure from the GLLU came at a time when LGBT activists charged that Police Chief Cathy Lanier was dismantling the unit. Lanier said she is enacting a plan to decentralize and expand the GLLU and other special police units by recruiting more officers to become affiliated with the units while continuing to work as regular patrol officers in one of the seven police districts. But LGBT organizations, including Gays & Lesbians Opposing Violence and the D.C. Trans Coalition, have said Lanier effectively dismantled the GLLU before launching her decentralization plan.
three
Local HIV/AIDS cases rise 22 percent: A report released in March by the city's HIV/AIDS administration showed the number of reported HIV or AIDS cases in the city increased 22 percent between 2006 and 2007. Similar to previous reports on HIV prevalence in the city, the report found that men who have sex with men account for the largest number of people living with the disease: 36.9 percent. People who contracted HIV/AIDS through heterosexual contact comprised 28.1 percent of the living HIV/AIDS cases, the report found. The report found that about 3 percent of the city's population over age 12 had HIV or AIDS as of Dec. 31, 2007, making the District's AIDS numbers the highest in the nation based on the number of cases per 100,000 people. HIV/AIDS Administration Director Dr. Shannon Hader said the figures placed the city alongside African countries like Uganda in terms of HIV/AIDS prevalence.
two
Washington Blade, Lambda Rising close: Just weeks after celebrating the paper's 40th anniversary, the Washington Blade was shuttered by parent company Window Media on Nov. 16 following a Chapter 7 bankruptcy filing. Former Blade employees regrouped and founded the DC Agenda, publishing the first issue four days after the Blade's closure. A month later, the owners of Lambda Rising bookstore announced in December that the store would close its doors for good in January, ending more than 35 years of service as the city's preeminent LGBT bookstore. The store's co-owner and founder, Deacon Maccubbin, 66, said he plans to retire and that he and his domestic partner of 32 years, Jim Bennett, decided they'd rather close the store than sell it to a new owner who might change its focus and mission. Maccubbin said he and Bennett were also closing the Lambda Rising store in Rehoboth Beach, Del.
one
D.C. Council, mayor approve same-sex marriage: D.C. Mayor Adrian Fenty on Dec. 18 signed a bill allowing same-sex marriages to be performed in the nation's capital in an action hailed by activists as an historic milestone in the city's LGBT rights movement. The bill signing came three days after the City Council voted 11-2 to give its final approval of the legislation, the Religious Freedom & Civil Marriage Equality Amendment Act of 2009. Most political observers believe the Democratic-controlled Congress will allow the measure to become law following a required congressional review of 30 legislative days, which is expected to be completed in March. Noting that Congress has authority to overturn D.C. laws at any time, not just during the 30 legislative day review, same-sex marriage opponents have vowed to continue urging Congress to kill the law. They also have vowed to continue to seek to overturn the law through a D.C. voter initiative or referendum. The opponents have challenged an election board ruling that an initiative or referendum cannot be held on the marriage bill because it would violate the D.C. Human Rights Act.
Equality Loudoun hosts its first Pride celebration
'Our plans for next year are going to be bigger, bolder'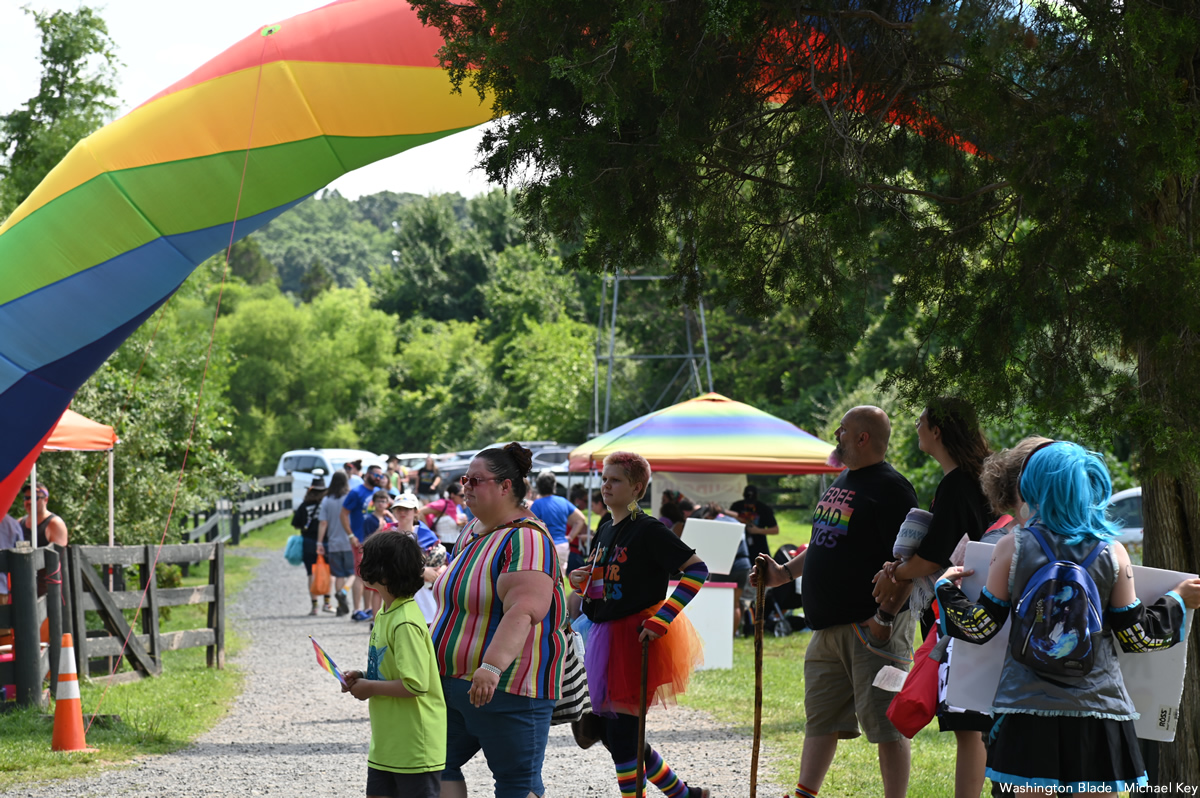 A year after a controversial brawl between parents and administration officials regarding the implementation of trans-friendly policies in public schools in Loudoun County, Va., a local LGBTQ organization hosted its inaugural Pride festival in solidarity with the area's LGBTQ community.
"Pride means a chance to show this county that the loud voices who have been standing against LGBTQ equality do not represent the voices of [everyone] in the [county]," said Cris Candiace Tuck, president of Equality Loudoun. "[A lot of us] here believe in equality."
Equality Loudoun hosted its Pride celebration on June 26 at Claude Moore Park in Sterling, Va.
When planning for Pride month festivities, the organization designed the events to reflect the diverse interests and identities of Loudoun County's queer population. There was a wide collection of vendors selling Pride merchandise, advocacy non-profit organizations and musical acts featured on the main stage.
There was also a "Loudoun Pride Drag Stage" event where the "hottest of Loudoun Royalty" showcased their musical talents.
"We want everyone to … recharge emotional batteries that have been drained," said Tuck.
Planning Equality Loudoun's Pride festival did not come without its fair share of surprises. Initially, the organization had planned for a smaller event. However, when more individuals began showing interest, the organization was forced to switch to a bigger venue to allow more vendors to attend.
"We had many vendors call in and we had to turn a [number] away," said Tuck.
The organization planned its festivities in 90 days, two weeks during which it raised $45,000 — three times as much as it had originally expected.
Equality Loudoun has its sights set on getting LGBTQ community members and allies connected to the resources the organization offers through education and health advocacy.
"Pride [will always be] a celebration of our heritage," said Tuck. "It's a moment to recognize what we have gained and lost."
Tuck said that ideas for next year are already underway.
"Our plans for next year are going to be bigger, bolder and brighter," he said.
Click HERE to see more photos from the event.
Comings & Goings
Cummings joins White House Office of National Cyber Director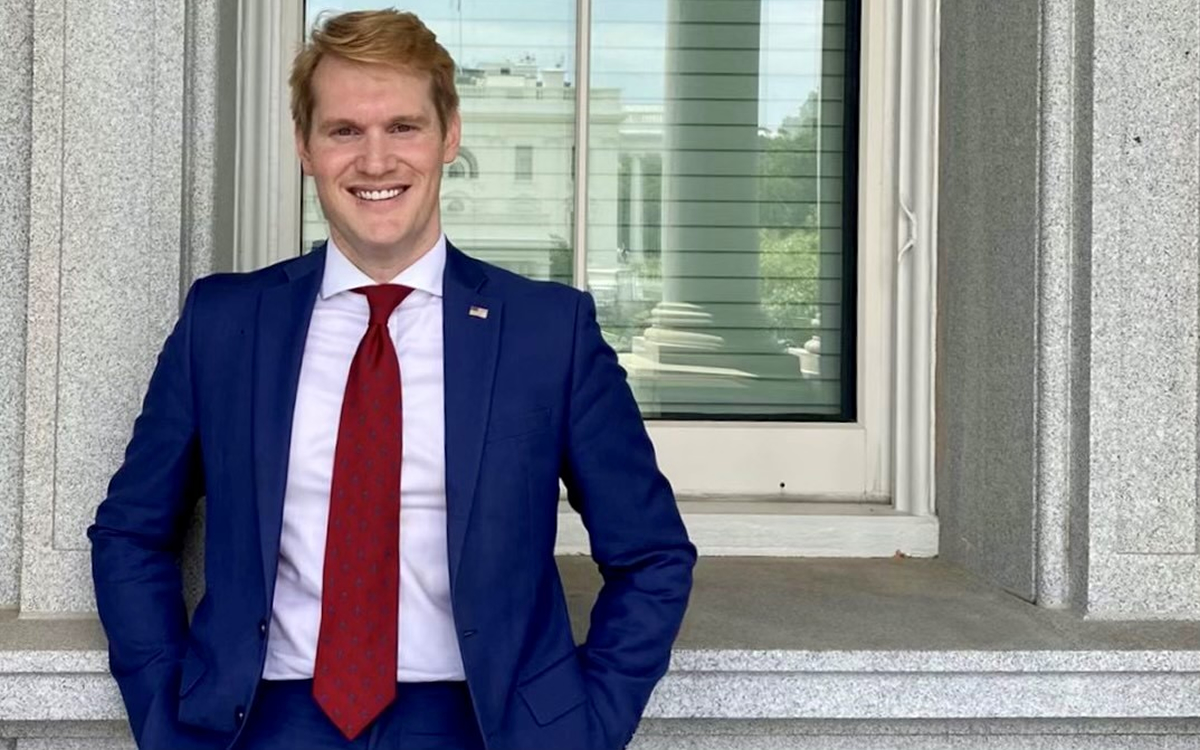 The Comings & Goings column is about sharing the professional successes of our community. We want to recognize those landing new jobs, new clients for their business, joining boards of organizations and other achievements. Please share your successes with us at: [email protected]. 
Congratulations to John Cummings on joining the Office of the National Cyber Director at the White House as Director of Supply Chain and Technology Security. Upon getting the position, he said, "I am beyond thrilled to join the growing team at the National Cyber Director's Office and bring my experience to our mission of mitigating the cyber threats facing our nation and ensuring every American can enjoy the full benefits of the digital ecosystem. It is truly a privilege to work with this incredibly brilliant and collegial group of cyber experts." 
Prior to joining the White House, Cummings served as Associate General Counsel at the Office of the Director of National Intelligence (ODNI). Before that role, he served as interim Chief Counsel for ODNI's National Counterintelligence and Security Center and as Associate General Counsel for the Office of the Inspector General of the Intelligence Community.
He has provided legal advice and counsel on matters of government-wide and interagency policy and national security in the areas of executive authority, cyber, constitutional law, civil rights and civil liberties, legislative affairs, and international cooperation. He has worked on recruiting LGBTQ, women, and minority applicants for government roles in national security and is experienced in public relations, stakeholder relationships, and international partnerships.
Cummings began his career clerking for the Honorable Ivan L.R. Lemelle, U.S. District Court for the Eastern District of Louisiana, and also clerked for the House Committee on Homeland Security and the American Bar Association's Standing Committee on Law and National Security.
He attended Villanova University where he received a bachelor's degree in English. He earned his J.D. from Loyola Law, New Orleans, and his LL.M. in National Security Law from Georgetown Law.
Abortion rights in post-Roe Maryland, Delaware
Practice generally legal, with some restrictions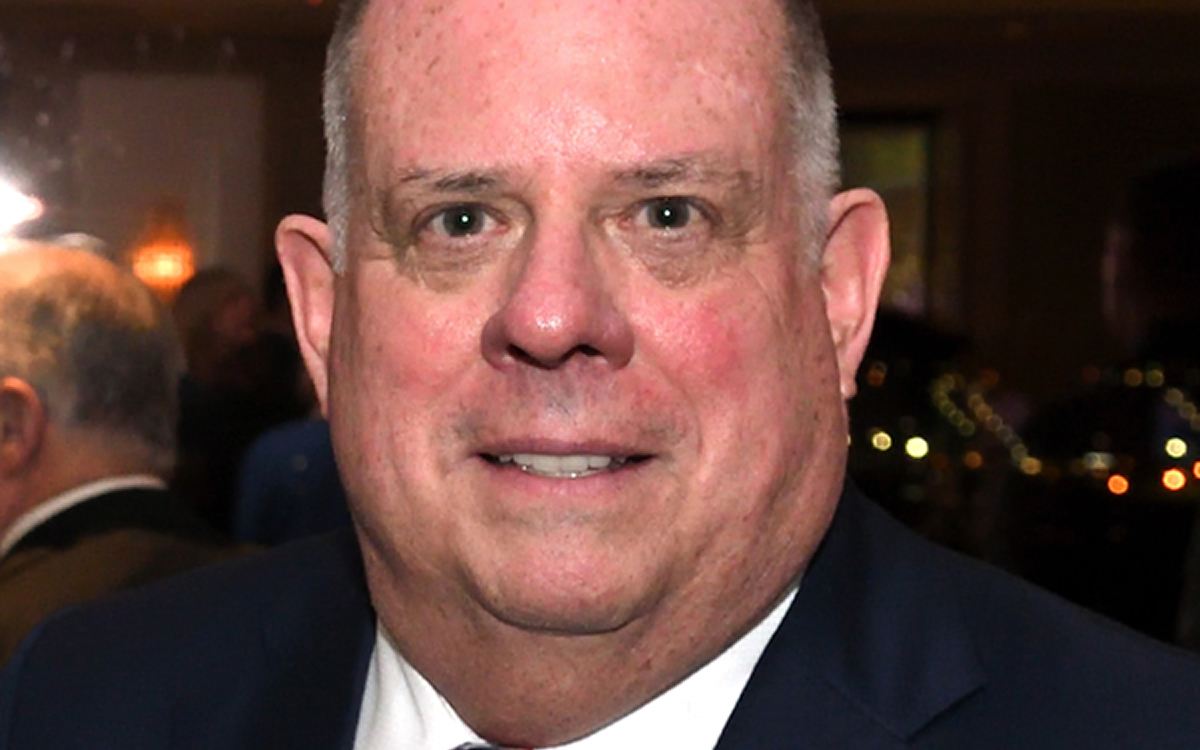 The U.S. Supreme Court on Friday overturned Roe v. Wade, which in 1973 found that the decision to receive an abortion was generally protected by the Constitution of the United States. With the broadest federal protection of abortion access now rescinded, the legality of abortion will by and large be determined on the state level.
In Delaware, abortion is legal through the Medical Practice Act — but with some restrictions.
After fetal viability, or the point where a fetus can survive outside the uterus, abortion in the First State becomes illegal unless necessary for the patient's "life or health," or if the fetus has a condition "for which there is not a reasonable likelihood" that it will survive outside the uterus, according to Subchapter IX of the act.
Additionally, under the state's Parental Notice of Abortion Act, physicians cannot perform a surgical abortion on minors under the age of 16 unless the patient's parent or guardian has received at least 24 hours notice from a medical professional. Notice is not required for nonsurgical abortions.
On the federal level, the funding of abortion is illegal through the 1977 Hyde Amendement "except in cases of life endangerment, rape or incest," according to the Guttmacher Institute, a sexual and reproductive rights advocacy organization. States are only federally required to fund abortions that meet these conditions through federal-state Medicaid programs.
While some states also fund abortions deemed medically necessary regardless of whether they endanger a patient's life, Delaware state law does not extend beyond federal guidelines: The state only funds abortions in cases of life endangerment, rape or incest.
Abortion legislation in Delaware mirrors neighboring Maryland, whose laws include similar restrictions on abortion after fetal viability and abortion for minors under the age of 16. But abortion laws in these states are generally more restrictive than other mid-Atlantic counterparts, such as New Jersey and New York.
Maryland Gov. Larry Hogan (R) weighed in on the state's abortion law on Friday.
"In 1992, Maryland voters approved a constitutional referendum legalizing and protecting access to abortion as a matter of state law – that measure remains in effect today following the Supreme Court decision in Dobbs v. Jackson. I swore an oath to uphold the Constitution and the laws of Maryland, and that is what I have always done and will continue to do as governor."
The impact of Roe v. Wade's fall in Delaware remains uncertain. While the abortion rate in Delaware steadily declined between 2014 and 2017, recent findings show that instances of abortion are increasing once again in the state, reflecting a rise on the national level.