Halo bar to change name, go green
The D.C. gay bar Halo is changing its name to MOVA and will evolve over the next year into an environmentally friendly "green" business with an expanded program to support both LGBT and broader community causes and projects.
Gay attorney and businessman Babak Movahedi, owner of Logan Circle Spectrum, LLC, the company that owns Halo bars in D.C. and Miami Beach, said the name change and plans for the business's community-related projects would be formally announced during a Jan. 1 celebration at the club in D.C. at 7 p.m. Halo is located at 1435 P St., N.W.
"The event is the beginning of a year-long process for Logan Circle Spectrum to institute a philosophical shift in corporate culture and set the foundation for national expansion of a new entertainment concept," Movahedi said in a statement announcing the changes.
"The LGBT community today has evolved and we want to create a place where people can have fun while having the opportunity to make a more direct impact in our local communities," he said.
In an interview with DC Agenda, Movahedi said some of his environmental or "green" plans include using furnishings and products in his bars in D.C., Miami Beach and other locations yet to open that are produced by manufacturers that use processes to minimize environmental harm.
He said the newly named MOVA bar in D.C. will soon institute other changes to support LGBT and D.C.-area community causes and projects. He noted that some will involve sponsorship nights for a particular community organization in which the club will publicize the group and ask patrons to make a donation.
According to Movahedi, Halo in Miami, for example, offers a free drink to customers for every $15 they donate to a community group during nights in which the group is highlighted at the club.
"That's just one idea," he said. "We will launch different things for different cities depending on what the needs of that location are."
He said his staff will get more involved, too, with efforts such as "having a cleaning the park day [in D.C.] or cleaning the beach day in Miami — things that give back to the community."
Movahedi said he decided to change the name of his two bars after discovering that a bar in Minnesota owns the trademark for the Halo name and that other bars and clubs have been opening recently in a number of cities using that name. He noted that the name and concept for other bars he's planning to open, including a soon-to-be-opened bar in Fort Lauderdale, would result in confusion among customers if he retained the Halo name.
The new name, MOVA, was taken from the first four letters of Movahedi's last name.
"So for us, it's a good time to include everything that we're trying to do into a new brand and a new name and go forward with this in a new decade," he said.
City argues against voter initiative in marriage case
D.C. Attorney General Peter Nickles argues in a court brief that the city's congressionally approved Home Rule charter gives it full legal authority to prohibit a voter initiative calling for banning same-sex marriage in the District.
Nickles filed the 46-page legal brief Dec. 18 in D.C. Superior Court for the city in opposition to a lawsuit filed by same-sex marriage opponents, including Bishop Harry Jackson, pastor of a church in Beltsville, Md.
The lawsuit calls for overturning a ruling by the D.C. Board of Elections & Ethics that a voter initiative seeking to ban same-sex marriage cannot be held because it would violate the city's Human Rights Act. The board held that the city's election law governing initiatives and referenda bars such ballot measures if they would take away rights from minorities, including gays.
"[I]n exalting the people's supposedly fundamental right of initiative above all else (except apparently the prohibition on popular appropriation of funds), petitioners disregard the basic republican principles that have governed the nation since its founding," Nickles says in the brief.
"While petitioners treat the right of initiative as fundamental, the Founding Fathers recognized the threat that an unchecked majority posed to the liberty of disfavored minorities and thus created a republican form of government, even requiring the newly created Congress to 'guarantee' that form of government to 'every state in the Union,'" Nickles says.
In their opposition to a ballot initiative on the marriage issue, LGBT activists have made similar arguments — that the city's republican form of government empowers a City Council elected by the voters to pass laws, such as a same-sex marriage bill, and that laws providing civil rights for minorities should not be subjected to a popular vote.
Nickles called on the court to dismiss the lawsuit on other grounds, including a claim that it would be counter to the Supreme Court decision of Lawrence v. Texas, in which the high court overturned state sodomy laws. According to Nickles, the Lawrence decision, among other things, held that "moral objections are not a sufficient basis for infringing on the fundamental rights of homosexuals.
Moore signs executive order to protect gender-affirming health care in Md.
Ceremony took place during Pride month reception at Government House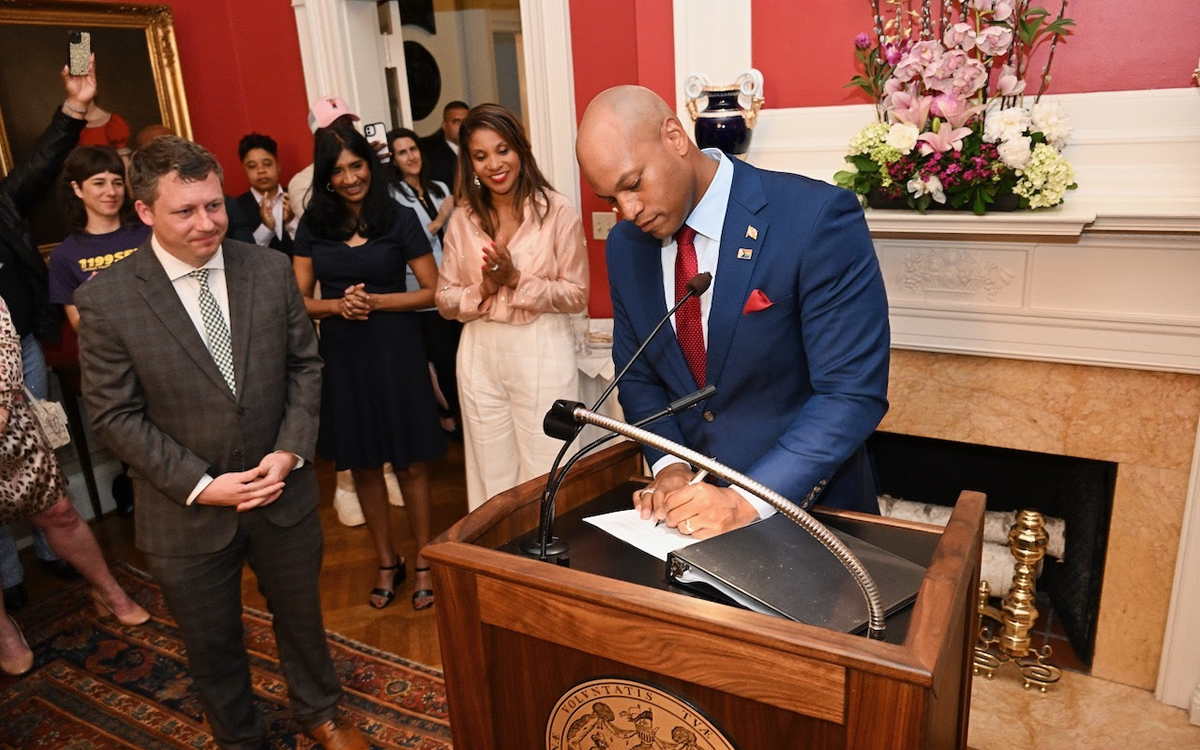 Maryland Gov. Wes Moore on Monday signed an executive order that protects gender-affirming health care in the state.
Moore signed the directive during a Pride month reception at Government House in Annapolis.
"In the state of Maryland, nobody should have to justify their own humanity," said Moore. "This order is focused on ensuring Maryland is a safe place for gender affirming care, especially as other states take misguided and hateful steps to make gender affirming care cause for legal retribution. In Maryland, we are going to lead on this issue."
"In signing this executive order, this administration is saying to all LGBTQIA+ Marylanders: You deserve to be your authentic selves — during Pride month and every month," added Lieutenant Gov. Aruna Miller. "You deserve to live safely, openly and freely; and receive the gender-affirming care you need."
Moore last month signed the Trans Health Equity Act, which requires Maryland's Medicaid program to cover gender-affirming care. Moore on March 31 signed a proclamation that proclaimed the day as the International Transgender Day of Visibility in Maryland.
22 ways to celebrate Pride month in Delaware
From Wilmington to Rehoboth, there's something for everyone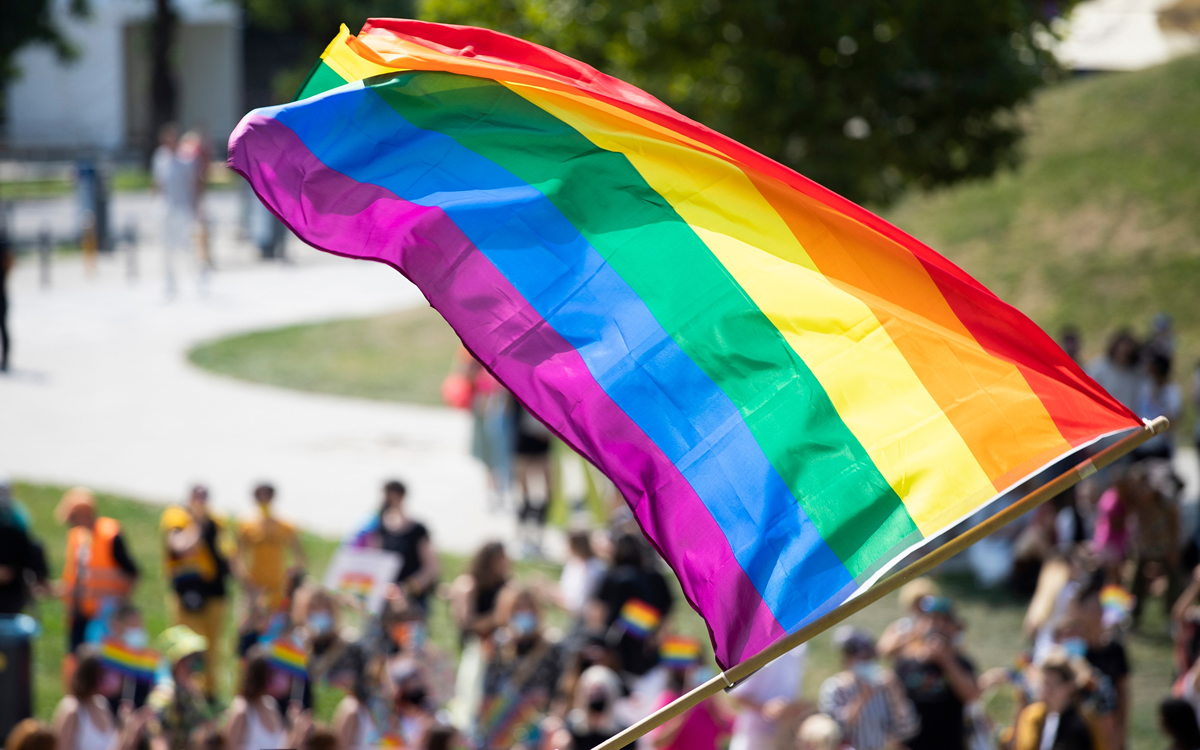 FRIDAY, JUNE 9
QUEER FILM: The Rehoboth Beach Film Society and CAMP Rehoboth kick off the three-day Pride Film Festival featuring 12 movies, ranging from "The Rocky Horror Picture Show" to "Going to Mars: The Nikki Giovanni Project," which explores author Giovanni's life and six decades of work. The schedule has not been announced yet as of publication of this guide. The films will be shown at Cinema Art Theatre at 17701 Dartmouth Rd. #2 in Lewes. $12 per film.
A HISTORY LESSON: Delaware LGBTQ history researcher Carolanne Deal explores the queer history of Sussex County and a new exhibition with parts of Delaware's queer history in the Zwannendael Park by the museum with the same name. 5 p.m. at 102 Kings Highway in Lewes. Free.
SATURDAY, JUNE 10
PRIDE FESTIVAL: Delaware Pride is putting on its annual Pride festival, with more than 100 vendors and many entertainers making up the single largest LGBTA gathering in Delaware, the organization says. Seventeen entertainers are listed on Delaware Pride's Facebook page, including "American Idol" contestant Alisabeth Von Presley – "Lady Gaga meets Pat Benatar with a dash of Michael Jackson," Little Village Magazine writes; Aunt Mary Pat, the drag queen and singer; Jenna Tall, who's won five Miss titles; The Manhattan Prairie Dogs, a dance group that's legal to watch despite prairie dogs being illegal to keep as a pet in New York; and Ryan Cassata, a singer and public speaker on trans issues. That's not even mentioning 83 vendors that are scheduled to attend. 10 a.m.-5 p.m. at 411 Legislative Ave. in Dover. Free.
PRIDE AFTER-PARTY: Double D's Taphouse is hosting an after-party throughout Saturday night for adults 21 and over, hosted by Scarlett Masters (who's also hosting the drag bingo above). 6-10 p.m. at 137 Jerome Drive in Dover. $15.
COUNTRY DANCING: Get yir boots on and saddle up, gays! Atlantic Sands Hotel & Conference Center is hosting a country dance party for gay men and women in Rehoboth. 7 p.m. at 1 Baltimore Ave. on the Boardwalk in Rehoboth. $10.
BRING YOUR GAY ASS OVER HERE: Flash your colors at Wilmington's Crimson Moon bar. Brush up on your gay history to understand why: When it was illegal to be gay, LGBTQ people put a colored handkerchief in their back pocket to signal their queerness to other community members. Community leaders periodically changed that color so they would not reveal their sexuality to undercover cops. Over time, it evolved into what it is today – a way to show who you are and what you're looking for. 9 p.m. at 1909 W. 6th St. in Wilmington. No cover.
SUNDAY, JUNE 11
RUN FOR FUN AT THE FUN RUN: Fun for run, no, run for fun in Rehoboth, organized by a Delaware shoe store, Charm City Run. 8-9 a.m. at 200 Rehoboth Ave. in Rehoboth. Free.
MIDDLETOWN PRIDE: Middletown is hosting its second annual Pride Walk and Festival – with vendors this time. 12-5 p.m. in Middletown. Free.
BINGO FOR A CAUSE: AIDS Delaware is hosting a spring bingo with The Rainbow Chorale in the Mill Creek Fire Company's Chambers, with all proceeds benefitting the two organizations. It's hosted by drag queens Scarlet Masters and Aura Buboyz and organizers encourage guests to dress in Pride attire or your "best ally" attire. Doors open at 5 p.m., games begin at 6 p.m. at 3900 Kirkwood Hwy in Wilmington. $15 for admission and one game board.
SUPPORT AGING LGBTQ+ PEOPLE: Learn about the challenges facing older LGBTQ adults and resources for them in a roundtable discussion hosted by Sussex Pride at the Unitarian Universalists of Southern Delaware's building in Lewes. 6-7:45 p.m. at 30486 Lewes Georgetown Hwy. Free.
THURSDAY, JUNE 15
A NIGHT OUT: Bring your friends and (queer) family to this LGBTQ social event at Constitution Yards Beer Garden. It had a record turnout of about 300 last year, and organizers are hoping to crack 400 this year. 6-9 p.m. at 308 Justison St. in Wilmington. Free.
GAME NIGHT: If going out isn't your thing and you'd prefer a more chill night, fear not: Sussex Pride is hosting a game night in the Epworth United Methodist Church. 6:30-8:15 p.m. at 19285 Holland Glade Rd. in Rehoboth. Free.
FRIDAY, JUNE 16
GET INTO THE HOMO SPIRIT: Listen to CAMP Rehoboth's Chorus singing all-time favorites like Chad & Jeremy's "A Summer Song," Chicago's "Saturday in the Park," and, of course, a Beach Boys medley at Epworth United Methodist Church. Friday and Saturday 7 p.m., and Monday 3 p.m. at 19285 Holland Glade Road in Rehoboth. $25.
GAYEST SONGS EVER: Celebrate the super gay pop hits of yesteryear (and this year) with performer Todd Alsup. 8:30-10:30 p.m. at The Pines, 56 Baltimore Ave. in Rehoboth. $25-150.
SATURDAY, JUNE 17
DRAG BRUNCH: Miss Troy, who is also performing at the Pride Festival, is hosting a drag brunch at The Queen in its Crown Room. The Queen is normally a live music venue but has a history of hosting all kinds of events. 12 p.m. at 500 N. Market St. in Wilmington. $39-61.50
POOL PARTY: If you want to take a splash in the pool while being a little tipsy this is the place to do it. Bring your own booze if desired, and bring food if you wish. 3-9 p.m. at 128 Honey Brook Lane in Felton. Free.
PLAY DUNGEONS & DRAGONS: Take a break from celebrating with a round of Dungeons & Dragons hosted by Sussex Pride at the Groome Church. 6:30-8 p.m. at 601 Savannah Rd. in Lewes. Free.
SUNDAY, JUNE 18
QUEER STORY TIME: Bring your little (or not so little) kids to the Woodlawn Library and read picture books with LGBTQ characters. You must register for the event beforehand here. Masks are strongly encouraged at the event. 11 a.m.-12 p.m. at 2020 W. 9th St. in Wilmington. Free.
BRING YOUR DADDY TO BRUNCH: Goolee's Grill encourages you to bring your dad (or daddy) to this family-friendly drag brunch because it's Father's Day. The event is hosted by the runner up for Rehoboth's Best Drag Queen in the 2019 Blade awards, Regina Cox. 12-2 p.m. at 11 South 1st St. $15.
SATURDAY, JUNE 24
ZOO VISIT: The Brandywine Zoo is holding its annual Pride Day – only the third – with educational programming, a scavenger hunt, and story time. 10 a.m.-3:30 p.m. at 1001 N. Park Dr. in Wilmington. $7 for seniors and youth, $9 for adults.
SUNDAY, JUNE 25
STONEWALL RELIVED: Listen to four actors recreate the 1969 Stonewall Uprising at CAMP Rehoboth with the words of those that were there – reporters, drag queens, trans youth, gay people, and homeless kids that confronted the police, letting out their anger. It wasn't the first LGBTQ uprising of the era, but the most consequential. 4 p.m. & 7 p.m. at 37 Baltimore Ave. in Rehoboth. $25.
FRIDAY, JUNE 30
GAY COMEDY: Standup comedian Jen Kober, an out lesbian from Louisiana, is touring the country and stopping in Rehoboth Beach at The Pines along with Jeff D. She won NPR's Snap Judgment of Comedic Performance of the Year and went viral for her standup about Girl Scout cookies. 7 p.m. at The Pines in Rehoboth.
Did we miss anything? Let the author know at [email protected]
People of Pride: A look at Maryland's LGBTQ community
Prominent activists, leaders spoke with the Baltimore Banner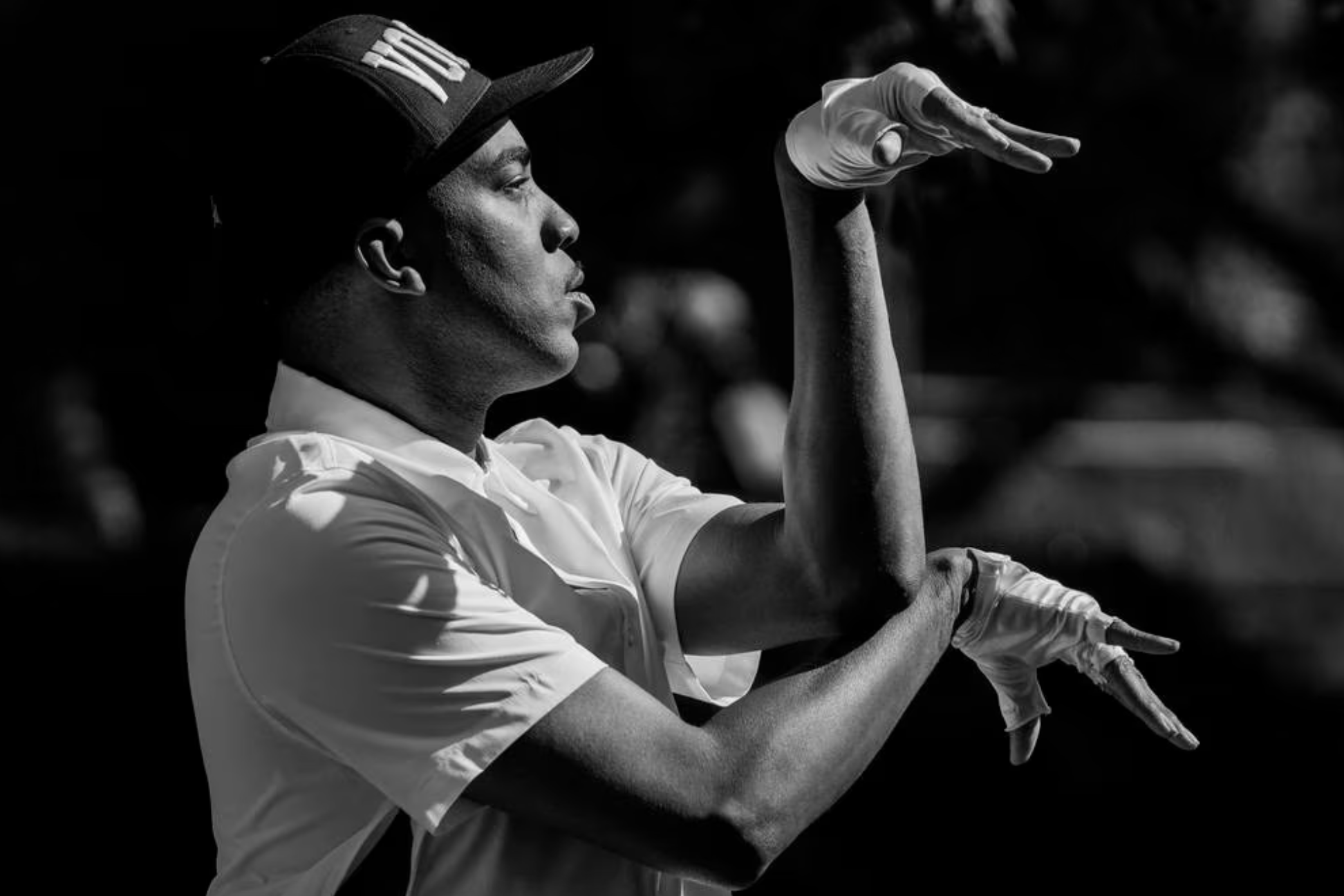 By John-John Williams IV | With the LGBTQ community under assault in many states, LGBTQ Marylanders say Pride month has taken on added meaning this year.
There are an estimated 11 million LGBTQ adults in the United States, with 151,000 in the state of Maryland, according to the Williams Institute on Sexual Orientation and Gender Identity Law and Public Policy at UCLA School of Law. The community covers a diverse spectrum of genders, identities, races and cultures.
The Baltimore Banner spoke and emailed with members of the community about the meaning of pride and the greatest challenges facing the LGBTQ community. Here are their answers, some of which have been edited for length and clarity.
The rest of this article can be found on the Baltimore Banner website.