Council candidate provides tip in D.C. gay murder
A gay man who was shot to death in his car in Southeast Washington last week may have been the target of a thug who's "terrorizing" the Congress Heights neighborhood where he was killed, according to a local minister who is running for a seat on the D.C. City Council.
Rev. Anthony Motley said a mutual friend told him that the murder of Anthony J. Perkins, 29, may be linked to an unidentified man believed to be responsible for a string of robberies that Perkins learned about. Motley said the robbery suspect may have thought Perkins was about to report him to police.
Perkins was found dead in his car at Fourth and Oakwood streets, S.E., at 5:15 a.m. on Dec. 27.
"According to my sources, Anthony received a call that morning and left his house to go meet someone," Motley told DC Agenda in an E-mail. "It is said that the individual Anthony knew who was robbing people had become paranoid that Anthony would talk. It's assumed that is why he was shot."
Homicide Detective John Bolden, one of the investigators working on the case, said police have no motive for the killing and had no suspects as of earlier this week.
Bolden said investigators were looking forward to talking with the mutual friend that Motley mentioned in his e-mail to the Agenda, with the hope that this individual could provide an important lead in the case.
Homicide squad Lt. Paul Wingate said police have no evidence so far to indicate the murder was a hate crime.
Police and Christopher Dyer, director of the Mayor's Office of LGBT Affairs, have been distributing fliers that include a photo of Perkins to local LGBT organizations and activists, asking for help in identifying the person or people responsible for Perkins' death.
Police are asking anyone with information about the case to call the homicide squad office at 202-645-9600 or the 24-hour police hotline at 202-727-9099. Similar to all D.C. homicides, police are offering a reward of up to $25,000 for information leading to the arrest and conviction of a suspect linked to Perkins' murder.
In a statement released the day of the murder, police said they found Perkins, whom they described as a "shooting victim," seated inside his car on the 2900 block of Fourth St., S.E. The statement says the car had steam billowing from its engine when officers responded to reports of the sound of gunfire. A nearby resident identified the vehicle as a Lincoln Towncar.
"D.C. Fire & Emergency Medical Services Department personnel responded to the scene, but could find no life signs," says the statement.
Perkins lived with his mother on the 1800 block of T Street, S.E., about two to three miles from the location where he was killed.
"I have known Anthony for more than a decade," Motley said in his e-mail to the Agenda. "Anthony would attend my ministry on a regular basis."
He called Perkins "a very good singer" who sometimes sang during church services.
"Anthony was a very generous and kind person," Motley said. "He loved people and was always concerned about his mother and her well being."
Motley said that it was through a mutual friend, who he did not identify, that he learned Perkins "was made aware of some information regarding an individual who was terrorizing the neighborhood and robbing people, especially at ATMs."
The unidentified man said to have committed the robberies "lived very close to where Anthony was shot," Motley said the mutual friend told him.
Motley, a long-time Democrat, announced last spring that he would become an independent candidate in the November 2010 general election for one of two at-large Council seats currently held by Council members Phil Mendelson (D-At Large) and David Catania (I-At Large). Catania is one of two openly gay members of the Council.
Veteran D.C. gay and Ward 8 civic activist Phil Pannell, who was recently elected president of the Congress Heights Civic Association, said Motley has been supportive of LGBT rights.
Pannell said he did not know Perkins, but recognized him from the police photo as someone who may have patronized one or more of the city's gay bars.
Deputy Police Chief Diane Groomes told the Agenda that the police's Gay & Lesbian Liaison Unit was assisting the homicide squad in the investigation into Perkins' murder.
Groomes disputed an earlier statement by Chris Farris, co-chair of the local group Gays & Lesbians Opposing Violence, that the GLLU had not immediately been contacted about the case, as had been the department's practice in the past.
Farris and other LGBT activists have expressed concern that the department's recent reorganization of the GLLU had resulted in its de-facto "dismantling." They were referring to a plan by Police Chief Cathy Lanier to decentralize the unit by staffing it with a greater number of officers in each of the seven police districts.
According to Farris and other activists, the central GLLU headquarters in Dupont Circle had been reduced from seven full-time officers to just one or two officers a year or two before the department was ready to put in place GLLU affiliated officers in the seven police the districts.
"GLLU actually was notified on the night of the murder and has been assisting Homicide with said case," Groomes told the Agenda in an e-mail. "At this time there are two full duty members, two members not full duty [at GLLU headquarters] and 25 affiliate members to assist in any matter that one may need assistance with. … [A]ll are available via the [GLLU] pager number."
Vice President Harris joins D.C. Pride Walk, makes history
First post-COVID Pride events include rally, Pridemobile Parade
Vice President Kamala Harris drew loud cheers and prolonged applause when she and her husband, Second Gentleman Douglas Emhoff, joined more than 1,000 LGBTQ participants in D.C.'s Capital Pride Walk on Saturday, June 12, becoming the first U.S. vice president to participate in an LGBTQ Pride event.
Harris' appearance at the Pride Walk, which some described as a march, was unannounced and came as a complete surprise to the dozens of onlookers who saw her as well as to leaders of the Capital Pride Alliance, the group that organizes D.C.'s annual Pride events.
"Oh my God, I can tell you that I screamed my head off," said Tiffany Royster, a Capital Pride official who said she saw Harris at the Pride Walk.
"The fact that she showed up for us means that we mean something to her because she wouldn't have stopped by randomly," Royster told an NBC 4 News cameraman at Thomas Circle at the conclusion of a separate event on Saturday called the Pridemobile Parade. "We didn't know she was coming."
An NBC 4 report showed Harris making brief remarks while walking along 13th Street as the Pride Walk passed the Warner Theater and as it approached Pennsylvania Avenue at Freedom Plaza.
The Channel 4 News report said Harris called for Congress to pass the LGBTQ rights bill known as the Equality Act and said the Biden administration understands the importance of LGBTQ rights.
"We need to make sure that our transgender community and our youth are all protected," she states in the Channel 4 News broadcast. "We need, still, protections around employment and housing," she told people walking beside her and her husband. "There is so much more work to do, and I know we are committed."
Harris wore a shirt with the words, "Love is Love" printed on it. Emhoff could be seen waring a T-shirt with a rainbow-colored design on it.
Harris and Emhoff did not appear at the Capital Pride Rally, which began at Freedom Plaza shortly before 2 p.m.
Among those speaking at the rally was D.C. Mayor Muriel Bowser, who received loud applause when she told the crowd that during her travels across the country and abroad, she tells people that D.C. is "the gayest city in America."
"So, Capital Pride, we have a lot to celebrate," the mayor told rally attendees, many of whom waived hand-held rainbow Pride flags. "We have a lot to work for still," she said. "We know that discrimination and violence is real. We know there's too many guns on the street. And we know when all of us are not safe, none of us are safe," she said.
"So, I know you're going to stand shoulder to shoulder with me and I'm going to be with you every step of the way," she said. "Happy Pride!'
Bowser also announced at the rally that Sheila Alexander-Reid, who has served as director of the Mayor's Office of LGBTQ Affairs since Bowser took office in January 2015, would be leaving that position soon to go on to "bigger and better things." Alexander-Reid has said she will be joining a company that provides advice and training in the area of workplace nondiscrimination based on race, gender, and LGBTQ related workplace competency training.
At the conclusion of the rally, about 50 vehicles that had been parked next to and near Freedom Plaza led by a Capital Pride bus decorated with signs and banners began the city-wide Pridemobile Parade.
The route of the parade released by Capital Pride shows it was scheduled to travel through all four quadrants of the city, including neighborhoods east of the Anacostia River. Capital Pride organizers said the parade or caravan of vehicles, all of which were decorated with Pride displays, would be passing by homes and businesses in the city's residential and commercial areas that also were decorated with Pride displays as part of its "Paint the Town Colorful" Pride event.
The Pride Walk began shortly after noon at Dupont Circle and traveled along P Street to Logan Circle, where it proceeded south on 13th Street to Freedom Plaza.
Capital Pride Alliance President Ashley Smith said a little over 1,000 people participated in the walk, which he noted Capital Pride decided to do and first announced less than two weeks before it was to take place.
Smith and Capital Pride Alliance Executive Director Ryan Bos have pointed out that the city announced it would be lifting its more than year-long restrictions on large public gatherings in May, which didn't give them enough time to pull together a large parade and street festival that have been part of D.C.'s Pride celebrations in the years prior to the COVID pandemic.
"Today has been truly phenomenal," Smith told the Blade. "The turnout has been amazing. The total number of people that have come to support this and the efforts that we're trying to do, it's just been amazing," he said.
"The community has truly been supportive of all the great work that the team, the staff, the volunteers and board members have been part of," said Smith.
Bos said people had gathered in the various neighborhoods in the city where the Pridemobile Parade passed in advance of the parade's arrival and cheered and waived as the vehicles drove by.
"There were kids with their parents and their families just sitting on the sidewalks waiting for the Pridemobile to come by," Bos said. "It was pretty cool."
About 100 people were standing or sitting in Thomas Circle, the final destination of the Pridemobile Parade, as it arrived there to loud cheers. The vehicles drove around the circle several times while honking their horns before the parade disbanded.
A smaller crowd waving Pride flags had also gathered on the steps of National City Christian Church, which faces Thomas Circle. Large rainbow-colored banners were hanging from the front of the church, showing its support for the Pride events.
Speakers at the Freedom Plaza rally, in addition to Mayor Bowser, included Smith of Capital Pride; Alexander-Reid; Ben De Guzman, director of the Mayor's Office of Asian and Pacific Islander Affairs; gay Latino activist Jose Gutierrez, who reflected on the fifth anniversary of the Pulse nightclub shooting in Orlando, Fla., on June 12, 2016 in which 49 mostly LGBTQ people were killed and 53 wounded; transgender activist Monica Nemeth, who reflected on transgender lives lost to violence in the U.S.; Nancy Canas, president of Latinx Pride; Rehana Mohammed, chair of the board of the D.C. Center for the LGBTQ Community; and June Crenshaw, executive director of the Wanda Alston Foundation, which provides housing for homeless LGBTQ youth.
Pride celebrations were scheduled to continue on Sunday, June 13, with about a dozen D.C. area restaurants participating in Capital Pride's Taste of Pride Brunches, which would be raising money for local LGBQ organizations, according to an announcement on the Capital Pride website. The names and locations of the restaurants can be accessed at capitalpride.org.
Sheila Alexander-Reid to step down as director of D.C. LGBTQ Affairs Office
Veteran community activist to take new job workplace bias consultant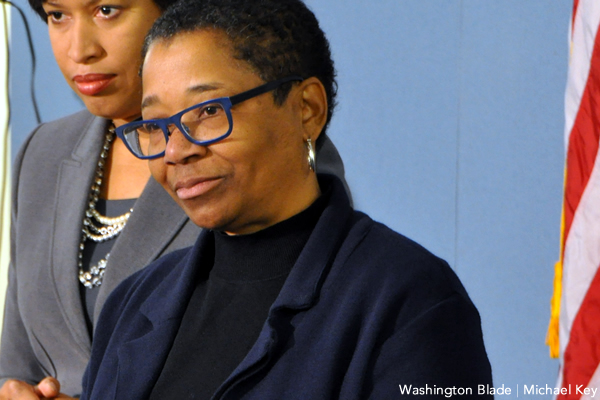 Longtime LGBTQ community advocate Sheila Alexander-Reid, who has served since 2015 as director of Mayor Muriel Bowser's Office of Lesbian, Gay, Bisexual, Transgender, and Questioning Affairs, is stepping down from her city job in mid-July.
Alexander-Reid told the Washington Blade she will take a few weeks of accumulated leave beginning June 15 to recuperate from follow-up knee surgery before officially leaving her current job to take on a new role as a private sector consultant in the area of workplace bias and diversity training.
She said will announce the name of the private sector company she will be joining as a senior vice president when she begins her new job in mid-July.
Among her duties at the Mayor's LGBTQ Affairs Office has been to lead the office's staff in providing LGBTQ related diversity or competency training for D.C. government employees at all city agencies.
According to the office's website, other activities it carries out include connecting LGBTQ residents with city services they may need, advocating on behalf of programs and policies that benefit the lives of LGBTQ residents, providing grants to community-based organizations that serve the LGBTQ community and LGBTQ homeless youth; and host events that "enrich, promote, and bring together" the LGBTQ community in D.C.
"That work is always going to be part of who I am," Alexander-Reid said. "But now I will be expanding on that work to look at racial equity and gender bias as well as LGBTQ bias," she said. "I feel like I will be doing the same work but in a different format."
Prior to starting her job at the mayor's office, Alexander Reid served as Vice President of Strategic Initiatives at the Washington Blade, Director of Strategic Engagement at the Washington City Paper, and Founder and Executive Director of the D.C. based Women in the Life Association. She has also served as host of Inside Out, a local FM LGBTQ radio show.
Alexander-Reid noted that when she began work at the LGBTQ Affairs Office in late January 2015, less than a month after Bowser took office as mayor, the office consisted of two full-time employees, including her, with a budget of $209,000. In the current fiscal year 2021, the office now has four full-time employees and two additional detailed employees, from the Department of Health and Department of Human Services. The mayor is proposing a budget of $561,000 for the office for fiscal year 2022.
"I would be remiss if I didn't say what a pleasure it has been to work for Mayor Bowser," said Alexander-Reid. "I was excited to work for her and I don't regret it for one second. "It's been an amazing journey and I appreciate her having faith in me."
She said she expects an interim director to be named to run the office in mid-July while a search is conducted for a permanent director.
Attack on trans woman in D.C. laundromat captured in video
Police seek help from community in identifying suspects.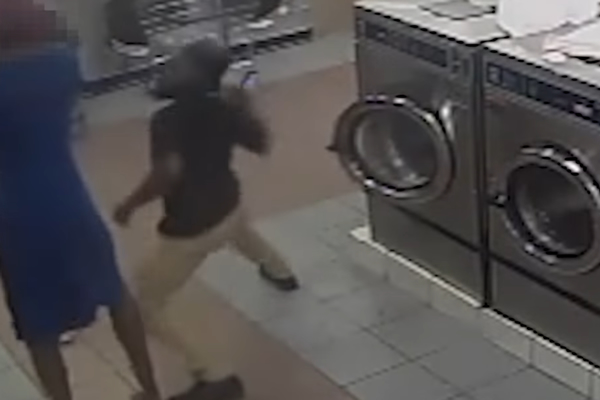 D.C. police on Thursday night released a dramatic video taken from a surveillance camera showing two women and a man repeatedly punching and shoving a transgender woman at a laundromat on Benning Road in Northeast Washington in an incident in which the victim was stabbed in the head.
Police, who have listed the Sunday, June 6, incident as a suspected anti-LGBTQ hate crime, are appealing to the community for help in identifying the three suspects, who are shown in the video attacking the trans woman before escaping in a black SUV while carrying laundry bags.
Detectives from the Metropolitan Police Department's Sixth District obtained the video from a surveillance camera at the Capital Laundry Mat at 1653 Benning Road, N.E., according to a police report and a police statement released Thursday night.
The video shows that the suspects were accompanied by two young children. It shows one of the adult female suspects appearing to be dancing by herself in front of a row of washing machines seconds before the three suspects lunged at the victim and began punching her.
"One of the suspects brandished a knife and stabbed the victim," the police statement says. "The suspects fled the scene in a vehicle. The victim was transported to a local hospital for treatment of non-life-threatening injuries," the statement says.
"Anyone who can identify these individuals, or vehicle, or has knowledge of this incident should take no action but call police at 202-727-9099 or text your tip to the Department's TEXT TIP LINE at 50411," the statement adds. It says the department's Crime Solvers program offers a reward of up to $1,000 to anyone who provides information leading to the arrest and indictment of a person or persons responsible for a crime committed in D.C.
Police spokesperson Alaina Gertz told the Washington Blade that because the investigation is ongoing, police could not immediately disclose whether they know if the victim knew one or more of the attackers before the incident took place or what, if anything, prompted the suspects to attack the victim other than due to her status as a transgender person.
The video released by D.C. police can be accessed here: https://youtu.be/7v8lthvUPcg