Anti-gay marriage Democrat mulls U.S. Senate run
A former Democratic U.S. House member who's vehemently opposed to same-sex marriage is considering a primary run against the incumbent lawmaker representing New York in the U.S. Senate, according to the New York Times.
Harold Ford Jr., who represented Tennessee in the U.S. House from 1997 to 2007, is reportedly mulling a primary challenge to oust Sen. Kirsten Gillibrand (D-N.Y.) from her Senate seat. Ford has been living in New York for three years and told friends he will decide whether or not to run within 45 days, according to the Times.
Strongly opposed to same-sex marriage, Ford voted twice for an amendment that would have made a ban on gay nuptials part of the U.S. Constitution — once in 2004 and again in 2006.
He also spoke out against the 2006 court ruling in New Jersey requiring legislators to set up relationship recognition for same-sex couples and endorsed a state constitutional amendment in Tennessee banning same-sex marriage.
"I do not support the decision today reached by the the New Jersey Supreme Court regarding gay marriage," he said in a statement at the time. "I oppose gay marriage, and have voted twice in Congress to amend the United States Constitution to prohibit same-sex marriage. This November there's a referendum on the Tennessee ballot to ban same-sex marriage — I am voting for it."
Despite his vehement opposition to same-sex nuptials, Ford during his tenure in the House was a co-sponsor of earlier versions of hate crimes protections legislation and the Employment Non-Discrimination Act.
Some officials in New York have expressed interest in Ford's run. New York City Mayor Michael Bloomberg is open to his candidacy and his advisers were scheduled on Thursday to meet with Ford to plan strategy, according to the Times.
But Senate Majority Leader Harry Reid (D-Nev.) has reportedly voiced concern about Ford's potential candidacy, and the Times reported Sen. Chuck Schumer (D-N.Y.) urged Ford in a private conversation not to run.
In comparison to Ford, Gillibrand has been a vocal proponent of ending the U.S. military's "Don't Ask, Don't Tell" policy since she took office in the Senate. She also has endorsed same-sex marriage and, according to the New York Daily News, called state lawmakers late last year to encourage them to vote for a bill legalizing same-sex marriage in New York, which ultimately failed.
Gillibrand is also a co-sponsor of ENDA and the Uniting American Families Act and, like all Democrats last year, voted for the hate crimes protections amendment when it came to the Senate floor.
In a blog posting on his organization's web site, Alan Van Capelle, executive director of Empire State Pride Agenda, wrote that Gillibrand is "exponentially better" than Ford on LGBT issues.
"For our community — and any New Yorker who cares about equality for LGBT people — there is no contest here," Van Capelle wrote. "Senator Kirsten Gillibrand deserves our full support if she is going to be challenged by someone who has a dismal voting record on our rights — someone like Harold Ford, Jr. of Tennessee."
National Gay & Lesbian Chamber of Commerce Certifies Brown, Naff, Pitts Omnimedia, Inc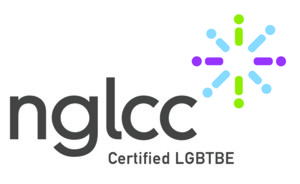 Washington, D.C. — Brown, Naff, Pitts Omnimedia, Inc, the parent company of the Washington Blade and Azer Creative, announced today it has been certified by the National Gay and Lesbian Chamber of Commerce (NGLCC) as an LGBT Business Enterprise. The NGLCC supports and advocates for diversity and inclusion for LGBT-owned businesses. With this certification the Blade's parent company joins more than 510 business and 134 corporate partners of the NGLCC.
Brown, Naff, Pitts Omnimedia, Inc. owns and operates the Washington Blade, the oldest and most acclaimed LGBT newspaper in the country. In 2012, the company launched Azer Creative, a full-service design firm. The company employs more than a dozen full-time LGBT staff.
"We are excited to become one of the 500 LGBT businesses across the country certified by NGLCC," said Lynne Brown, the Blade's publisher and a co-owner of the company. "The LGBT community has been part of our company from the beginning and we look forward to continue that for many years to come."
The Washington Blade was founded in 1969 and is known as the "newspaper of record" for the LGBT community both locally and nationally. Visit washingtonblade.com for more information. Azer Creative is a full-service graphic design firm based in Washington, D.C. Visit azercreative.com for more information. 
Vote now for the 2013 Best of Gay DC!
Choose in dozens of categories among hundreds of nominees, and make your voice heard!
Nominate the 'Best of Gay D.C.' now!
Dozens of categories cover all the best for LGBT Washington. Who deserves the prize this year?