Watching the Prop 8 trial, part 4
Special to DC Agenda
For more on the Prop 8 trial, visit lgbtpov.com
We're on a lunch break after Harvard University professor Nancy Cott wrapped up her testimony. As long as it was, Judge Vaughn Walker still had some interesting questions to throw in at the end regarding the state's regulation of marriage laws and for what purpose, and how that ties into the separation of church and state.
At one point, Walker asked a question to clarify whether state regulation of marriage was invented in the US. Cott said it was not and noted a "long tradition of governance" under the English monarchy.
Defense attorney David Thompson later tried to undermine Cott's credibility at every turn, trying to suggest that she supported polygamy because she donated to an upstart marriage alternative organization at some point — though it turns out she might have donated because the young founders were friends.
Thompson also seemed to be trying to get "expert witness" testimony in by reading stretches of passages and quotes from various books and articles — including Cott's own work. She told me later, though, that she was "delighted" about that.
But after all the long and pointed questioning, Thompson just stopped. No more questions, your honor. We all just scratched our heads, but not plaintiff attorney Theodore Boutrous Jr. It was his job to clean up any loose ends and he clarified a number of points for the record.
Before Walker asked his question, Cott said she thought marriage is a "very valuable institution" and allowing same-sex couples "entry [into the institution of marriage] would be very beneficial."
I had a quick conversation with Dustin Lance Black right after the court let out. He said that listening to the testimony Monday by the plaintiffs was "one of the most moving days" for him personally and for the LGBT civil rights movement because of the stories that were told. He said it was "unfortunate" that the cameras did not broadcast their stories so that more people could hear the personal tales — "because that's what changes hearts and minds."
"If Harvey Milk had been alive, he would have been furious" and would have tried to get the stories out, Black said.
Stuart Milk, who I also spoke with outside the court, echoed the sentiments. He pointed out that Milk said much the same thing when he argued against the Briggs Initiative. Milk said he was looking forward to testimony Wednesday about the history of discrimination and inequality — and how those messages of hate result in low self-esteem among LGBT youth and bullying by straight people.
One thing I noted was the scarcity of Prop 8 proponents in the court. Perhaps they are watching out of camera range in the overflow room?
I'm going home tonight, but Jenny Pizer is still here and Syd Peterson will be taking up the blogging duties tomorrow. I will continue to write about the trial as warranted, though, and just by way of a fun tease, I have an interview with Phyllis Lyon that lesbian feminists may really enjoy.
OK, feminists of all stripes.
National Gay & Lesbian Chamber of Commerce Certifies Brown, Naff, Pitts Omnimedia, Inc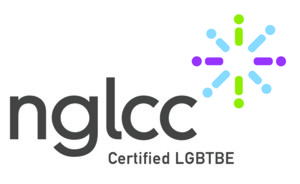 Washington, D.C. — Brown, Naff, Pitts Omnimedia, Inc, the parent company of the Washington Blade and Azer Creative, announced today it has been certified by the National Gay and Lesbian Chamber of Commerce (NGLCC) as an LGBT Business Enterprise. The NGLCC supports and advocates for diversity and inclusion for LGBT-owned businesses. With this certification the Blade's parent company joins more than 510 business and 134 corporate partners of the NGLCC.
Brown, Naff, Pitts Omnimedia, Inc. owns and operates the Washington Blade, the oldest and most acclaimed LGBT newspaper in the country. In 2012, the company launched Azer Creative, a full-service design firm. The company employs more than a dozen full-time LGBT staff.
"We are excited to become one of the 500 LGBT businesses across the country certified by NGLCC," said Lynne Brown, the Blade's publisher and a co-owner of the company. "The LGBT community has been part of our company from the beginning and we look forward to continue that for many years to come."
The Washington Blade was founded in 1969 and is known as the "newspaper of record" for the LGBT community both locally and nationally. Visit washingtonblade.com for more information. Azer Creative is a full-service graphic design firm based in Washington, D.C. Visit azercreative.com for more information. 
Vote now for the 2013 Best of Gay DC!
Choose in dozens of categories among hundreds of nominees, and make your voice heard!
Nominate the 'Best of Gay D.C.' now!
Dozens of categories cover all the best for LGBT Washington. Who deserves the prize this year?