Local firm working toward a greener D.C.
Ask someone how to save the earth from ourselves and you likely will get a range of advice. Trade your gas-guzzler in for a fuel-efficient hybrid vehicle, or better yet, an electric car. Attach solar panels to the roof of your home and use them to wean your house off of non-renewable resources. Invest in tree replanting efforts.
Local gay businessman Joe Andronaco has a less expensive, though admittedly less sexy suggestion that he says will not only have a greater collective environmental impact, but will also end up saving you money before too long: have your home inspected for energy inefficiencies, and take steps to address those inefficiencies.
"Conservation is something that doesn't require new technologies or a major investment," said Andronaco. And with an estimated 75 percent of the city's carbon emissions coming from building energy use, the potential environmental benefit "is huge."
Andronaco not only sees value in conservation, he also believes there is a good business opportunity there. Last year, he helped launch a company called Access Green, which conducts home energy audits in the greater Washington area. The company's base product, the knowledge audit, provides homeowners with valuable information about their home – where air is coming into the house, which appliances are creating dangerous chemical emissions, and how their energy consumption stacks up against comparable dwellings, to name but a few of the items addressed in the audit.
"One of the biggest issues with green," observed Andronaco, "is follow through. You can talk green all you want but are you going to get it done?"
For those who choose the company's premium product, the fulfillment audit, Access Green technicians will come to your home and make some of the repairs and upgrades recommended in the knowledge audit, from changing out HVAC filters to caulking windows and doors. It is this marriage of green advice and implementation that Andronaco says sets his company apart as an innovator.
"We come with a trades knowledge to green," said Andronaco. "We know how to practically do the things that will achieve the savings. There are lots of inexpensive, couple-hundred-dollar items that can save you thousands."
Access Green is part of a larger corporation called USA Technologies, a $12 million business that Andronaco has led since 2003. The well-known local commercial heating and air conditioning company Argent, which received the Angie's List Super Service Award for the past two years, is also part of USA.
"We really take a whole house approach to the way we do systems," explained Andronaco. "Before you do something like put a new heating or air conditioning system into your home, you really need to do a whole house analysis."
Access Green is the first company that Andronaco himself has launched, along with lawyer David Julyan and environmental lobbyist Sam Brooks, known by many locally for his spirited attempts a few years ago to win a seat on the D.C. City Council. Brooks and Julyan are principals of 360 Green, a firm that markets green knowledge and services to the business community.
Andronaco was born in Caracas to a Venezuelan mother and an American father. The family moved to Miami when Andronaco was eight and he lived there until going to the University of North Carolina at Chapel Hill to get a degree in history. He got his start in business while working for local utility giant Washington Gas. After leaving D.C. briefly to get his MBA from the Wharton School of Business, which he received with honors, Andronaco came back to D.C. and again worked for Washington Gas before leaving to pursue his dream of being an entrepreneur.
Though Andronaco has been openly gay since his days at business school, his sexual orientation isn't something that he trumpets in the workplace. So imagine Andronaco's surprise when his mentor, USA founder Mike Berard, an elderly, staunchly Republican, Vietnam veteran he befriended while working at Washington Gas, called Andronaco into his office to discuss Andronaco's "lifestyle."
"He goes, 'I'm not going to have someone run my business and be in a closet.' I said, 'Mike, some people might be offended.' He said, 'I don't give a shit. If they have a problem, I'll fire them.'"
Aside from one of the company's top salesmen expressing misgivings about how company morale would fare with a gay man in charge, a line of questioning that Berard quickly shut down, Andronaco said he has received zero negative reaction in the workplace.
"Most people thought that especially these sort of roughneck good 'ole boy electricians and HVAC guys would have issues, but they don't," said Andronaco. "People are multi-faceted and you can't take them for caricatures that are created by the media and even by ourselves."
The 43 year old is quick to stress that being gay is just one facet of who he is, and he is extremely active in the wider community. He sits on several local boards of directors, including Goodwill and the Boys & Girls Club of Greater Washington, and is active with the Gay & Lesbian Victory Fund as well. He is also on the D.C. Mayor's Green Collar Jobs Advisory Council and the Sustainable Energy Utility advisory board, which partners with the D.C. Council to administer sustainable energy programs. In 2008, he was recognized by the Washington Business Journal with a Greater Washington Minority Business Leader Award.
A proud D.C. resident, Andronaco lives with his partner in the Northwest neighborhood of Crestwood. Their 1925 Dutch colonial home doubles as a training and demonstration facility for his company. Earlier this week, in fact, Andronico's colleagues at Argent used his house to demonstrate how to install programmable thermostats.
Andronaco is also a strong supporter of the city and he sees expansion of the green economy as a way to boost the District's tax base and address its high unemployment rate. He made a conscious choice to base Access Green in the District, along the H Street corridor in Northeast, and said he likewise makes a point of hiring city residents.
Access Green conducted more than 200 home energy audits last year. According to Sara Loveland, who left her job at D.C. Greenworks last year to be Access Green's chief operating officer, 2010 is already off to a strong start.
The company is working with the Corcoran on its green roof and recently it scored a contract with the Southern Maryland Electric Cooperative to be the sole provider of home energy audits for SMECO clients in Prince George's and Calvert counties. They are also busy supporting legislation before the D.C. Council right now that would simplify funding options for energy efficiency improvements and renewable energy products.
"The homeowner wouldn't have to go through a credit application as long as they have equity in their home," explained Brooks. "If they move before the loan is paid off, it's attached to the house and stays there. " This is an innovative way to finance energy improvements, particularly for homeowners, that Brooks said will solidify D.C.'s place at the leading edge of the green movement.
Brooks is quick to note that this legislation is one of the rare instances where the public interest is perfectly in alignment with the interests of "green collar" businesses like his, a trend he sees continuing.
"The better a firm like ours does," he said, "the closer the government comes to realizing its object to reduce the city's carbon footprint." Moreover, he added, there is opportunity here for private sector companies like Access Green to provide market-based solutions to environmental challenges, rather than rely wholly on the government for leadership.
Said Loveland: "People are so dazzled by super sexy projects like solar paneling. Not enough attention is paid to conservation. We can generate all the alternative energy we want, but without conservation we won't achieve the results we need to meaningfully reduce our carbon footprint."
The Access Green knowledge audit currently runs $249 while the fulfillment audit starts at $599. For more information on Access Green's products, visit http://www.greenerhome.com or call 202-559-6061.
Comings & Goings
Jennings named director of Manhattan Theatre Club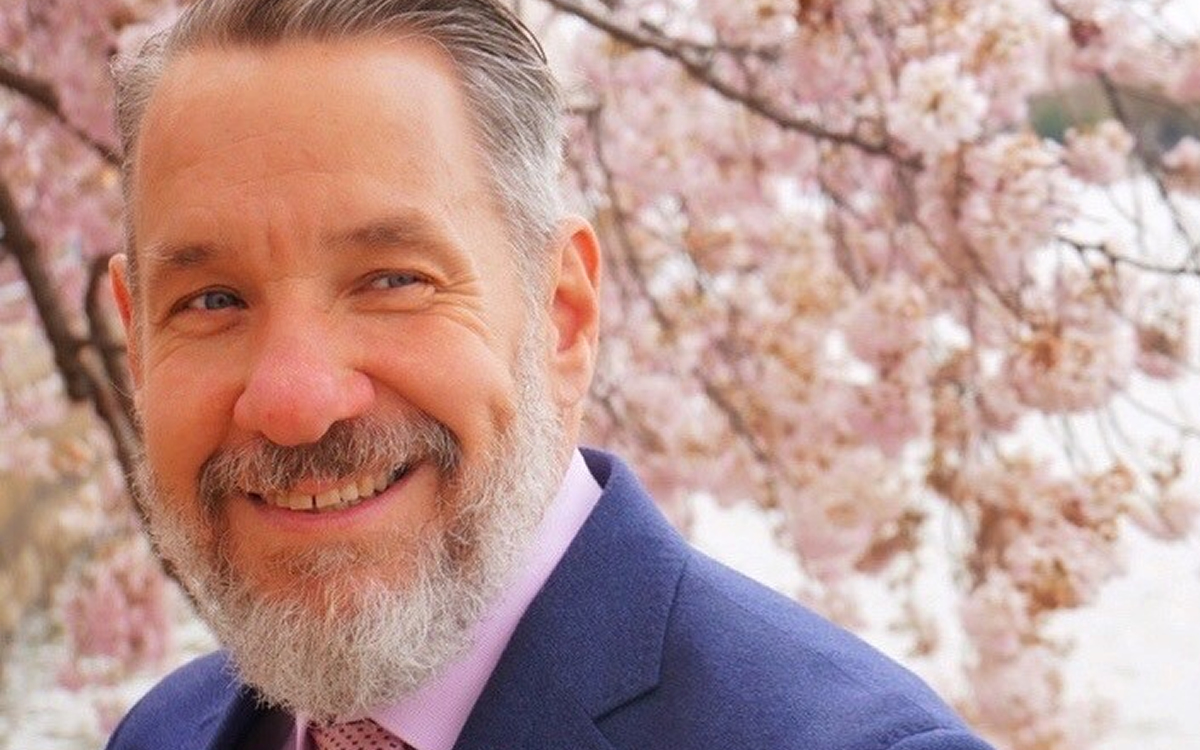 The Comings & Goings column is about sharing the professional successes of our community. We want to recognize those landing new jobs, new clients for their business, joining boards of organizations and other achievements. Please share your successes with us at [email protected].
 The Comings & Goings column also invites LGBTQ college students to share their successes with us. If you have been elected to a student government position, gotten an exciting internship, or are graduating and beginning your career with a great job, let us know so we can share your success. 
Congratulations to Chris Jennings on being named Executive Director of the Manhattan Theatre Club (MTC). David C. Hodgson, chair of the MTC board of directors said, "Chris Jennings brings a wealth of experience to his new role at MTC. After a broad national search, Chris stood out for his strong theater chops, the quality of his body of work at Shakespeare Theatre Company, and familiarity with MTC from his time with us as an Administrative Fellow here in 1996. The board is eager to begin our new partnership with him."
Upon accepting the position, Jennings said, "I'm thrilled to return home to MTC, where I began my career and was mentored by Barry Grove. I'm truly excited to partner with Lynne Meadow in building on her success and helping to continue to create an artistic home for the most talented artists working in the theatre today. It is thrilling that in the first few months alone, we'll be working on new plays by Jocelyn Bioh, Qui Nguyen, John Patrick Shanley, and more. It is with mixed emotions that I take this next step after 19 seasons with STC. My time here has meant more to me than words can say. STC is well positioned for the future with dynamic artistic work and the most dedicated and talented staff."
Jennings is completing his 19th season with Shakespeare Theatre Company, having produced 120 shows. Highlights of Jennings's time with STC include the construction and opening of Sidney Harman Hall in downtown Washington, D.C., receiving the 2012 Regional Theatre Tony Award, leading the artistic transition from founder Michael Kahn to Artistic Director Simon Godwin, and successfully guiding the company through the difficult periods of the 2008 recession and the COVID-19 pandemic.
Notably, returning to live performances after the COVID lockdown, he developed a celebrated collaboration with the Nederlander Organization to premiere "Once Upon a One More Time," which became the biggest-selling show in STC history and is now in previews on Broadway. Under his leadership, STC toured productions to Macau, the Middle East, and the United Kingdom, including to the RSC Complete Works Festival. He has built international collaborations, annually importing high-profile productions from South Africa, France, and the UK, most recently represented by the critically acclaimed and sold-out production of "The Jungle" this spring. During his tenure, STC launched District Shakespeare, a model accessibility program providing every 10th grader from all 53 D.C. schools the opportunity to experience Shakespeare live on stage. Jennings is currently leading a mixed-use real estate project, The Bard, to provide consolidated support including actor housing with an anticipated groundbreaking later this year.
Jennings has served on numerous boards, including Theatre Washington, D.C. Downtown BID, THE ARC Community Center, and the D.C. Arts Collaborative. Before joining STC he served as General Manager of Trinity Repertory Company and Theatre for a New Audience. Chris held positions with Yale Repertory Theatre, Manhattan Theatre Club, and Dougherty Arts Center. Jennings was a recipient of an Arts Administration Fellowship from the NEA.
Jennings earned his BFA in Theatre/Music, University of Miami; and MFA in Theatre Management, Yale School of Drama.
DC Front Runners Pride 5K to take place as scheduled
Air quality improved overnight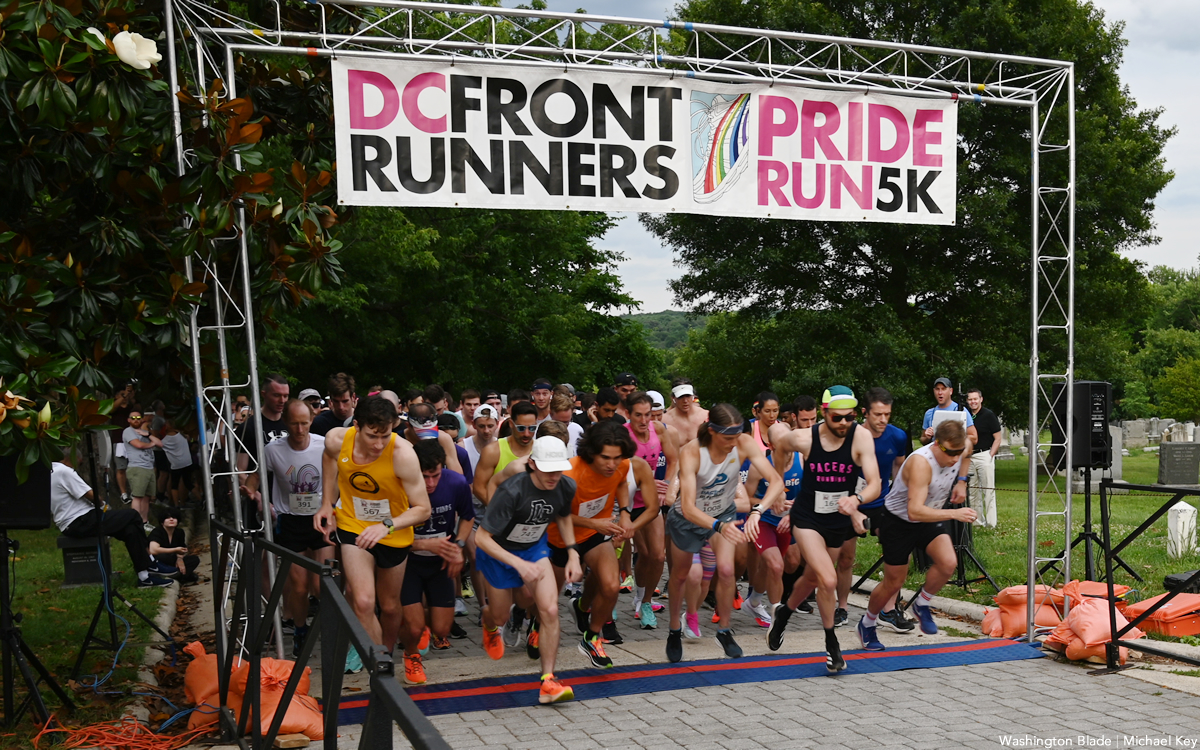 The D.C. Front Runners' annual Pride Run 5K will take place as scheduled at Congressional Cemetery on Friday.
The Blade Foundation, SMYAL, the Wanda Alston Foundation, Team DC, Teens Run DC, Pride 365 and Ainsley's Angels of America are among the race's beneficiaries. Wegmans, Shake Shack, Knead Hospitality and Design, Choice Hotels and Capital One Café are among the sponsors.
Rooftop Pool Party postponed
Capital Pride Alliance moves official event to June 22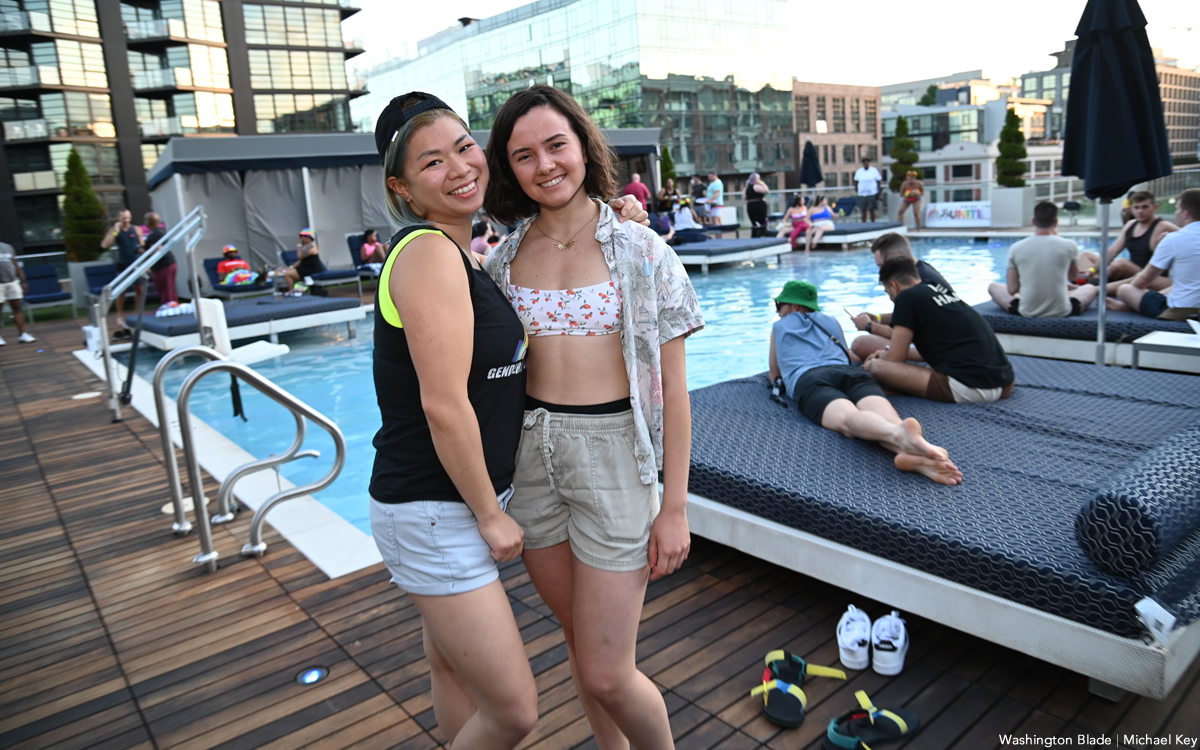 The Capital Pride Rooftop Pool Party, originally scheduled to begin at 8 p.m. tonight, has been postponed until Thursday, June 22, according to a statement released by the Capital Pride Alliance on Instagram. This action comes amid an international climate event created by the Canadian wildfire that has resulted locally in poor air quality and a haze around the region.
The Capital Pride Alliance Instagram account posted, "As with all concerns regarding health and safety issues, the Capital Pride Alliance will closely monitor the air quality situation resulting from Canadian wildfire smoke and take necessary precautions in consultation with our partners in the DC government."
"What does this mean for the pool party?" a question one private Instagram account user posed in the comment section.
"Important Update:" A representative of the Capital Pride Alliance responded through the group's official Instagram account. "Tonight's Capital Pride RoofTop Pool Party at VIDA The Yards is being postponed until Thursday, June 22 at 8:00 pm, due to the current air-quality situation resulting from the Canadian wildfires smoke. Please note that this postponement only applies to today's event."
The Capital Pride Alliance has yet to cancel or postpone any further events.
The White House earlier today rescheduled a large outdoor Pride reception planned for this evening to Saturday.