Gay group to speak at CPAC on technology issues
Organizers have given a gay group co-sponsoring an upcoming national conservative convention a speaking role at the event, although the discussion will focus on technology and not LGBT issues.
According to the website for the Conversative Political Action Conference, which will take place in D.C., the gay conservative group known as GOProud is set to speak Feb. 20 on a panel titled "Using Technology to Mobilize Conservatives."
Jimmy LaSalvia, executive director of GOProud, will represent the organization on the panel. He said he wanted to speak on technology because his group has heavily relied on the Internet to get the word out since GOProud's launch last year.
"I think we're going to bring a unique perspective to talk about how we have been able to use social networking like Facebook and Twitter as well as just Internet in general and e-mail to reach folks all over the country, in rural areas, in parts of the country that we haven't necessarily been able to visit," he said.
Joining LaSalvia on the panel will be Tom Keeley, online marketing cooridinator for FreedomWorks, and Adam DiAngeli, director of information technology for the Campaign for Liberty. The moderator for the panel will be Sandy Greiner, board president of the American Future Fund, and the emcee will be Kate Obenshain, vice president of Young America's Foundation.
Asked whether he thought it was strange he wasn't speaking on a panel related to social or LGBT issues, LaSalvia replied, "Frankly, there really aren't any."
"If you look at the overall program, there is a lot of discussion about economics and national security, as it should be," LaSalvia said. "That's what most of the country is focused on and that's what most conservatives are focused on."
Although many panels are dedicated to the economy and national security, a separate panel will take place on Feb. 18 that seems geared toward social issues, according to the CPAC schedule.
It's titled "Saving Freedom from The Enemies of Our Values," and a number of prominent social conservatives are set to speak, including Phyllis Schlafly and Tim Goeglein, a lobbyist and spokesperson for Focus on the Family Action.
LaSalvia said GOProud didn't ask to be part of this panel because CPAC had already set participants before GOProud became involved in the scheduling process.
Still, LaSalvia said he plans on attending the panel as an audience member. He said his group may disagree on the some issues with other CPAC participants, but agrees with them on the majority of issues.
"It's a diverse coalition, but we agree on a set core principles," he said. "There's going to be disagreement on some things and there's going to be agreement on most things."
The involvement of GOProud in CPAC has reportedly riled some conversative groups who've argued that a gay group has no place at a conservative conference.  According to OneNewsNow, Liberty University Law School withdrew its co-sponsorship of the event because officials allowed the gay group to participate.
LaSalvia said he thinks Liberty University's withdrawal from CPAC is "ironic" because he said GOProud co-sponsored other events with the school in the past, including the College Republicans National Convention.
"I can just tell you that we have been extremely heartened by the outpouring of support that we've received from other conservatives and other co-sponsors since we've signed on as a co-sponsor," LaSalvia said. "Lots of folks have reached out to tell us that they're glad we're going to be there and so I expect that to continue while we're there."
National Gay & Lesbian Chamber of Commerce Certifies Brown, Naff, Pitts Omnimedia, Inc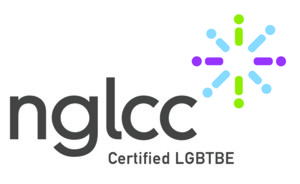 Washington, D.C. — Brown, Naff, Pitts Omnimedia, Inc, the parent company of the Washington Blade and Azer Creative, announced today it has been certified by the National Gay and Lesbian Chamber of Commerce (NGLCC) as an LGBT Business Enterprise. The NGLCC supports and advocates for diversity and inclusion for LGBT-owned businesses. With this certification the Blade's parent company joins more than 510 business and 134 corporate partners of the NGLCC.
Brown, Naff, Pitts Omnimedia, Inc. owns and operates the Washington Blade, the oldest and most acclaimed LGBT newspaper in the country. In 2012, the company launched Azer Creative, a full-service design firm. The company employs more than a dozen full-time LGBT staff.
"We are excited to become one of the 500 LGBT businesses across the country certified by NGLCC," said Lynne Brown, the Blade's publisher and a co-owner of the company. "The LGBT community has been part of our company from the beginning and we look forward to continue that for many years to come."
The Washington Blade was founded in 1969 and is known as the "newspaper of record" for the LGBT community both locally and nationally. Visit washingtonblade.com for more information. Azer Creative is a full-service graphic design firm based in Washington, D.C. Visit azercreative.com for more information. 
Vote now for the 2013 Best of Gay DC!
Choose in dozens of categories among hundreds of nominees, and make your voice heard!
Nominate the 'Best of Gay D.C.' now!
Dozens of categories cover all the best for LGBT Washington. Who deserves the prize this year?